This Cinnamon Red Hots White Russian is made with cinnamon vodka, Jack Daniels Tennessee Fire, Kahlua, and red hots infused cream.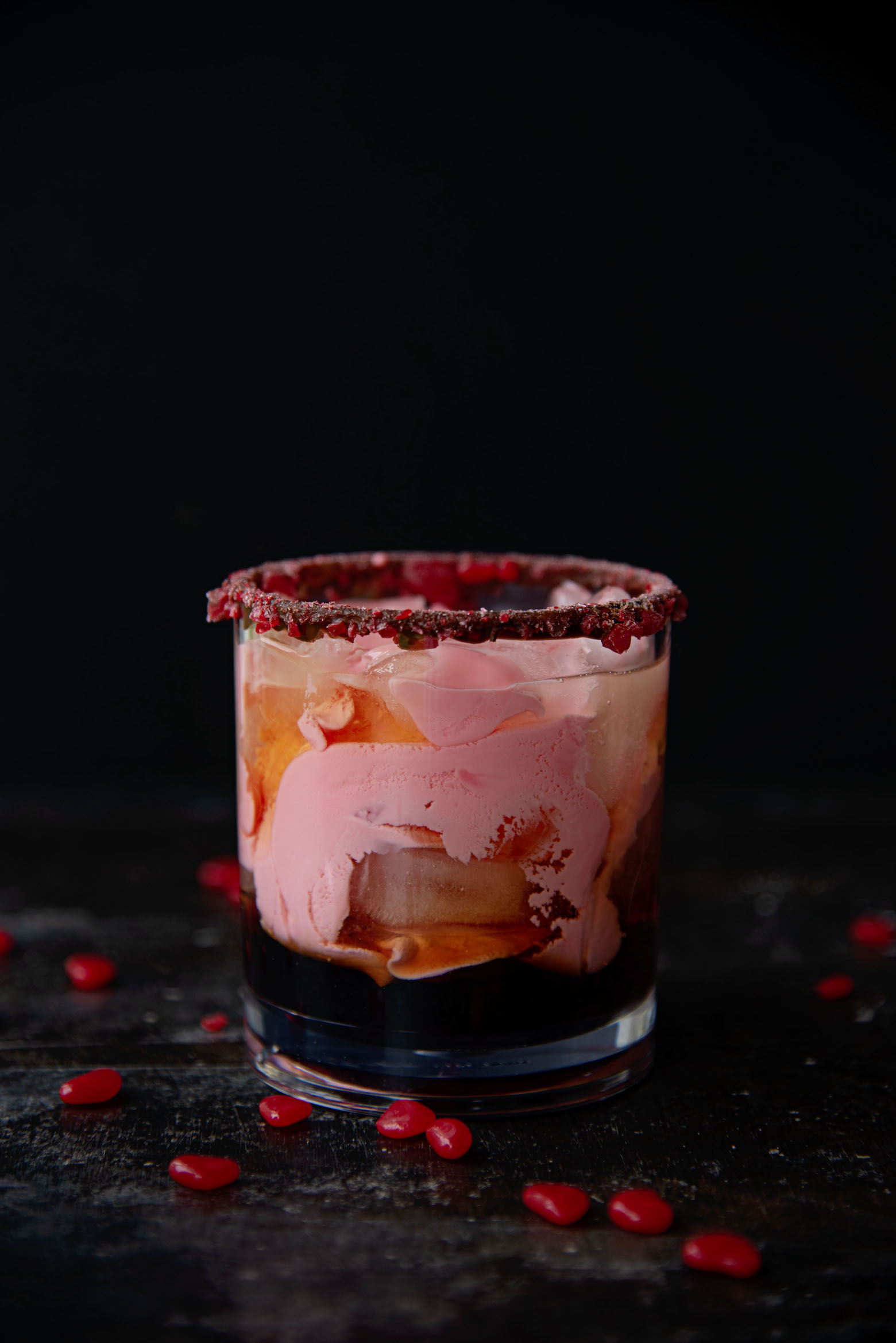 Cinnamon Red Hots are one of those candies I don't really like as a candy.
Then again, I don't really know too many people that throwback handfuls of them.
I wouldn't throw back a handful unless really desperate for some sugar.
Which I have been in that situation before, fully confession. 😀
We mostly see them being used for decoration.
I used them every year on my Rudolph cut out cookies.
However, I do love infusing them into baked goods and in this case cocktails.
I find when I infuse them they become less overpowering.
The flavor that is.
It's the same reason why my husband likes when I infuse candy corn in cream.
Some of the flavor with nowhere near the sweetness.
Which is sometimes needed in a White Russian.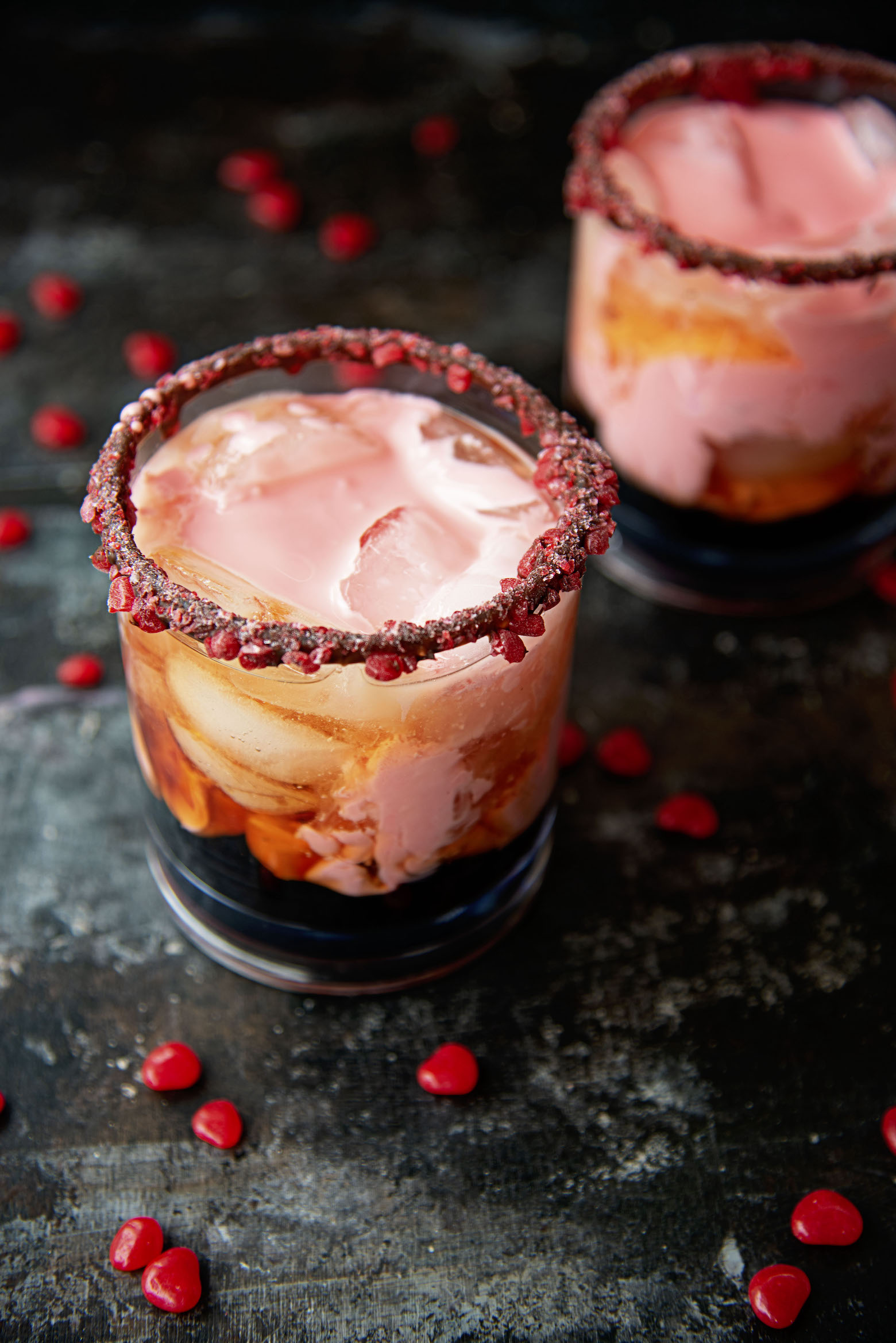 You will notice in this Cinnamon Red Hots White Russian recipe that I use Cinnamon Spice Kahlua.
Sadly they don't make it anymore.
Just like every flavored Kahlua they made and I liked.
But I can still find it from time to time.
If you cannot find it then just use regular Kahlua.
This recipe has more than enough cinnamon flavors in it that you won't miss it in the Kahlua.
The same can be said for the cinnamon vodka.
Regular vodka can work as well.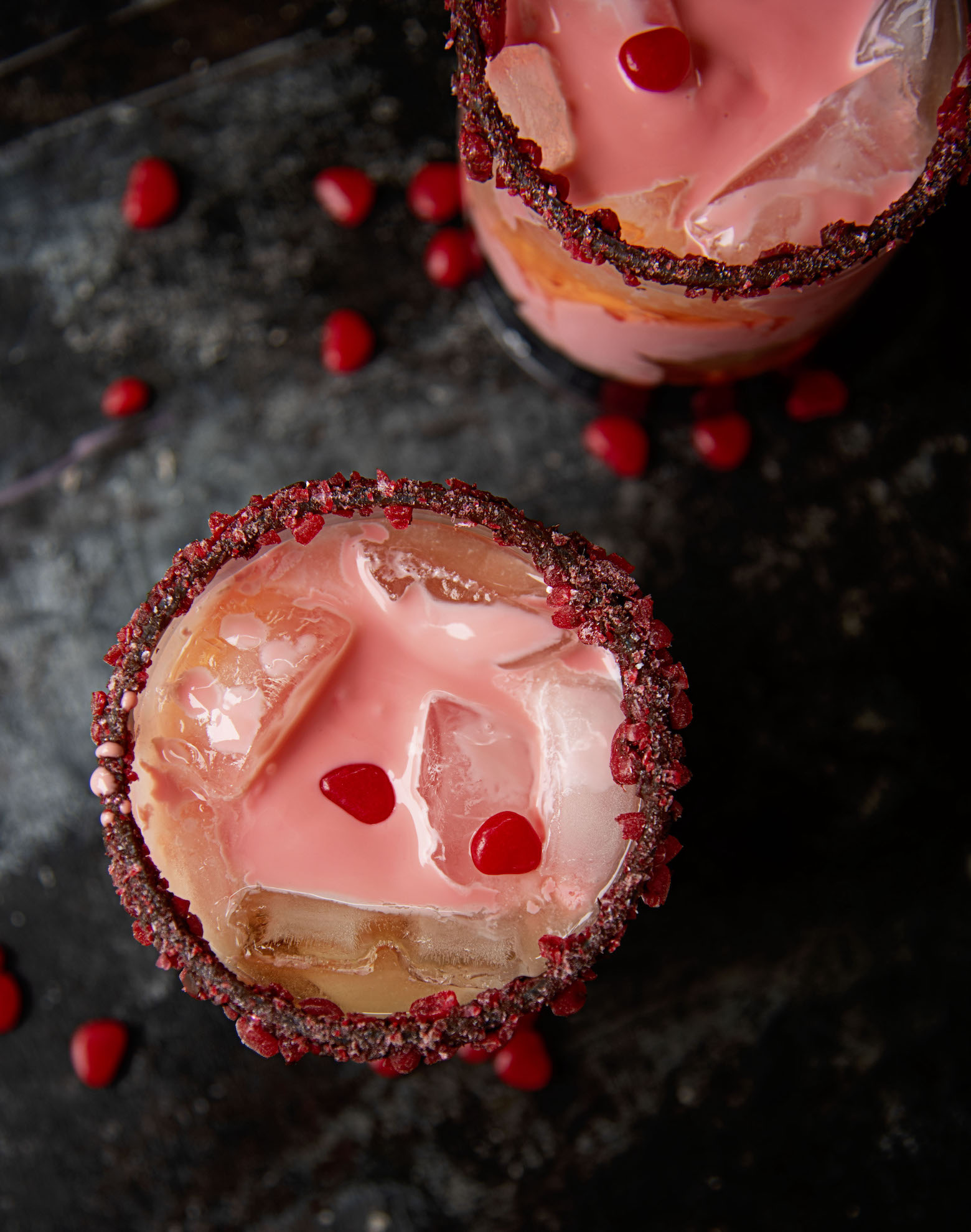 I also use Jack Daniel's Tennesse Fire which I found at my local Total Wine store.
It is similar to Fireball in that it's a cinnamon flavored whiskey but I find it to be smoother in my opinion.
So I prefer to use it.
If you are a Fireball fan feel free to use that in its place.
You can also just use Cinnamon Schnapps if you don't want whiskey.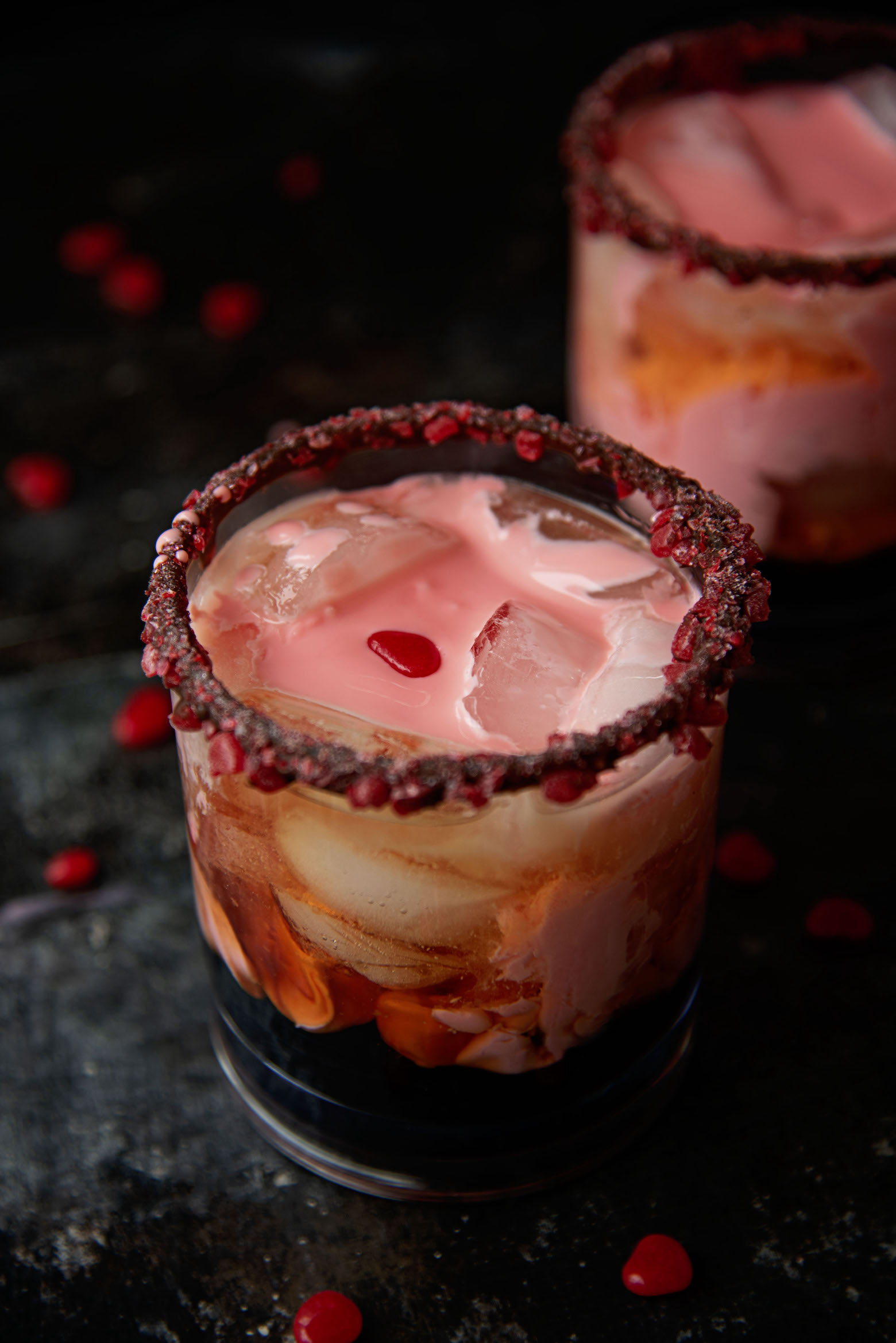 The star of the cocktail is the cream though.
As the cream has the Cinnamon Red Hots fully infused into it.
Be warned it makes for a thick cream.
Super thick.
It's also pink.
I think the fact that it's pink makes it fun actually.
Which is why I'm posting it for Valentine's day.
Even though you really could be serving this cocktail all year long.
Inevitably someone will ask if you can use milk instead of heavy cream.
You could use half and half but I wouldn't do full milk.
And I really wouldn't use skim milk or milk alternatives for this.
Obviously if you are allergic to dairy then that is another story.
But if you are allergic then chances are you won't be making White Russians.
And if you are then you probably already have a good go to substitute for heavy cream.
But, like I said, heavy cream is really the way to go with this cocktail.
P.S. It's a great day to buy my cookbook Holy Sweet!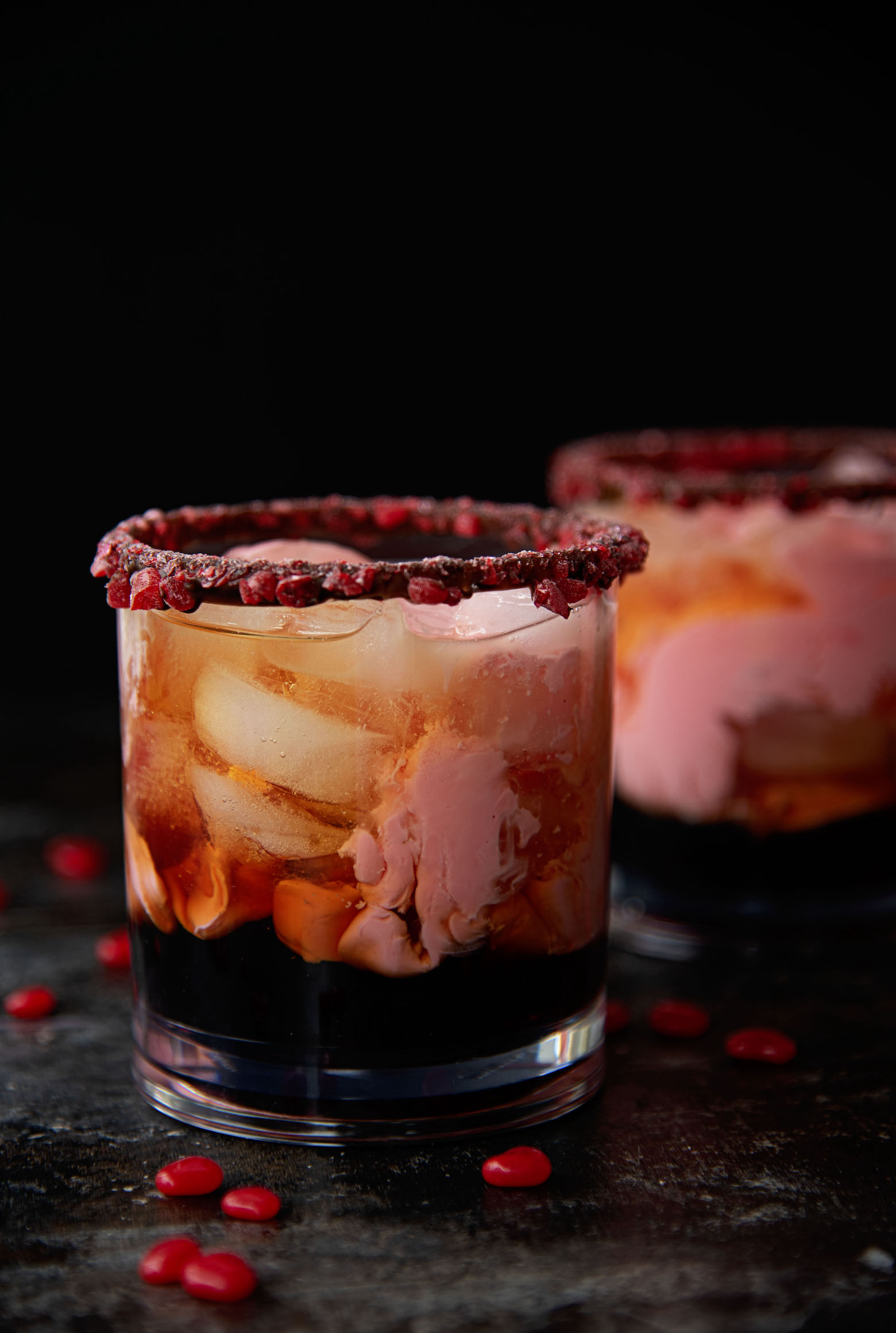 Want More Cocktail Recipes?
Meyer Lemon-Lime Drop Cocktail
Raspberry Lemonade Sorbet Cocktail
Boozy Huckleberry Lemonade Sipper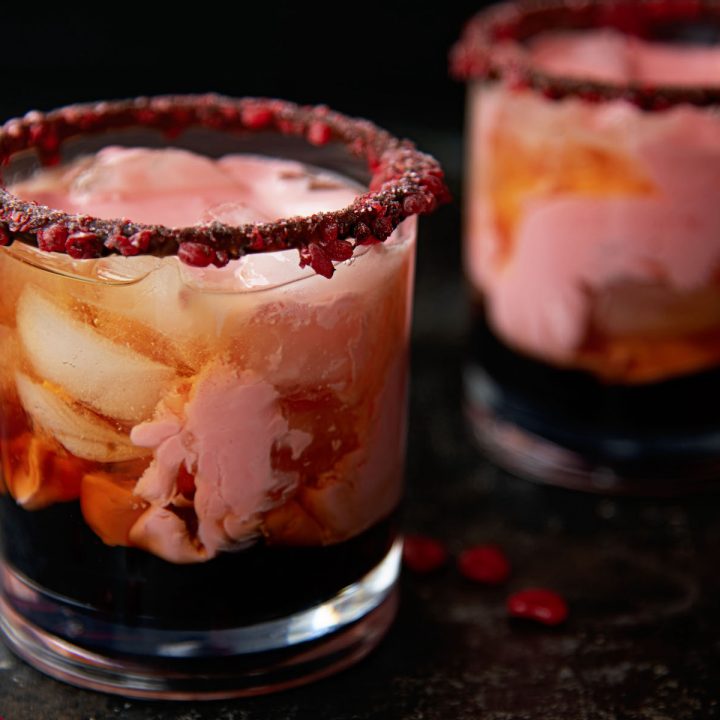 Cinnamon Red Hots White Russian
Ingredients
For the Glasses:
2 oz semisweet chocolate, melted
1/8 cup crushed Cinnamon Red Hots candies.
For the Cinnamon Red Hots Cream:
1 1/2 cups heavy cream
1/2 cup Cinnamon Red Hots candy
For the White Russian:
4 shots Cinnamon flavored Vodka
2 shots Cinnamon Spice Kahlua
2 shots Jack Daniels Fire
Instructions
For the Glasses:
Dip the rim of the two glasses in the chocolate.
Then dip in the Cinnamon Red Hots candy.
For the Cinnamon Red Hots Cream:
Using a medium saucepan heat the heavy cream and the cinnamon red hots together.
Bring to a boil and then take off of heat.
The cinnamon red hots should dissolve.
If the candy does not dissolve place over heat and stir until it does. Set aside.
For the White Russians:
Place ice in two glass.
Add 2 shots of cinnamon vodka per glass .
One shot of Cinnamon Spice Kahlua per glass.
One shot Jack Daniels Fire per glass.
Add Cinnamon Red Hots Cream until the top of glass. Should be half booze, half cream.
Sprinkle with Cinnamon Red Hots candy if desired.