This traditional Vanilla Butter Loaf Cake is the perfect buttery pound cake just waiting to be topped with fruit and whipped cream.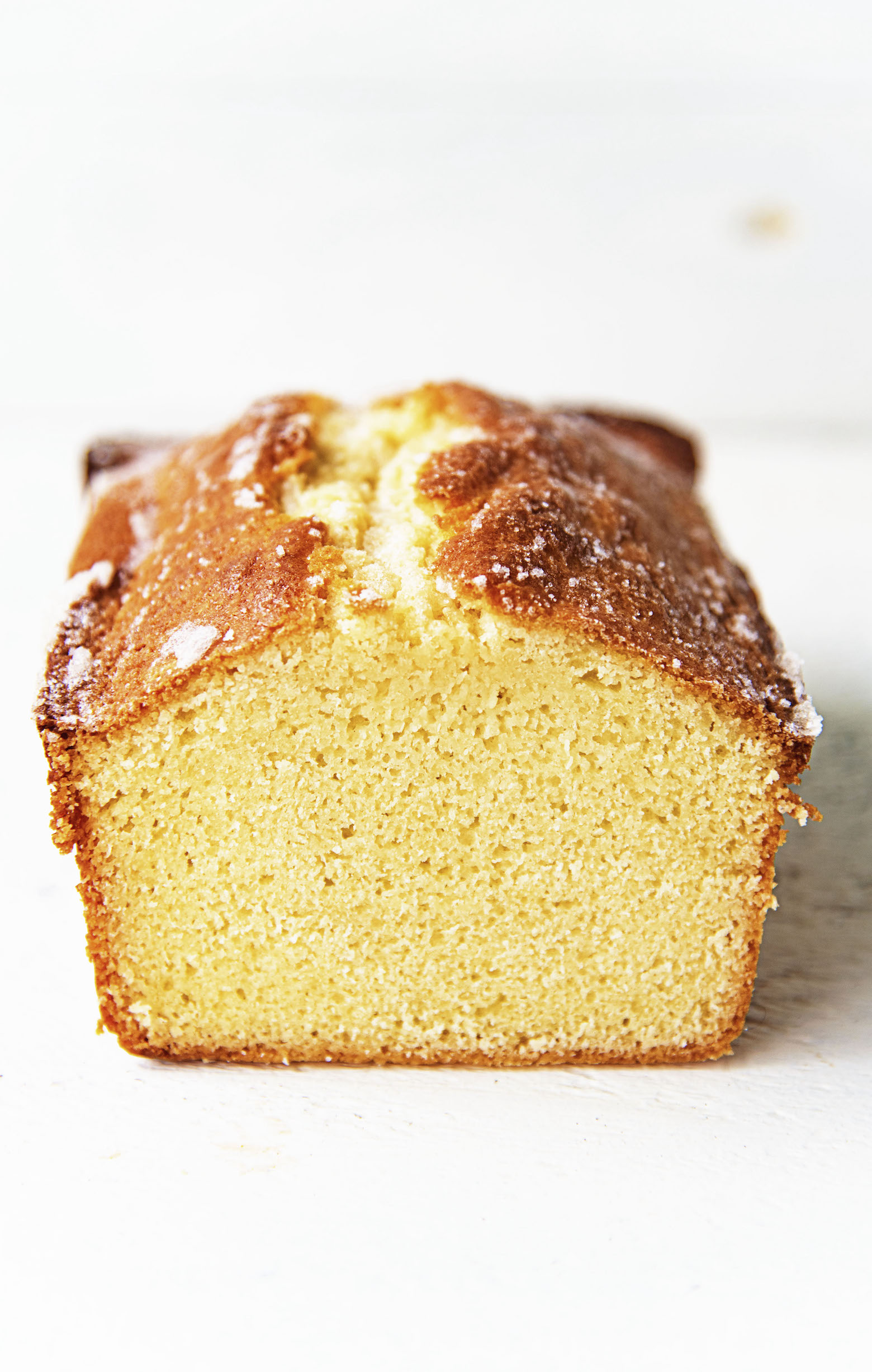 So many, many years ago I had a friend who wanted to start a business selling online baked goods.
She wanted her company to sell the best pound cake ever.
Which may sound like an easy feat but it is not.
I was hired to develop that recipe.
Since I don't do an plain baked goods on my site it was rather hard for me.
For I kept wanting to do something to it.
Something so it wasn't just a plain vanilla pound cake.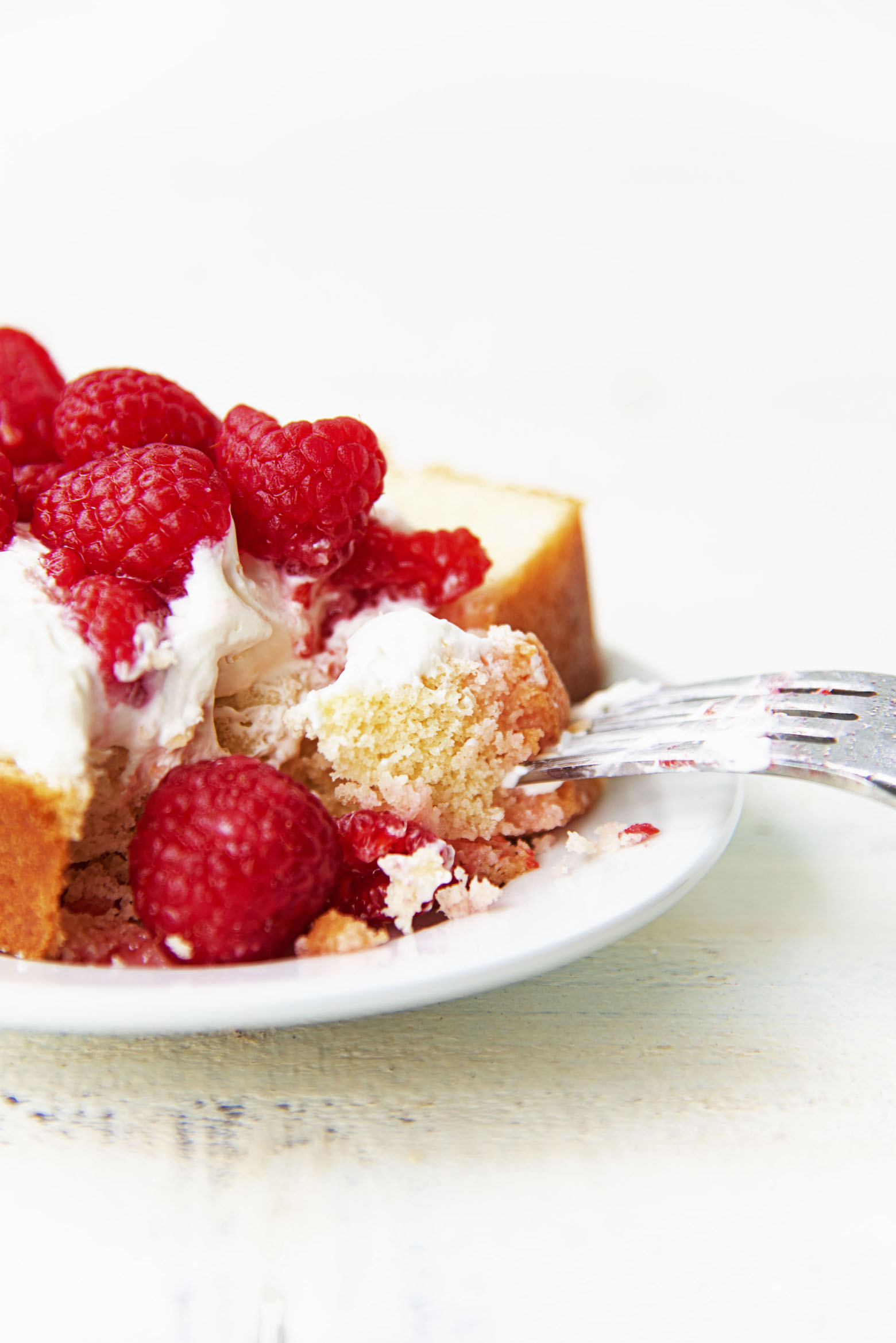 I cannot even begin to tell you how many pound cakes I made.
SO MANY.
With all the combos.
All butter.
Cream cheese.
Combo of butter cream cheese.
With 7-Up.
Half butter half shortening.
And everything in between.
My favorite combo was mostly butter with cream cheese.
While I did end up with what I felt was the perfect pound cake, my friend ended up not going into business.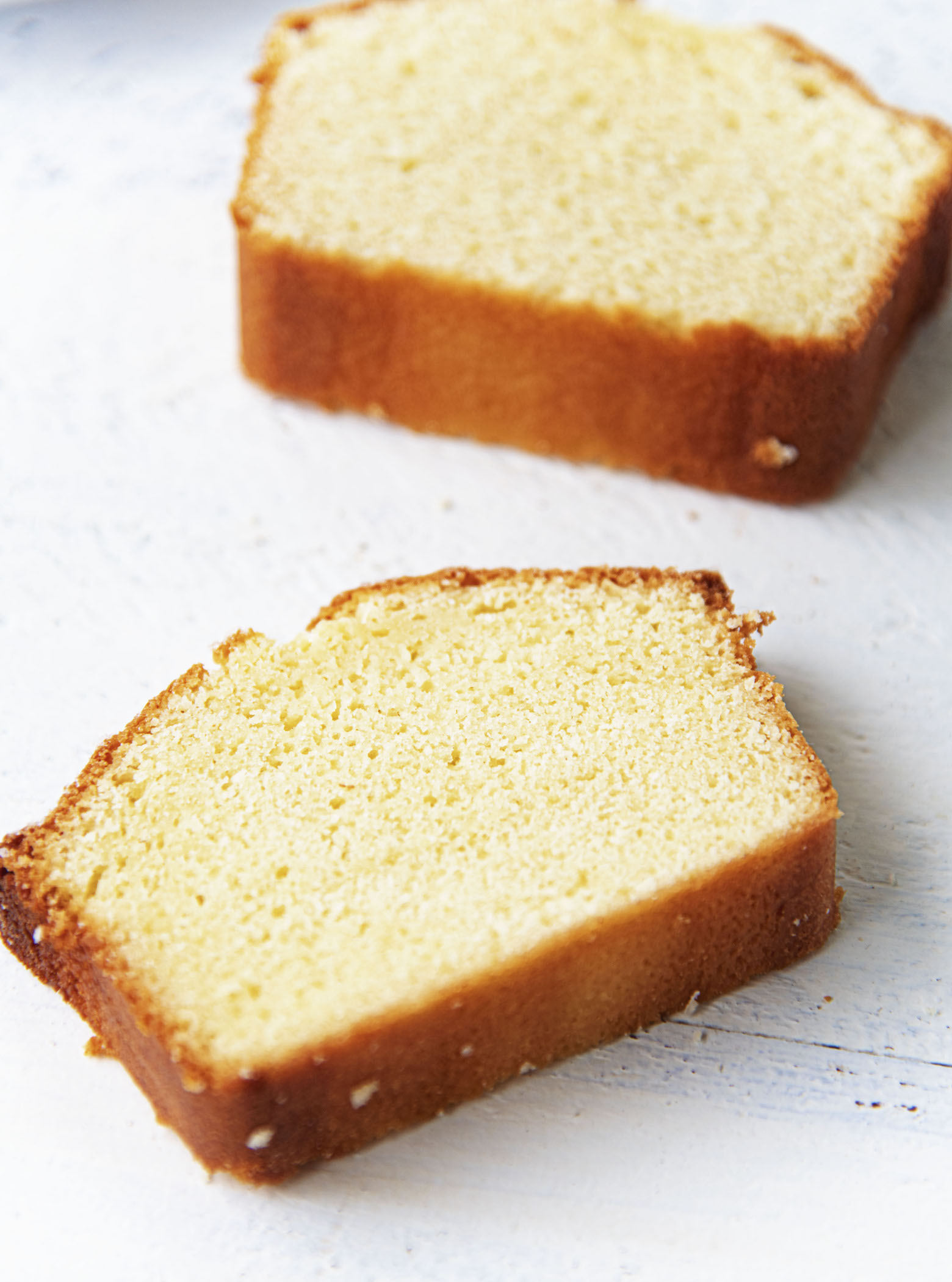 I mentioned The Lost Kitchen on the Magnolia channel (Discover Plus app) and how much I loved it.
My husband loved it too.
In one of the episodes she made a simple butter cake for dessert.
Covered with whipped cream and a poached peach.
He commented how good that looked.
And how he hadn't had a piece of plain pound cake in forever.
Which is true.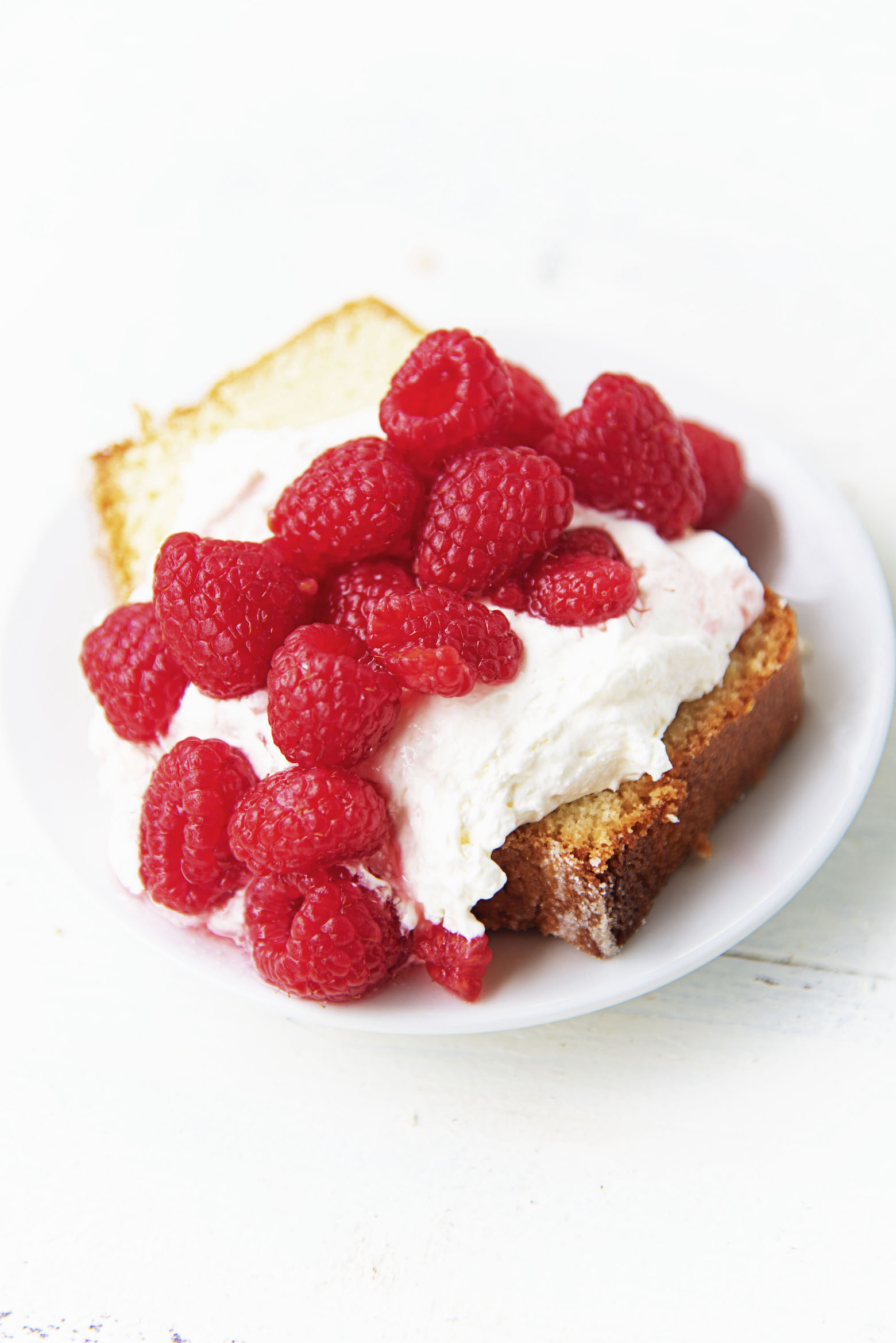 My husband's birthday was Monday.
Normally I make him a version of a key lime pie or something with strawberry milk in it.
Those are his two favorite usually.
But this year I decided to make him a Vanilla Butter Loaf Cake.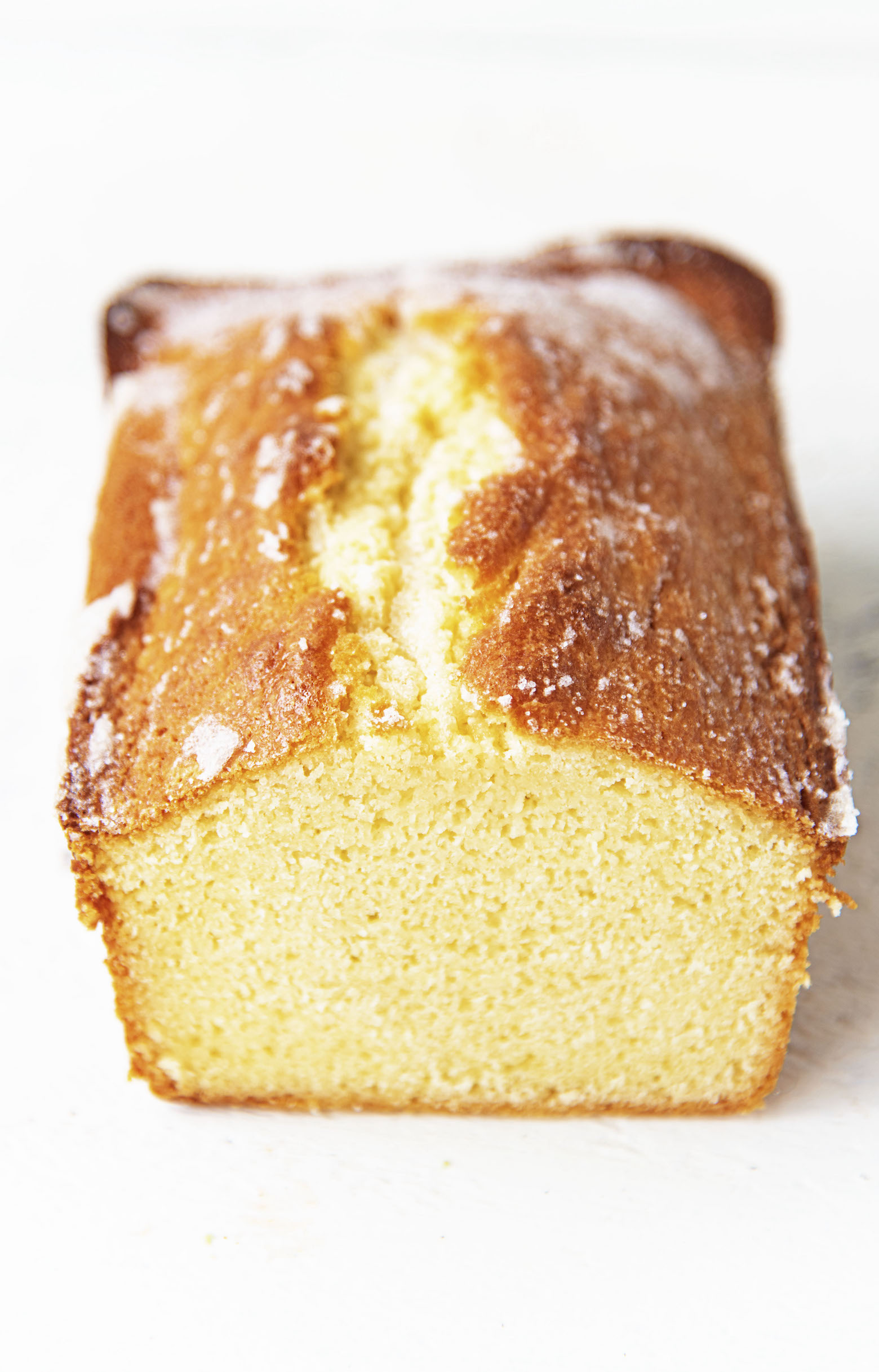 The recipe comes from King Arthur Flour.
I changed very little to it.
Which took a ton of restraint on my part. 🙂
I did put key lime juice in with the raspberries.
Because I like the tartness with the pound cake.
You can use whatever fruit you want.
P.S. It's a great day to buy my cookbook Holy Sweet!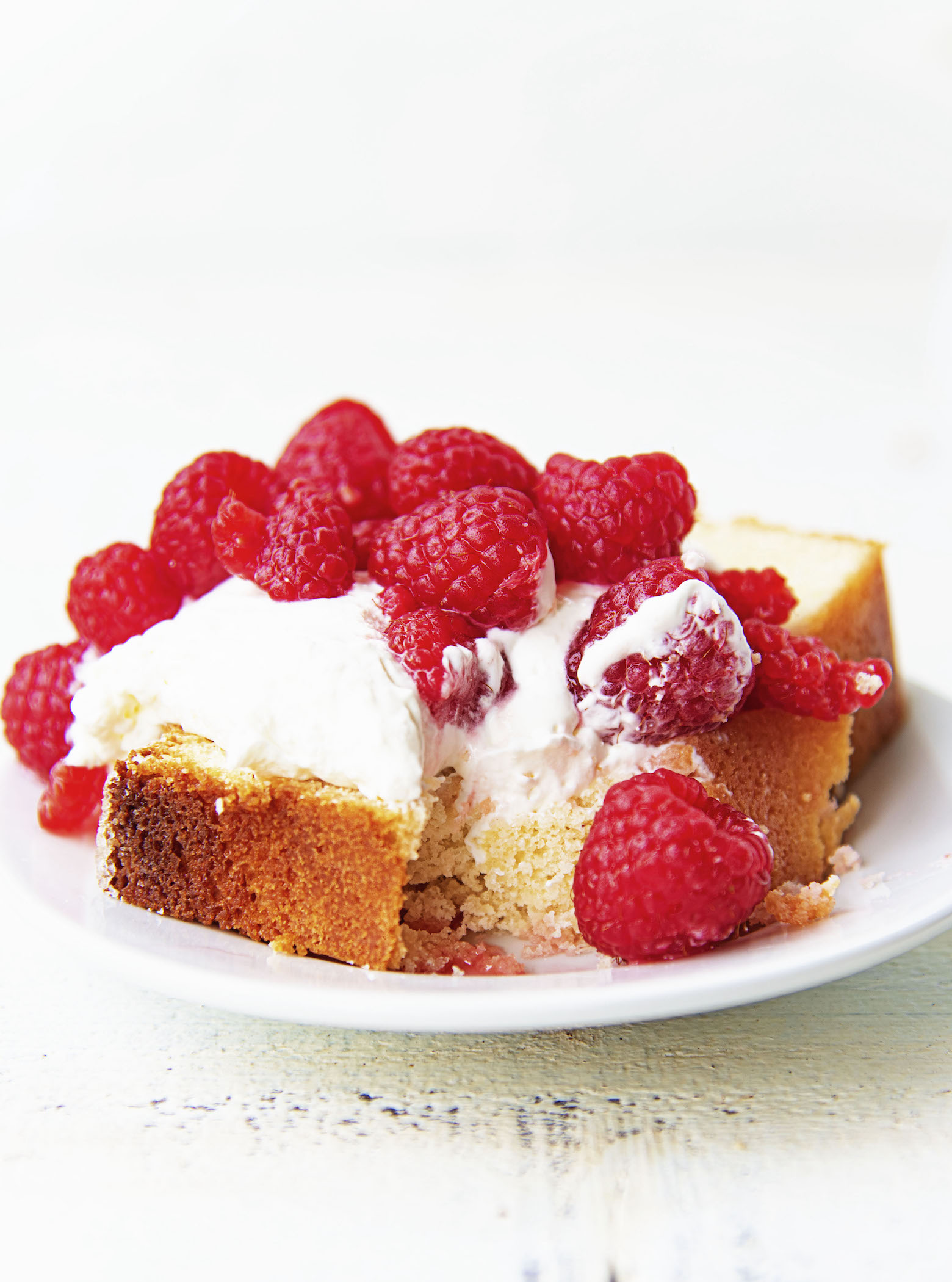 Want More Pound Cake Recipes?
Bourbon Brown Butter Chocolate Chip Cake
Strawberry Lemonade Bundt Cake
Whiskey Glazed Apple Buttermilk Pound Cake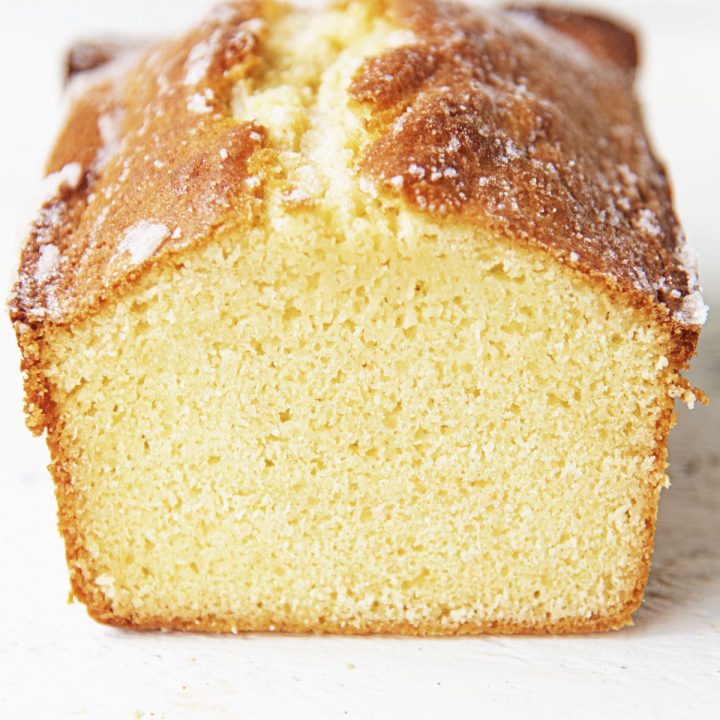 Vanilla Butter Loaf Cake
Ingredients
For the Cake:
12 TBSP unsalted butter, at room temperature
3 oz cream cheese, at room temperature
3/4 tsp salt
1 1/2 cups granulated sugar
1 tsp baking powder
2 tsp vanilla extract
1 tsp almond extract
5 large eggs, at room temperature
3 TBSP milk
2 TBSP (14g) Cake Enhancer, optional
1 3/4 cups + 2 TBSP King Arthur Unbleached All-Purpose Flour
For the Sugar Topping:
2 TBSP granulated sugar
1 tsp vanilla extract
1 tsp water
For the Fruit Topping:
2 cups raspberries
1/4 cup granulated sugar
1 TBSP key lime juice
1/2 tsp vanilla extract
whipped cream for garnish
Instructions
For the Cake:
Preheat the oven to 350°F.
Lightly grease a 9" x 5" x 2 3/4" loaf pan, or a 12" x 4" x 4" tea loaf pan. To avoid overflow, be SURE to use the correct size pan!
Using a stand mixer with the paddle attachment, beat together the butter, cream cheese, salt, sugar, baking powder, vanilla extract, and almond extract until well combined.
Add the eggs one at a time, beating well after each addition; the mixture may look slightly curdled/grainy.
After you've added the final egg, beat at high speed for 3 minutes, then stir in the milk.
Add the cake enhancer, then sprinkle in the flour gradually, with the mixer going at low speed.
Mix just until combined. The batter will be smooth and thick, but still pourable.
Pour and scrape the batter into the prepared pan.
To make the topping:
Combine the sugar, vanilla, and water.
Stir until the mixture is syrupy. At first it'll seem very stiff but will become "drizzle-able" as you stir.
Set the topping aside.
Set the cake on a baking sheet, for easiest handling and as a precaution against potential overflow (which shouldn't happen if you use the correct size pan). Bake it for 55 minutes (for either size pan).
Remove the cake from the oven, and brush/drizzle with the sugar mixture.
Return the cake to the oven for an additional 15 to 20 minutes.
Remove the cake from the oven, and set it on a rack.
Insert a toothpick into the center; it should come out clean. If you use an instant-read thermometer, the center should register about 200°F to 205°F.
The very top, right under the crust, will still be kind of soggy; don't worry about it.
After 5 minutes loosen the cake's edges and turn it out of the pan to cool completely on a rack.
Store wrapped at room temperature for two days, or freeze for longer storage.
For the Fruit Topping:
Toss together the raspberries, sugar, and key lime juice. Let sit in fridge while cake is cooling.
Slice cake and top with the berries and whipped cream.