These Honey Mustard Pretzel Deviled Eggs are filled with two kinds of mustard, honey, and topped with salty pretzels.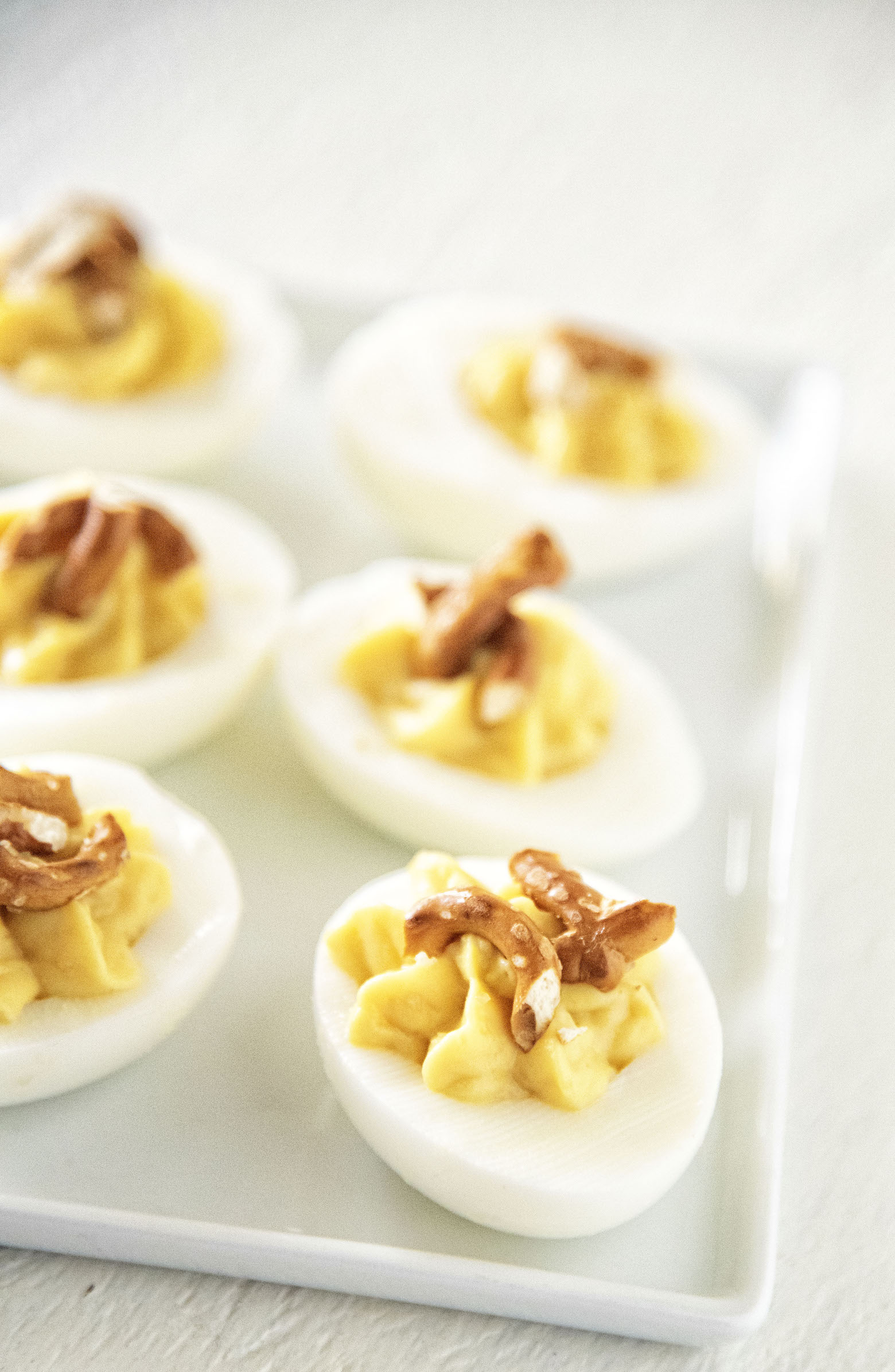 Every party needs a deviled egg (and a cake for that matter).
They seem so old fashioned and yet at the end of the party there isn't an egg left.
Not a one.
It's one of the first things to always go.
While I like me a classic deviled egg I always like to have a non-traditional one as well.
Always good to expand your culinary horizons.
My Bacon Caesar Salad Deviled Eggs are always a big hit.
But since we don't eat meat anymore so I wanted a vegetarian friendly flavor this time around.
The hubby and I love honey mustard.
Really love honey mustard.
We love pretzels.
So why not Honey Mustard Pretzel Deviled Eggs?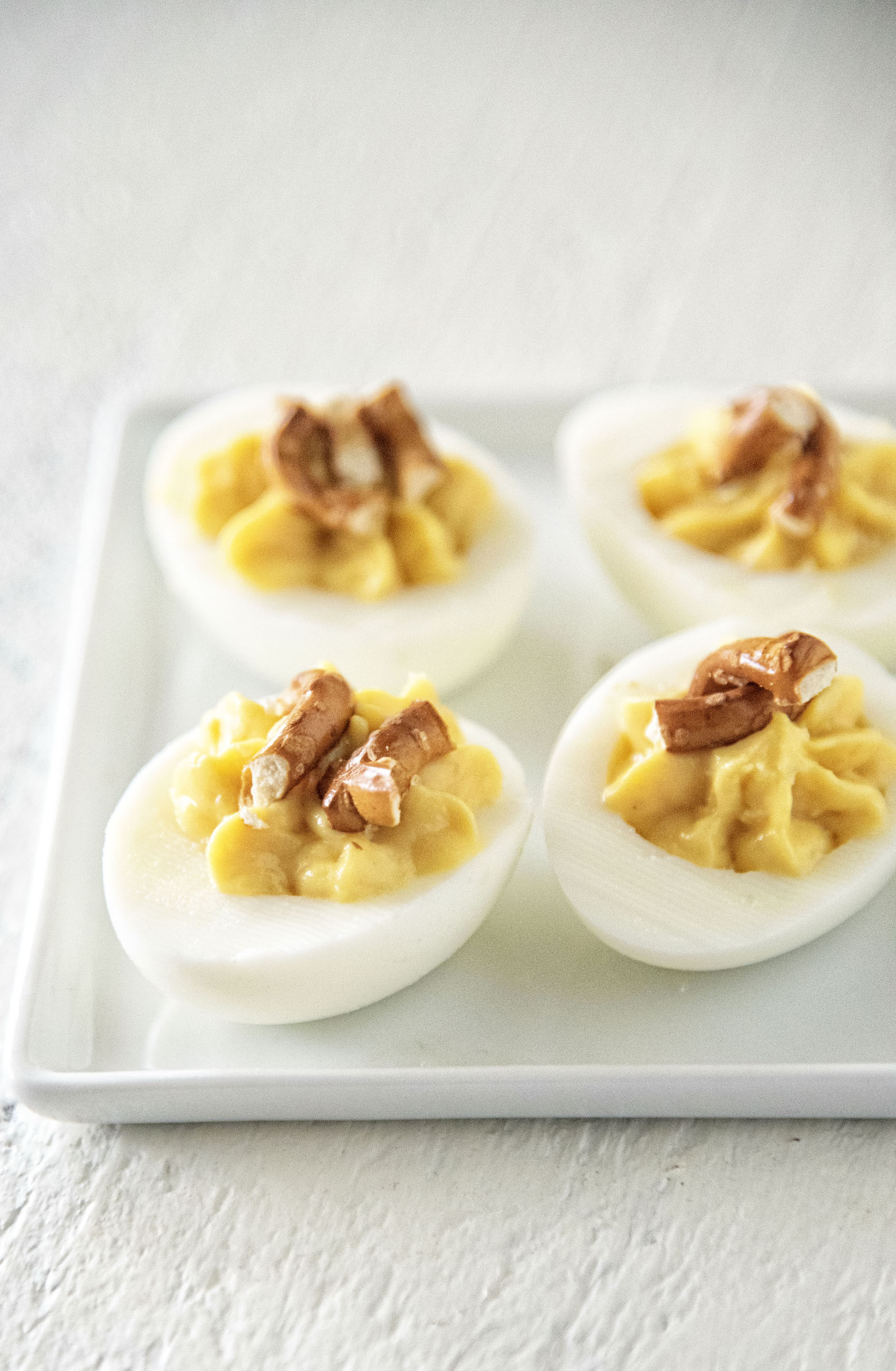 I thought about adding some crushed pretzels to the yolk mix but knew it would get soggy.
In fact, if you are going to make these ahead of time…like most people do…don't add the pretzels until just before serving.
That way the pretzels stay nice and crispy.
Unless, of course, you like a soggy pretzel for some reason…then go for it.
These certainly did not disappoint.
And the combo of the two mustards really add a depth to them that I we both really liked.
So if deviled eggs are on the menu this New Year's Eve…or any eve for that matter…I definitely suggest adding these to the mix.
P.S. It's a great day to go and buy my cookbook. 
And then leave a nice review on Amazon. 🙂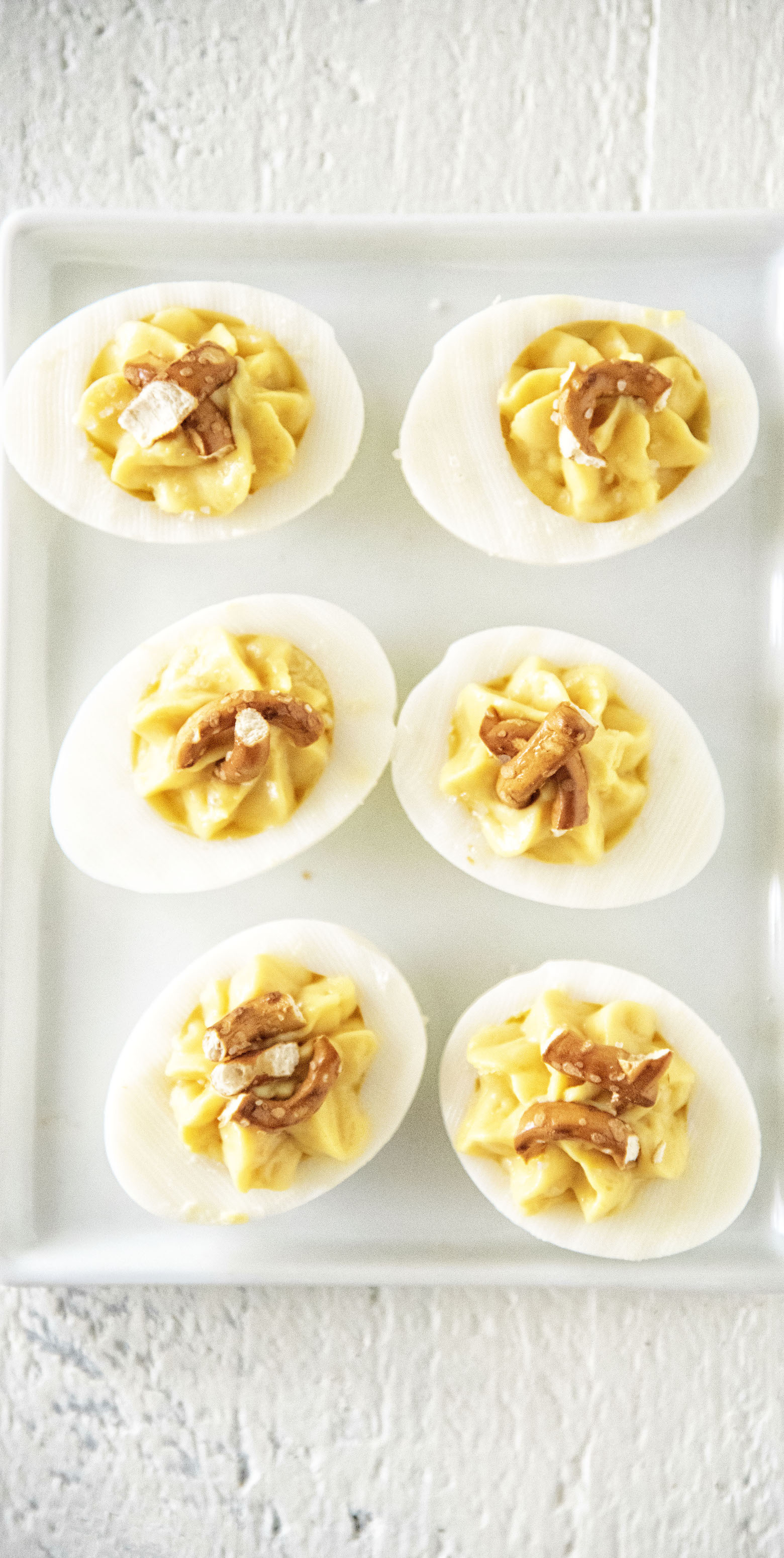 Want more appetizer ideas? Try these:
Cheddar Cheese Green Olive Nuggets
Gorgonzola, Walnut, and Pear Jam Flatbread
Baked Brie with Caramelized Onions and Candied Walnuts
Mini Manchego Cheesecakes with Apple Onion Jam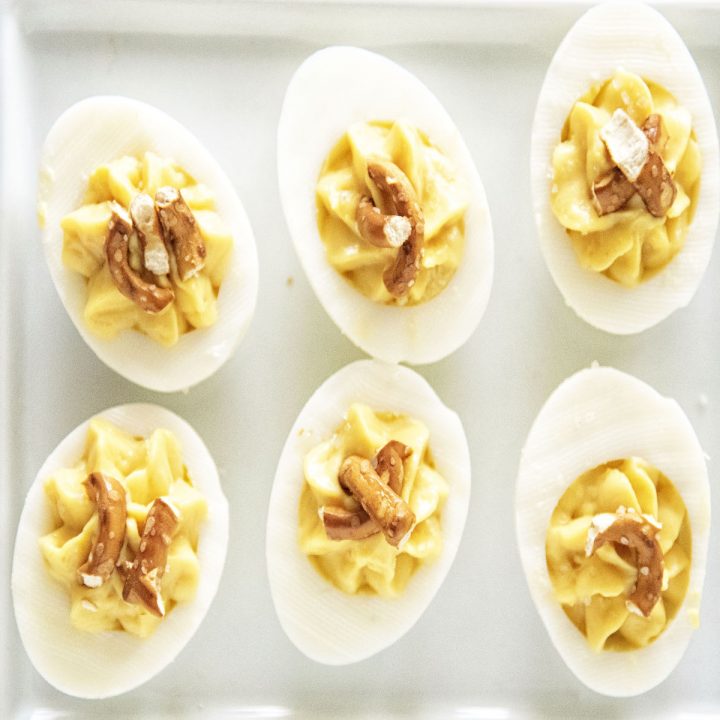 Honey Mustard Pretzel Deviled Eggs
Ingredients
12 large eggs, hard boiled
5 TBSP, Mayo (full fat)
1 1/2 TBSP Dijon mustard
1 1/2 TBSP yellow mustard
3 TBSP honey
1/2 tsp. sea salt
1/3 cup pretzel pieces
Instructions
Slice the eggs in half and remove the yolks placing them in a medium sized bowl.
Put the egg white halves off to the side.
Mix together the yolks, mayo, dijon mustard, yellow mustard, honey and salt.
Mix until creamy.
Pipe or spoon into the egg white halves.
Add crushed pretzels on top.
If not serving right away don't put the pretzels on until ready to serve or else they will get soggy.