This Mixed Berry Cornbread Dump Cake is filled with raspberries, blackberries, and tayberries and topped with a cornbread crust.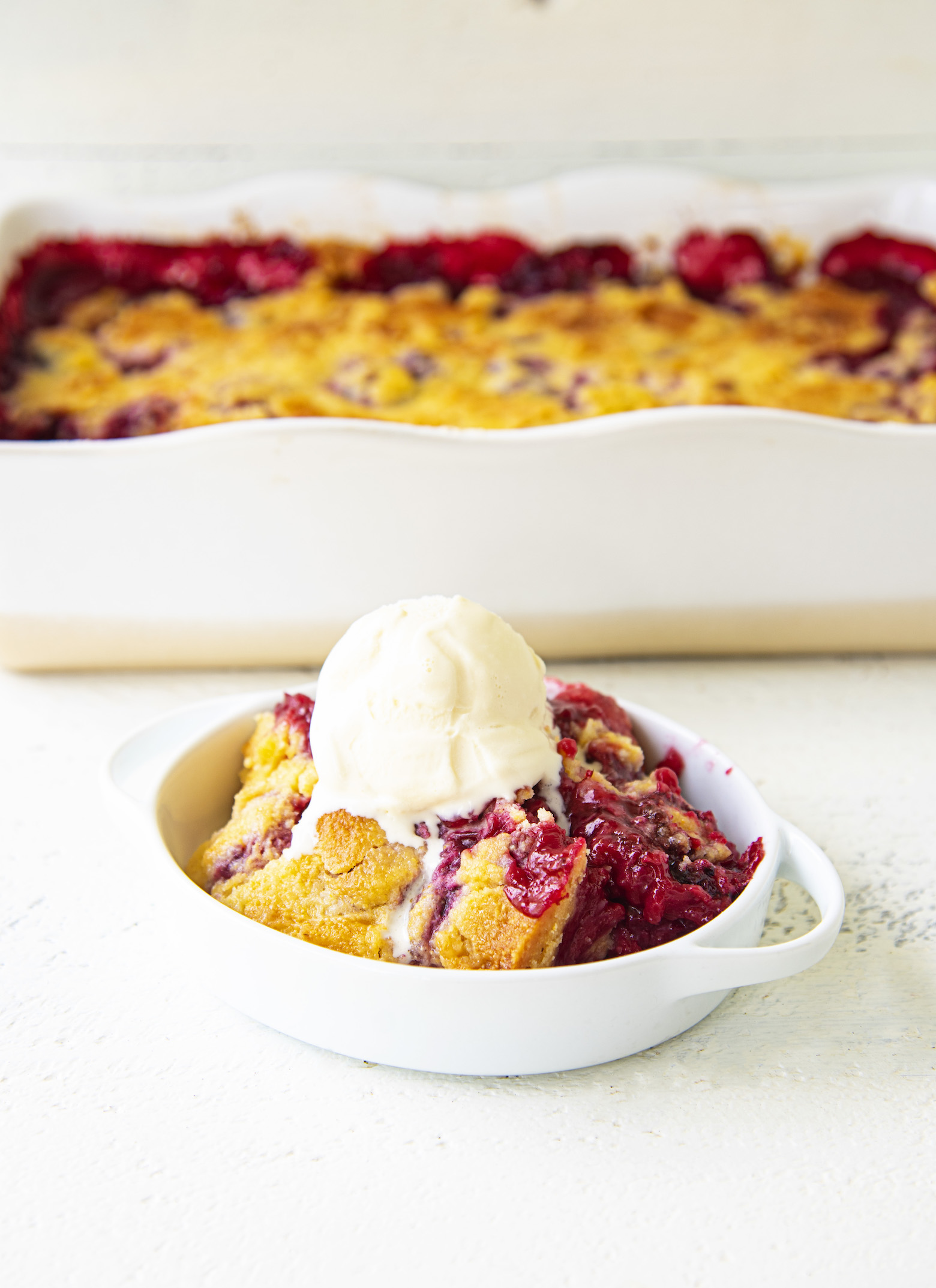 For a girl who lived in Phoenix for as long as I did, I was not made for the heat.
At all.
Though I would laugh at my current self if the old Phoenix me knew that I melt when it's the high 70's now. 😀
So the fact that we are in the mid-80's right now it not my idea of fun.
Nor to my poor little dogs who have heart conditions enjoy it.
The Pacific Northwest used to only get a few days above 80 a year.
And some years it wouldn't ever reach that.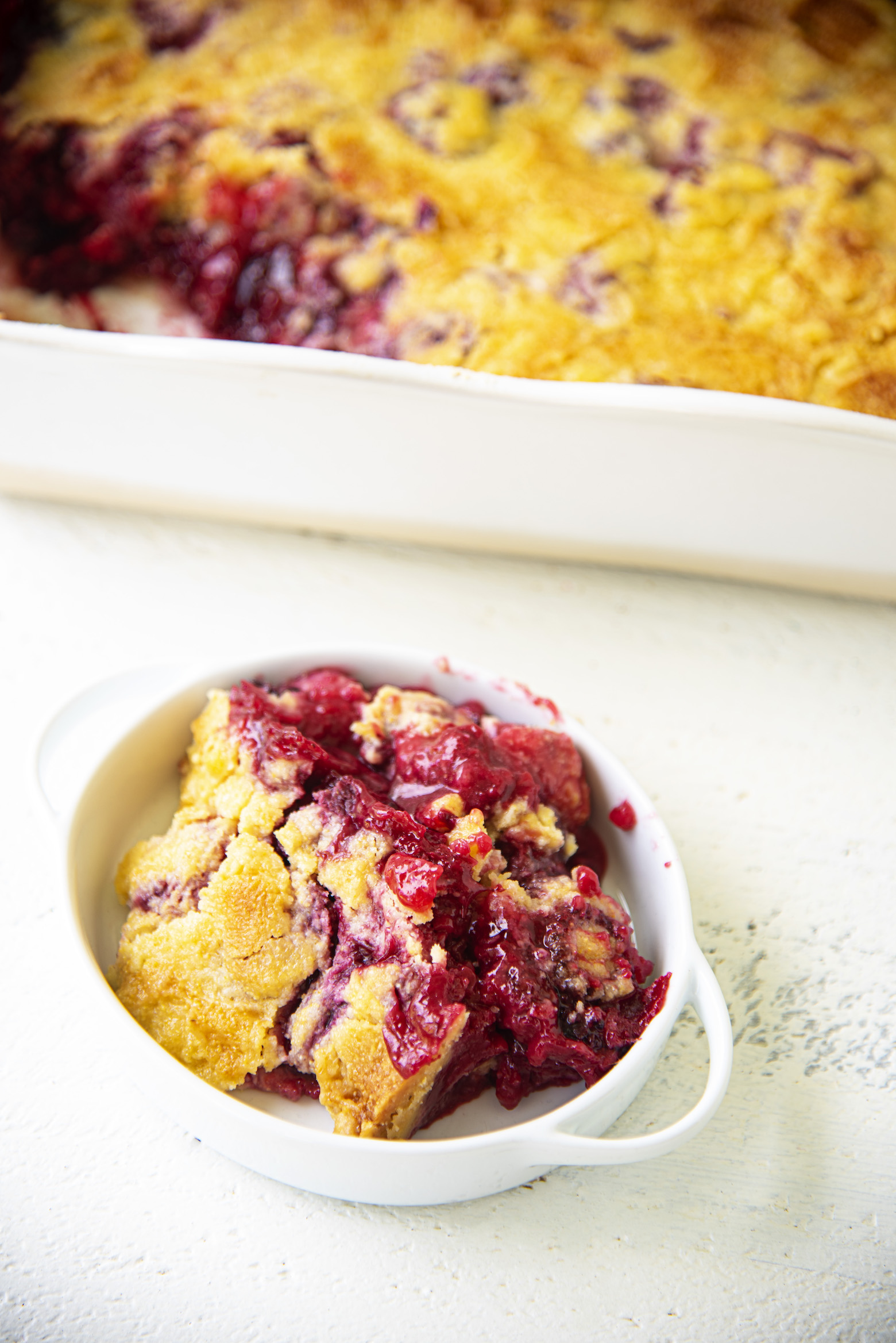 Which means when all the buildings were built most of them did not come with air conditioning because it wasn't really needed.
When I moved here I was shocked that there were people who owned cars up here that didn't come with a/c because it wasn't standard up here.
Coming from Phoenix I so could not imagine that.
In AZ if I wanted to bake in the summer I would have to wake up super early and bake.
And by summer in AZ I mean March to October. 😛
I find myself having to do that here.
Because while our house has air conditioning it's not central.
It's a whole bunch of portable ones scattered throughout the house.
I am super happy we have them but they don't work nearly as well as central air.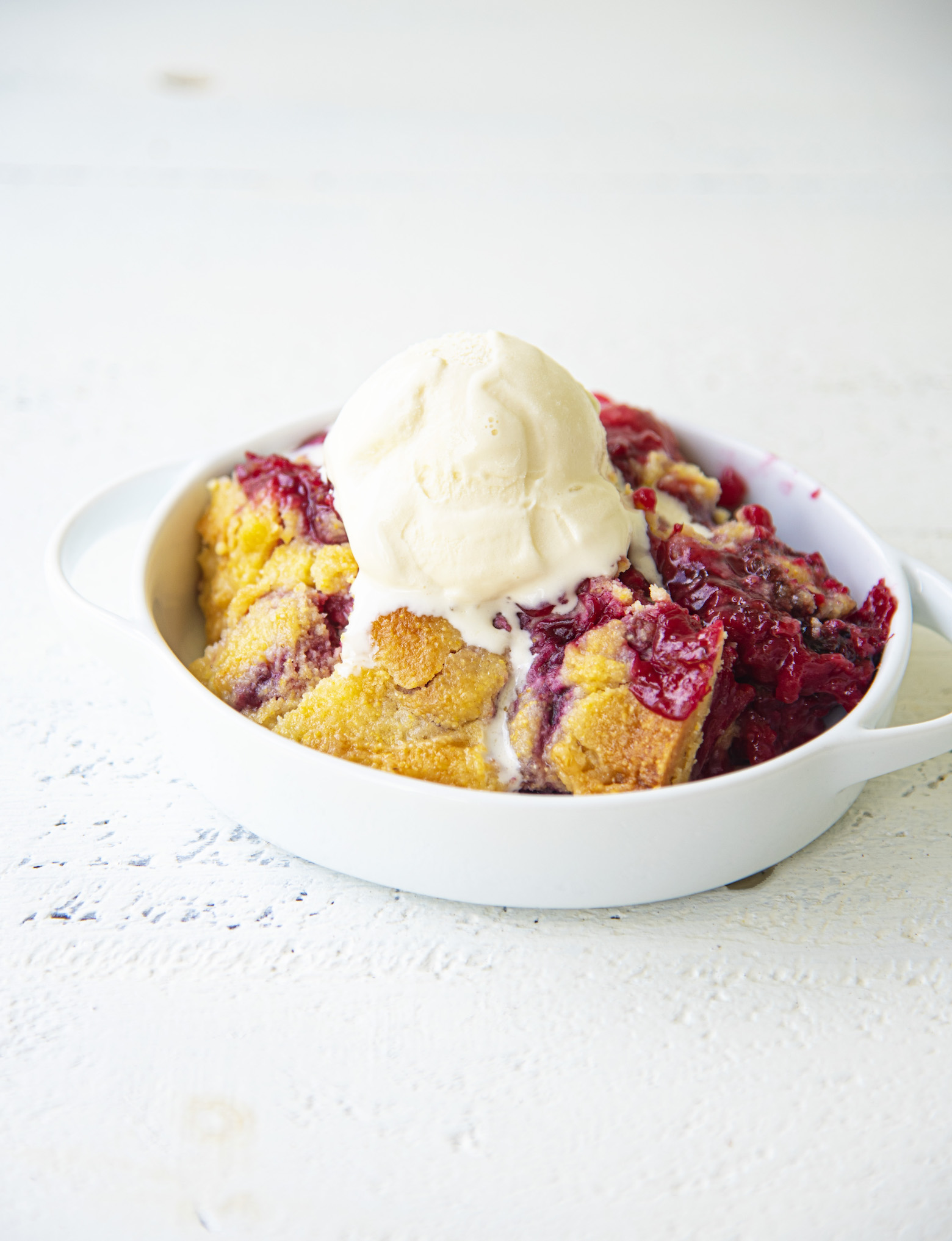 I got up at 5 am because the dogs get me up but I stayed up to make this Mixed Berry Cornbread Dump Cake.
Dump cakes are easy and so I make them often.
This one takes a little more time because it uses fresh berries instead of buying canned.
If you want to use canned berries you will need about 3 cans of 20 oz mixed berries.
While I don't normally use Jiffy cornbread I used it in this because it's less coarse in texture.
Cornbread can be coarse and while I like the texture not everyone does which is why it's combined with yellow cake mix as well.
If it's warm where you are I hope you can stay cool.
And as always it's a great day to order my cookbook.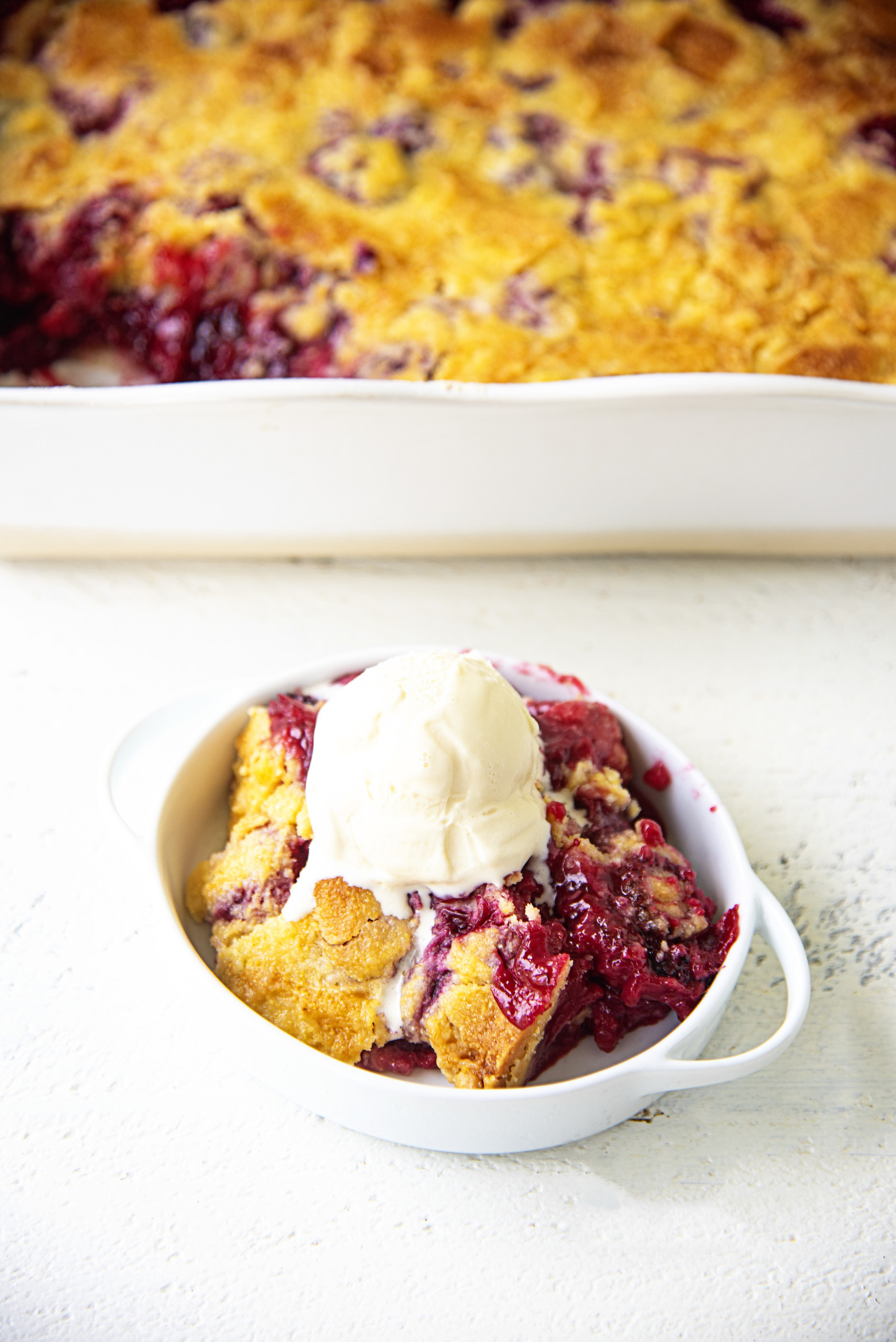 Want More Dump Cake Recipes?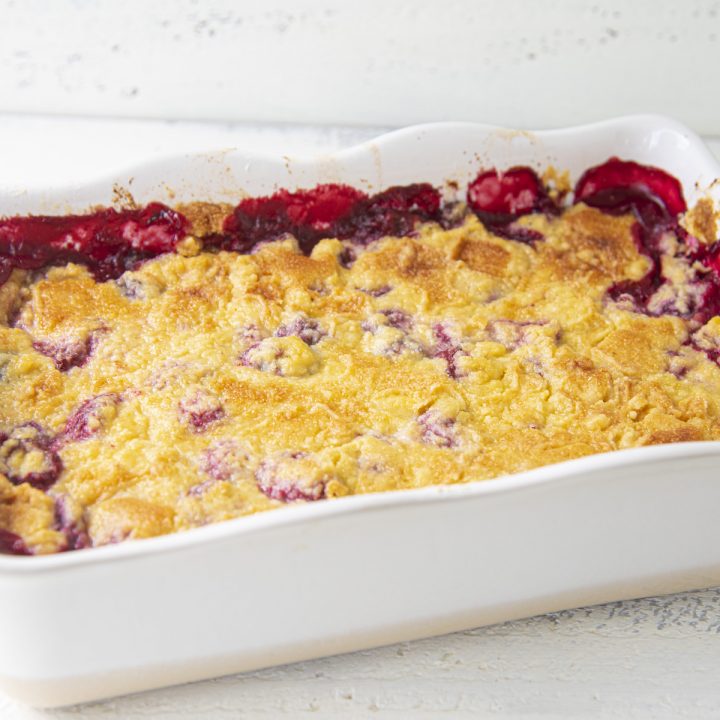 Mixed Berry Cornbread Dump Cake
Ingredients
12 cups fresh berries (I used blackberries, golden raspberries, red raspberries, and tayberries)
2 cups granulated sugar
⅓ cup plus 2 TBSP all-purpose flour
½ cup cold water
1 1/2 TBSP vanilla extract
2 tsp. fresh lemon juice
1 cup cornbread mix (I used Jiffy)
2 cups yellow cake mix
1 cup unsalted butter, melted
Instructions
Combine the berries and sugar in a large saucepan set over medium heat.
Heat, stirring occasionally, until the sugar is dissolved and the berries begin to simmer.
In a small bowl, whisk together the ⅓ cup plus 2 tablespoons flour and ½ cup water until smooth.
Add the flour-water mixture to the berries and cook over medium heat until the liquid begins to simmer and the mixture has thickened.
Stir in the vanilla and lemon juice.
Remove from heat.
Spray 9-x-13-inch baking dish with baking spray or use butter.
Pour berry mixture into the prepared pan.
Mix together the cornbread and cake mix in a large bowl.
Sprinkle cornbread/cake mix over the top of the berry mixture.
Pour melted butter over the cornbread/cake mix.
Bake at 350F for 45 minutes or until top is golden brown.
Serve with ice cream.