This Key Lime Angel Dessert is super easy to make, no bake, both tangy and sweet, and was made for key lime lovers to enjoy.
So this Key Lime Angel Dessert reminds me of bread pudding because it's not much to look at.
I had to throw raspberries on it to give it some color.
But just like bread pudding this dessert is AMAZING.
Love it so much.
But then again I love key lime everything.
You may recall I made a Key Lime Angel Food Cake because I wanted to try and create this dessert.
And normally I just buy from the grocery store bakery but they were out.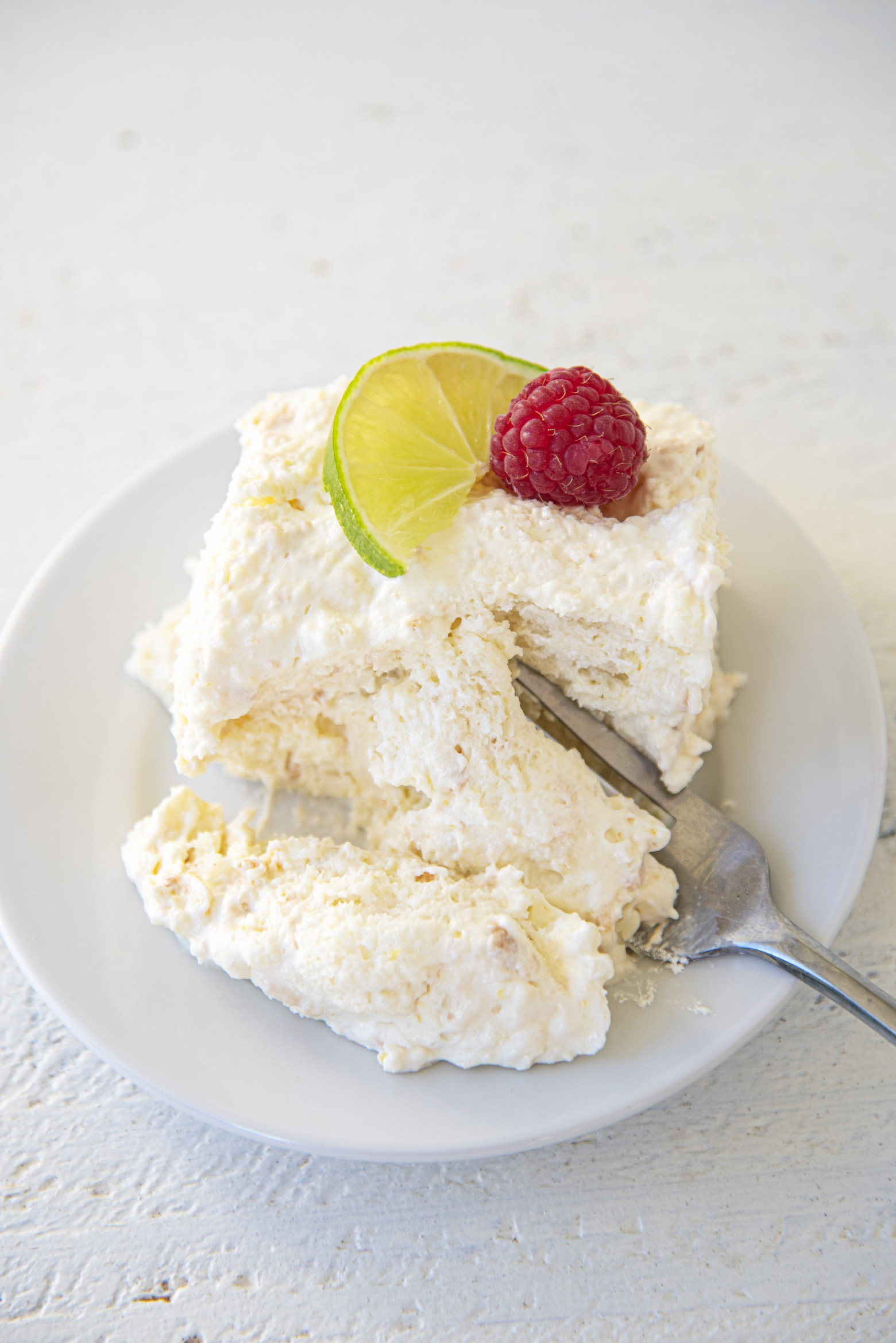 You don't have to make my angel food cake to make this dessert feel free to use store bought if your goal is to not turn on the oven.
You do have to turn on the stove top however.
As you need to make your own key lime curd.
You can find lime curd at the store but it will not be as tart as they key lime curd.
And you really want the tart flavor that key limes have to offer.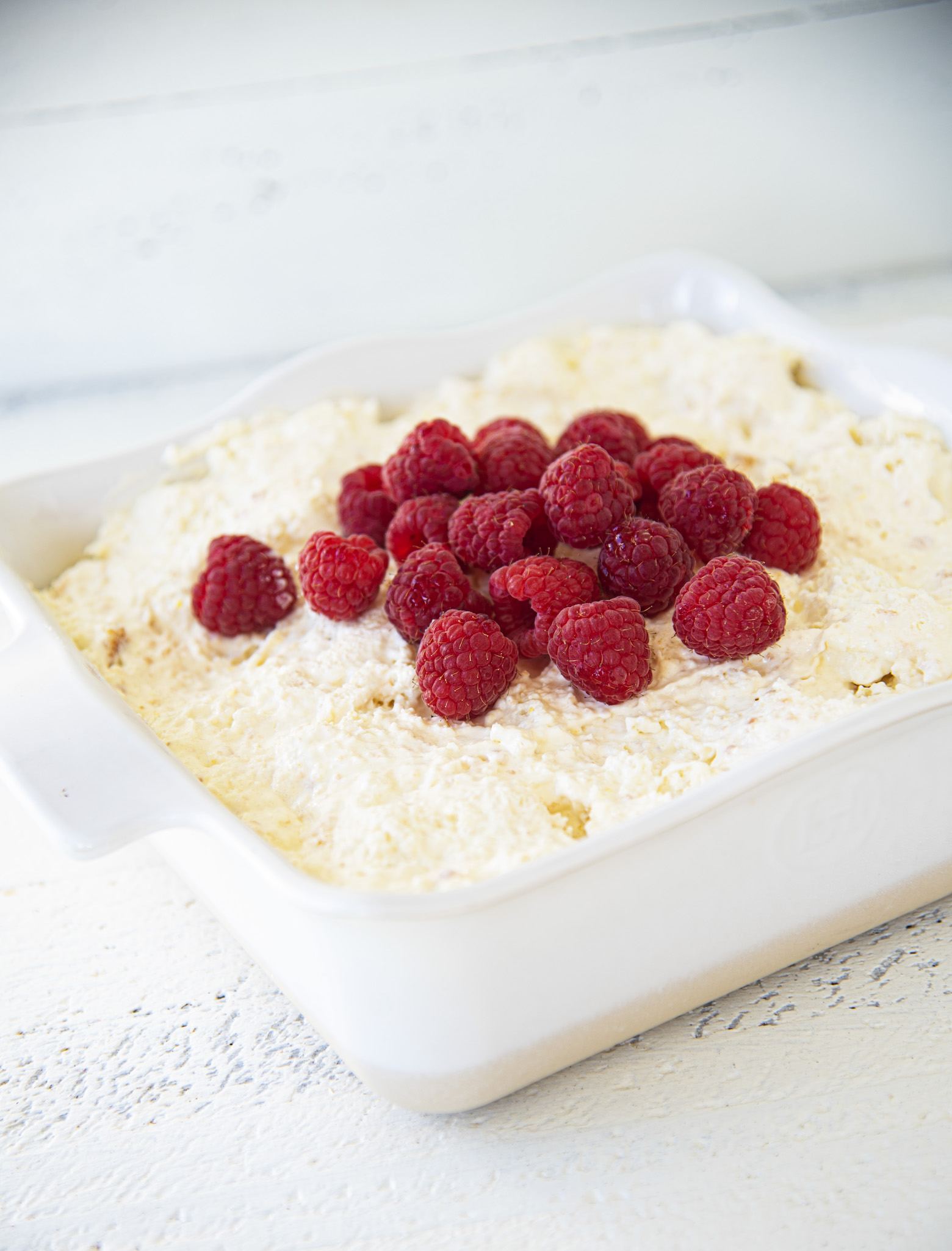 I suggest making the key lime curd the day before so it can set up nicely in the fridge.
This is an all yolk based curd.
I have seen others that use the whole egg.
I have never made curd that way so I wasn't about to start now. 🙂
Plus if you are making your own angel food cake this helps use up some of the leftover yolks! It's a win-win.
This is a perfect summer dish…though I plan on eating it year round. 😀
As always it's a great day to order my cookbook.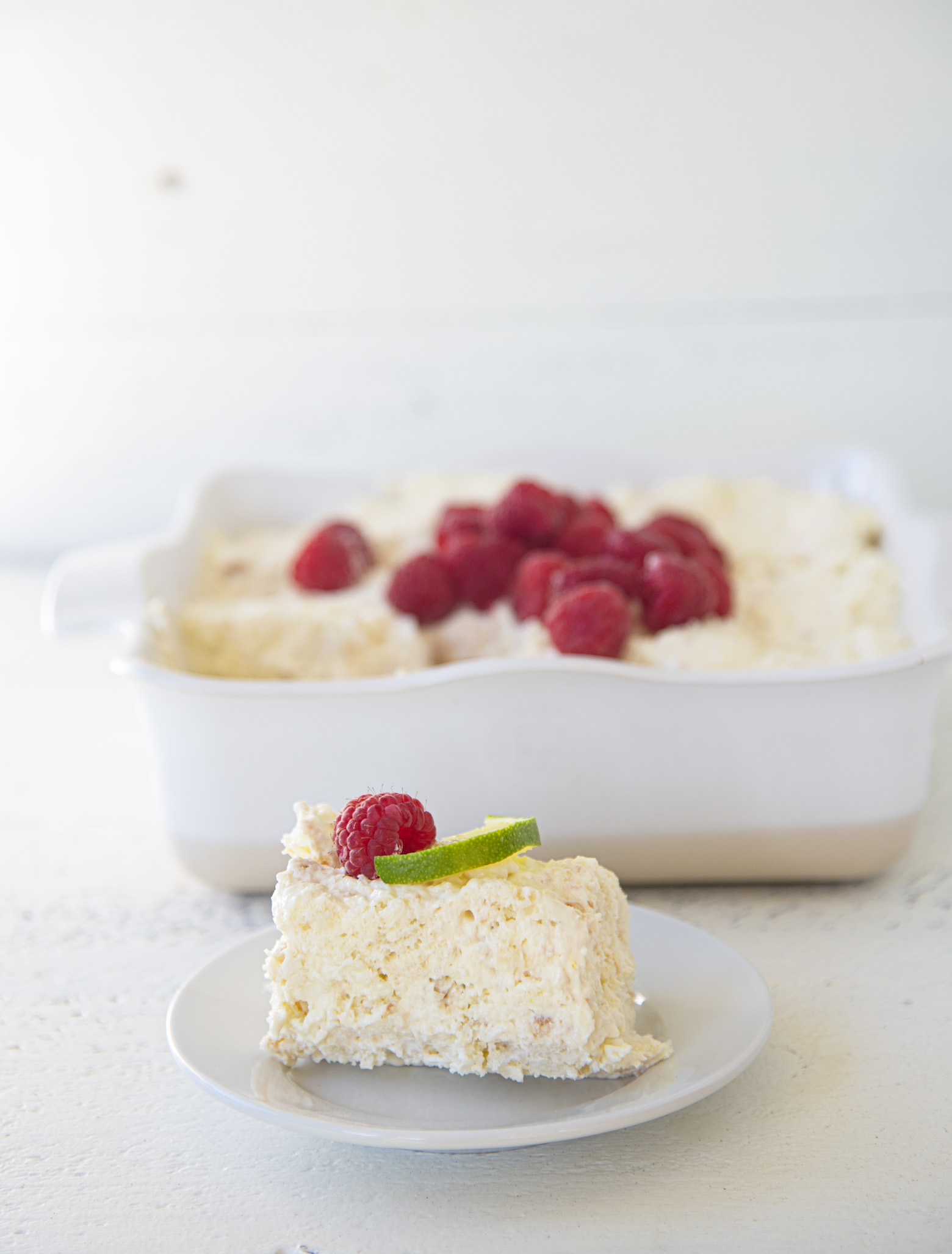 Want More Key Lime Desserts?
Key Lime Toasted Coconut Cupcakes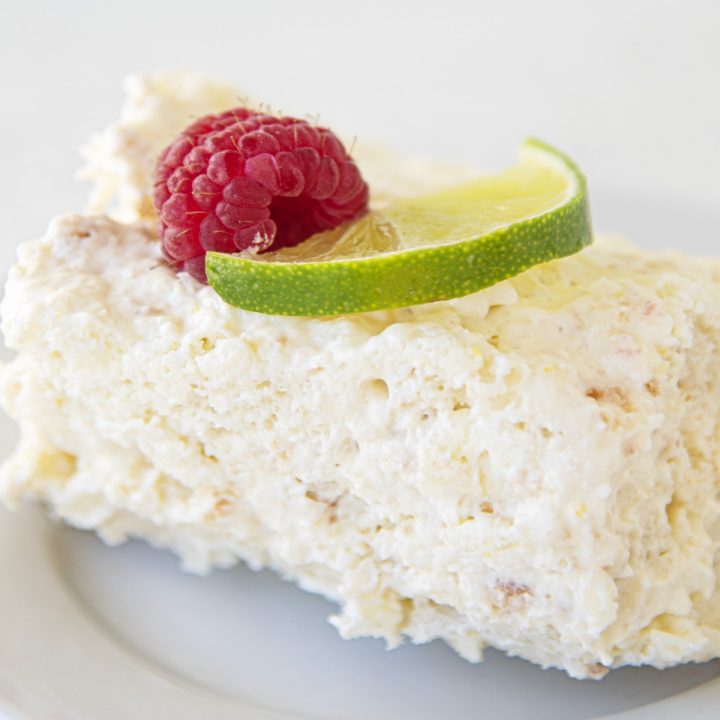 Key Lime Angel Dessert
Ingredients
For the Key Lime Curd:
1 1/2 cups granulated sugar
6 large egg yolks
1/2 cup key lime juice
Pinch of salt
4 TBSP unsalted butter, cut into 1" pieces
For the Angel Dessert:
8 oz cream cheese, at room temperature
1 cup powdered sugar
8 oz frozen whipped topping (Cool Whip), thawed
1 prepared angel food cake (8 to 10 ounces), cut into 1-inch cubes
1 cup Key Lime Curd (see recipe above)
fresh raspberries as garnish
Instructions
For the Key Lime Curd:
Whisk together the sugar and egg yolks in a medium saucepan. Add the key lime juice and salt.
Place the butter in a heat proof bowl. Put a fine mesh sieve over the bowl and keep it near the stove.
Heat the yolk/juice mixture over medium low heat, stirring constantly. You must be sure to keep stirring across the entire bottom and corners of the pot so the custard does not have a chance to stick. The mixture will start out opaque with a fine white foam over the surface. As it heats up the curd will thicken, become more translucent and the foam will disappear.
Cook until the curd will coat the back of a wooden spoon and just begins to boil. Don't allow it to come to a rolling boil. One or two bubbles is all you need to see.
Immediately remove from the heat and pour through the sieve over the butter.
Stir until the butter is melted and thoroughly incorporated. Cover the bowl with plastic wrap and cool a bit before putting in the refrigerator.
Refrigerate until completely cooled.
For the Angel Dessert:
Using a stand mixer with the paddle attachment, beat cream cheese and powdered sugar together until smooth.
Fold in whipped topping, cake cubes, and 1 cup key lime curd.
Spread evenly into an ungreased 13x9-in. dish.
Refrigerate, covered, at least 2 hours before serving.
Serve cold or at room temperature.
Top with raspberries if desired.