This Sweet Corn Parmesan Oven Risotto is the easiest risotto you will ever make full of sweet corn, parmesan cheese, and basil.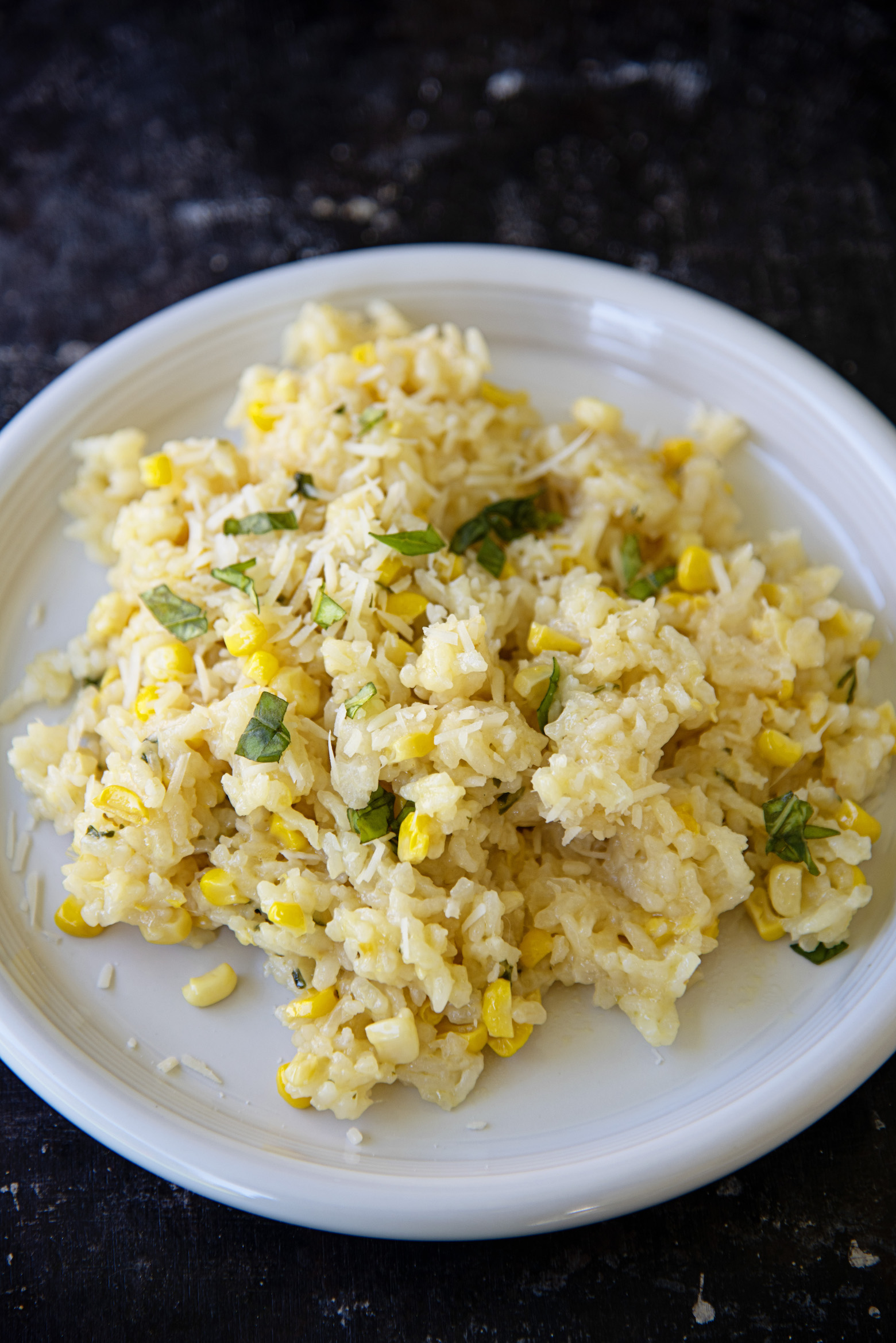 Last fall, Ashley of Not Without Salt, made a butternut squash risotto that intrigued me.
Not because of the flavor (though that was lovely) but of how it was cooked.
For years, I avoided making risotto because I lost patience for standing over the pot adding a little liquid at a time.
Ironically if it involves baking and not cooking I would stand there forever.
I don't get it either. 😀
But her risotto involved little stirring and in fact, you put it in the oven.
I gave it a go.
And well, I've never looked back.
We make oven risotto all the time now and I wouldn't want to make it any other way and it tastes just as good as the pain in the butt method.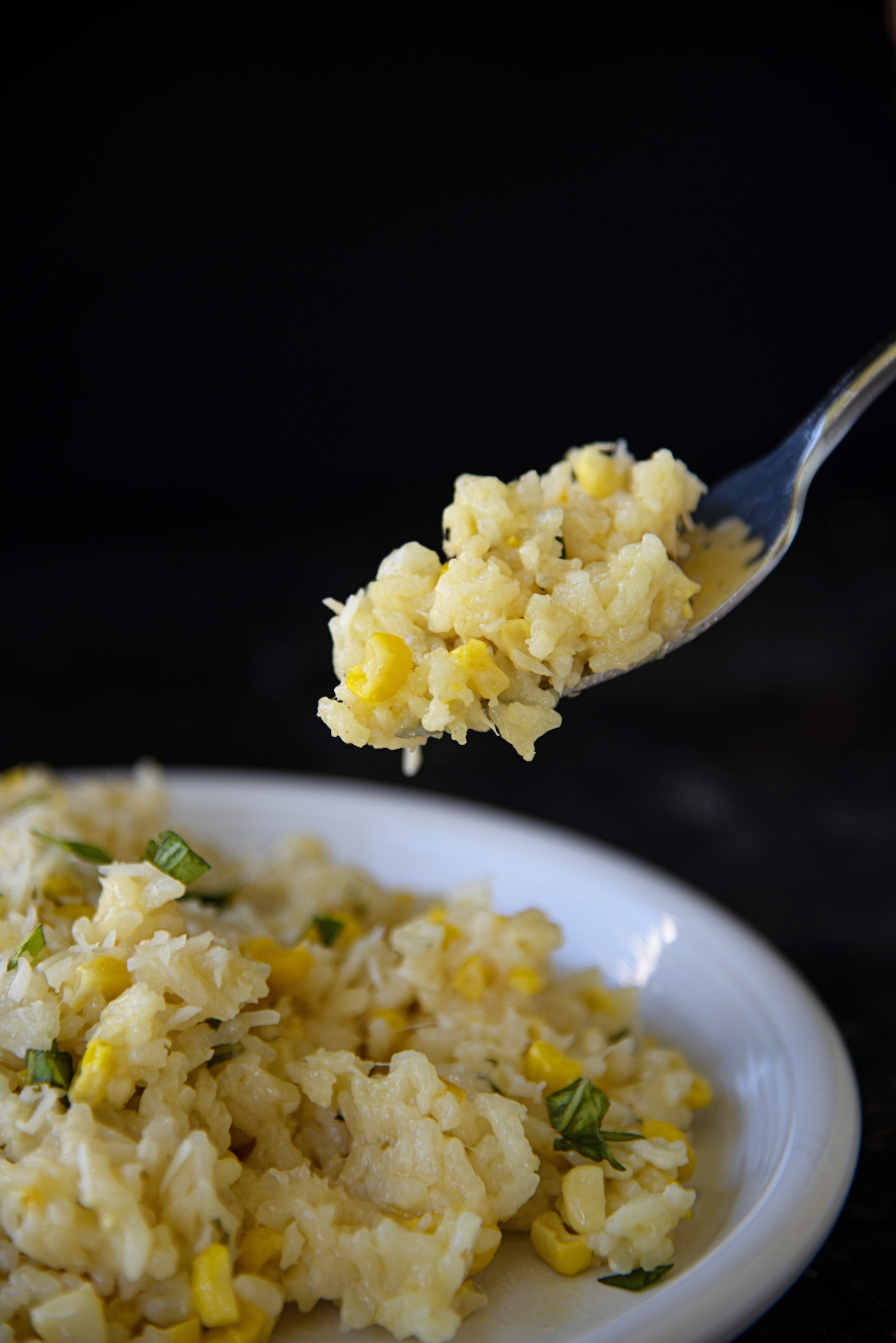 We are smack dab in the middle of June (which is insane to me).
Which means all of our local produce around here is starting to flourish.
If you follow me on Instagram you know I dragged out my pots from many years ago when I had a container garden and planted herbs.
I will admit that while they herbs are useful culinary wise, it's honestly just as decorative.
As you can see it's quite cheerful and colorful.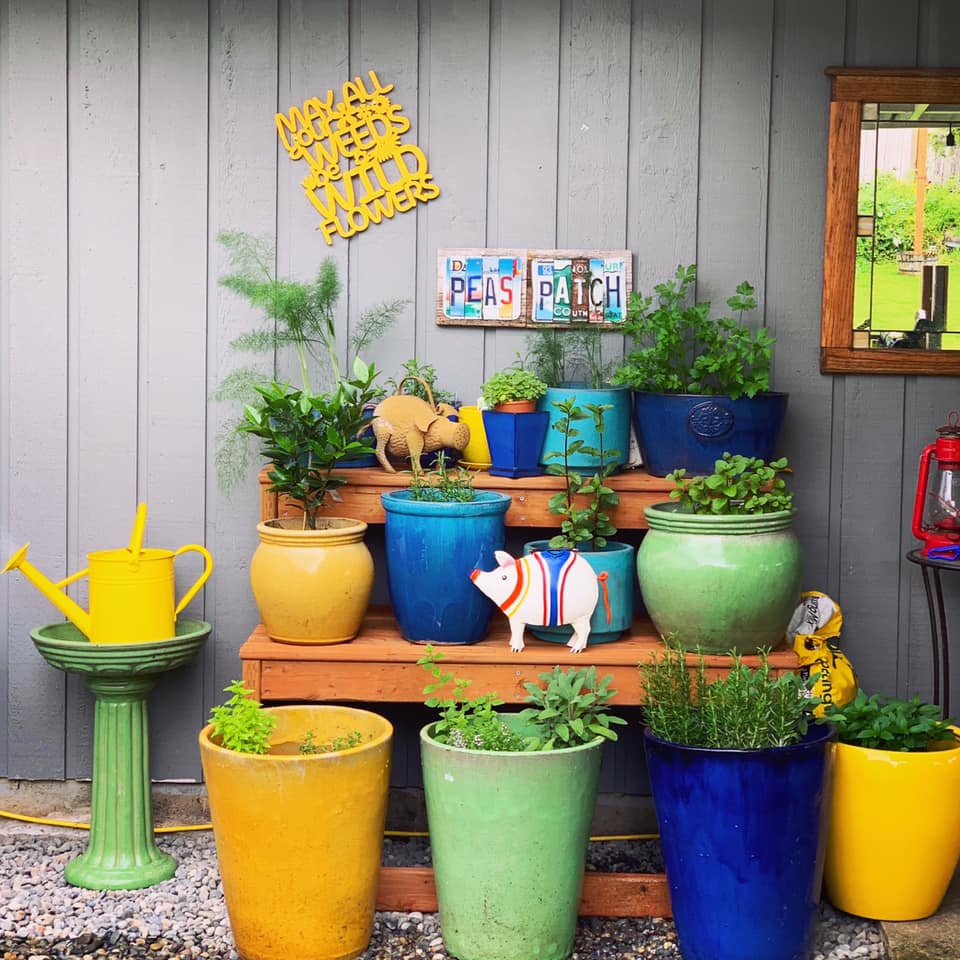 I much prefer color to today's trends of stark white everywhere.
Ironically I live in farm country yet don't have farmhouse decor. 🙂
With all these herbs I've been trying to use them more and more of them in my cooking and baking.
It's not corn season here but decent corn has started to come into our stores but I can't wait to make this once local corn is available.
And as always it's a great day to order my cookbook. 
Want More Vegetarian Meal Ideas?
Vegetable Biscuit Pot Pie Cobbler
Alpine Dijon Macaroni and Cheese
Broccoli Cheese Biscuit Cobbler
Cheesy Hash Brown Topped Vegetarian Shepards Pie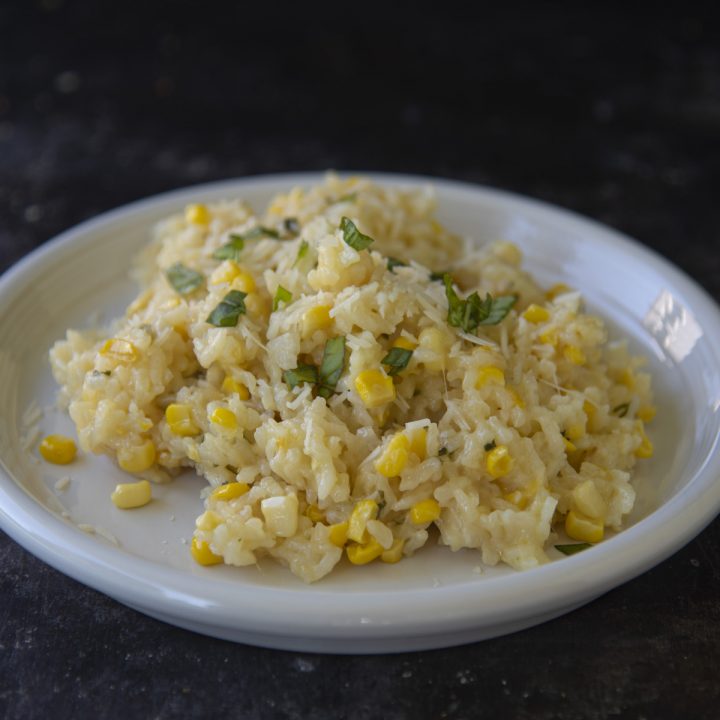 Sweet Corn Parmesan Oven Risotto
Ingredients
4 TBSP unsalted butter, divided
1 1/2 tsp sea salt, divided
1 cup sweet onion, diced
2 cups fresh (or frozen) corn, removed from cob
1 1/4 cups arborio rice
4 cups vegetable stock
1 cup white wine, divided
1 cup finely grated Parmesan
1 cup shredded Parmesan
3 TBSP fresh basil, chopped
Instructions
Add 2 tablespoons butter to a large skillet.
Stir in the onions and sauté over medium heat until they just start to color, about 15 minutes.
Add the corn and 1/2 tsp sea salt then continue to cook for 5 minutes.
In a 9x13 baking dish add the rice, stock, 1/2 cup wine, remaining 2 tablespoons butter, and 1 teaspoon sea salt then stir in the corn/onion mixture.
Place the dish in the middle rack of your oven.
Turn the oven to 400°F.
Bake the rice for 30 minutes stirring about halfway through.
The rice should still be ever so chewy.
Remove the rice from the oven then stir in the remaining 1/2 cup white wine and the parmesan.
Fold in the fresh basil.
Serve while warm.