This Broccoli Cheese Biscuit Cobbler is a thickened version of creamy broccoli cheese soup topped with flaky buttermilk parmesan biscuits.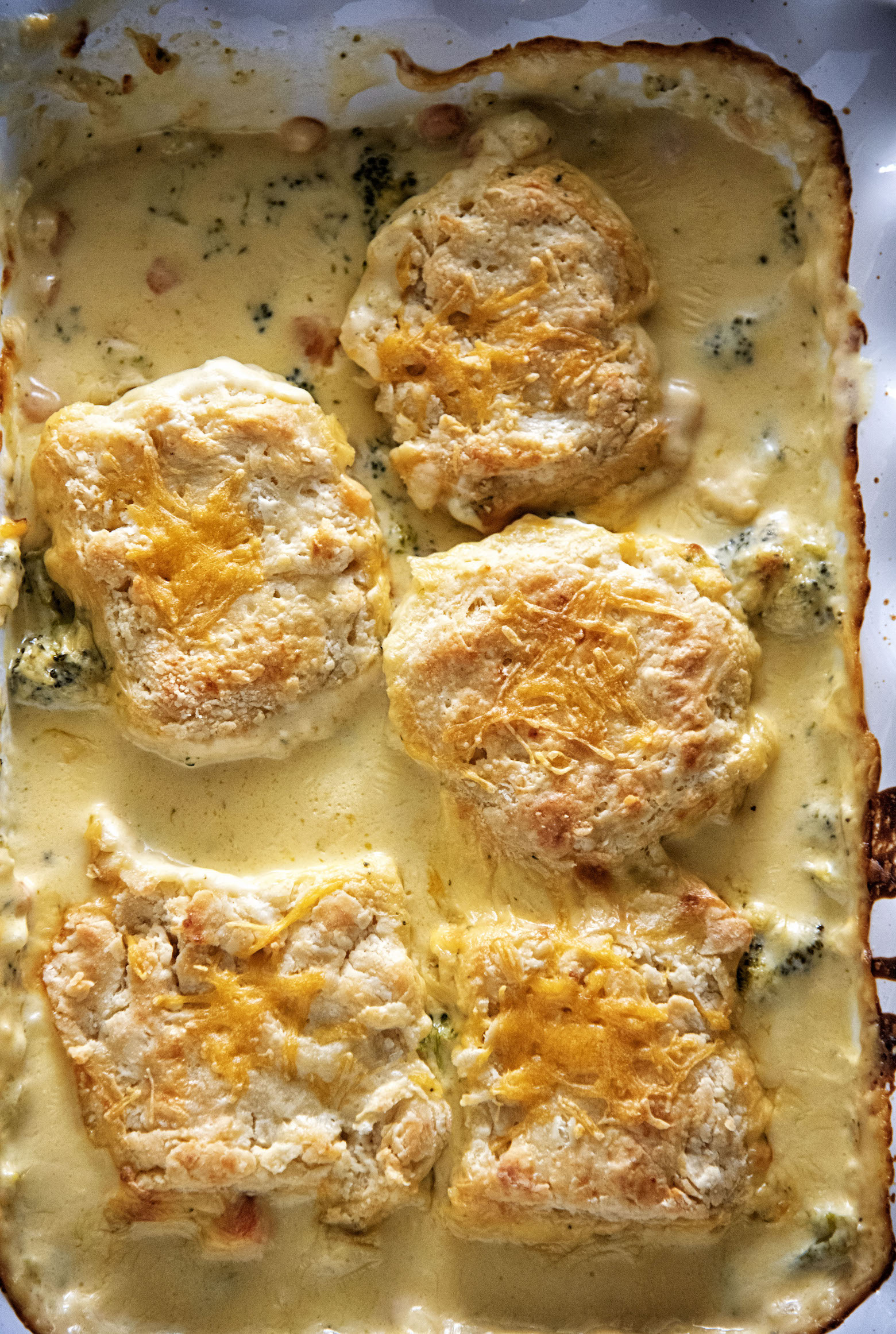 So I'm going to fully admit something.
And it's probably pretty controversial.
I don't usually make food from food blogs anymore.
Why?
Because most of them aren't very good.
Most food bloggers these days don't test their recipes, especially the big name bloggers.
They make it once, photograph it, and then put it online.
Now some recipes you don't need to test.
Those are recipes that you have already made over and over and it's just a variation of a tried and true recipe.
I get that.
But the demand for recipes each week, some bloggers do daily, causes them to not put in their due diligence.
One blogger who I do cook from is Half Baked Harvest.
I don't know her personally but I find her food fascinating.
Even if I don't make things from her site often she always does inspire me and I appreciate that.
I've been going to her site more and more because she does have quite a few vegetarian dishes.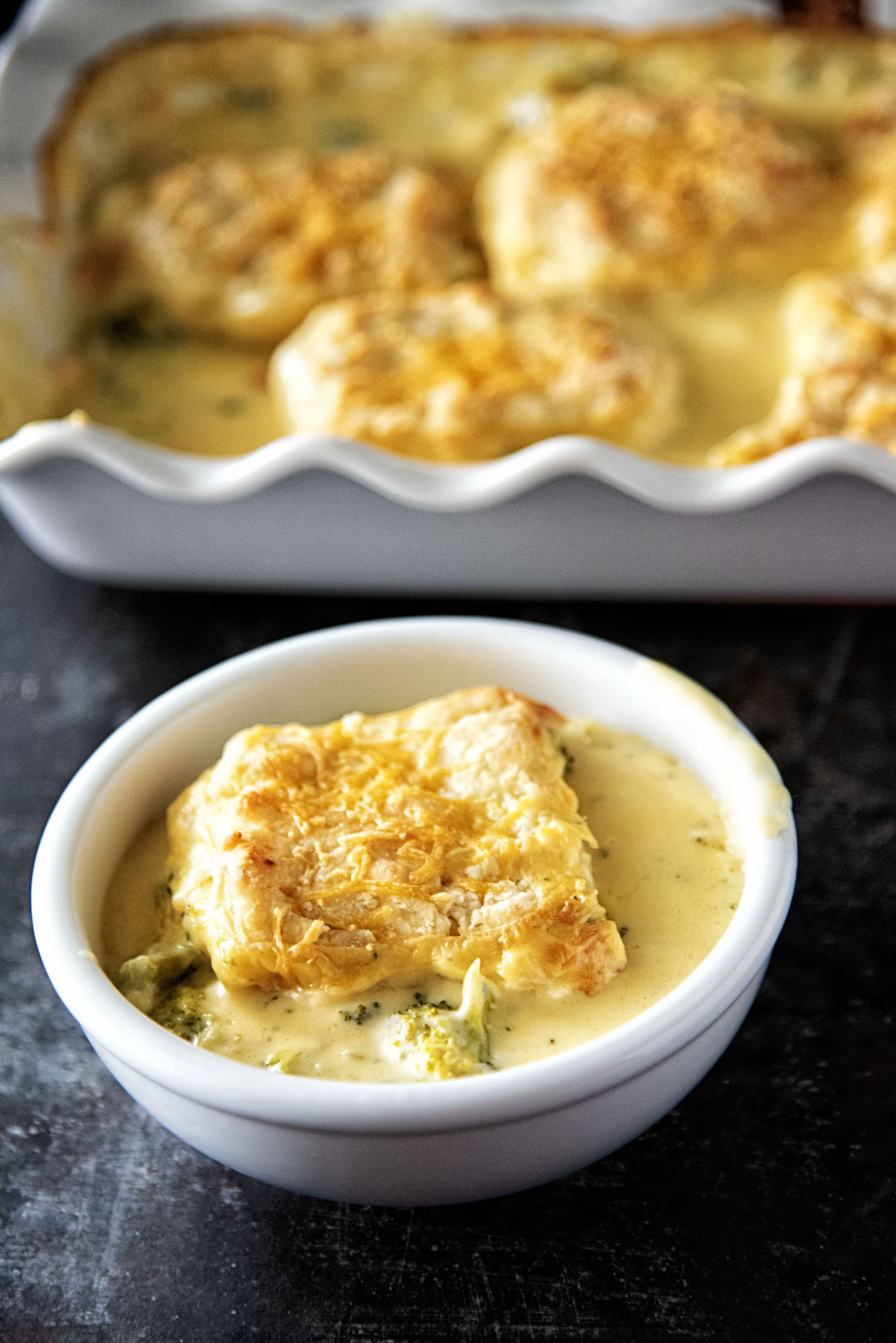 This recipe popped up on Pinterest when I looking for broccoli dishes and was immediately in love with the idea.
I did change a few things around.
I like to add powdered cheese to my cheese based soups.
Sounds weird but it really does punch it up a bunch.
I buy the Vermont White Cheddar kind. Big fan.
Added some cream cheese as well.
And some heavy cream.
Because well I go big or go home. 🙂
This is very tasty and I highly recommend it!
P.S. It's a great day to buy my cookbook Holy Sweet!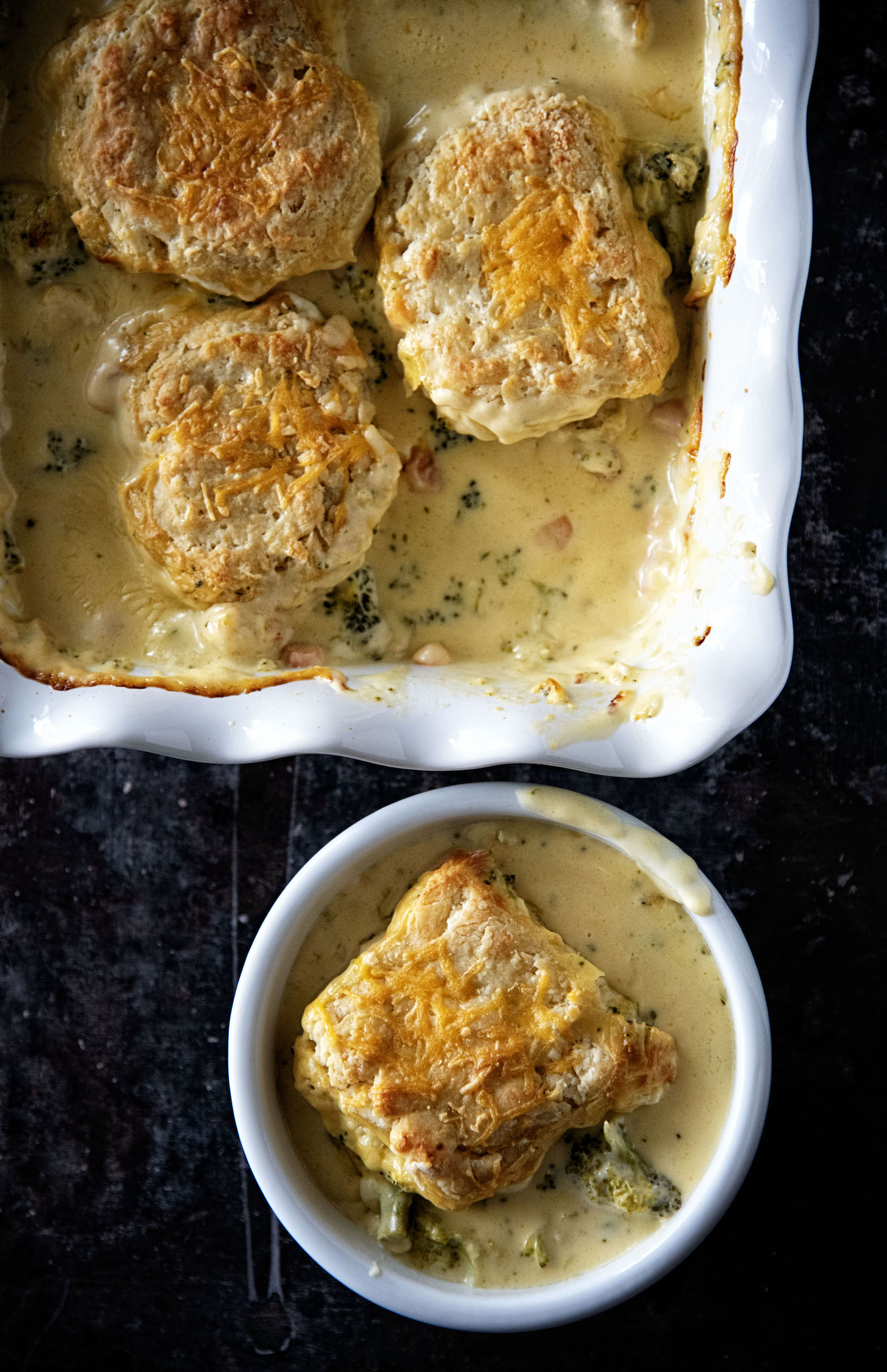 Want More Vegetarian Meal Ideas?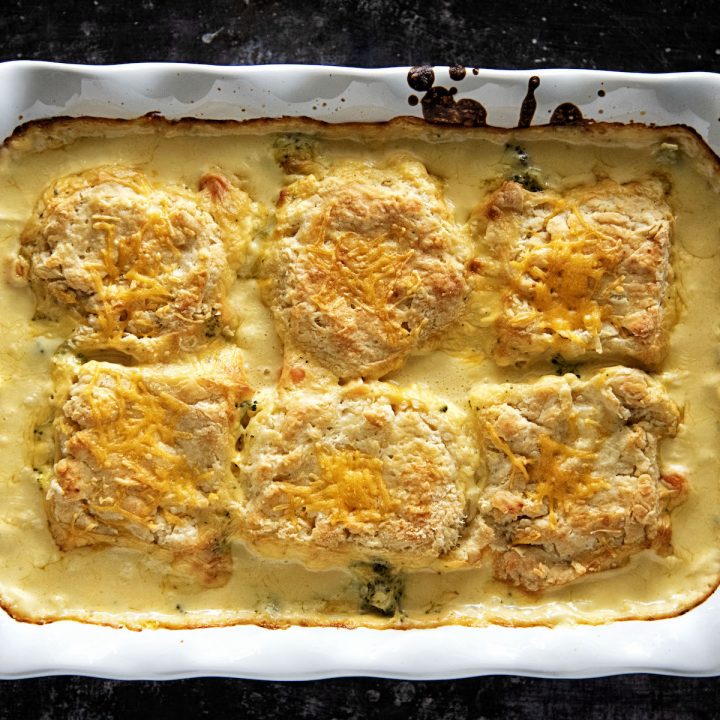 Broccoli Cheese Biscuit Cobbler
Ingredients
For the Soup Base:
2 TBSP extra virgin olive oil
3 TBSP unsalted butter
1 cup sweet onion, finely diced
1/2 cup carrot, small chop
1/4 cup all-purpose flour
4 cups broccoli florets, roughly chopped
1 bay leaf
1/4 tsp. freshly grated nutmeg
kosher salt and pepper
1 cup whole milk
1 cup heavy cream
4 oz cream cheese
1 1/2 cups shredded sharp cheddar cheese
For the Biscuits:
2 cups all purpose flour
2 tsp. baking powder
1/2 tsp salt
1/2 cup grated parmesan cheese
1 stick (1/2 cup) cold butter, grated on a box grater just like cheese
1/2-1 cup cold buttermilk, it will depend on the thickness of your buttermilk
Instructions
For the Soup Base:
Heat the olive oil and butter in a large pot over medium heat.
Add the onion and carrot and cook until fragrant and opaque in color, about 10 minutes.
Whisk in the flour and cook until golden, about 1 minute, then gradually whisk in the broth until smooth.
Add the broccoli, bay leaf, nutmeg, and a large pinch each of salt and pepper.
Bring to a simmer, reduce the heat to medium and cook, uncovered, until the broccoli is tender, about 10 minutes.
Remove the bay leaf and discard.
Stir in the milk, heavy cream, cream cheese, powdered cheese, and cheddar cheese until melted and creamy.
Cook another 10 minutes or until the mixture has thickened.
Remove from the heat and transfer the mix to a medium size casserole dish.*
Make the Biscuits:

In a mixing bowl, combine the flour, baking powder, parmesan, and salt.

Add the butter and toss with the flour.

Add the buttermilk, and mix until just combined, adding more buttermilk if needed.I needed almost a full cup worth. But I use very thick buttermilk from a local dairy.

Roll the dough out into a 1 inch thick rectangle and cut into 6 biscuits.
Place the biscuits on top of the broccoli casserole.
Brush each with buttermilk.
Transfer to the oven and bake until the broccoli is bubbling and the biscuits are golden brown, about 30 minutes.
Top biscuits with cheddar cheese if desired and bake until cheese melts.