This Vegetable Biscuit Pot Pie Cobbler is my take on chicken pot pie minus the chicken. Made with store bought biscuits for easy crust.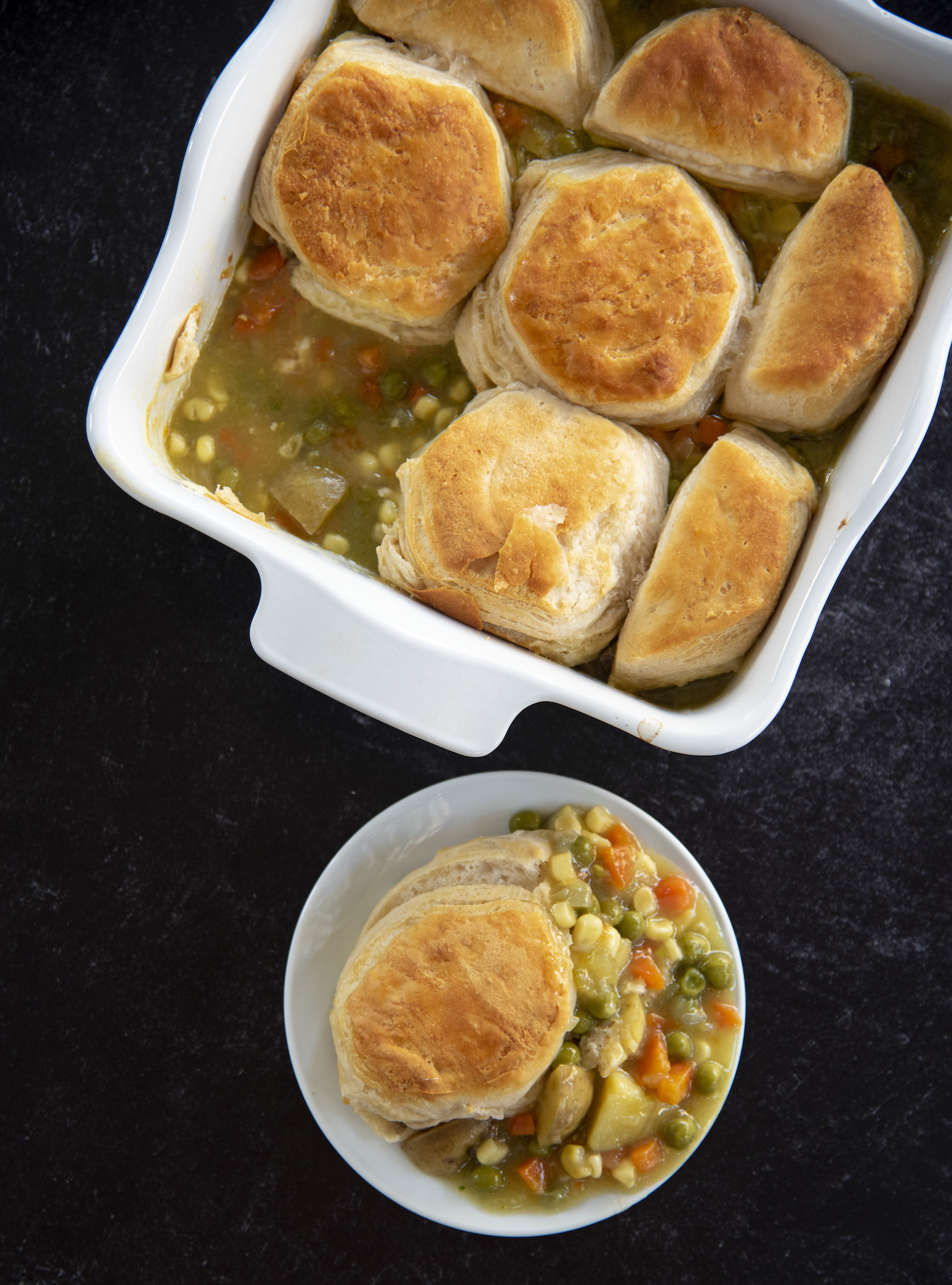 I totally confess that I loved Marie Callender's pot pies as a kid.
Not ashamed of that.
Preferred them at the restaurant but never turned down a frozen one at home.
And since I am craving all the comfort foods of my childhood during this time of uncertainty I had to pay respects to the chicken pot pie.
Except I don't eat meat anymore so no chicken.
Plus I really wasn't in the mood to make pie crust.
And I had a roll of Grands biscuits in the fridge about to expire.
Even though this Vegetable Biscuit Pot Pie Cobbler is not exactly like my childhood it definitely hit the spot.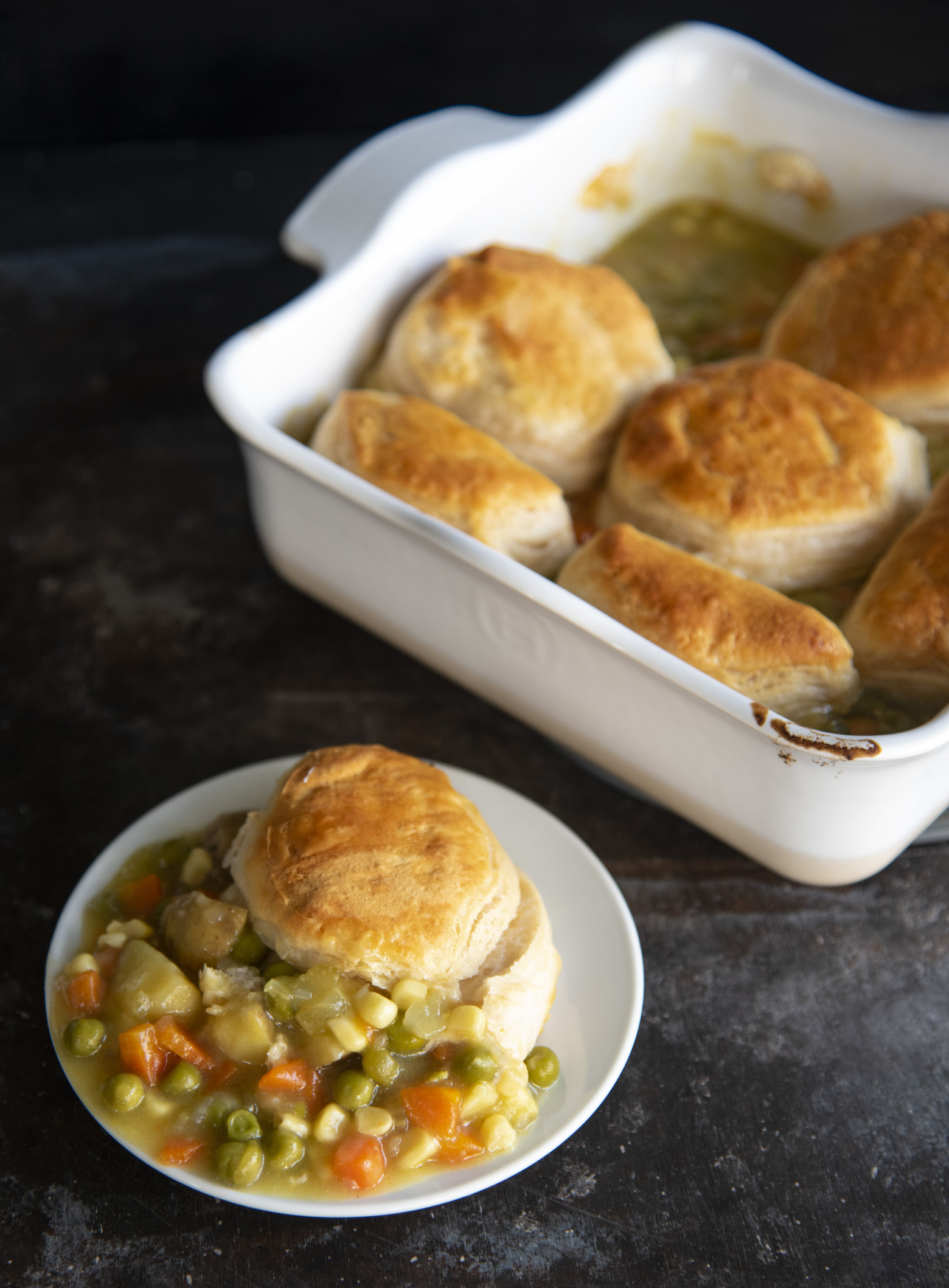 While I do love a good flaky crust the idea of having to make a double crusted pie just was not happening yesterday.
Enter the biscuits.
I've done stuff in the past with them and they did not turn out because the bottom of the biscuit stays raw.
So the key is to partially bake them before you bake the cobbler.
Trust me from experience on that one. 🙂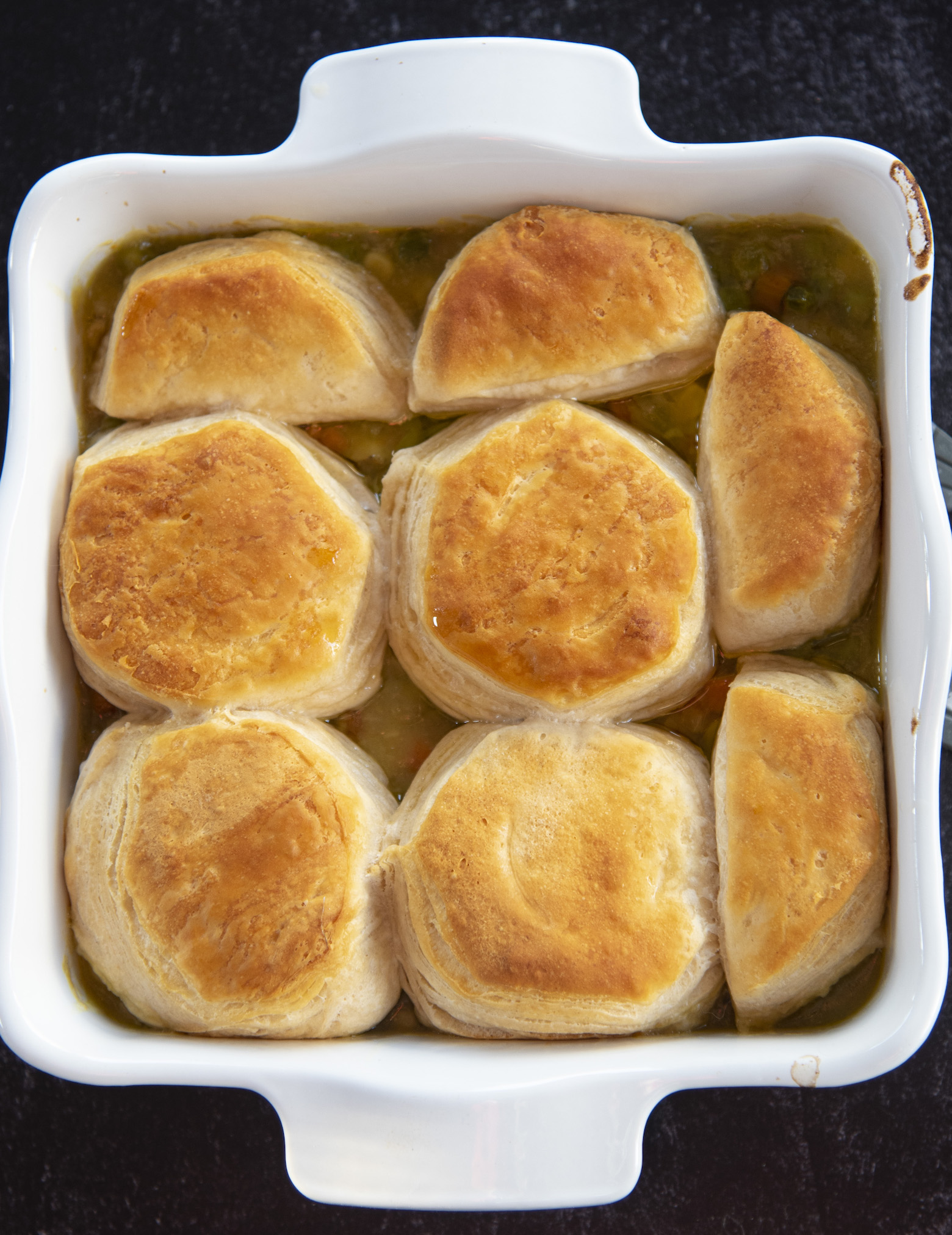 The vegetables in the pie as simply based off of my memories.
You can add whatever veggies are going to make you happy.
But I stuck with onion, celery, carrots, potatoes, corn, and peas.
While my onion, carrot, celery, and potatoes were fresh I had to use frozen corn and peas due to lack of supply.
You may want to add mushrooms or any other vegetable you may of had in your pot pies growing up.
Last but not least…it's a great time to order my cookbook. 😀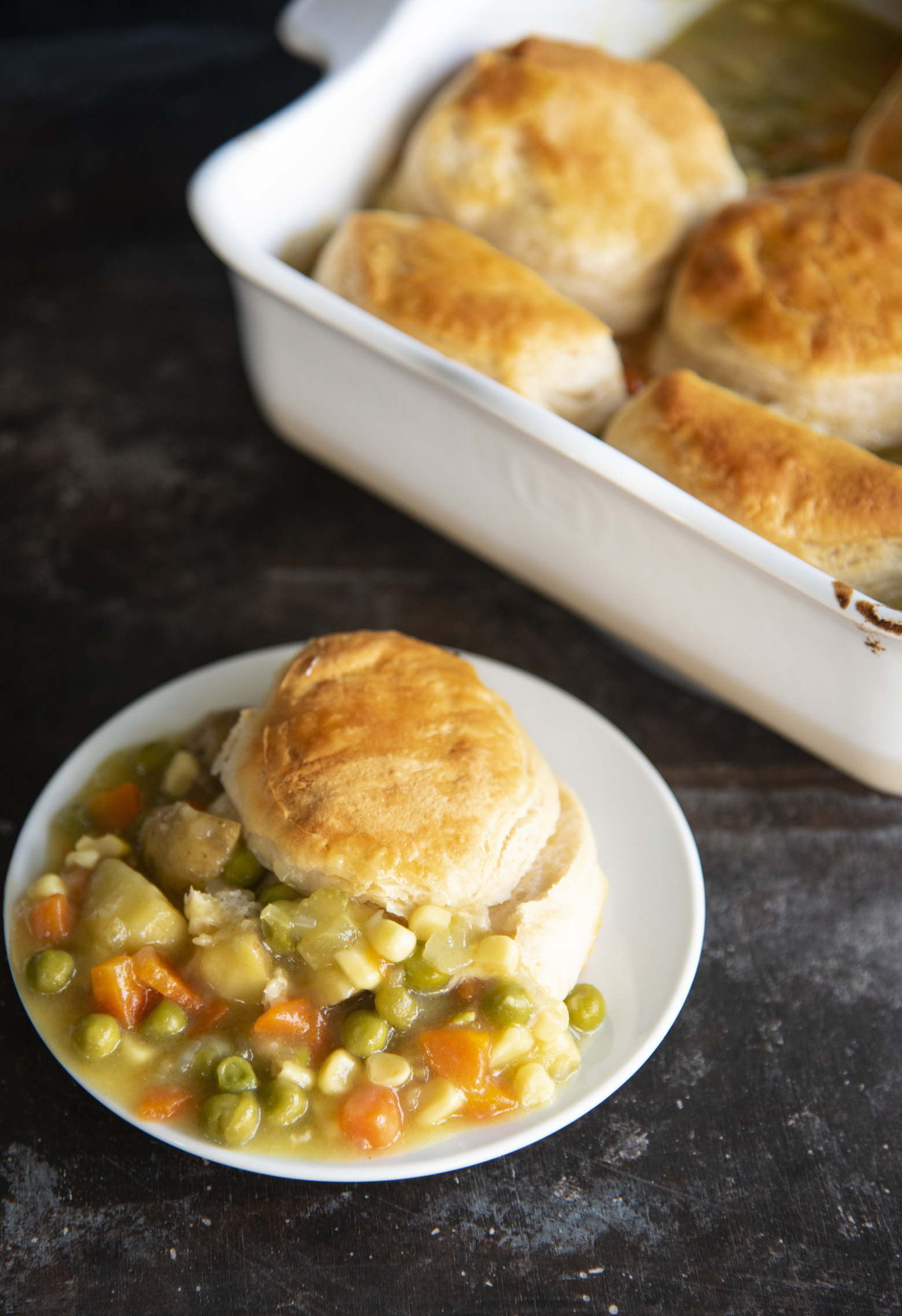 Want more Recipes?
Grilled Cheese Tomato Soup Casserole
Broccoli Cheese Biscuit Cobbler
Alpine Dijon Macaroni and Cheese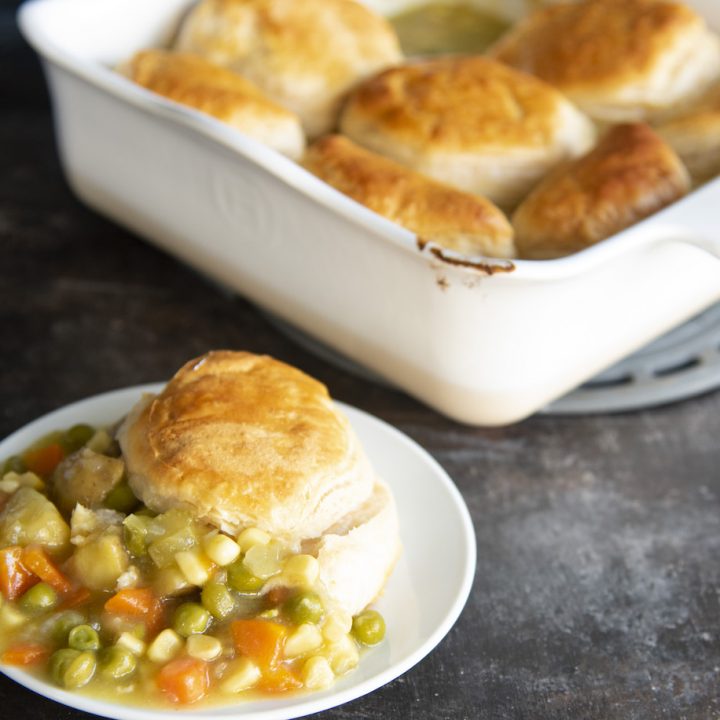 Vegetable Biscuit Pot Pie Cobbler
Ingredients
8 Grands Biscuits
4 TBSP butter
2 cups small gold potatoes, quartered
3/4 cup sweet onion, diced
3/4 cup carrot, diced
3/4 cup celery, diced
1 TBSP garlic, minced
1/4 cup all-purpose flour
2 cups chicken-less stock
1 cup frozen peas
3/4 cup frozen corn
Instructions
For the Biscuits:
Preheat oven to 350F.
Open the biscuits and get scared to death when they pop.
Place them on a baking pan with parchment paper making sure they don't stick together.
Bake for 7 minutes or until bottoms are starting to crisp…you just don't want them raw.
Remove from oven and let sit while you prepare filling and change oven heat from 350F to 375F.
For the filling:
In a large saucepan melt the butter over medium high heat.
Add the onion, carrots, and celery. Cook until onion starts to soften, about three minutes.
Add the potatoes and garlic and cook for another minute.
Sit in the flour, salt, and pepper, and cook for 1 minute.
Add the broth and simmer over medium low heat until the potatoes are fork tender.
Pour into a 9-x-13-inch pan.
Top with the biscuits.
Place into oven and bake for another 12 minutes. At this point if your biscuits are getting too brown you can loosely cover them in foil. Bake another 6-9 minus depending on your oven.
Serve warm.