This Cheesy Hash Brown Topped Vegetarian Shepherds Pie is a Vegetarian twist on Shepherd's Pie using hash browns an all vegetable filling.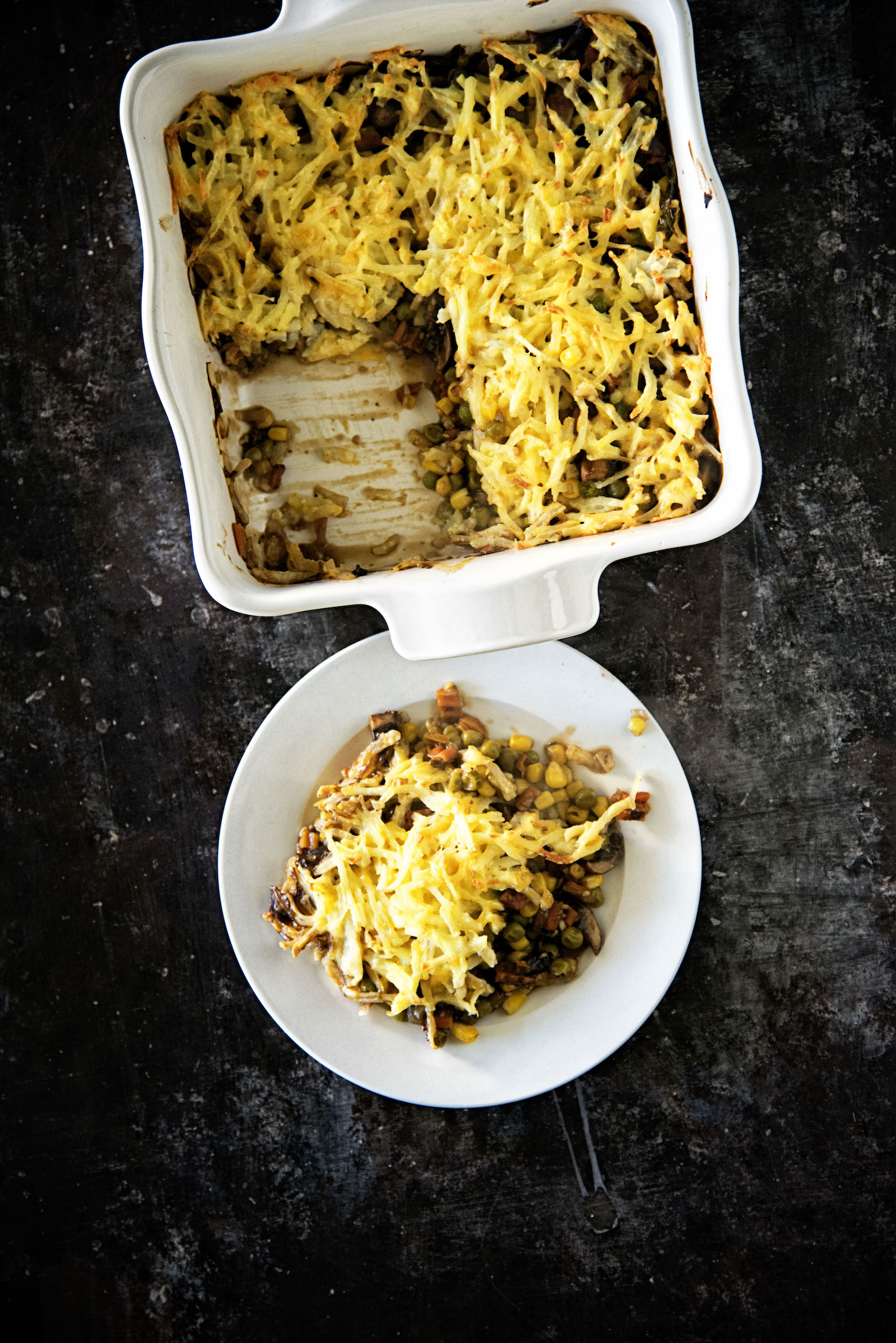 Break out the comfort food…it's November.
Back in September my husband and I went up to Lynden WA visit some friends of ours who had recently moved up that way.
We know them through our spaniel group that we have.
So we loaded up the dogs and trailer and went for the weekend.
My friend really wanted to cook for me (which I love when people do that) and she wanted to cook vegan for us.
Which let me tell you is a hard thing to do especially when it's not how you normally cook.
We tell people just to cook vegetarian for us because it's easier for them. But she wanted to challenge herself and do all vegan.
For weeks she researched and researched recipes that could work and would send them to us.
Mostly because she had to make sure I wasn't allergic to the ingredients (I have a lot of food allergies).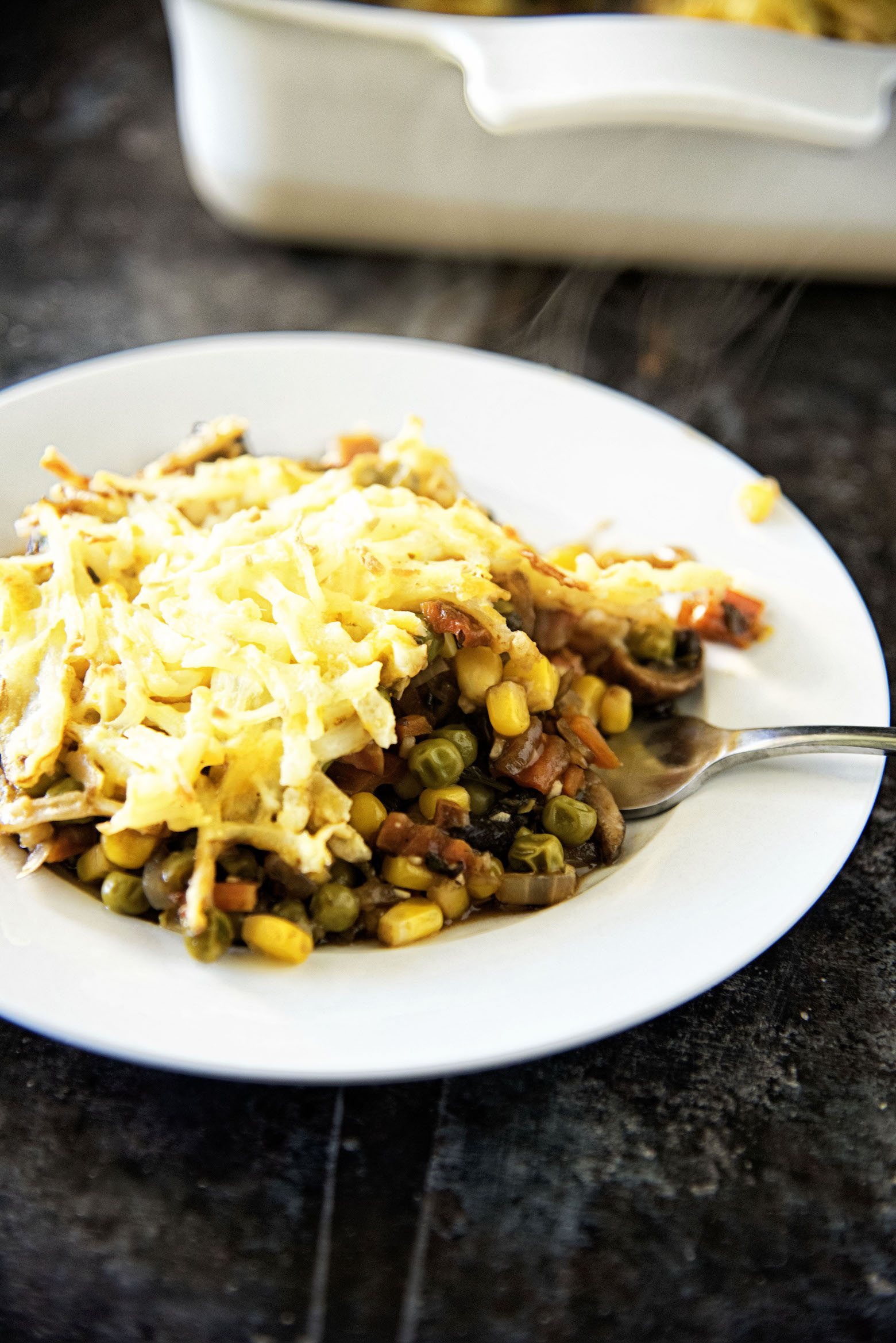 She wanted to make us a mushroom Shepherd's pie she saw on SkinnyTaste and knowing that my husband loves him a Shepherd's pie I told her fabulous.
And it was fabulous.
My husband LOVED it and had me ask for the recipe.
The SkinnyTaste recipe uses mashed potatoes but she used tater tots in honor of our dog Mickey (who loves tater tots).
Which those were really good on top but I only had hash browns in the freezer.
If you wanted to make the Cheesy Hash Brown Topped Vegetarian Shepherds Pie vegan you can add the tater tots instead of the cheesy hash browns.
However, if you do that, I would cook the tater tots before they go on top of the Shepherd's pie.
And then just put it under the broiler for a few minutes to fully crisp up.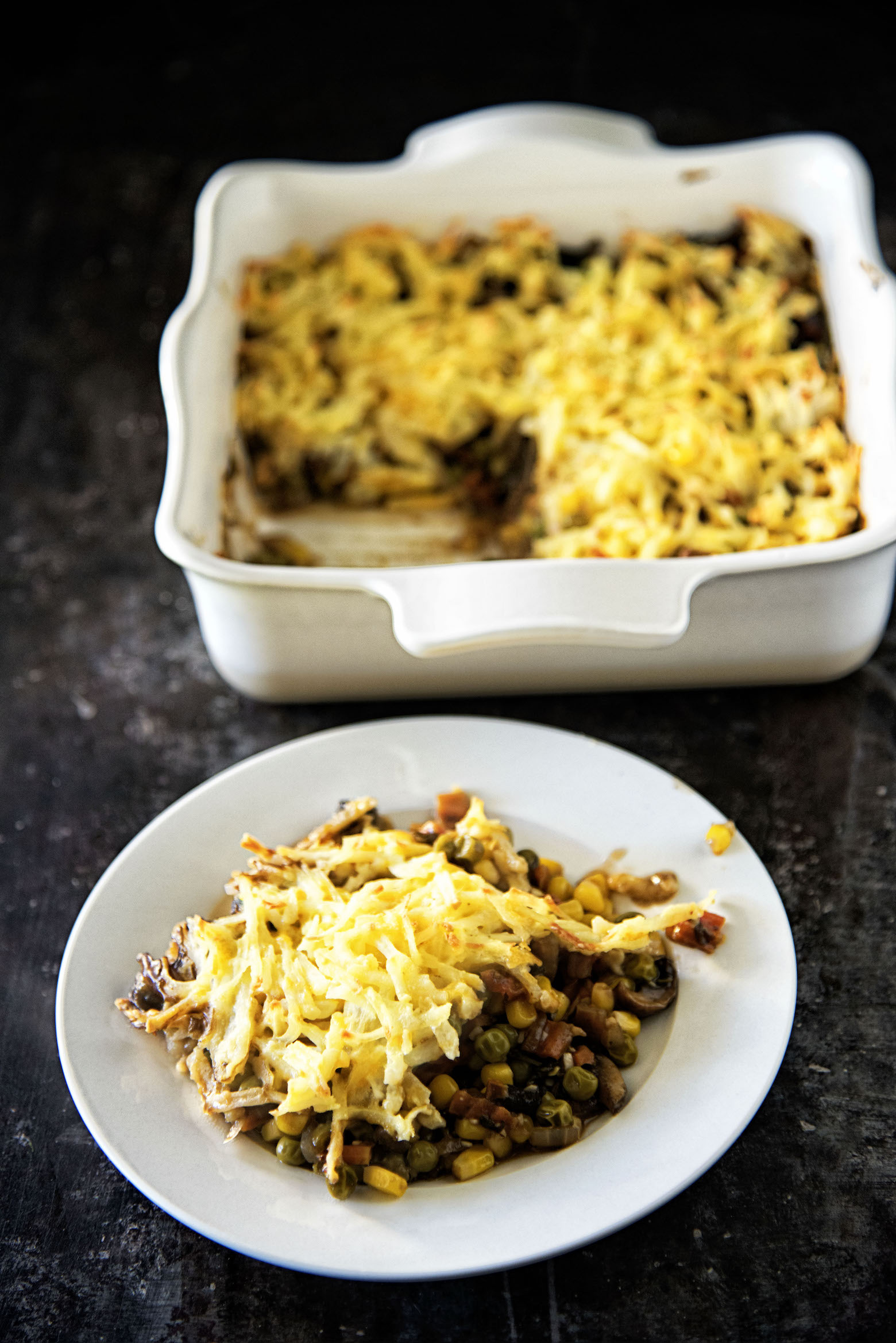 Want More Dinner Recipes?
Alpine Dijon Macaroni and Cheese
Gouda and Lobster Mac and Cheese
BBQ Pulled Pork Mac and Cheese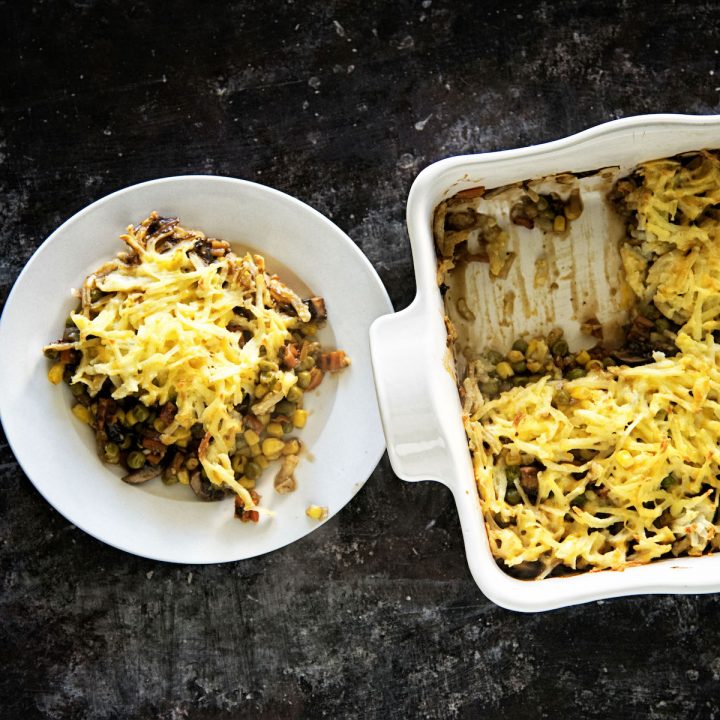 Cheesy Hash Brown Topped Vegetarian Shepherds Pie
Ingredients
For the Filing:
1 TBSP unsalted butter
1 TBSP olive oil
1 ½ pounds Portobello mushrooms, cut into 1-inch cubes
1 ¼ tsp. Kosher salt, divided
1 medium onion, diced
7 ounces (3 medium) carrots, peeled and diced
¼ cup chopped fresh parsley, plus more for garnish
2 tablespoons chopped fresh thyme
2 cloves garlic, minced
1/4 cup ketchup
2 tsp. Worcestershire sauce
Freshly ground black pepper, to taste
2 tablespoons all-purpose or gluten-free flour
1 ½ cups vegetable broth
1 cup frozen green peas
1 cup frozen corn kernels
For the Cheesy Hash Browns:
3 cups frozen shredded hash brown potatoes, thawed and drained
1 cup shredded cheddar cheese
1 large egg
1/8 tsp. salt
1/8 tsp. pepper
Instructions
Place the ingredients of the cheesy hash browns into a medium sized bowl.
Mix all the ingredients together and set aside.
In a large sauté pan, heat the butter and oil.
Add the mushrooms and ½ teaspoon salt, cook for 10 minutes, stirring occasionally.
Add the onion, carrots, parsley, thyme, ½ teaspoon salt and pepper and sauté 10 minutes.
Stir in garlic, cook for 30 seconds, then add the ketchup, Worcestershire, remaining ¼ teaspoon salt and pepper.
Sprinkle vegetables with the flour, stir to coat and cook, scraping brown bits from the pan, 3-4 minutes.
Add the broth, peas and corn, cook, stirring often, until sauce has thickened (about 5 minutes).
Preheat oven to 400F.
Transfer vegetables to an 8" x 11" casserole dish.
Evenly distribute the cheesy hash brown topping over the vegetable filling.
Cook for 25-30 minutes or until hash browns look crispy and golden brown.