This simple Everything Bagel Country Loaf is pumped up with flavor with the addition of everything bagel seasoning. Perfect for sandwiches.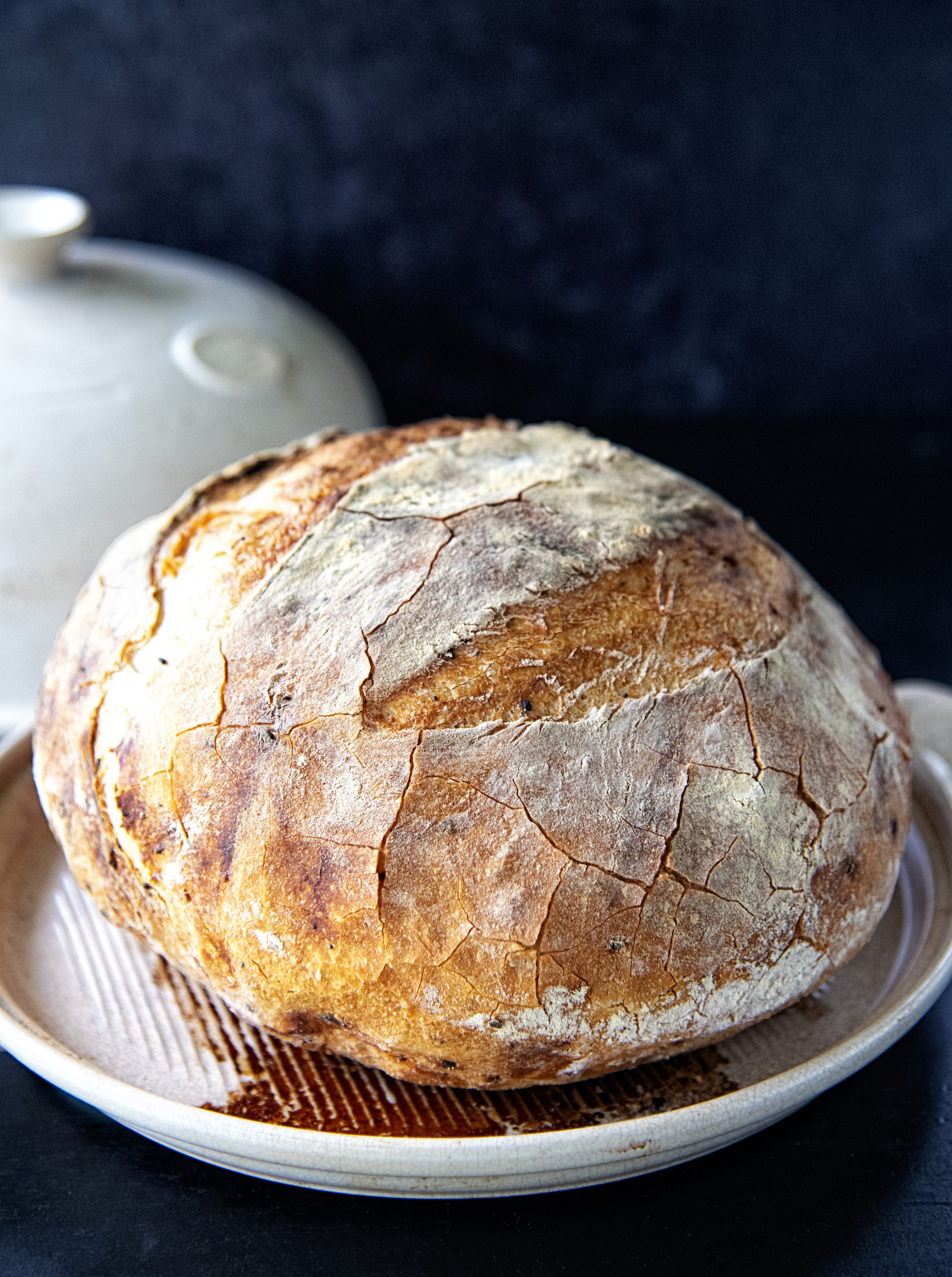 Please note that I was sent this awesome Emile Henry Bread Cloche as well as an Emily Henry Crown Bread Baker. Red Star Yeast also sent me yeast. I've partnered up with them to offer you a chance to expand your baking and win some of their wonderful bakeware. All opinions, bad grammar, and over use of emoji's is my own.
It's the middle of winter.
The weather is blah. Or at least it is around here.
You know what would cheer you up?
Winning something.
And not just something but an Emile Henry Bread Cloche or a Emile Henry Crown Bread Baker.
Also baking bread. This Everything Bagel Country Loaf will definitely cheer you up.
Baking bread can always make me happy.
And of course I always make my bread with Red Star Yeast.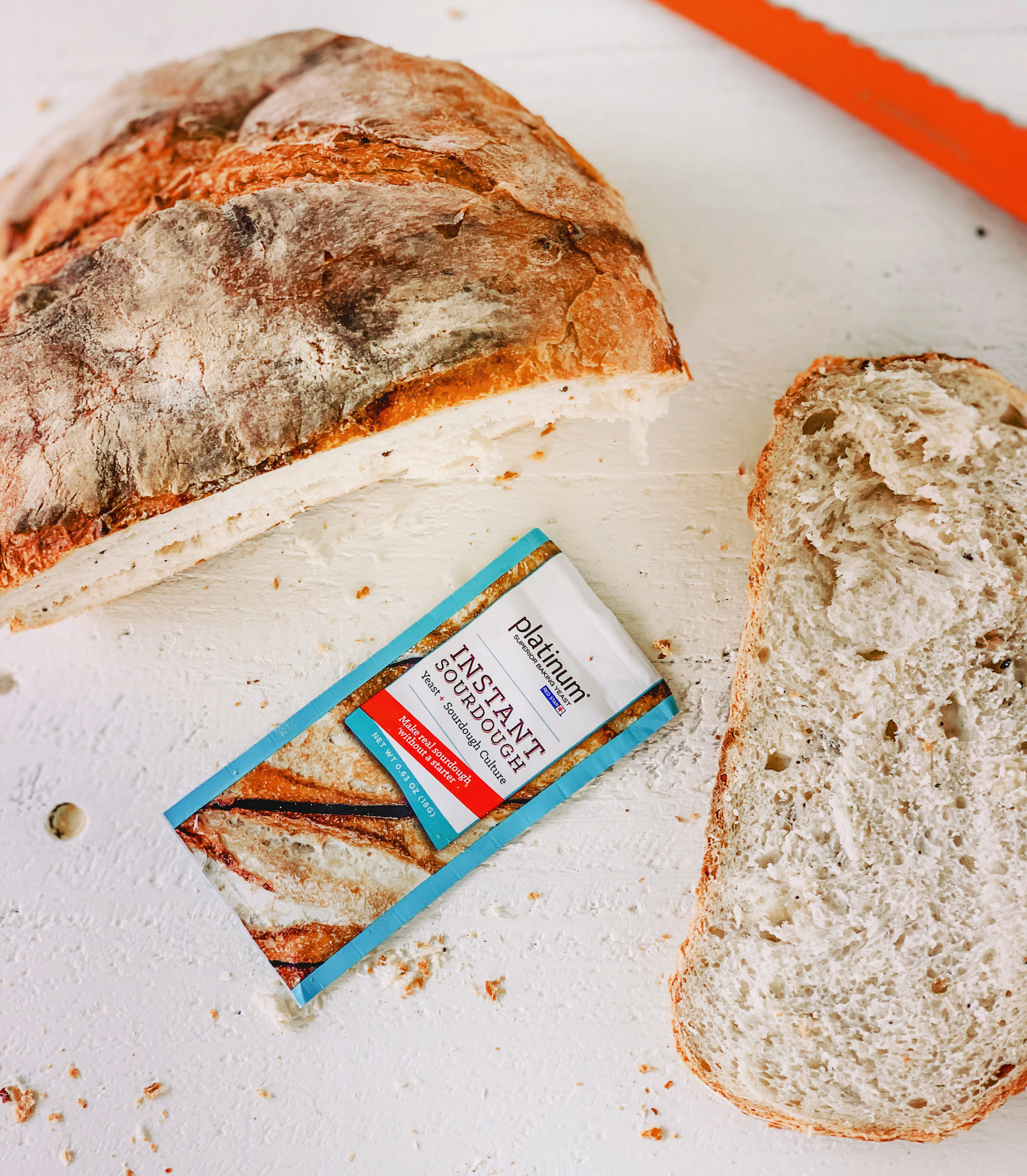 I had never used a bread cloche before.
Not even the poor man's version using a dutch oven.
Now I can't imagine NOT baking in it.
I'm seriously in love.
If you follow me on Instagram you know how much I have been baking bread with it.
I mean just look at it in the first photo…I've been putting some serious miles on that bad boy.
Bread baking has been my escape from all the desserts I am making for the cookbook.
I'll admit that I have not got to bake that much in the Crown Bread Baker because I've been obsessed with the cloche.
But no worries, I will.
If you can't wait to own one you can always just buy your own you can get it here.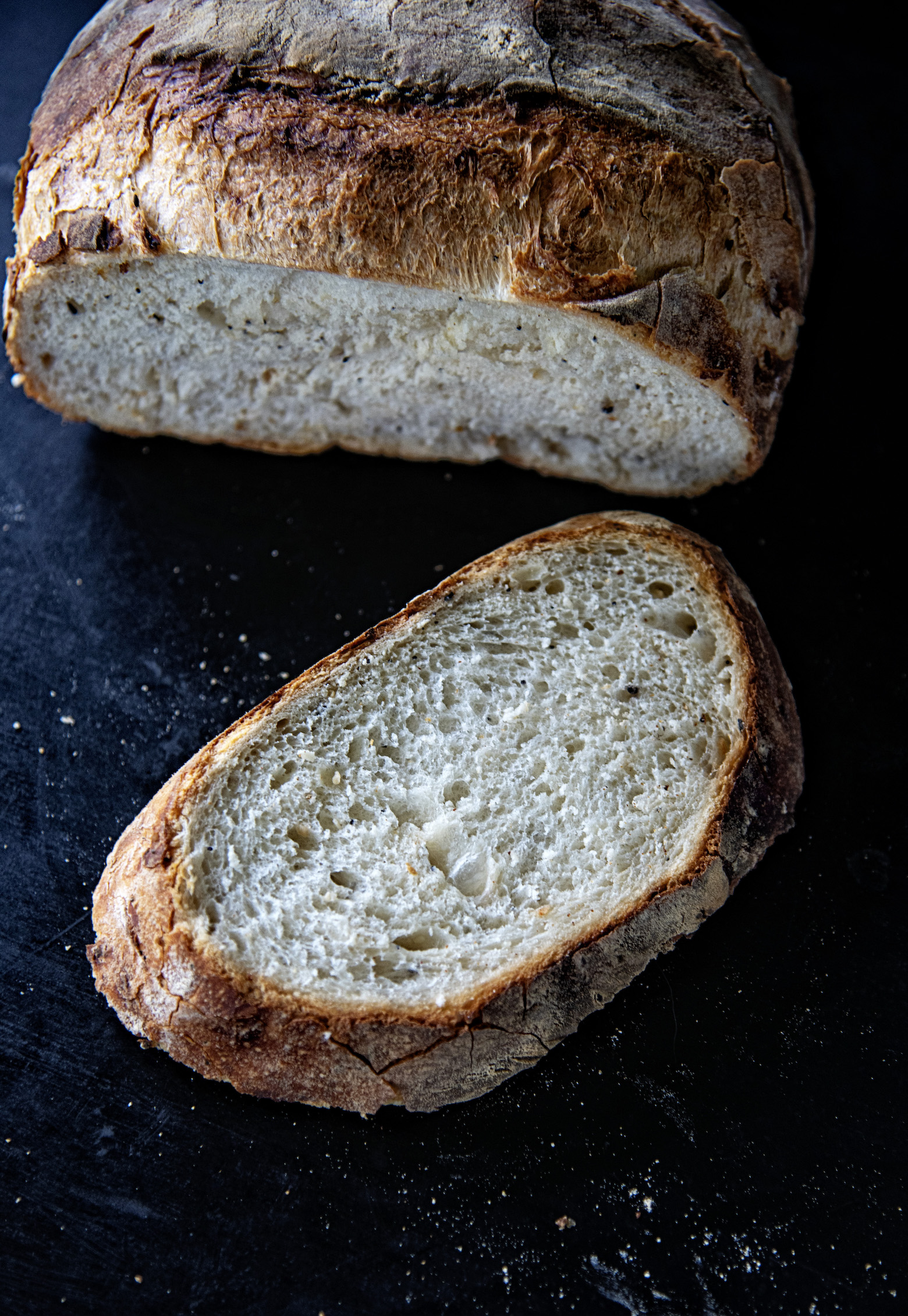 Wanting to Enter?
You have from now until Thursday January 30th 2020 8pm PST to enter (Contest has ended)
Enter by – sign up for newsletter at www.eh-usa.com (come back here and leave a comment saying you did).

You can enter by liking and commenting on my instagram post about this bread. Go here.

Become a fan on of Emile Henry on Facebook and Instagram and Red Star Yeast on Facebook and Instagram (come back and leave a comment on here that you did).
USA continental residents only.
Emile Henry will ship directly to winner either a Bread Cloche or a Crown Bread Baker (your choice)….no PO Boxes.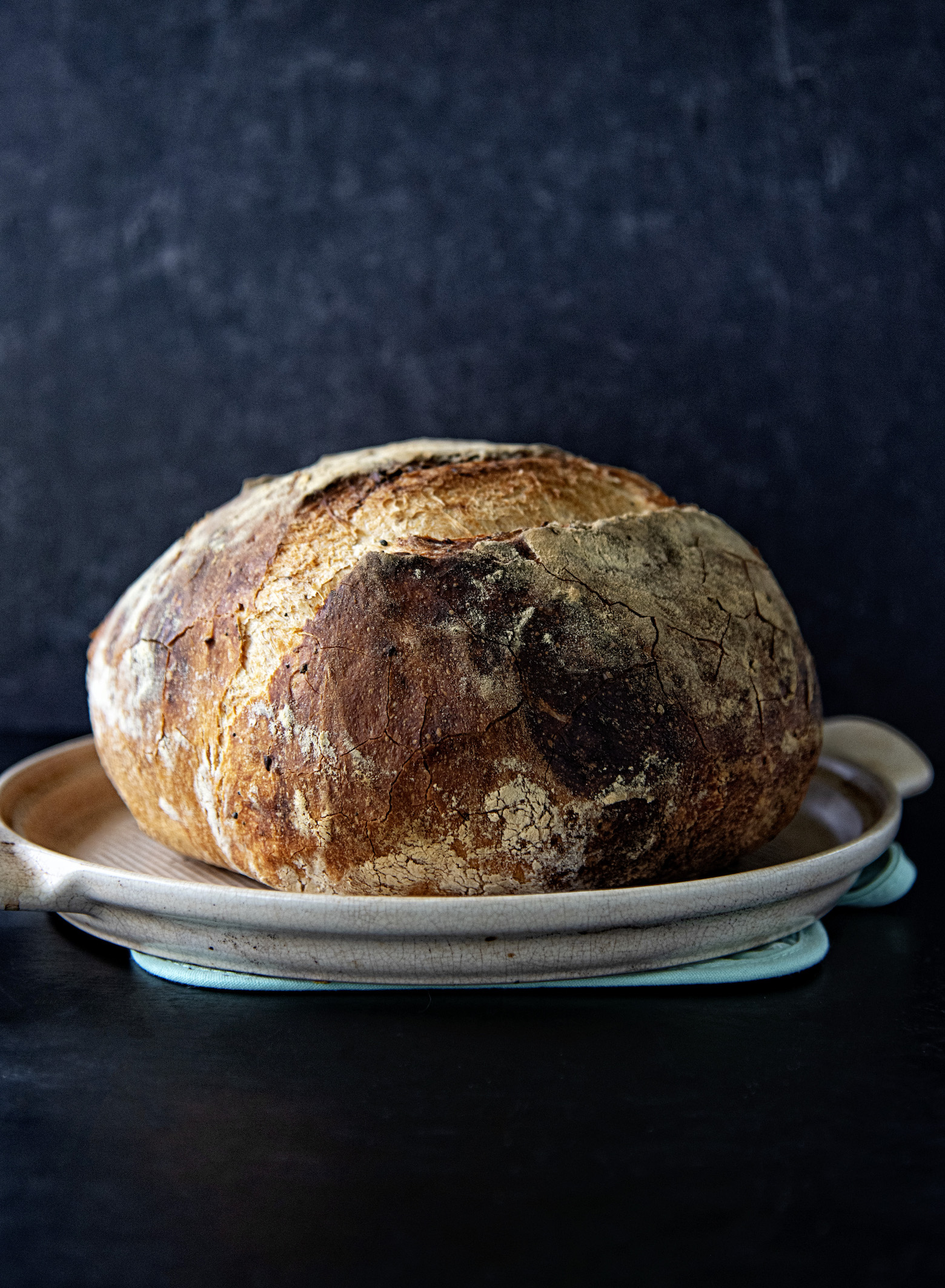 Want more bread recipes?
Honey Pear Jam Walnut Swirl Bread
Bulgar Wheat Apple Cider Walnut Bread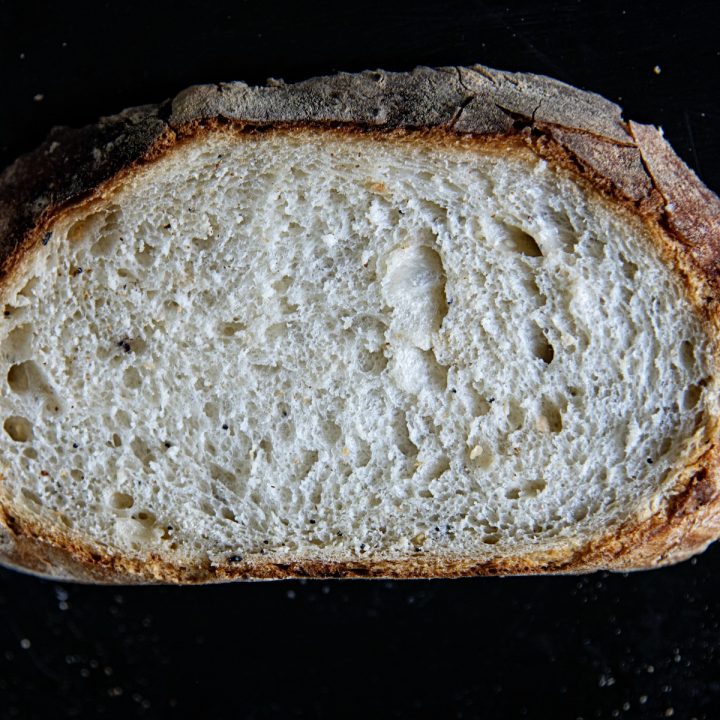 Everything Bagel Country Loaf
Ingredients
2 cups lukewarm water, (around 100-110F)
1 envelope Red Star Platinum Instant Sourdough Yeast
4 cups bread flour, lightly packed and leveled off, plus more for dusting
2 tsp sea salt
3 TBSP everything bagel seasoning
Instructions
Stir the yeast into the water and allow the yeast to bloom until foamy will take about 5-10 minutes.
Using a stand mixer with the dough hook, mix together the flour and salt. Once incorporated, create a small well in the middle and pour in the water and yeast mixture.
Mix until it forms a rough dough that pulls away from the sides of the bowl. If the dough is too sticky, add more flour in small increments, about 1 tablespoon at a time. If the dough is too dry, add more water, 1 tablespoon at a time.
Mix in the everything bagel seasoning.
Once the dough comes together, cover with plastic wrap and let rise until doubled in size (about 1 ½-2 hours). You don't need to transfer to another bowl, you can use the mixer bowl.
Uncover the dough and give it a few pokes with your finger. If the dough has risen properly, it should indent under the pressure of your finger and slowly deflate.
Using your hand or a rubber spatula, start from the rim of the bowl to work the dough loose from the sides and fold it up and towards the center of the bowl. Turn the bowl 90 degrees, and repeat until all the dough has been pulled from the sides and folded towards the center.
Once finished, cover and let the dough rise again for another 1 ½-2 hours.
Once the dough has doubled in size again, gently transfer it from the bowl to a lightly floured surface.
Sprinkle a bit of flour on top of the dough. Using your hands, begin to shape it into a loaf. Fold the dough under itself several times to form a ball, then pinch together the seams of dough underneath.
Place the dough seam-side down in a clean bowl that has been lightly coated with olive oil and dusted with flour. You can score the top if you you like, I always do.
Cover and let rise for 1 hour.
Meanwhile, place your Emile Henry Cloche inside the oven. Preheat the oven to 450˚F with the pot inside for 45 minutes-1 hour.
Carefully remove the pot from the oven and place it on a trivet or heat-safe surface. It will be super hot.
Turn the proofed dough over onto a lightly floured surface and carefully place it inside the pot.
Cover with the lid and return the pot to the oven.
Bake for 30 minutes. Then remove the lid and bake another 15 minutes.
Remove bread from cloche, cover, and let cool for 10 minutes before slicing.