Pumpkin Spice Latte Milk Punch is a drink that goes beyond basic. Bourbon, Bailey's Pumpkin Spice, Coffee Liqueur and milk make this a new fall favorite.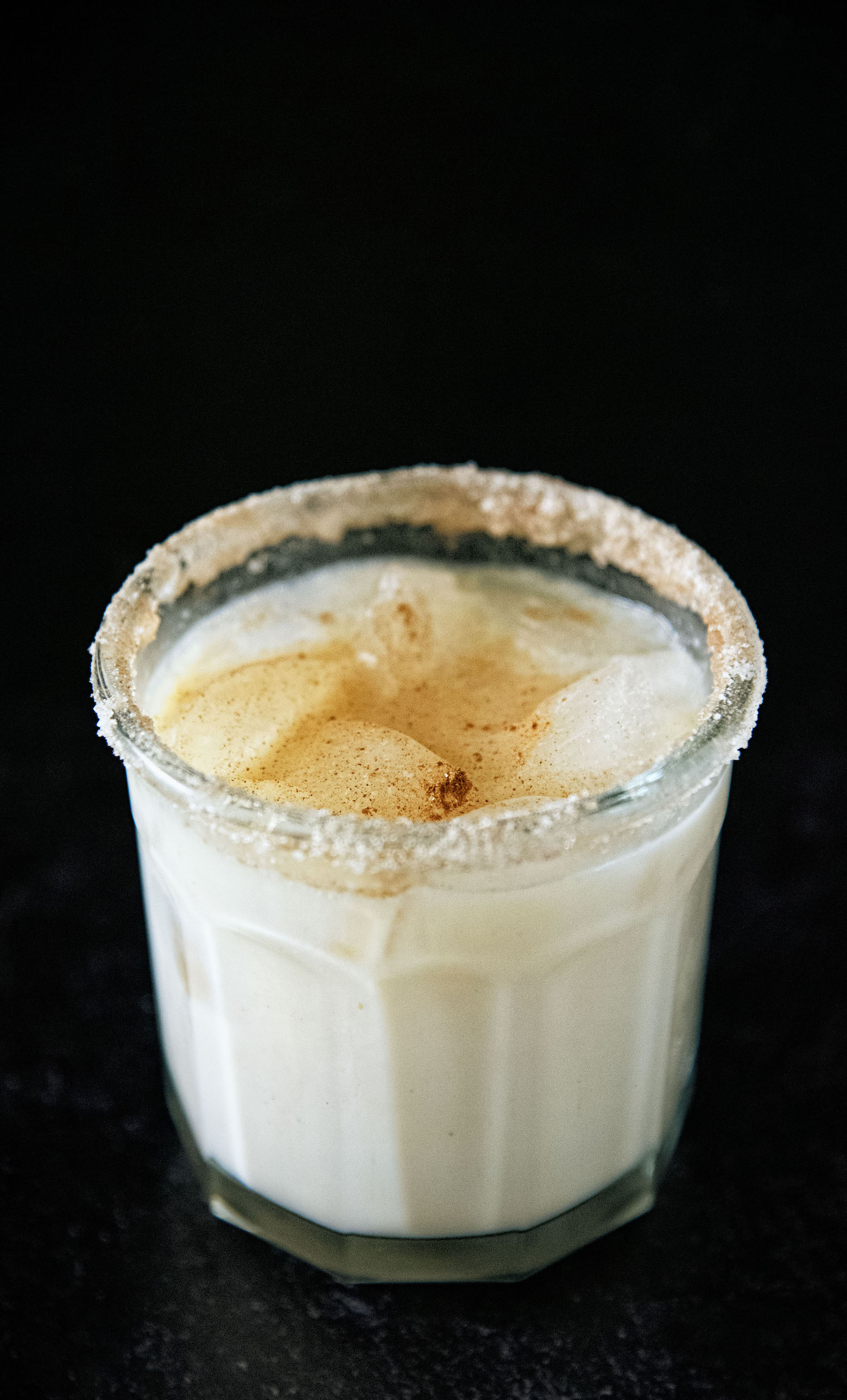 I will admit that my drink this fall has been the Pumpkin Cream Cold Brew and not the Pumpkin Spice Latte.
But I still enjoy a PSL from time to time.
And I really enjoy it as a cocktail.
If you have strayed from the PSL, this Pumpkin Spice Latte Milk Punch might bring you back.
What Is Milk Punch?
I know that throwing back milk as a cocktail doesn't always sound that good.
Though consider the White Russian and how tasty that is.
Milk punch is kind of how it sounds…milk with usually bourbon or brandy.
It's very popular in the South.
My neighbor used to serve it at Christmas time.
Nowadays the bartenders get all fancy and make this clear but I like my milk punch looking like it has milk.
It's kind of like Clear Pepsi…just say no. 🙂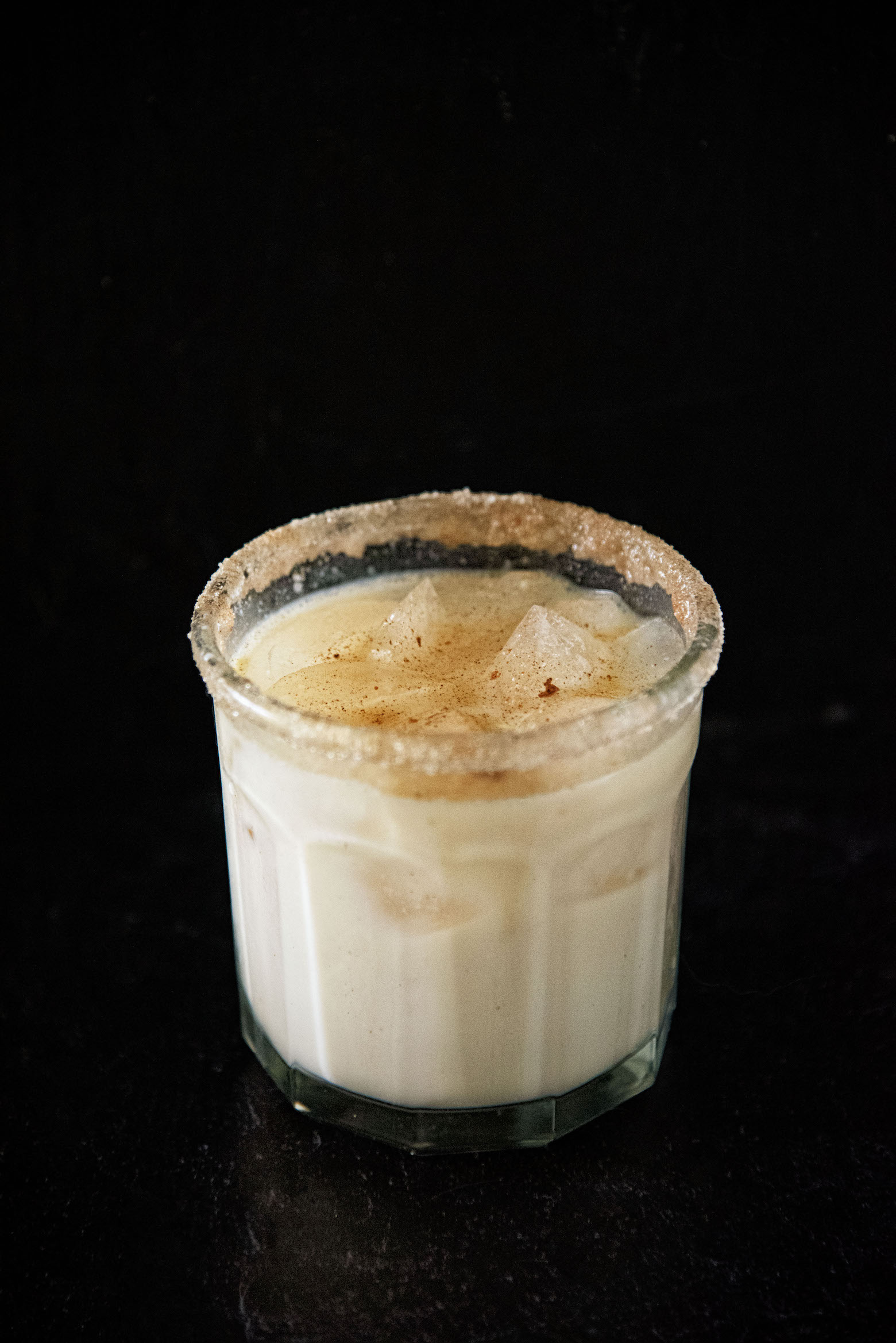 I made a Spiced Rum Milk Punch on here back in January.
It's been popular on Pinterest as of late and it got me thinking about making another flavor of it.
Enter the Pumpkin Spice Latte Milk Punch.
I had seen a pumpkin spice milk punch but not a latte one.
I think the coffee helps take away a little bit of the sweetness that comes with the milk punch.
Years ago Kahlua made a Pumpkin Spice version.
You can still find it from time to time.
I didn't put that in the recipe because it's not readily available.
But if you have it by all means use it.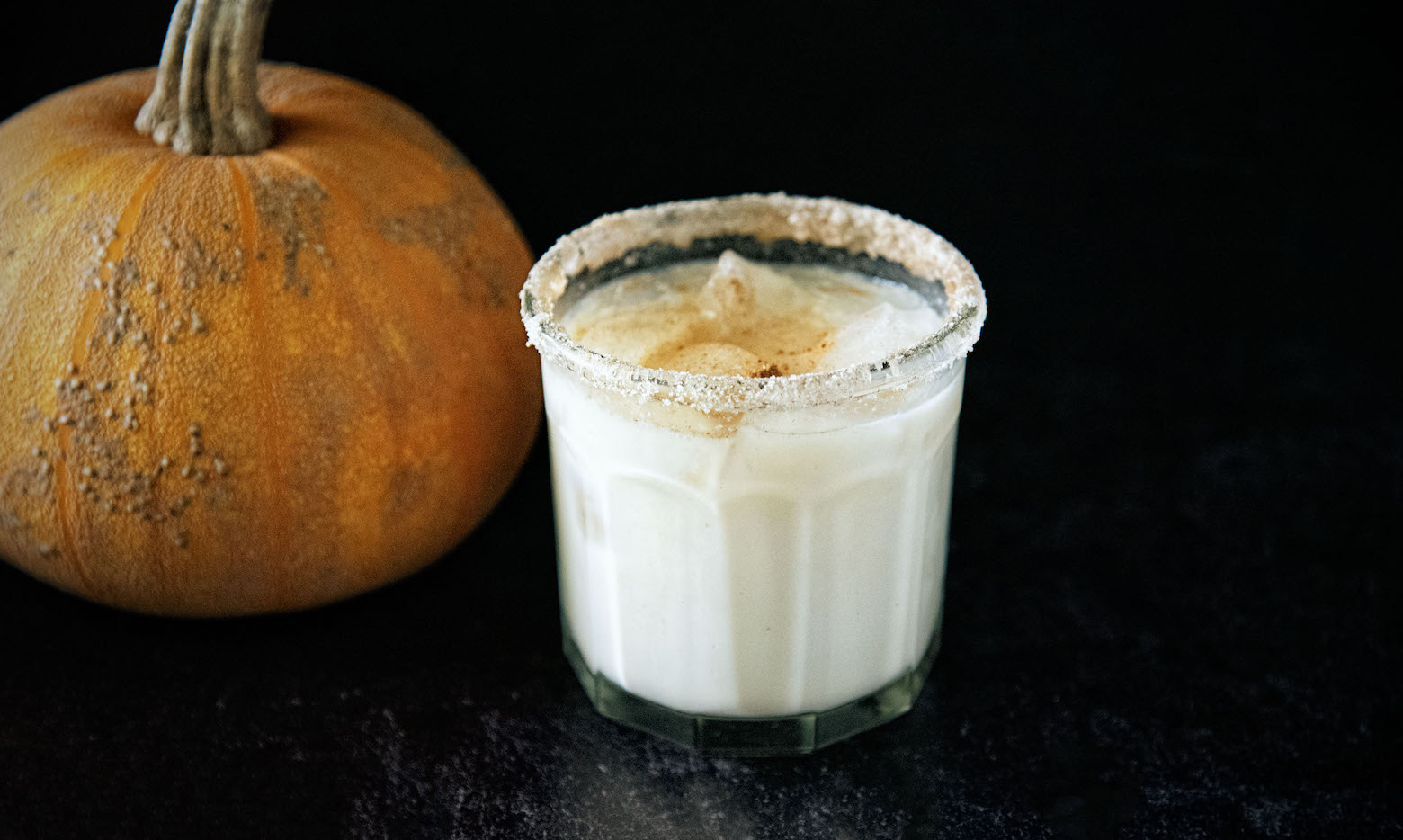 Bailey's is still selling their Pumpkin Spice version.
You can find it at most of your larger liquor stores like BevMo and Total Wine.
However, if you cannot seem to find it I suggest just adding regular Bailey's and upping the amount of pumpkin pie spice to 2 teaspoons instead of 1.
Or you could technically not have the Bailey's at all and you would still get the PSL flavor as long as you used the extra pumpkin pie spice.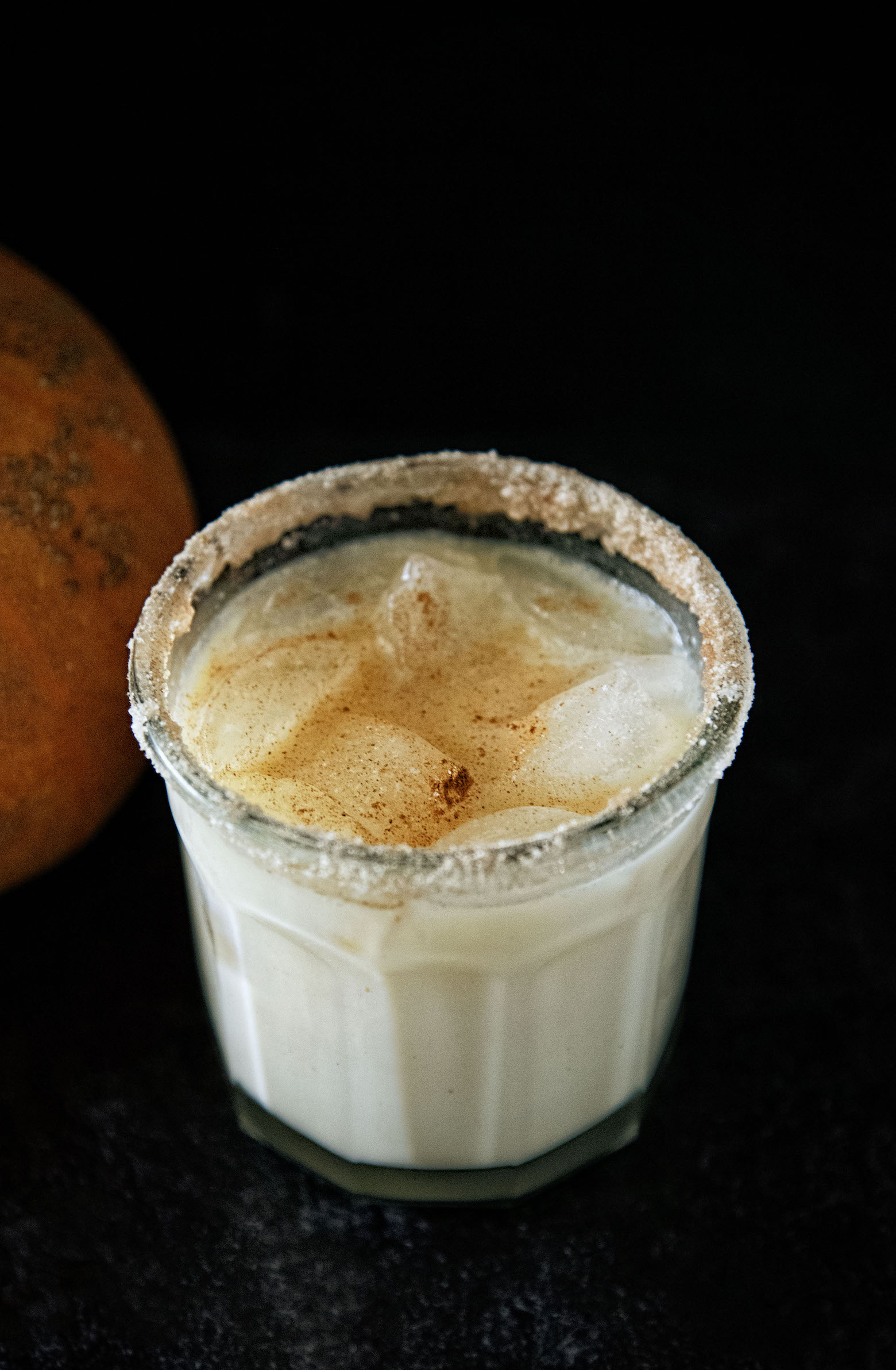 And speaking of pumpkins here's our little pumpkins in their wagon.
We take a photo of them all in it every year.
Each year we seem to have more spaniels and if we add anymore we might have to get a bigger wagon.
They think the pumpkin patch is the greatest thing and love tromping around in it and smelling all the smells.
P.S. It's a great day to buy my cookbook.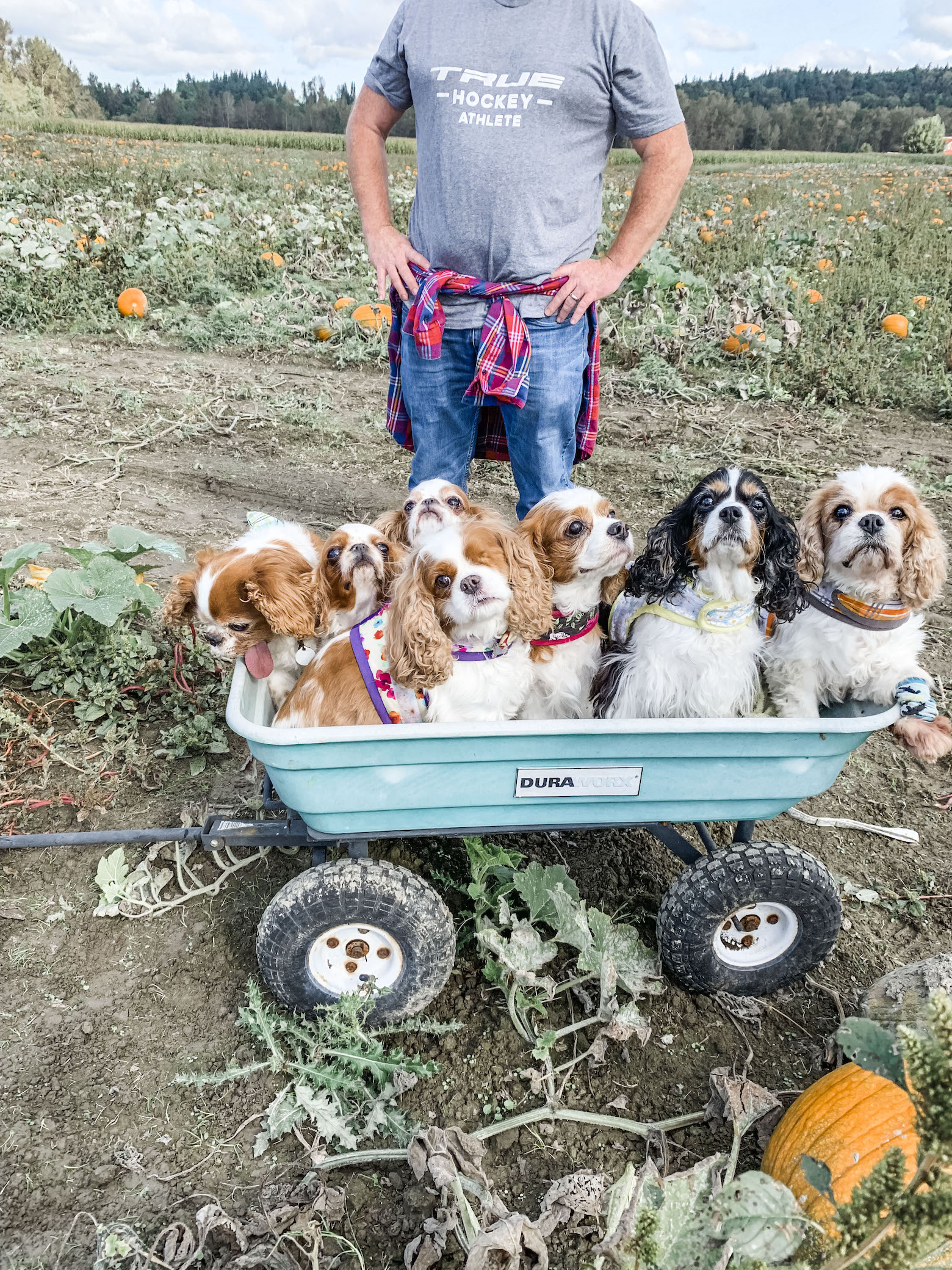 Want more Fall Cocktails?
Hot Spiked Cinnamon Apple Cider
Snickerdoodle Apple Cider Mimosa
Pumpkin Spice Latte Pudding Shots
Thanksgiving Jungle Juice Jell-O Shots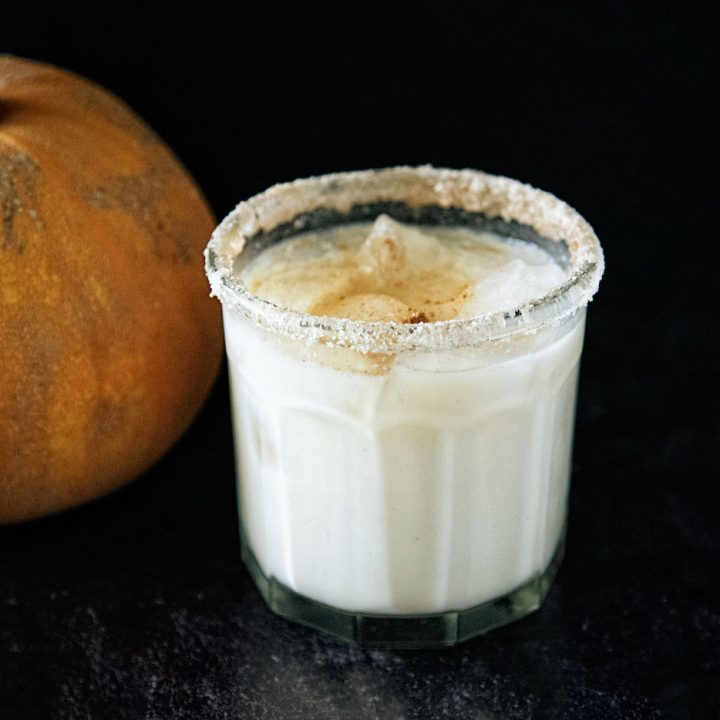 Pumpkin Spice Latte Milk Punch
Ingredients
12 ounces whole milk
5 TBSP half-and-half
1 tsp. vanilla extract
2 ounces bourbon
2 ounces Coffee Liqueur
2 ounces Bailey's Pumpkin Spice
4 tsp. powdered sugar
1 tsp. pumpkin pie spice
Instructions
1. Fill a cocktail shaker with ice.

2. Pour in milk, half-and-half, vanilla, bourbon, Bailey's Pumpkin Spice, pumpkin pie spice, and Coffee Liqueur.

3. Then add powdered sugar.

4. Close shaker and shake vigorously for 30 seconds.

5. Strain cocktail into two glasses filled with ice.

6. Sprinkle top with pumpkin pie spice and cinnamon sugar.