Move over boring PSL, these Pumpkin Spice Latte Pudding Shots will be sure to take your basic pumpkin spice latte up a notch.
We were out grocery shopping last week and I grabbed Pumpkin Spice Espresso Beans from the bulk section.
My husband gave me the what are you going to do with those look and I was like Jell-O shots.
Jell-O shots?
Yeah, okay, maybe not Jell-O shots as I got thinking about it more. 😀
But pudding shots.
I've only ever made pudding shots a few times in my life.
They were always tasty but I'm always like how am I supposed to eat/drink this?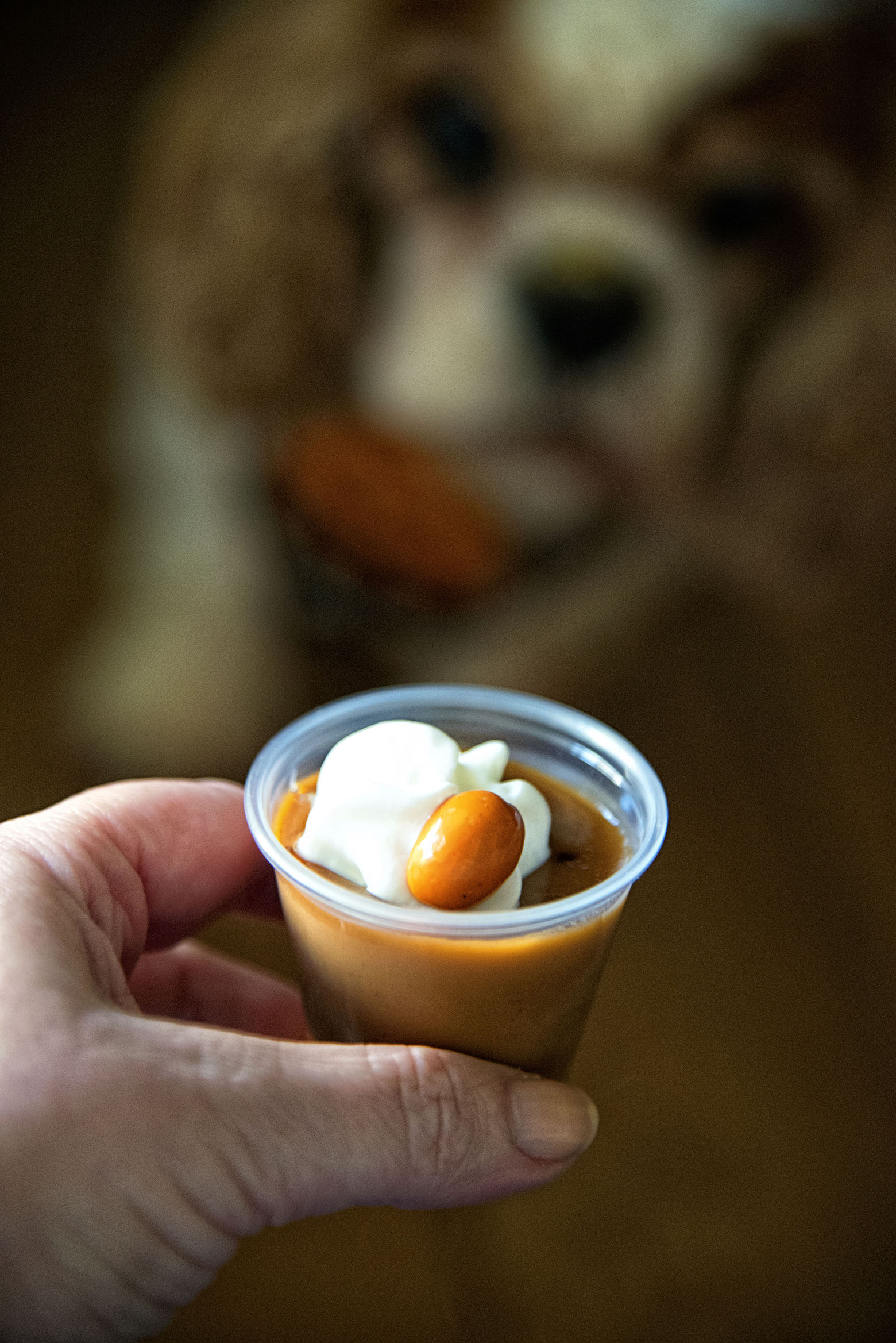 With a spoon FYI.
I hand out these when I make the shots now.
Including with these Pumpkin Spice Latte Pudding Shots.
This does use a season pudding but you can buy it year round on Amazon and that is how I usually buy it.
The Kahlua I used was the Cinnamon Spice flavor but I don't think they make it anymore (which is sad) but I just listed the regular kind in the recipe.
If you can't find the Pumpkin Spice Liqueur you can omit it and just add more Pumpkin Pie vodka.
The kind I use is made by Pinnacle.
Happy Tipsy Tuesday!
P.S. It's a great day to buy my cookbook Holy Sweet!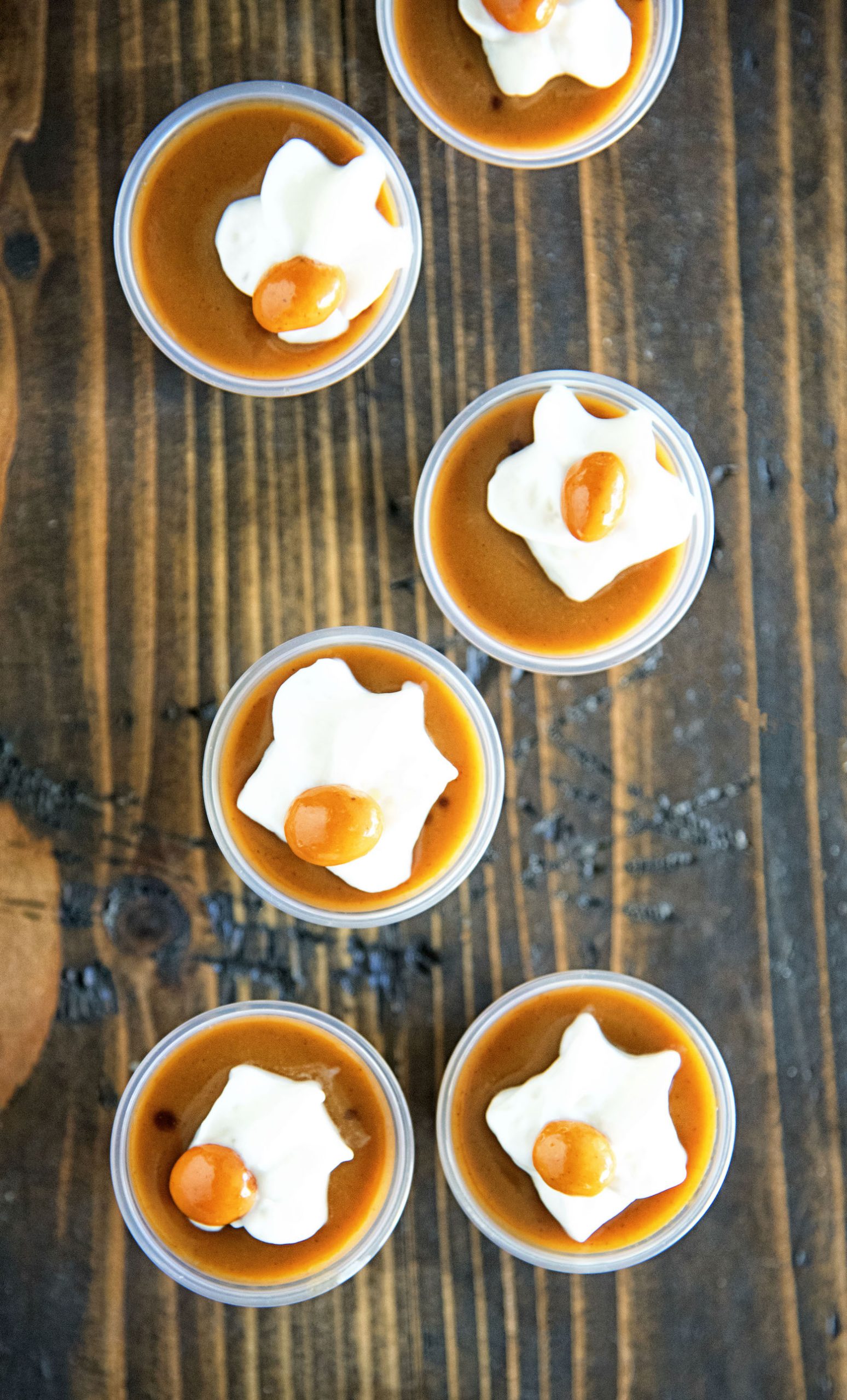 Want More Shots?
Circus Animal Cookie Pudding Shots
Drumstick Ice Cream Pudding Shots
Pineapple Upside Down Cake Pudding Shots
Chocolate Frosty Pudding Shots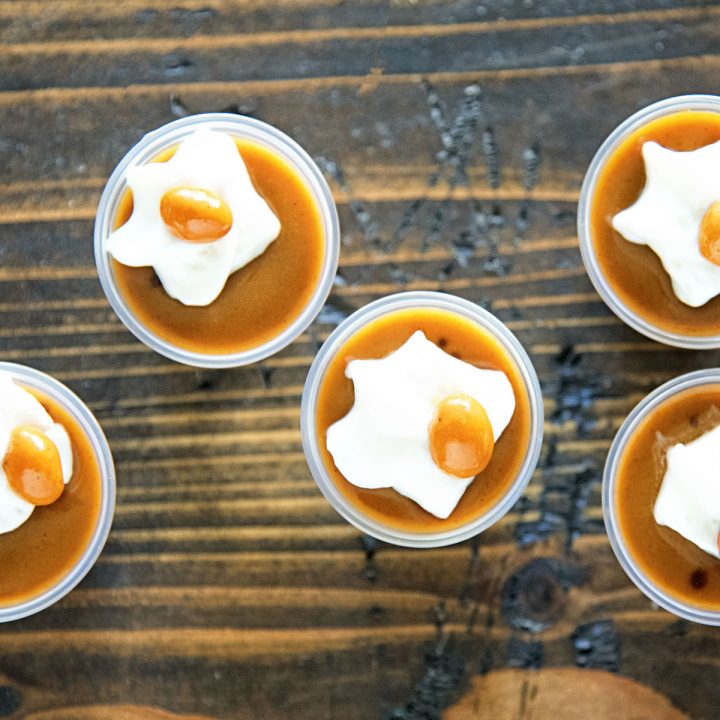 Pumpkin Spice Latte Pudding Shots
Ingredients
1 (3.4 oz.) box Jell-O Pumpkin Spice Pudding
1 tsp. espresso powder
3/4 cup whole milk
1/4 cup Kahlua
1/4 cup Pumpkin Pie Vodka
1/4 cup Pumpkin Spice Liqueur
1 cup whipped cream (whipped)
Pumpkin Spice Espresso Beans (garnish optional)
Whipped cream for topping
Instructions
In a large bowl, mix box of instant pumpkin spice pudding, espresso powder, and milk with a whisk until combined.
Add Kahlua, vodka, and liqueur and whisk again until combined.
Slowly fold in 1 cup whipped cream.
Freeze for at least an hour to thicken up.
Spoon into shot glasses.
Refrigerate until serving.
Top with whipped cream and espresso beans if desired.