This Butter Toffee Pecan Crumb Pumpkin Pie is topped with a buttery and crunchy top to give a twist to classic pumpkin pie.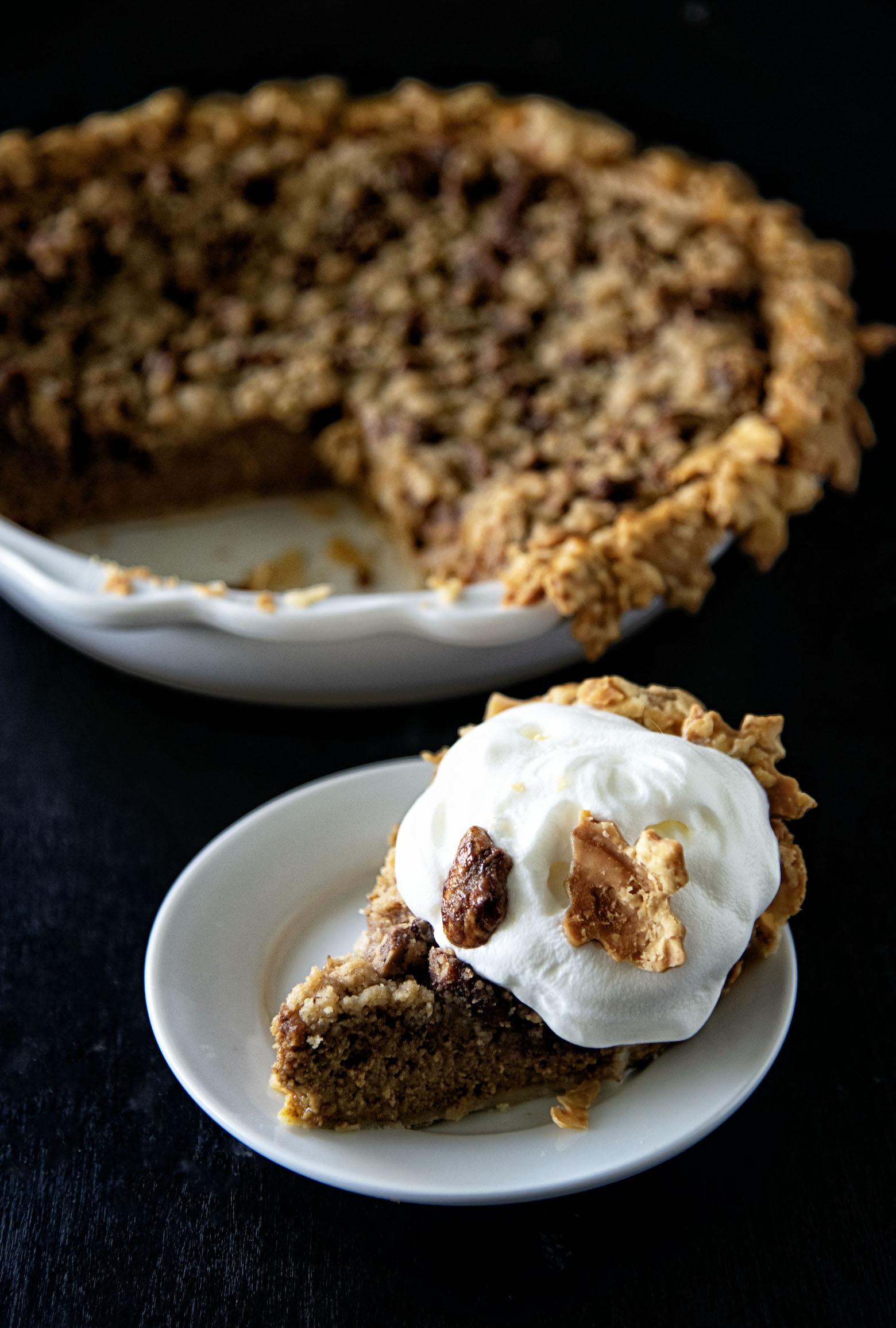 This Butter Toffee Pecan Crumb Pumpkin Pie is the only thing I made for Thanksgiving (Canadian).
Mostly because it was just going to be me and the dogs.
My husband was to be in Japan right now at training.
For those unaware, Japan was hit by Typhoon Hagibis and is still dealing with its aftermath.
Largest typhoon they had seen in decades.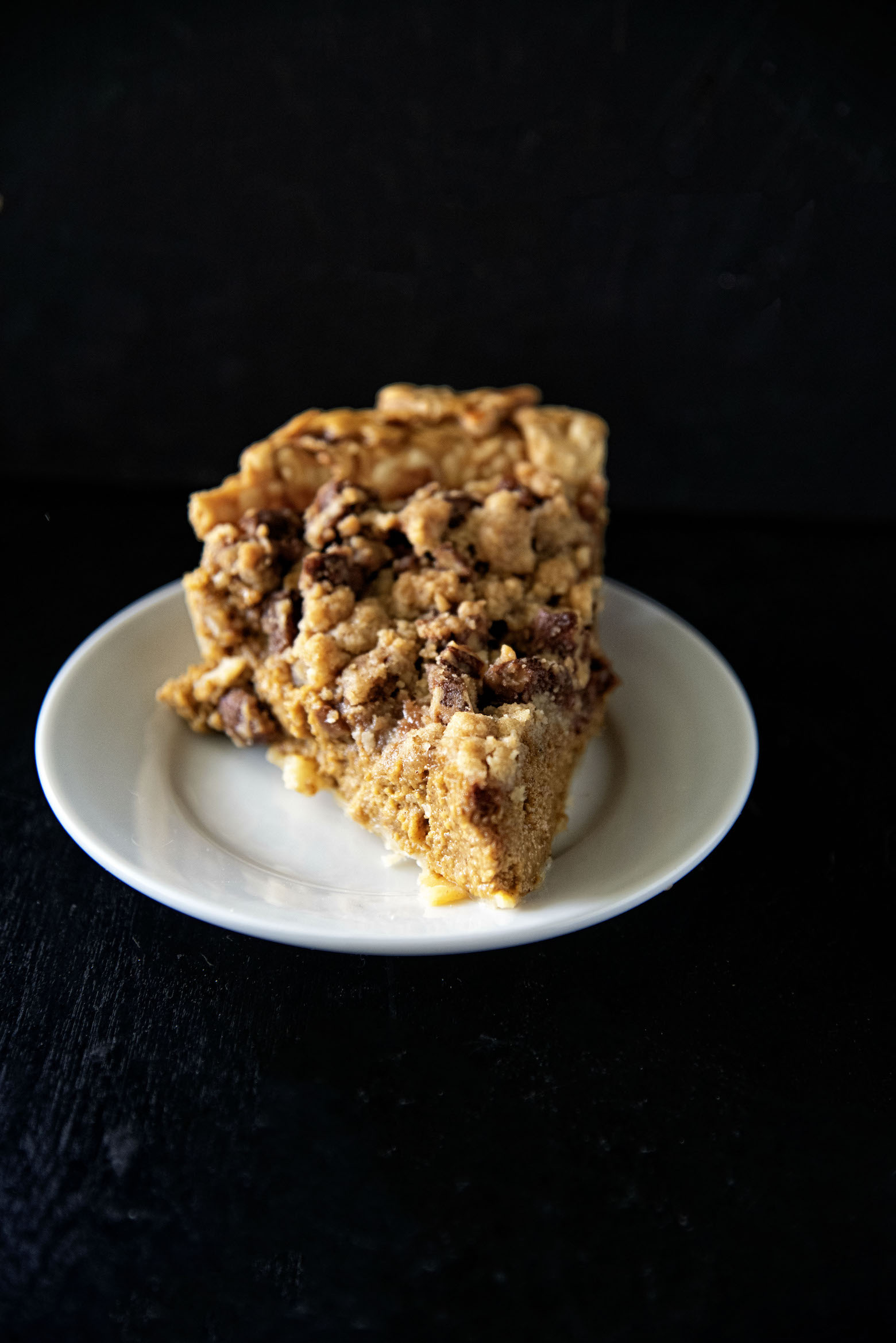 He was all set to leave on Friday and worked from home on Thursday to spend time with the dogs and me (but really the dogs :D).
But as the storm grew closer and closer the airlines started cancelling flights.
Since the training people had yet to cancel/reschedule my husband's work reenacted something out of Planes, Train's, and Automobiles.
They would finally figure out how to get a new flight and it would cancel.
This went on all day.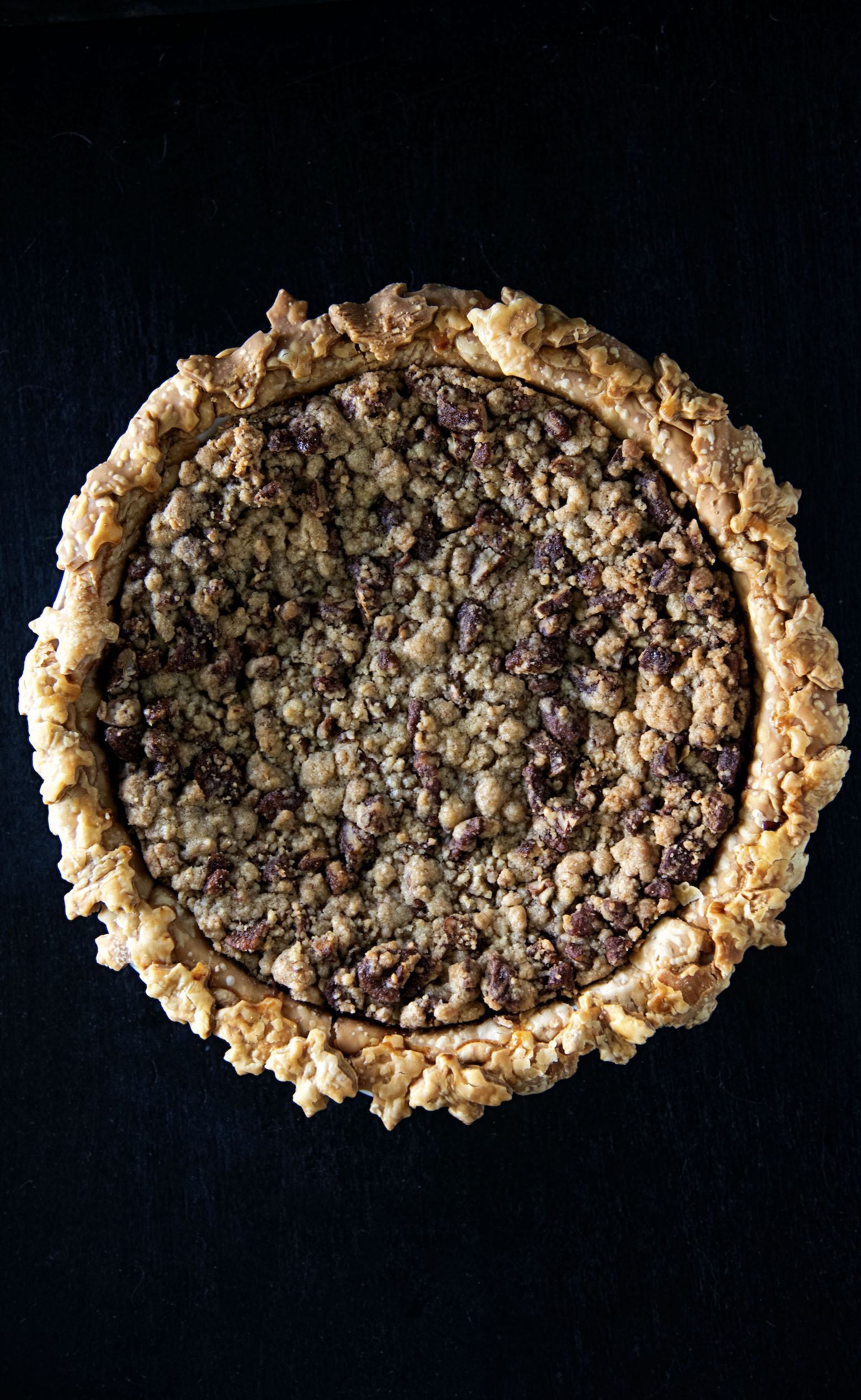 The training and trip are being rescheduled to sometime next year.
However, this hit Japan very hard and we are sending our good vibes their way.
From what I have seen the typhoon has done a lot of damage and I'm sad to report that 33 have been killed so far, with more being feared dead.
So I am extra Thankful this Canadian Thanksgiving to have my husband here in the states.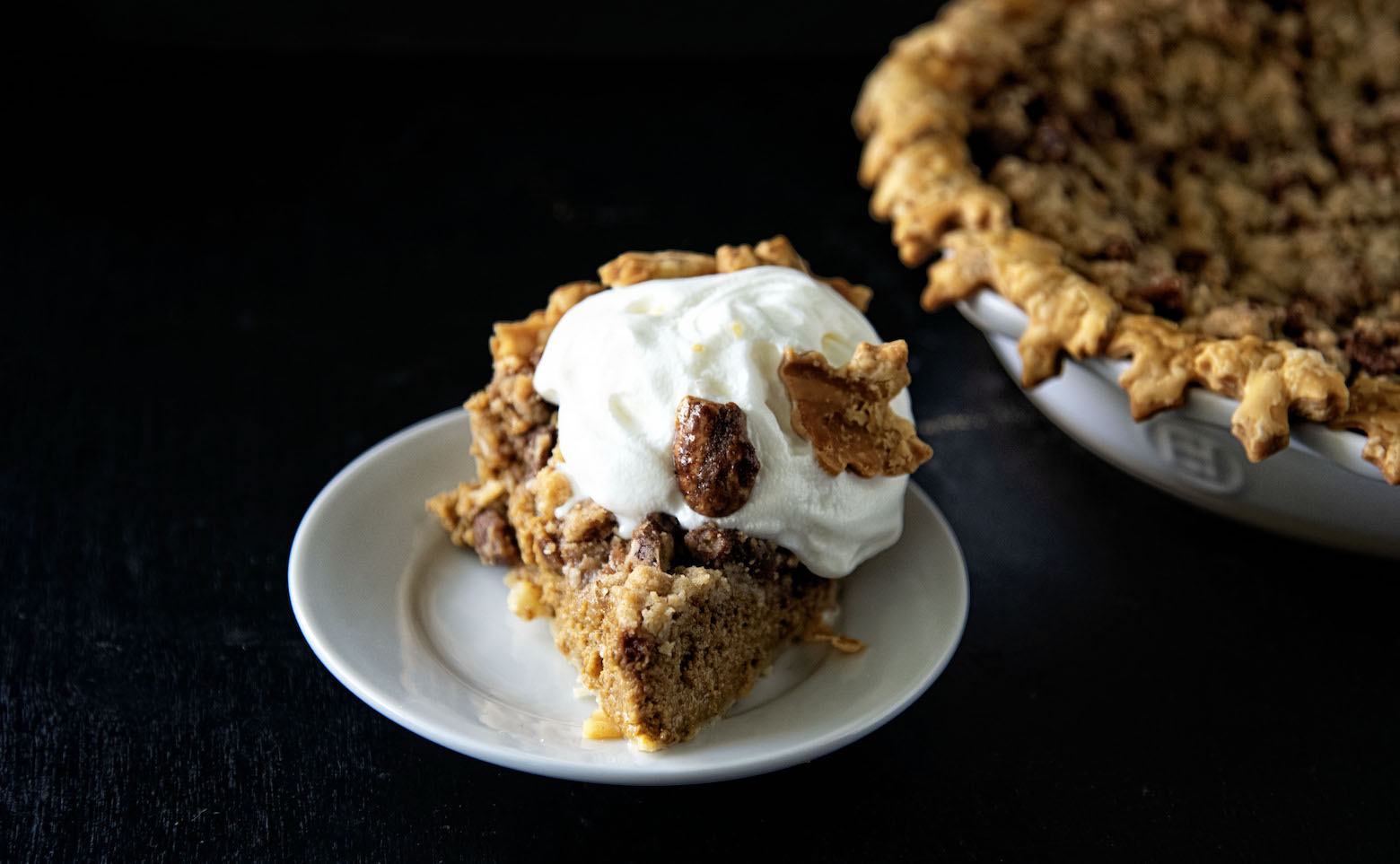 Since he wasn't going to be here I didn't have anything planned.
I was just going to go get Chinese food and then make this Butter Toffee Pecan Crumb Pumpkin Pie.
We already ate the Chinese food on Saturday night.
So I guess that leaves half a pie for today. 🙂
Because, yes, the pie on the counter is a few slices short. 😀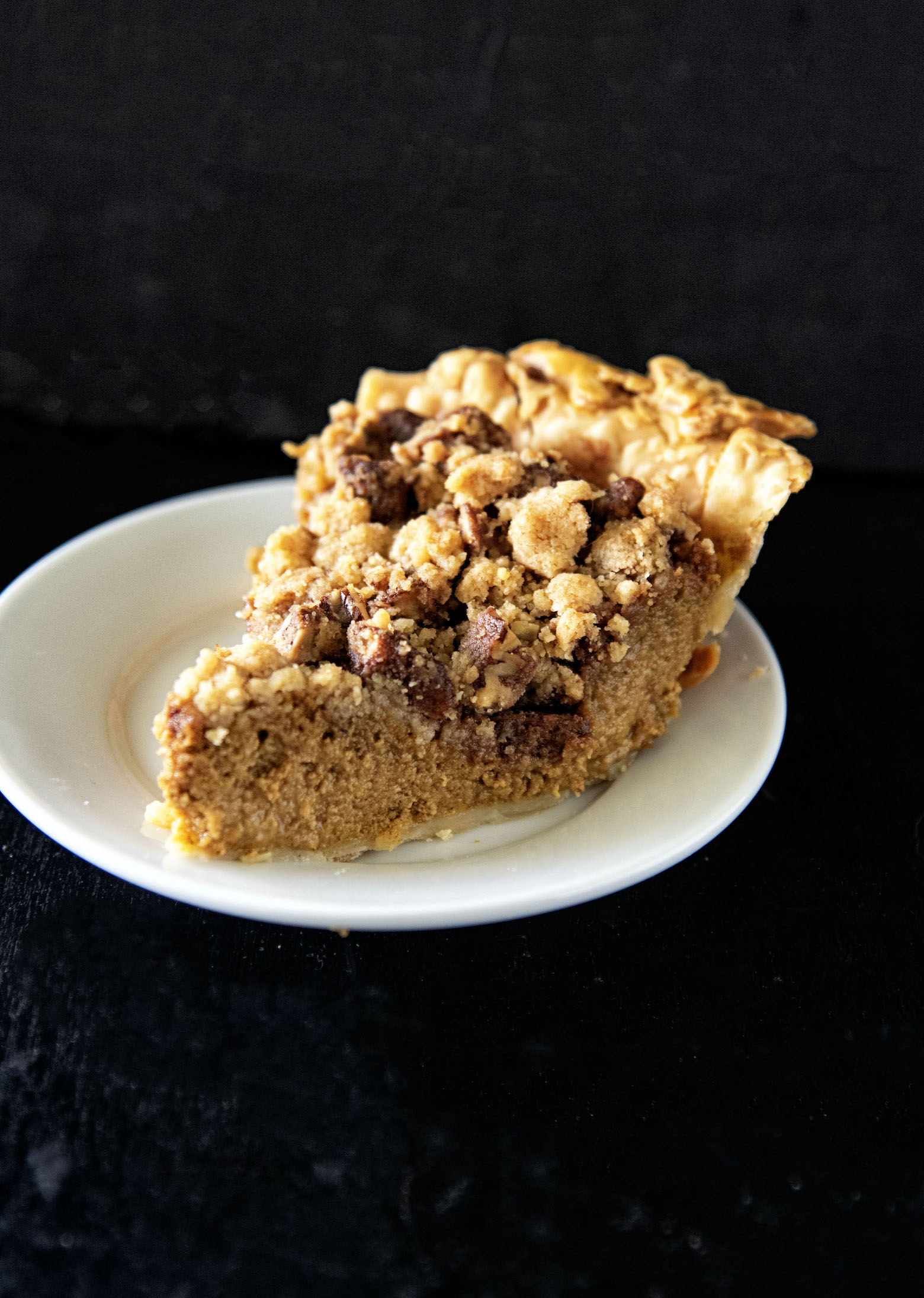 To Leaf or not to Leaf?
You may notice that I made little maple leaves around the whole pie.
Don't do that.
I mean it was cute and all but probably not worth the swearing.
As a food blogger I tend to feel like I have to add the extra details but you don't need to.
My pie leaves on my pie got knocked off several times during baking.
I was doing pie crust triage throughout the bake.
Felt like I was in an episode of British Bake Off.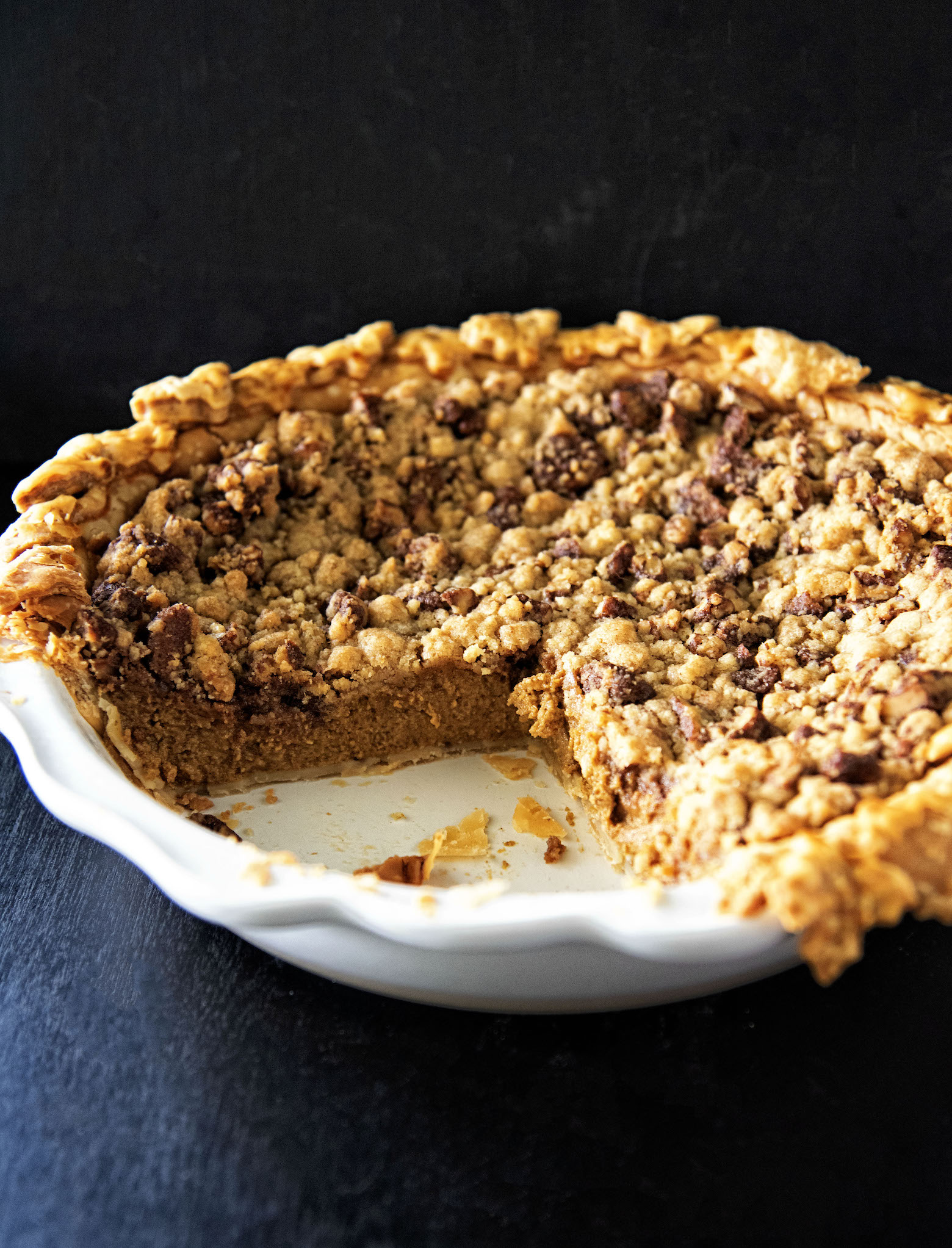 Let's Talk Pie
The base of this pie is a classic pumpkin pie.
I like mine to have a good amount of spice and so I use a full TBSP of spice.
You can add more or less depending on how much spice you like in your pie.
The crumb top is what makes this pie extra yummy.
Especially with the butter toffee pecans.
Please note in the recipe that you do not add the crumb top until much later in the baking process.
I also find that starting with the outside rim of the pie and working your way in with the crumb topping works the best.
Placing the crumb topping in the middle first it will mostly likely sink since the pie is not baked all the way through at this point.
Add ice cream or whipped cream…or both to the pie and enjoy.
Happy Canadian Thanksgiving to those who celebrate!
And as always it's a great day to order my cookbook.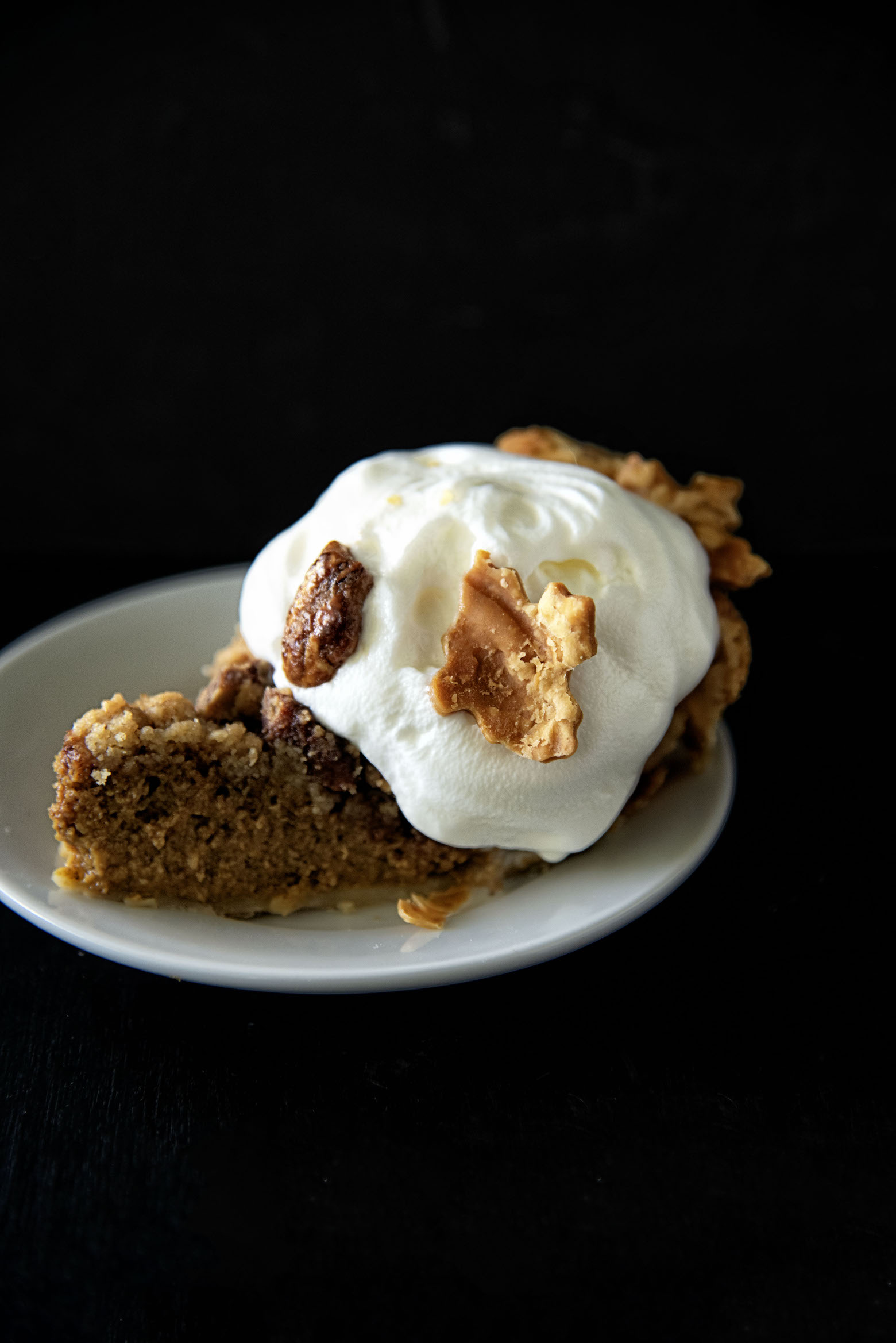 Want More Pumpkin Recipes?
Pumpkin Creme Brûlée Tartlets with Chocolate Ginger Crust
White Chocolate-Pumpkin Topped Blondies
Pumpkin Pecan Pie Gingerbread Bars
Brown Butter Pumpkin Pie Layer Cake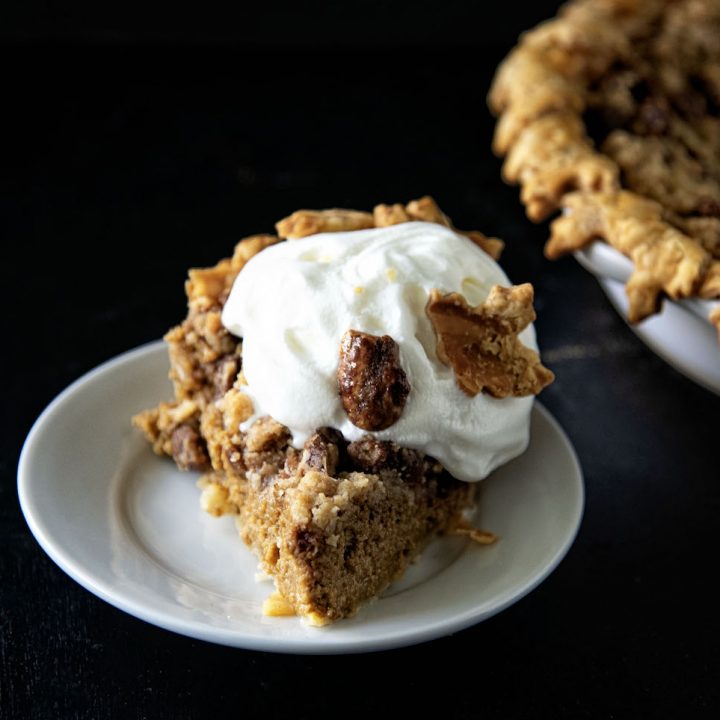 Butter Toffee Pecan Crumb Pumpkin Pie
Ingredients
For the Pie:
1 sheet refrigerated pie crust (or make your own)
3 large eggs
1 can (15 ounces) solid-pack pumpkin
1-1/2 cups heavy whipping cream
1/2 cup granulated sugar
1/4 cup packed brown sugar
1 TBSP pumpkin pie spice
Crumb:
1 cup all-purpose flour
1/2 cup packed brown sugar
1/2 tsp. ground cinnamon
1/2 cup cold butter, cubed
Instructions
Preheat oven to 350°F.
On a lightly floured surface, unroll crust.
Transfer to a 9-in. pie plate and trim to 1/2 in. beyond edge of plate; flute edge.
You can add decor around the edges like I did but honestly it tends to just fall off. 🙂
In a large bowl, whisk eggs, pumpkin, cream, sugars, salt, and pumpkin pie spice..
Pour into crust and bake 40 minutes.
For the Crumb:
In a small bowl, combine flour, cinnamon, and brown sugar; cut in butter until crumbly.
Fold in the butter toffee pecans.
Gently sprinkle crumb over filling. I find starting from the outside rim working inward works best.
Bake 15-25 minutes longer or until a knife inserted in the center comes out clean.
Cool on a wire rack. Refrigerate leftovers.