These Toffee White Chocolate Pumpkin Muffins are moist and spicy and are filled with white chocolate chips and toffee pieces.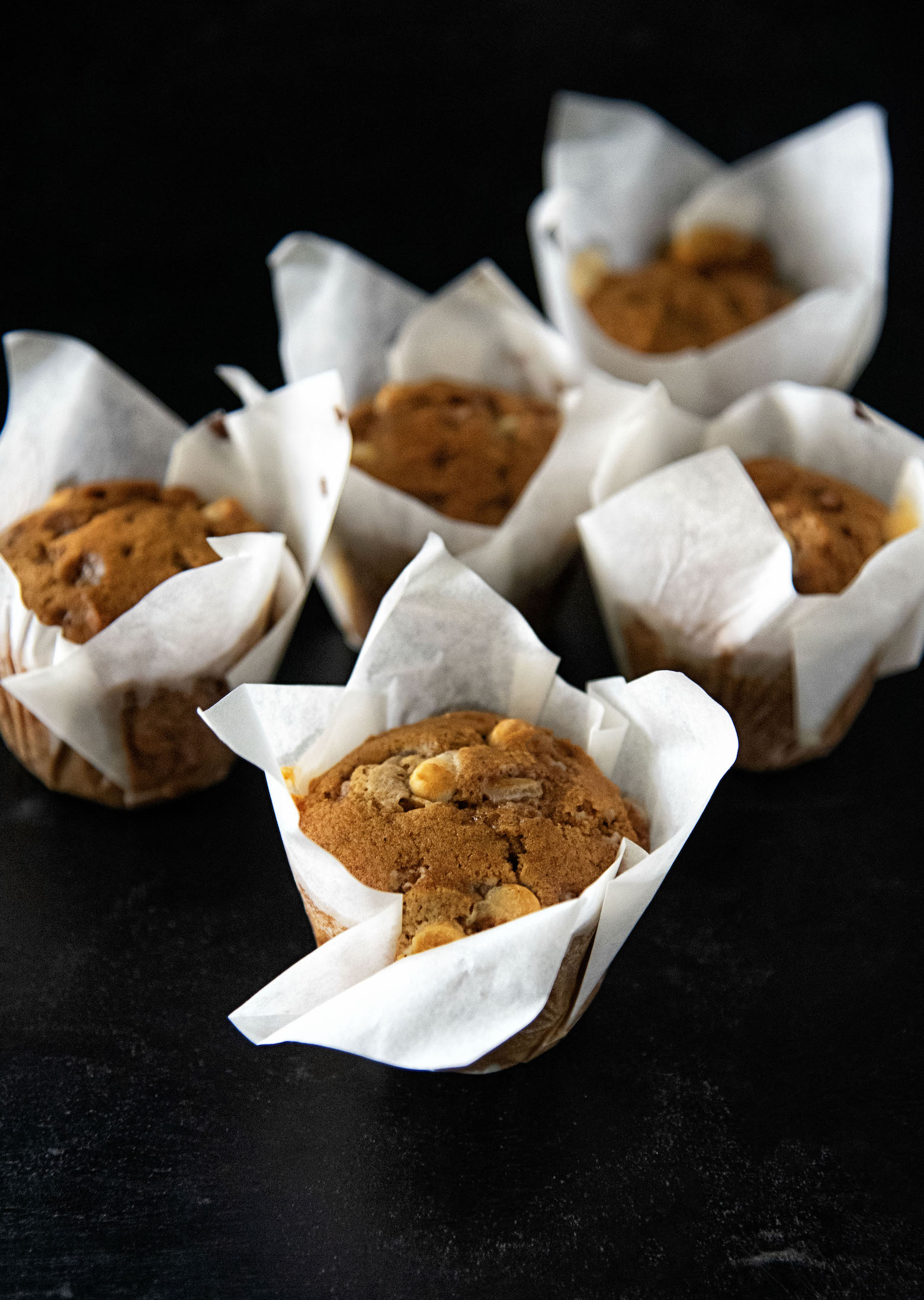 It's National Vet Tech Week.
I know, I know. There seems to be a week or day for everything.
But vet techs in my opinion definitely deserve their own week!
That's why I made the vet techs at the ER my dogs go to most these Toffee White Chocolate Pumpkin Muffins.
Because they are in a rather thankless job.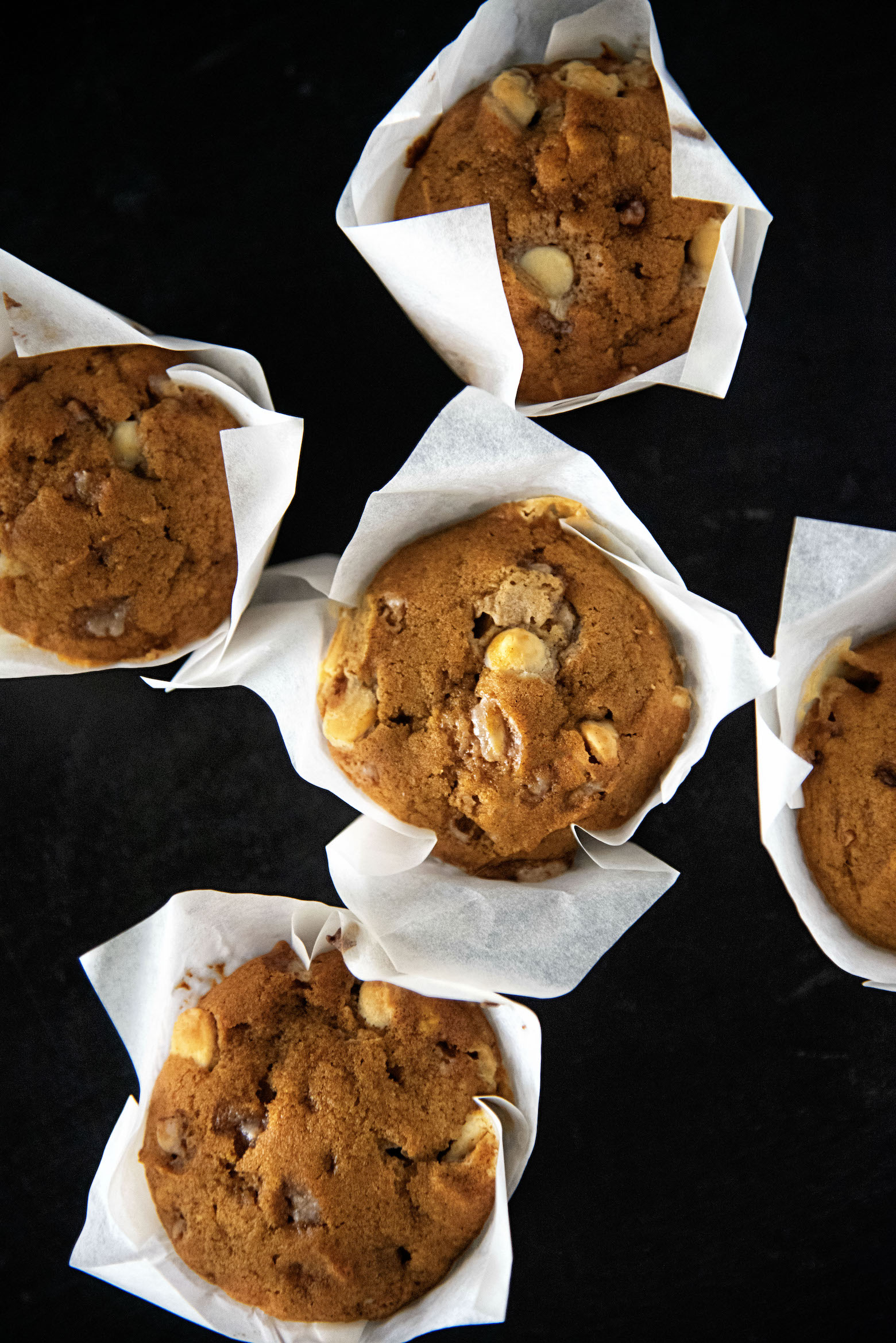 Vet techs got into the field because the love animals.
The job is a labor of love.
They do fun things like pick up all sorts of special "gifts" the animals leave behind.
Some animals bite them.
Scratch them.
Walk around with random things that came off the animal stuck to their outfits.
Even though they love animals they have to be the mean one helping the vet poke and prod the animal.
Which makes the animal not like them that much sometimes.
All for little pay.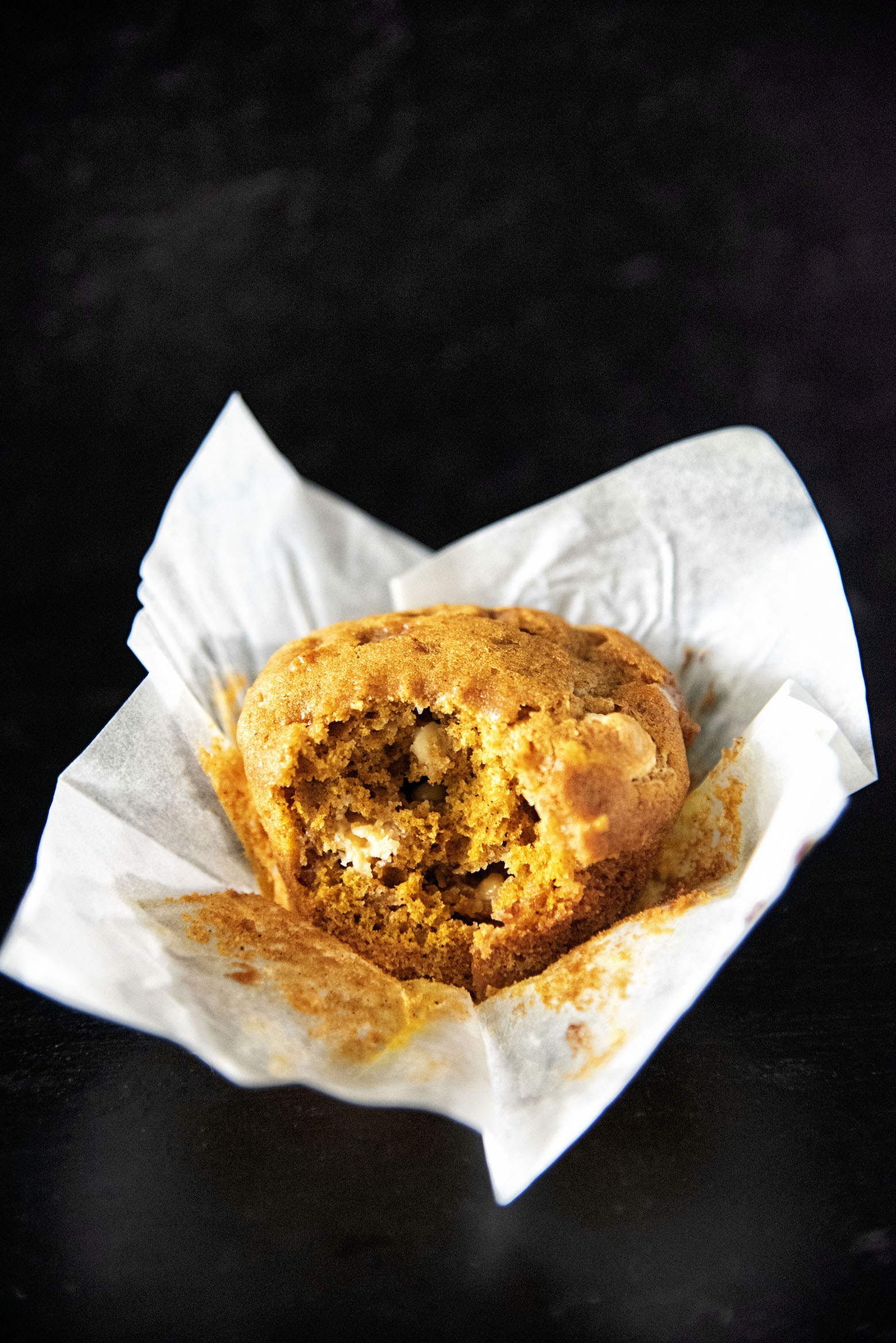 And I have an extra special place in my heart for vet techs who work in a 24 hour ER.
Pretty much every time I go to the ER someone is yelling at them.
In fact, when I dropped off the muffins this morning to a vet tech friend at the ER she commented she was relieved it was me when they called her.
Because she thought it was the person who called and chewed her out earlier calling back and doing it again.
Which made me extra happy I made muffins.
Vet techs stay so calm and take the abuse. 🙁
And I get it.
People are coming in scared and are panicked and you are handing the vet tech your baby to take back to the ER.
You don't know if this is the last time they will see their loved one.
However, that vet tech is there because they want to help your animal.
Remember that.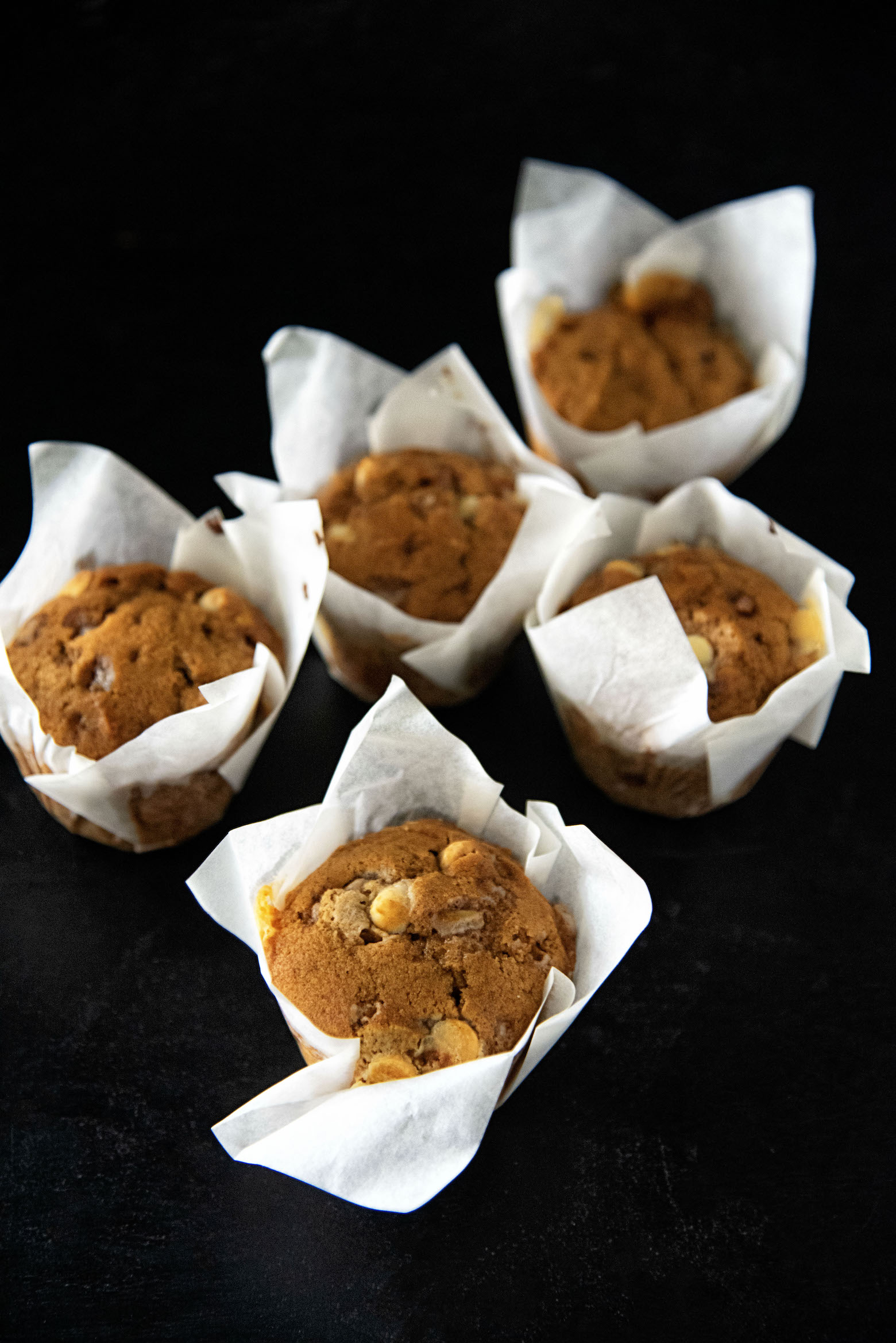 It is the vet techs that leave messages on my dog's Instagram accounts saying I want you to know I held Banjo's paw the whole time he was under anesthesia.
That's important to me.
To know they cared.
When Holly passed it was the vet tech that went and got me spare scrub pants to wear home because when she passed she peed on me.
They were the ones to make two paw prints of Holly's paws.
One regular.
And then one made into a Christmas ornament.
Our Holly loved Christmas and we actually brought in a mini Christmas tree decorated with lights (in October) for her to look at which they all thought was amazing.
So thank you vet techs for all you do!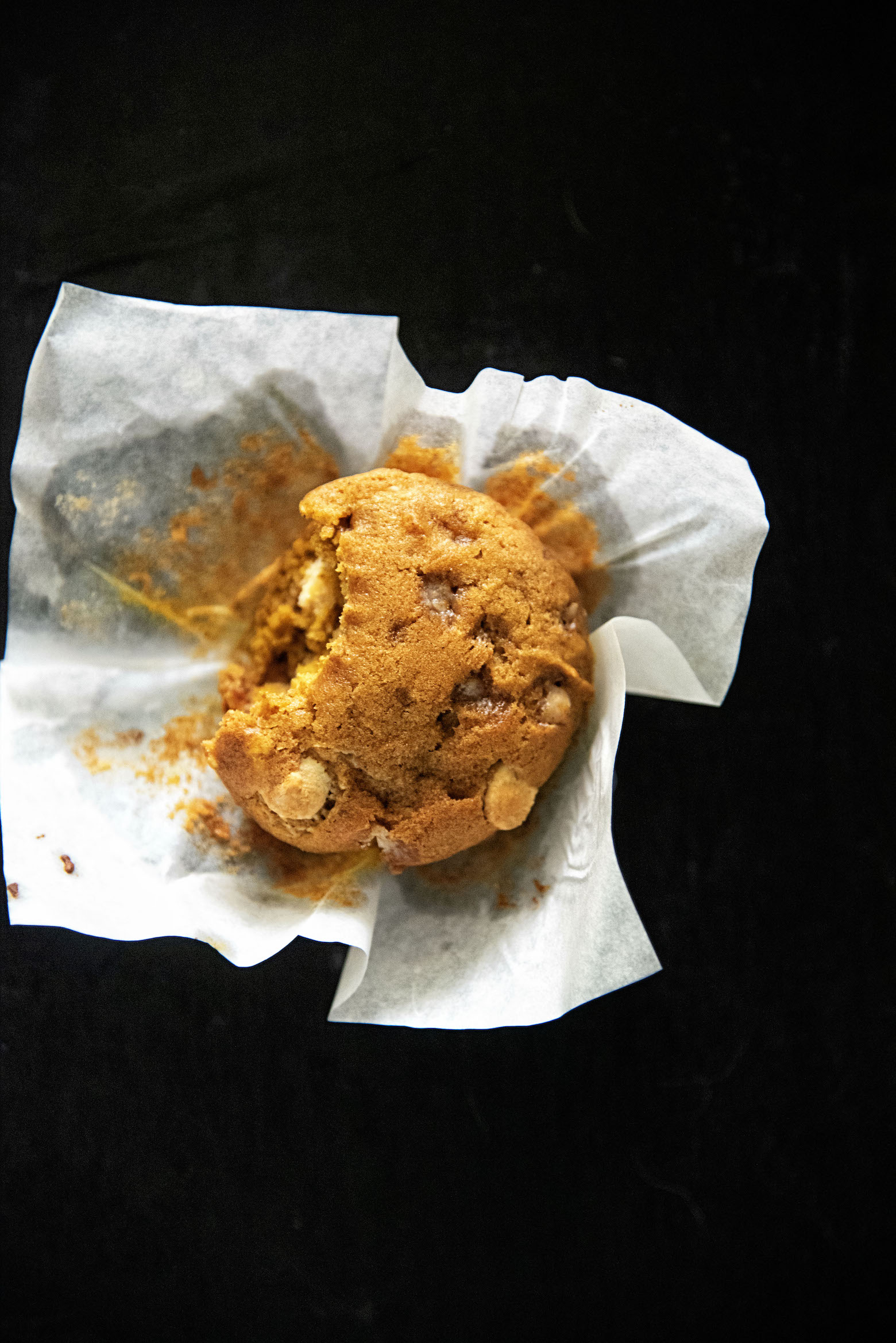 These muffins are a variation of my basic pumpkin muffin recipe that I have had since culinary school days.
They are versatile and pretty much everyone loves them.
Well, maybe not the pumpkin haters.
But everyone else. 🙂
I chose white chocolate chips and toffee to go into them.
Normally I would add nuts but since I was making this for people I didn't know I left them out.
This is a larger batch muffin recipe, making approximately 24 muffins.
Maybe make a batch and take them to your local veterinary ER.
And as always it's a great day to order my cookbook.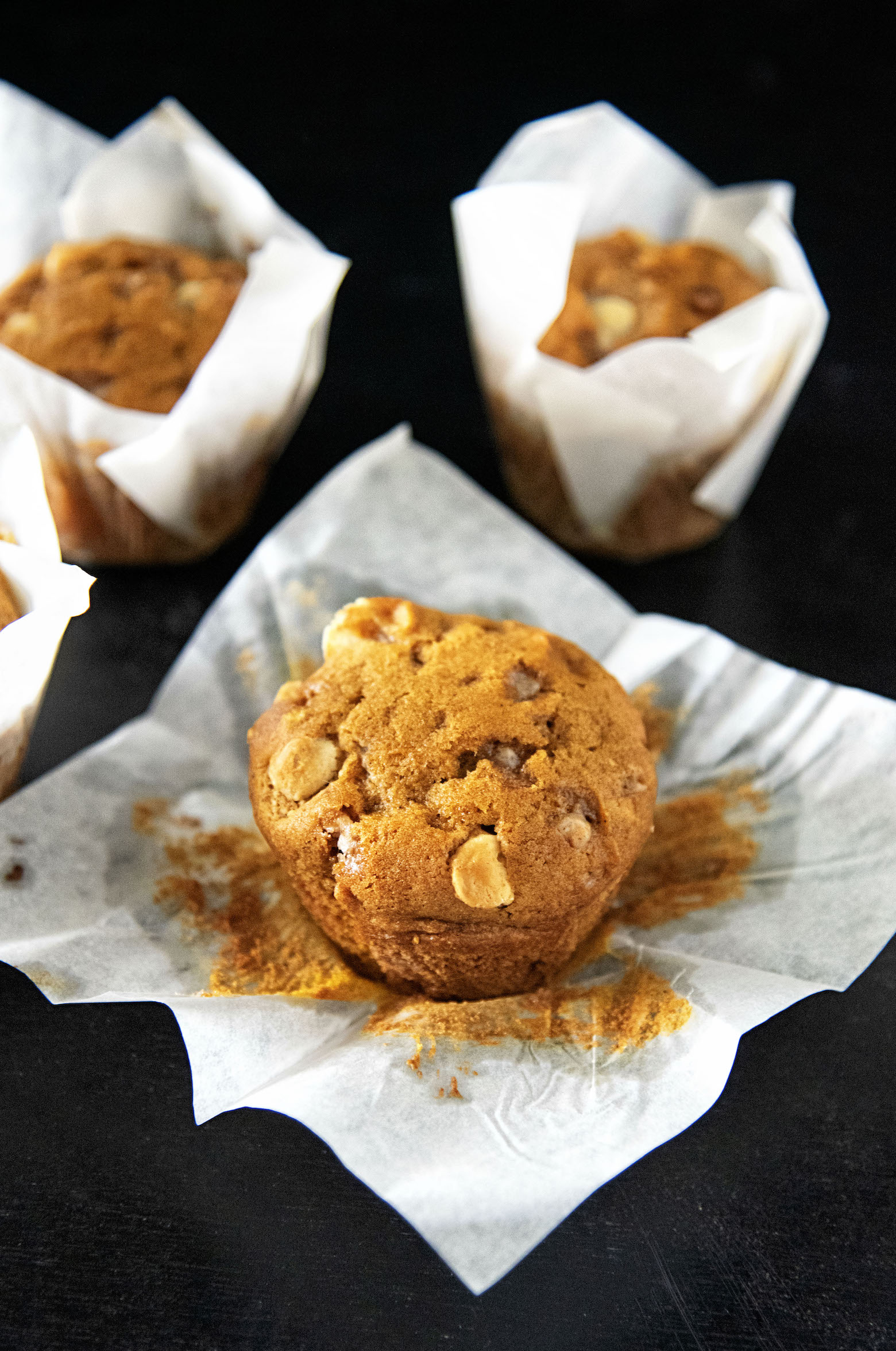 Want More Muffin Recipes?
Cider Glazed Apple Fritter Muffins
Chocolate Covered Strawberry Muffins
Hot Chocolate Muffins with Marshmallow Cream Cheese Center
Banana Apple Butterscotch Pecan Muffins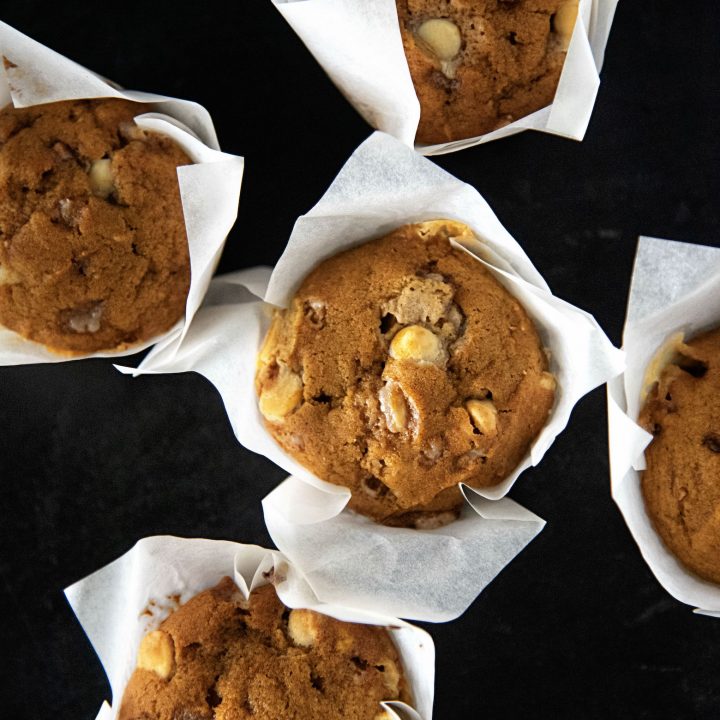 Toffee White Chocolate Pumpkin Muffins
Ingredients
3 1/3 cups all-purpose flour
2 cups granulated sugar
1 1/2 TBSP pumpkin pie spice
1/2 tsp. freshly ground nutmeg
1 1/2 tsp. baking soda
3/4 tsp. baking powder
1/2 tsp. salt
4 large eggs
2 cups pumpkin (not pumpkin pie mix)
8 oz. unsalted butter, melted
1 1/2 cups white chocolate chips
1 1/2 cups toffee pieces (Bit O' Brickle)
Instructions
Preheat oven to 350F.
In a large bowl, mix the flour, sugar, spices, baking soda, baking powder and salt.
In another bowl, mix together the eggs, pumpkin, and unsalted butter.
Fold in the white chocolate chips and toffee.
Combine the wet and dry ingredients and mix until the dry ingredients are moistened. Do not over mix.
Scoop batter into greased or paper cup lined muffin cups.
Bake for about 20-22 minutes or until puffed and springy to the touch if using standard muffin liners or no liners. If using the tulip liners like I used it will take 25-27 minutes to bake .
Cool then remove from cups.
Makes 24 muffins.