This Drumstick Babka is tribute to the Drumstick cone filled with sugar cone pieces, chocolate, peanuts and vanilla ice cream glaze.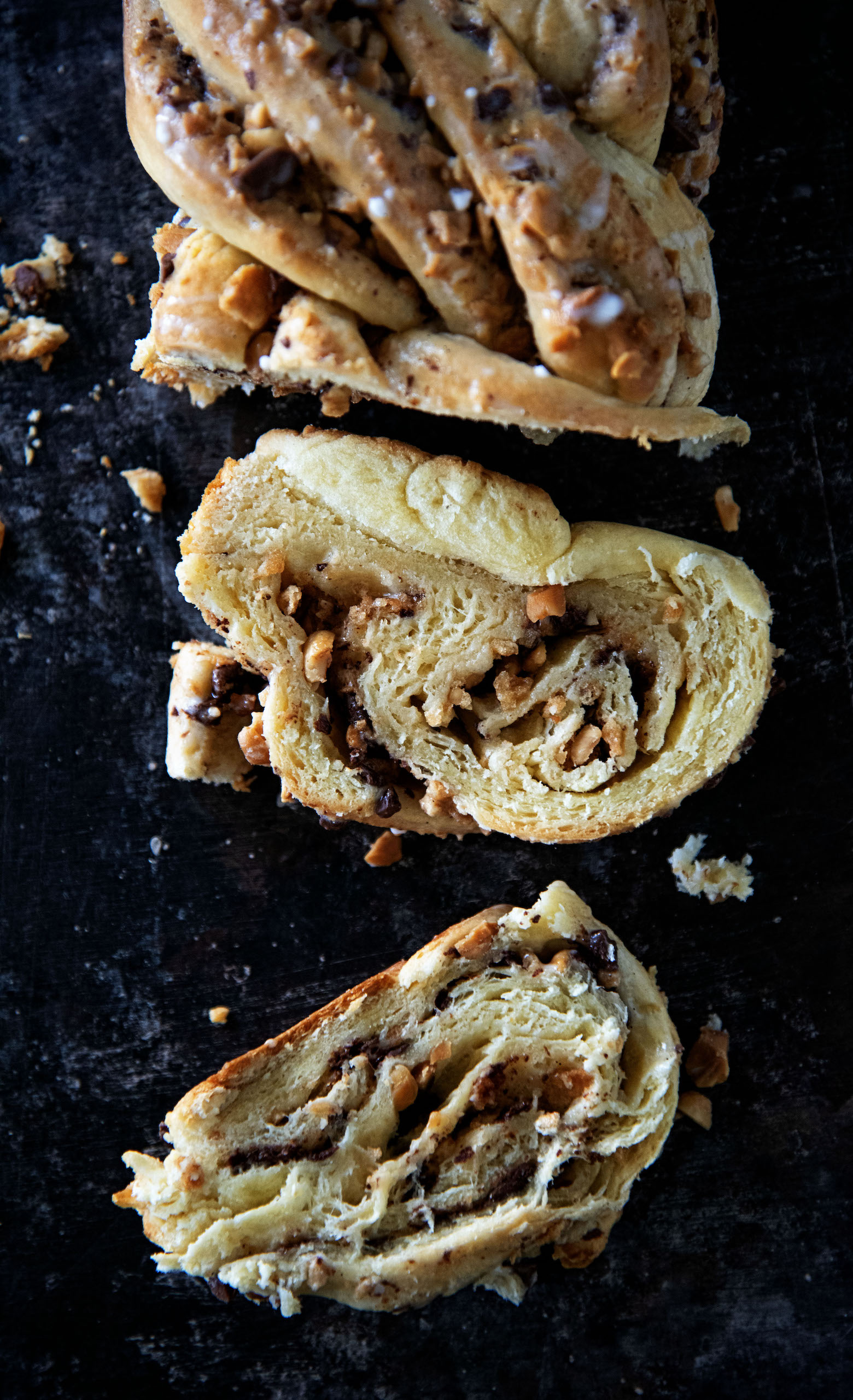 This post and recipe was created for #SummerDessertWeek! I was sent samples by some of the sponsor companies but as always opinions, bad grammar, and overuse of emojis are 100% mine.
In this post I used Dixie Crystals granulated sugar. I got great results with the product that they sent me. While no money was given for this post I did receive free product.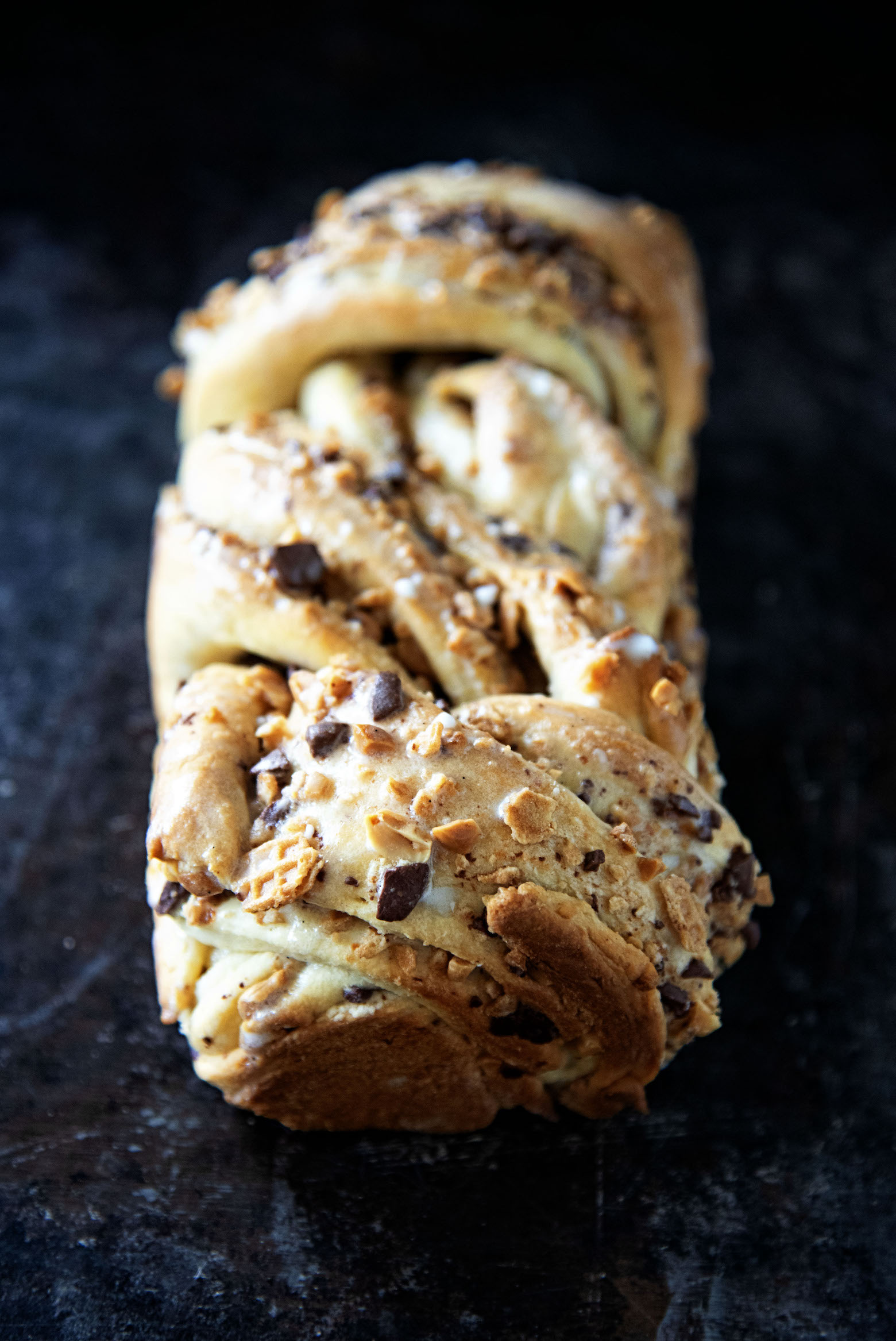 Welcome to day 5 of #SummerDessertWeek!
Long time readers of my blog know my love of the babka.
I make them in many flavors so I knew I would want one for dessert week.
Play off of the Bomb Pop idea I thought about the other ice creams I used to get at the ice cream truck.
Since I did a whole week already of all things creamsicle and orange sherbet I went with Drumstick.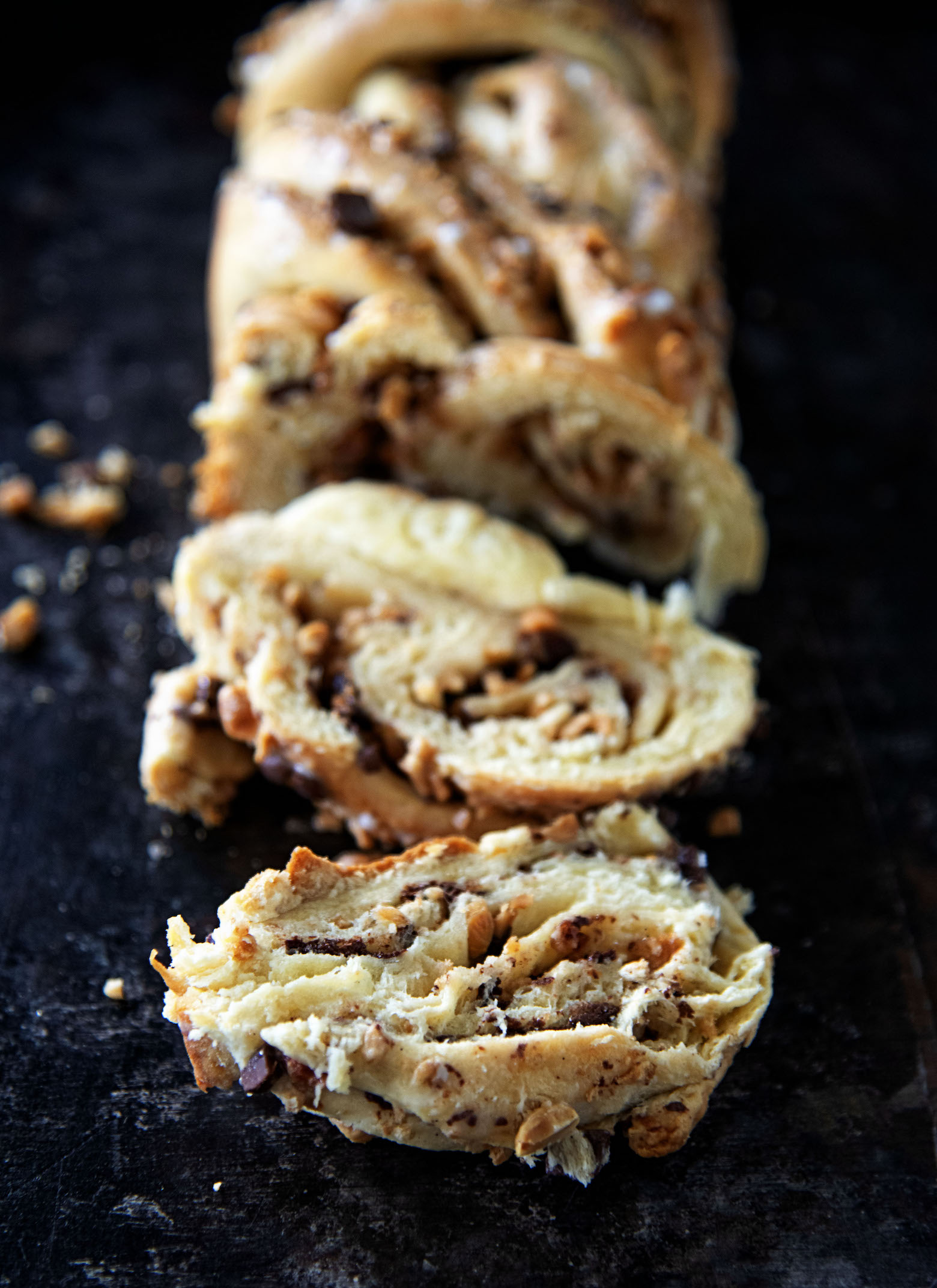 If for some reason you are not familiar with a Drumstick, the classic ice cream cone consists of a sugar cone with a little chocolate at the bottom of the cone as a treat.
It's filled with vanilla ice cream and dipped in more chocolate and chopped peanuts.
I thought long and hard about how to translate that into a babka.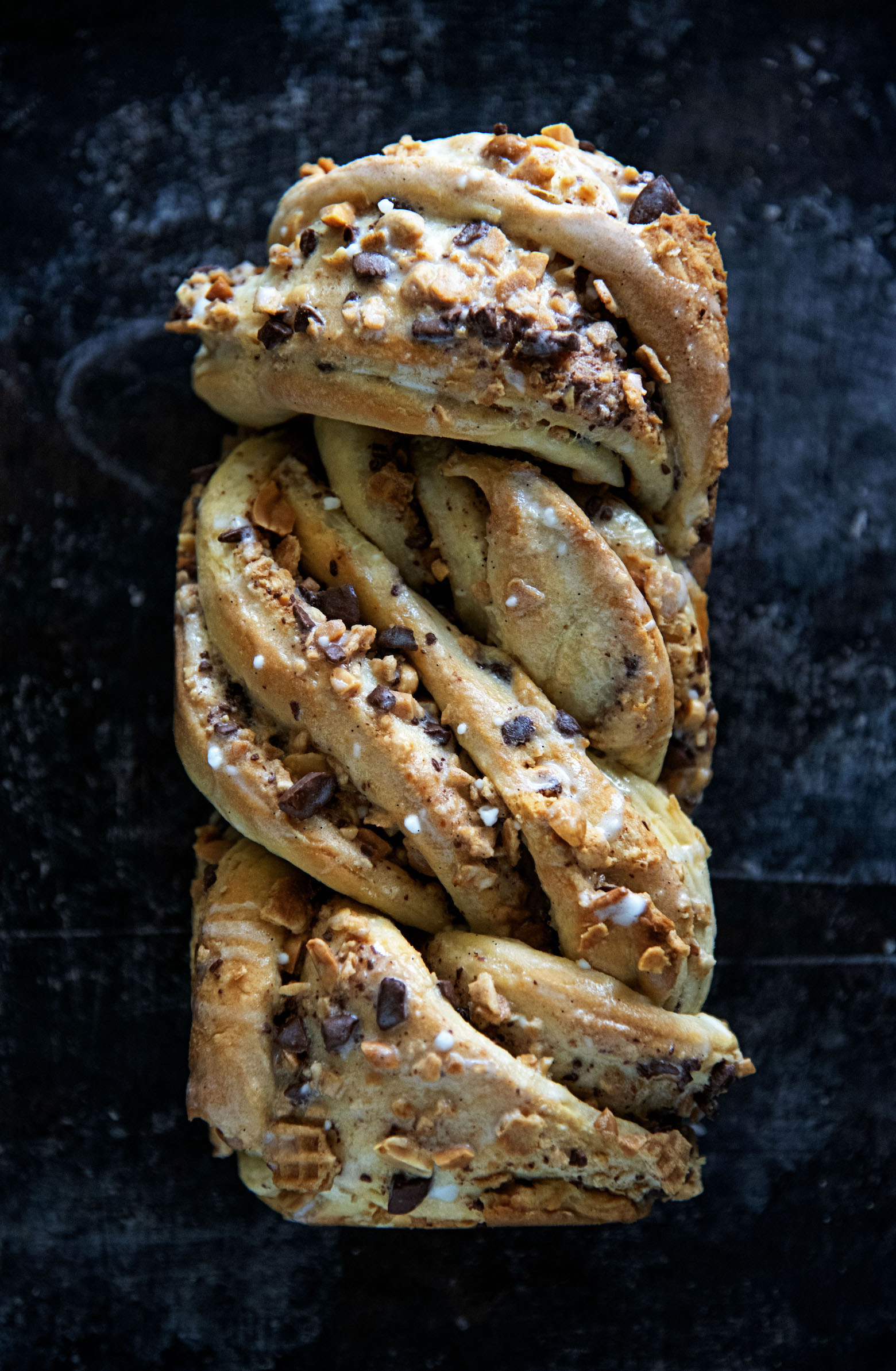 There is vanilla ice cream in both the babka batter as well as the glaze that covers the babka.
I made a mix of crushed sugar cone, chopped unsalted dry roasted peanuts, and milk chocolate.
Then instead of just plain butter I spread a butter and vanilla ice cream mix in the middle.
Which is then coated in the sugar cone/peanut/chocolate mix.
All rolled up and braided.
Then more sugar cone/peanut/chocolate mix is added to the top.
It turned out wonderful and I was glad that my experiment worked.
P.S. It's a great day to buy my cookbook.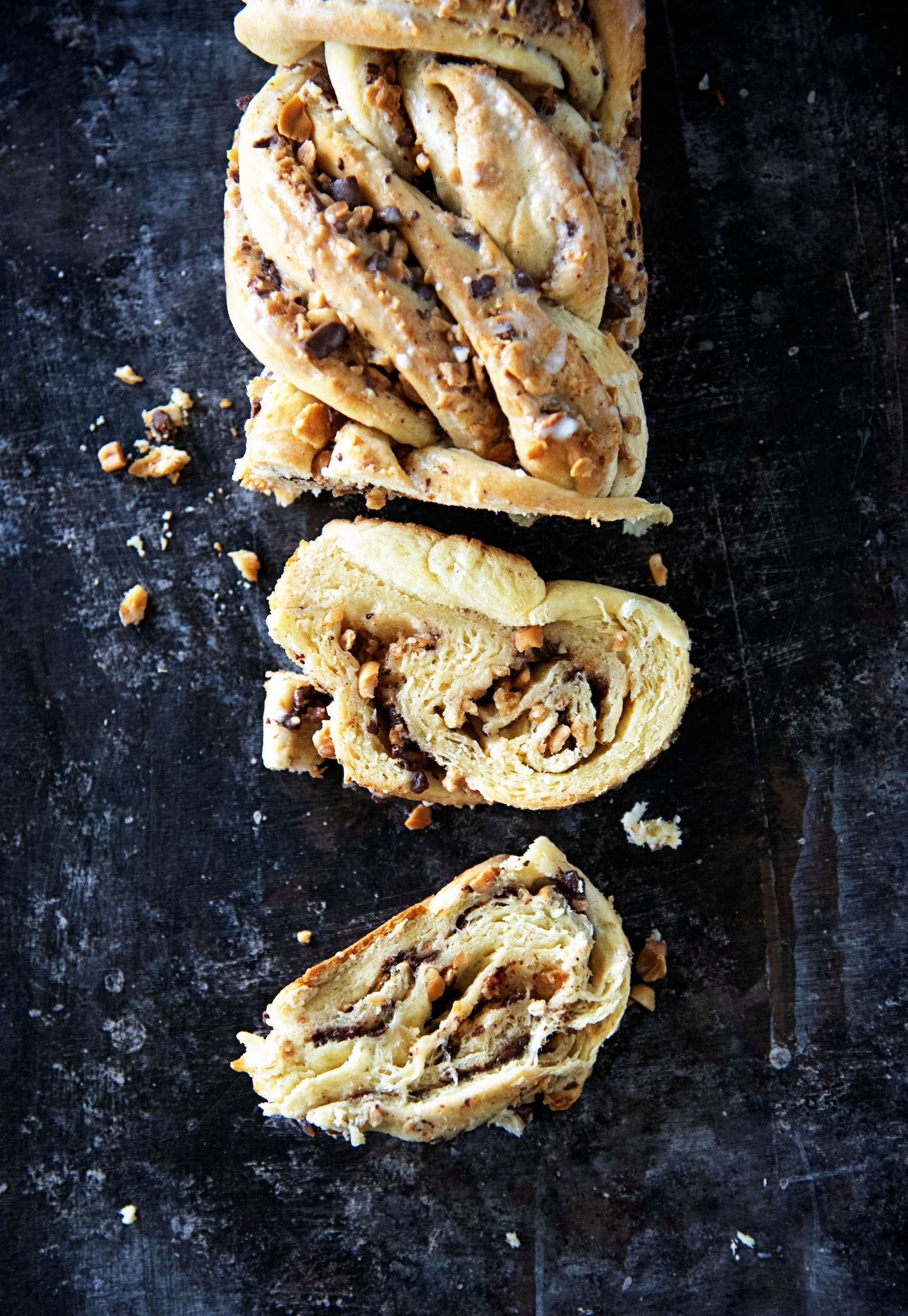 Want More Babka Recipes?
Brown Sugar Apple Cinnamon Babka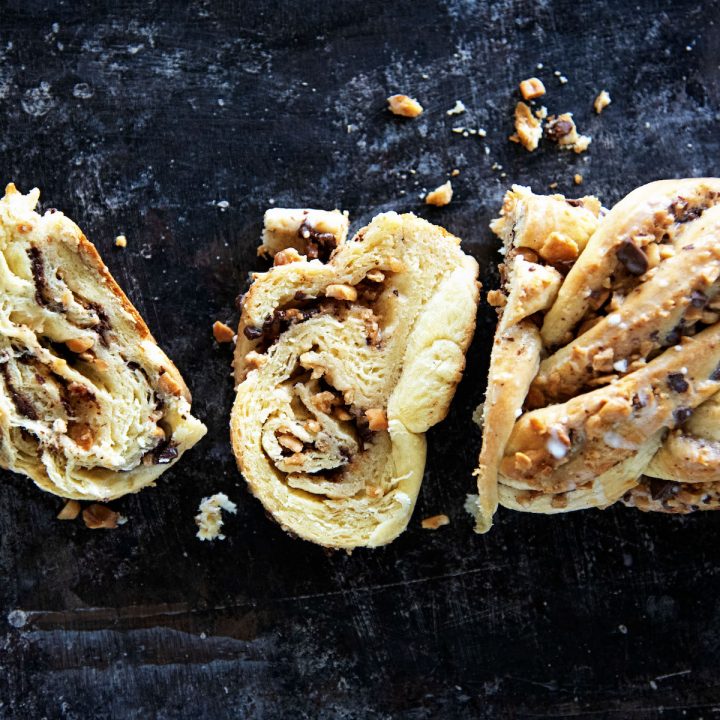 Drumstick Babka
Ingredients
For the dough:
1 TBSP dry active yeast
1/2 cup + ½ tsp. Granulated sugar (I used Dixie Crystals)
½ cup lukewarm water (105-110F)
4 cups all-purpose flour
1 tsp. vanilla extract
½ cup melted vanilla ice cream
¾ cup (1 ½ sticks) unsalted butter, melted
2 eggs
For the filling:
3 sugar cones, crushed finely
8 oz milk chocolate, finely chopped
1/2 cup chopped unsalted roasted peanuts
5 TBSP unsalted butter, at room temperature
1/4 cup melted vanilla ice cream
For the Glaze:
3/4 cup melted vanilla ice cream
3 cups powdered sugar
Instructions
To make the dough:
Place the yeast and ½ teaspoon sugar in a small bowl.
Add the lukewarm water and stir gently to mix.
Set aside until foamy, 5 to 10 minutes.
In a stand mixer fitted with a dough hook, mix together the flour, 1/2 cup sugar, and vanilla.
With mixer on low, add the water-yeast mixture, melted vanilla ice cream, and melted butter.
Add eggs one at a time.
When the dough begins to come together, after 2 to 3 minutes, turn off mixer and scrape down the sides.
Raise the speed too high and mix for another 5 to 10 minutes until the dough is shiny and elastic.
Place dough in a greased bowl with a damp towel on top.
Allow to rise until it has doubled, about 1 to 2 hours.
For the filling:
In a large bowl mix together the crushed sugar cones, peanuts, and chocolate. Set aside.
in a small bowl mix together the melted ice cream and butter. Set aside.
Making the babka:
Cut the dough into two equal parts.
Roll out one part into a rectangle.
Spread 1/2 the vanilla ice cream butter spread.
Sprinkle 1 cup sugar cone/peanut/chocolate mixture.
Roll dough up like a cinnamon roll and cut it straight down the middle so the filling is exposed.
Cut ½ inch off each end.
Layer each cut piece on top of one another and twist.
Filling will come out, that is to be expected.
Place in a greased loaf pan.
Top with more sugar cone/peanut/chocolate mixture.
Repeat with other babka dough.
Lightly drape a kitchen towel over the top of pans.
Allow to rise another 30 minutes.
Preheat oven to 350°F while the dough rises.
Bake for 20 minutes with aluminum foil lightly tenting the bread..
Put back in oven and bake another 15-20 minutes.
The edges should be slightly brown and the middle should be slightly doughy.
Allow to cool for 5 to 10 minutes.
Using a butter knife, loosen sides of the babkas from the pans and place on top of parchment wire rack to cool.
For the glaze:
Simply whisk together the melted ice cream, and powdered sugar in a medium bowl.
Pour glaze over the two babkas. Allow an hour for the glaze to set up.
Disclaimer: These posts and recipes are part of the week-long event, #SummerDessertWeek but all opinions are 100% mine! We would like to Thank our amazing sponsors: Dixie Crystals, Adam's Extract, Wilton, Sweets and Treats Shop and Anolon ! These wonderful sponsors provided the prize packs for our giveaways and also sent samples and products to the #SummerDessertWeek bloggers to use in their recipes.