Drumstick Babka: A tribute to the Drumstick cone with this sweet braided bread filled with sugar cone pieces, chocolate, peanuts and coated in vanilla ice cream glaze.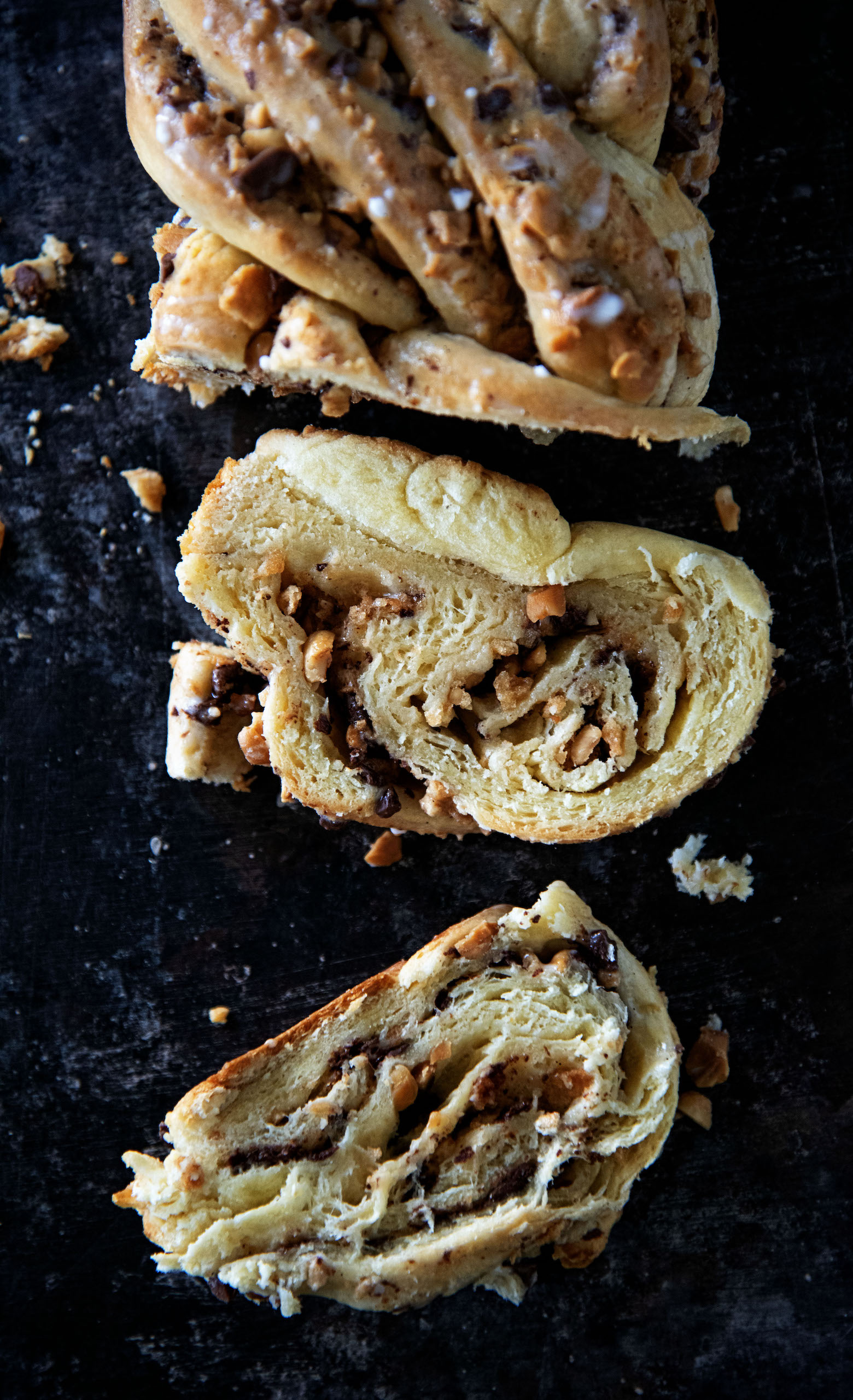 This post and recipe was created for #SummerDessertWeek! I was sent samples by some of the sponsor companies but as always opinions, bad grammar, and overuse of emojis are 100% mine.
In this post I used Dixie Crystals granulated sugar. I got great results with the product that they sent me. While no money was given for this post I did receive free product.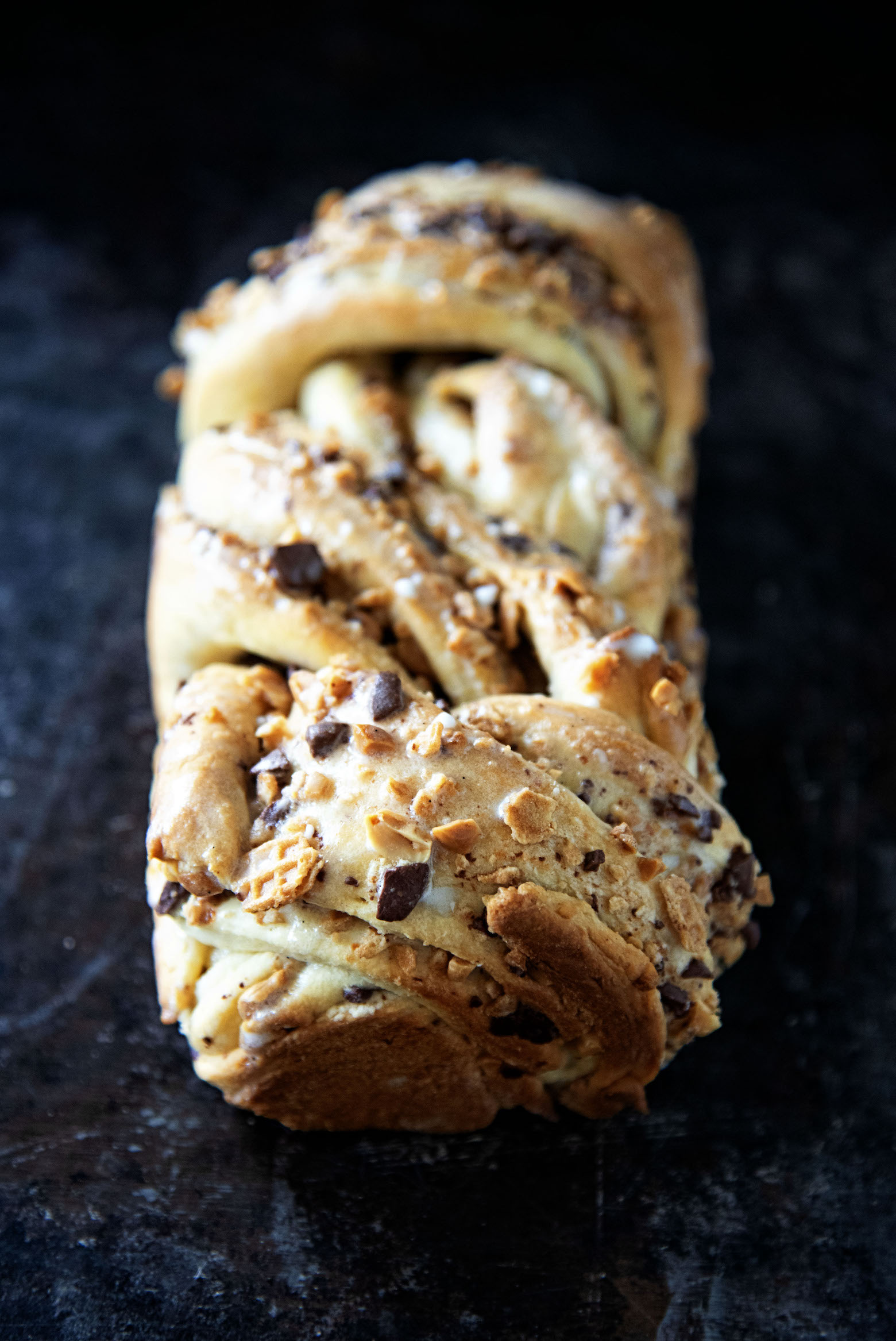 Welcome to day 5 of #SummerDessertWeek!
Long time readers of my blog know my love of the babka.
I make them in many flavors so I knew I would want one for dessert week.
Play off of the Bomb Pop idea I thought about the other ice creams I used to get at the ice cream truck.
Since I did a whole week already of all things creamsicle and orange sherbet I went with Drumstick.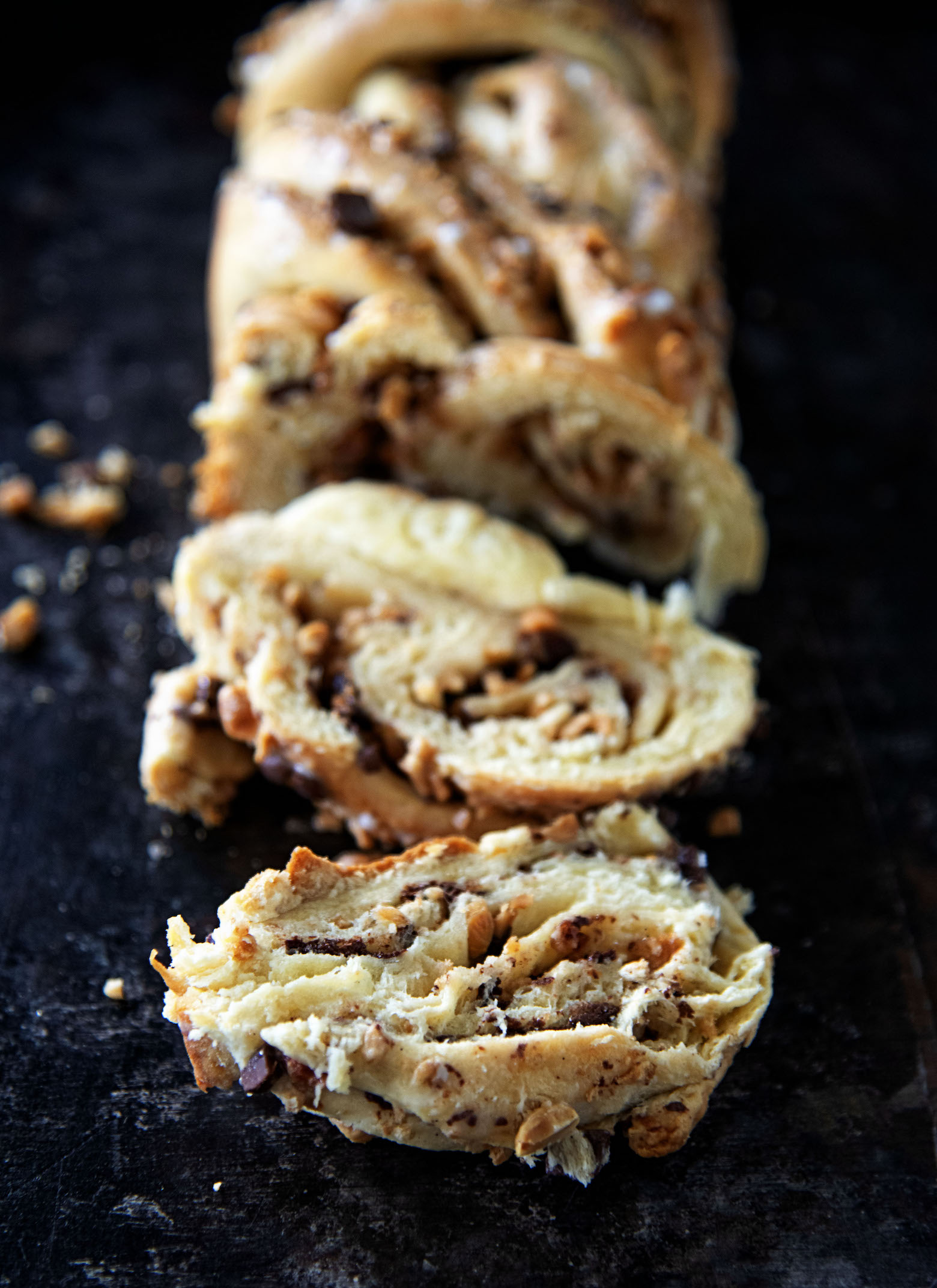 If for some reason you are not familiar with a Drumstick, the classic ice cream cone consists of a sugar cone with a little chocolate at the bottom of the cone as a treat.
It's filled with vanilla ice cream and dipped in more chocolate and chopped peanuts.
I thought long and hard about how to translate that into a babka.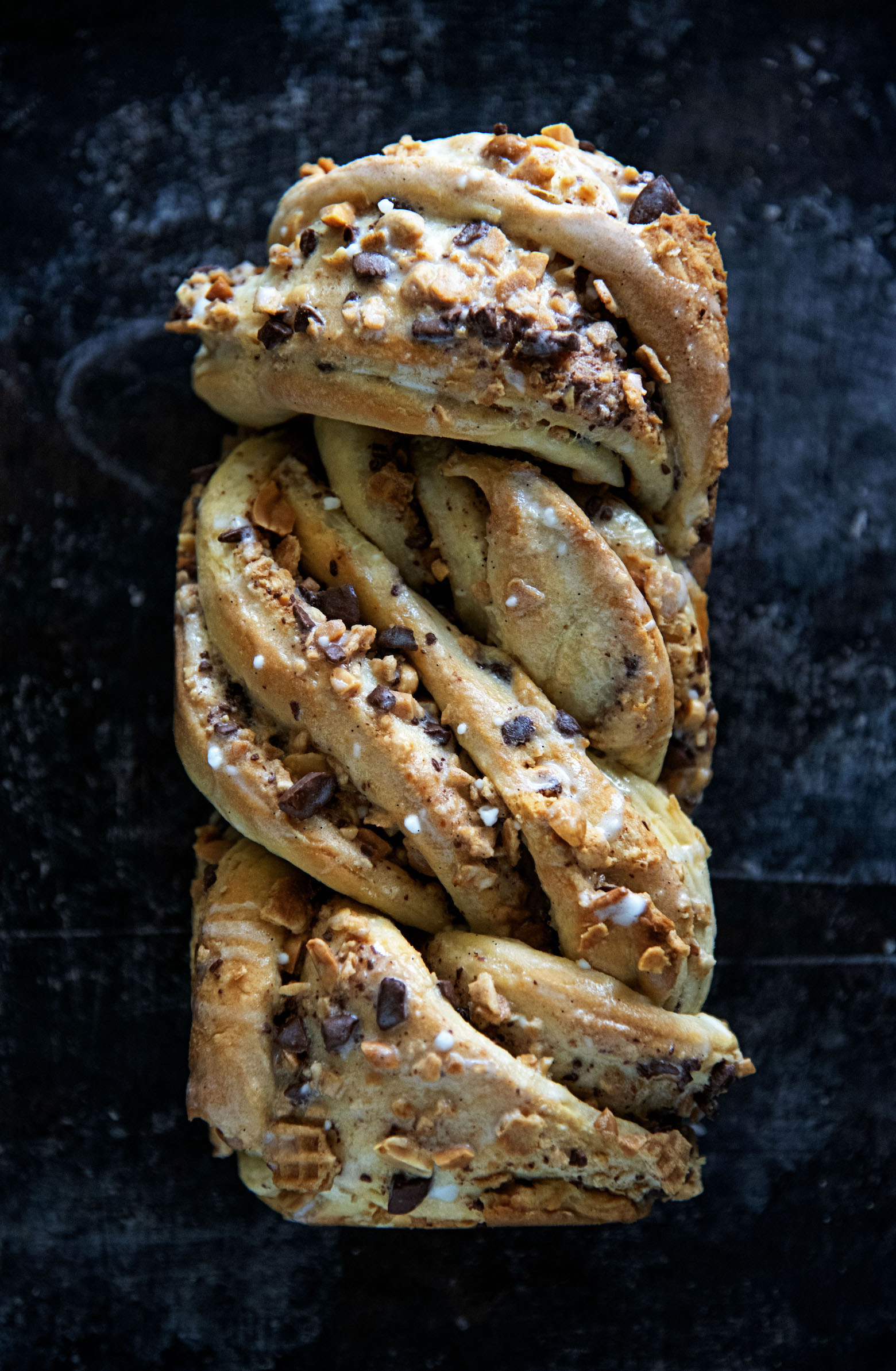 There is vanilla ice cream in both the babka batter as well as the glaze that covers the babka.
I made a mix of crushed sugar cone, chopped unsalted dry roasted peanuts, and milk chocolate.
Then instead of just plain butter I spread a butter and vanilla ice cream mix in the middle.
Which is then coated in the sugar cone/peanut/chocolate mix.
All rolled up and braided.
Then more sugar cone/peanut/chocolate mix is added to the top.
It turned out wonderful and I was glad that my experiment worked.
Make sure to be entering the giveaway…there are a ton of great prizes this year!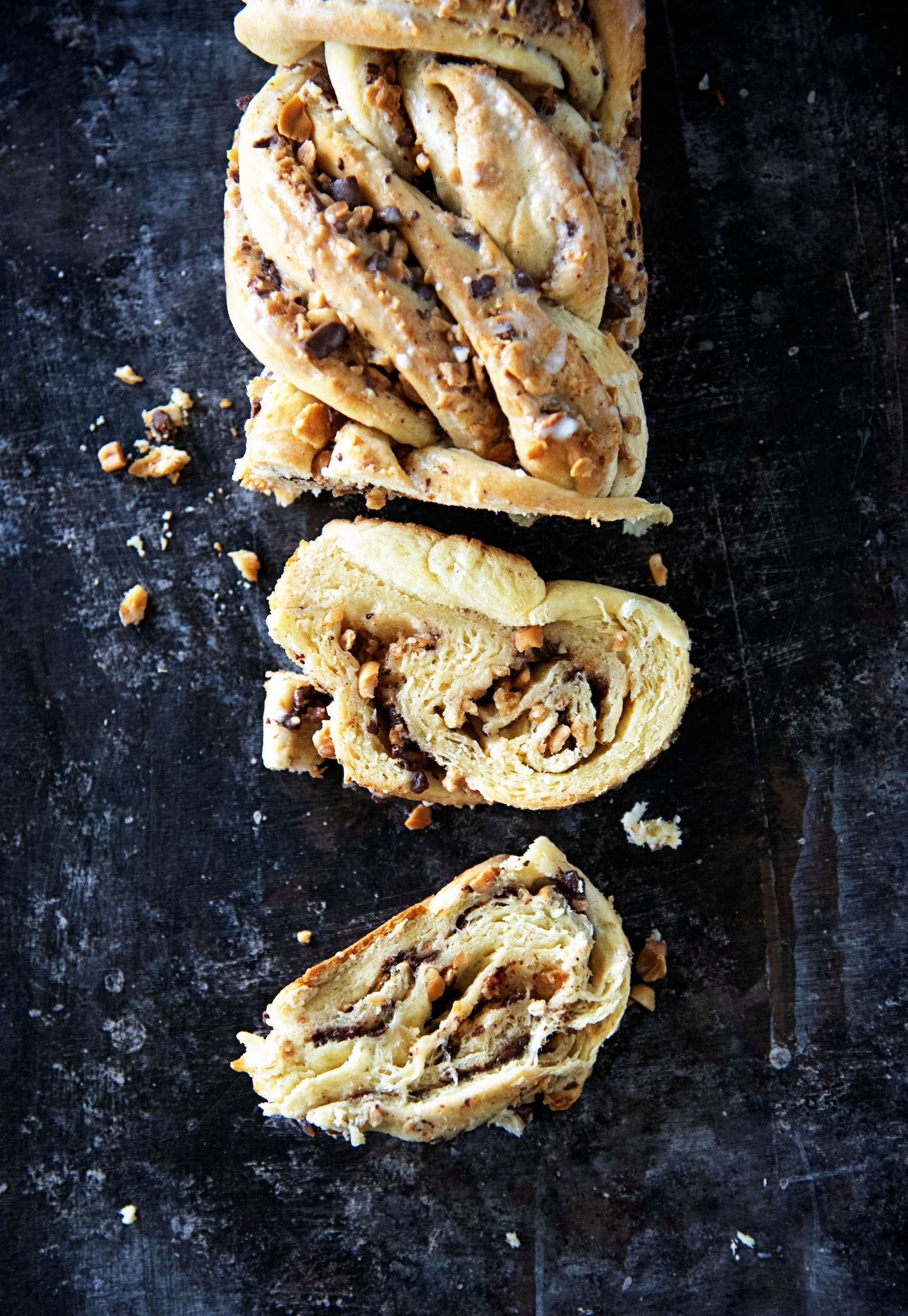 Check out the amazing #SummerDessertWeek recipes from our bloggers today!
Summer Drinks:
Ice Cream & Frozen Desserts:
Sweet Summertime Cakes and Cupcakes:
No Bake Treats:
Baked Desserts:
Candies: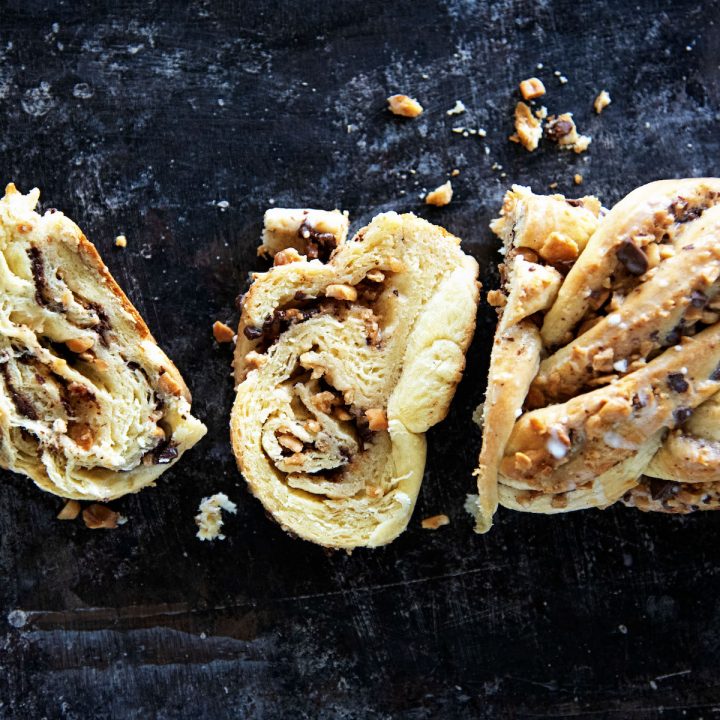 Drumstick Babka
Ingredients
For the dough:
1 TBSP dry active yeast
1/2 cup + ½ tsp. Granulated sugar (I used Dixie Crystals)
½ cup lukewarm water (105-110F)
4 cups all-purpose flour
1 tsp. vanilla extract
½ cup melted vanilla ice cream
¾ cup (1 ½ sticks) unsalted butter, melted
2 eggs
For the filling:
3 sugar cones, crushed finely
8 oz milk chocolate, finely chopped
1/2 cup chopped unsalted roasted peanuts
5 TBSP unsalted butter, at room temperature
1/4 cup melted vanilla ice cream
For the Glaze:
3/4 cup melted vanilla ice cream
3 cups powdered sugar
Instructions
To make the dough:
Place the yeast and ½ teaspoon sugar in a small bowl.
Add the lukewarm water and stir gently to mix.
Set aside until foamy, 5 to 10 minutes.
In a stand mixer fitted with a dough hook, mix together the flour, 1/2 cup sugar, and vanilla.
With mixer on low, add the water-yeast mixture, melted vanilla ice cream, and melted butter.
Add eggs one at a time.
When the dough begins to come together, after 2 to 3 minutes, turn off mixer and scrape down the sides.
Raise the speed too high and mix for another 5 to 10 minutes until the dough is shiny and elastic.
Place dough in a greased bowl with a damp towel on top.
Allow to rise until it has doubled, about 1 to 2 hours.
For the filling:
In a large bowl mix together the crushed sugar cones, peanuts, and chocolate. Set aside.
in a small bowl mix together the melted ice cream and butter. Set aside.
Making the babka:
Cut the dough into two equal parts.
Roll out one part into a rectangle.
Spread 1/2 the vanilla ice cream butter spread.
Sprinkle 1 cup sugar cone/peanut/chocolate mixture.
Roll dough up like a cinnamon roll and cut it straight down the middle so the filling is exposed.
Cut ½ inch off each end.
Layer each cut piece on top of one another and twist.
Filling will come out, that is to be expected.
Place in a greased loaf pan.
Top with more sugar cone/peanut/chocolate mixture.
Repeat with other babka dough.
Lightly drape a kitchen towel over the top of pans.
Allow to rise another 30 minutes.
Preheat oven to 350°F while the dough rises.
Bake for 20 minutes with aluminum foil lightly tenting the bread..
Put back in oven and bake another 15-20 minutes.
The edges should be slightly brown and the middle should be slightly doughy.
Allow to cool for 5 to 10 minutes.
Using a butter knife, loosen sides of the babkas from the pans and place on top of parchment wire rack to cool.
For the glaze:
Simply whisk together the melted ice cream, and powdered sugar in a medium bowl.
Pour glaze over the two babkas. Allow an hour for the glaze to set up.
Welcome to the 3rd Annual #SummerDessertWeek event hosted by Angie from Big Bear's Wife. This week-long summer time event is filled with some down right amazing sweet recipes from fantastic bloggers and we've got some great giveaways from our generous sponsors for y'all too!! We can't wait to share all of these summer-themed desserts with you and celebrate sweet, sweet summertime all week long!
There are 45 incredible bloggers participating in this year's #SummerDessertWeek event! Thanks to those bloggers, we have over 168 summer time sweet treat recipes being shared this week! Grab a few recipes to try out and don't forget to enter the giveaway below!Scroll down to take a look!
PRIZE #1
Dixie Crystals is giving away one (1)Keurig® K-Select® Coffee Maker
PRIZE #2
Prize #2 — Adam's Extract is giving away – 1 Gift Pack – including Adams Poundcake Kit, Adams Best, Adams Lemon Extract, Adams Natural Food Color, and Adams Cinnamon Sugar
PRIZE #3
Prize #3 —Wilton is giving away a Wilton Gift Pack – including – Bake and Bring Geometric Print Non-Stick 13 x 9 -inch Oblong Pan, Bake and Bring Geometric Print Non-Stick 8-inch Square Cake Pan, Bake and Bring Geometric Print Non-Stick 8-inch Round Cake Pan, Peach Cobbler Candy Melts Candy, Blueberry Lemonade Candy Melts Candy, Orange Crème Candy Melts Candy, Key Lime Pie Decorating Icing Pouch with Tips, Orange Crème Decorating Icing Pouch with Tips, Pop Art Triangle and Solid Cupcake Liners, Geometric Print and Solid Green Cupcake Liners, Balloon Dog Icing Decorations, Assorted Brights and Pastels Sprinkles, Blue Sprinkles Tackle Box, Coral Sprinkles Tackle Box, DIY-Lish Mermaid Kit, DIY-Lish Candy Lollipop Kit and Disposable Decorating Bags with 1M Tips
PRIZE #4
Prize #4 — Sweets & Treats Boutique is giving away 1 (one) baking supply box including an assortment of sprinkles and cupcake liners as well as one of Love From The Oven's recent cookbooks!
PRIZE #5
Prize #5 — Anolon is giving one (1) winner an Anolon Advanced Graphite 9″ Round Springform Pan & an Anolon Advanced Graphite 9″ Square Springform Pan
Giveaway open to US Residents 18 years or older. All entries will be verified. No PO Boxes Please. Prizes will be sent directly from sponsors to winners, bloggers are not responsible for prizes. This giveaway runs from July 7th – July 14th at 12AMEST. Winners will be selected soon afterward and contacted by e-mail. Winners will have 48 hours to respond or a new winner will be chosen. There are a total of 5 (five) prizes and therefore we will have a total of 5 (five) winners. No purchase necessary. Void where prohibited by law.
Disclaimer: These posts and recipes are part of the week-long event, #SummerDessertWeek but all opinions are 100% mine! We would like to Thank our amazing sponsors: Dixie Crystals, Adam's Extract, Wilton, Sweets and Treats Shop and Anolon ! These wonderful sponsors provided the prize packs for our giveaways and also sent samples and products to the #SummerDessertWeek bloggers to use in their recipes.