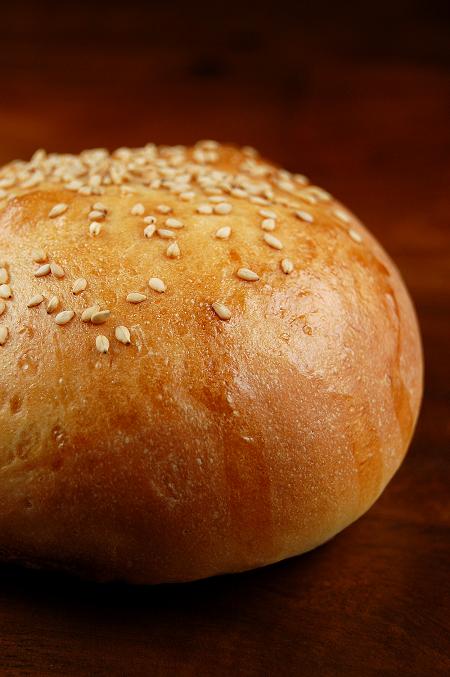 So we've touched on my coconuts (wow, that was bad) but lets move on to my best assets (yes, again, bad)… my buns. 🙂 I can't help it. I love getting new readers, so I need to keep F interested.
But in all seriousness (if I can even do that), I was in the mood to bake some bread. And I wanted a recipe that didn't use the mixer. See apparently, it has been pointed out to me, that I have weak wrist. And I need strong ones for a better shot.
Not really my fault. I'm a girl. And well, we just don't have strong forearms/wrists like guys. I mean, men get to ummm, *build* up their wrist strength on a more consistent basis (depending on their social life, or lack there of). So they have a slight advantage. Or disadvantage depending on your outlook.
Anyway, back to the bread. I figured it was best if I, you know, built up my wrist strength in a more appropriate manner. 😉 So why not knead bread?
Except, hardly anyone does that anymore. While Googling for brioche buns (I was making pulled pork sandwiches), Deb came up. Pretty much everyone knows Smitten Kitchen, if you don't, you should. And since Smitten Kitchen is a reliable recipe site (as in, stuff I make from there turns out), I decided to give her buns a try….especially since you don't use a mixer.
As far as bread making goes, these here buns were pretty easy to make (though I realize that some fear yeast). Other than having to knead them by hand for about 8 minutes, there is very little effort to put into these. Well that and just sitting around watching the dough rise. The key is to remember that this dough is a little on the sticky side. If you add too much flour and you will get tough buns (so use flour sparingly when kneading). Firm buns are good for the gym, but bad for a pulled pork sandwich.
All in all, two good things came out of this. The buns. The other is of course, my well developed wrists that will no doubt help improve the rocket that is my shot (any and all people who play hockey with me are now rolling on the ground laughing).

Light Brioche Burger Buns
Makes 8 4 to 5-inch burger buns
3 TBSP warm milk
2 tsp active dry yeast
2 ½ TBSP sugar
2 large eggs
3 cups bread flour
1/3 cup all-purpose flour
1 ½ tsp salt
2 ½ TBSP unsalted butter, softened
Sesame seeds (optional)
In a glass measuring cup, combine one cup warm water, the milk, yeast and sugar. Let stand until foamy, about five minutes. Meanwhile, beat one egg.
In a large bowl, whisk flours with salt. Add butter and rub into flour between your fingers, making crumbs. Using a dough scraper, stir in yeast mixture and beaten egg until a dough forms. Scrape dough onto clean, well-floured counter and knead, scooping dough up, slapping it on counter and turning it, until smooth and elastic, 8 to 10 minutes. The dough will be on the sticky side so it can be a bit messy, but keep in mind that the more flour you knead in, the tougher the buns will get. Try to leave them tackier than you would a round loaf.
Shape dough into a ball and return it to bowl. Cover bowl with plastic wrap and let rise in a warm place until doubled in bulk, one to two hours. (In my freaky, warm apartment this only took an hour.)
Line a baking sheet with parchment paper. Using dough scraper, divide dough into 8 equal parts. Gently roll each into a ball and arrange two to three inches apart on baking sheet. Cover loosely with a piece of plastic wrap lightly coated in nonstick spray and let buns rise in a warm place for one to two hours. (Again, this only took one hour in my apartment and I suspect, you'll also only need an hour for a second rise.)
Set a large shallow pan of water on oven floor. Preheat oven to 400 degrees with rack in center. Beat remaining egg with one tablespoon water and brush some on top of buns. Sprinkle with sesame seeds, if using. Bake, turning sheet halfway through baking, until tops are golden brown, about 15 minutes. Transfer to a rack to cool completely.
From Smitten Kitchen who adapted it from Comme Ça restaurant in Los Angeles, via the New York Times