This Crab Macaroni and Cheese is filled with five kinds of cheeses and fresh Dungeness crab meat with breadcrumb topping.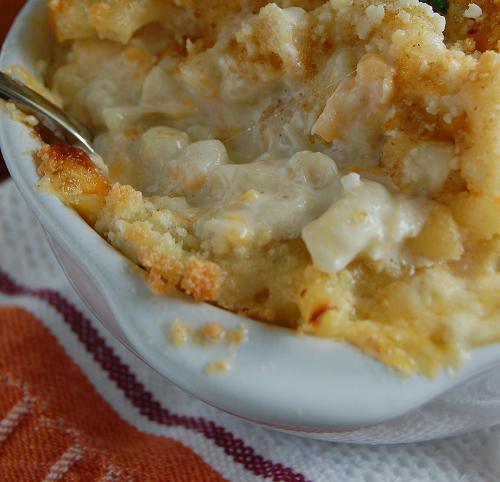 So I will admit that ever since Kristen packed her knives and went I have been not as interested in Top Chef Seattle.
I'm happy that she is still kicking butt in Last Chance Kitchen but I'm bitter about it all the same.
Like bad arugula bitter.
If she doesn't win I guess I will be rooting for Josh because of how much he likes and uses bacon.
This last week they left Seattle (boo and lame) and went to Alaska.
They had to use Alaskan king crab to make something for the quick fire.
While we can get king crab fairly easily around here most of us go for Dungeness because it's from our reign and therefore more economical.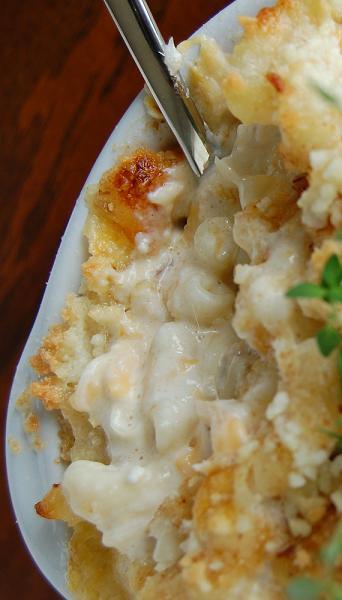 We have a local place that makes Lobster Mac and Cheese and that inspired this Crab Macaroni and Cheese.
This would be equally great with king crab I am quite sure…or whatever crab you have around your parts.
Try not to use canned crab…go fresh please.
They are down to just three now on Top Chef Seattle…if you are watching who do you think it going to win the whole 9 yards?
P.S. It's a great day to buy my cookbook.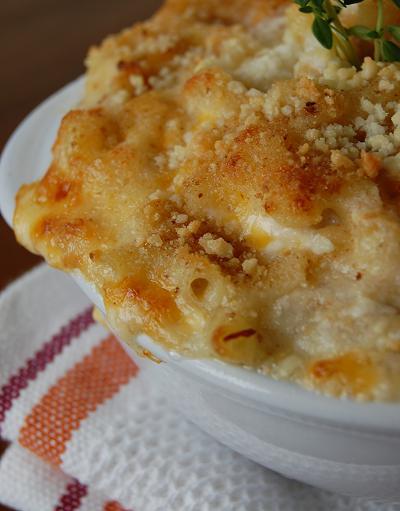 Want more Macaroni and Cheese?
Dill Pickle Cheddar Macaroni and Cheese
BBQ Pulled Pork Mac and Cheese
Gouda and Lobster Mac and Cheese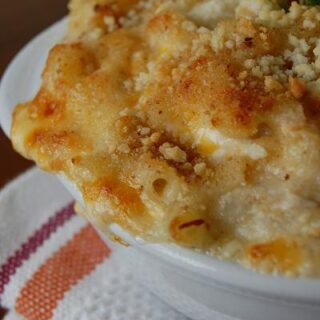 Crab Macaroni and Cheese
Ingredients
Butter for the pan
12 ounces macaroni
1 ¾ cups whole milk
2 cups heavy cream
2 teaspoons all-purpose flour
½ teaspoon salt
¼ teaspoon freshly ground black pepper
1 cup (packed) grated fontina cheese
¾ cup cheddar cheese
½ cup (packed) finely grated Parmesan cheese
¼ cup (packed) grated mozzarella cheese
¾ cup ricotta cheese
10 ounces Dungeness crab meat
4 TBSP breadcrumbs
2 TBSP unsalted butter, cut into 8 pieces
Instructions
Preheat the oven to 450°F.
Butter a 9 x 13 x 2-inch glass baking dish.
Cook the noodles in a large pot of boiling salted water until tender but still firm to the bite, stirring frequently, about 5 minutes.
Drain well (do not rinse).
Whisk the milk, cream, flour, salt, and pepper in a large bowl to blend.
Stir in the fontina, cheddar, Parmesan, mozzarella, and ricotta cheeses.
Add the macaroni and toss to coat.
Fold in crab meat.
Transfer the macaroni mixture to the prepared baking dish.
Sprinkle breadcrumbs and place butter pieces on top of breadcrumbs.
Bake until the sauce bubbles and the cheese melts and begins to brown on top, about 15 minutes.
Let stand for 10 minutes. Serve warm.