BBQ Pulled Pork Macaroni and Cheese: One of the meals we eat often in our family. Mac and cheese topped with BBQ pulled pork and topped with melted cheese. The whole family approves.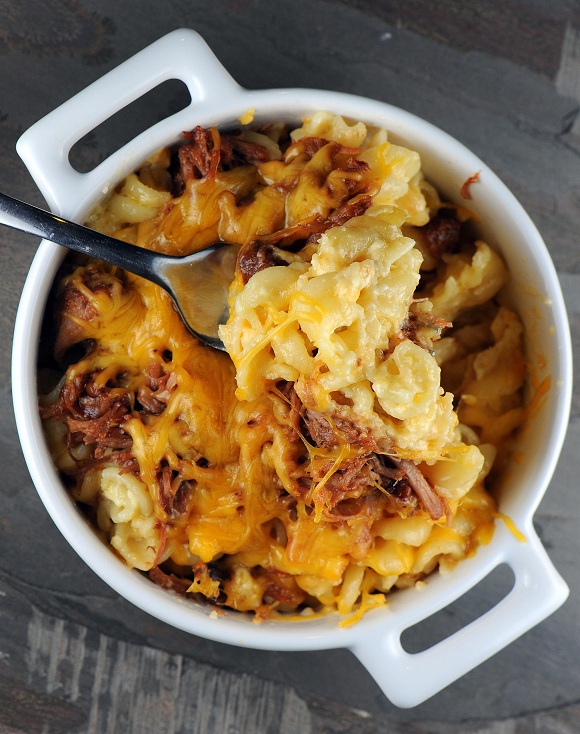 So often at your favorite BBQ place, they offer mac and cheese as a side dish to go with your meal. I always get a pulled pork sandwich and sometimes my side is mac and cheese. One day when the two mixed I decided why not just throw them together the next time I make mac and cheese? So I did.
I didn't plan on putting this up on the blog. It was just a weeknight meal. Yes, it's another mac and cheese recipe. But the teens eat mac and cheese so we make a lot of it in a lot of different ways. Apparently, people want to see those ways according to Instagram when I posted it and the emails that I got asking if I was going to share the recipe. So I need to get better about realizing that my weekday meals are probably interesting to some people.
This is big and it does feed a lot of people. It feeds four of us and still had half a pan for MDP to take to work so that his co-workers can love me on Valentine's Day as well. 🙂 There really isn't much to say about this. It's BBQ pulled pork which in itself is awesome. Then you put it on top of macaroni and cheese and then top with more cheese….umm yeah. Your pants hate me but your tummy and taste buds love me.

BBQ Pulled Pork Mac and Cheese
Recipe Type
:
Family Meal, Dinner
Author:
Ingredients
16 ounces prepared pulled pork (I did mine in the crock pot)
1 cup BBQ sauce (MDP's son loves Sweet Baby Ray's so that's what we went with)
1 pound of pasta (your choice of shape but keep them short…we went spiral)
5 cups three cheese blend (mine was American, Cheddar, and Colby), divided
4 oz. cream cheese, at room temperature
2 cups heavy cream
¼ cup Panko bread crumbs
2 TBSP all-purpose flour
Salt and pepper to taste
Instructions
Boil up some water in a large stock pot and throw in your pasta and cook it until it's a dente. Drain out the water and scrap up the bits that stick to the bottom of the pan.
Put the drained pasta back into the stock pan and add the heavy cream and cream cheese. Mix until cream cheese melts.
Add the flour and Panko and stir to incorporate.
Add 4 cups of the cheese and try to distribute as evenly as possible. Pour into a 9×13-inch glass pan that has been coated with oil or butter.
Bake at 350F for 20 minutes.
While baking heat the pulled pork up and add the BBQ sauce.
Add the warm BBQ pulled pork to the top of the mac and cheese. Then sprinkle the remaining 1 cup of cheese on top of the pork.
Put back into oven for another 10 minutes.
Eat.