This Lemon Blueberry Mascarpone Fudge is a take on cream cheese fudge with freeze dried blueberries and powdered lemon juice.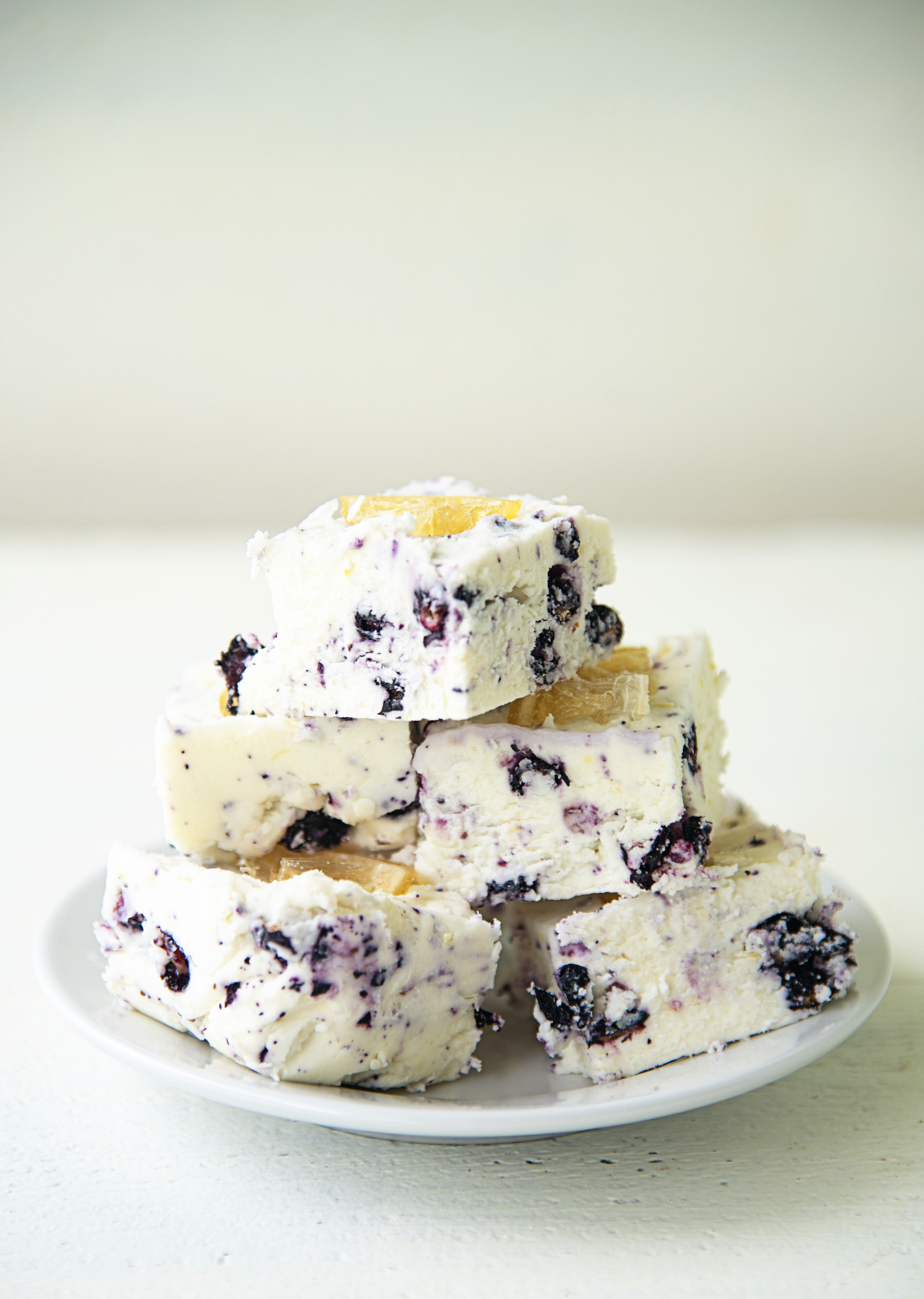 My husband has been doing all the non-Online grocery shopping for us.
I get some stuff delivered but something we buy in bulk like butter, cream, flour, and sugar.
Gee, I wonder why? 😀
A couple weeks ago he brought home 5 pounds of Mascarpone cheese because it was a good deal.
And it was.
Except 5 pounds of Mascarpone cheese turns out is a lot.
Especially when most recipes call for like 4 ounces of it.
It also molds quickly once you open the package.
So I got to work on using it up.
I made the Strawberry Mascarpone Buttermilk Layer Cake.
The Brown Sugar Peach Ice Cream.
And one of my older recipes Lemon Mascarpone Pound Cake.
But I still had a bunch of Mascarpone to use up.
A bunch.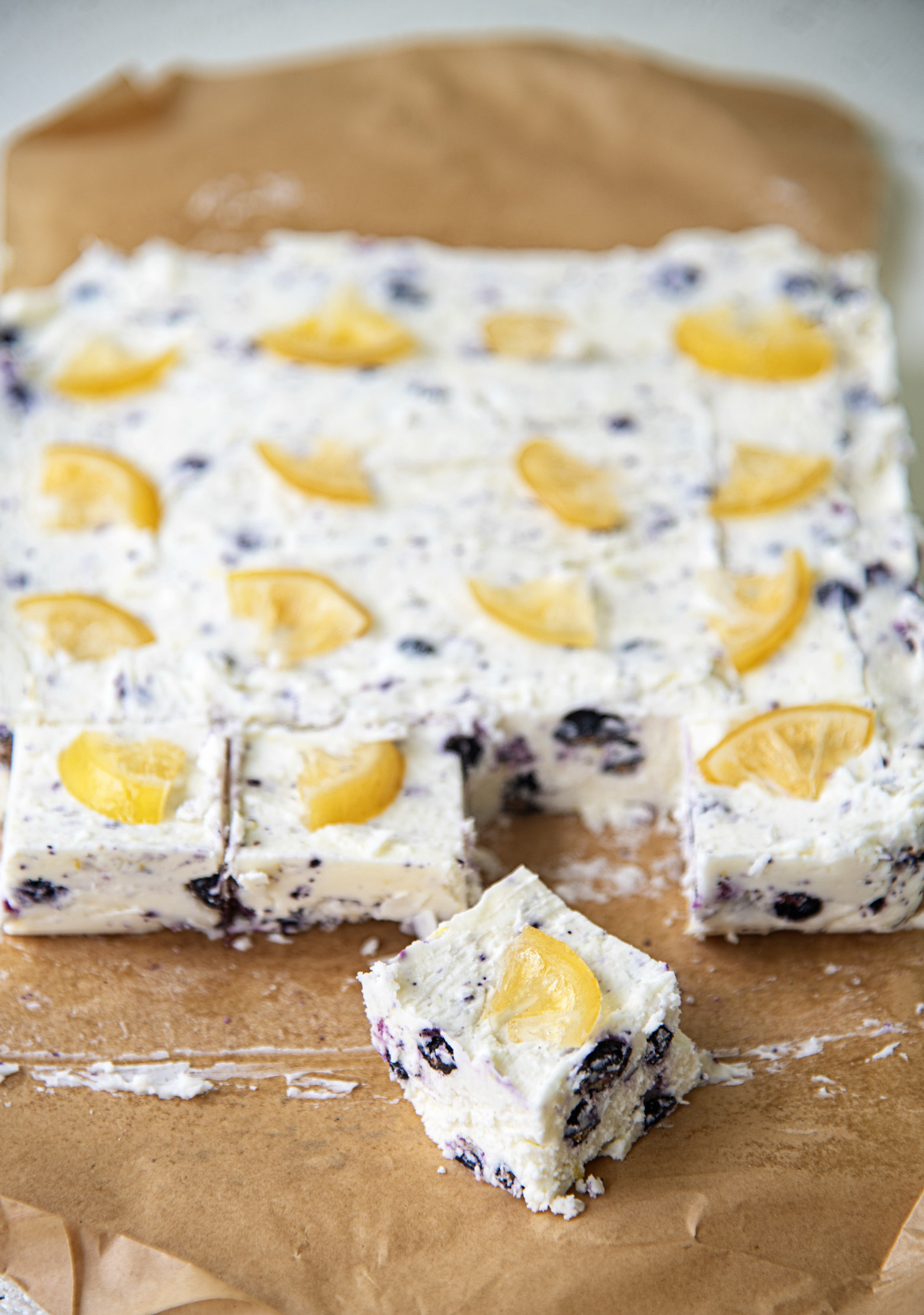 National Fudge Day was last week and it got me wondering when the last time I made fudge was.
I usually make it often for my husband's co-workers.
But they aren't to bring food to share right now.
For the record, the last time I made fudge was March of this year.
Staring at my large tub of Mascarpone I decided to make a cream cheese style fudge but making a Lemon Blueberry Mascarpone Fudge.
It's a very creamy fudge but it's also a touch softer than regular fudge and why you should keep it in the fridge.
If you are not familiar with lemon juice powder it's just freeze dried lemons that have been made into a powder.
It adds a lot of lemon flavor without the liquid.
I highly recommend having some in your home at all times.
And as always it's a great day to order my cookbook.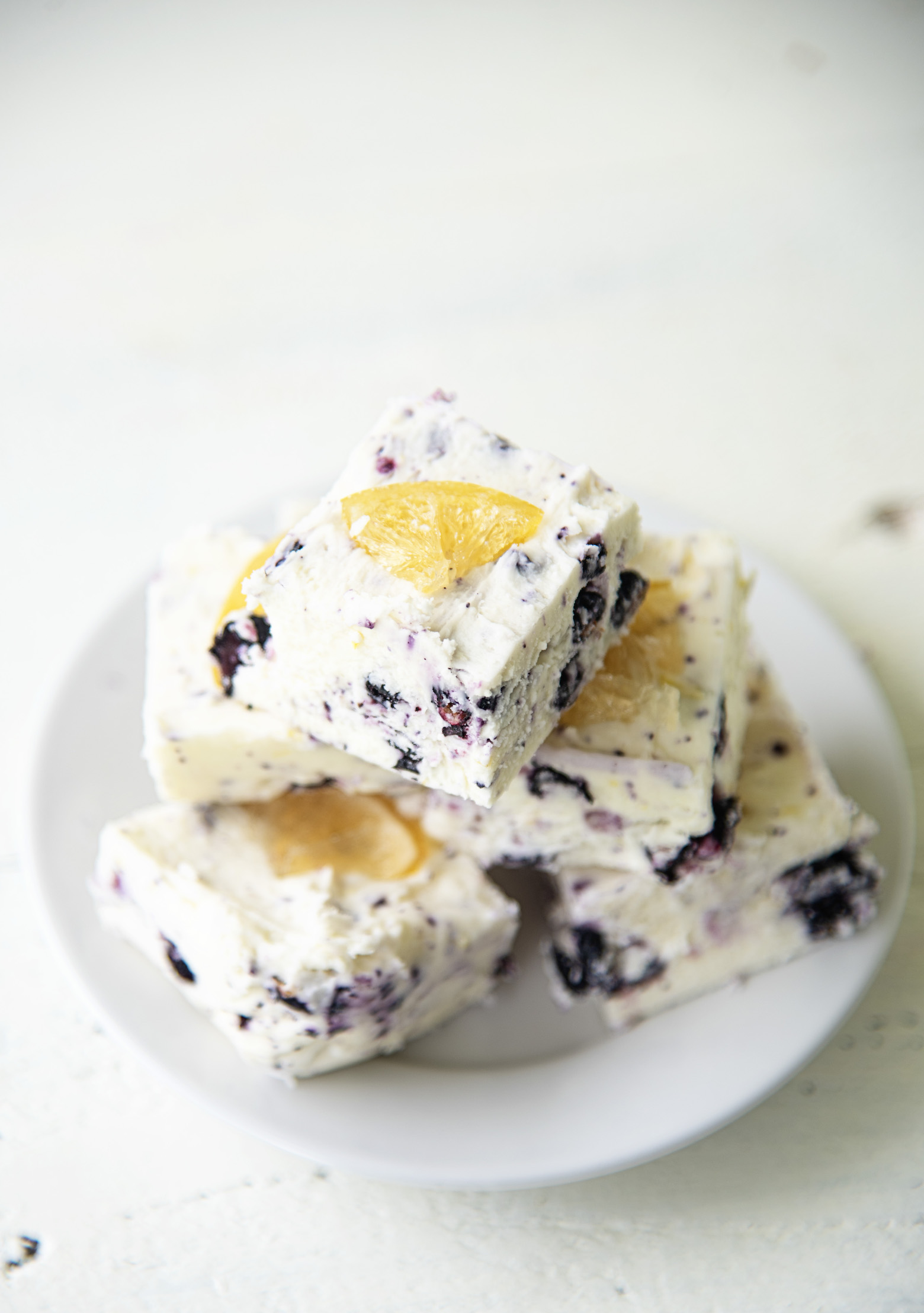 Want More Fudge Recipes?
Spiked Rum Raisin Chocolate Fudge
Monster Cookie Chocolate Fudge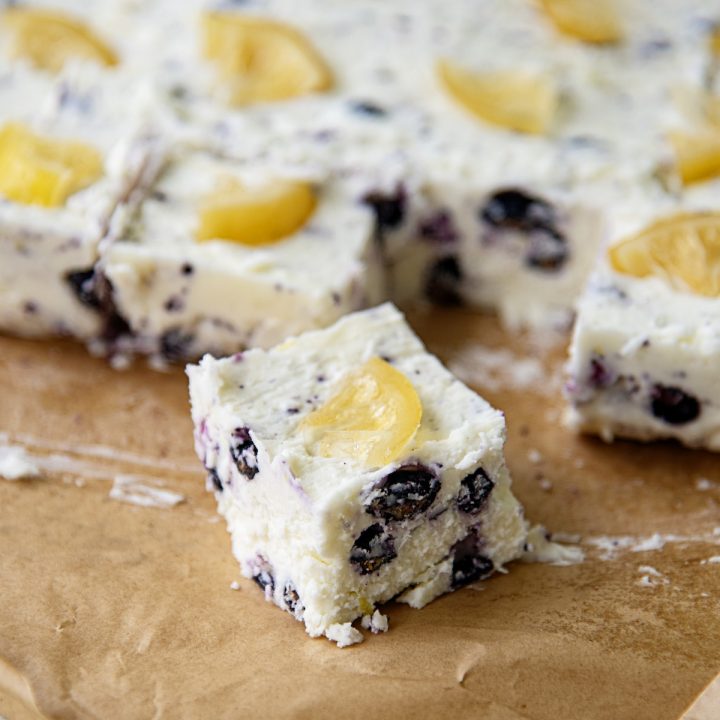 Lemon Blueberry Mascarpone Fudge
Ingredients
6 oz. white chocolate, finely chopped or white chocolate chips
8 oz. Mascarpone cheese, at room temperature
1/4 cup unsalted butter, at room temperature
5 1/2 cups powdered sugar
1 tsp. vanilla extract
1/8 tsp. salt
zest of 1 lemon
Garnish with candied lemon pieces if desired
Instructions
Prepare an 8x8 pan by lining it with aluminum foil and spraying the foil with nonstick cooking spray.
Place the chopped white chocolate in a microwave-safe bowl and microwave until melted, stirring after every 30 seconds to prevent overheating. Let cool until the chocolate is room temperature but still fluid.
Place the room temperature Mascarpone cheese and butter in the bowl of a large stand mixer fitted with the paddle attachment. Alternately, you can use a hand mixer. Beat the butter and Mascarpone cheese until smooth and fluffy.
Stop the mixer and add the powdered sugar, lemon zest, lemon juice powder, salt, and vanilla. Mix on low speed until the powdered sugar is incorporated, then turn to medium speed and mix until light and silky-smooth.
Add the melted white chocolate and mix until well-incorporated.
Finally, stir in the freeze dried blueberries by hand until they are evenly distributed.
Scrape the fudge into the prepared pan and smooth the top into an even layer.
Place candied lemon pieces on top if using for garnish.
Place in the refrigerator and chill until set, 4 hours or overnight.
Cut the fudge into small squares and store in the refrigerator until ready to serve. Squares of fudge can be placed in individual candy cups for easier storage and serving.