This Drumstick Ice Cream Fudge is an ode to the frozen treat. Creamy vanilla fudge topped with sugar cones and dipped in chocolate and peanuts.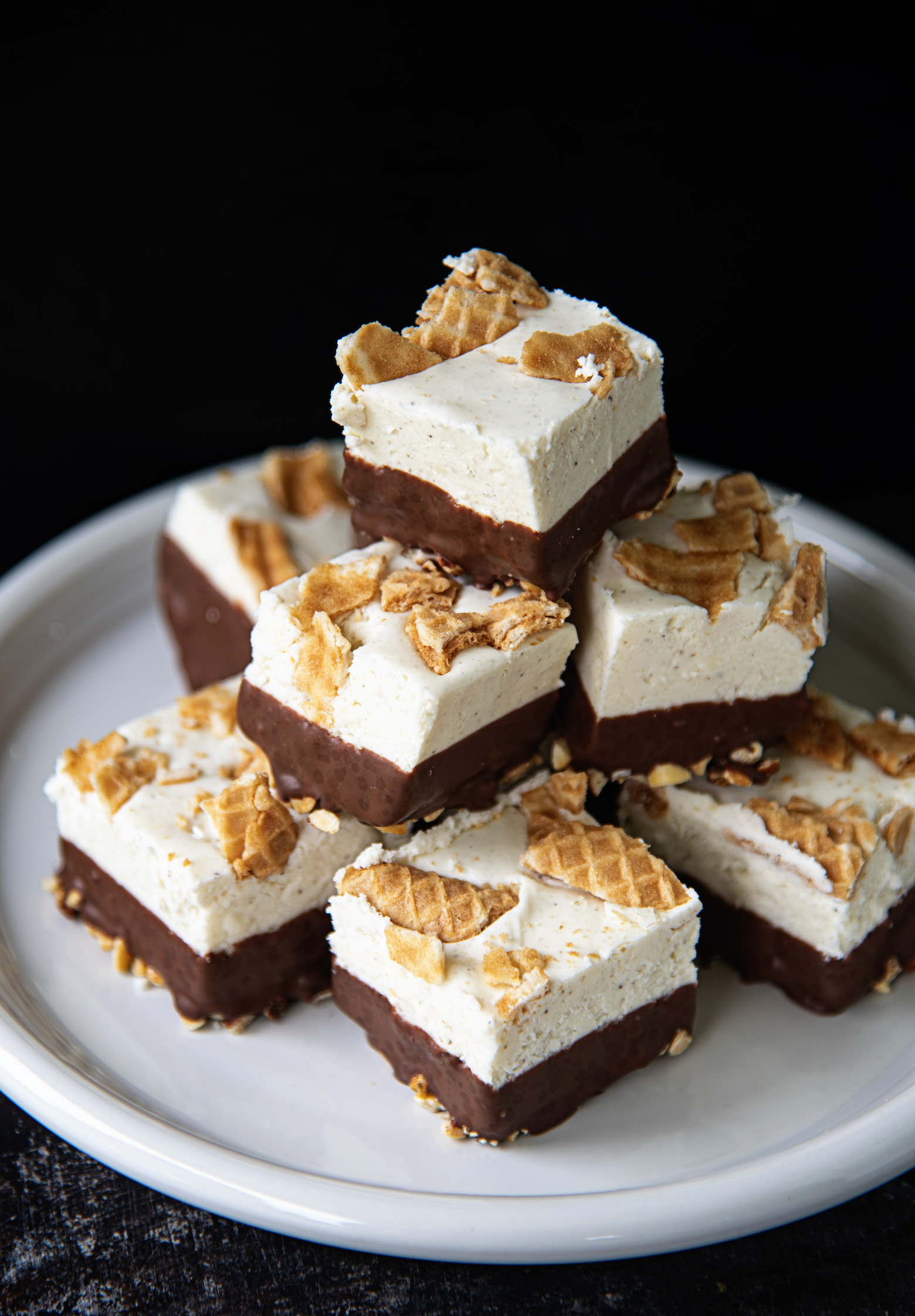 Summer Dessert Week may be over but I'm still in full summer mode.
I'm on a fudge kick again and made what I'm calling one of my favorite fudges of all time now.
It's no secret that I love Drumstick Ice Cream.
So I felt the need to create it in fudge form.
With that Drumstick Ice Cream Fudge was born.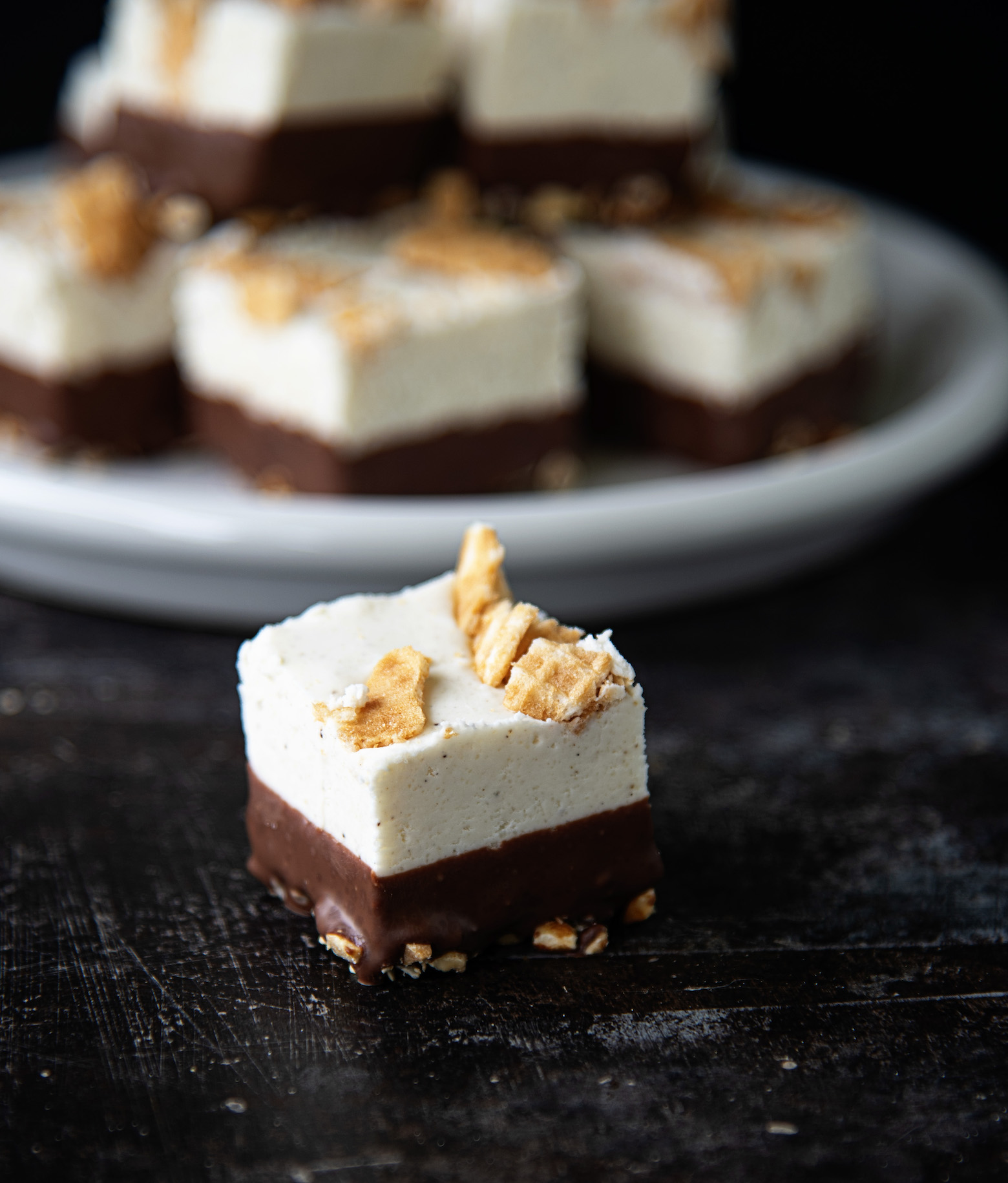 It took a little while to figure it out but I finally got it how I wanted it.
The base is white chocolate but has a TON of Rodelle vanilla bean paste.
Then I sprinkled crushed sugar cones on top.
Dipped the fudge in chocolate and then into peanuts.
Now I have all of the flavors of Drumstick without having it melt in my hands.
Well, if you live in places like Phoenix this would still probably melt in your hands. 🙂
As always it's a great day to order my cookbook.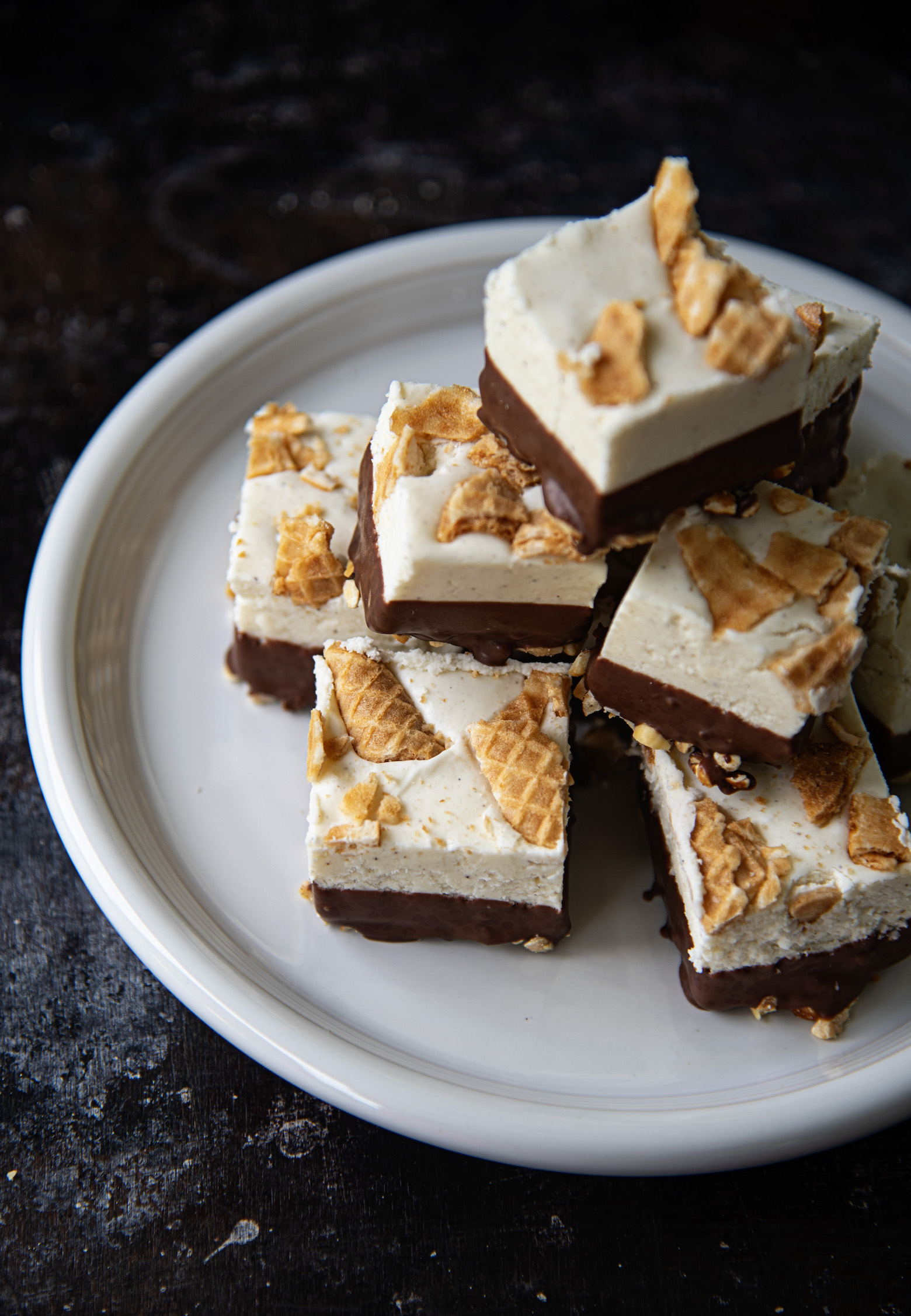 Keys to Successful Fudge:
Have a thermometer.
I don't like the old fashioned ones that you clip to the side.
Those never work for me.
I like digital and use this one.
Use Baker's sugar.
Also known as caster or superfine sugar.
I don't always follow my own rule because I don't always have it on hand but it makes for a less gritty fudge.
If you don't have it you can run the sugar through a dry blender or food processor to make it superfine.
Use good butter.
Preferably European.
They higher the butterfat content the better.
Cheaper butter often has too much water in it and will cause your fudge to separate.
Same goes for your chocolate.
The cheaper the chocolate the more likely it is to separate.
If using chips I tend to use Guittard.
And when making extra special fudge I used TCHO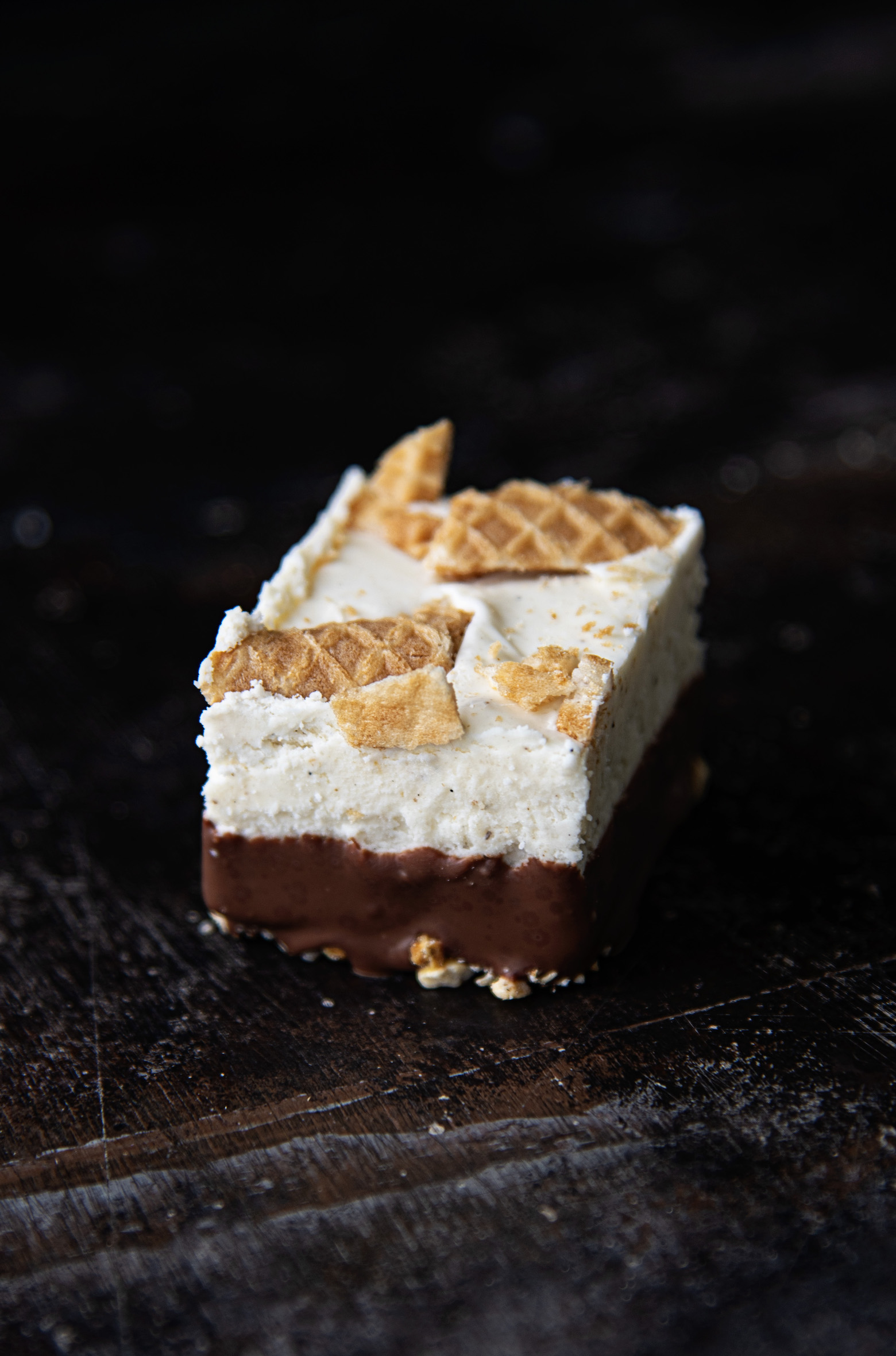 Want More Fudge Recipes?
Lemon Blueberry Mascarpone Fudge
Monster Cookie Chocolate Fudge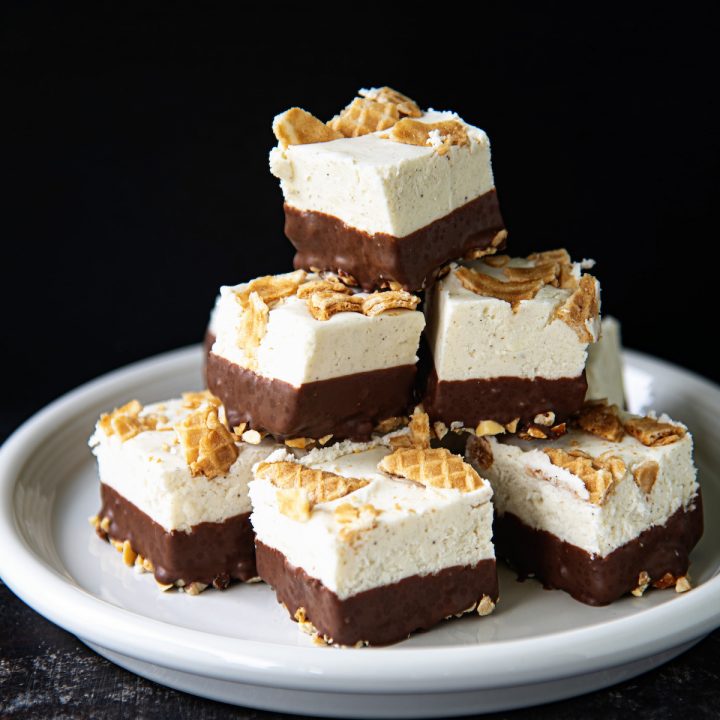 Drumstick Ice Cream Fudge
Ingredients
For the Fudge:
2 cups granulated sugar
4 oz. unsalted butter
½ cup heavy cream
12 ounces white chocolate chips
7-ounce jar marshmallow crème
2 TBSP vanilla bean paste
2 sugar cones, crushed
For the Chocolate Coating:
6 oz. semisweet chocolate, finely chopped
1 1/2 TBSP vegetable oil
1 cup chopped peanuts
Instructions
For the Fudge:
Combine sugar, butter, and heavy cream into a large heavy bottomed sauce pan and bring to a boil over medium heat.
Once boiling, attach a candy thermometer and reduce the heat to a hair above medium low and cook for 7-10 minutes until your thermometer reads 234°F (soft ball stage) , stirring constantly.
Once you reach 234F remove from heat and add the white chocolate chips stirring vigorously with a wooden spoon until the white chocolate has melted and the mixture is smooth.
Add the marshmallow crème and mix until well blended.
Mix in the vanilla bean paste.
Pour into prepared pan.
Immediately sprinkle the crushed sugar cones over the fudge and press gently down with a spatula to make sure the cone sticks to the fudge.
Let cool to room temperature.
Then lift out of the pan and onto a cutting board.
For the Topping:
Combine chocolate and oil in a medium heat-proof bowl set over a medium saucepan of barely simmering water; stir until melted and smooth.
Transfer to a small bowl, and let cool about 15 minutes.
Dip the bottom of each piece of cut fudge into the chocolate.
Then immediately dip into the peanuts.
Let the chocolate set up, about an hour and serve.