This Strawberry Shortcake Fudge is a white chocolate based fudge full of strawberry flavor and sits on top of a buttery shortbread crust.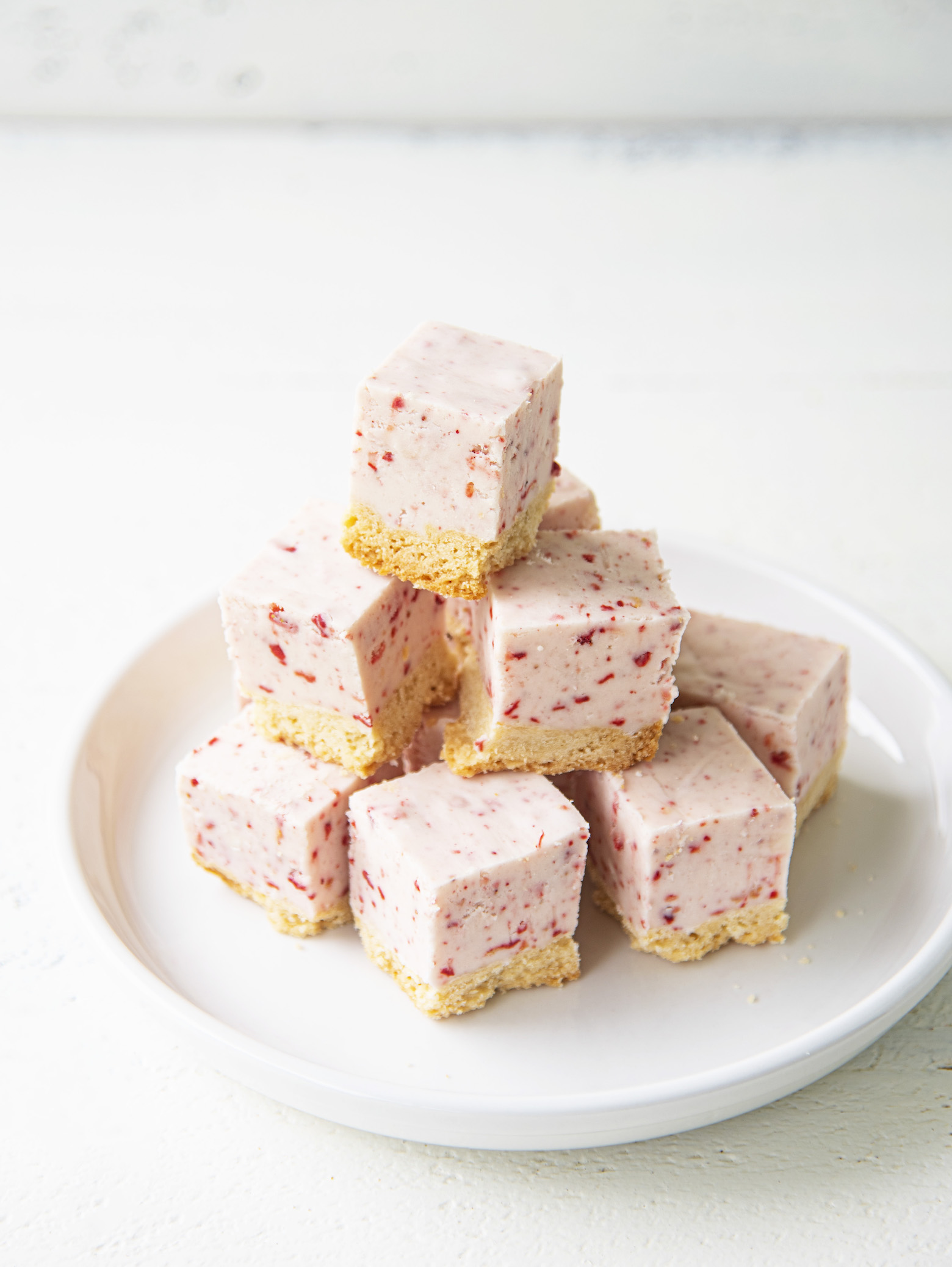 Summer Dessert Week continues with this Strawberry Shortcake Fudge.
While many people associate fudge with holiday time, I also associate it with summer.
Growing up we would visit my grandma and grandpa in Michigan every summer.
And we would always go to Mackinac Island, which is known for their fudge.
It's known for many other things but I only think of fudge. 🙂
It was the first place I had been to that had a variety of fudge flavors.
Not crazy as I get with things like Swedish Fish or Fruity Pebbles but not just plain chocolate either (though that's an option).
So it made sense to make fudge for Summer Dessert Week.
This is two desserts in one as you have a shortbread cookie bottom and then a creamy white chocolate fudge that if full of strawberry flavor.
This calls for freeze dried and not dried strawberries.
It makes a big difference.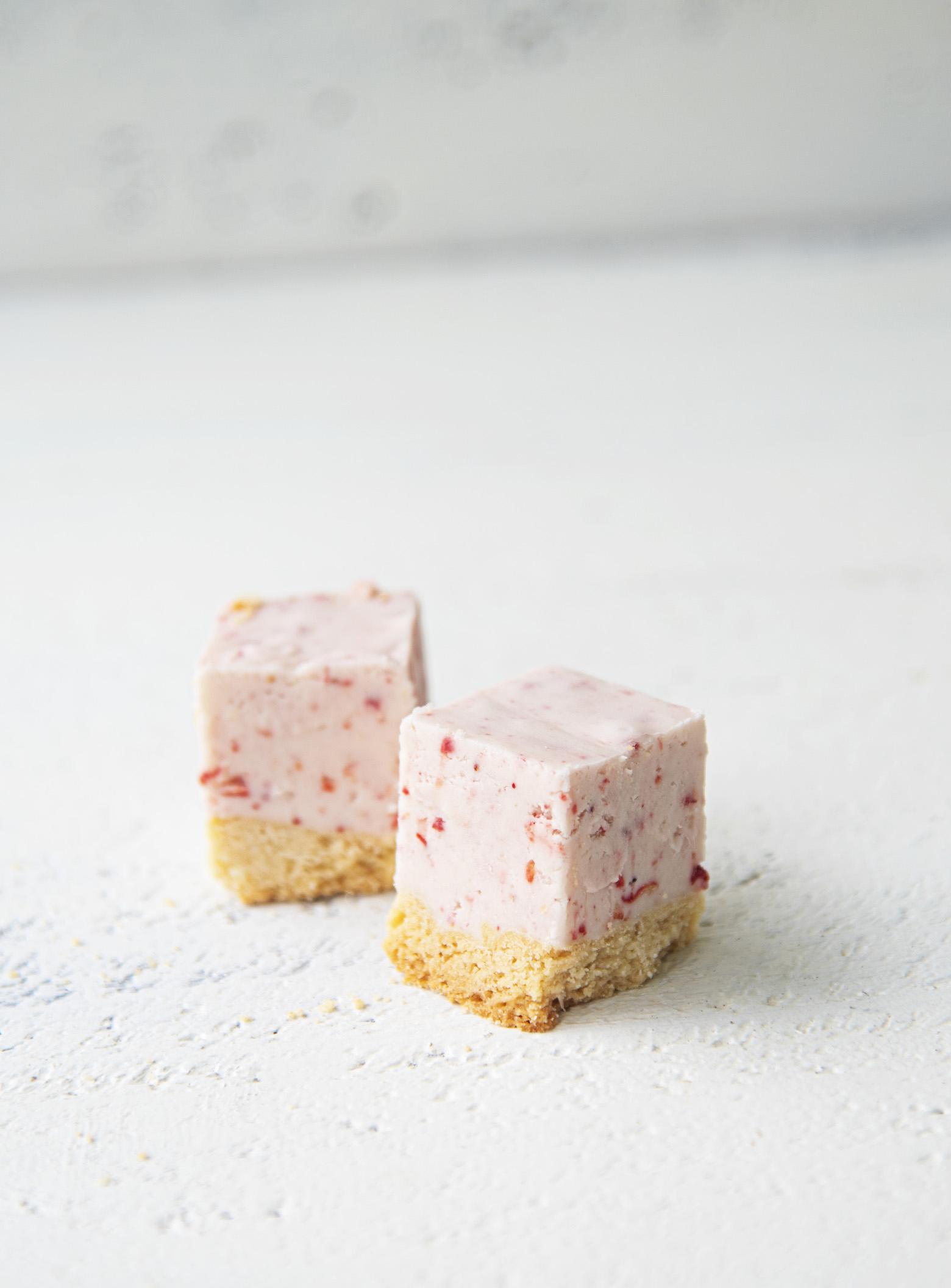 Keys to Successful Fudge:
1. Have a thermometer.
I don't like the old fashioned ones that you clip to the side. Those never work for me. I like digital and use this one.
2. Use Baker's sugar. Also known as caster or superfine sugar.
I don't always follow my own rule because I don't always have it on hand but it makes for a less gritty fudge.
If you don't have it you can run the sugar through a dry blender or food processor to make it superfine.
3. Use good butter. Preferably European.
They higher the butterfat content the better.
Cheaper butter often has too much water in it and will cause your fudge to separate.
4. Same goes for your chocolate.
The cheaper the chocolate the more likely it is to separate.
If using chips I tend to use Guittard. And when making extra special fudge I used TCHO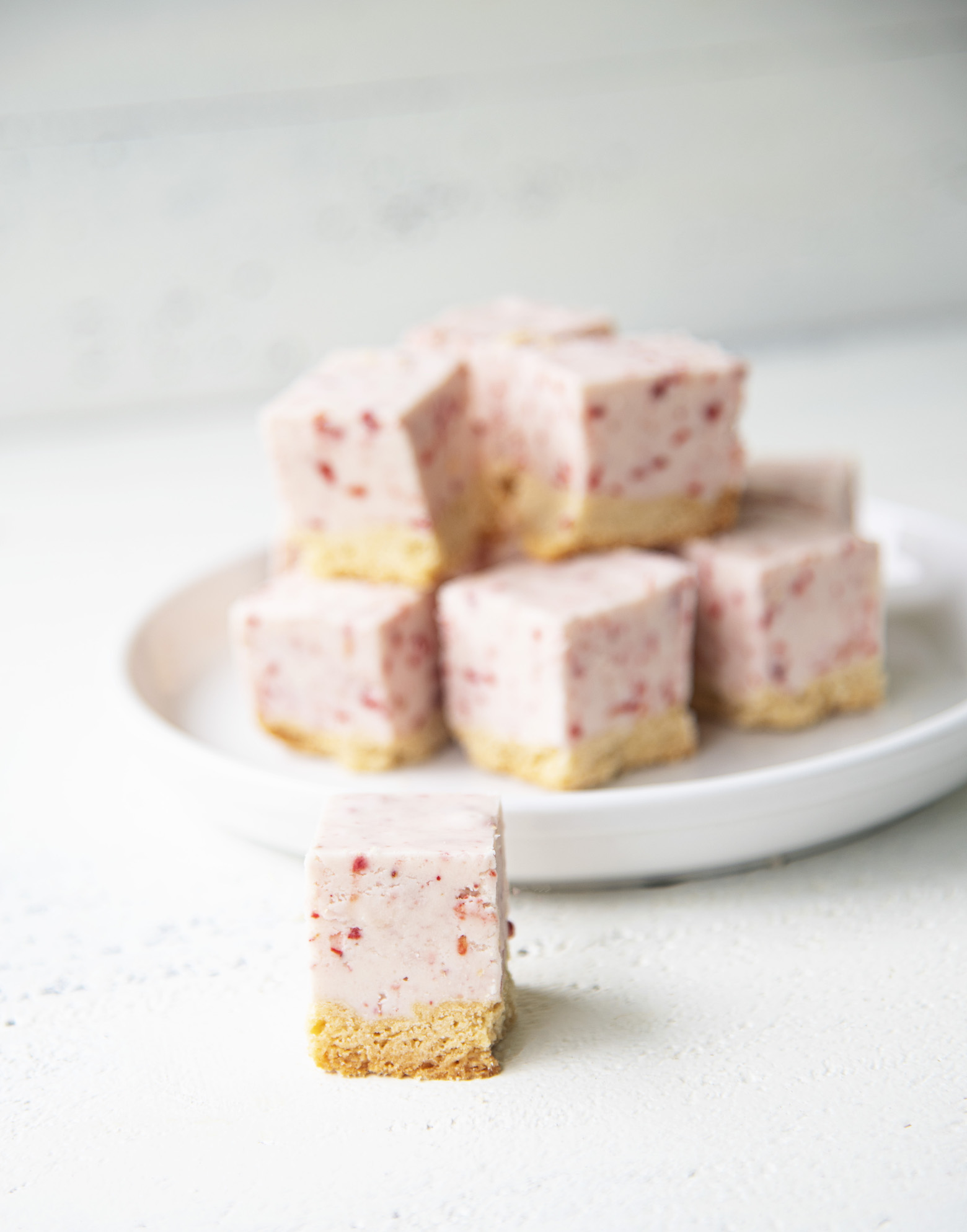 Welcome to the 4th Annual #SummerDessertWeek event hosted by Angie from Big Bear's Wife. We're celebrating all things summer with a week-long event that is absolutely filled with some of the best summer dessert recipes! Follow the hashtag #SummerDessertWeek on social media to find recipes and make sure to check out the bottom of this post for even more summer desserts!
Check out the amazing #SummerDessertWeek recipes from our bloggers today!
Ice Cream & Chilled Desserts:
Sweet Summertime Cakes and Cupcakes:
No Bake Treats:
Baked Desserts: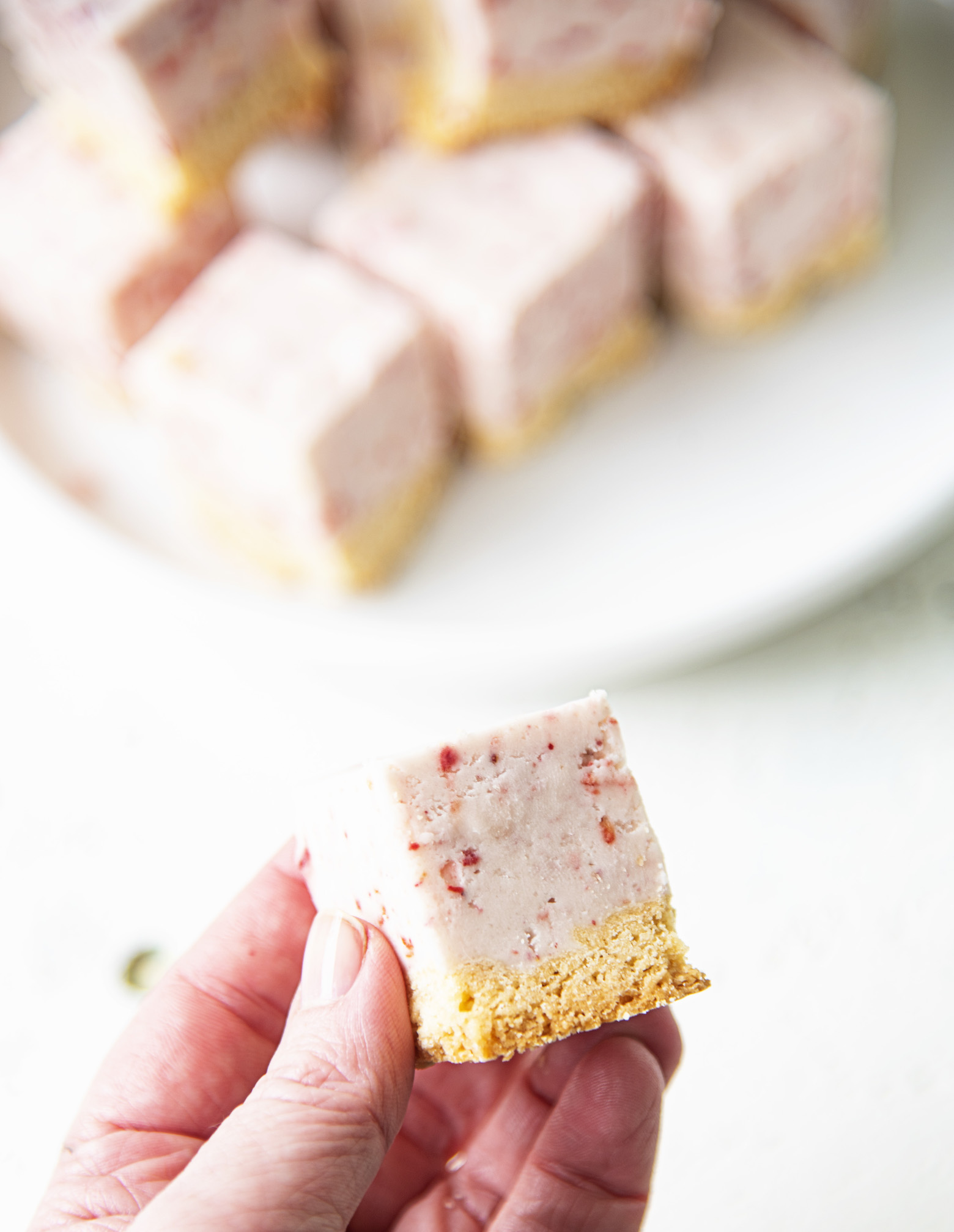 Want More Fudge Recipes?
Lemon Blueberry Mascarpone Fudge
Spiked Rum Raisin Chocolate Fudge
Monster Cookie Chocolate Fudge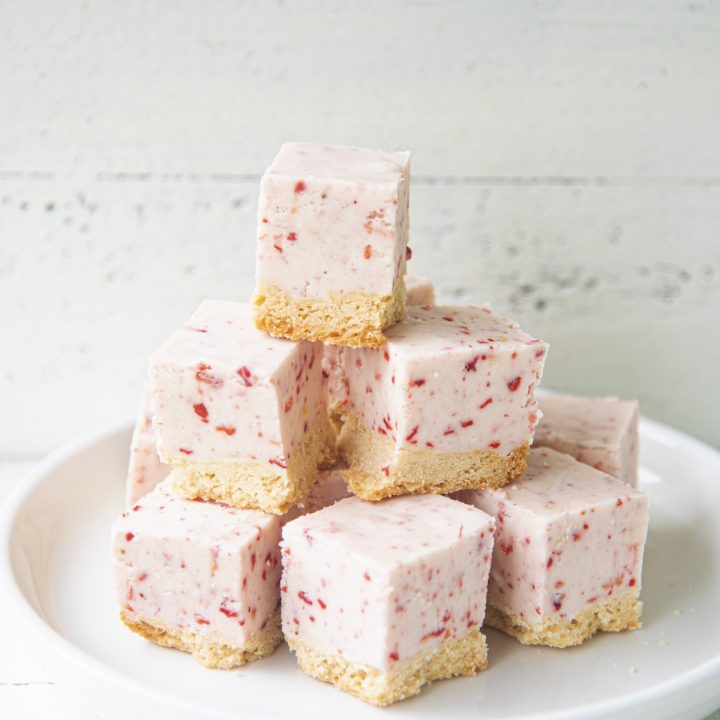 Strawberry Shortcake Fudge
Ingredients
For the Shortbread:
1/2 cup unsalted butter, at room temperature
1/4 tsp. salt
1/2 cup powdered sugar
1 cup all-purpose flour
1 tsp. vanilla bean paste
For the Fudge Top:
2 cups granulated sugar
4 oz. unsalted butter
½ cup heavy cream
12 ounces white chocolate chips
7-ounce jar marshmallow crème
Instructions
For the Shortbread:
Preheat oven to 300F.
Prepare a 8-x-8-inch baking dish by lining with parchment paper so as able to lift the fudge out when done.
Cream together the butter, powdered sugar, salt, and vanilla until smooth.
Add the flour and beat on medium speed until crumbly dough is formed.
Press dough evenly into the bottom of your prepared baking dish.
Poke several holes in dough with a fork, covering the entire surface.
Bake for 35-45 minutes until top is golden brown. Set aside while making the fudge.
For the Fudge:
Combine sugar, butter, and heavy cream into a large heavy bottomed sauce pan and bring to a boil over medium heat.
Once boiling, attach a candy thermometer and reduce the heat to a hair above medium low and cook for 7-10 minutes until your thermometer reads 234°F (soft ball stage) , stirring constantly.
Once you reach 234F remove from heat and add the white chocolate chips stirring vigorously with a wooden spoon until the white chocolate has melted and the mixture is smooth.
Add the marshmallow crème and mix until well blended.
Mix in the freeze dried strawberries.
Pour into prepared pan over top the shortbread crust.
Let cool to room temperature.
Then lift out of the pan and onto a cutting board.
Cut into whatever amount you want. Shortbread will crumble a little.
Want to Pin this for later?