This Sticky Toffee Pudding Cheesecake combines the UK treat Sticky Toffee Pudding and cheesecake all on a Scottish shortbread crust.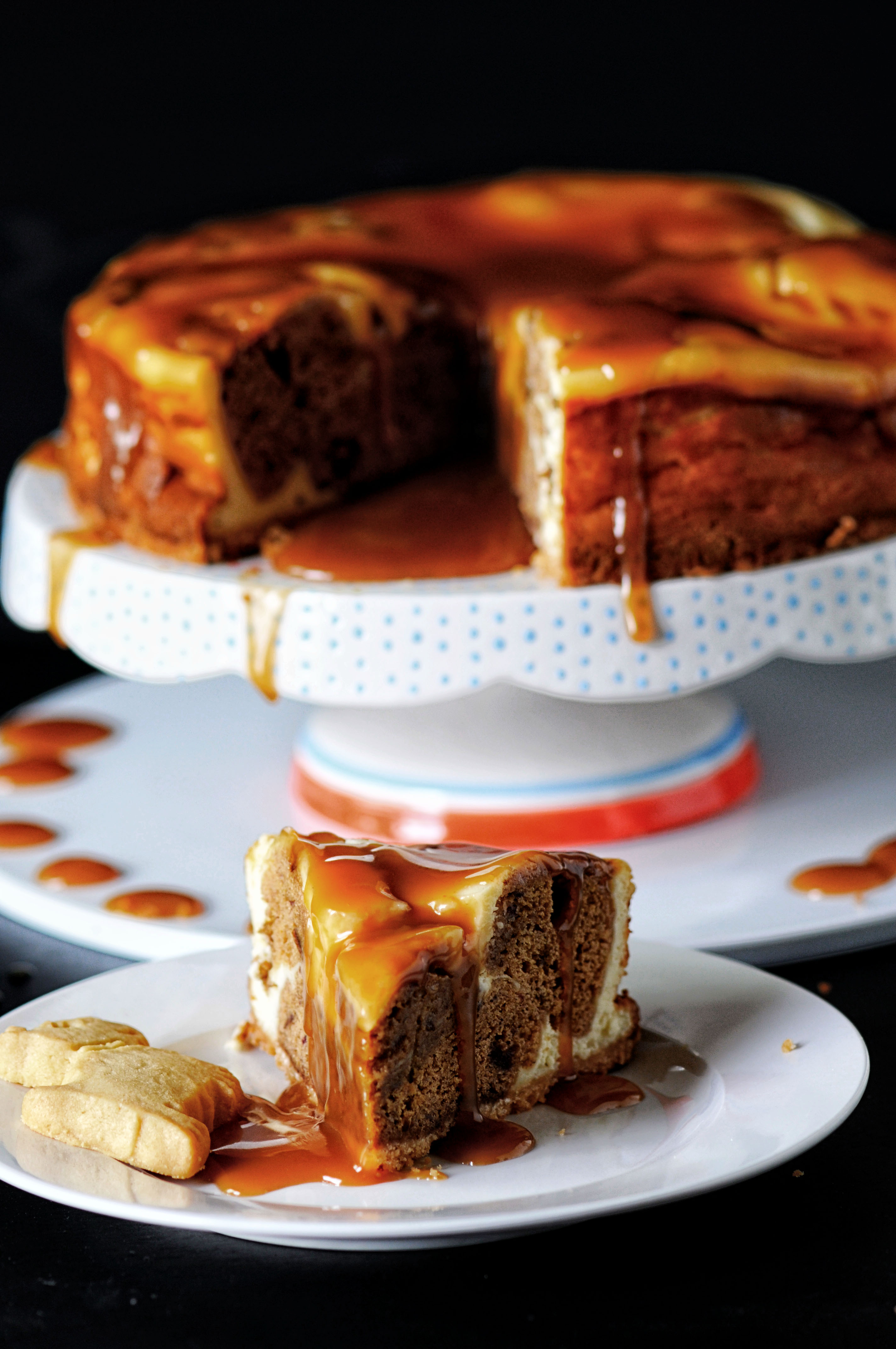 I want to thank Walkers Shortbread for sponsoring this post.
It truly is the best shortbread around.
If you have never had it, do yourself a favor and go get some.
As always, I may have been compensated for this post but the words, bad grammar, and opinions are all mine.
You can like their FB page or follow them on Twitter.
I was never one of those kids who didn't like hanging out with their parents.
Heck even on my 16th birthday I chose to spend the day with my parents (friends later) going and seeing Who Framed Roger Rabbit.
And then getting to pick out a pair of mint green Guess jeans that my mother used to choke at the price (I still wish I owned those…mint is back).
We picked a sport every year to do together from bowling to badminton.
And every year we went to the Scottish Highland Games.
The Scottish Highland Games in Phoenix is interesting for the mere fact that wool and heat don't mix.
Held at a park each year with like three trees that people fought over for the shade.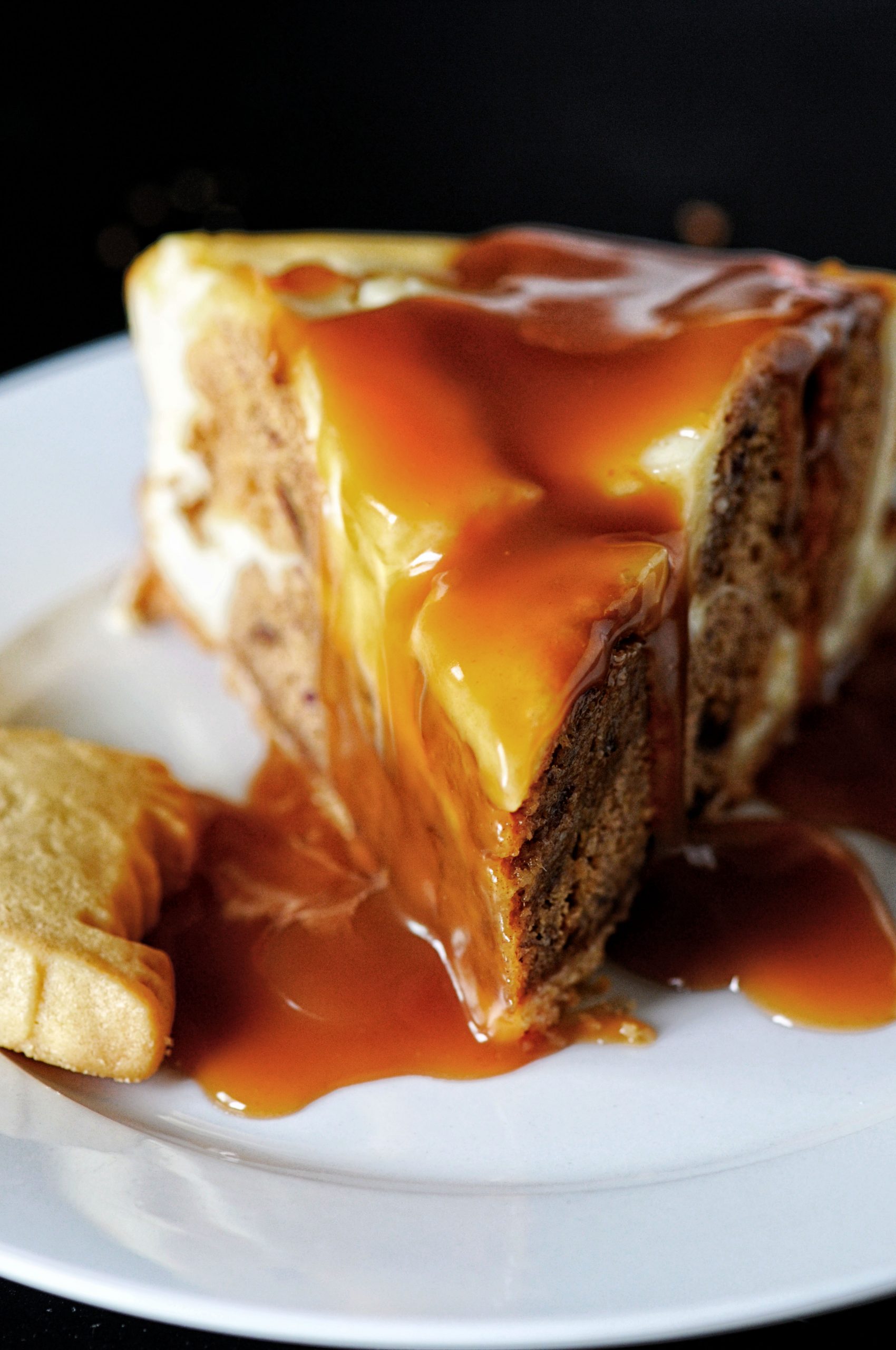 Besides the bands, the caber toss, the myriad of kilts being the food lover that I am I cared about the booths.
Each year I looked for three things: Haribo Roulettes (because they didn't sell them in the US back then), Mackintosh Toffee, and Walkers Shortbread.
I would buy enough for a year…and eat it in two weeks. 🙂
So imagine my delight when Walkers Shortbread asked me if I would like to use their shortbread in a recipe.
Ummm, YES!!!
It is the only shortbread I buy.
It has a buttery taste like no other.
Most likely because the ingredients in their shortbread are literally flour, butter, sugar, and salt.
Yep, that's it.
And FYI my gluten free friends tell me their gluten free shortbread is amazing (so if that's your thing you should try it out).
Scottish food is often made fun of…the movie So I Married An Axe Murder summed it up best "I think most Scottish cuisine is based on a dare". One treat that comes out of there (there is controversy as to where it exactly originated) is so not based on a dare.
In fact, it's my mother's favorite dessert of all time: Sticky Toffee Pudding.
If I see it on a menu I order it, well that or bread pudding.
It's a warm date cake with the most amazing toffee sauce ever.
The sauce actually takes some time but so worth it…you literally make toffee candy and at the last minute turn it into a sauce.
I decided to make a Sticky Toffee Pudding Cheesecake.
The shortbread crust is in honor of my father.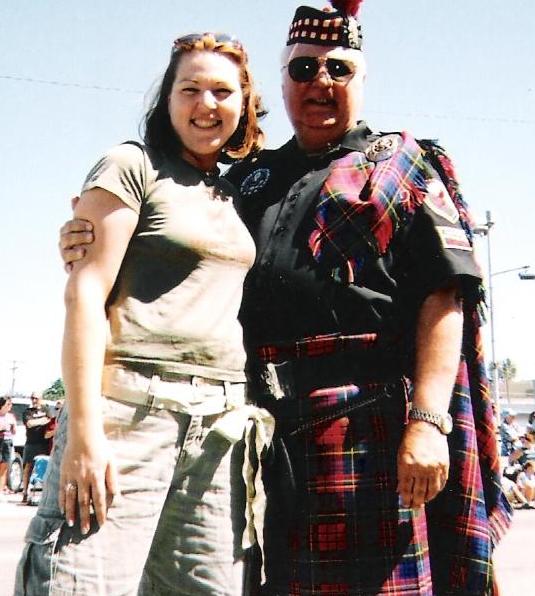 He actually ended up being the Drum Major of a Pipe Band for years…he even tried to get me to play the bagpipes…did not take.
The Sticky Toffee Pudding is for my mom. And the cheesecake is for me.
This dessert is a real family affair you could say.
This dessert blew away any expectations I had.
Normally when I make something for this blog I take a couple bites and then give away the rest.
I kept this.
And I hid this.
In reality, I ate two FULL-size pieces of this the first day.
I'm sure the next time I see my family they will have me make this for them and we will fight over it the way people fought over shade trees at the Highland Games in Phoenix.
P.S. It's a great day to buy my cookbook Holy Sweet!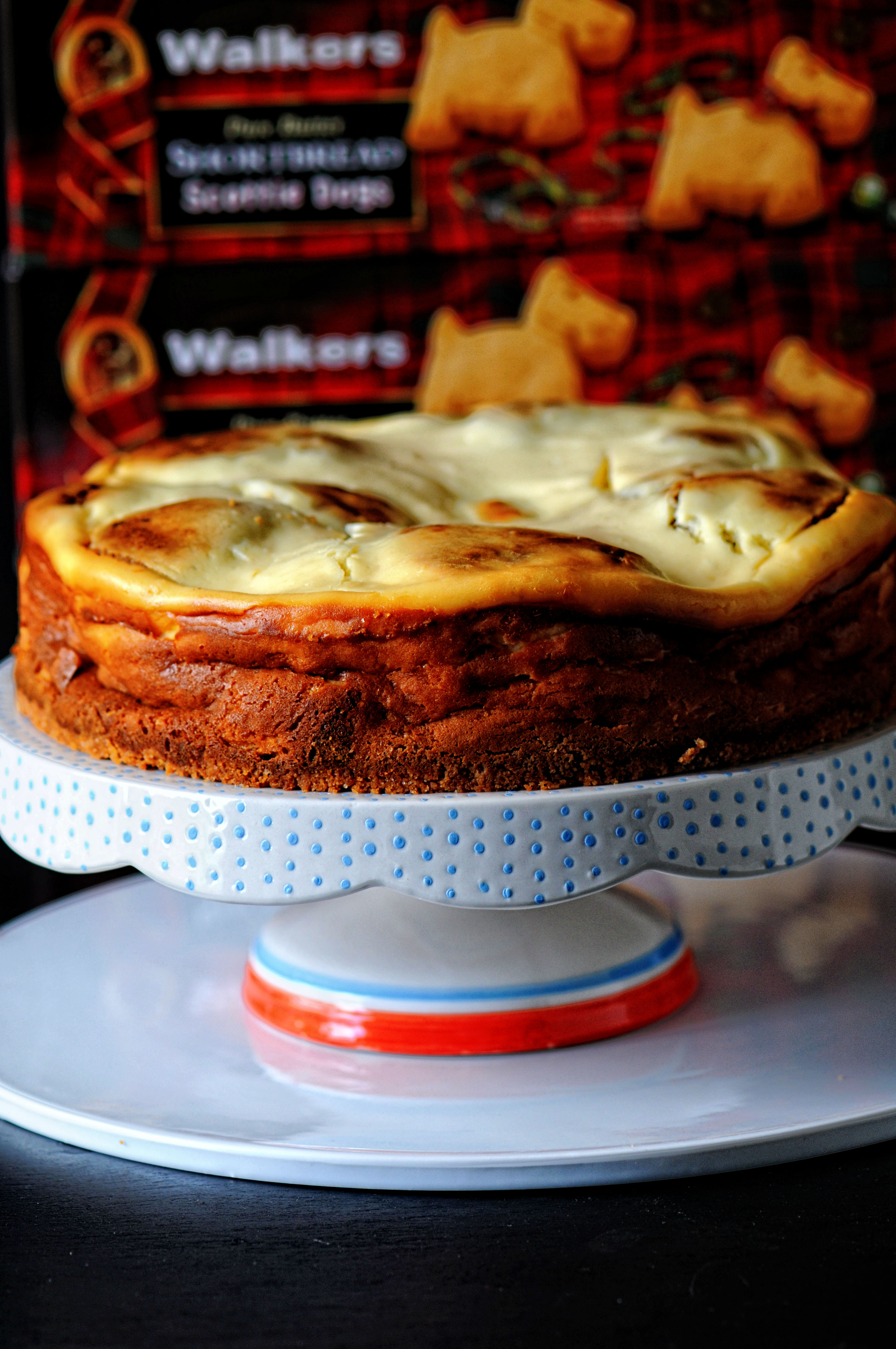 Want More Cheesecake Recipes?
Cinnamon Roll Caramel Apple Cheesecake
Pumpkin Salted Caramel Swirl Cheesecake
Caramel Apple Toffee Cheesecake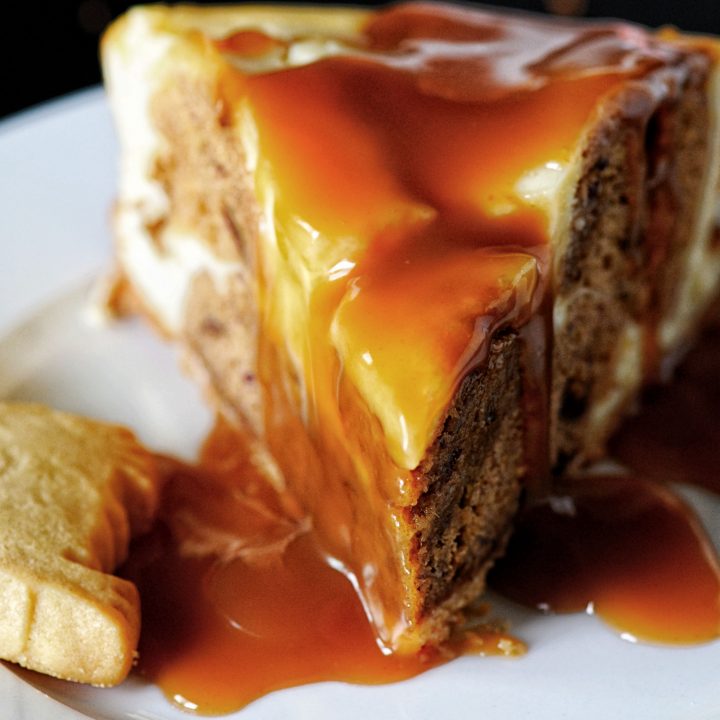 Sticky Toffee Pudding Cheesecake
Ingredients
For the crust:
2 cups crushed Walkers Shortbread Scottie Dog Shaped Shortbread (or their other shapes but those ones are so cute)
¼ cup granulated sugar
¼ cup melted salted butter
For the cake:
2 oz. unsalted butter, at room temperature
6 oz. dates, pitted
1 cup plus 2 TBSP all-purpose flour
1 tsp. Baking powder
1/4 tsp. Baking soda
Pinch salt
3/4 cup light brown sugar
1 tsp. vanilla extract
1 large egg
For the cheesecake:
2 (8oz.) packages cream cheese, at room temperature
2/3 cup granulated sugar
2 tsp. all-purpose flour
2 large eggs, at room temperature
1 tsp. vanilla extract
½ cup sour cream
For the Toffee Sauce:
2 1/2 cups heavy cream
1 cup granulated sugar
1/2 cup light corn syrup
4 oz. unsalted butter
Instructions
For the Crust:
Combine ingredients in a food processor. This makes for a thick crust.
If you want less crust, half the recipe.
Press mixture down flat into a greased 10-inch springform pan.
Preheat oven to 350F.
Bake crust for 12 minutes.
Set aside.
For the Cake:
Combine the dates and 3/4 cup water in a small saucepan and cook until the dates are softened, about 15 minutes.
Puree in a blender and cool.
Combine the flour, baking powder, baking soda and salt in a small bowl and set aside.
Using a stand mixer with the paddle attachment, cream together the brown sugar and butter until light and fluffy.
Add the vanilla, egg, and date puree.
Stir in the dry ingredients.
Set aside.
For the Cheesecake:
Using a stand mixer with a paddle attachment, mix together the sugar and cream cheese until light and fluffy.
Add eggs one at a time, scraping down after each addition.
Add the flour, vanilla, and sour cream and beat until smooth.
Assembly and baking:
Preheat oven to 350F.Take about half the sticky toffee pudding batter and carefully pat it down on to the pre-baked crust.
Don't lift up or the crust will come with you.
You will not have the crust completely covered…that's okay…that's why we have a crust.
Pour ½ of the cheesecake batter on top of that.In spoonfuls, drop the remaining sticky toffee batter on top of the cheesecake layer.
Then add the remaining cheesecake batter on top of that.As you can see from the photos this cheesecake is not a smooth top. That's okay.
Bake for about 60 minutes.
At the 40 minute mark, you are going to want to tent it with foil to avoid getting too brown.
You want it until the center or the cheesecake jiggles slowly.
Remove from oven and allow to cool to room temperature, about an hour.
Then wrap in foil and let set up for at least 8 hours.
Remove cheesecake a good 30 minutes before wanting to serve to allow to come back to room temperature.
While cheesecake is coming to room temperature make the toffee sauce.
For the Toffee Sauce:
In a heavy saucepan over medium heat, combine 1 1/4 cups of the heavy cream, the sugar, corn syrup and butter.
Cook, stirring often, until a dark amber color, about 40 minutes.
Carefully add the remaining 1 1/4 cups heavy cream, be careful as it is hot and will bubble up.
Pour over cheesecake and enjoy.