This Melted Chocolate Ice Cream Fudge is chocolate ice cream fudge poured into mini cones and then dipped in chocolate for a fun treat.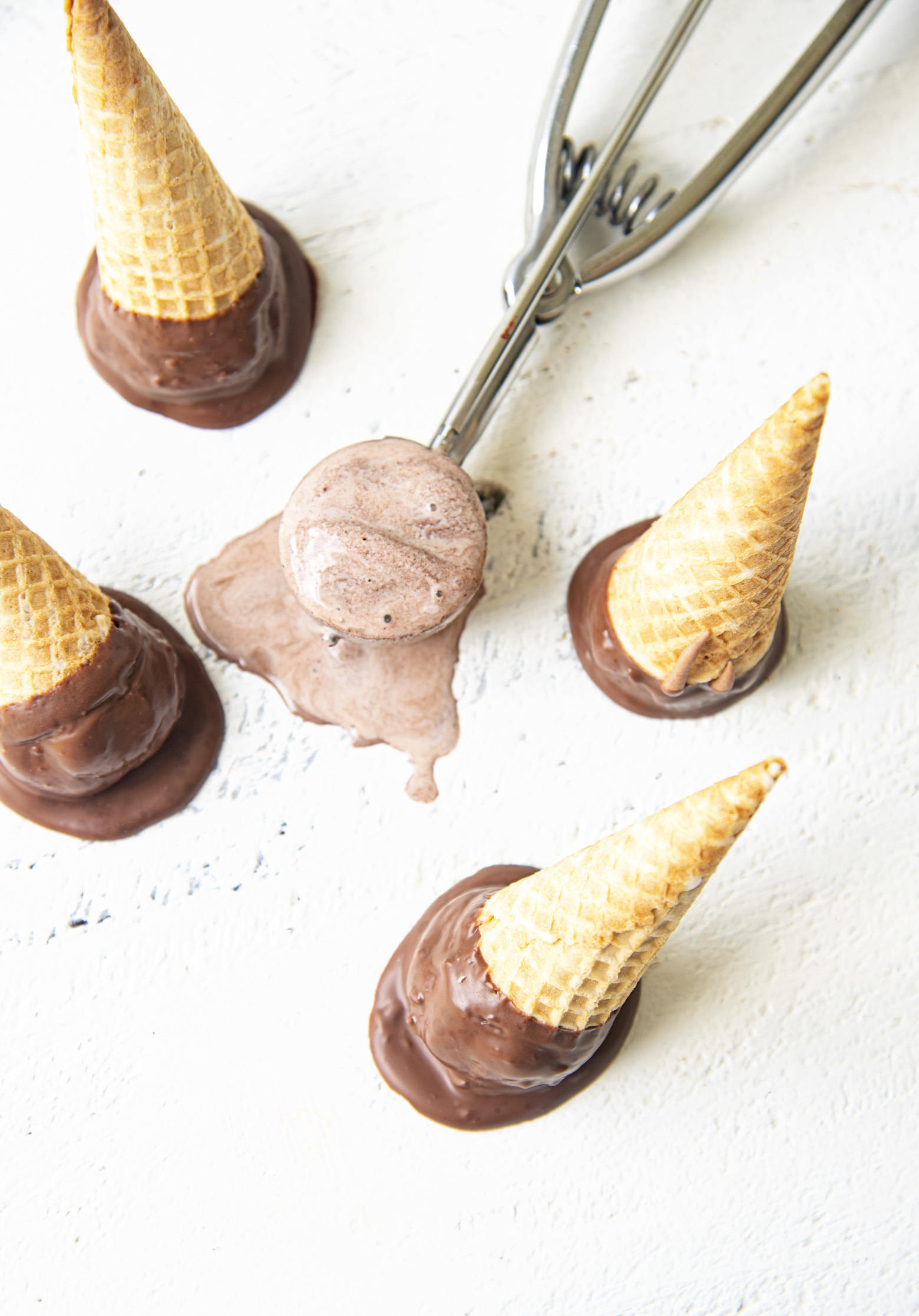 If you are old like me you might have watched The A-Team growing up.
I'm not talking about the movie that came out in 2010 but the TV series.
Colonel John "Hannibal" Smith, the head of the band of ex-military misfits, had a famous saying.
"I love it when a plan comes together."
I say this in my baking a lot.
Because my mind is always coming up with things that I'm not sure if they will work out how I envisioned things.
I mess up a lot actually.
So when it actually turns out how I want it to…especially on a first try I usually bust out Hannibal's famous saying.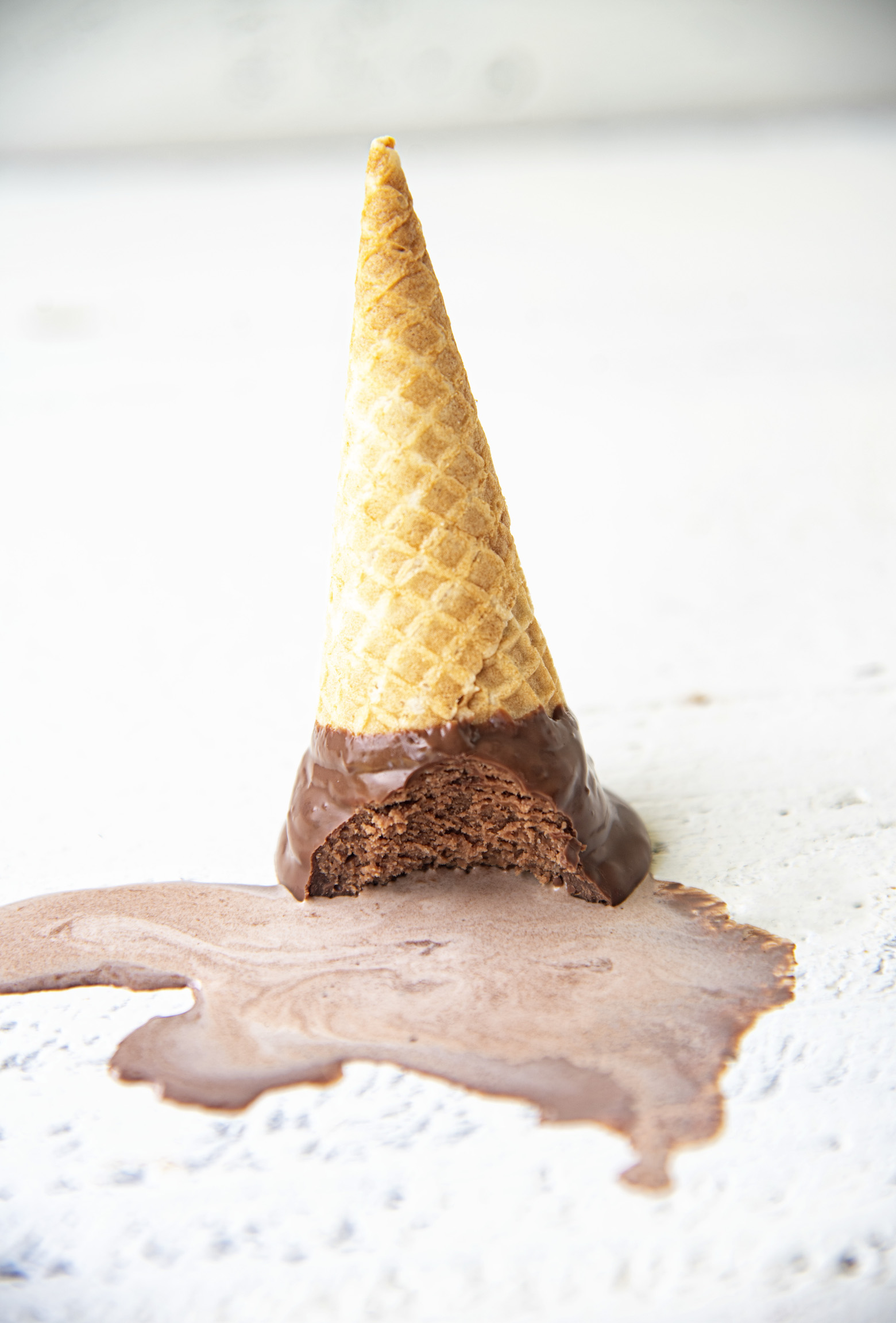 I do a lot with ice cream.
I've made it into fudge.
And into caramels.
In to Jell-O Shots.
The fudge was wildly popular and so I had been thinking what flavors could I do and how could I make them fun?
Because 2020 needs more fun darn it all.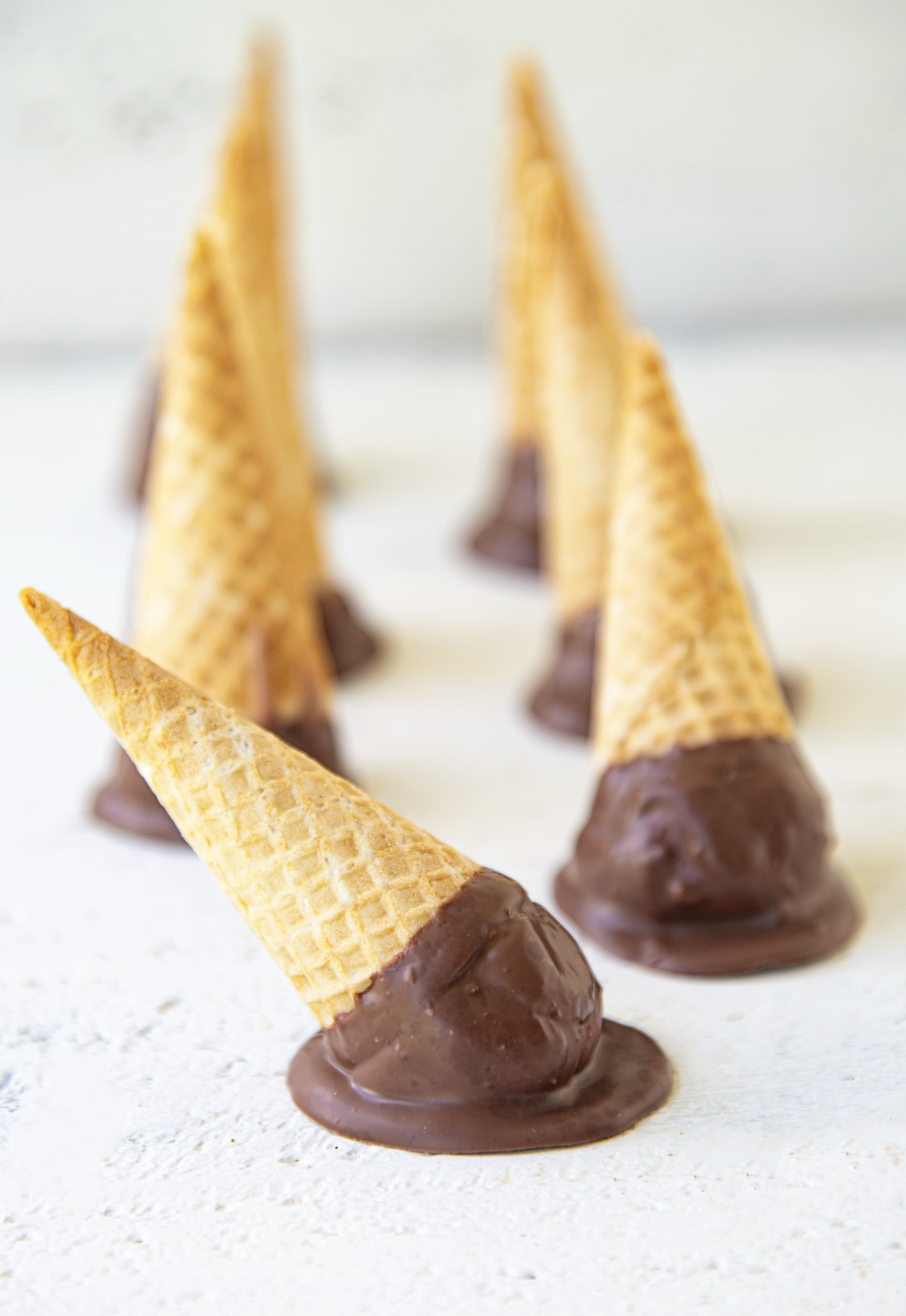 I love mini cones.
I used these Mini Waffle Cones.
Though I bought mine in bulk because I didn't know how many times I would have to make these to get them to work out.
Amazingly they worked out the first time.
I did not try them with the mini sugar cones I normally get for other projects so I don't know if those would work or not.
Since these are cones and don't stand up you will also need to get this stand.
Which, while for the cones, I have actually used for a few other things.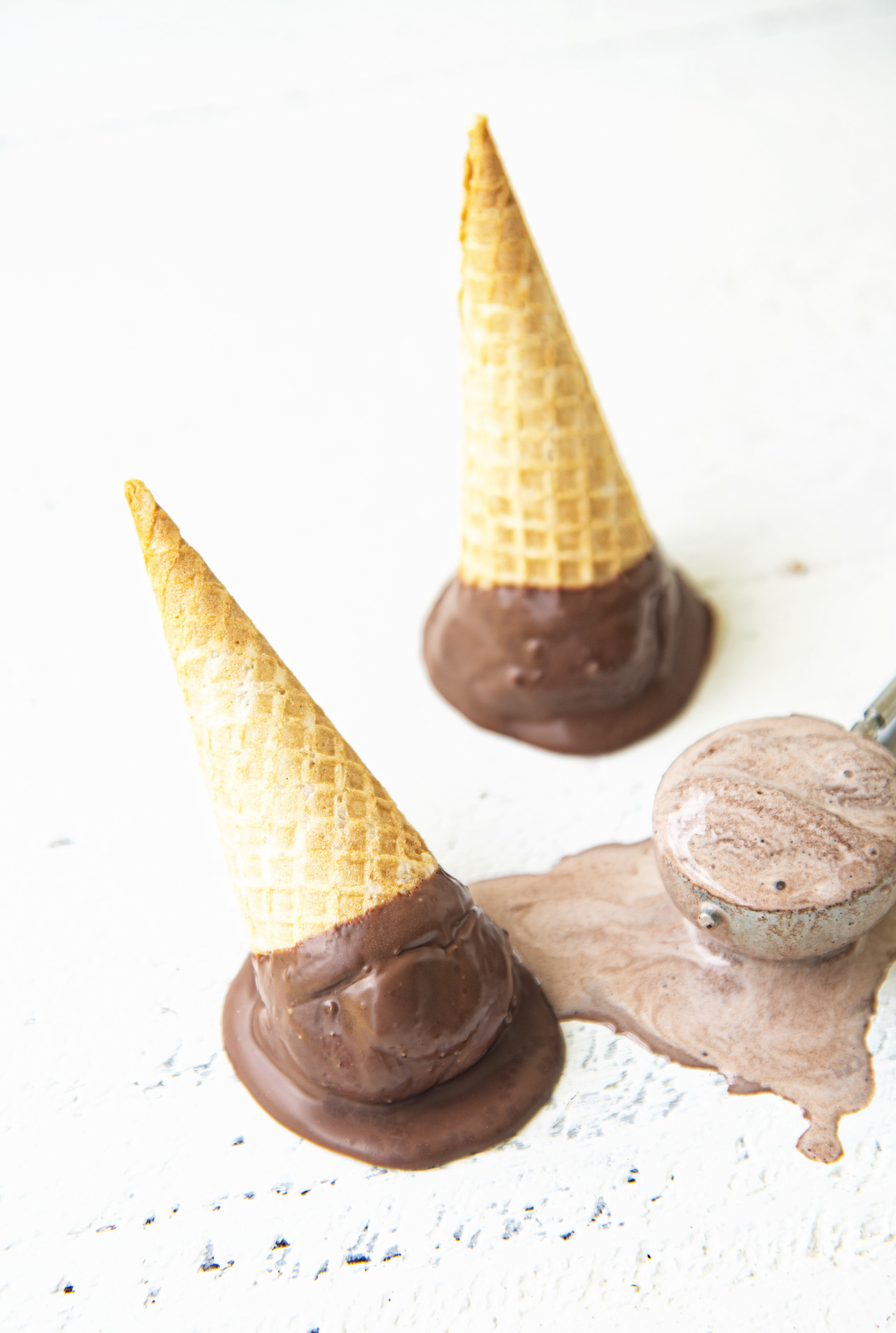 The hardest part of this is getting it into the cone because fudge is hot.
And you need it hot to pour (pipe) it into the cone.
So you will need a cloth piping bag.
Because at 234F if you put the fudge into a plastic bag it's going to melt.
I also suggest oven gloves or mitts.
The gloves are easier for squeezing.
Can you make the fudge without going to all this trouble?
Absolutely.
But then they aren't as cute.
Tasty, but not cute.
As overkill, and for effect, this Melted Chocolate Ice Cream Fudge is dipped into a chocolate coating.
Then tipped upside down to make it look like a spilled ice cream cone.
Because a spilled ice cream cone pretty much represents 2020. 🙂
With fudge in the cone and a fudge ball on top these make for a pretty big fudge piece.
Your inner 7 year old self will be happy.
Last but not least…it's a great time to order my cookbook. 😀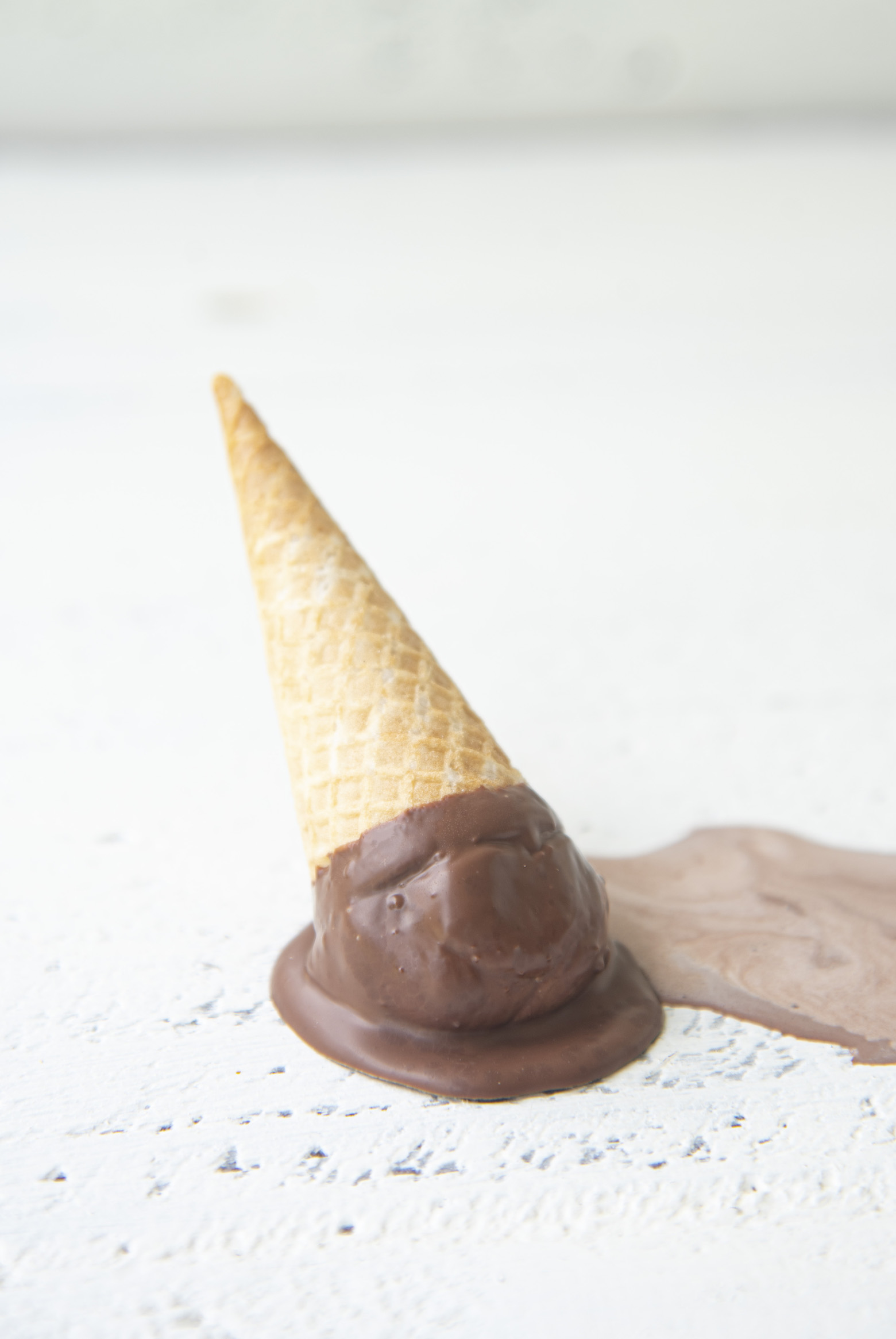 Want More Fudge Recipes?
Lemon Blueberry Mascarpone Fudge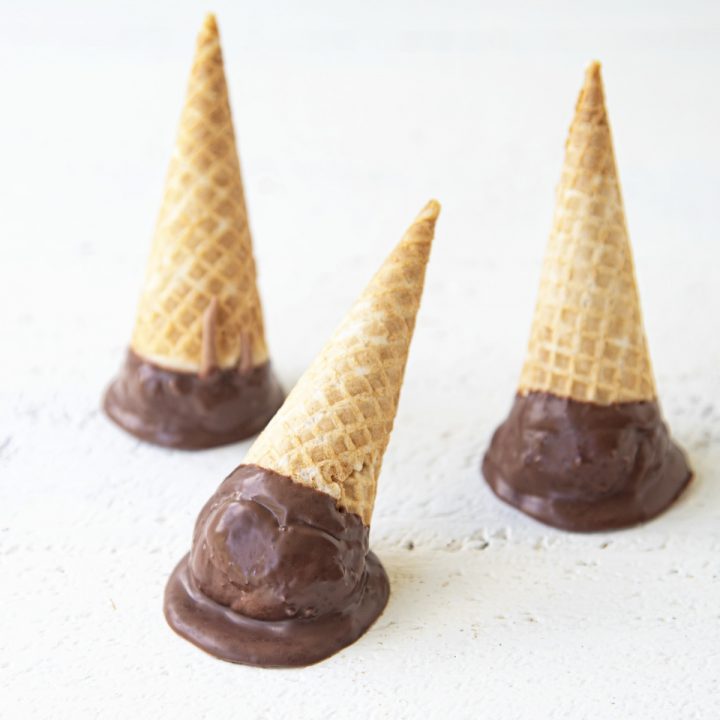 Melted Chocolate Ice Cream Fudge
Ingredients
For the Fudge:
2 cups granulated sugar
4 oz. unsalted butter
½ cup heavy cream
2 cups milk chocolate chips
7-ounce jar marshmallow crème
20 mini sugar cones
For the Chocolate Coating:
6 oz. milk chocolate, finely chopped
1 1/2 TBSP vegetable oil
Instructions
Place your mini sugar cones into the mini cone stand.
Line a standard loaf pan with foil and spray lightly with baking spray. Set aside.
Combine sugar, butter, and heavy cream into a large heavy bottomed saucepan and bring to a boil over medium heat.
Once boiling, attach a candy thermometer and reduce the heat to a hair above medium low and cook for 7-10 minutes until your thermometer reads 234°F (soft ball stage) , stirring constantly.
Once you reach 234F remove from heat and add the milk chocolate chips and vanilla flavored soft serve powder mix, stirring vigorously with a wooden spoon until the chocolate has melted and the mixture is smooth.
Place 1/2 the fudge into the CLOTH piping bag.
Pipe the fudge into the cones filling almost to the top. Leave a little room for the round fudge top we are adding later.
Pour the remaining fudge into the prepared loaf pan.
Let both fudge cones and the fudge in the loaf pan set up for 45 minutes.
Using a TBSP or mini ice cream scoop, scoop out the fudge from the loaf pan. Roll into a ball and place on top of a fudge filled cone.
Once done start on the chocolate coating.
For the Chocolate Coating:
Combine chocolate and oil in a medium heat-proof bowl set over a medium saucepan of barely simmering water; stir until melted and smooth.
Transfer to a small bowl, and let cool about 15 minutes.
Press the rounded fudge part into the cone to make sure it stays as one piece. If it looks as if it won't stay, place in fridge for about 20 minutes. I didn't have any issues with it sticking together.
Carefully dip the top of each fudge cone. You are dipping the round fudge part and just the top of the sugar cone.
Place upside down on wax paper. So it looks like the ice cream cone fell over.
Let the chocolate set up, about an hour and serve.