This Peppermint White Russian is a holiday twist made with Peppermint Kahlua, Peppermint Cream liqueur, Vodka, and cream.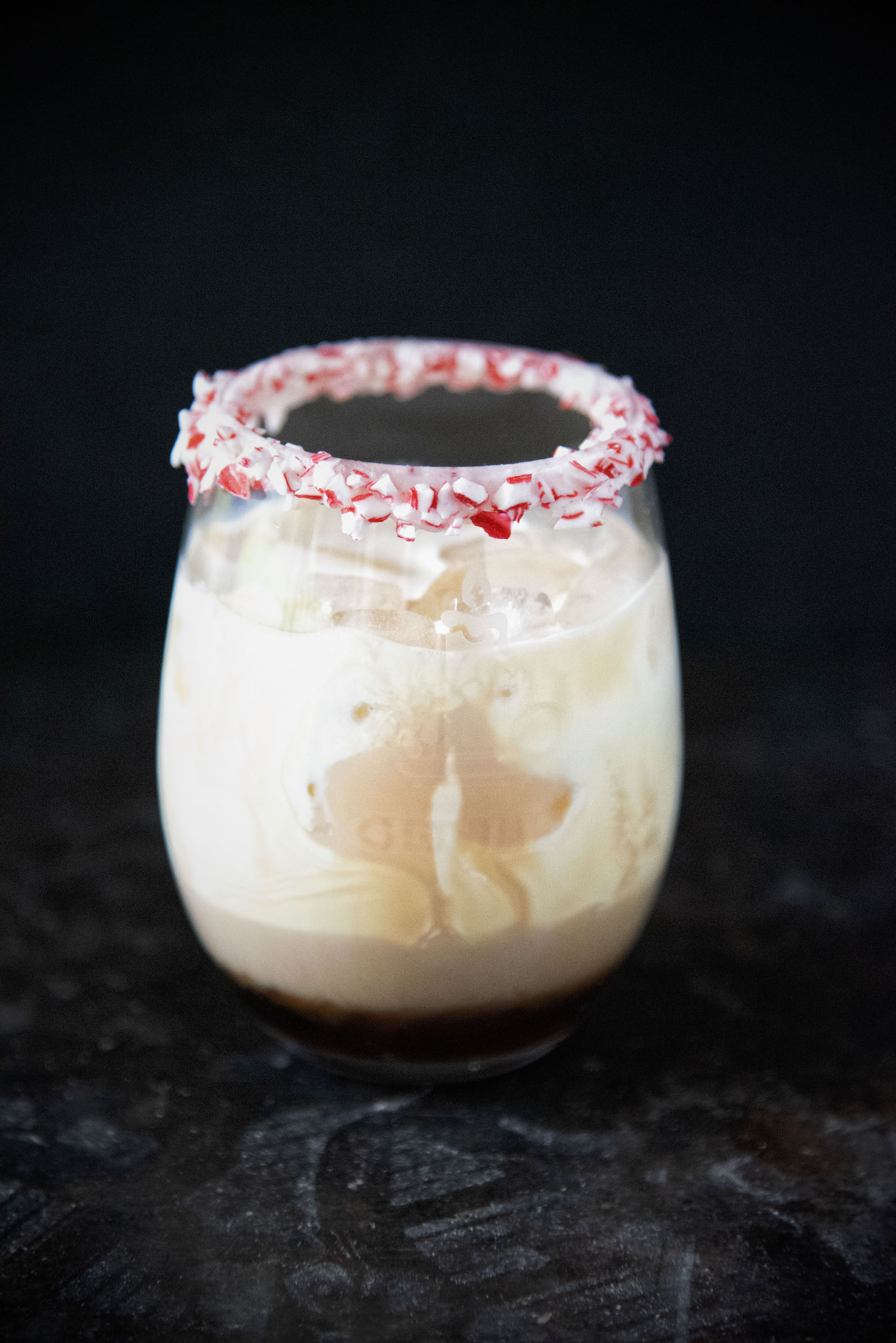 Perhaps it's all the Russia talk as of late but I was craving a White Russian. 🙂
A Peppermint White Russian to be exact.
My go to one around this time of year is my Gingerbread White Russian but you can always expand your drinking.
I mean it's always best to keep an open mind…and open bar. 😀
First off, the Kahlua I use they don't make anymore.
It's my fault for liking it.
It seems anything special edition that companies come out with, if I like it, they take it away.
This is what Trader Joe's does to me all the time as well.
Well, technically they do it to everyone.
But sometimes I really think Trader Joe's takes away just the things I really love. 😛
Kahlua should still be making it.
But they don't.
I make a comment on Twitter once or twice a year that they should still be making it.
Alas, no one over at Kahlua seems to care.
I did however stock up on it.
Like a lot.
How much?
Oh, a case.
I was lucky enough to catch wind that they were not going to have it anymore.
However, my supply is dwindling greatly and that makes me very sad.
If you don't own it already, than using regular Kahlua works.
You can use whatever peppermint booze you want but I've been big on Fennelly's Peppermint Cream as of late.
Trader Joe's also makes a peppermint liqueur during the holidays.
But don't end up like that to much or they will take it away as well. 😛
Or you might consider a peppermint flavored vodka.
And of course there is the classic peppermint schnapps that always gets the job done.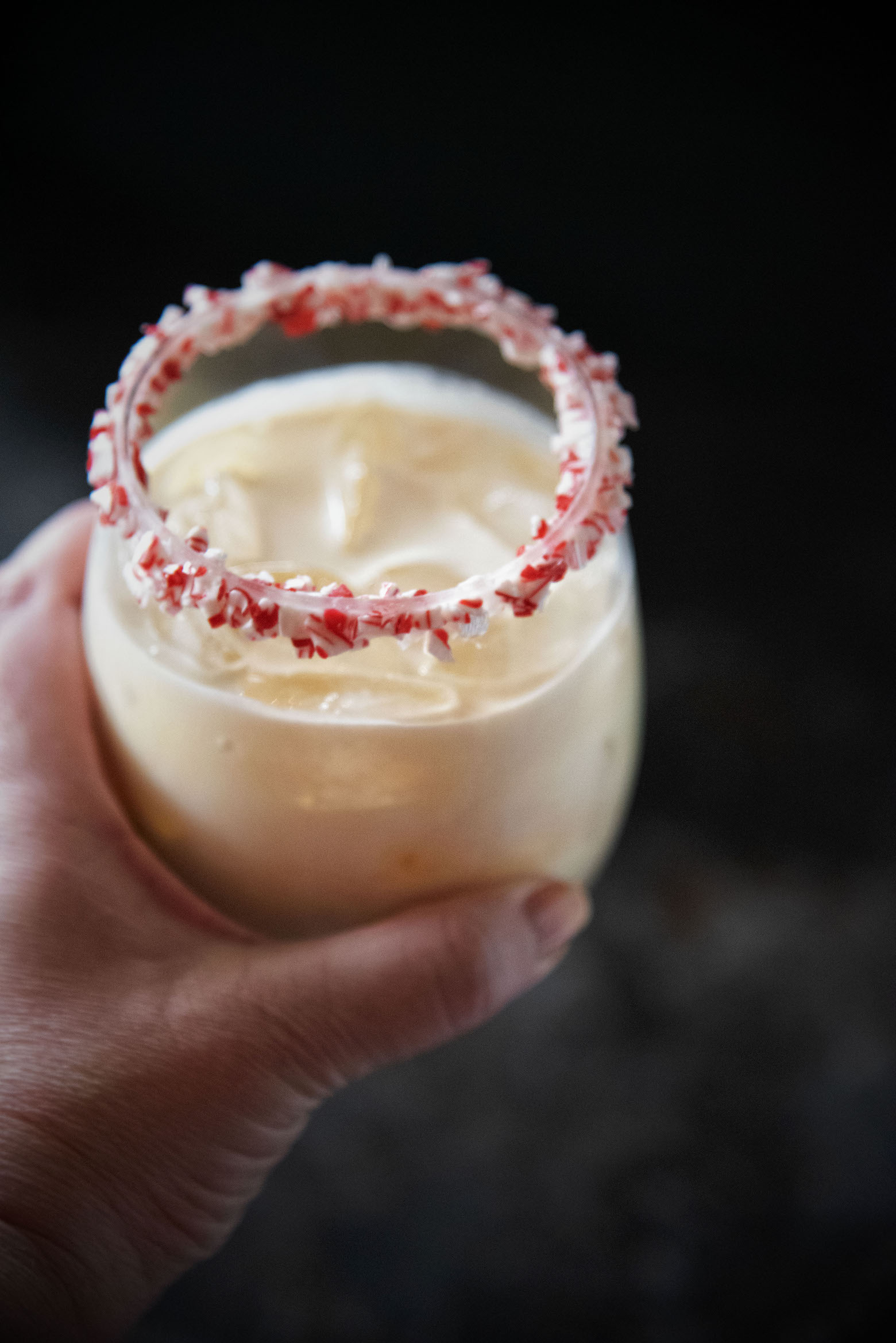 Even if you do have the peppermint flavored Kahlua you can add more peppermint booze if you want.
Or not.
Just depends on how much peppermint you like.
I like a lot of peppermint.
Buddy the Elf level of loving candy canes and peppermint.
Do you need to make the candy cane rim?
No.
Of course not.
But I personally think it's a must.
Takes the festive nature of the cocktail to a whole new level.
And let's face it, the holidays are all about going the extra step.
Plus if your relatives are driving you crazy you can use the excuse of being in the kitchen working on the cocktails.
The longer they take the better. 😀
To make the rims, just melt white chocolate and spread it out on a plate.
Then dip the glass into the white chocolate.
Immediately dip the glass into the candy cane pieces.
Let the candy cane pieces set up in the white chocolate.
Depending on how cold your kitchen is will depend on how long it takes.
I have a pretty cold house and so they set up in no time.
You might be tempted to put them in the fridge to speed up the process.
I don't recommend this.
Having done that before I find that it makes the candy canes get a weird gummy texture.
And often the red color runs as well.
I realize that will happen once you drink them but I want them to look pretty right up until people start sipping on the cocktail.
Cheers!
P.S. It's a great day to buy my cookbook Holy Sweet!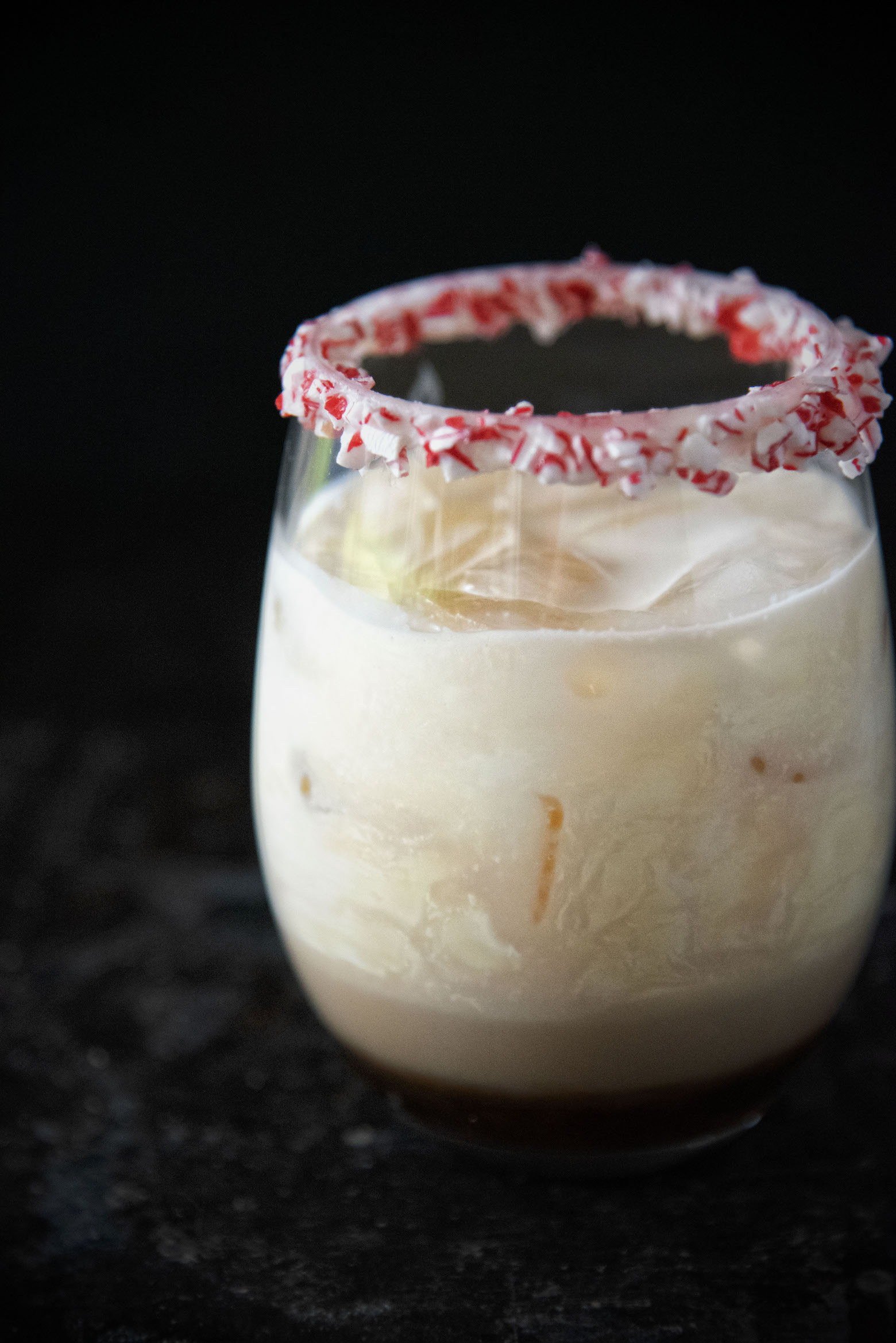 Want More Cocktail Recipes?
Spiked Gingerbread Hot Chocolate
Spiked Candy Cane White Hot Chocolate
Boozy Peppermint Slow Cooker Hot Chocolate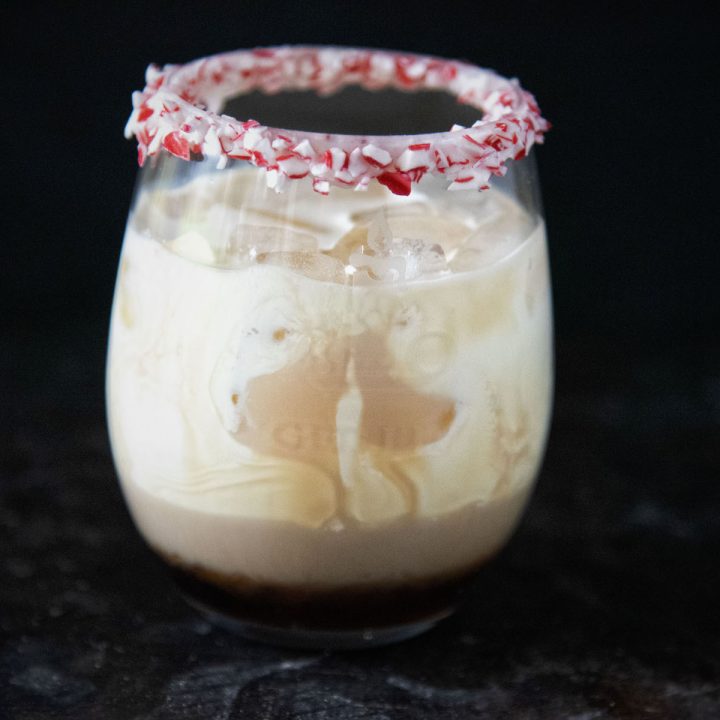 Peppermint White Russian
Ingredients
1 part Peppermint Flavored Kahlua (or regular Kahlua)
1 part Fennellys Peppermint Cream (or peppermint liqueur of your choice)
1 part vodka
Heavy cream to top off
Instructions
Fill a rocks glass with ice cubes.
Add Peppermint Kahlúa, Vodka, and Fennellys Peppermint Cream.
Finish up with a cream layer.
Garnish with candy cane rimmed glasses if desired (I used white chocolate to keep the candy cane in place on the glass)