This Spiked Peppermint Marshmallow Chocolate Fudge is the perfect combo of chocolate and peppermint with a kick.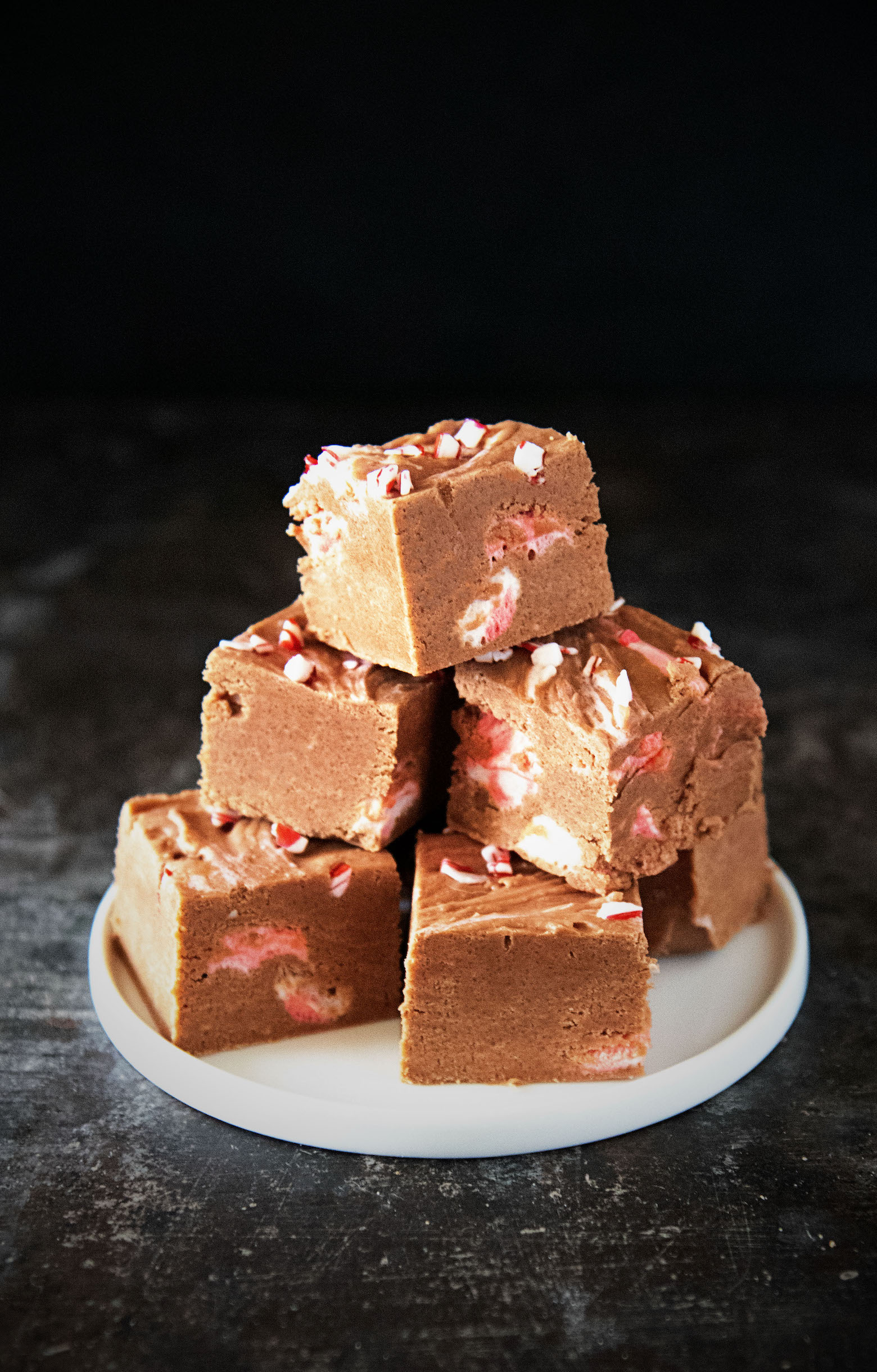 My parents will be here for Christmas this year.
They have come for the last few years and we always have a good time.
Chatting with my mom earlier this week I asked if she was excited to come her next week.
Her comment back was she was excited to come but she wasn't coming next week.
That she wasn't coming until the 20th or 21st.
Which I pointed out to her that was indeed NEXT week there was panic. 🙂
I get that panic.
There are like six million (well maybe not that much but a lot) things I need to do between now and Christmas.
I have no idea how I got stuck going to the dentist, taking the dogs to the vet twice before Christmas, and two separate grooming appointments for the dogs but I did.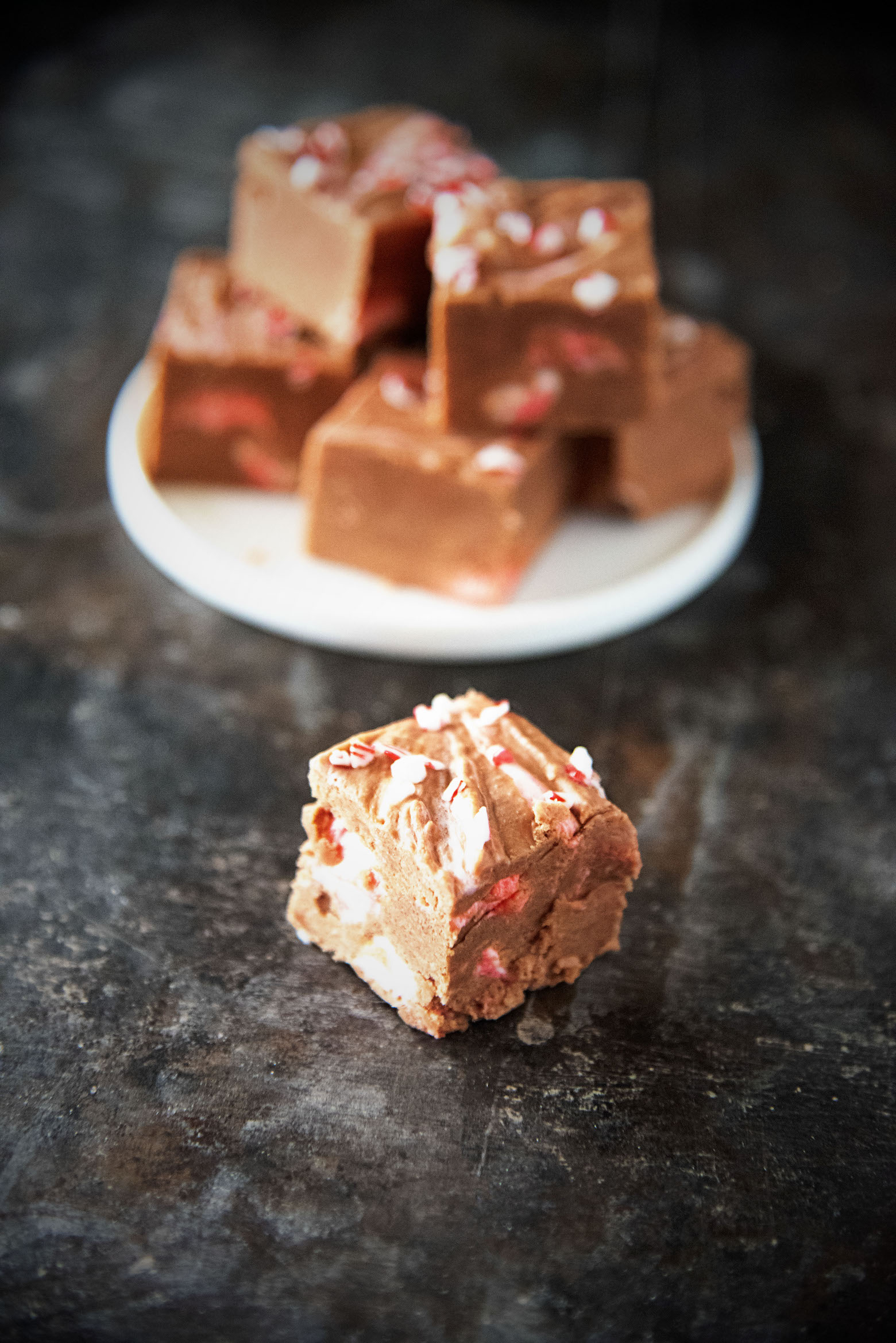 Keep in mind when I go to the dentist I get sedated so that WHOLE day is gone.
That is on top of cleaning my house so that my mom doesn't cringe.
Planning holiday menus.
And making treats for the blog.
So AHHHHHHHHHHHHHH!
The good news is come January it should all slow down.
Hopefully.
Anyway, here is Spiked Peppermint Marshmallow Chocolate Fudge.
This time it's spiked with peppermint booze and has peppermint marshmallows in it.
Festive and fun.
And tasty.
It's a great day to buy my cookbook Holy Sweet!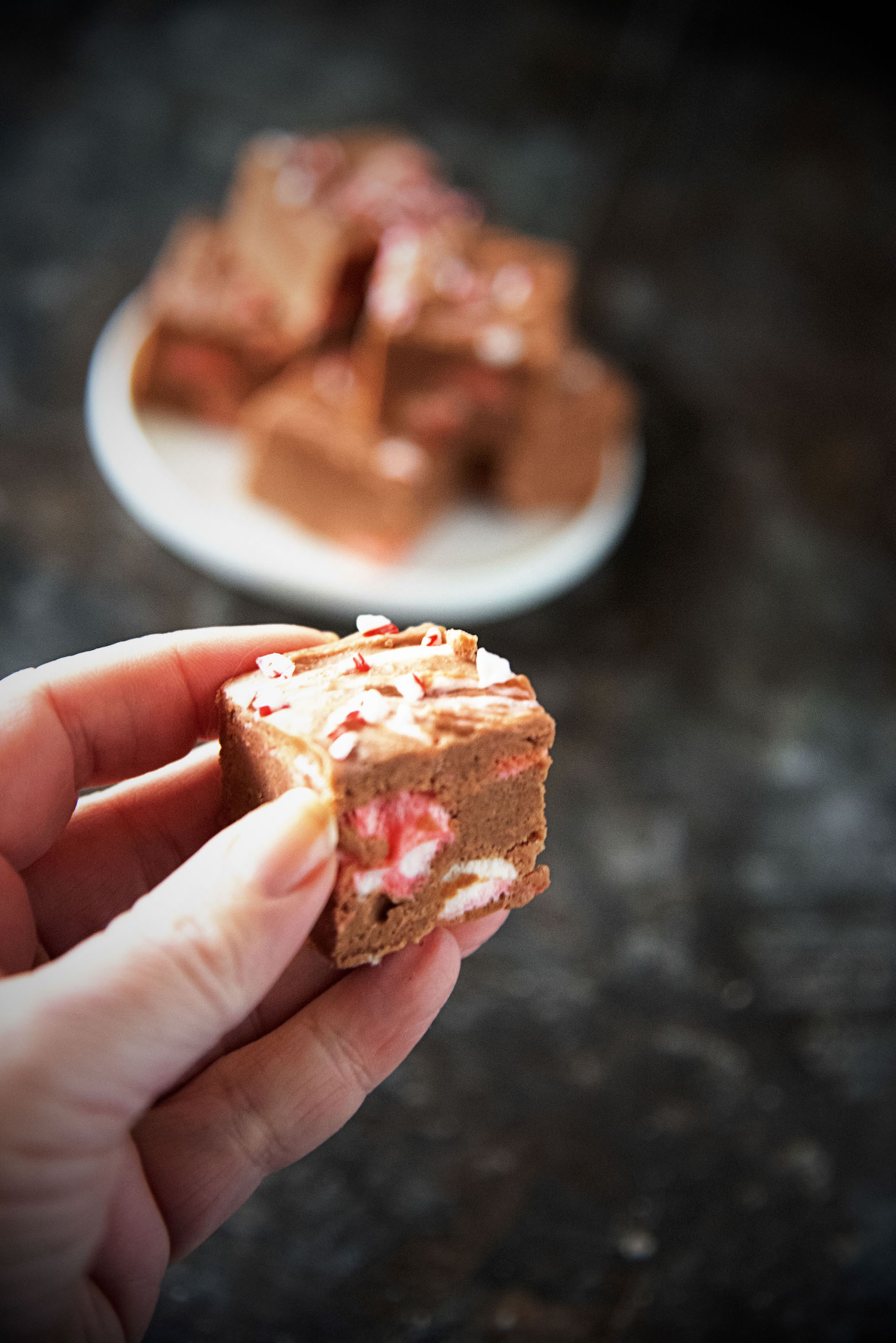 Want More Fudge Recipes?
Spiked Rum Raisin Chocolate Fudge
Monster Cookie Chocolate Fudge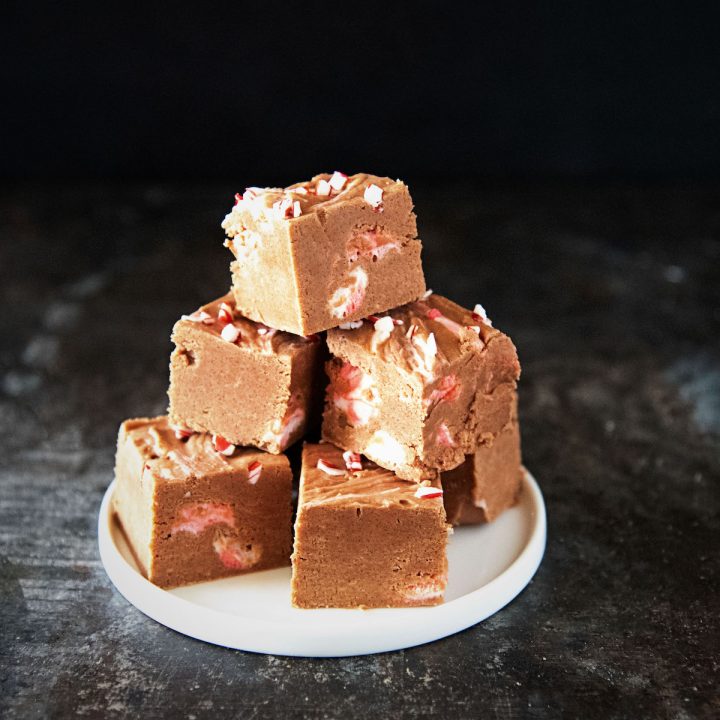 Spiked Peppermint Marshmallow Chocolate Fudge
Ingredients
2 cups granulated sugar
4 oz. unsalted butter
⅓ cup heavy cream
¼ cup PLUS 2 TBSP Peppermint Cream Liqueur
1 cup Ghirardelli Peppermint Chunks
1 cup semisweet chocolate chips
7-ounce jar marshmallow crème
1 cup peppermint marshmallows
3 TBSP candy cane pieces
Instructions
Line an 8×8 inch pan with parchment with an overhang so you can lift the fudge out later and coat with baking spray.
Combine sugar, butter, heavy cream, and liquor into a large heavy bottomed sauce pan and bring to a boil over medium heat.
Once boiling, attach a candy thermometer and reduce the heat to a hair above medium low and cook for 7-10 minutes until your thermometer reads 234°F (soft ball stage), stirring constantly.
Once you reach 234F remove from heat and add the semisweet chocolate chips and Peppermint Chunks, stirring vigorously with a wooden spoon until the chocolate has melted and the mixture is smooth.
Add the marshmallow crème and mix until well blended.
Fold in the peppermint marshmallows.
They will start to melt a little but don't over-mix...you want them as whole as you can.
Pour into prepared pan.
Top with candy can pieces.
Let cool to room temperature. Then lift out of the pan and onto a cutting board.
Cut into whatever amount you want. I think I got about 24 pieces.