This Clementine Upside Down Gingerbread Cake gets a spicy holiday twist, using moist gingerbread cake and a clementine (orange) fruit topping.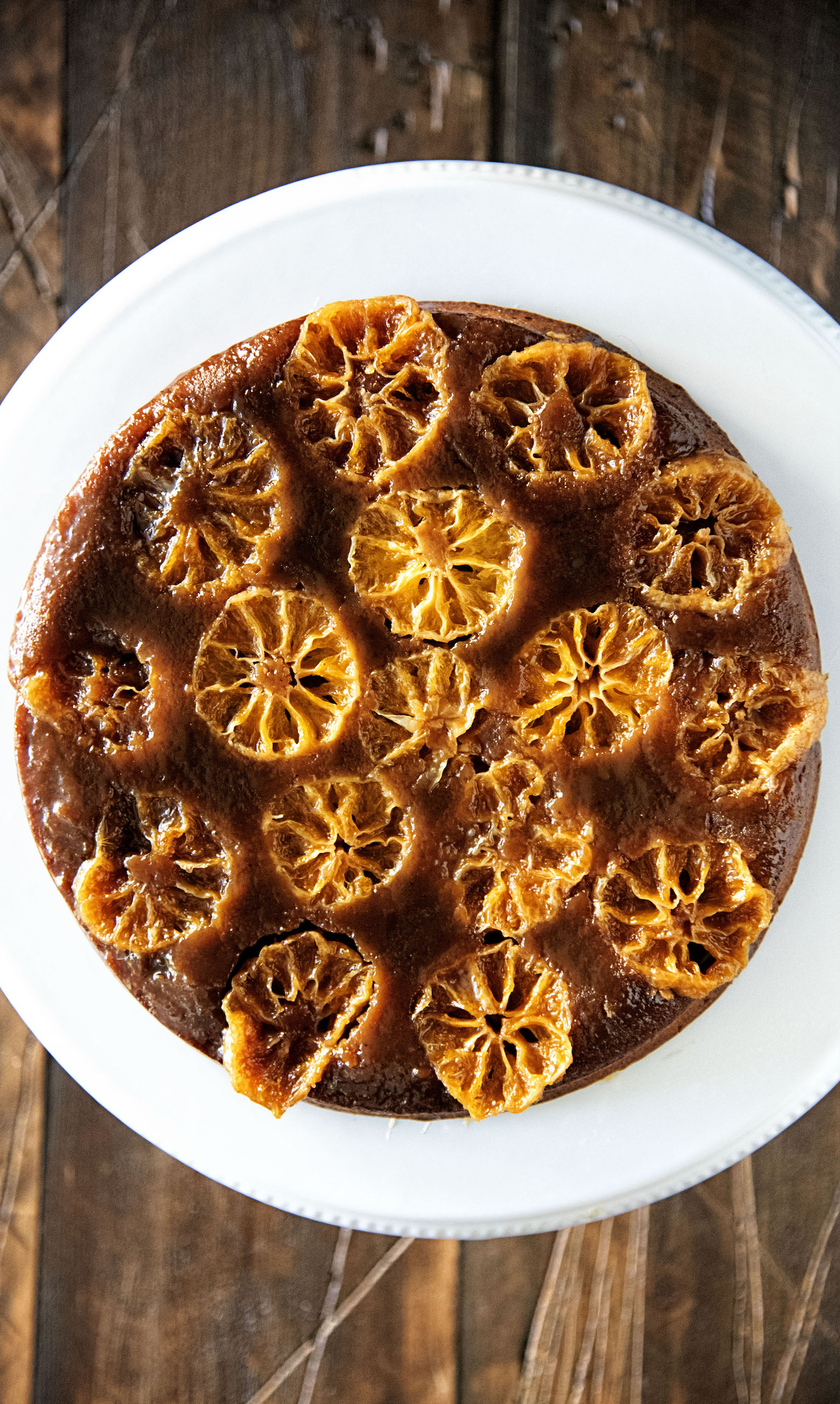 Growing up stockings were a BIG deal in my family.
My parents are not morning people to put it mildly.
And to bribe us to get more sleep the one thing we were allowed to open when we got up without having to wake up my parents were stockings.
While they were usually filled mostly with candy when we were younger there was always a small toy or something to keep us busy and hopefully let my parents get more sleep.
Never worked.
I'm a get up early on Christmas girl.
Still am.
As I got older the stockings were filled with shampoo and nail polish.
One thing I never got but plenty of people did get in their stockings were oranges.
Clementines, usually.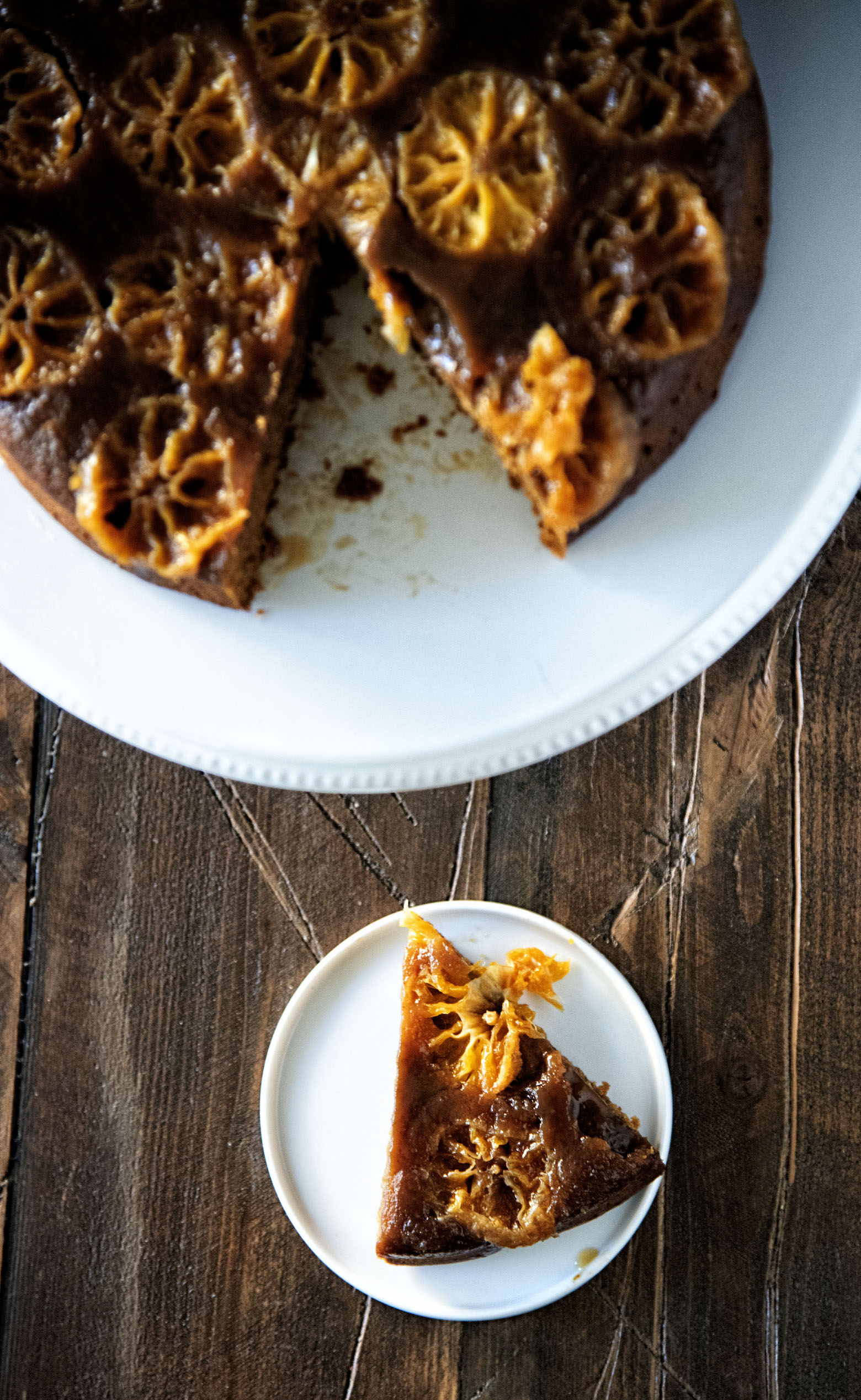 There are quite a few theories as to why it became popular but I like to think it's Santa's way to help ward off scurvy. 😛
Whatever the reason, I love orange at Christmas time.
I'm never shy about my love of orange with gingerbread.
So when I was watching British Bake Off and they did upside down cakes I immediately decided I wanted to do a gingerbread one.
Luckily for me David Lebozitv already had made a version.
His original one uses raspberries and nectarines, which is intriguing, but in the footnotes was and idea for oranges.
He suggested Navel or Blood Oranges but I love Clementines.
Even with the topping the cake is not overly sweet so I suggest serving it with ice cream or whipped cream.
P.S. It's a great day to buy my cookbook Holy Sweet!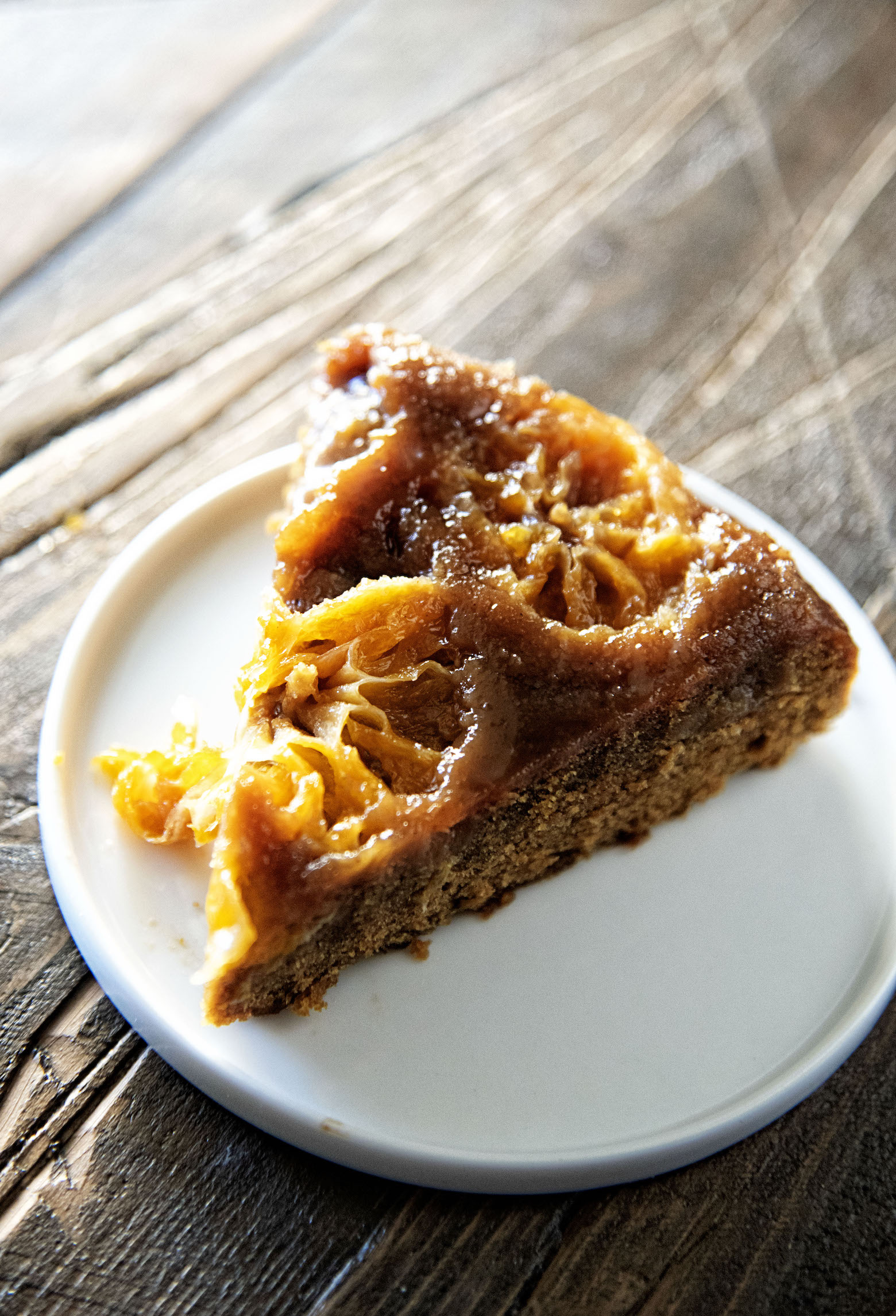 Want More Gingerbread Recipes?
Gingerbread Cheesecake Cheeseball
Chocolate Gingerbread Layer Cake
Cream Cheese Frosted Gingerbread Sweet Rolls
Bourbon Brown Butter Gingerbread Cake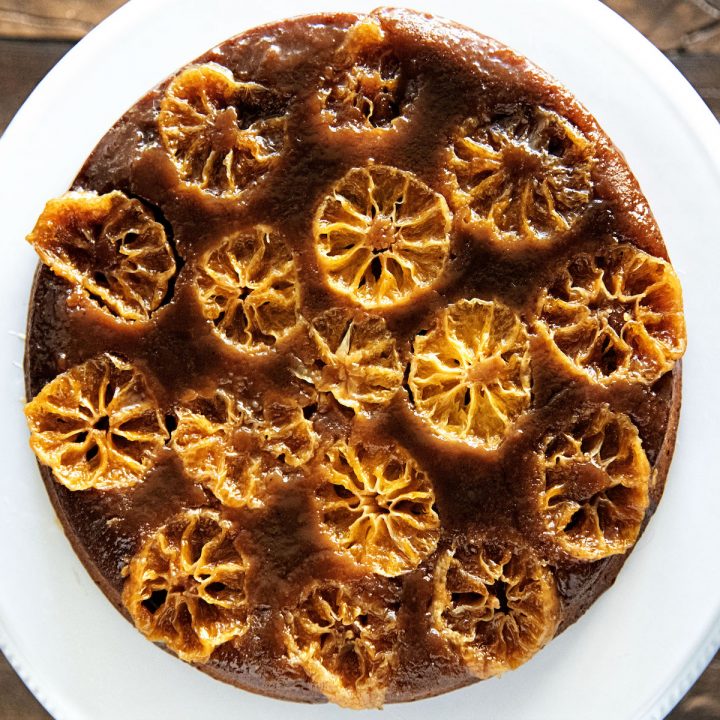 Clementine Upside Down Gingerbread Cake
Ingredients
For the Fruit Topping:
4 TBSP unsalted butter
3/4 cup of brown sugar
6 clementines, peeled and sliced crosswise
For the Gingerbread Cake:
1/2 cups of all-purpose flour
3 tsp. gingerbread spice
1 tsp. baking soda
1/8 tsp. salt
1/2 cup unsalted butter, at room temperature
1/2 cup granulated sugar
1/3 cup molasses
2 large eggs, at room temperature
1/4 cup milk, at room temperature
Instructions
Preheat the oven to 350F.
For the fruit:
Place the butter for the fruit topping in a 9 inch round cake pan and set it directly on a burner.
Melt the butter over low heat, then stir in the brown sugar.
Remove from the burner and let cool while you prep the fruit.
Evenly distribute the clementine slices over the brown sugar/butter mixture.
For the Gingerbread Cake:
Whisk the dry ingredients in a medium bowl.
In the bowl of a stand mixer with the paddle attachment, cream together the butter and sugar on medium speed for about 3-5 minutes, until it is light in texture and color.
Add in the molasses, and then beat in the eggs, one at a time.
Use a spatula to scrape down the sides of the bowl to make sure all of the ingredients are fully incorporated.
Mix in half of the dry ingredients from the bowl.
Stir in the milk, then mix in the rest of the dry mix until just incorporated.
Distribute the cake batter over the fruit, evening it out with a spatula.
Bake the cake for about 45-55 minutes (be careful not to let the top burn).
Test for doneness by inserting a wooden toothpick into the center of the cake (if it comes out clean, it's done).
Let the cake cool slightly before running a knife along the edges and inverting it onto a plate.
Serve warm with whipped cream or ice cream.