These Brown Sugar Balsamic Roasted Sweet Potatoes are roasted in a brown sugar balsamic glaze and tossed with walnuts and Gorgonzola cheese.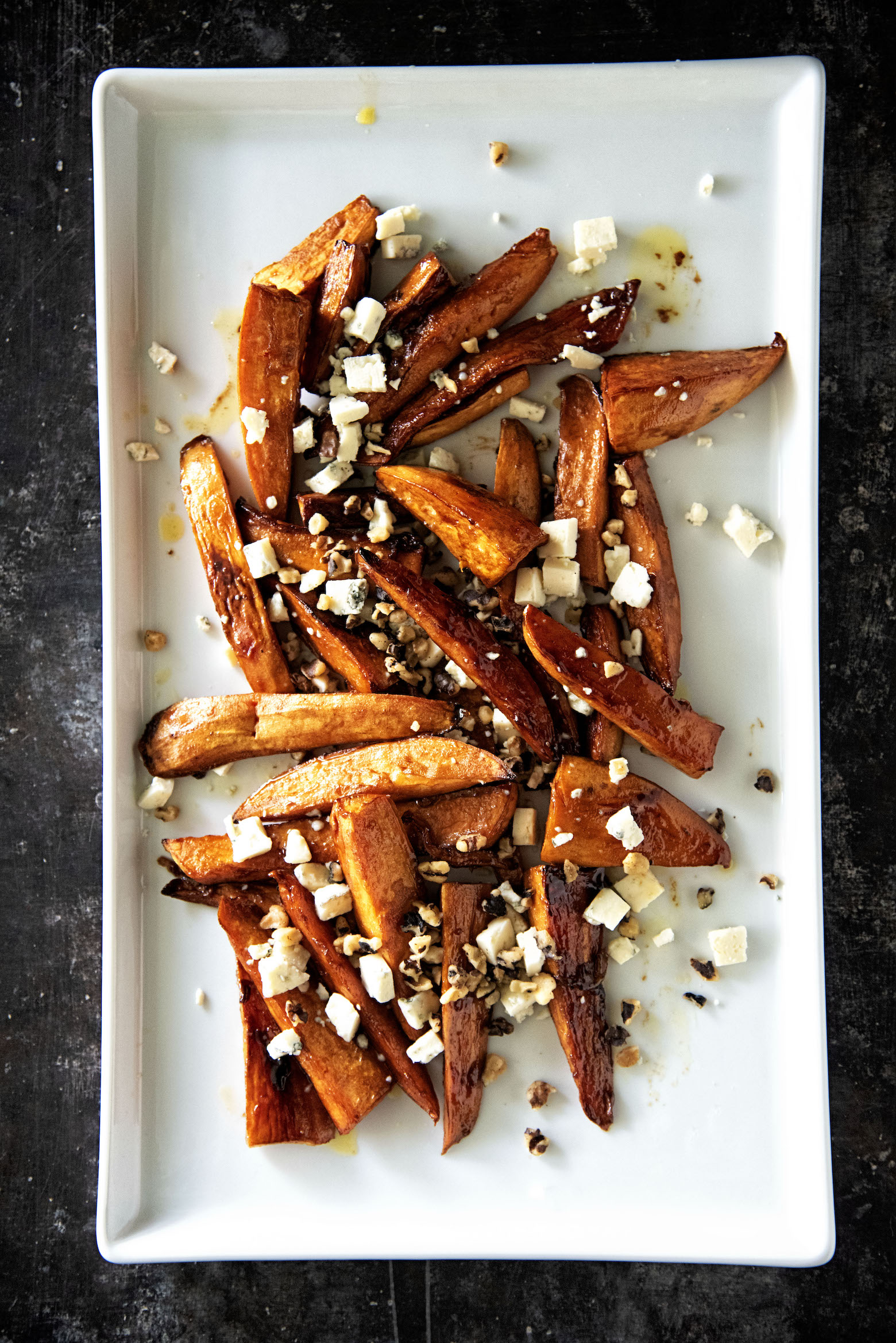 I've had a ton of memorable Thanksgivings.
And not necessarily in a good way. 🙂
But today we will focus on the Thanksgiving that freaked my mom out.
It was years ago when the day before we were to have the meal, our guest, called to inform that their plus one was vegetarian.
Oh, I remember her freaking out.
Mostly because my mom worries about what people think of her food.
And she didn't consider herself good at vegetarian food.
Which she was.
She just never referred to it as vegetarian.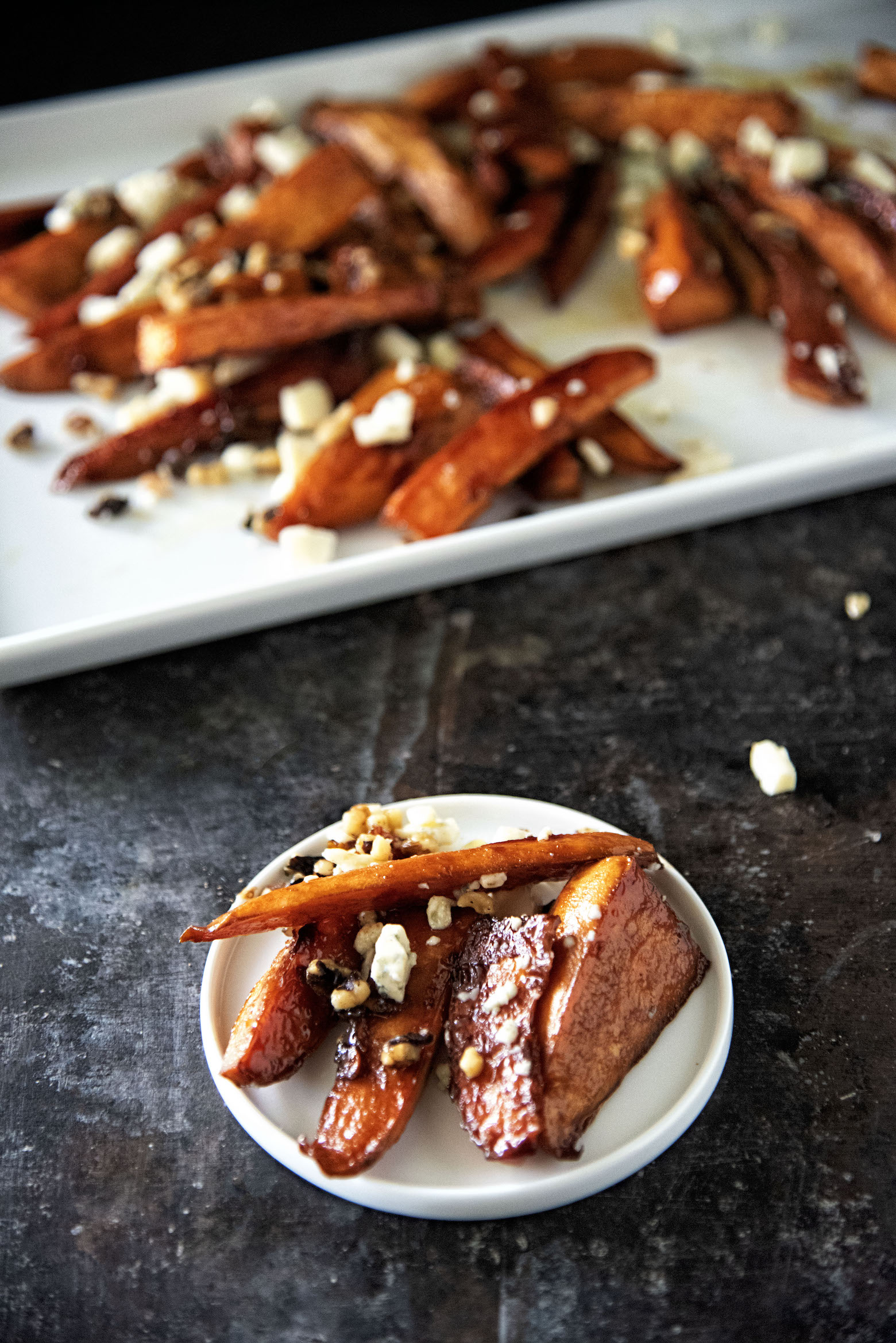 Most of the holiday sides are vegetarian.
Stuffing tends to have turkey broth but can easily be turned vegetarian.
Gravy.
And of course the turkey.
But mashed potatoes, green bean casserole, sweet potatoes, cranberry sauce, salad, rolls….all vegetarian.
Or can be made vegetarian easily.
I'm sure there are many more out there that are confused and scared to feed us vegetarians. 🙂
So this month I'm going to make some dishes that you can feed your vegetarian friends and family at holiday time.
Let's start with these Brown Sugar Balsamic Roasted Sweet Potatoes.
While most people love their sweet potatoes topped with marshmallows or in a sweet casserole it's nice to have it as savory as well.
These have a great sweet tart savory flavor and the walnuts and Gorgonzola cheese just compliment the dish beautifully.
By the way, it's a great day to buy my cookbook !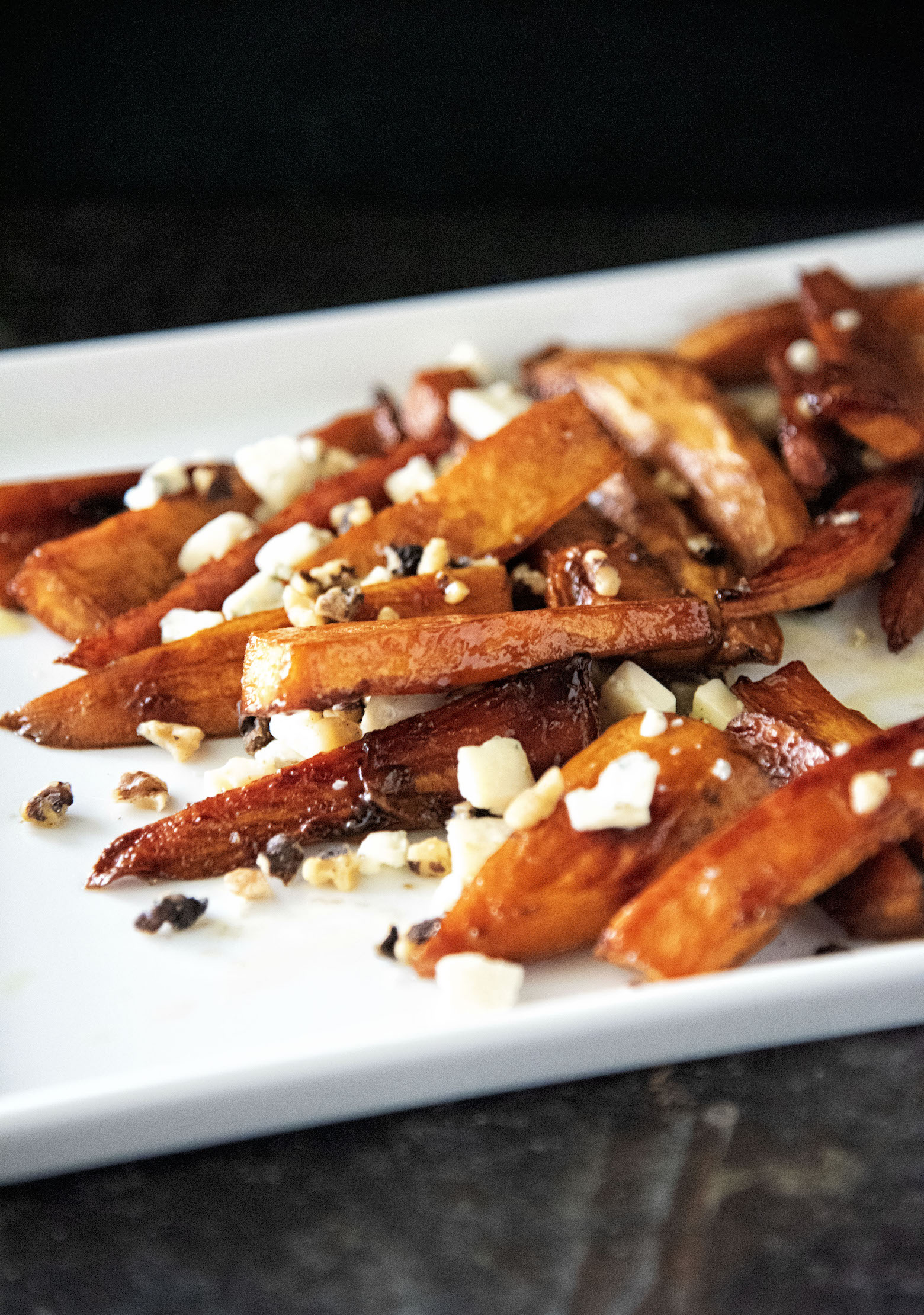 Want More Vegetarian Meal Ideas?
Vegetable Biscuit Pot Pie Cobbler
Alpine Dijon Macaroni and Cheese
Broccoli Cheese Biscuit Cobbler
Cheesy Hash Brown Topped Vegetarian Shepards Pie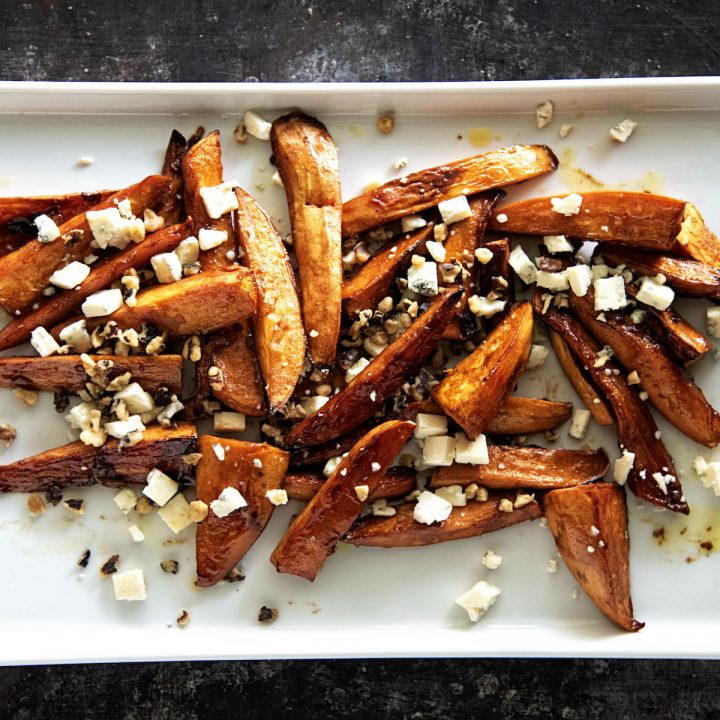 Brown Sugar Balsamic Roasted Sweet Potatoes
Ingredients
1/2 cup olive oil
1/2 cup balsamic vinegar
1/4 cup plus 1 TBSP brown sugar, packed
3 pounds of sweet potatoes, peeled and cut into wedges (8 per potato)
salt and pepper to taste
1 cup walnuts, toasted and chopped
1/2 cup Gorgonzola cheese, crumbled
Instructions
Preheat oven to 425F.
Line a baking sheet with foil.
Mix together the oil, balsamic vinegar, and brown sugar.
Arrange wedges in a single layer on prepared baking sheet.
Pour the oil/vinegar/brown sugar mixture over the wedges.
Gently toss the sweet potato wedges and coat them with the oil/vinegar/sugar mixture.
Season with salt and pepper.
Roast wedges for 30 minutes, turning them halfway through.
They are done when fork tender.
Garnish with the chopped walnuts and Gorgonzola crumbles