Vegetarian Roasted Broccoli Cheddar Quiche brings the flavors of broccoli and cheese soup in this family friendly quiche.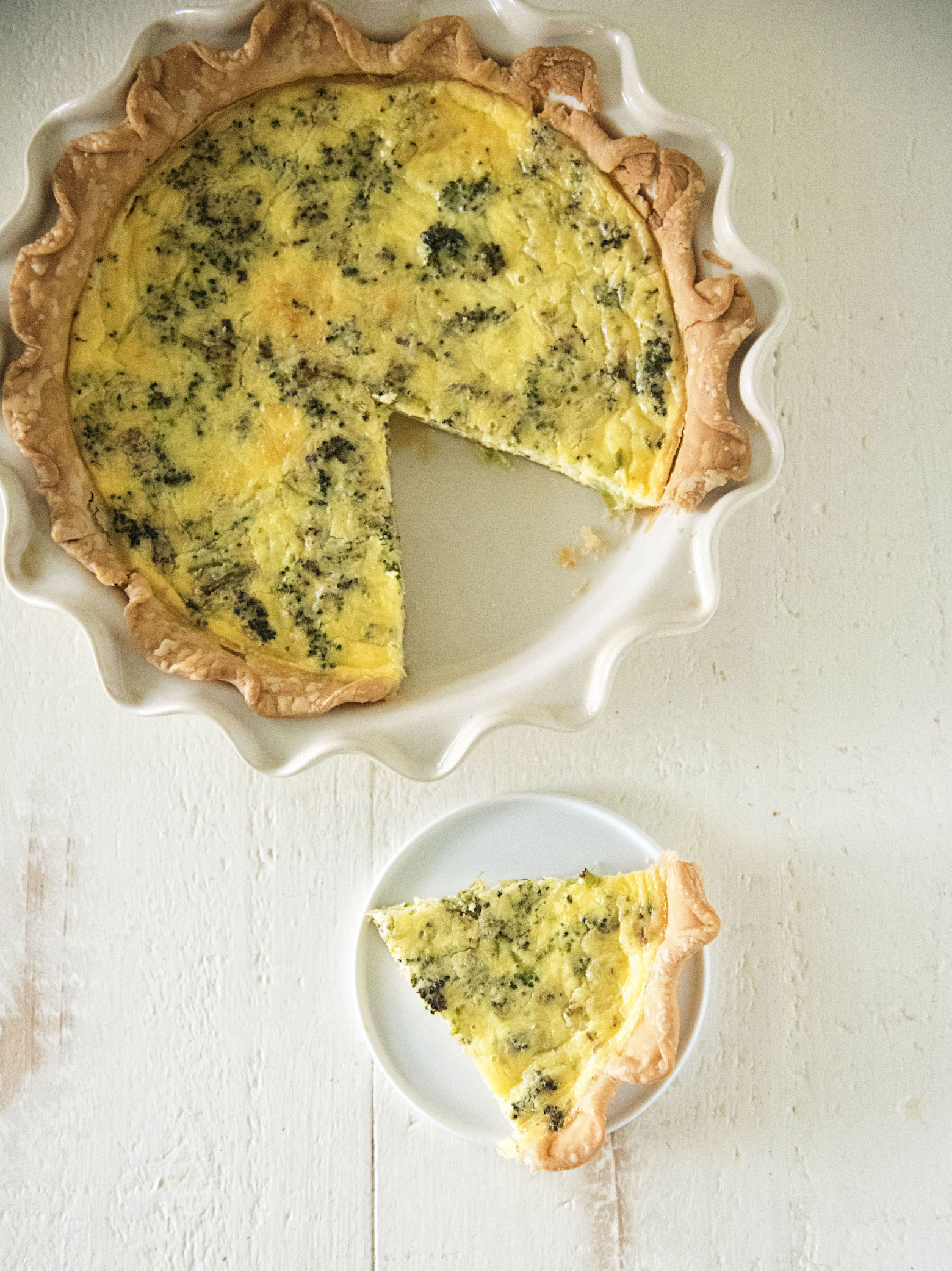 Even though it's been a difficult one, I have a lot to be grateful for this year.
Most recently with our dog Daisy's biopsy coming back as infection and not cancer.
Found that out this morning.
So relieved to hear that.
Since we take in dogs with bad hearts I guess I just always assume that is the way they will go when their time has come.
Never really think about all the other stuff that can happen too.
We are still trying to figure out how she could have gotten it in the location she did.
But my dogs are talented at doing illogical things. 🙂
I'm not cooking this year for American Thanksgiving.
In the past I have always cooked Thanksgiving (Canadian) and gone out to eat on American Thanksgiving.
This year I didn't even cook Canadian Thanksgiving.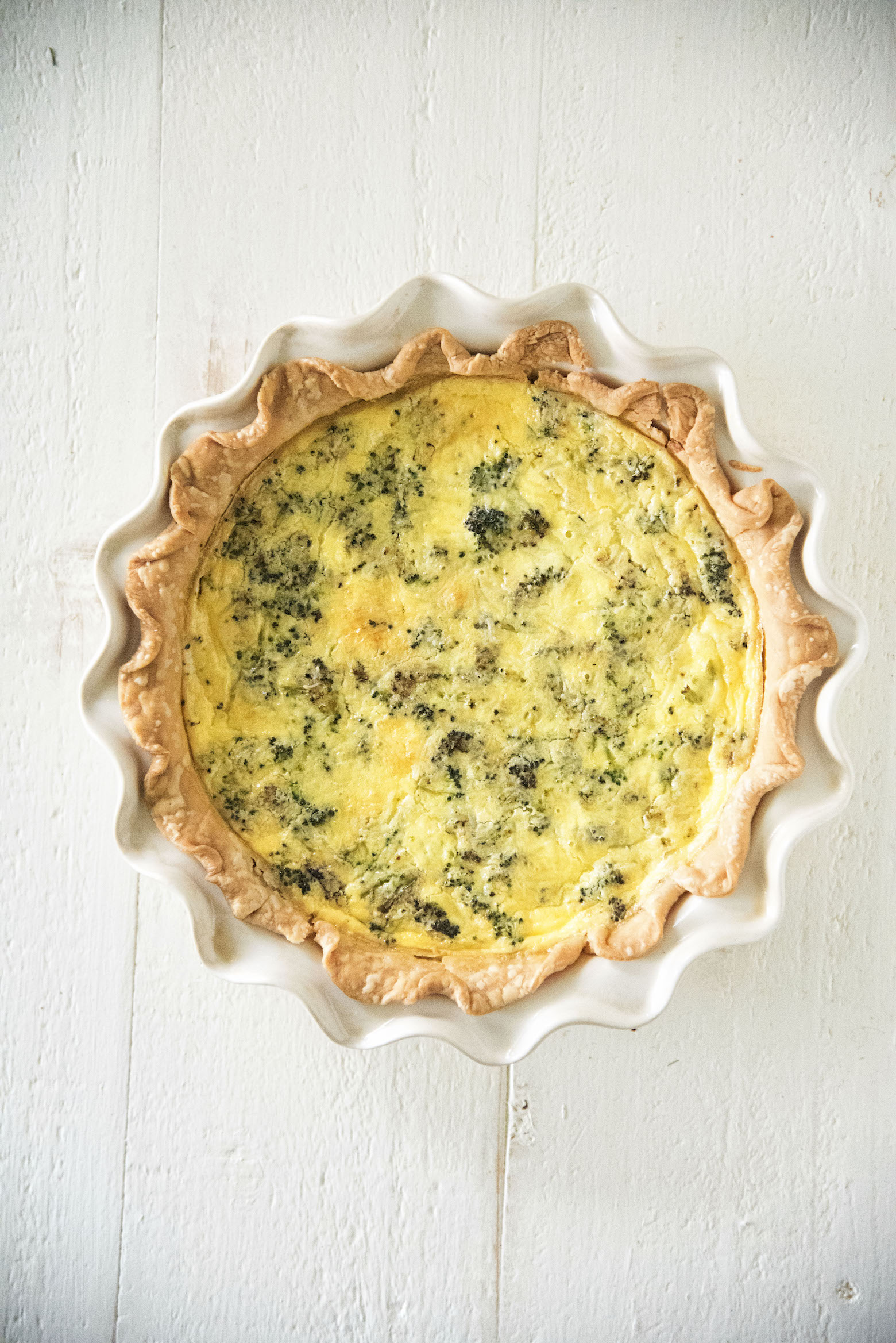 I have a dental procedure tomorrow and I get sedated for that.
So that would mean all the cooking would have had to happen the day of and that just seemed too stressful.
Chinese food it is. 🙂
I will make the dogs a little something special to eat.
And knowing me I'll make some sort of dessert as well.
This Vegetarian Roasted Broccoli Cheddar Quiche is the classic flavor of broccoli and cheese.
If you don't know how to roast broccoli go here. 
You don't have to have it roasted but I really love the flavor of it that way.
I used a Cabot sharp white cheddar but use whatever Cheddar you like.
Have a great Thanksgiving!
P.S. It's a great day to buy my cookbook Holy Sweet!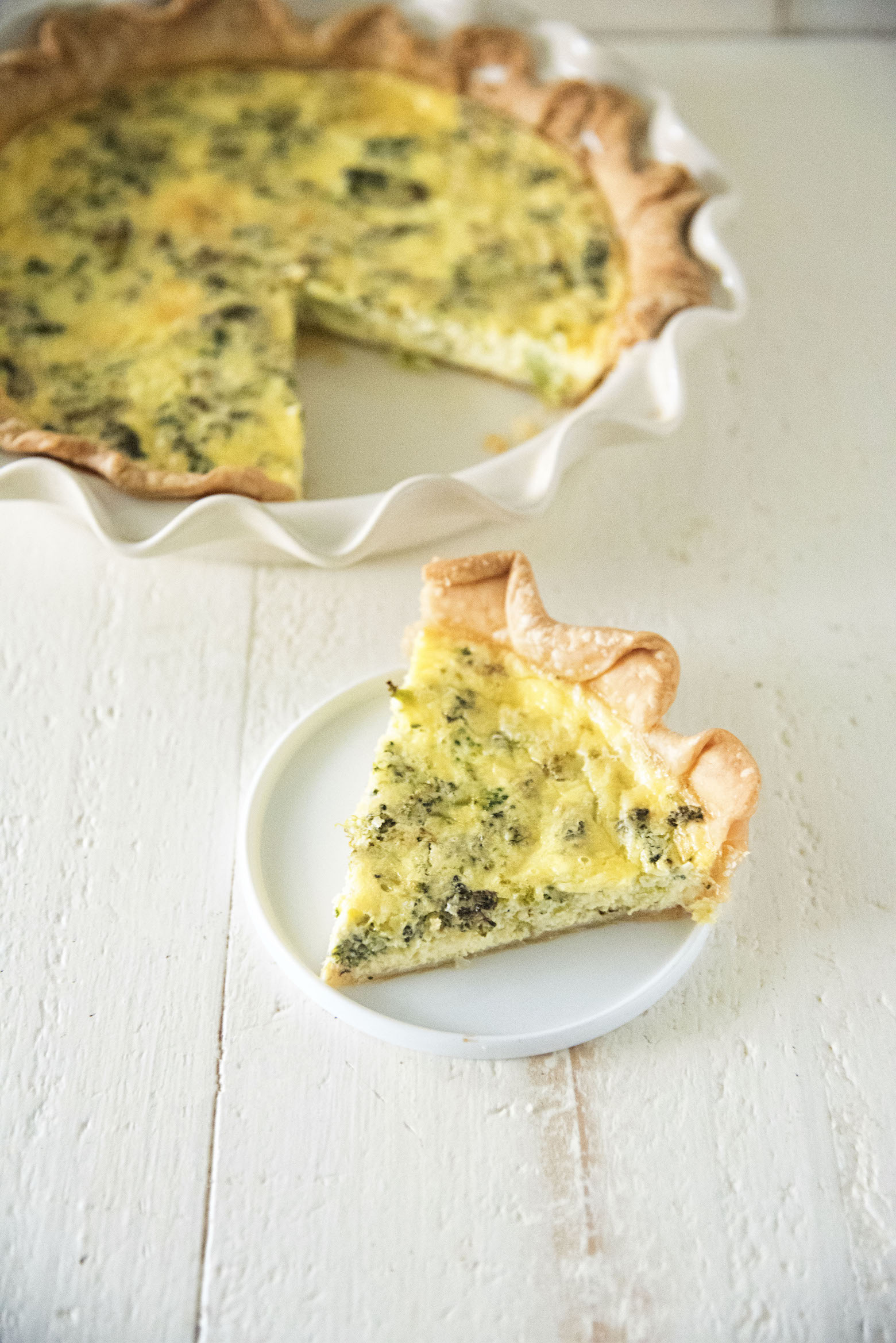 Want More Quiche Recipes?
Vegetarian Spinach Mushroom Quiche 
Pimento Cheese and Cornbread Quiche
Gruyere Aged Smoked Gouda Caramelized Onion Quiche
Vegetarian Zucchini Corn Feta Quiche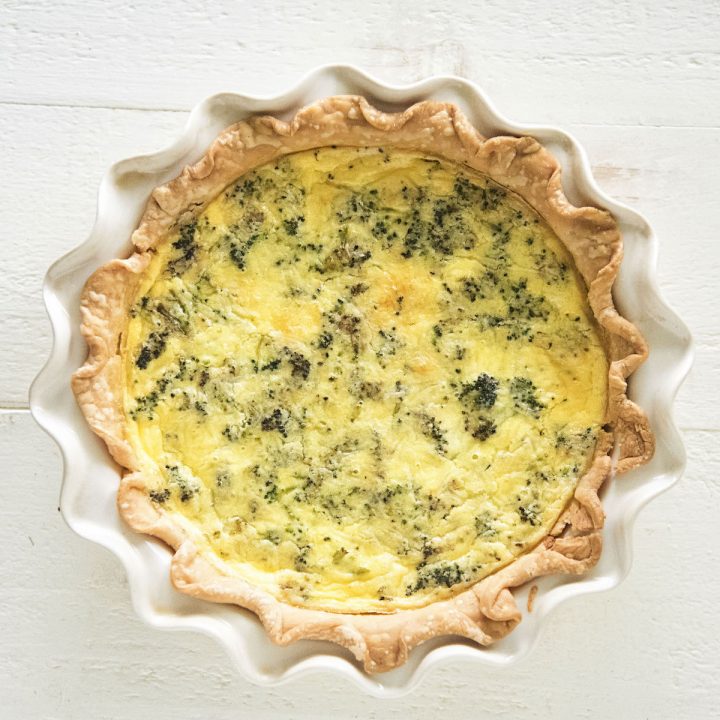 Vegetarian Roasted Broccoli Cheddar Quiche
Ingredients
Pie crust for one 9-inch pie(use a recipe of your own or buy store bought)
3 large eggs
2 large egg yolks
1 1/2 cups cream
1/4 tsp. salt
Pinch freshly grated nutmeg
3/4 cup Cheddar Cheese, shredded
3/4 cup roasted broccoli, chopped
Instructions
Preheat the oven to 375 degrees F.
Line the pie crust with parchment paper and fill with pie weights or dried beans.
Bake until the crust is set, 12 to 14 minutes.
Remove the paper and weights and bake until golden brown, 8 to 10 minutes.
Remove from the oven and cool on a wire rack.
Leave the oven on.
Arrange 1/2 the cheese and roasted broccoli at the bottom of the crust.
In a large bowl, beat the eggs, yolks, and cream.
Whisk until fully combined.
Add the salt and nutmeg and whisk to combine.
Pour into the prepared crust and add the remaining cheese and roasted broccoli.
Bake until the custard is golden, puffed, and set yet still slightly wiggly in the center, 30 to 35 minutes