These Salted Caramel Apple Sweet Rolls are a brioche dough filled with brown sugar apple filling topped with a salted caramel icing.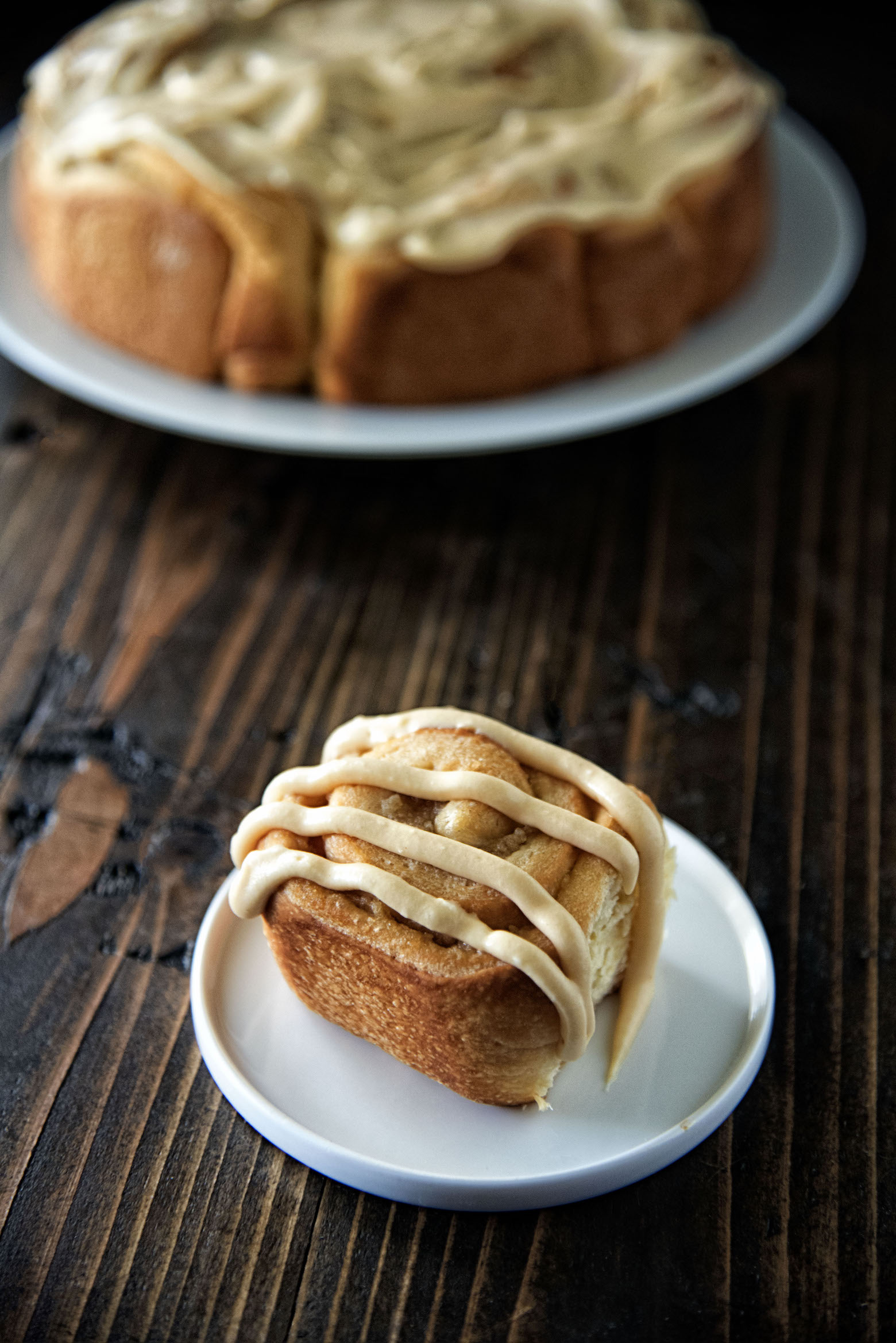 If I feel better (sinus infection) I think I'm going to put my tree up this weekend.
Before you pull out the we haven't had Thanksgiving card…I already did…in October.
So I have no pending holidays to stop this.
I won't be decorating outside just yet…I truly do save that for December but I want the happiness of the holidays inside.
Maybe it's all the extreme negativity with the mid-term elections by gosh darn it all I want some happy holiday lights.
I've already watched four Hallmark Christmas movies, including one on Halloween.
My husband says I need to start writing them since I can predict the whole movie and I remind him that everyone can predict them.
They are all the same movies just with two different actors…that show up again in a different movie two hours later.
But I don't care I still love them.
Mostly I think because I just want someone to come and decorate my house like just ONE of those houses in the movies.
Seriously.
It's insane the decorating that goes on.
Though as beautiful as the trees are they are too matchy-matchy for me.
I like my tree of random ornaments.
So much nostalgia every year taking them out and remember why we have each one.
Now on to these sweet rolls.
I had the last of my apples from my tree to use up.
Saw on Instagram someone stuff a croissant with salted caramel apple sauce and decided that would be my inspiration for these Salted Caramel Apple Sweet Rolls.
The filling is a brown sugar, butter, and apple filling and it's topped with a Salted Caramel Cream Cheese Icing.
These are totally worth the effort.
P.S. It's a great day to buy my cookbook Holy Sweet!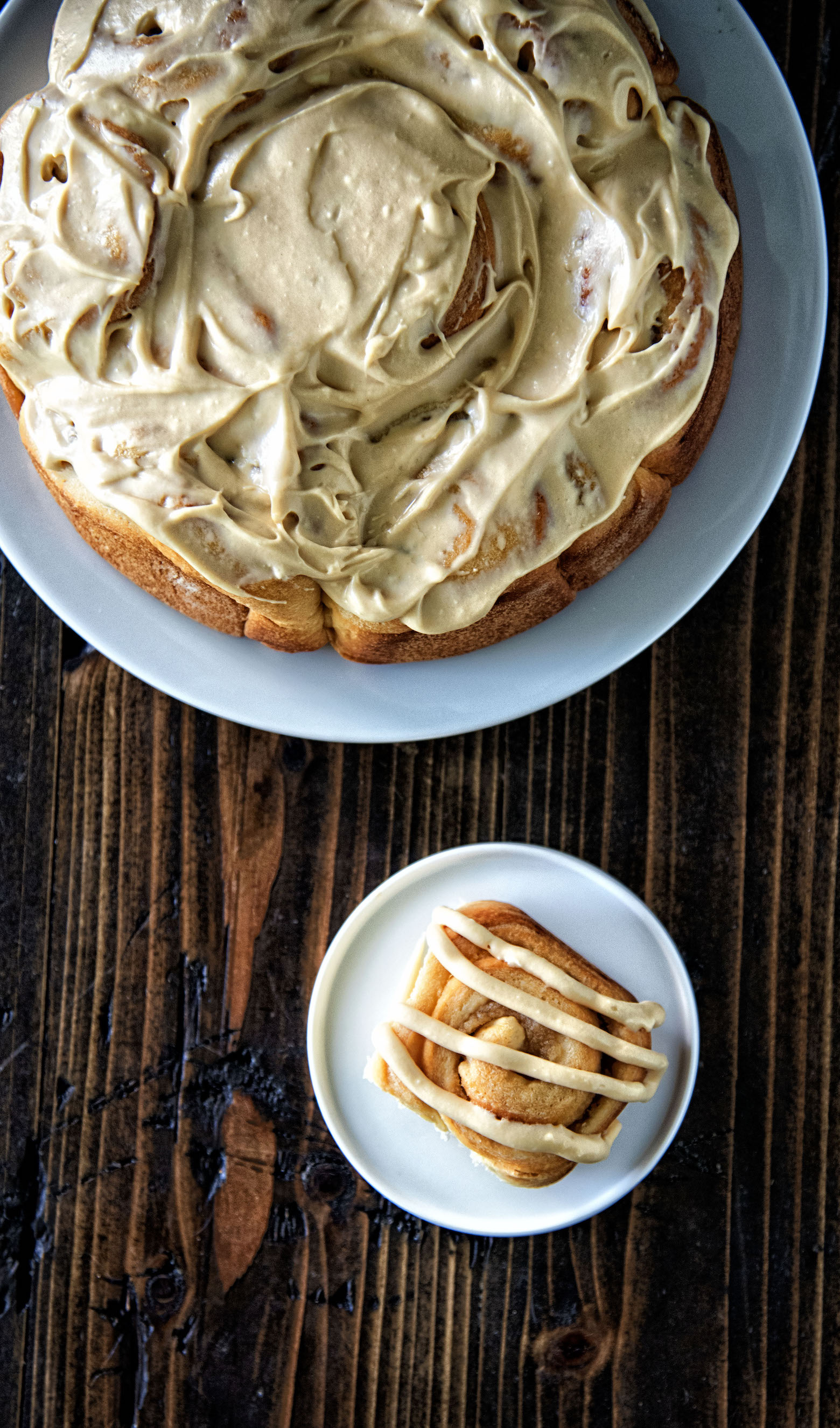 Want More Caramel Apple Recipes?
Caramel Apple White Chocolate Fudge
Salted Caramel Apple Fritter Bread
Mini Caramel-Glazed Honey Crisp Apple Bread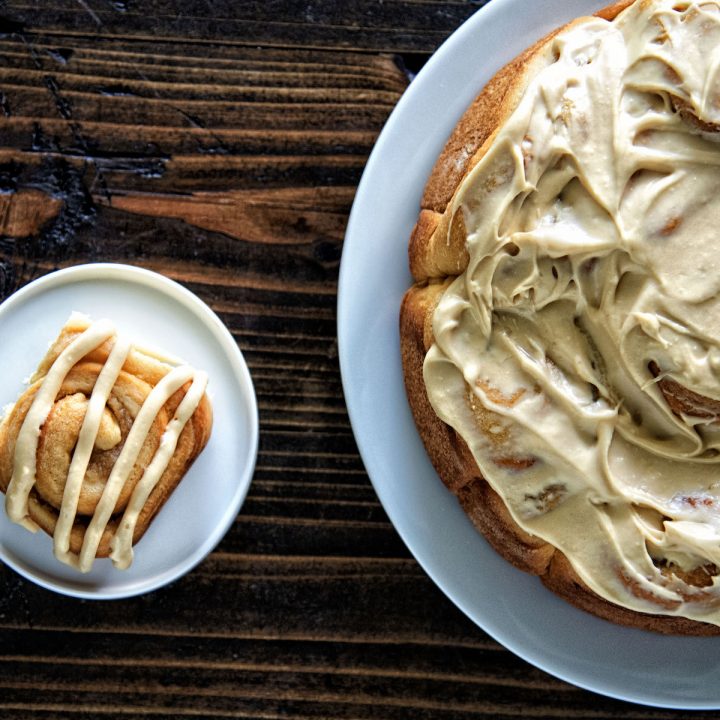 Salted Caramel Apple Sweet Rolls
Ingredients
Brioche:
For the Sponge:
½ cup whole milk, at room temperature
2 ½ tsp. (1 envelope) active dry yeast
¼ cup granulated sugar
½ cup bread flour (or all-purpose)
For the dough:
3 cups bread flour (or AP)
1 ¼ tsp. salt
4 large eggs, lightly beaten
½ pound (2 sticks) butter, softened, but still cool
Brown Sugar Apple Filling:
3 large apples, peeled and sliced
6 TBSP unsalted butter
1 cup brown sugar
Salted Caramel Icing:
4 oz. unsalted butter, at room temperature
4oz cream cheese, at room temperature
1/2 cup salted caramel sauce, I used Trader Joe's
2 cups powdered sugar
2 TBSP milk (to thin)
Instructions
For the Brioche:
For the Sponge:
Combine the yeast and milk in the bowl of standing mixer fitted with a paddle attachment and whisk until the yeast is dissolved.
Stir in the sugar and flour, forming a thick batter.
Cover with plastic film and let rest in a warm environment for 30-45 minutes.
As fermentation begins, bubbles will form.
For the Dough.
Add the bread flour and salt to the sponge, then add the eggs.
Mix on low speed for 2 minutes, or until the eggs are absorbed.
Increase the speed to medium and knead the dough for 5 minutes.
The dough will eventually begin to slap around and pull away from the sides of the bowl.
Then it will form a ball on the paddle.
Finally it will relax and reach back out to the sides of the bowl.
At this point, it will be a shiny, satiny dough.
While all of this is going on, don't walk away.
Watch the transformation and hold on to the mixer when necessary, since it may jump around.
On medium speed, add the butter, 2 tablespoons at a time.
Stop the mixer and scrape down the sides of the bowl occasionally.
Knead until the dough is shiny and smooth, about 5 minutes.
Scrape out the dough, wash and dry the bowl, and coat it lightly with oil.
Place the dough in the oiled bowl and turn it so the top is coated with oil.
Cover with plastic film and let rise at room temperature until doubled in volume, about 2 hours.
After the dough has doubled in volume, press down to deflate, folding one half into the other. Fold two or three times, either in the bowl or on a lightly floured surface.
Cover with plastic film and place in the refrigerator for at least 4 hours or overnight. (If you don't have that much time, you can let the dough rise for the second time at room temperature. It will take 45-60 minutes.) This is the second rise
For the Brown Sugar Apple Filling:
In a large skillet melt butter and add apples.
Saute over medium heat for 5 minutes as apples start to soften,
Cover the skillet with a lid and let the apples steam for 5 minutes with the heat on.
Add the brown sugar and bring to a boil.
Turn down the heat to low and put lid on again for another 5 minutes.
Remove apples from heat but leave lid on while they cool.
Once cool either run through a food mill or blender to make applesauce like consistency.
Forming the Buns:
Turn the dough out onto a lightly floured work surface.
Using a rolling pin, roll it into a rectangle approximately 12×18 inches.
Spread apple filling on top of the dough, leaving a 1-inch margin at the top edge.
Starting from the long side closest to you, roll up the dough like a jellyroll.
Transfer the log to a baking sheet, cover withy plastic film, and freeze for 10 minutes.
This will make cutting the buns clean and even.
Using a bench scraper or chef's knife, cut the log crosswise into 12 pieces, about 1 ½ inches thick.
Place a bun cut side up 1 inch apart in a cake pan.
Cover the dough with plastic film and let rise for 1 ½-2 hours (10 to 20 minutes if the second rise was at room temperature), or until the buns have doubled in size.
Toward the end of the proofing, preheat the oven to 400F.
Adjust the rack to the center of the oven, with a baking sheet on the lower rack to catch drips.
Bake for 10 minutes.
Turn down the oven temperature to 350F and bake for 15-20 minutes more.
Remove from oven and let cool on wire rack while you prepare icing.
For the Icing:
Using a stand mixer with a paddle attachment beat together the butter and cream cheese until smooth.
Add the salted caramel and mix until fully combined.
Add the powdered sugar one cup at a time with mixer on low.