These Thanksgiving Jungle Juice Jelly Shots are made with cranberry juice, ginger ale, fireball whiskey, red wine, and Cranberry gelatin.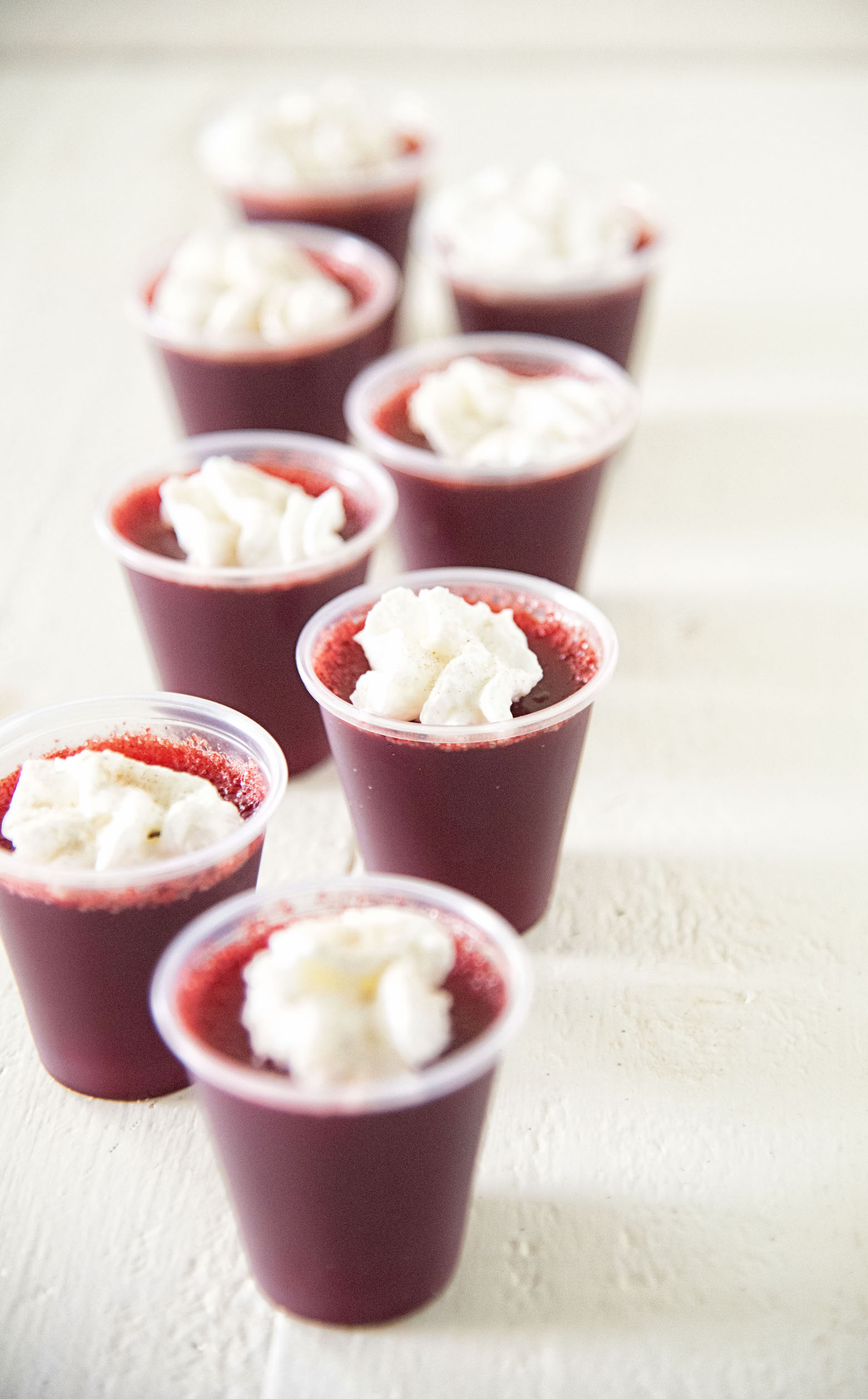 Well, it was Thanksgiving yesterday.
For me.
Probably not for most of you.
This year I didn't even bother making a meal.
My husband never gets to take it off usually and since we don't eat meat anymore, I didn't see a reason to make a big meal.
The dogs disagreed with that. 😛
I went out day drinking with a goalie friend and we wore turkey hats in hopes of people stopping and asking why we had turkey's on our heads.
I'm sure the Prime Minister of Canada will be happy to know that we educated 8 people that it was Canadian Thanksgiving and that yes, such a thing existed.
Holidays usually mean family.
And not always the family you want to spend time with. 😀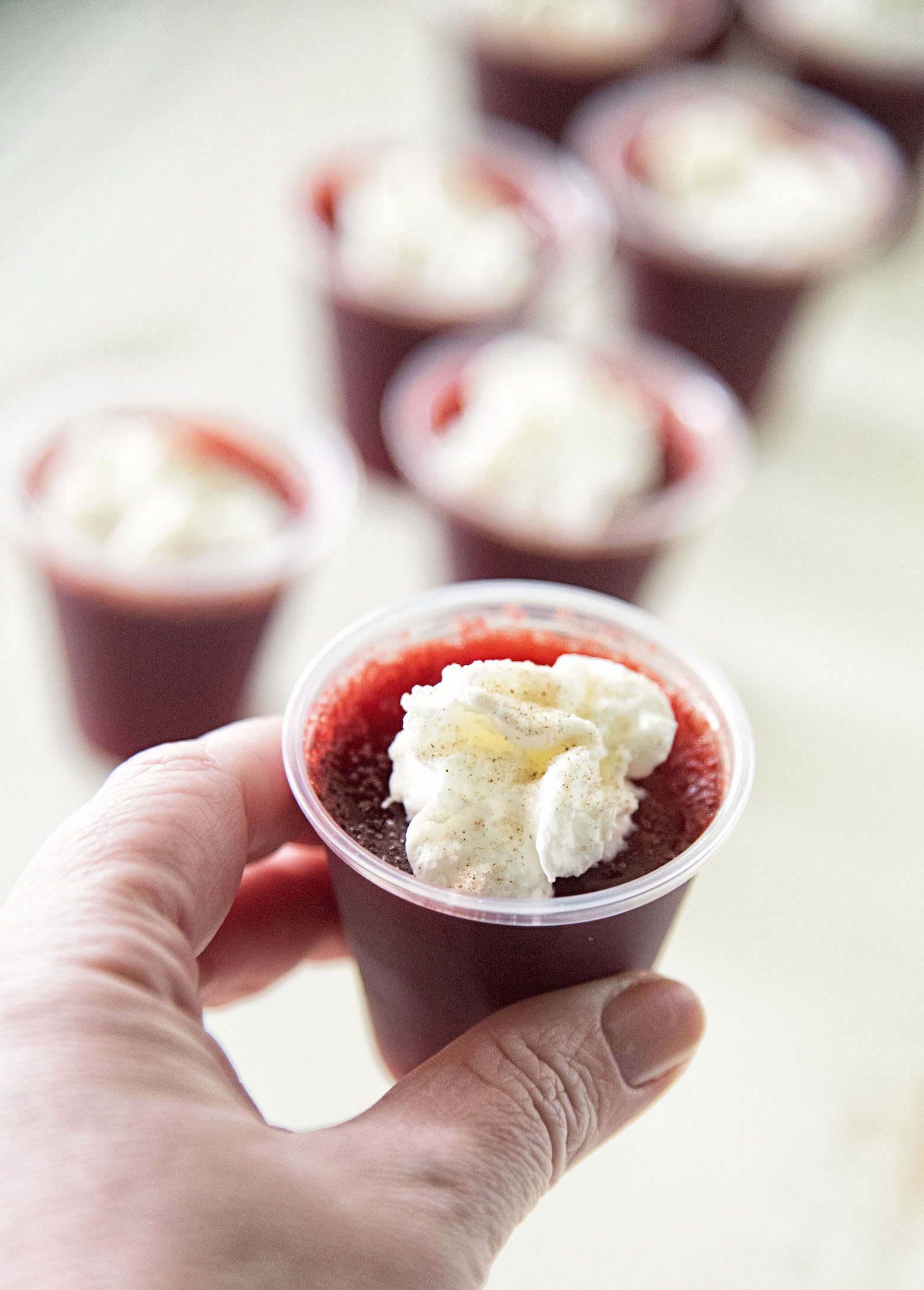 So that tends to lead to a little more drinking.
I wanted to find a holiday themed drink that used cranberry and was a touch on the strong side.
Found a recipe for Thanksgiving Jungle Juice on Delish and decided to adapt it into Thanksgiving Jungle Juice Jelly Shots.
A tad nervous as to how they would turn out because red wine and whiskey…but hey, they work.
I had really hoped to add a sugared cranberry as decoration but it's still too early to find cranberries in stores sadly.
So I went with cinnamon sugar.
For any of you having to spend time with relatives you don't want in the coming months…these Jelly Shots are for you. 😀
And as always it's a great day to order my cookbook.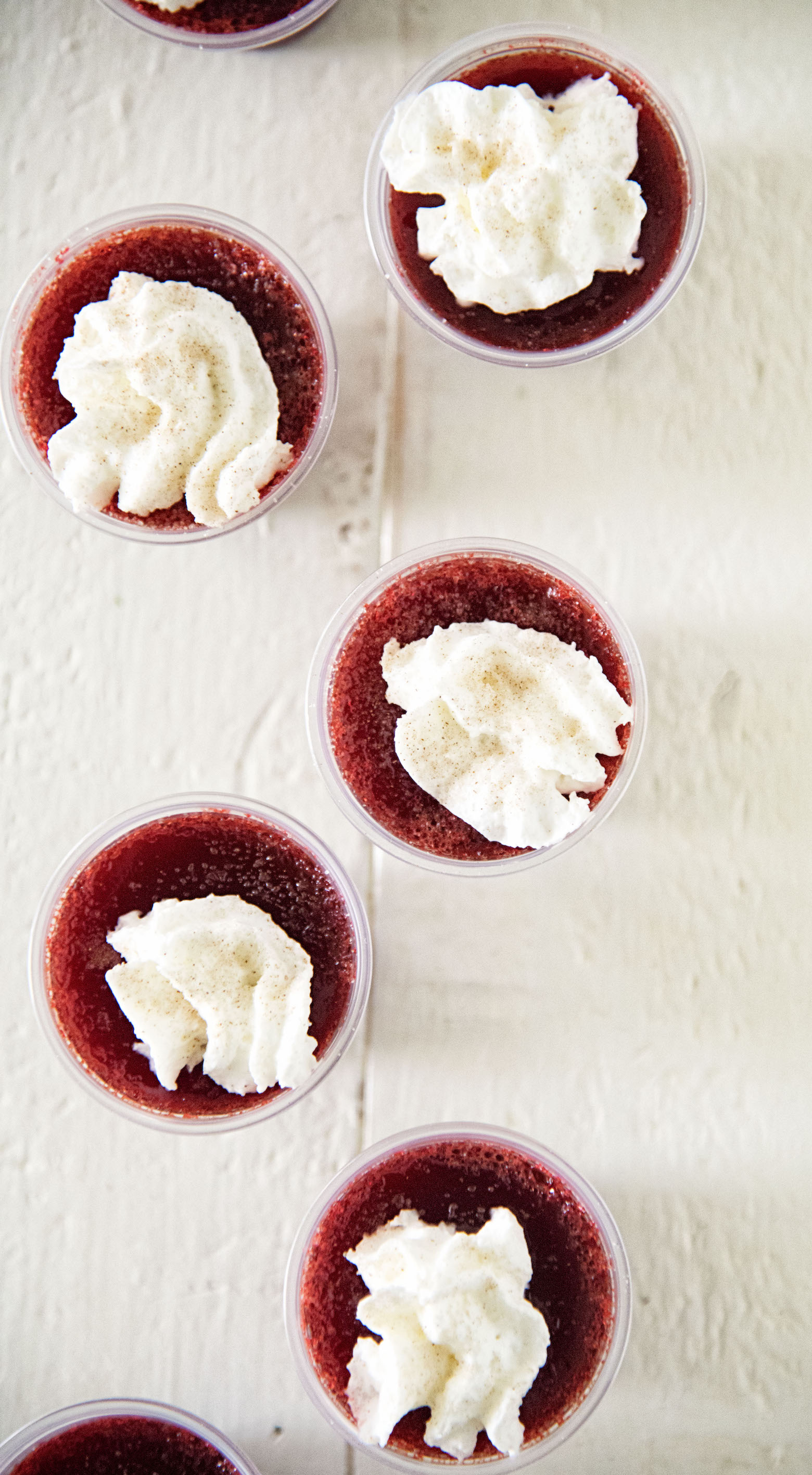 Want More Jelly Shots Recipes?
Peanut Butter Grape Jelly Jelly Shots
Dole Whip Pineapple Jelly Shots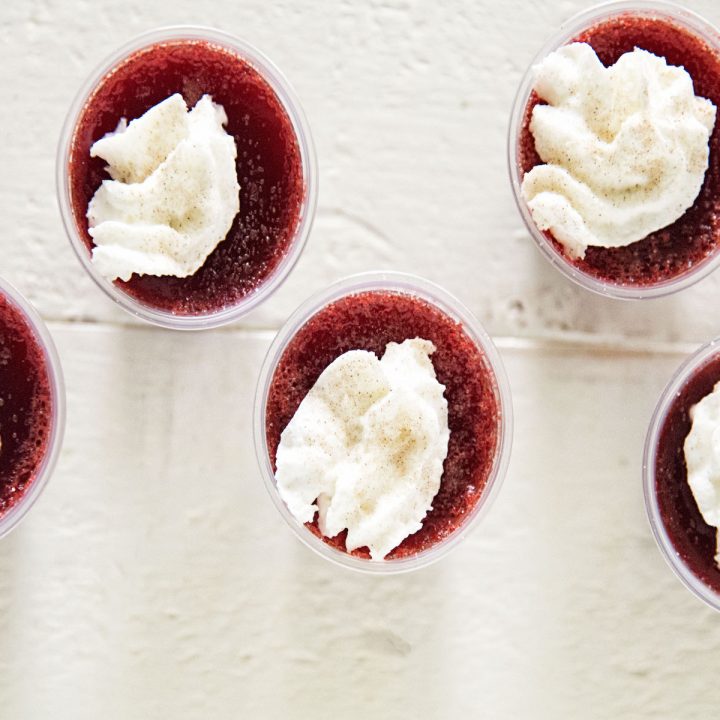 Thanksgiving Jungle Juice Jelly Shots
Ingredients
zest of 1 orange
2 cups cranberry juice
1 cup ginger ale
2 (3 oz) packages cranberry jello
1/4 cup red wine
1/2 cup Fireball whiskey
1/4 cup whiskey
Instructions
Bring 2 cups cranberry juice and orange zest to a boil.
Strain out the orange zest.
Empty gelatin powder into a large mixing bowl and add the boiling cranberry juice.
Continue stirring for two minutes or until the jello is completely dissolved.
Add in the cup of ginger ale, red wine, Fireball whiskey, and plain whiskey.
Stir until mixed and pour into 2oz. cups filled 1/2 to 3/4 of the way.
Top with whipped cream and cinnamon sugar.