These Gingerbread Oatmeal Eggnog Cookie Pies are my festive take on the Oatmeal Cookie Pies that were always in my lunch box as a kid.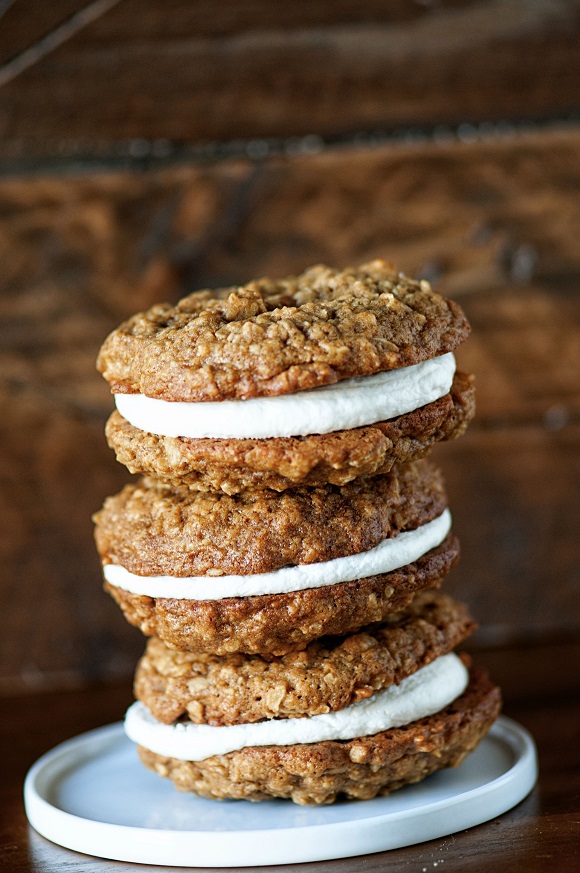 She's my…Gingerbread Oatmeal Eggnog Cookie Pie. Okay, so that doesn't roll off the tongue like cherry pie. 🙂
Like I said these Gingerbread Oatmeal Eggnog Cookie Pies are my holiday take on the Oatmeal Cookie Pies that were always in my lunch box as a kid. Except the cookie part is Gingerbread Oatmeal and the filling is and Eggnog Cream Filling…now that's festive. 🙂
I used a lollipop flavoring to get the eggnog flavors. They actually work really well for adding flavor to things and while the bottle looks small (it is) a little goes a long way…it's not like extract!
These wouldn't be the best for cookie exchange since they make 12…so you would be baking A LOT but they are great just to make for your family or people you like…haha, I just read that and it sounds like I implied you don't like your family. 😀
I used Quaker Oatmeal because that's what I always use (nope, not paid to say that).
Quaker is celebrating 100 years. In honor of that they are giving away a little holiday baking kit (just one this time). Again, this isn't sponsored just thought it would be fun. Here's what you will get:
Heart-shaped measuring spoons for holiday baking
Custom Quaker oven mitt
"Baked with love" baking tags – to package up holiday treats for your friends
Vintage Style Treat Boxes in Polka Dot, Chevron and Stripe
Cookie Exchange Invitations
Red and White Baker's Twine Spool
Recipe cards for some holiday baking inspiration
Of course, Quaker products
Here's the deal, I'm only giving you a few days to win…in hopes that it will arrive for you to do holiday baking with it. So you have from now until Thursday December 3rd, 8 pm PST to enter. Must be US resident. How do you enter? You can leave a comment here and tell me what you most look forward to baking this holiday season. And a bonus entry can be added if you leave a comment on my Facebook page under the link to this recipe.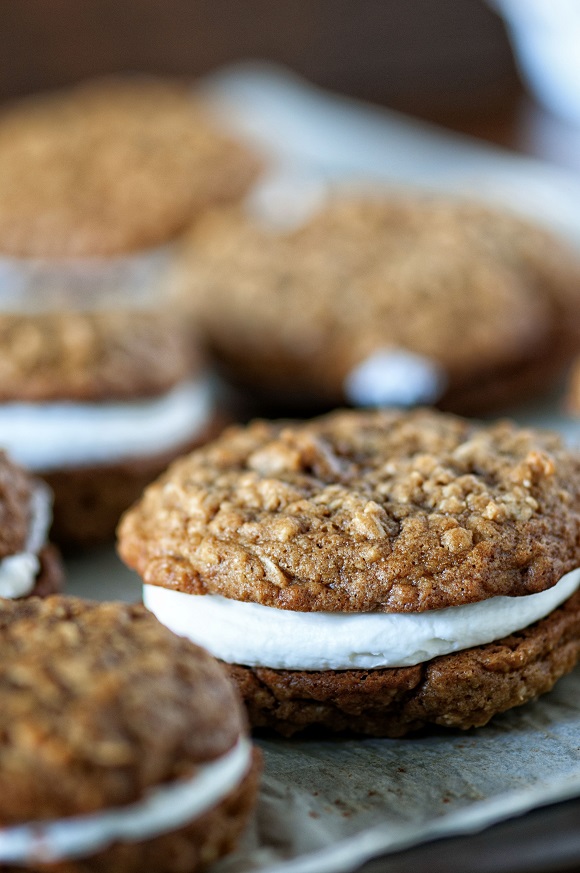 Gingerbread Oatmeal Eggnog Cookie Pies
1 cup unsalted butter, at room temperature
1 cup brown sugar, packed
2 large eggs
1/3 cup molasses
½ tsp. vanilla bean paste
1-3/4 cup all-purpose flour
1 tsp. baking soda
1 tsp. ground cinnamon
2 tsp. ground ginger
1/2 tsp. salt
3 cups oats (I used Quaker)
For the filling:
1 (7-ounce) jar marshmallow fluff
1/2 cup shortening
1/2 cup powdered sugar
1 tsp. vanilla bean paste
1/8 tsp. eggnog flavoring (it's pretty strong so a little goes a long way)
1 TBSP hot water
For the cookies:
Preheat the oven to 375F degrees.
Using a stand mixer with a paddle attachment beat together the butter and brown sugar until light and fluffy, about 3 minutes.
Add the eggs one at a time, scraping down the bowl after each addition.
Beat in the molasses, vanilla, and spices.
Add the flour, baking soda, and salt to the mixture, beat on low speed just until combined.
With the mixer on low, add the oats, mix until just incorporated.
Using a cookie scoop, place the dough balls 2 inches apart on the prepared pan. They will spread out.
Bake for 8 to 10 minutes.
Allow the cookies to cool on the pan for 5 minutes; transfer to a wire rack to cool completely.
Make the filling:
Using a stand mixer with the paddle attachment cream together all the ingredients until smooth and fluffy.
Spread or pipe the filling over the bottom side of one cookie, top with a second cookie to form a sandwich.