This Eggnog NY Crumb Cake with Spiced Rum Glaze has eggnog in the cake and is topped with lots of crumb and a rum glaze.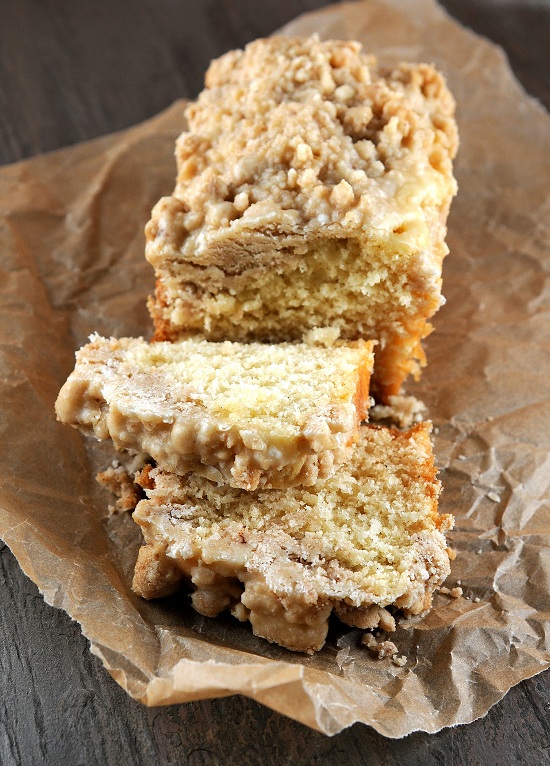 Dear Santa,
As usual this year the word "good" may be defined in a different way. 😀
I was always "good" at helping the economy buy always spending at least $100 at Costco or Target anytime I went.
Pretty "good" at supporting the dairy farmers by using lots and lots of butter.
As well as "good" at helping out the dentist of the world. 😛
I was "good" at breaking parts of my body.
Was "good" at swearing at my old printer that was always acting up.
I was "good" at swearing at myself for playing poorly at hockey as well as swearing at the people I was playing against.
Really, really, really "good" at pinning stuff on Pinterest.
I'm almost medal worthy on that…. at least a bronze.
And I'm "good" at adding caramel to everything. 🙂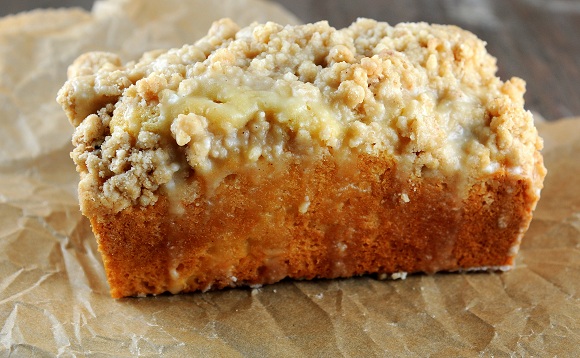 And even if you don't think any of that is "good" Santa I don't care because I got my Christmas gift early this year…no thanks to you.
FoodSaver Canada thought I was "good" enough to give me a FoodSaver.
I have always wanted one.
It truly was one of the few kitchen things I don't own but have always wanted to.
I've right now just been saving meat from Costco but I bought myself the marinating container so you will be seeing some of that.
Very excited!
Like jump up and down spin around excited.
And speaking of actually good…this Eggnog NY Crumb Cake with Spiced Rum Glaze.
Holy Moly I have been on a roll of making some seriously good treats lately!
Could be the Plugra butter. 🙂
Nonetheless it's good.
Yes there is rum in there.
You can use extract but I don't know how much because around here rum extract is called rum. 😛
It's a great day to buy my cookbook.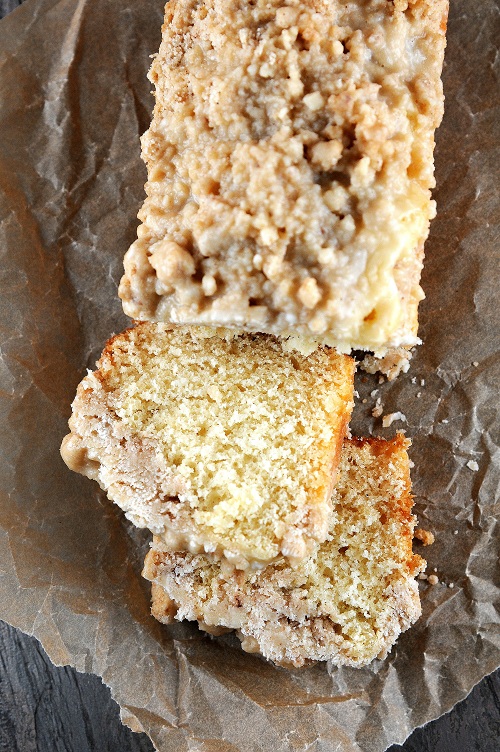 Want other Crumb Cake Recipes?
Caramel Turtle Pumpkin Crumb Cake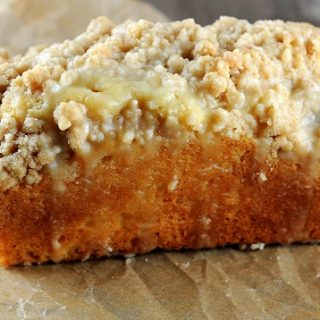 Eggnog NY Crumb Cake with Spiced Rum Glaze
Ingredients
For the Crumb Topping:
1/3 cup granulated sugar
1/3 cup brown sugar, packed
¼ tsp. salt
¾ tsp. cinnamon
8 TBSP unsalted butter (again I used Plugra), melted and then slightly cooled
1 ¾ cup cake flour
For the Cake:
½ cup unsalted butter (I used Plugra), at room temperature
1 cup granulated sugar
2 large eggs
1 cup eggnog (spiked or not your choice)
1 cup sour cream
½ tsp. vanilla bean paste
¼ to ¾ tsp. of nutmeg depending on how much nutmeg you like
2 ½ cups cake flour
2 tsp. baking powder
½ tsp. baking soda
Pinch of salt
For the Icing:
3 TBSP eggnog
3 TBSP Spiced Rum
2 TBSP melted butter
1 ½ cups powdered sugar
Instructions
For the Crumb Topping:
In a medium sized bowl, put sugars, salt, and cinnamon and stir until combined.
Add the melted butter and then cake flour and mix (hands work best for this). Set aside.
For the Cake:
Preheat oven to 325F.
Spray baking spray 4 mini loaf pans Chicago Metallic Non Stick Mini Loaf Pans, Set of 4(I use these all the time) and set them aside.
In a stand mixer with a paddle attachment cream together the butter and sugar until light and fluffy, about 3 minutes.
In a separate bowl add the eggnog, sour cream, vanilla bean paste, and eggs and whisk until fully combined.
In another bowl add flour, nutmeg, baking powder, baking soda, and salt.
Alternate adding dry ingredients, then wet, then dry, then wet, and finish with dry. Mix on low until fully combined. Be careful to not over-mix.
Using a regular size ice cream scoop (Norpro Stainless Steel Scoop, 56MM (4 Tablespoon)) scoop three scoops per pan. Even out with a spatula.
Evenly divide crumb topping (as evenly as you can) into pieces over top of the batter.
Bake for 30-35 minutes depending. Check by using a wooden skewer or knife to see if it comes out clean.
Let cool on wire rack.
While cooling make glaze. Simply whisk together the eggnog, rum, butter, and powdered sugar in a medium bowl.
When cakes are cool pour glaze over the top of them. Let it firm up.