These Chocolate Bourbon Eggnog Cupcakes are chocolate cupcakes flavored with bourbon, topped with a chocolate bourbon eggnog buttercream.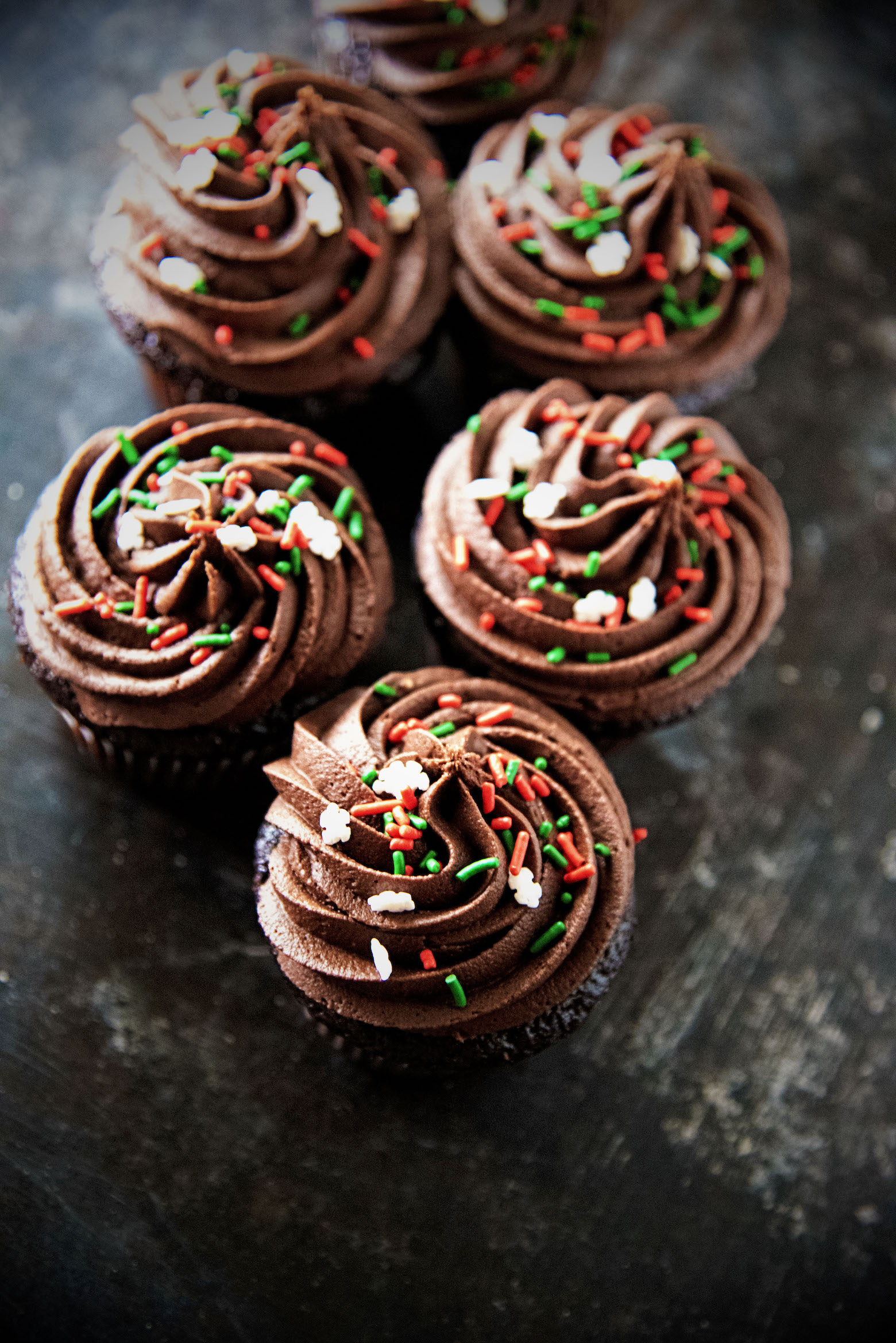 Every year my hockey team, on the last game of December have what we call Ugly Sweater Game.
We all wear ugly sweaters and most of us wear them over our uniforms for the warm up.
Sometimes the team we are playing against don't care if we wear them during the game.
Some teams do mind.
Those are the teams that take beer league hockey way too serious.
Getting a bunch of guys to do anything sometimes is challenging. 🙂
But I must say that many of them really step up.
And it's become quite a competition.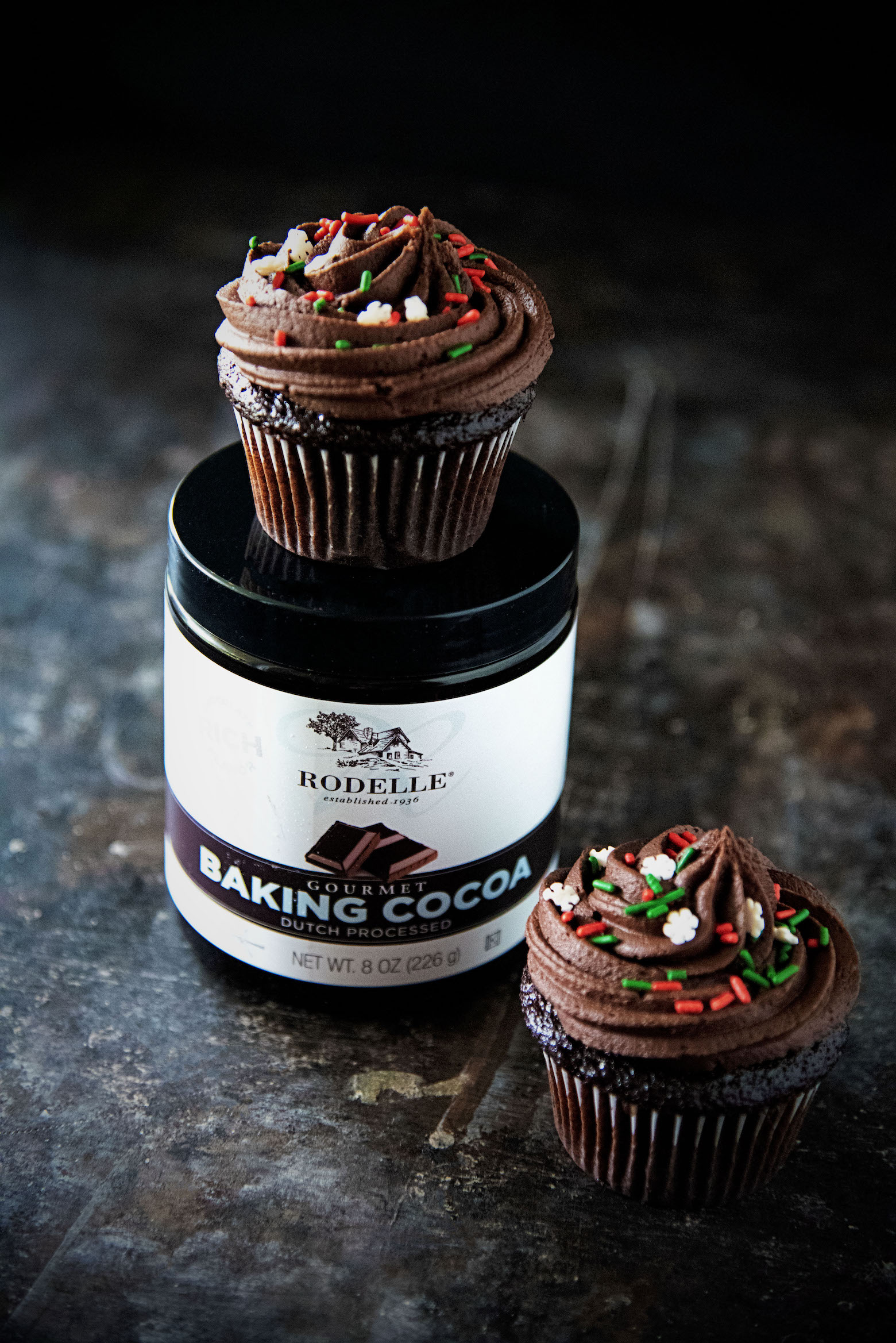 I get a used one off eBay every year.
This years may not stay on long since it's HEAVILY perfumed.
Not sure I can go a whole night wearing it.
Never fear though I have way too many back ups to bring along.
So I made these thinking this is what I was going to use as my sponsored post for Rodelle.
But then changed my mind because I wanted to do a cake.
Just because tall cakes are more impressive.
These cupcakes were a huge hit with the hockey team.
If you are a chocolate lover they were described as "OMG so chocolatey".
If you are an eggnog hater not to worry as these do not have a powerful eggnog flavor and the eggnog haters on the team still loved them.
Still if you are set against using eggnog simply substitute milk where ever you see eggnog.
Just make sure to use whole milk.
P.S. It's a great day to buy my cookbook Holy Sweet!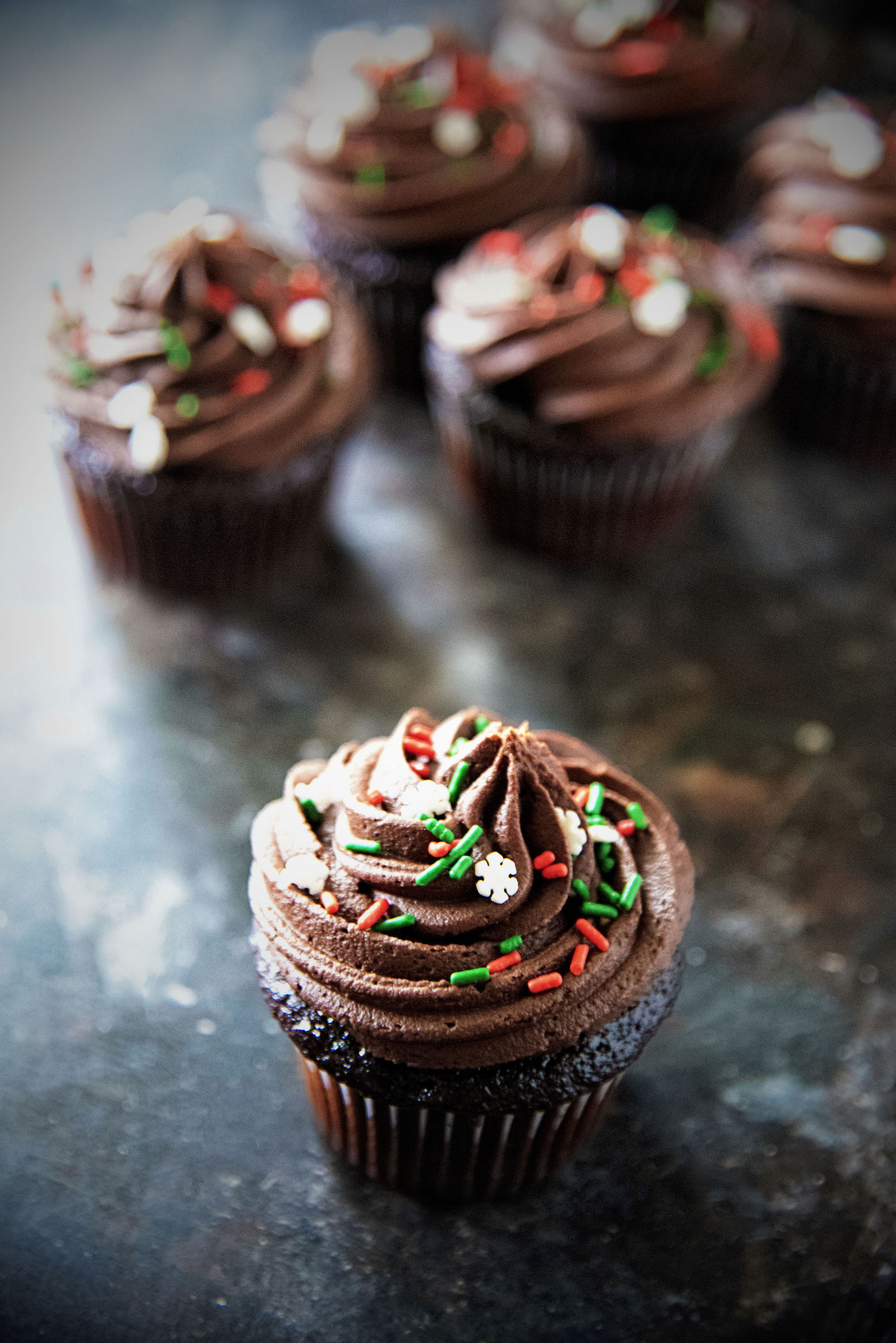 Want More Cupcake recipes?
Peppermint Mocha Latte Cupcakes
White Chocolate Dipped Orange Cranberry Cupcakes
Peppermint Bark Red Velvet Cupcakes
Orange Glazed Bourbon Soaked Fruitcake Cupcakes
Chocolate Glazed Rocky Road Cupcakes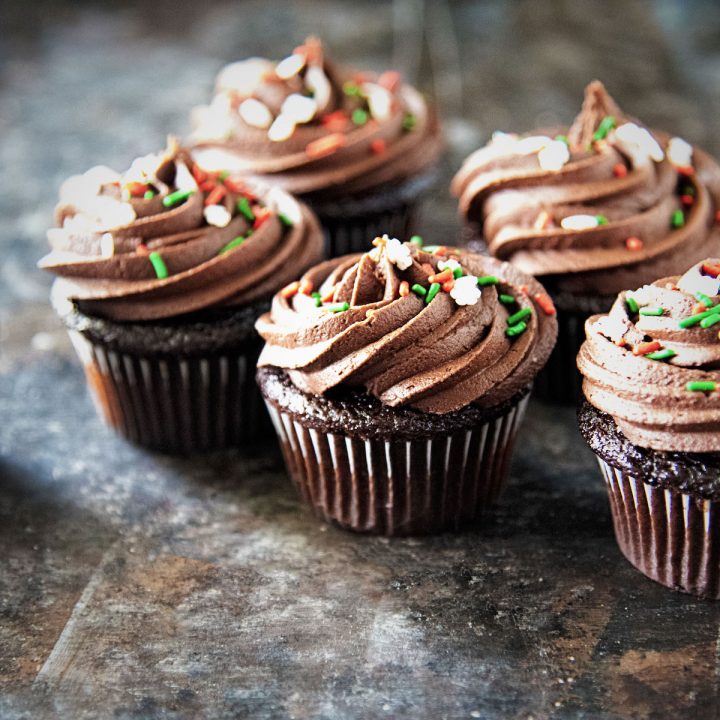 Chocolate Bourbon Eggnog Cupcakes
Ingredients
For the Cupcakes:
2 cups granulated sugar
1 3/4 cup + 2 Tbsp all-purpose flour
3/4 cups unsweetened cocoa powder (I used Rodelle)
2 tsp baking powder
1 1/2 tsp baking soda
1 tsp salt
2/3 cup vegetable oil
2 TBSP Bourbon
1 cup eggnog
2 eggs, at room temperature
2 tsp vanilla extract
1 cup hot water
Chocolate Bourbon Buttercream Frosting:
1 cup unsalted butter, at room temperature
4 cups powdered sugar
1/2 cup cocoa powder
1 tsp vanilla extract
3-5 Tbsp Bourbon
Instructions
For the Cupcakes:
Preheat oven to 350F and line muffin tin with cupcake liners.
Using a stand mixer with a paddle attachment mix together sugar, flour, cocoa powder, baking powder, baking soda, and salt.
Add in vegetable oil and eggnog.
Mix on low speed until fully incorporated.
Add eggs, one at a time, stirring after each addition.
Stir in vanilla extract.
Add hot water and stir until the mixture is evenly combined. The batter is VERY thin.
Fill prepared muffin tin cavities just over 2/3 of the way full.
Bake at 350F for 18-22 minutes (use the toothpick test to check).
Allow cupcakes to cool completely before frosting.
Chocolate Buttercream Frosting:
In electric mixer cream butter until light and fluffy, about three minutes.
Add sugar, one cup at a time until completely combined
Stir in cocoa powder and then vanilla extract. Pause to scrape down the sides of the bowl with a spatula.
Add bourbon, 1 Tbsp at a time and beating on medium-high speed after each addition for about 15 seconds until desired icing consistency is reached (the less bourbon you use, the stiffer the frosting will be).
Pipe icing on completely cooled cupcakes and add sprinkles (if desired).