This Eggnog Bread Pudding with Spiced Rum Caramel Sauce is made with butter flake rolls and an eggnog custard base.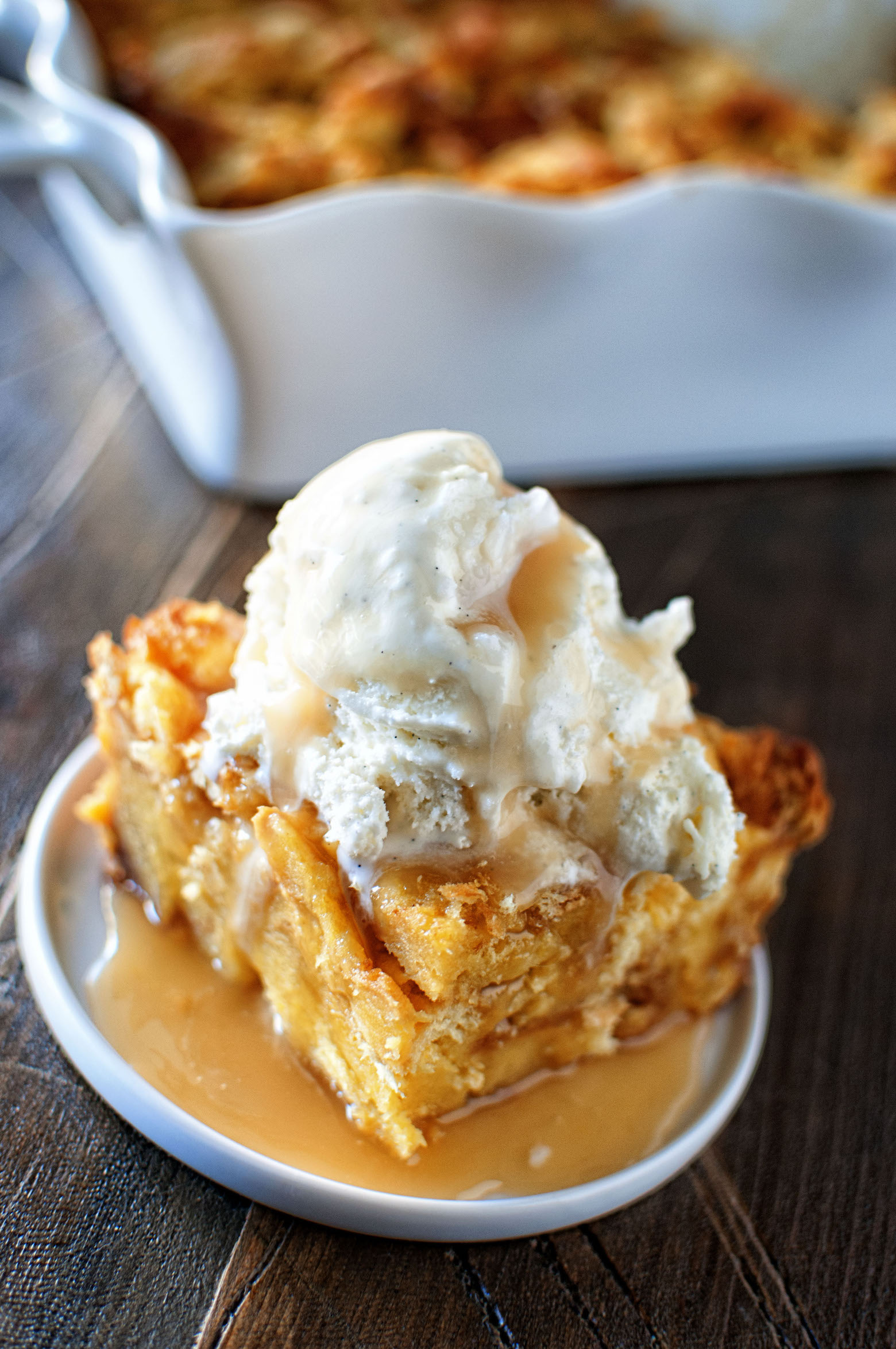 You know when someone sends you an email and you read it on your phone…only to mentally think you emailed back…but you didn't?
That happens with recipes too.
When you have a blog that has been around for almost 13 years now you sometimes forget what recipes you did and what recipes you made and did NOT put on the blog.
Eggnog bread pudding is a great example of this.
I make eggnog bread pudding every year at this time.
So I naturally assumed that I had put the recipe up on the blog.
Turns out…no I had not.
Luckily, when I mentioned I was making eggnog bread pudding a friend asked if the recipe was going up on the blog I told her it already was.
She text me back and was like ummm, I must be an idiot because I can't find it can you send me the link.
The idiot was me. 🙂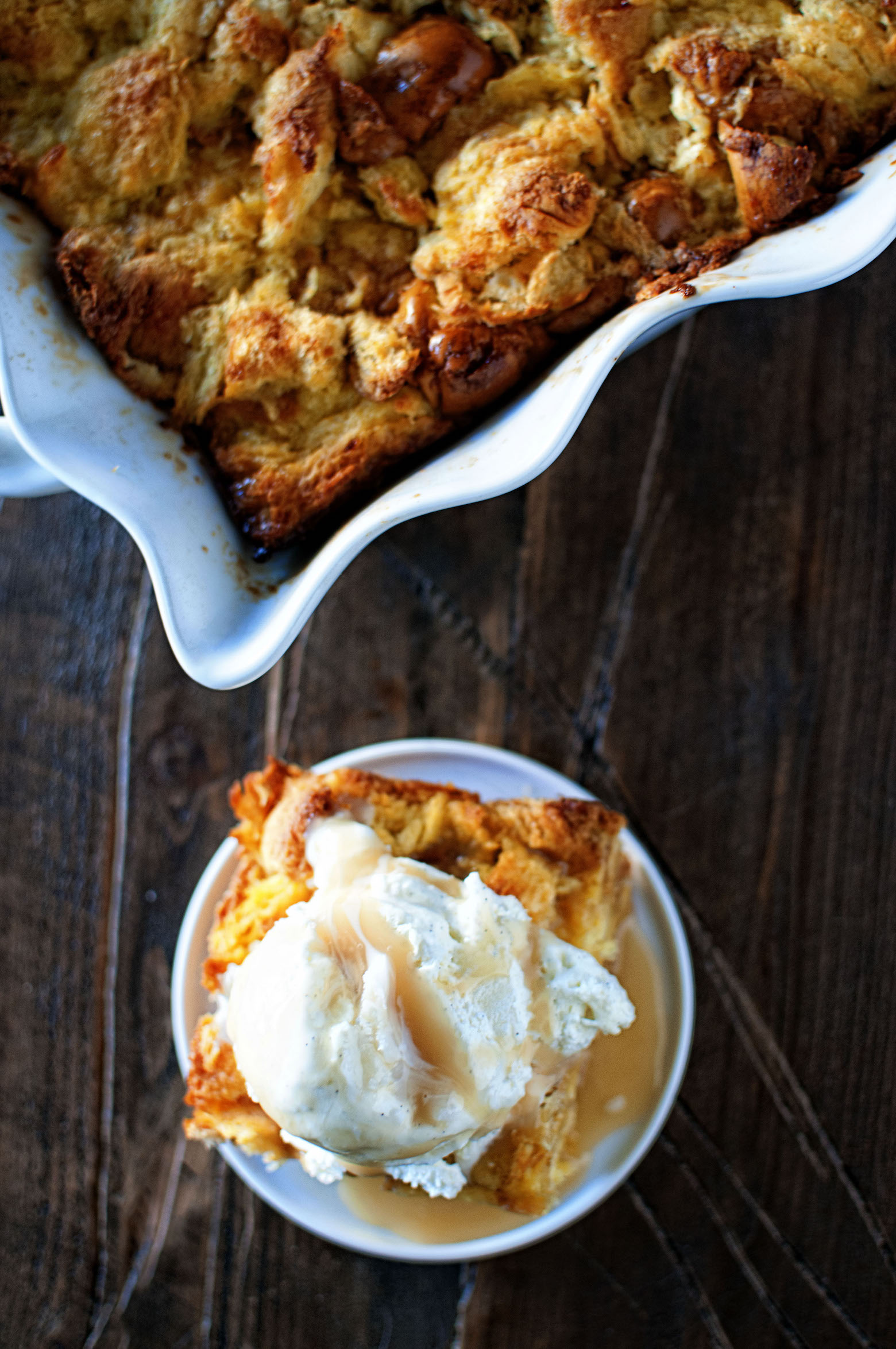 So this time I made sure to take pictures of this Eggnog Bread Pudding with Spiced Rum Caramel Sauce.
It's super easy to make…all bread pudding is for that matter.
Ironically, I dislike eggnog as a drink.
I like it in desserts and in a latte but not on it's own.
Anyone else crazy like me?
Normally I make a whiskey caramel sauce but I have used so much whiskey lately in baked goods that I was running low.
So I turned to spiced rum.
Spiced rum in caramel sauce for the record is very yummy.
I should have been making it all along.
The caramel makes for a big batch but you will need some of it to make frosting in a recipe coming up on the blog.
You can use just stale bread if you like but the butter flake rolls make this extra luxurious.
P.S. It's a great day to buy my cookbook Holy Sweet!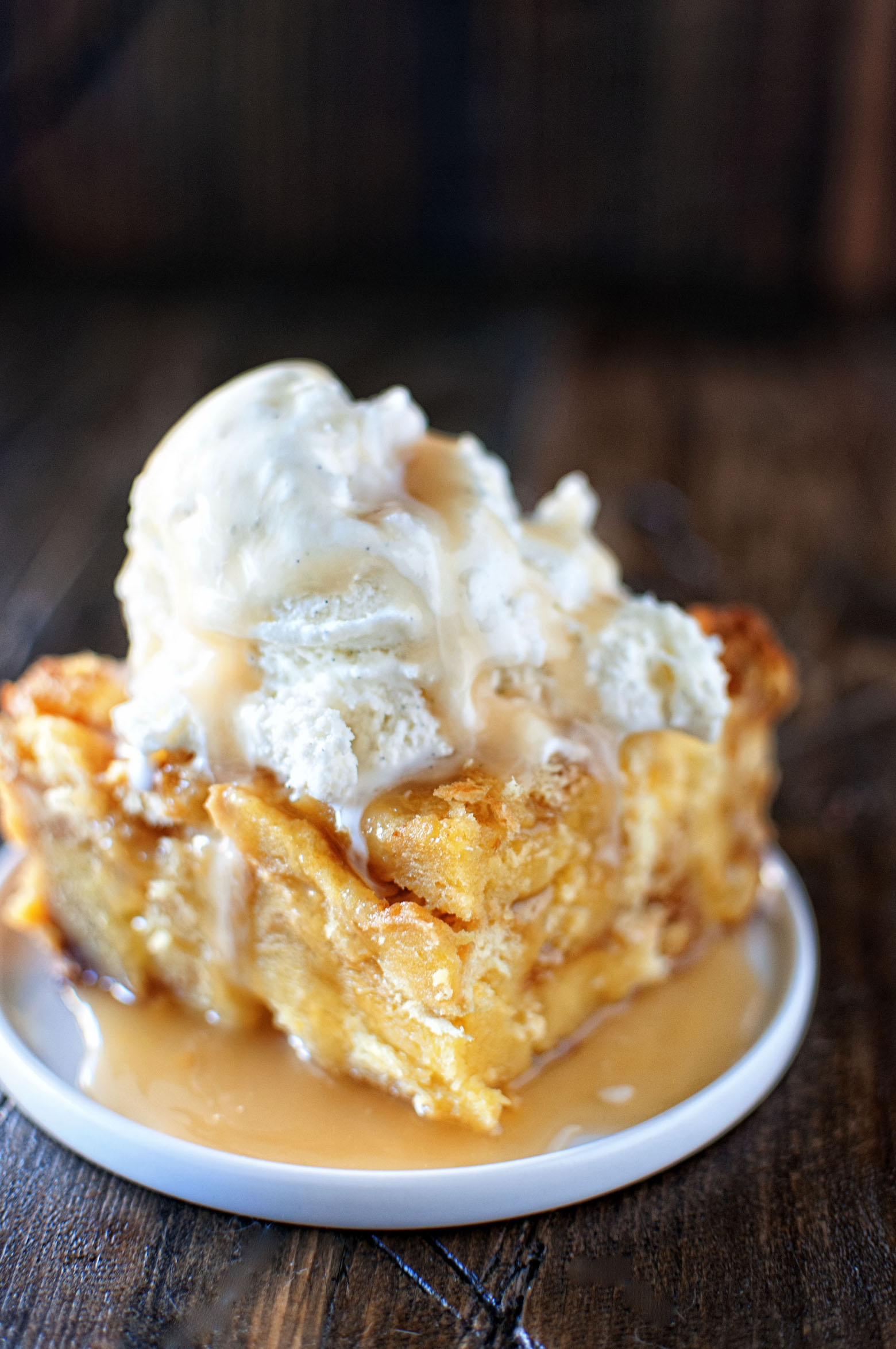 Want More Eggnog Recipes?
Chocolate Bourbon Eggnog Cupcakes
Gingerbread Oatmeal Eggnog Cream Pies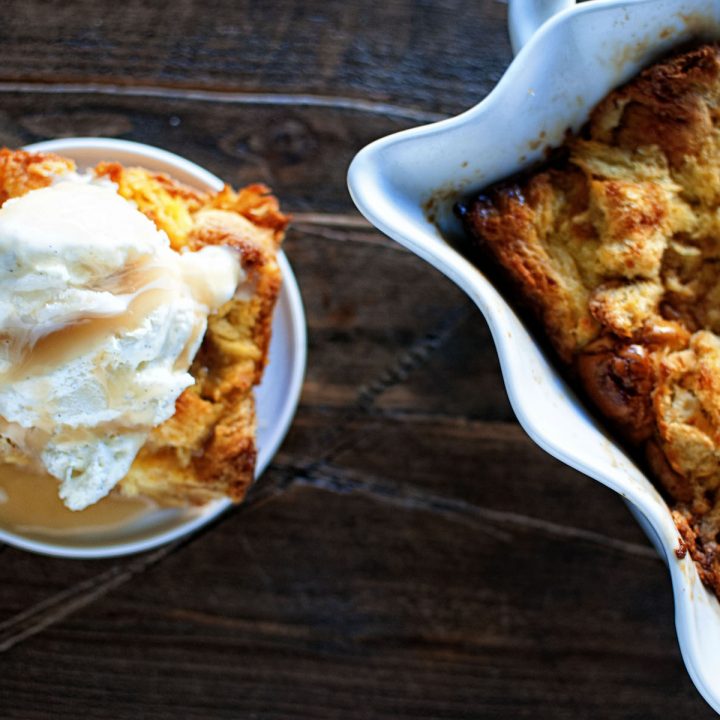 Eggnog Bread Pudding with Spiced Rum Caramel Sauce
Ingredients
For the Bread Pudding:
10 Butter Flake rolls
1 1/2 cups Eggnog
1 1/2 cups heavy whipping cream
6 egg yolks
1/4 tsp. fresh grated nutmeg
1 cup granulated sugar
pinch of salt
For the Spiced Rum Caramel Sauce:
2 cups granulated sugar
1/2 cup Spiced Rum (I used Sailor Jerry)
1 tsp. fresh lemon juice
2 cups heavy cream
½ tsp salt
Instructions
For the bread pudding:
Tear 1/2 of the rolls into pieces and place into a baking dish (9-x-13-inch) that has been sprayed with baking spray or lightly coated in butter.
Mix the egg yolks, sugar, nutmeg, and salt together in a bowl.
Then whisk in the heavy cream and eggnog and beat until fully incorporated.
Pour 1/2 the custard over the bread.
Press down the bread pieces until the bread is soaked with the custard.
Add the remaining roll pieces.
Top with remaining custard.
Press down the bread pieces until bread is soaked with the custard.
Don't feel like you have to use all the custard. How much bread will soak up changes.
Place pan into another pan that will hold a water bath.
Bake the bread pudding for 45 minutes at 350F until golden on top.
Cool for 10 minutes and serve warm.
For the sauce:
Combine the sugar, rum, and lemon juice in a heavy bottomed saucepan over medium heat. Cook, gently swirling the pan occasionally, until the sugar dissolves and starts to turn color.
Increase the heat to thigh and boil until the syrup turns a deep amber color, 4 to 5 minutes. ( I was impatient and did not get a good amber color this time).
Watch carefully, as it can burn quickly.
Immediately remove the pan from the heat and pour in the cream and salt.
Use a long-handled wooden spoon to carefully stir in the cream, as caramel has a tendency to hiss and splash as the cold cream hits it.
Place the pan over low heat and cook, stirring constantly, until the caramel thickens, 5 to 7 minutes.
The mixture should be the consistency of very thick cream. Let boiling sauce cool until it is just warm before serving.
To store, cover and refrigerate for up to 1 week.
To reheat the sauce, microwave, uncovered, for about 1 minutes on high.
Stir until smooth.
Caramel sauce adapted from Sticky, Chewy, Messy, Gooey by Jill O'Connor