This Eggnog Chocolate Fudge Bundt Cake is a rich chocolatey Bundt cake with eggnog and a ton of cocoa powder all glazed with more chocolate and eggnog.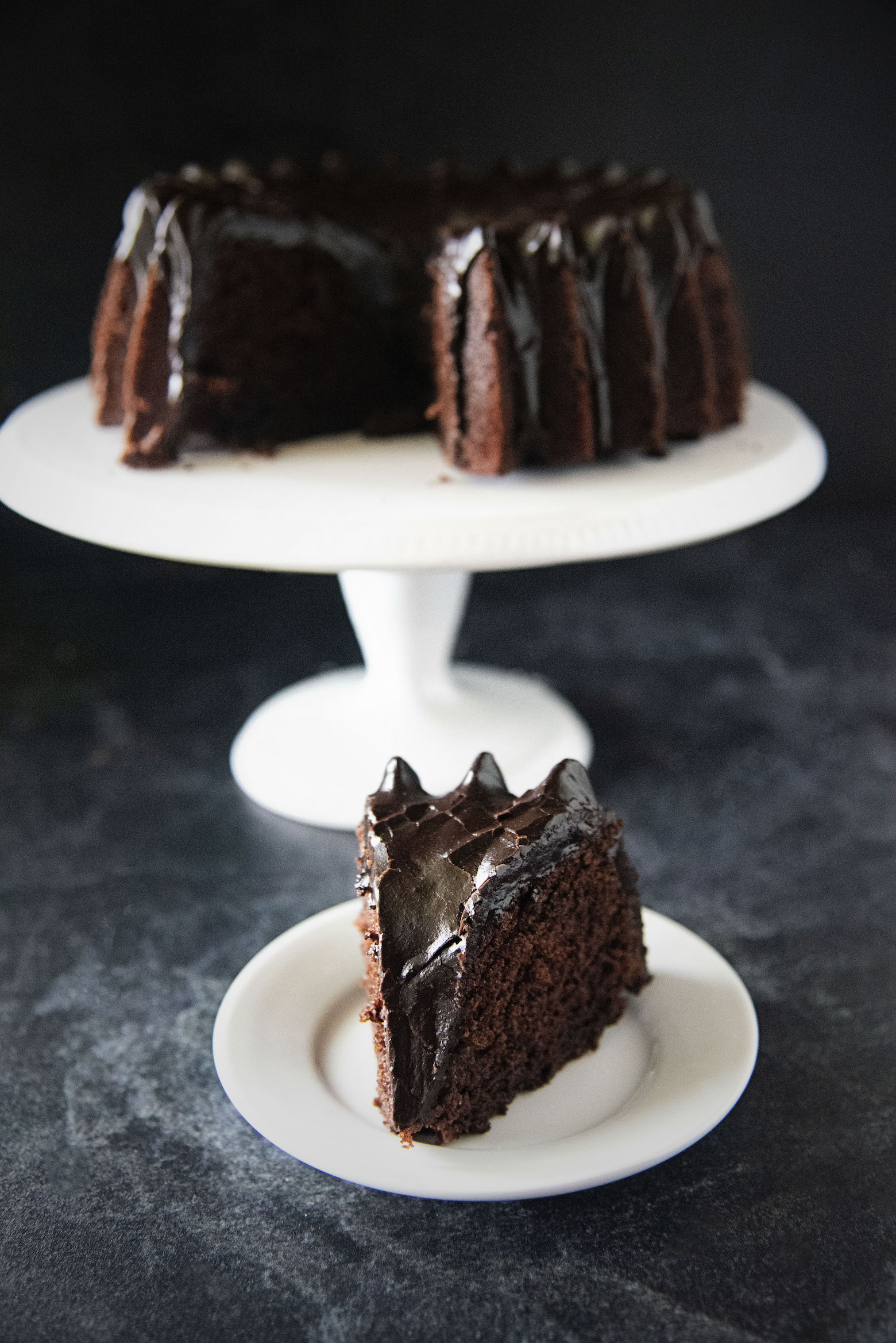 Let me just say that if I was on the early years of British Bake Off that Mary Berry would sure be proud of the shine I got on this cake.
I am one of the lucky ones in which my husband enjoys watching cooking shows.
Maybe not as much as I enjoy them but he usually doesn't want me to watch a new episode without him.
And it's fun because when I make comments or he makes comments from the show we know what the other one is referencing.
We were always amused at how obsessed Mary Berry was with shine on everything.
Like we are quite sure it's a fetish for her at some point.
And I picture everything in her house fully polished and shiny.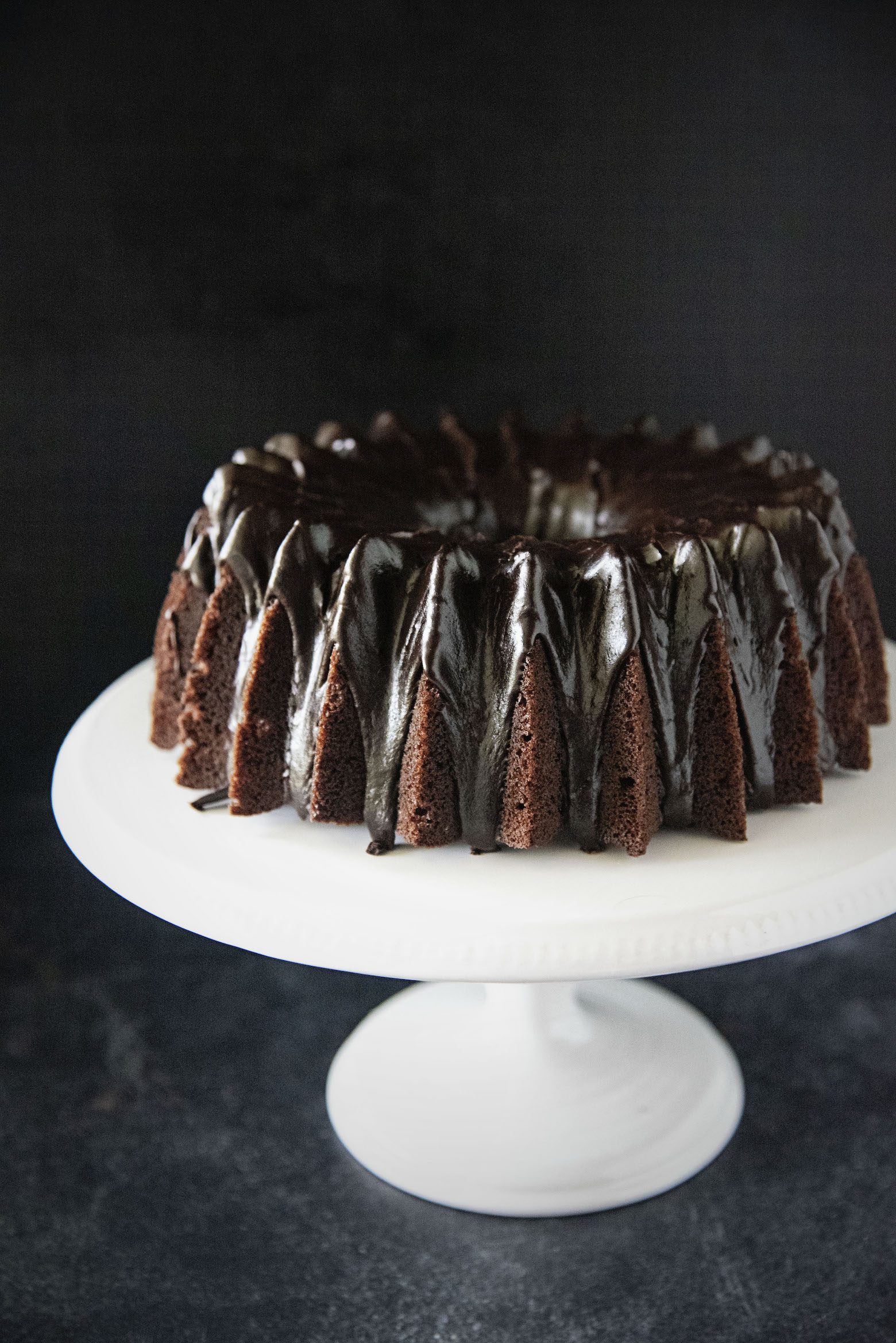 This Eggnog Chocolate Fudge Bundt Cake definitely does not lack shine.
Now full confession….I am not a giant eggnog fan.
Which would be hard to guess based on how many eggnog desserts I have on this blog.
But I do enjoy eggnog flavored desserts.
I think it's the nutmeg.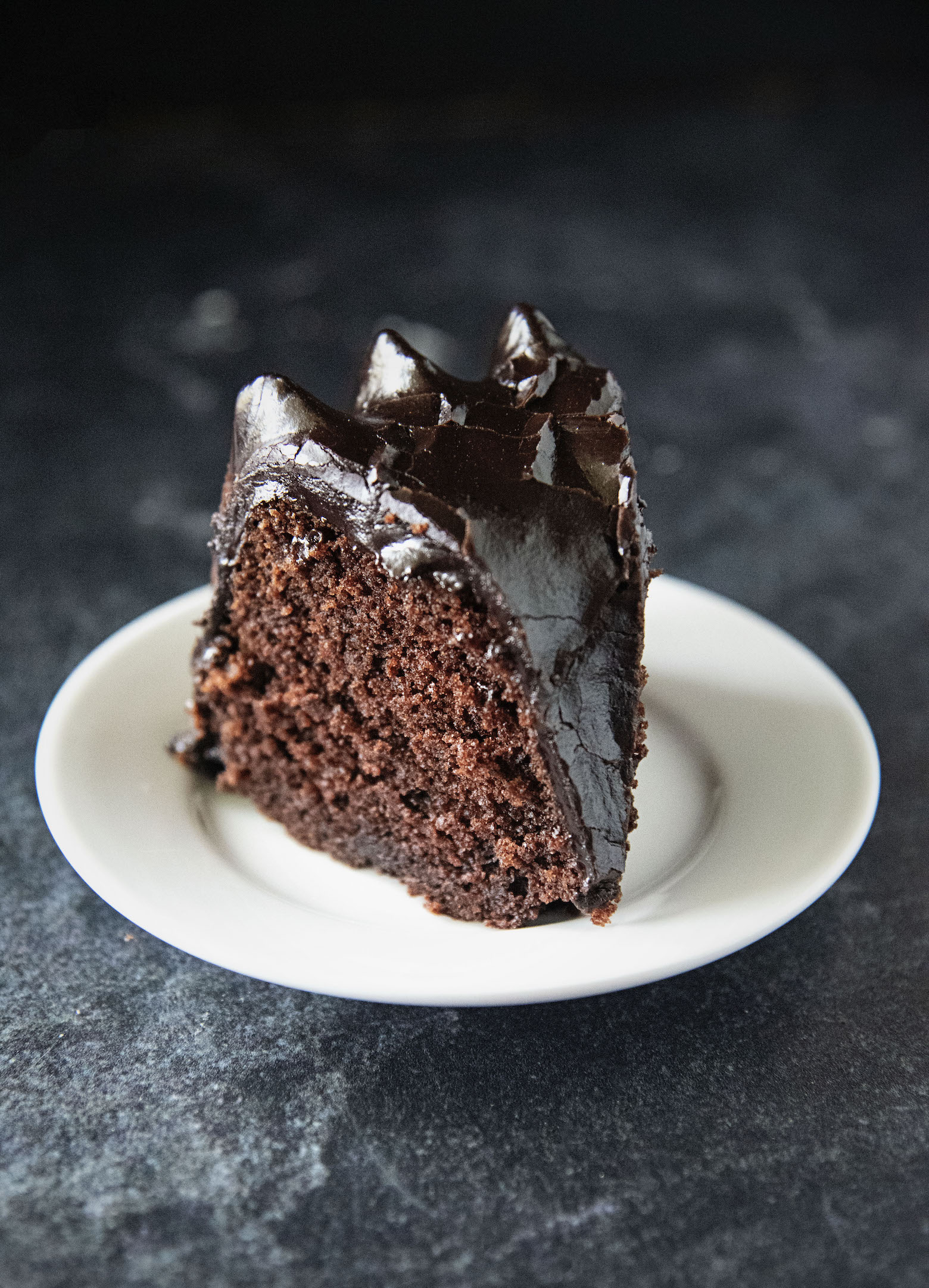 That being said I don't go for a bold eggnog flavor in most of my desserts.
I like for there to be a hint more than a knock you over the head kind of thing.
So this cake is definitely more chocolate than eggnog so if you are only a slight fan of eggnog like me you will like this cake.
If you are a big fan of eggnog, especially drinks, you should try Jessica's Iced Eggnog Lattes or maybe this Toffee Eggnog.
I don't have ice cream with the cake for the photos but this would be killer with some ice cream.
And if you are local and can get your hands on it, this cake would be fantastic with Sun Liquors Eggnog Ice Cream that Snoqualmie Ice Cream puts out.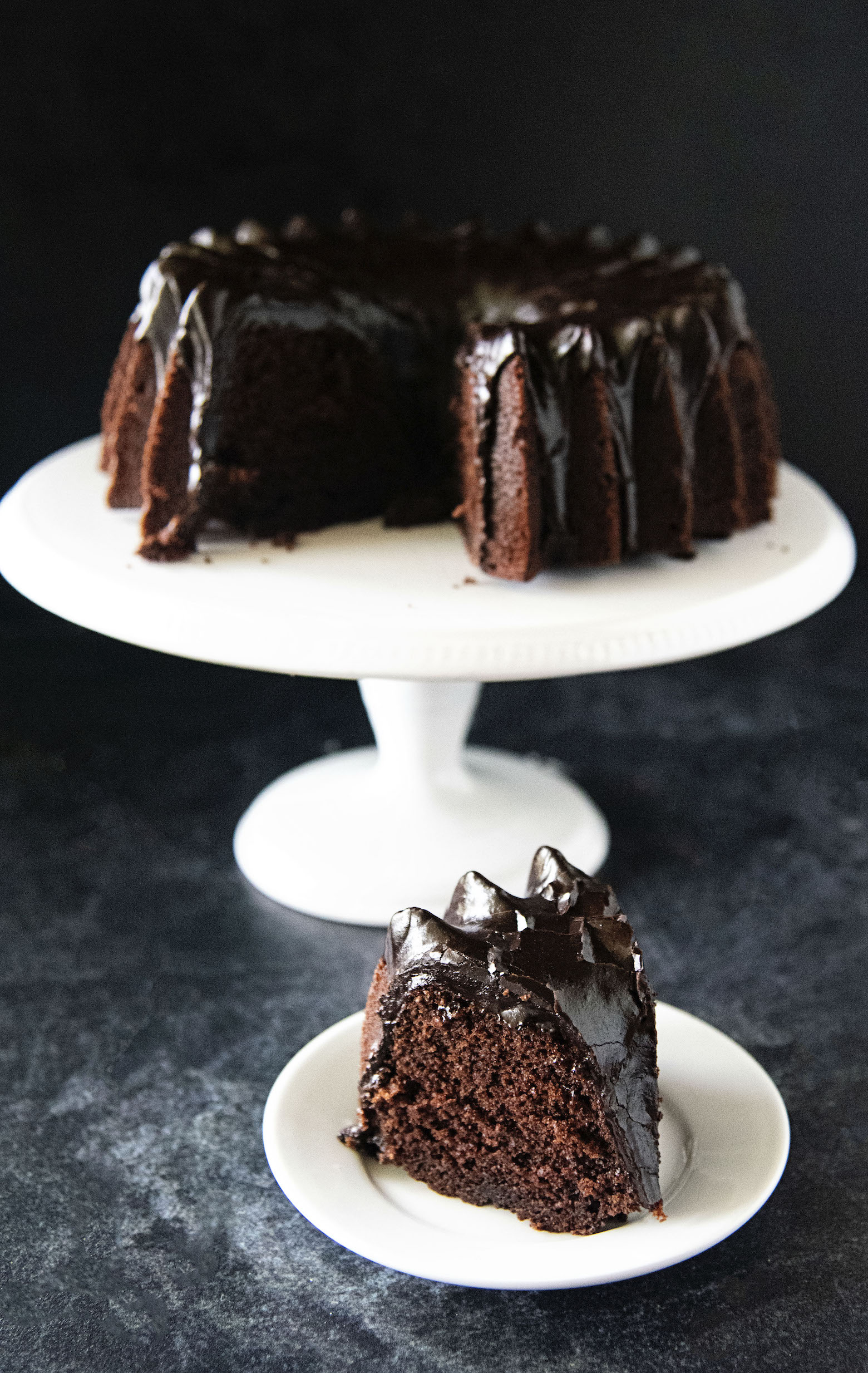 The pan I used is the Nordic Ware Brilliance Bundt Pan. I absolutely love it and I love how it holds glaze.
It was National Bundt Cake Day this past week.
Of course, like with most things I didn't know that until AFTER the day had passed.
But I'm always up for making a Bundt cake.
Especially since I'm obsessed with Bundt pans. 🙂
Speaking of Bundt's if you haven't gotten a hold of this little gem of a cookbook you need to.
And it's a great price so it's perfect for gift giving.
P.S. It's a great day to buy my cookbook Holy Sweet!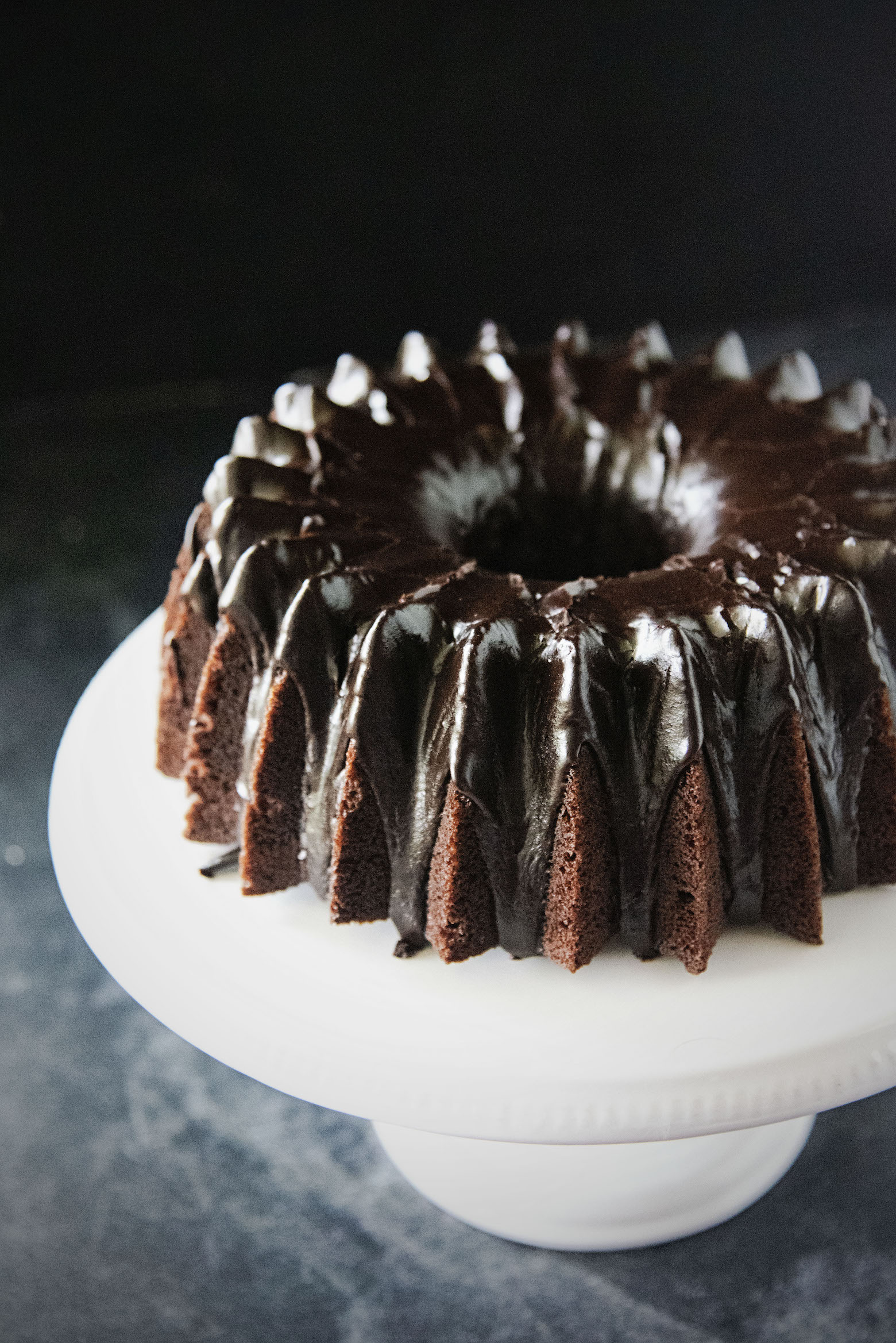 Want More Eggnog Recipes?
Chocolate Bourbon Eggnog Cupcakes
Gingerbread Oatmeal Eggnog Cream Pies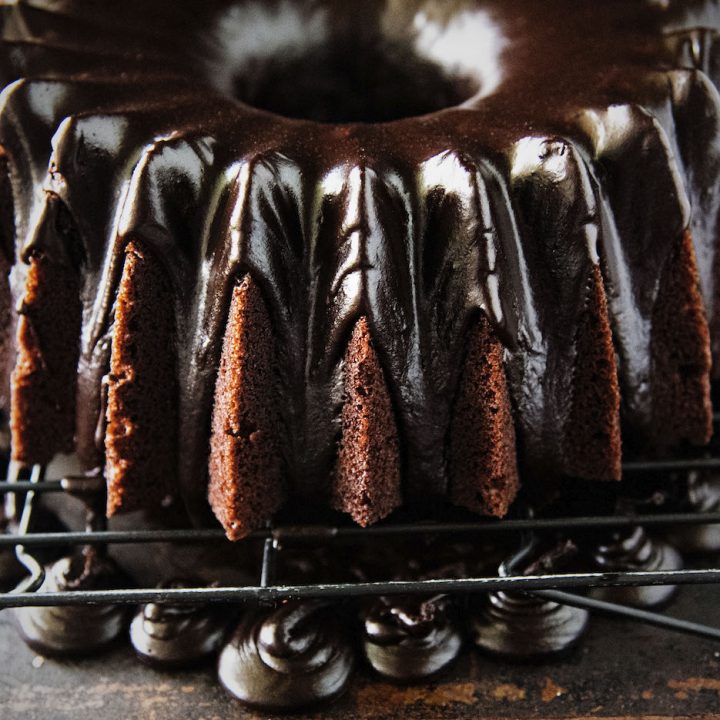 Eggnog Chocolate Fudge Bundt Cake
Ingredients
1 cup unsalted butter
½ cup unsweetened Dutch-processed cocoa powder (I used Rodelle)
1 cup eggnog
2 cups granulated sugar
2 large eggs
3/4 cup buttermilk, full fat
2 tsp. vanilla extract (I used Rodelle)
1 tsp. freshly ground nutmeg
1/2 tsp. ground cinnamon
2 cups all purpose flour
1 tsp. baking soda
¼ teaspoon salt
For the Glaze:
½ cup unsalted butter
1/3 cup eggnog
½ cup high-quality dark cocoa powder (I used Rodelle)
2 cups sifted powdered sugar (sifted then measured)
1 TBSP vanilla extract
¼ tsp. salt
Instructions
Preheat oven to 350°F.
Spray bundt pan with Baker's Joy or grease with butter and sprinkle with flour. Set aside.
Melt butter in large saucepan over medium-low heat, then add cocoa and whisk until smooth, it should look quite dark in color.
Add eggnog and whisk again until smooth continue to heat up the mixture but do not boil.
Remove from heat, add the sugar, eggs, buttermilk and vanilla to the warm cocoa mixture all at once, whisking until smooth.
In a large bowl add the flour, baking soda, nutmeg, cinnamon and salt all at once, and whisk until dry ingredients are completely incorporated.
Take the warm cocoa mixture and pour it into the flour mixture.
Mix until all the ingredients are thoroughly combined.
The batter is on the thick side so I like to use an ice cream scoop to get the batter into the pan and then smooth with a spatula.
Bake for 40-45 minutes or until the cake has pulled away slightly from the sides of the pan.
Let cool in pan about 20 minutes, then loosen with a knife or spatula and overturn onto a serving plate.
For the Glaze:
Melt butter over low heat in a medium saucepan.
Add eggnog, cocoa and powdered sugar and whisk until glossy.
Remove pan from heat, and whisk in vanilla and salt.
Let cool slightly, then pour over cake, letting it pool in the center.