This Cinnamon Sugar Eggnog Cake with Bourbon Glaze is filled with eggnog and cinnamon sugar and all topped in a thick bourbon glaze.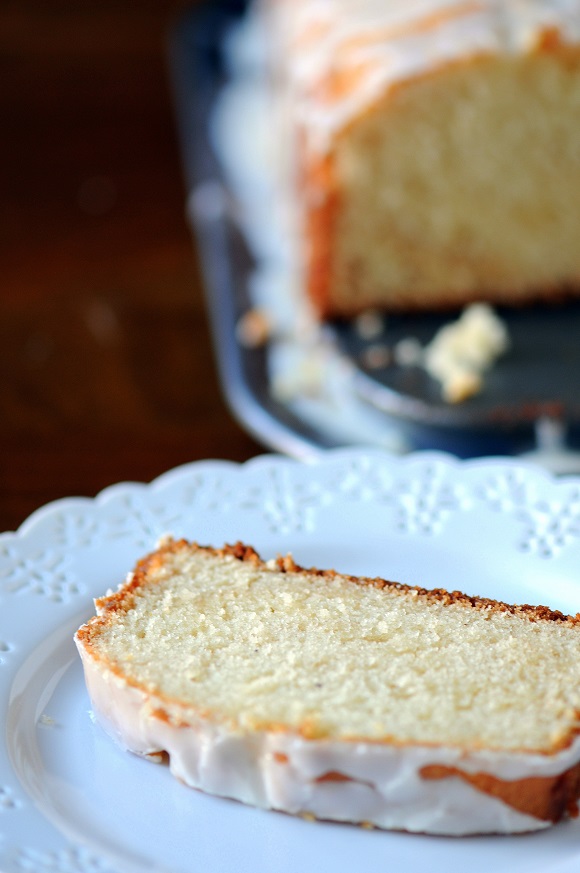 A email from a reader (no not a crazy one…that I know of, that's between them and their doctor 😛 ) and my responses are in italics.
Dear Peabody,
I started noticing that quite a few of my favorite bloggers seem to adapt a lot of your recipes yet I had never heard of you (please, please stop my head will swell too much with ego and pride). I've been spending the last few hours on your blog and all I can say is WOW, you rock (okay now we are talking…I'm feeling better now). I can't believe how many recipes you have and how long they have been around. You have been around so long, how old are you? (so, so very old…in fact who am I, why am I in front of the computer?).
I'm starting to think that a lot of your recipes get stolen did you know that (hmmm, well yes and no…and we will address stolen after this email)? I wanted to write you and let you know that I love your blog and I'm letting everyone know you are the real deal (so I'm like a bargain?) and to read your blog (also could you tell them to follow me on Facebook, Twitter, and Pinterest too…thanks).
A now faithful blog reader of yours,
K
First off thanks for writing the email.
I always do appreciate anyone taking the time out of their busy lives to let me know they like what I am doing.
Second, why yes I am old. 41 to be exact since you are asking but I'm pretty sure you aren't supposed to ask. 🙂
And yes many people have my recipes on their site.
Here are my feelings on that…
If you took my recipe and adapted it and took your own photos of what you made you are awesome and I love you…well like you.
If you took my recipe baked it exactly (and linked it) and took your own photos as much as I would have liked for you to adapt it a little as long as you did your own photos and didn't put my photos up than I'm more than okay with that.
My whole point of blogging is to make things that will inspire people to make themselves.
If you took my picture off my website and didn't ask but didn't include the recipe just a link to my site here is what I say…if you don't make money off your site I am more than okay with it.
Or if you run a blog and you put a picture and say I want to make this with a link or you do a round up that's okay.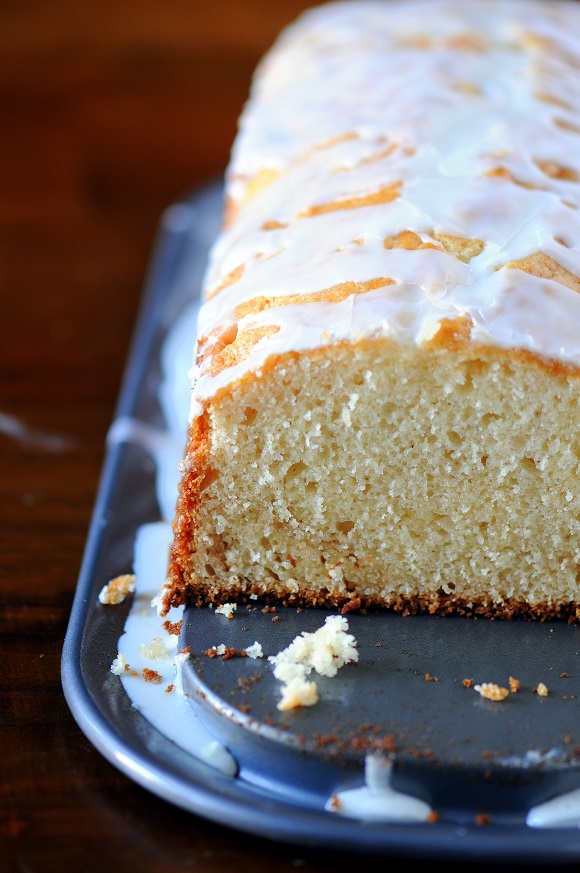 But if you are just one of these sites that puts the picture up in hopes of getting traffic (especially from Pinterest) then you suck and you need to get your own stuff.
If you have a blog where you put my photos and recipes up…you suck.
You are stealing.
I do go after you.
If you have a Facebook page where you steal my photos and post my entire recipe…you suck.
I do go after you.
Many of you unknowingly follow these mega recipe FB pages…but what you need to know is that they are just stealing content.
Trying to get a ton of people to join and then they sell off their FB page.
Yes, you can sell a FB page.
You aren't supposed to of course but it does happen.
All the time.
So if you belong to one of these pages please unlike them.
Enough of that.
So I have worked on this Cinnamon Sugar Eggnog Cake for a few days now.
This cake is an eggnog lovers dream.
Super moist, spiked with bourbon, and downright addictive…and I don't even like eggnog (well I like eggnog baked goods).
I tried to have a cinnamon swirl in it, and technically there is, it just didn't show up as my cinnamon was super faint in color.
But you can taste it…it's there.
This would be a great cake to have throughout the holidays or to bake and hide and keep it all to yourself…I won't judge.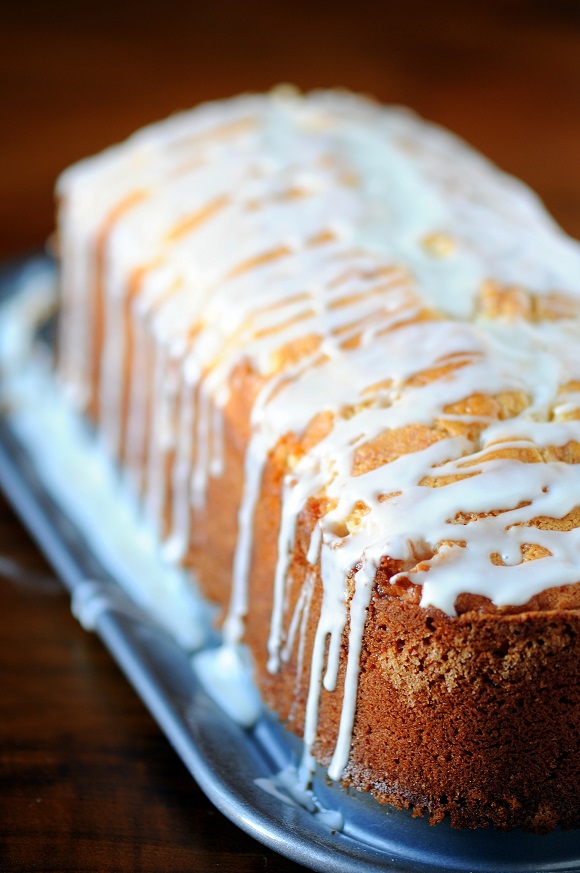 Want More Eggnog Recipes?
Bourbon Soaked Eggnog Fruitcake Pound Cake
Chocolate Bourbon Eggnog Cupcakes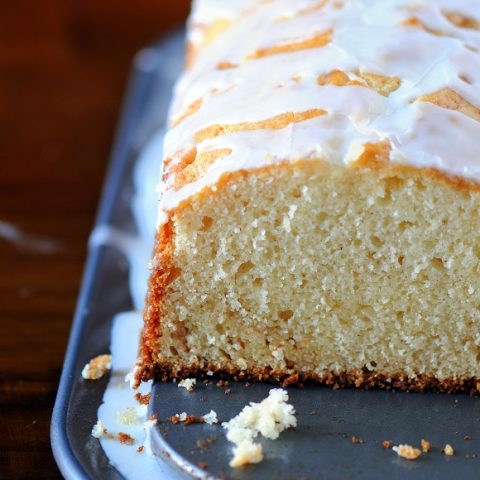 Cinnamon Sugar Eggnog Cake with Bourbon Glaze
Ingredients
½ cup unsalted butter (I used Plugra), at room temperature
1 cup granulated sugar
2 large eggs
1 cup eggnog (spiked or not your choice)
1 cup sour cream
½ tsp. vanilla extract
¼ to ¾ tsp. of nutmeg depending on how much nutmeg you like
2 ½ cups cake flour
2 tsp. baking powder
½ tsp. baking soda
Pinch of salt
8 TBSP cinnamon sugar
For the Glaze:
1 1/2 cups powdered sugar
6-8 TBSP Bourbon (depending on how thin you want your glaze)
Instructions
For the Cake:
Preheat oven to 330F.
Spray baking spray a 13x4 inch baking loaf pan (you can use 8x8).
In a stand mixer with a paddle attachment cream together the butter and sugar until light and fluffy, about 3 minutes.
In a separate bowl add the eggnog, sour cream, vanilla extract, and eggs and whisk until fully combined.
In another bowl add flour, nutmeg, baking powder, baking soda, and salt.
Alternate adding dry ingredients, then wet, then dry, then wet, and finish with dry. Mix on low until fully combined. Be careful to not over-mix.
Pour 1/3 of the cake batter into the pan. Then sprinkle with 4 TBSP of cinnamon sugar. Then 1/3 batter and 4 TBSP cinnamon sugar. Top with remaining batter. Using a knife swirl the cinnamon sugar (mine didn't show up but yours probably will).
Bake for 45-55 minutes depending on your oven. Check by using a wooden skewer or knife to see if it comes out clean. If you are using an 8x8 pan your cooking time will probably be less.
Let cool on wire rack.
While cooling make glaze.
For the Glaze:
In a small bowl add powdered sugar and bourbon.
Whisk until smooth.
Pour over cake.