This Pear Onion and Gorgonzola Soup is the perfect fall soup filled with pears, onion, Gorgonzola cheese all topped with onion pear bacon jam.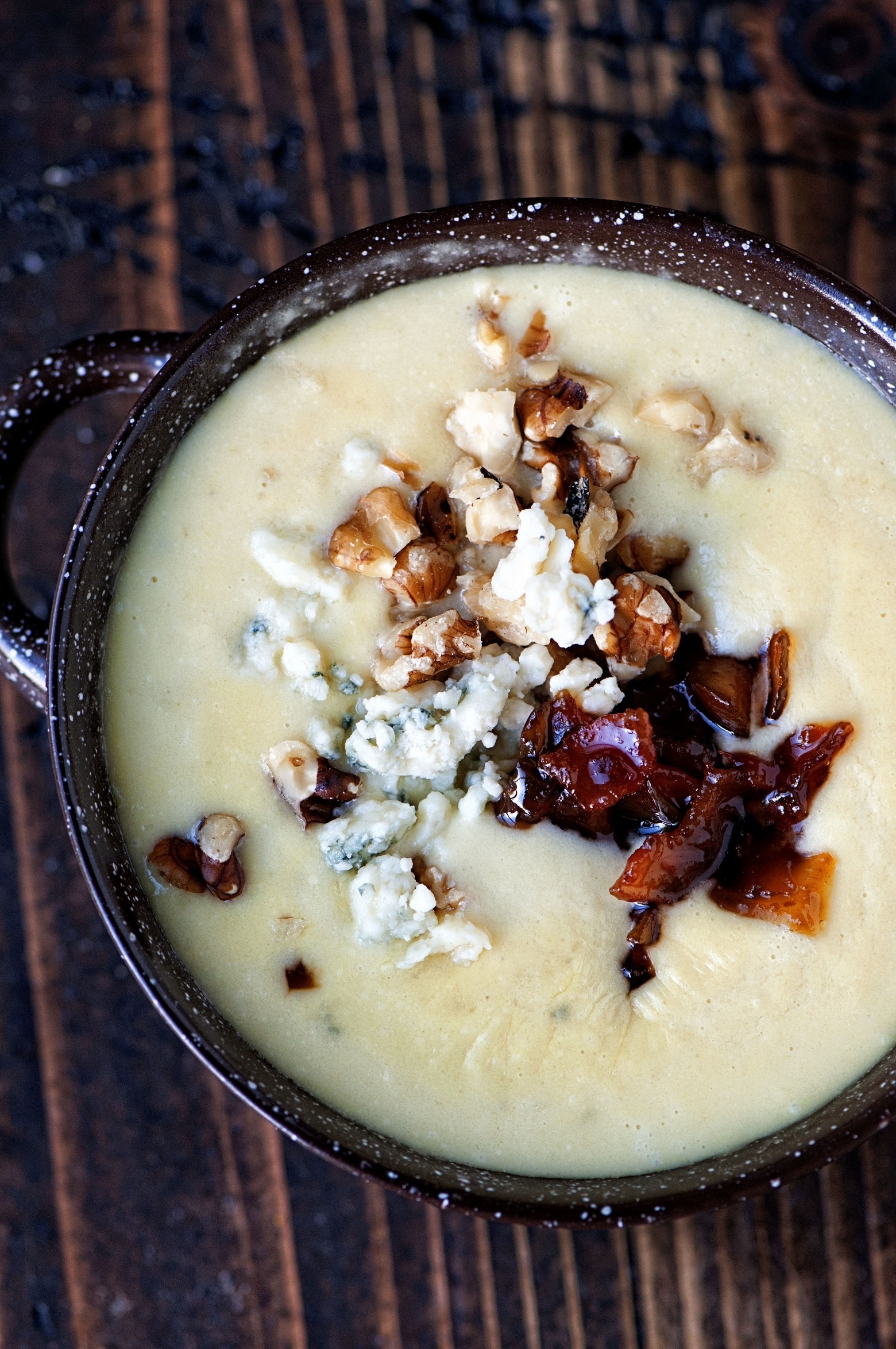 I have a love hate relationship with the month of October.
All about the cooler temps, the leaves changing colors, the apple picking, the pumpkin everything, the apple cider everything, the snuggling, pumpkin patch tromping, and the comfy clothing.
However, I hate that it is an entire month of scary movies and television.
I am fortunate that my husband feels the same way.
We are not into scary anything.
I'm such a fraidy-cat that I can't even listen to the scary music they play.
I have to close my eyes and ears!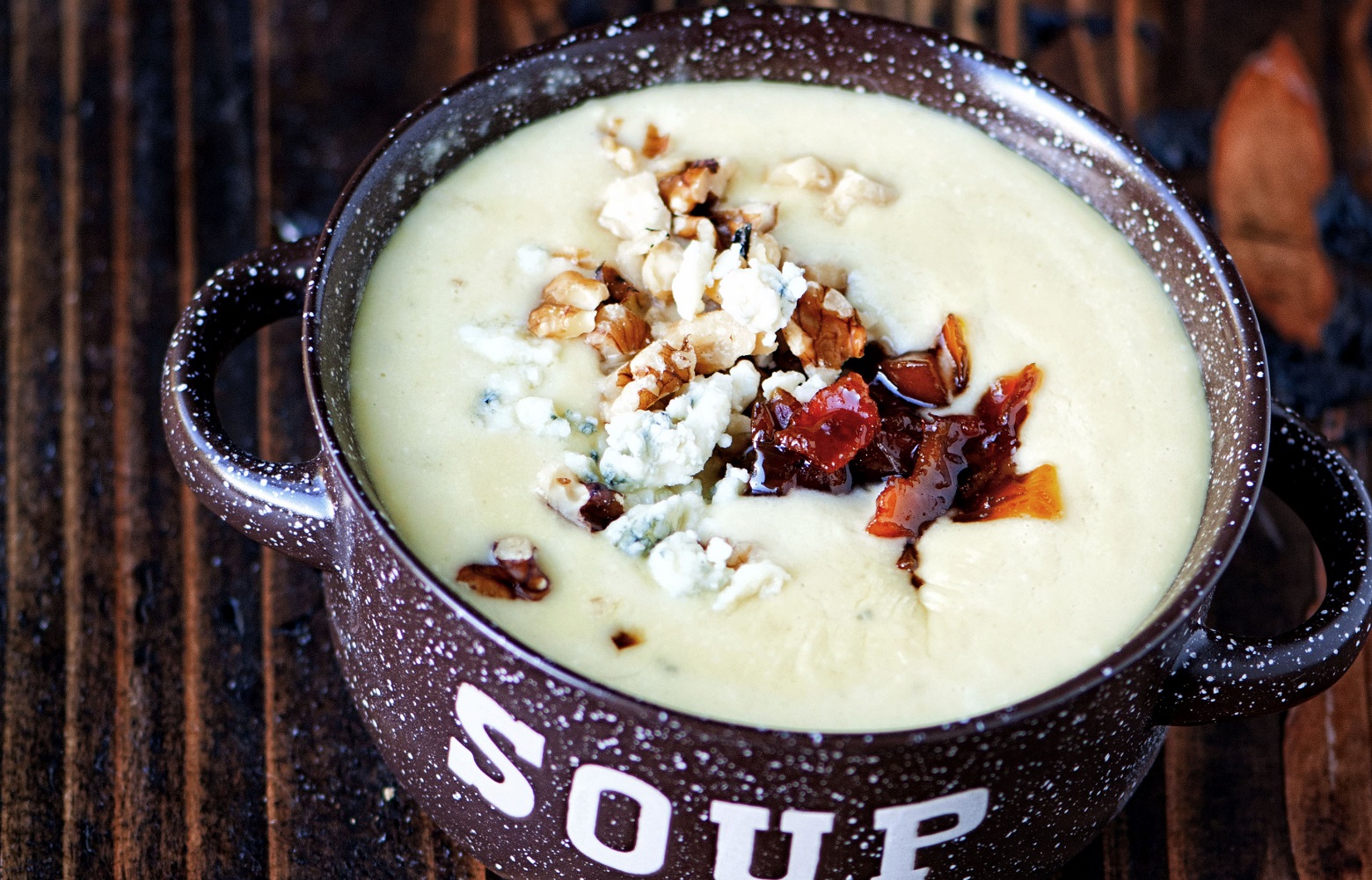 Teen Wolf and Adams Family is about as scary as I get.
Though, ironically, if it has a shark in it…I will watch it.
All the Jaws movies and Deep Blue Sea…those were fine.
I haven't seen The Shallows yet but I will.
I'm so over zombies.
Like so over.
I think maybe we need to bring back the werewolf's.
I feel like they are up for revival.
Maybe I can get the Hallmark Channel to have a whole month of nice Halloween love movies.
Then I can binge watch them while my husband rolls his eyes…yet STILL watches them like he does with the Christmas Movies.
A Dog Named Christmas and Christmas with Tucker gets him every time.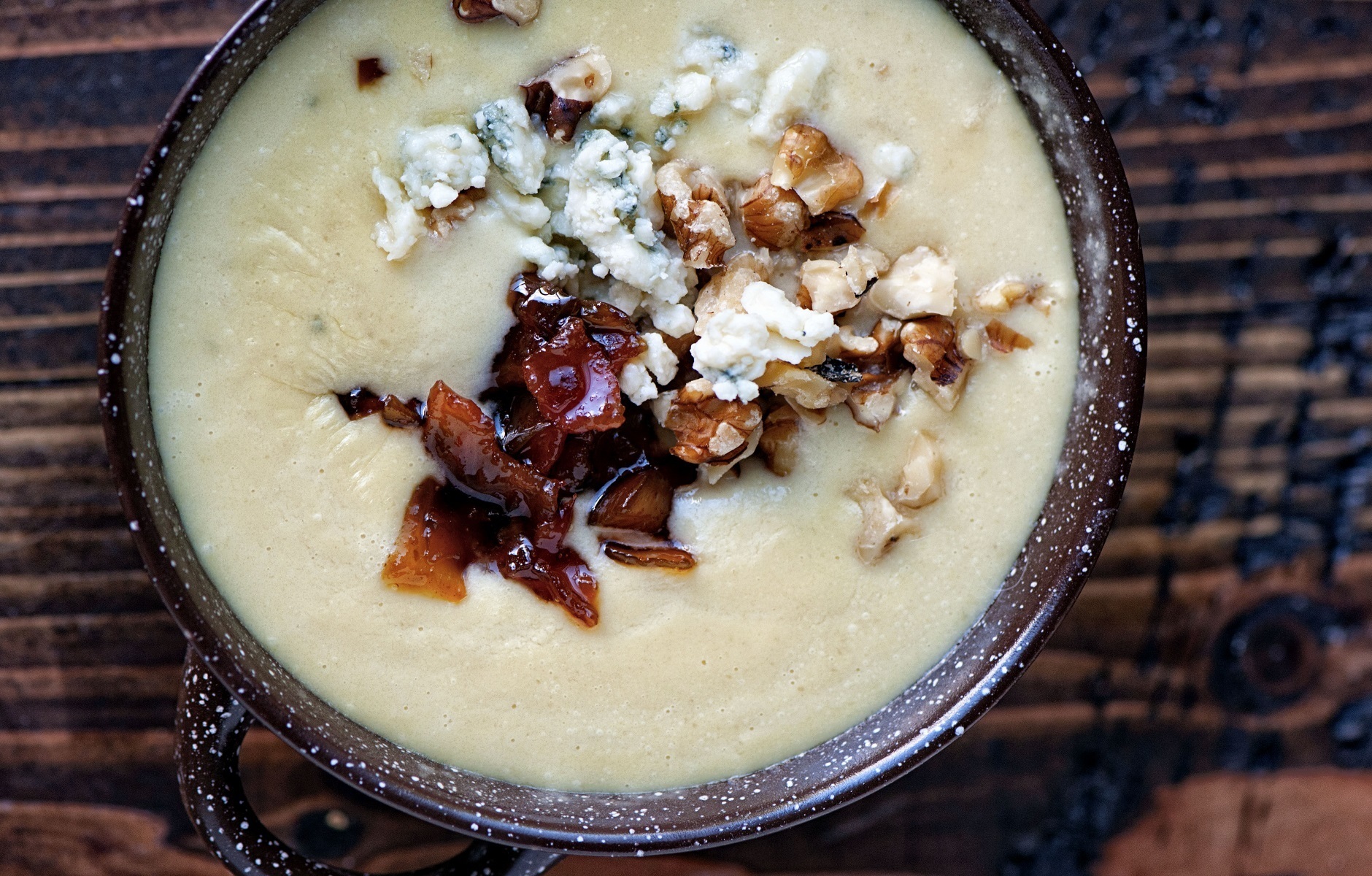 I'm so looking forward to November when it's just my FB filled with the 30 days of what people are thankful for. 🙂
I will say that I am thankful for soup.
I eat it all the time.
This Pear Onion and Gorgonzola Soup is a twist on one of my favorite soups.
The Onion Pear Bacon Jam is a must with it…so tasty.
Baguette pieces with a blue cheese spread would be amazing with this as well.
Last but not least…It's a great time to buy my cookbook.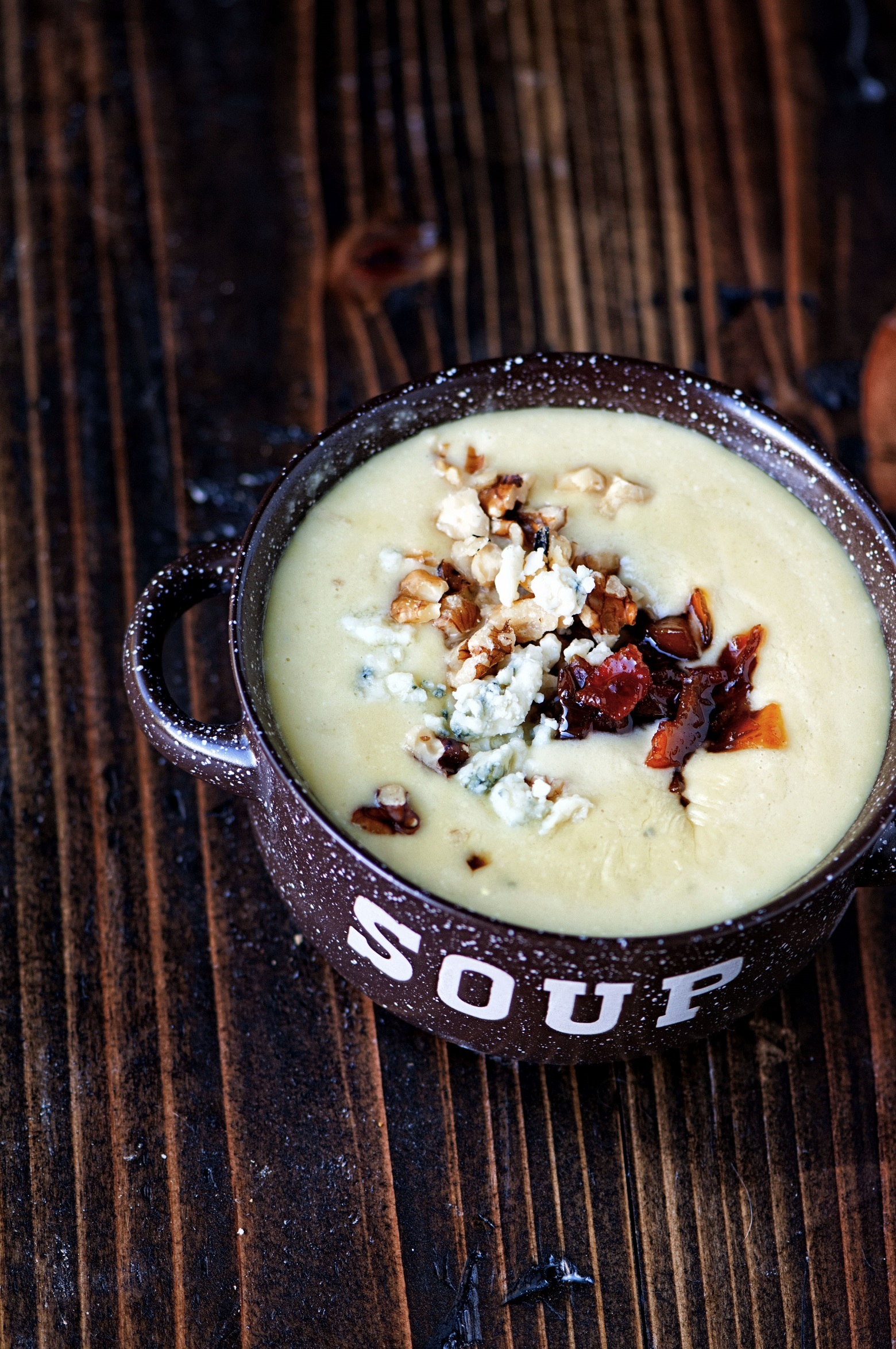 Want More Soup Recipes?
Caramelized Onion Potato Ale Soup
Vegetarian Vegetable No-Beef Soup
Roasted Garlic Chili White Bean Soup
Dill Pickle Cheddar Cheese Soup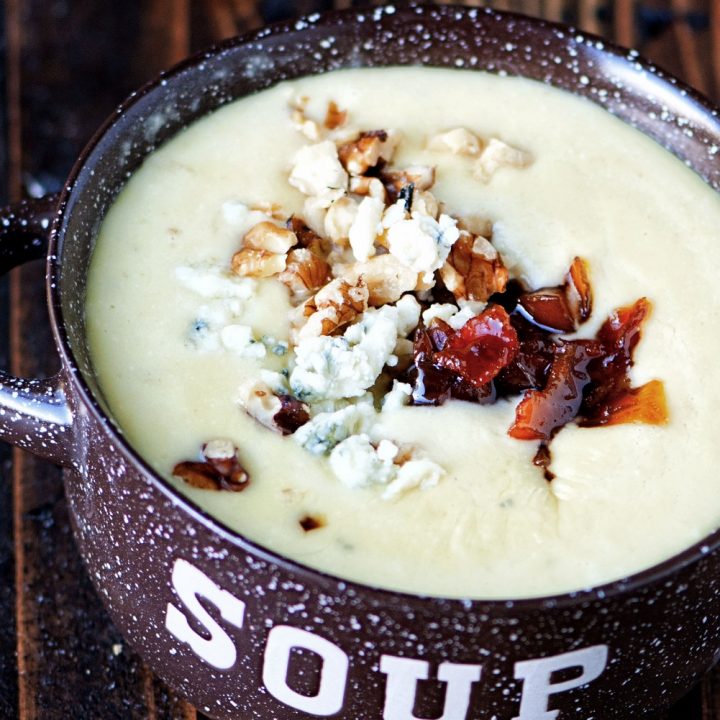 Pear Onion and Gorgonzola Soup
Ingredients
3 TBSP unsalted butter
2 cups large sweet onions, large diced
1 cup pears, peeled, diced
2 small baking potatoes, peeled and diced
1 tsp garlic, minced
2 1/2 cups chicken stock
½ cup pear juice
1 cup heavy cream
4 1/2 oz. Gorgonzola, crumbled
salt and pepper to taste
Onion-Pear Bacon Jam
4 cups sweet onions, diced
1 tsp. olive oil
2 cups pears, peeled, diced
2 TBSP apple cider vinegar
1 cup brown sugar
1/4 tsp. salt
1 pinch cayenne pepper
1 pound bacon, cooked and crumbled
Instructions
For th Soup:
Melt 3 TBSP of butter over medium heat.
Add onions, pear, and garlic, cook until onions are slightly wilted.
Add potatoes, stir to coat with butter.
Cook 5 minutes.
Add stock and pear juice and bring to a boil.
Reduce heat and simmer until potatoes are soft (about 30 minutes).
Allow to cool slightly.
Puree soup in food processor.
Add cream and gently reheat soup.
Stir in cheese and adjust seasoning. If too thick, thin with stock.
Garnish soup with onion-pear bacon jam, toasted walnuts, and more Gorgonzola.
For the Pear Onion Bacon Jam:
In a medium sized saucepan add the oil and onions and sauté for about 2 minutes.
Add pears, vinegar, sugar, cayenne and salt.
Bring to a boil stirring the whole time.
Then reduce to a simmer.
Simmer until the liquids have gone and you have a jam-like consistency.
Fold in the bacon pieces.