This Caramelized Onion Potato Ale Soup is my take on a steak and potato ale soup…minus the steak since it's vegetarian. But you won't miss the meat.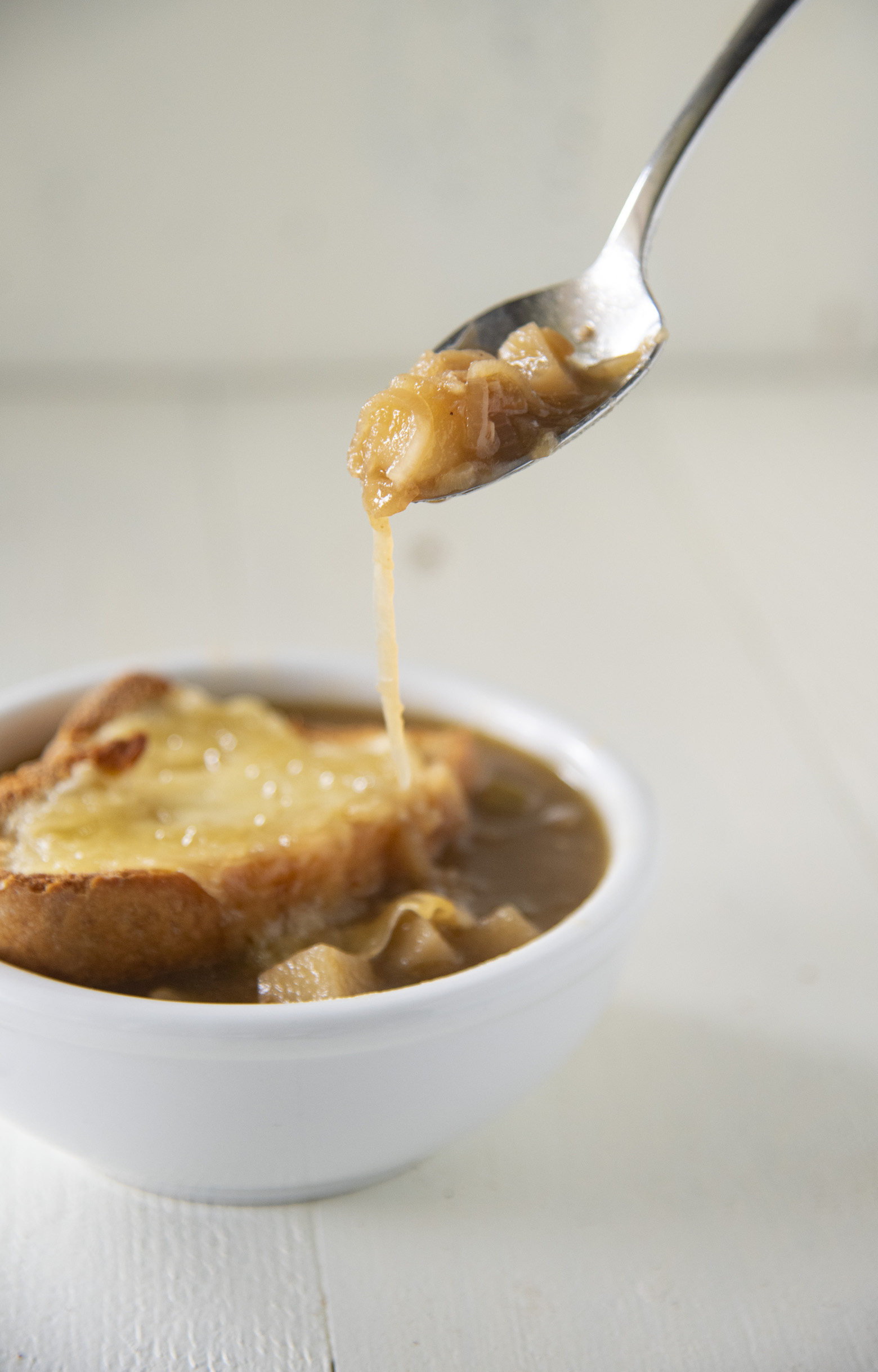 In all of this my husband and I have discovered that we must have low expectations out of life. 🙂
I'm watching my friends go insane and complain how absolutely bored they are.
My husband and I admitted the other day that we have yet to be bored.
In fact, we can't really think of a time in our life that we were bored…pandemic or not.
You may be saying to yourself well you are introverts so it's fine for you.
We are actually extroverts.
My husband is more than me but that is mostly just because I have adjusted to working from home over the years.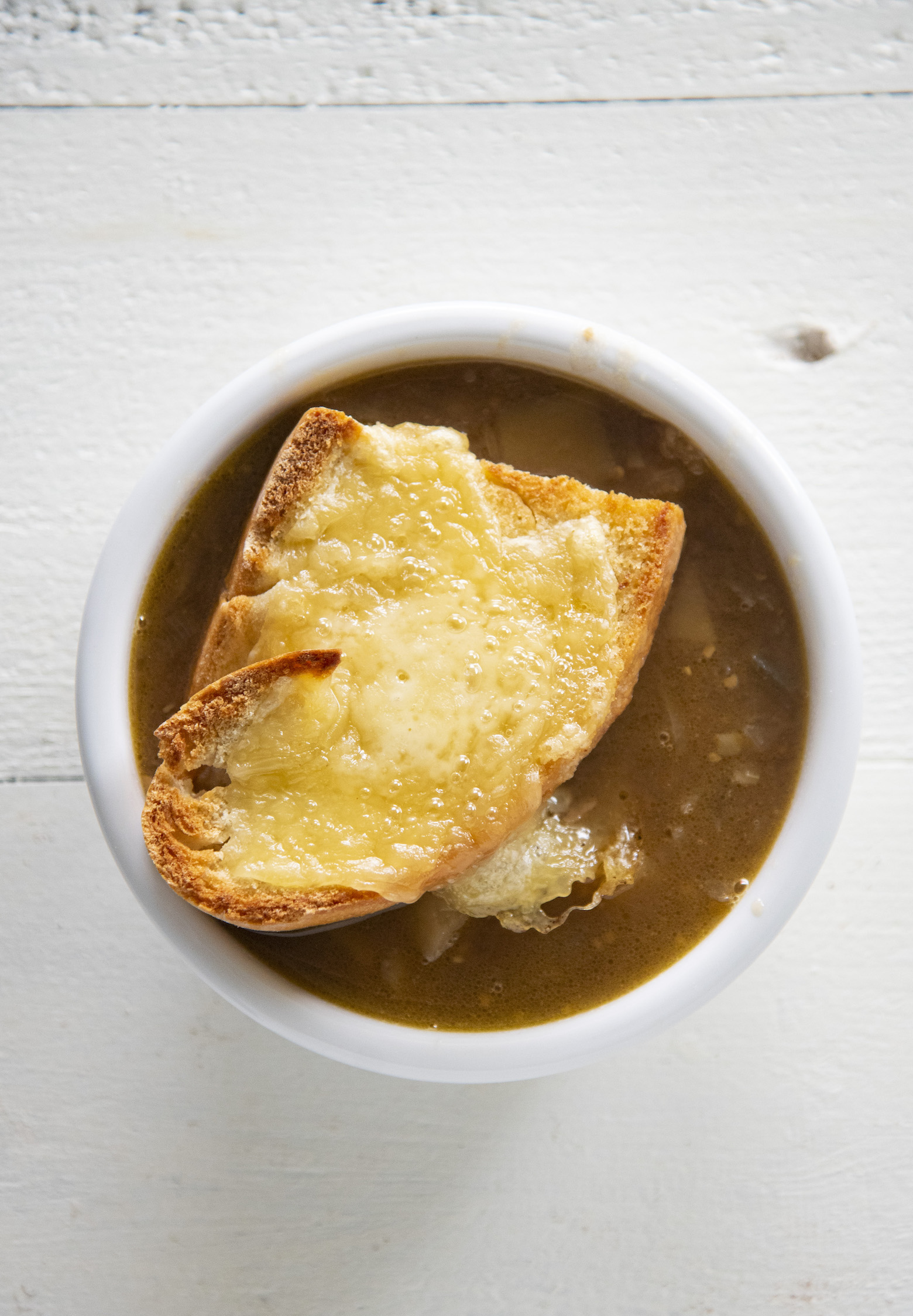 Now part of why he probably isn't bored is because he is working from home for most of the week.
And while you might think that means he is working less, he is actually working way more.
He's usually on the phone starting at 5:30am and he seems to be taking calls all the way until 10pm lately. Or text.
Partially because his workplace is essential.
But they are doing their best to keep as many people home as possible.
Lots of juggling.
His temporary office is set up in our trailer.
He tried working at our dining room table but the dogs bug him the whole time thinking he is eating.
Plus our house is tiny and so I hear every Skype meeting he has.
You've never been put to sleep so quickly then having to listen into a budget meeting that you know nothing about. 🙂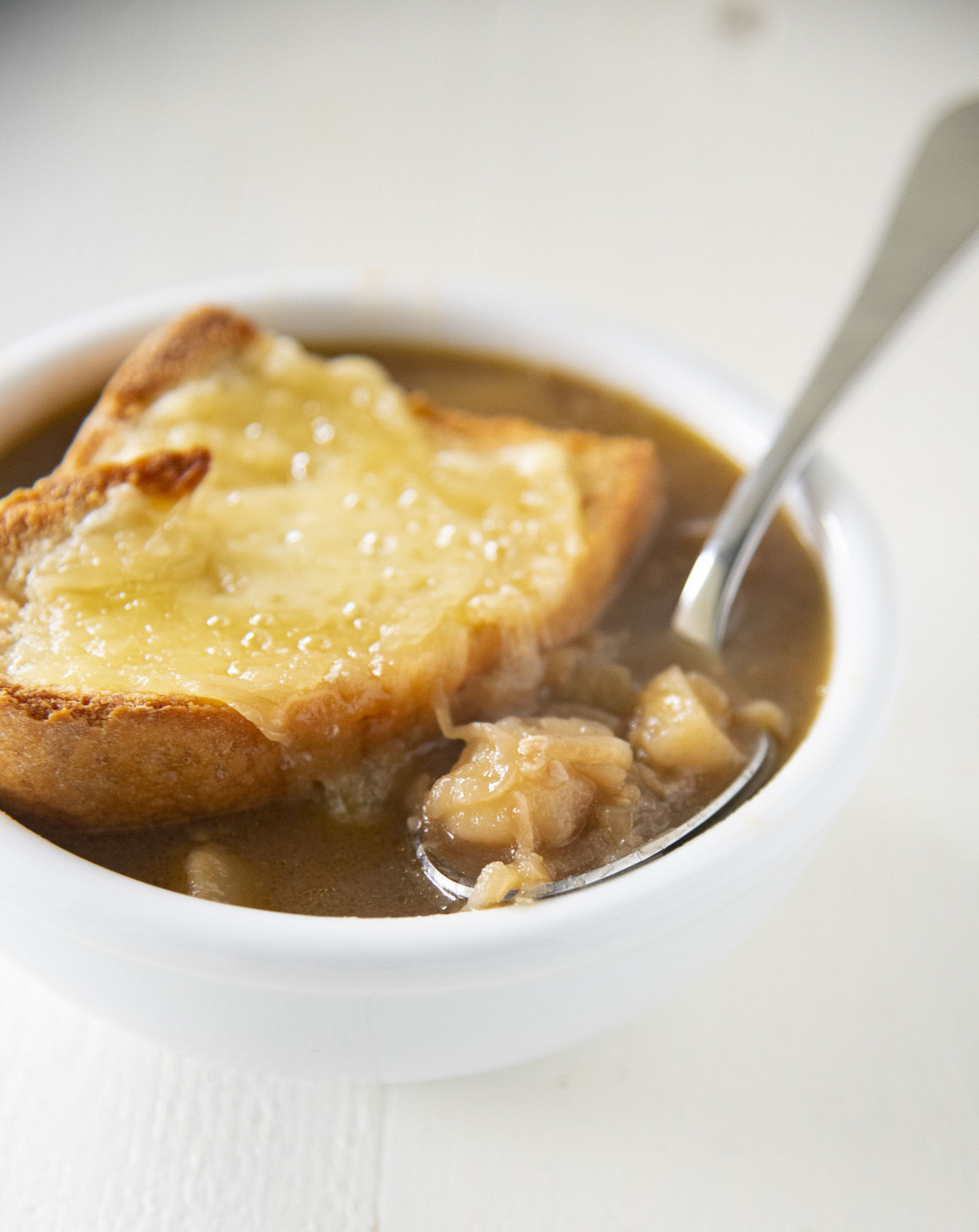 And me?
Well this week and next coming weeks I'm in copyediting.
Not to be confused with editing…which was last week. 🙂
When I'm not doing that I'm balancing a nice act of stress baking/cooking and stress eating.
I tend to make bread.
And then realize I need to do something with it other than just eat bread.
Because we've done that. A lot.
So then I make soup.
This Caramelized Onion Potato Ale Soup is based on a Steak, Potato, and Ale soup I had years ago at a restaurant.
But since I don't eat meat anymore I subbed in caramelized onions. This was super tasty and more importantly, very comforting.
As always, wash your hands, stay home if you can,…and oh yeah order my cookbook. 🙂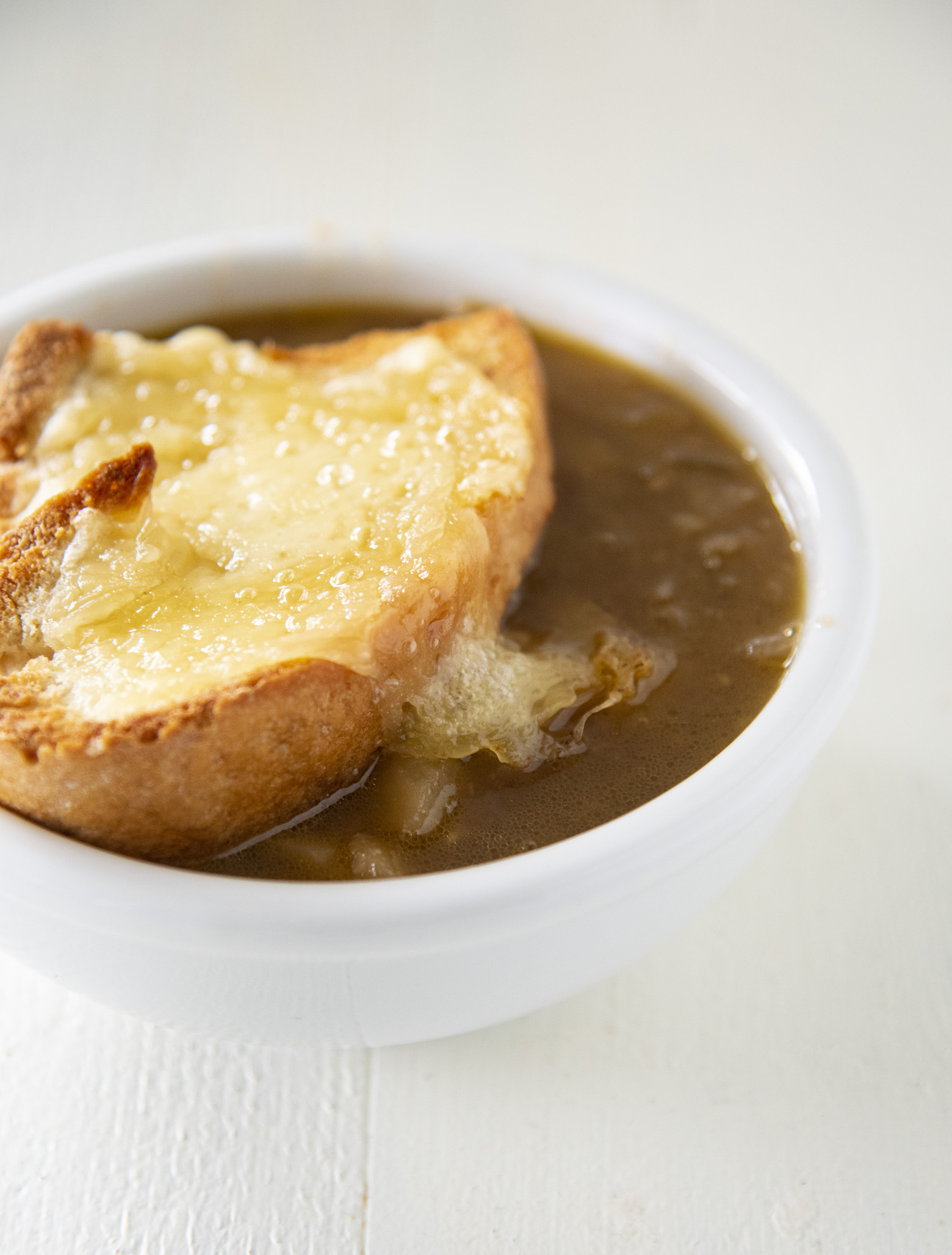 Want More Soup Recipes?
Dill Pickle Cheddar Cheese Soup
Vegetarian Vegetable No-Beef Soup
Roasted Garlic Chili White Bean Soup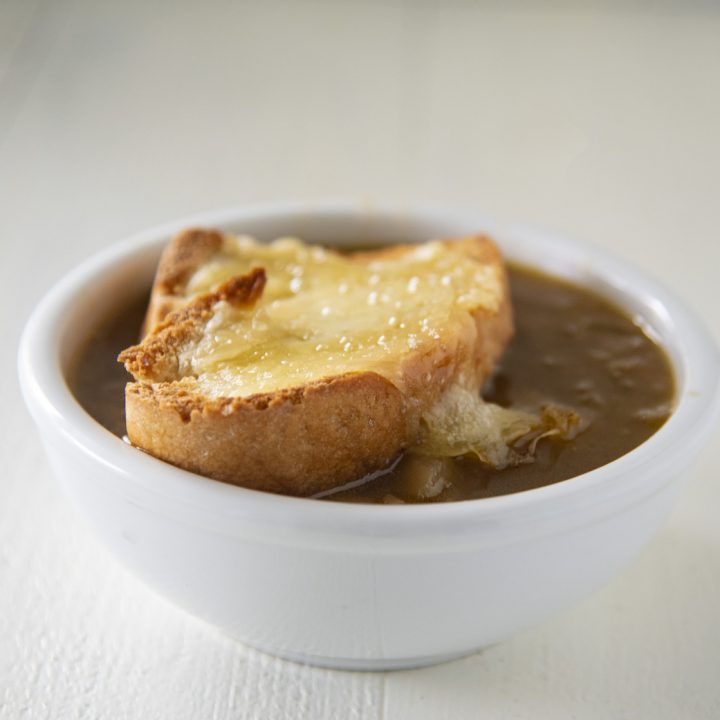 Caramelized Onion Potato Ale Soup
Ingredients
For the Caramelized Onions:
4 TBSP butter
4 cups onion (I used sweet onions), thinly slice
2/3 cup ale (I used PBR)
1/8 tsp salt
1/8 tsp pepper
For the Soup:
2 stalks of celery, diced
3 cups potatoes, diced (I used Russet)
2 TBSP minced fresh garlic
2 cup ale
½ cup red wine
2 TBSP all-purpose flour
Toasted Bread slices:
6 slices of Italian or Sourdough Bread
6 slices of Swiss Cheese
Instructions
For the Caramelized Onions:
Heat a large skillet over low heat and add the butter.
Add the onions with the salt and pepper and stir. Cook until slightly softened, about 5 minutes. Add in the beer and cook, stirring often, until the onions caramelize, about 25 to 30 minutes.
In a large pot add 2 TBSP olive oil and the diced celery. Cook over medium heat for about 5 minutes until celery becomes soft.
Add the potatoes and garlic and cook for another 2 minutes.
Deglaze pot with wine and beer; increase heat to high and simmer until liquids evaporate, stirring often.
Stir in flour and cook 1 minute.
Add the no chicken and no beef prepared broth and bring to a boil. Cook until potatoes become fork tender.
Add in the caramelized onions and simmer for 5 minutes.
For the Toasted Bread Slices:
Preheat broiler to high temperature setting with rack 6–8 inches from element.
Place bread on a baking sheet and add a slice of Swiss cheese. Broil until the cheese is bubbly.
Pour soup into bowl and top with a toasted bread slice.