This Cookie Butter Kit Kat Cookie Pie is filled with cookie butter and Kit Kat candy bar pieces all baked into a pie shell.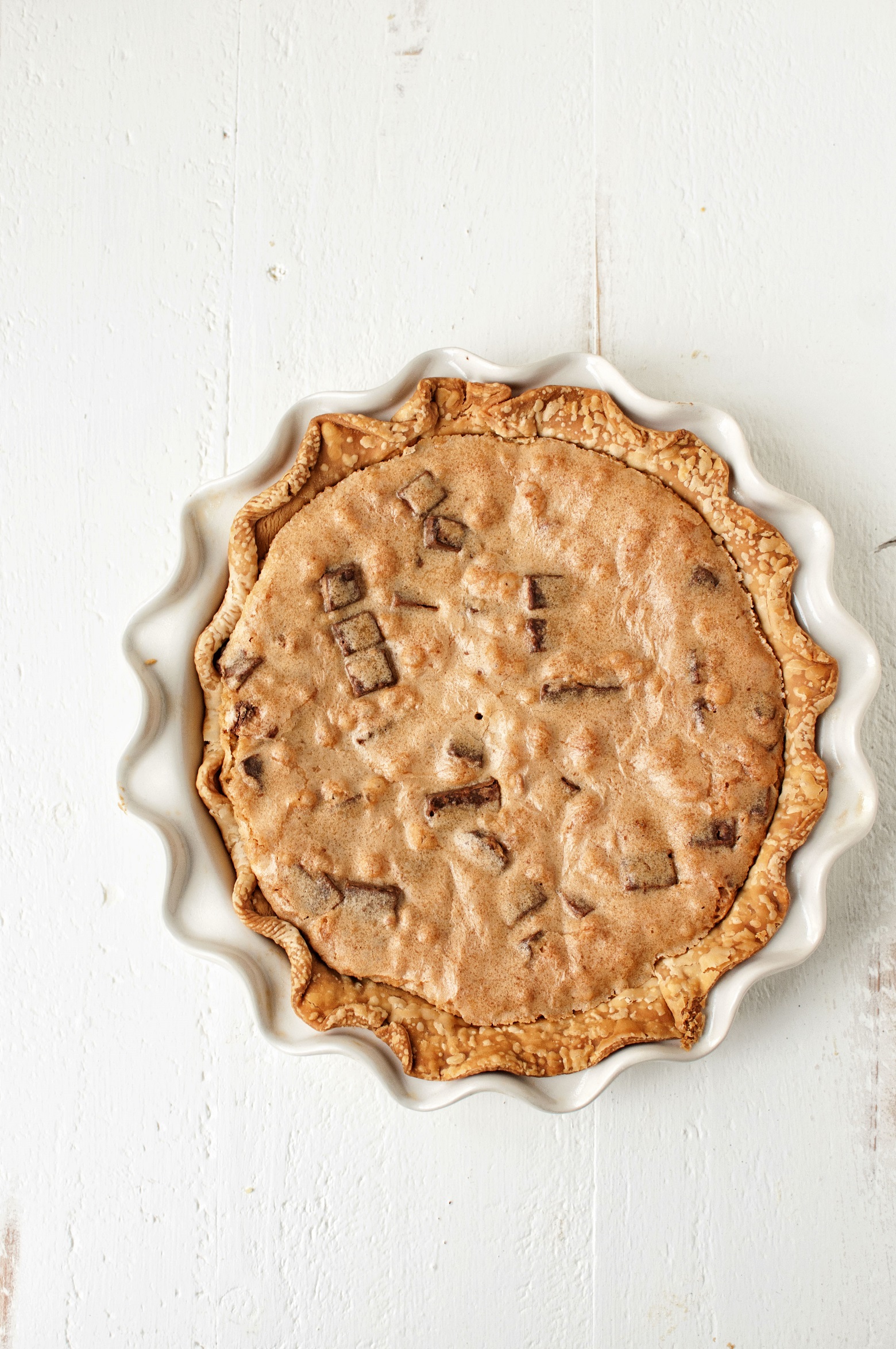 Let me say for the record, I don't enjoy watching baseball.
I will go see it in person but on TV it is snoozeville.
I don't really have a team but last year my husband went to Chicago for a conference.
Since I know a few people I was able to get my husband and his friend what one might call awesome seats…you can see on my Instagram here.
It was cute, he even went and got the official My First Wrigley Field game certificate that they usually give to little kids. 🙂
He came home with lots of Cub memorabilia…the only baseball stuff I own.
History was in the making last night.
I knew this and so oddly enough I asked my husband if he wanted to watch the baseball game instead of the hockey game.
He agreed (though we did switch back and forth).
There were so many great things about what happened last night (gosh I love me some Bill Murray).
But perhaps the greatest thing out of it was watching the fans…it gave me hope.
Not hope that we can win baseball games.
But that at some point after Tuesday, we can be decent to each other again.
I don't think the fans hugging each other, crying, jumping up and down for joy once thought to myself gee, I sure hope I'm not hugging a Trump supporter, Clinton supporter, evil third party supporter…etc.
Nope, they were caught up in one single goal.
I can't believe what this campaign has turned into.
The horrible, horrible things that people are saying to each other as if it's okay.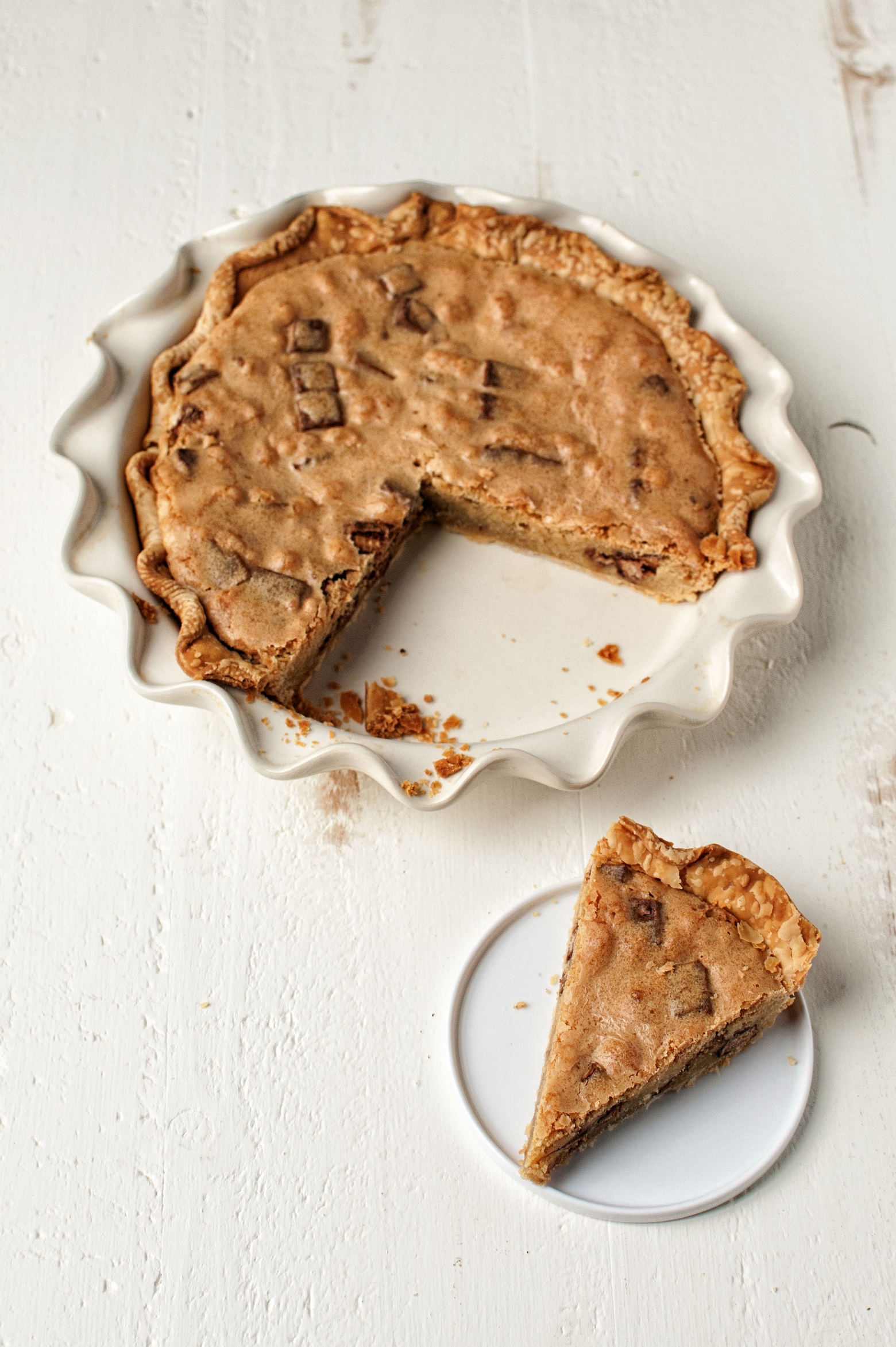 I'm often reminded of the 2008 presidential race when John McCain defended Obama.
When at a rally one of his supporters called Obama an Arab.
He then further went on to tell people that Obama was a decent person.
And good family man and that while he disagrees with him fundamentally he was still a good person.
I made me proud that I had voted for him as a senator when I lived in AZ.
Gone are the days when we can put aside what is best for us personally for the greater good of the nation as a whole.
There are often times I vote against my own beliefs because I try to think of the rights of a society as a whole.
May we never be in a situation like WWII ever again.
We may never see a draft because it would just be filled with notes sent to war as to why Bobby couldn't go.
We panic when the Internet goes down for 15 minutes.
Get annoyed at crappy cell phone coverage.
We get upset over the color of a Starbucks cup or the fact that it doesn't have Santa Claus on it.
Never stopping to think how incredibly lucky we have any of this!
My wish isn't for a greater America….it's to be a decent one.
Now, on to this Cookie Butter Kit Kat Cookie Pie.
Which is really a cookie in a pie shell but still.
This is super quick and doesn't even require a mixer.
There is just a hint of cookie butter in it…you can use Nutella or Peanut Butter in its place just as well.
And you can use whatever candy you want…we just had a ton of Kit Kat's leftover and so that's what I used.
P.S. It's a great day to buy my cookbook Holy Sweet!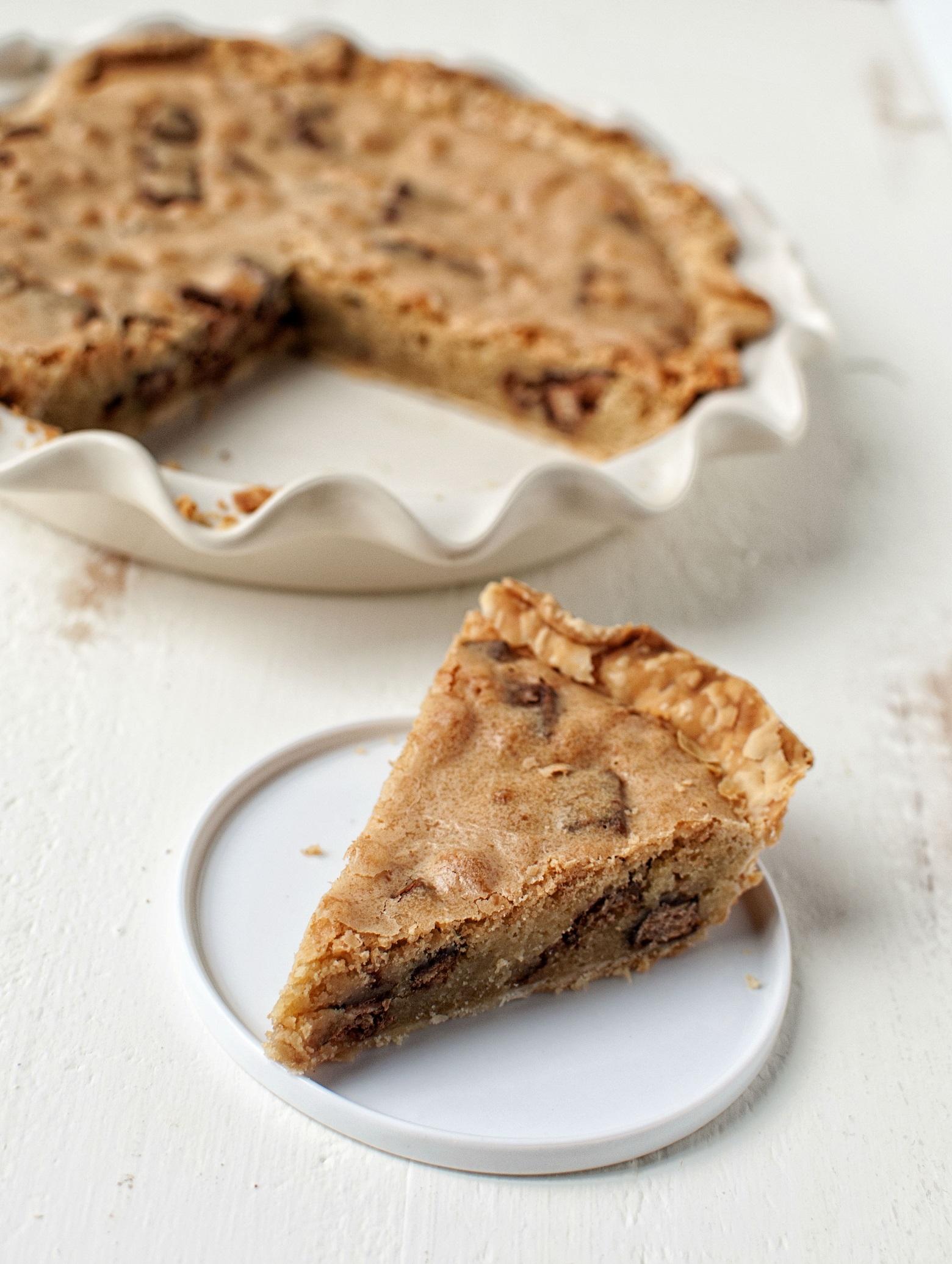 Want More Pie Recipes?
Cinnamon Toast Crunch Apple Slice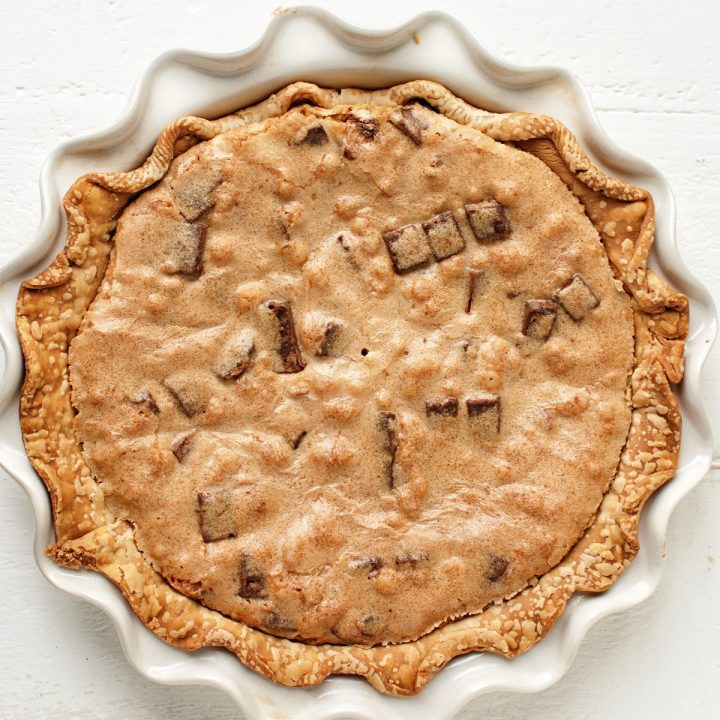 Cookie Butter Kit Kat Cookie Pie
Ingredients
1 recipe pie crust (that will fit one 9-inch pie)
1 cup granulated Sugar
¾ cup all-purpose flour
3 TBSP Cookie Butter
½ cup unsalted butter, melted
2 large eggs, beaten
1 tsp vanilla extract
1 ½ cups Kit Kat Candy Bar, chopped
Instructions
Preheat oven to 350°.
On a lightly floured surface, roll pie crust to ¼ -inch thickness.
Transfer and press into a 9-inch pie plate that has been sprayed with baking spray.
Crimp edge, if desired.
In a medium bowl, combine sugar, flour, cookie butter, and butter, mixing well.
Add eggs and vanilla.
Fold in Kit Kat pieces.
Transfer filling to prepared pie crust.
Bake until firm in the middle, approximately 45 minutes.
Notes
Adapted from Taste of the South, Feb/Mar 2010