Cereal Milk White Hot Chocolate: Creamy and sweet version of your favorite cold weather beverage using white chocolate and cereal milk.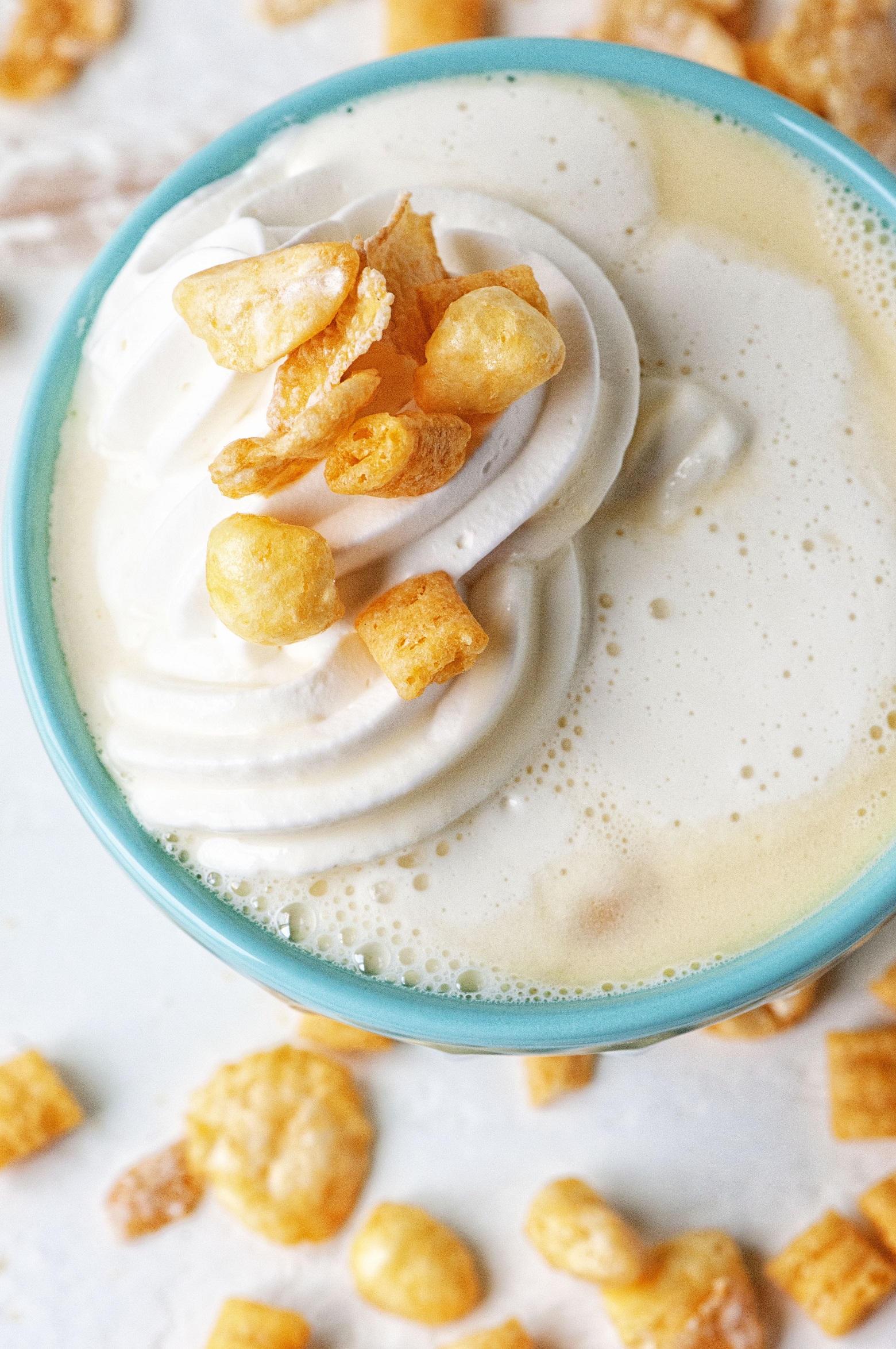 When I changed the name of this blog after 11 years back in July my mentality shifted greatly as well.
Gone was worrying about what might get pinned the most, what might bring the most traffic, what might get picked up on Buzzfeed, what would sponsors want.
In moved doing what I want.
There has been much debate lately in blogging about how nothing is original it's all been done before so in a way I set out to challenge myself.
Since I had fun doing a Snickerdoodle week I decided to do something I always wanted to but feared people would not be into.
But since I don't worry about that anymore I just created.
It was the most fun I have had baking/creating in quite a few years.
You may be saying what is cereal milk?
It's just what you think it is.
When you eat cereal and you pour milk in it…it's the milk that is left over after the cereal is gone.
But it's not just plain milk anymore it's soaked up all of the flavors of the cereal.
There are some people that leave it, but there are some of us, including me, that drink it.
And some of us turn it into Cereal Milk White Hot Chocolate.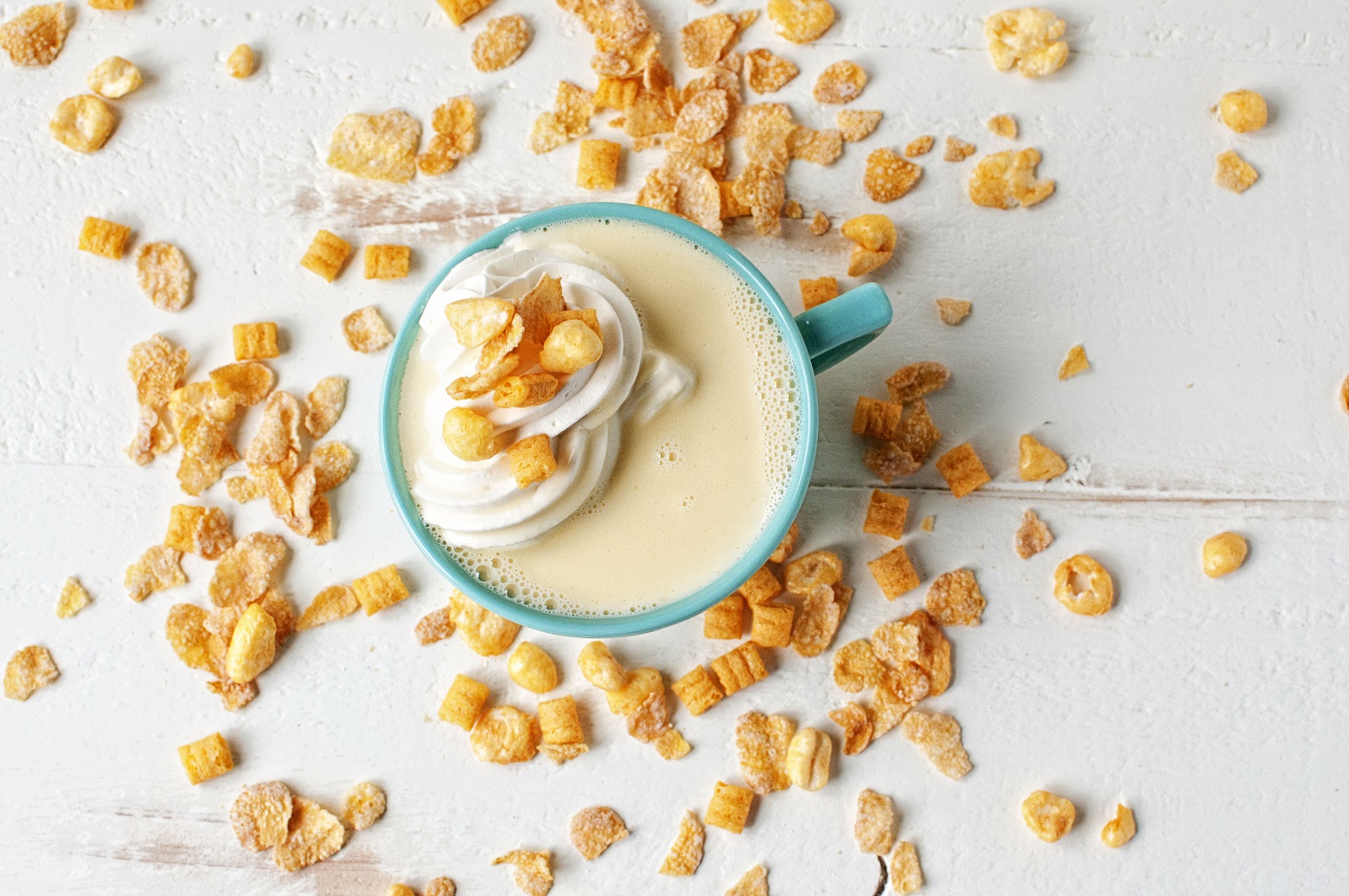 A few years ago a pastry chef went a step further and started making soft serve ice cream out of it.
I have yet to get to NYC to Milk Bar and try it but perhaps one day.
You can use just about any cereal you want, depending on the flavor profile you want.
Milk Bar uses for their original corn flakes and some brown sugar.
For this week I used a combo of Corn Pops, Captain Crunch (original no crunch berries) and Frosted Flakes.
I started with this hot chocolate because when I was a kid I ate two kinds of cereal…Lucky Charms and Count Chocula.
For or whatever reason one day after eating Count Chocula I decided that instead of drinking the chocolate milk like I normally do I would instead heat it up and add a cocoa mix to it.
And pretty much after that, I had hot chocolate after every bowl of Count Chocula.
So it seemed like a no-brainer to me to make the cereal milk into a hot chocolate.
Since I wasn't using a chocolate based cereal for this week I went with white chocolate instead of milk or semisweet, you, of course, can change that up.
So invite you to make a big batch of cereal milk and try some of my creations this week…I've got 5 of them for you to try!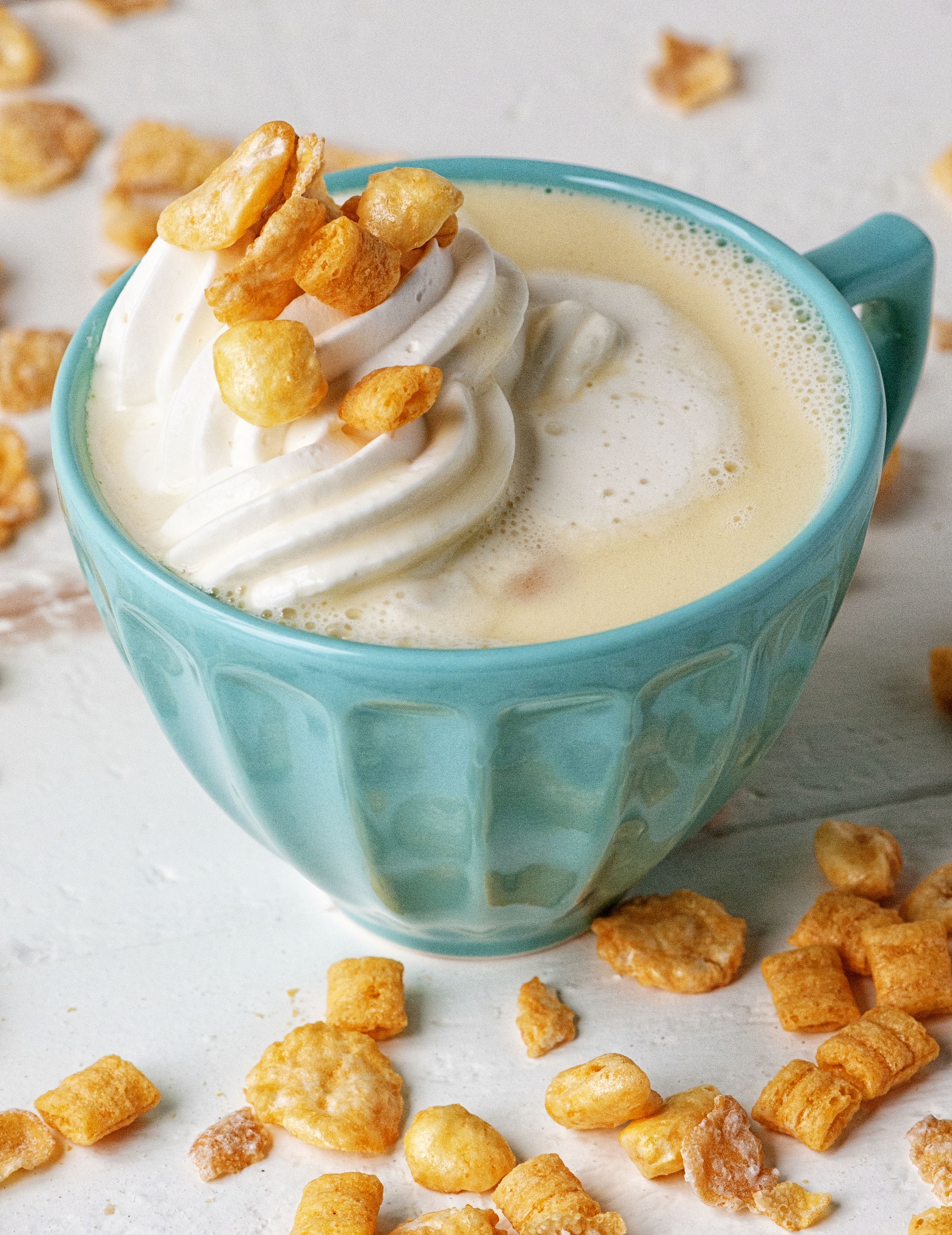 Want More Hot Chocolate Recipes?
Circus Animal Cookie Hot Chocolate
Spiked Gingerbread Hot Chocolate
Hot Fudge Sundae Hot Chocolate
Spiked Stroopwafel Hot Chocolate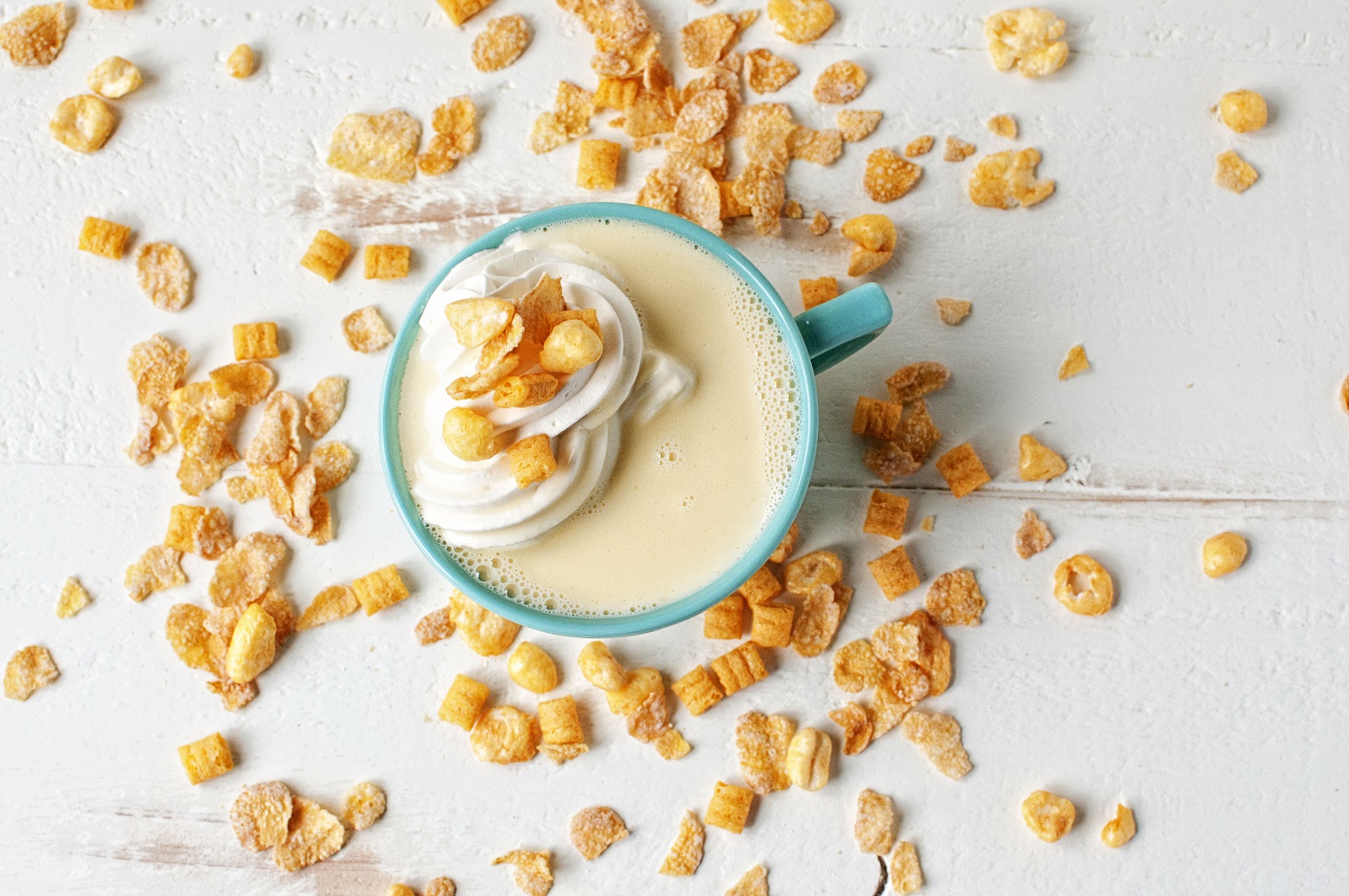 Cereal Milk White Hot Chocolate
Ingredients
For the Cereal Milk White Hot Chocolate:
4 cups Cereal Milk (recipe below)
½ tsp. vanilla extract
8 oz. white chocolate, finely chopped
For the Cereal Milk:
5 cups whole milk
1 cup Corn Pops cereal
1 cup Frosted Flakes cereal
½ cup Captain Crunch cereal
Instructions
To make the cereal milk:
Pour milk into a large saucepan.
Add cereal to milk.
Heat milk until it just starts to boil.
Remove from heat.
Steep the cereal for 25 to 35 minutes.
Strain the milk into a bowl.
Press on the cereal in the strainer with a large wooden spoon to squeeze out the milk from the cereal.
For the hot chocolate:
In a medium sauce pan over medium low heat, add cereal milk, vanilla and chopped white chocolate.
Cook hot chocolate stirring occasionally, until the white hot chocolate comes to a simmer but not a boil.
Remove from heat and serve immediately and whisk to make sure the chocolate is fully incorporated into the cereal milk. If it's not put it back on the stovetop and heat some more.
Top with whipped cream and cereal if desired.
Note my whipped cream is cereal milk whipped cream. It is made the same as the cereal milk with just heavy cream replaced. To make the whipped cream you simply let it chill for a few hours after making. Then whip just like you would regular heavy cream.