Brown Butter and Whiskey Caramel Bites: Brown Butter Shortbread, Whiskey Caramel, Milk Chocolate, and Maldon Sea Salt make these Twix like bites.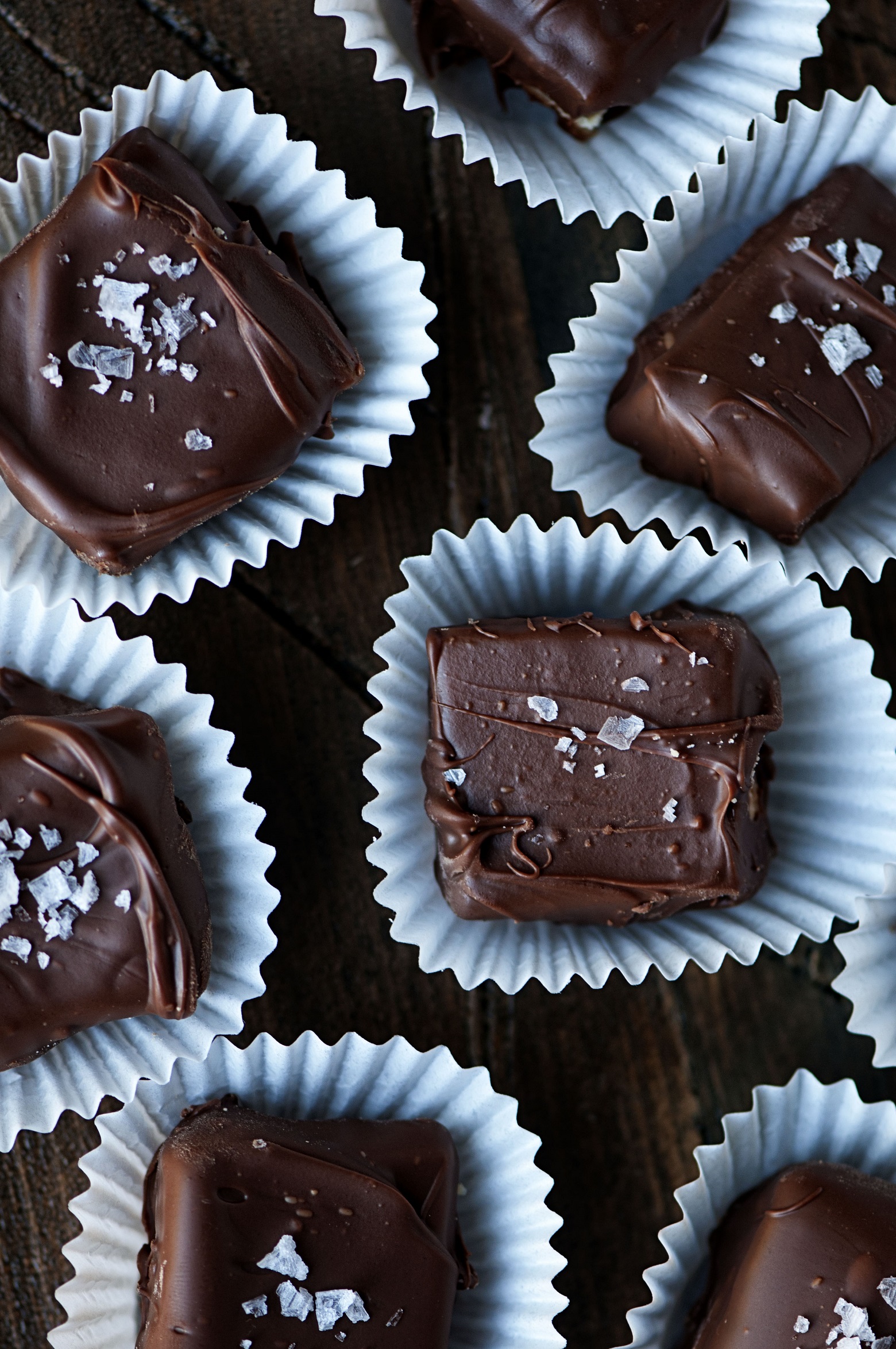 My first year of teaching I had a student we will call KT on the blog.
He was from Vietnam and didn't speak a word of English.
I, being a newbie, asked my fellow teachers what exactly am I to do with him since he doesn't speak English…they told me to babysit him.
I didn't like that answer but I spoke Spanish and English, not Vietnamese.
And so babysitting for a while was what he got at least in English class.
In, Science, since we mostly did experiments that were hands on he was able to participate.
He wasn't a behavior issue, often just sitting there quietly drawing but it bothered me that he was being taught very little.
One hour a day he went to English as a Second Language class but that was only for an hour and during the one subject he could do…math.
Since he was in the ESL program and we lived in Arizona the majority of the kids in his classroom were Hispanic.
They became his friends and every day at recess I would see him playing soccer with them.
About two months before school ended we had to give a district assessment test.
In total stupid world, because KT was in the ESL program, he had to take the ESL test.
Except, it was in Spanish. Ummm.
I tried to argue against this but I was told that was just the way it is.
But a funny thing happened.
He got a 91%.
Not because he cheated, as all the others around him with test had English, but because he was smart and because he had learned Spanish that year from his friends.
Because in order to communicate with his friends he had to learn Spanish, they weren't going to learn Vietnamese.
So out of necessity he did.
The next week after the test results came back I had a few high ups in my classroom.
I won an award for best classroom management (the first…first year teacher to ever do that in state history) and so I have a lot of observers come and go in and out of my classroom to learn what it is I did.
We did a lesson and I didn't want KT just sitting there and drawing and so I gave him paper and after we read the book (children's book) I told him to summarize the plot of the book.
He softly told me in very broken English that he "no do".
I softly told him I think you can and I think you know English better than you are letting on.
Then I told him to do his best.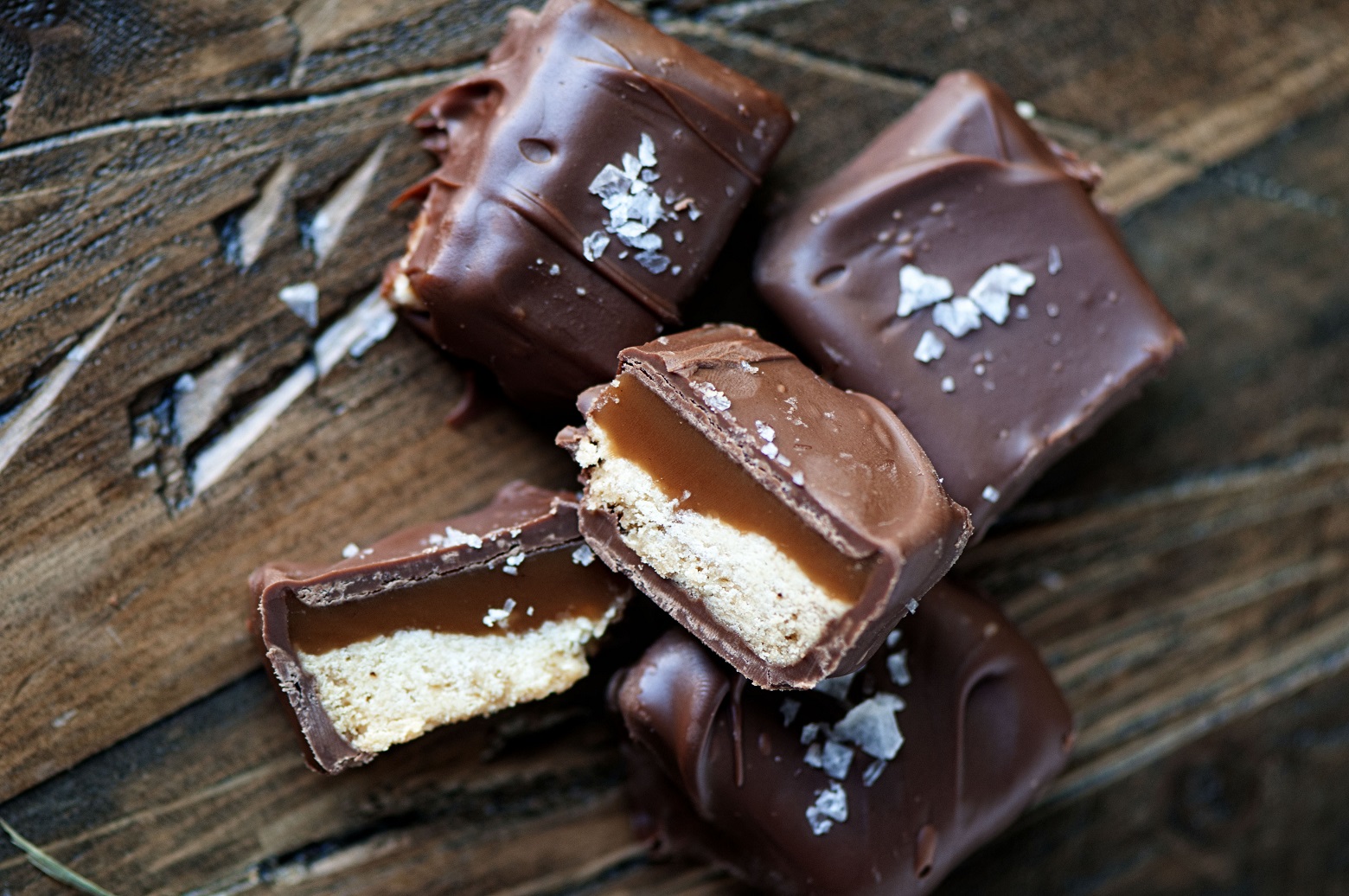 When the period ended he handed in a two page essay.
In English.
He got an 87% on it.
I had listened to others and set the bar low for him.
And he reached that bar.
It was the bar everyone set for him.
He sat there observing most of the year and not only learned Spanish but English.
Was it perfect?
No, but you clearly knew what he was trying to communicate.
Yet when I raised the bar he stepped up.
After the test and the essay from that day out he was told to do every assignment, and he did.
He ended up with a B in English.
Not a modified B…but an you earned it B.
I keep hearing stories (and from some people I know) who have grown adult children living at home with them.
Now, I don't mean fresh out of school age kids, I'm talking kids going into their mid-20's to 30's and what not.
These aren't kids who moved out and needed to regroup for a few months, these are kids who have lived at home the whole time.
Why?
Can't find jobs.
And more honestly, because mom and dad don't make it a necessity for them to move out.
They can't find jobs one is amusing.
They can find jobs it's just they feel they should have jobs that pay them $60K to start.
And they won't work more than one job.
They don't want to work weekends.
They don't want to work nights.
I hear it all the time how the adult child went to college and it's beneath him to work a low paying job…so not working is the solution.
Way to show companies you are a real go-getter.
An acquaintance of mine, her son just quit his job (working part time…because why work when everything is paid for?) because they wouldn't give him a month off.
Why a month?
He's stressed and wants to go to Europe (which the parents are paying for).
He felt the company was unreasonable…and wait for it…considered suing…right up until he talked to a lawyer who laughed at him.
At least he found an honest lawyer who didn't just take his money for a case he couldn't win.
Set the bar high.
People might not make it to the bar but they will get further at least reaching for it.
Speaking of setting the bar high…homemade Twix.
But not just any Twix…grown up Twix.
Or Brown Butter Whiskey Caramel Bites as I'm calling them.
Aka ones with booze and a more sophisticated palate (aka brown butter).
I'm starting to see Halloween candy out (just 10 weeks away) and it made me want to make my own candy.
I have wanted to make my own Twix bars for quite some time.
I love whiskey in my caramel and I love brown butter so it was a no-brainer for me.
If you are unfamiliar with how to make brown butter, go here.
If you don't like booze then you can just sub water for the whiskey.
Sadly the booze does burn off so not to worry you won't be getting tipsy off of these bites.
I set the bar high for myself and decided I would make them into bites which meant I had to coat them.
It always seems like a good idea until I have to do it.
The recipe I adapted mine from uses chocolate melts.
I'm not a fan of those but if you are just looking for pretty then go with that.
I was going for taste and so I used real chocolate.
You can buy the salt on Amazon (yes, that's an affiliate).
Last but not least…it's a great time to order my cookbook.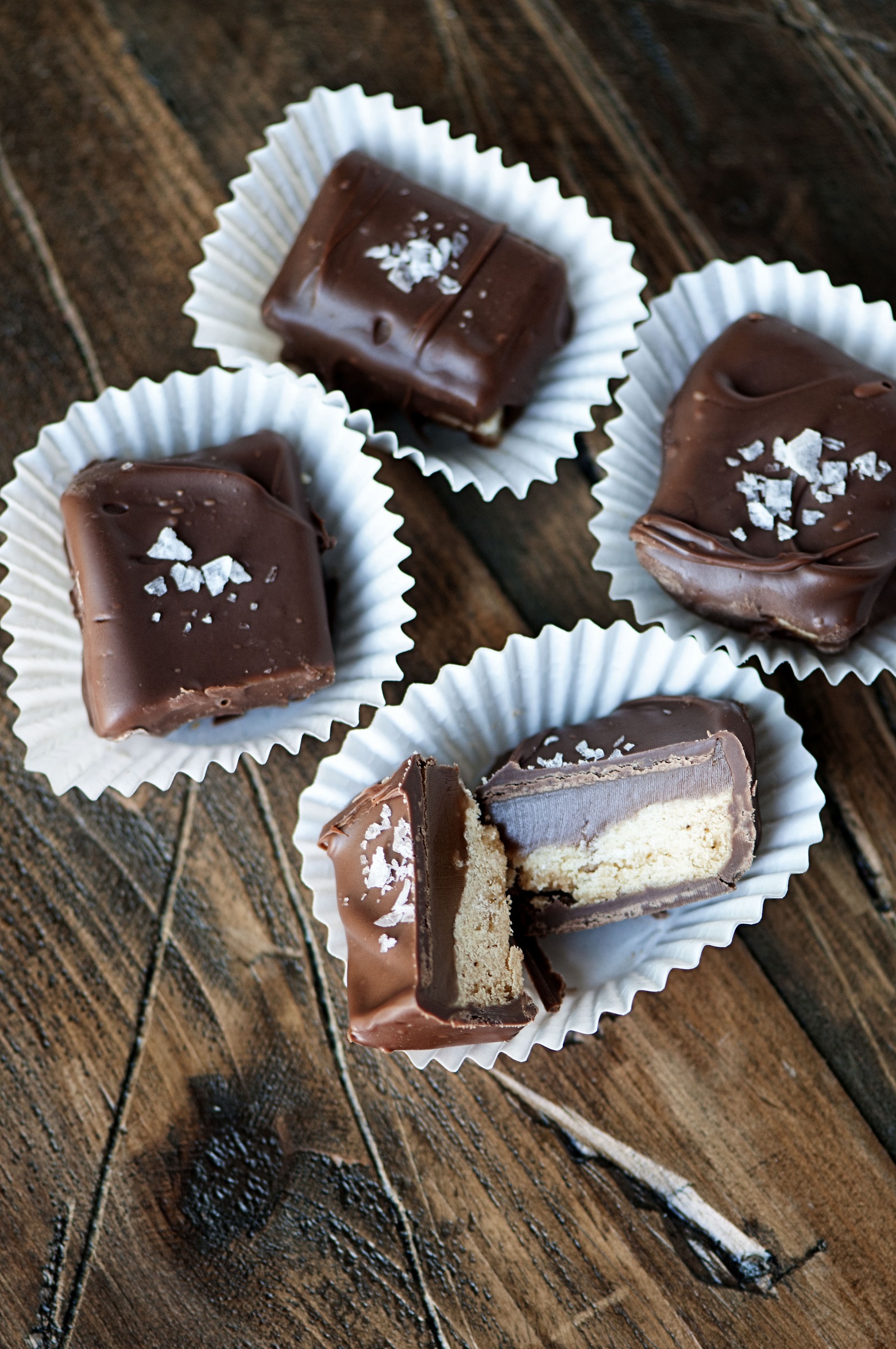 Want More Bar Recipes?
Butterscotch Honey Roasted Cashew Bars
Salted Chocolate Chip Butterscotch Toffee Cookie Bars
Strawberry Lemonade Lemon Bars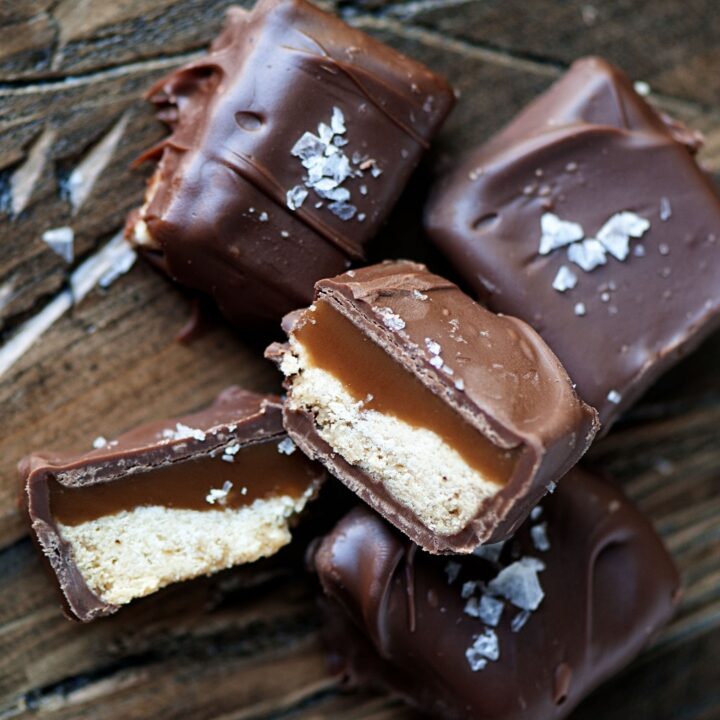 Brown Butter Whiskey Caramel Bites
Ingredients
For the Brown Butter Shortbread:
½ cup salted butter, at room temperature
½ cup unsalted butter
1 cup powdered sugar
2 tsp. vanilla extract
2 cups all-purpose flour
For the Whiskey Caramel:
¼ cup whiskey
1½ cups granulated sugar
¼ cup light corn syrup
1 cup heavy cream
5 TBSP unsalted butter, cut into 5 pieces
½ tsp. pure vanilla extract
For the Topping:
24 oz. milk chocolate chips
2 tsp. vegetable oil
Maldon Sea Salt for sprinkling
Instructions
Brown the butter.
Pour browned butter into a bowl and set into a fridge to form into a solid, about an hour.
Preheat oven to 300 degrees Fahrenheit.
Prepare a 9×13″ baking dish by lining with parchment paper so as able to lift the bars out when done.
Cream together the salted butter, browned butter, powdered sugar and vanilla until smooth.
Add the flour and beat on medium speed until crumbly dough is formed.
Press dough evenly into the bottom of your prepared baking dish.
Poke several holes in dough with a fork, covering the entire surface.
Bake for 35-45 minutes until top is golden brown. Set aside to cool.
Whiskey Caramel:
Combine whiskey, sugar and corn syrup in a deep saucepan and bring to a boil over medium high heat. Boil until mixture is a fragrant golden brown, swirling occasionally.
In a microwave safe bowl heat butter, cream, and salt for about 30 seconds, or until butter has melted.
Once sugar is golden brown in color, remove from heat and slowly add cream mixture.
It will bubble up so stand back.
Stir in the vanilla with a wooden spoon and return the caramel to medium low heat.
Stirring occasionally, cook for about 10 minutes until a candy thermometer reads 248 degrees Fahrenheit.
Once desired temperature is reached, remove from heat and carefully pour caramel over your cooled shortbread.
Do not scrape sides of saucepan, this caramel will be slightly overdone and can be discarded.
Refrigerate until caramel is set, about two hours.
To make the Twix:
Cut shortbread into 1 inch squares or rectangles of desired size with a sharp knife.
Melt chocolate chips in a microwave safe bowl, one package at a time, according to package directions. Stir in the vegetable oil to thin it out and give it a shiny appearance.
One at a time, dip squares into chocolate.
Pick up using a fork and tap on side of bowl to remove excess.
Slide onto parchment paper and sprinkle with Maldon Sea Salt.
Once chocolate has set, candies should be stored in an airtight container or packaged for immediate gifting.