Peanut Butter Munchies No Churn Ice Cream with clusters of Ritz crackers, potato chips, pretzels, and M&M's is super addictive.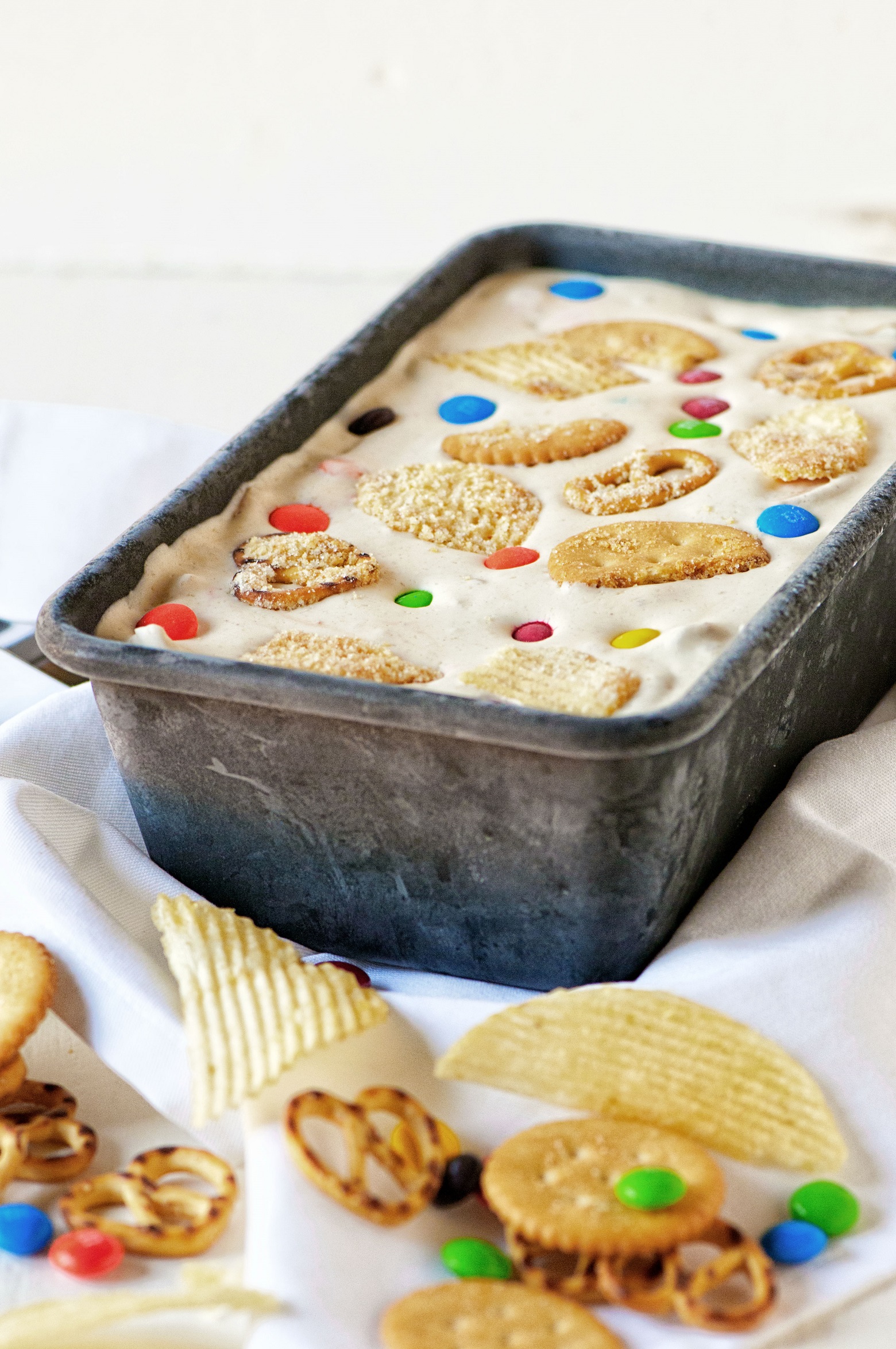 August is my least favorite month.
It didn't used to be.
When I lived in AZ, August was back to school month.
In fact most of my AZ teacher friends are back to work this week prepping their classrooms since school starts next week for them.
But here in WA state school doesn't start to September and with no kids in school I won't be paying that much attention to school calendars.
So why is it my least favorite month?
Well, it's usually the warmest month.
Luckily, we have had a somewhat mild summer so far (knock on wood), even having a high of 66F yesterday!
It's pre-fall.
It's the month that I'm like hurry up so September can get here and it can be fall darn it all. 🙂
But the thing that bugs me the most is that nothing really happens in August.
There are no major holidays.
No one has a birthday, I mean lots of people have birthdays in August, just, not anyone super close to me.
It's just like a blah month.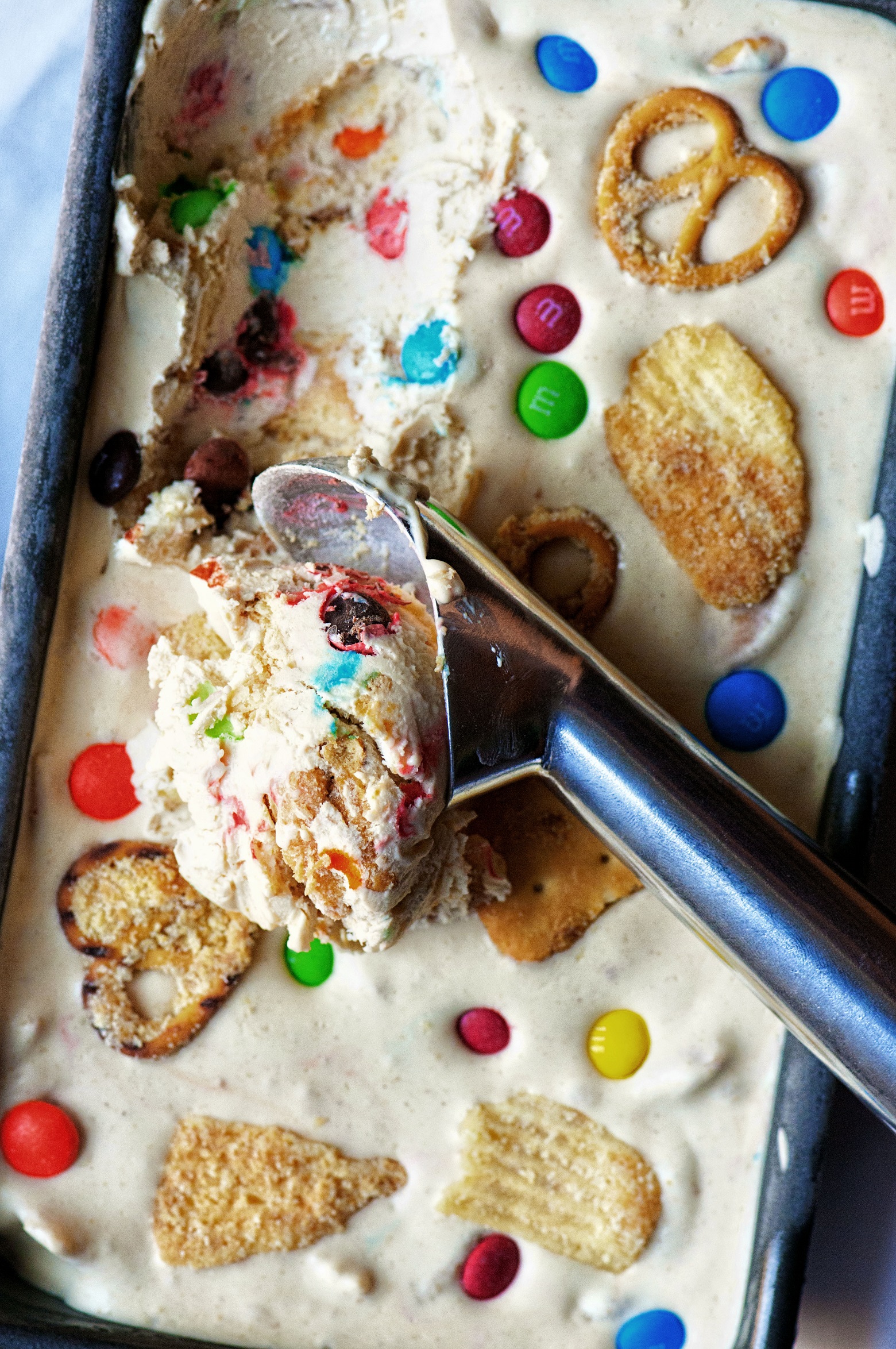 It is, however, the one month I tend to make a lot of ice cream.
And I have the best ice cream maker ever.
Yes, I gulped when I bought it but I must say that having a machine that you don't have to freeze the container for 24 hours before you make ice cream is awesome.
You can literally just be like hey, I want ice cream and go make it.
Which of course, can cause you a little trouble in the pants fitting department. 😀
But I do get people saying I don't have a machine….go get one.
The kind you have to pre-freeze are fairly cheap and homemade ice cream is awesome.
But I do take your comments to heart and got on board the no-churn ice cream craze that everyone is on right now.
I took a regular ice cream recipe and converted it into the no-churn style.
This Peanut Butter Munchies No Churn Ice Cream has so much going on and it's all good.
Peanut butter and pretzel based sweet cream.
Then M&M's and these sweet and salty mix-ins of Ruffles, pretzels, Ritz crackers to make it extra addictive.
I will say that while I really liked this ice cream, I probably would have liked it as churn ice cream.
If you want that you can use this recipe (and just add 1/3 cup of peanut butter to the base).
But if you don't have an ice cream maker this will certainly get your ice cream fix.
Also…totally in love what Half Baked Harvest did as her ode to this ice cream.
Last but not least…it's a great time to order my cookbook. 😀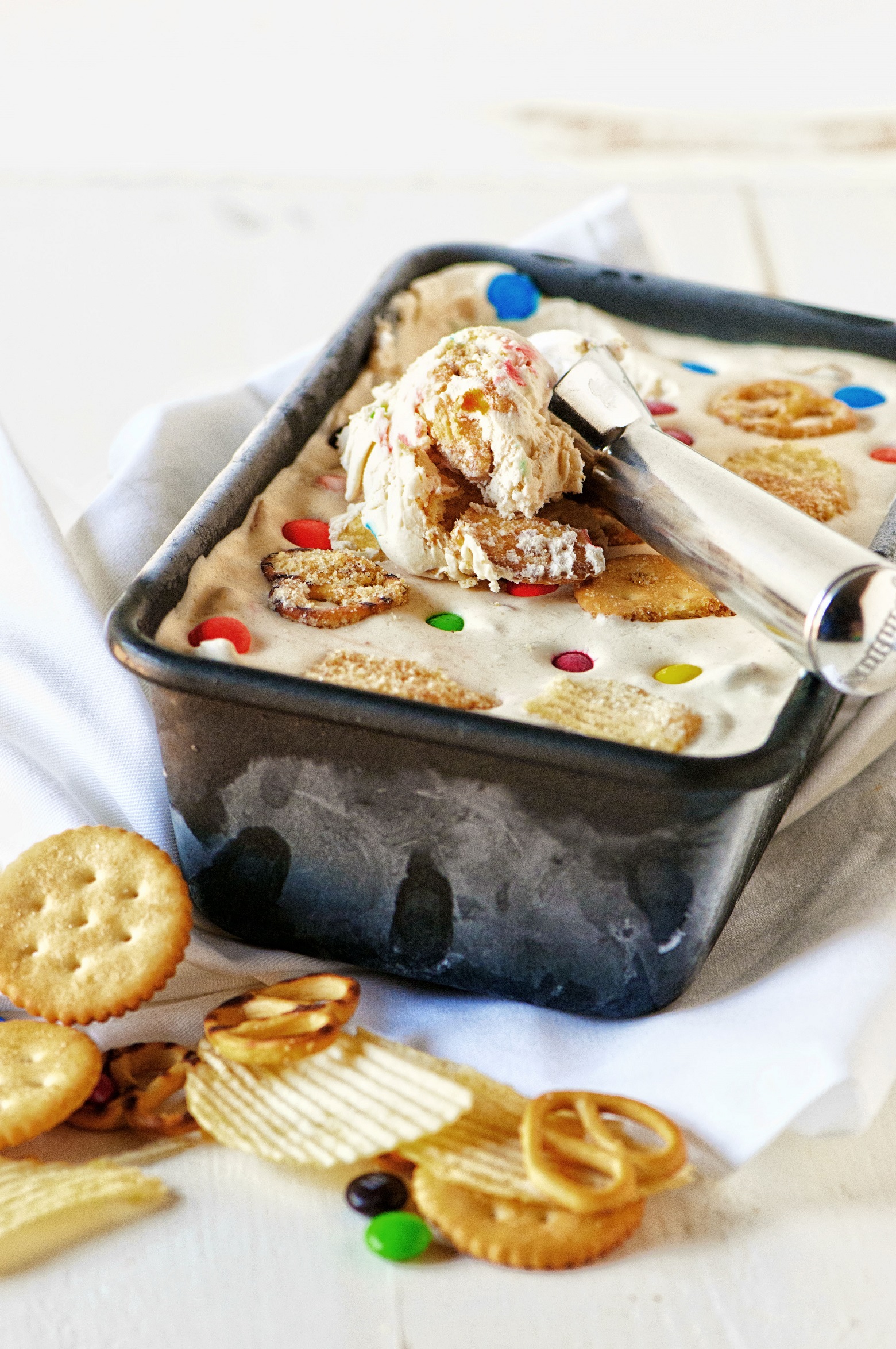 Want More Ice Cream Recipes?
Pineapple Upside Down Cake Ice Cream
Circus Animal Cookie Ice Cream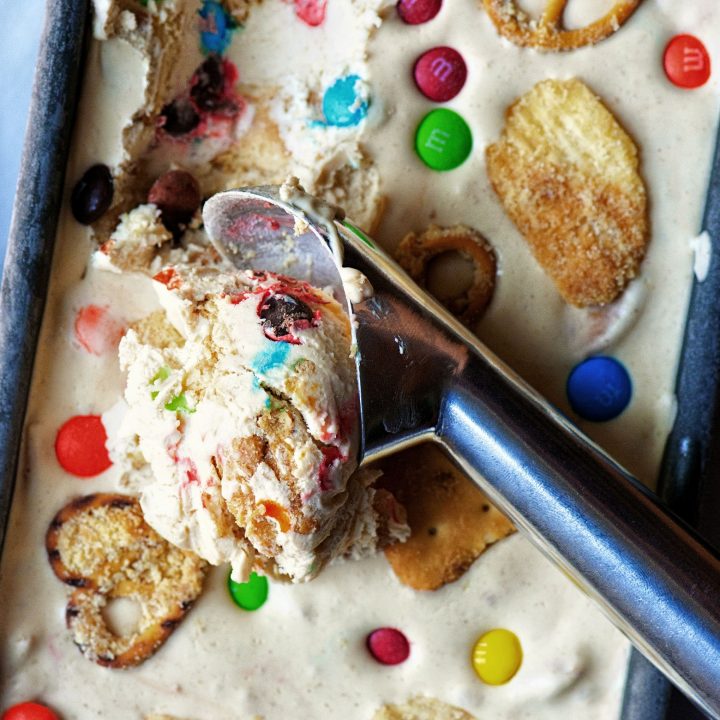 Peanut Butter Munchies No Churn Ice Cream
Ingredients
For the ice cream base:
3 cups heavy cream
1/3 cup peanut butter (I used Jif)
14 oz. can sweetened condensed milk
2 tsp. vanilla extract
1 cup salted mini pretzel twist
For the Munchies Mix-In:
1 generous cup Ritz crackers
1 generous cup salted mini pretzels
1 generous cup salted potato chips
½ cup skim milk powder
1 cup granulated sugar
½ cup unsalted butter, melted
8 ounces M&M's
Instructions
To make the pretzel cream:
In a large saucepan, heat the cream over medium-high heat until it starts to steam, about 5-10 minutes. Remove the pan from the heat and stir in the pretzels.
Cover the pan and let the pretzels steep for 20 minutes.
Pour the mixture through a wire-mesh strainer into a bowl, pressing down on the pretzels to extract as much cream as possible.
Discard the pretzel pulp but don't worry if some of the pretzel "pulp" pushes through into the ice cream.
Place in fridge for several hours until cold enough to be whipped into whip cream (about 4 hours).
For the munchies mix-in:
Preheat the oven to 275ºF. Butter a 12-by-18-inch baking sheet and line it with parchment paper.
In a large bowl, using your hands, break up the crackers, pretzels, and potato chips into pieces about a quarter of their original size.
The goal here isn't to pulverize them into dust (though a little dust is OK, as it will help bind everything together later on).
Add the skim milk powder and sugar and toss to combine.
Pour the butter over the mixture and work it together with your hands, squeezing it into clumps and breaking it apart, almost like kneading dough.
Spread the mixture evenly over the prepared baking sheet and bake for 20 minutes, until the mixture just begins to toast and turn brown.
Set aside to cool completely.
For the ice cream:
In a medium bowl, stir together condensed milk, vanilla, and peanut butter.
With a standing mixer and using the whisk attachment, whip the pretzel heavy cream on medium-high until soft peaks form.
Whisk one third of the whipped cream into peanut butter mixture.
Fold the remaining whipped cream into the mixture until it is incorporated.
Fold in the munchies mix ins.
Use as much of the mix-ins as you want; you won't necessarily need the whole batch.
Pour into a loaf pan (see note), and freeze until firm, 6 hours.