This Pineapple Upside Down Cake Ice Cream has a tart yogurt buttermilk base, swirled with pineapple caramel sauce, pound cake, and maraschino cherries.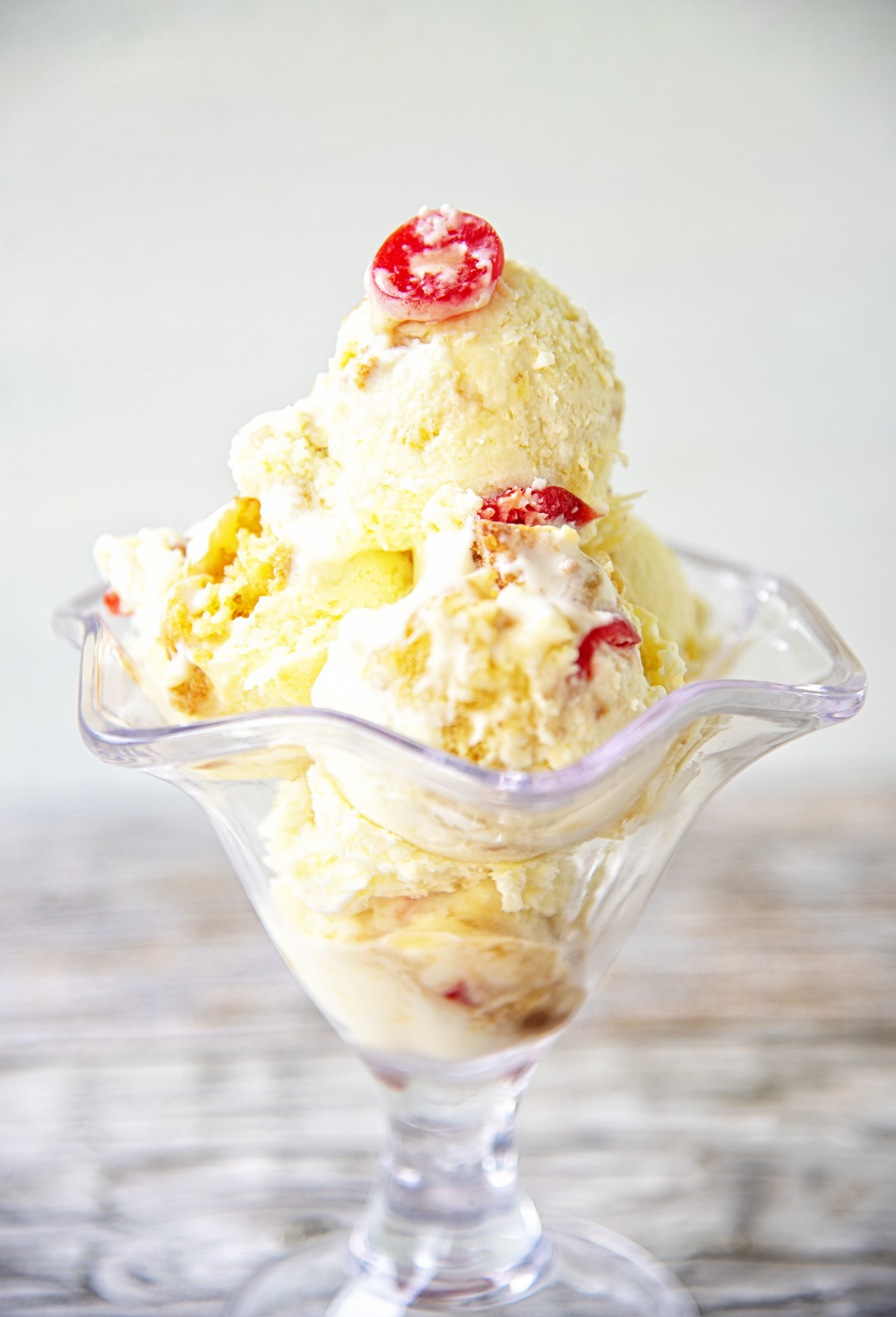 Long time readers of this blog know about my obsession with Jeni's Ice Cream.
OBSESSED.
In 2011 Jeni came out with a cookbook that I ordered and fell in love with.
Her flavors were unique and aligned with my palate.
However it was not until 2014 when I went to Nashville that I got to go to my first scoop shop (they have more flavors there than online).
Man, oh man was it good.
From that point on I made sure that if I was picking a city to travel to that they had a Jeni's Ice Cream.
I'm hoping one day Seattle will get one.
But recently people were bagging on Jeni's.
Because the Speaker of the House had a bunch of her pints in her fridge.
The Speaker of the House has an expensive Sub Zero fridge.
I would have one too if I could afford it.
But that was freaked out over.
A good chunk of all of Congress, both Democrat and Republican, are rich.
With over 50% being millionaires.
Jeni's Splendid Ice Cream is pricey. $12 a pint.
And in my opinion it's worth it.
High quality ingredients cost money.
You can get cheaper ice cream….because it's cheaply made.
Jeni supports local farms and businesses, most of which are in Ohio where the first shop started and where she lives.
They are a certified B-Corp and currently 95% of what they use in their stores is reusable, recyclable, or compostable.
And no, this is not a sponsored post or ad…I just really love the ice cream and the company.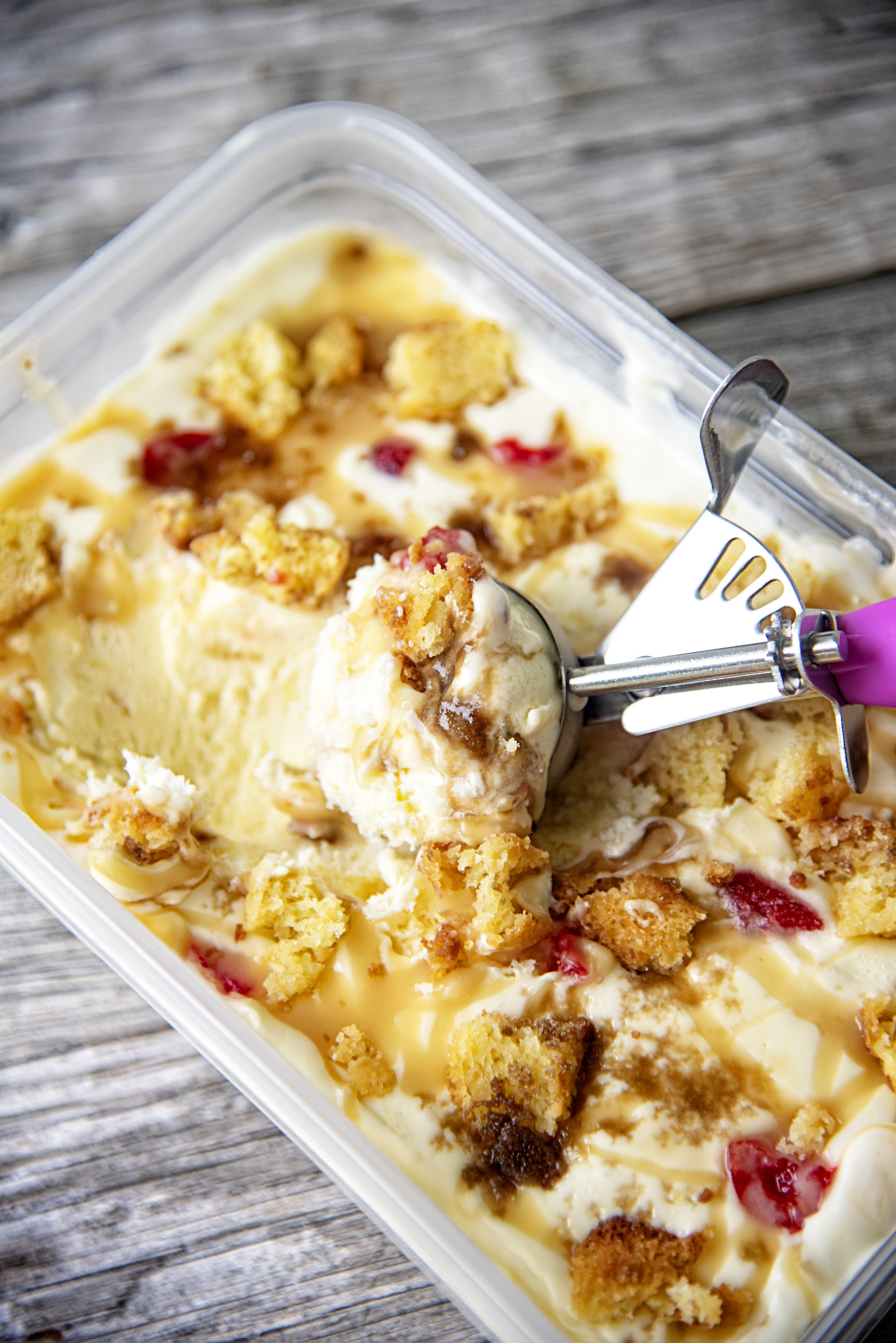 Nancy Pelosi has money. All businesses need people to buy their products to stay open.
Jeni started with one shop and now has I believe 50 stores.
That's supposedly the American dream.
Building your brand and doing it supporting local American farmers and businesses.
That's about as American as you can get.
They of course also have employees too.
So why not buy from them if you have the money to do so?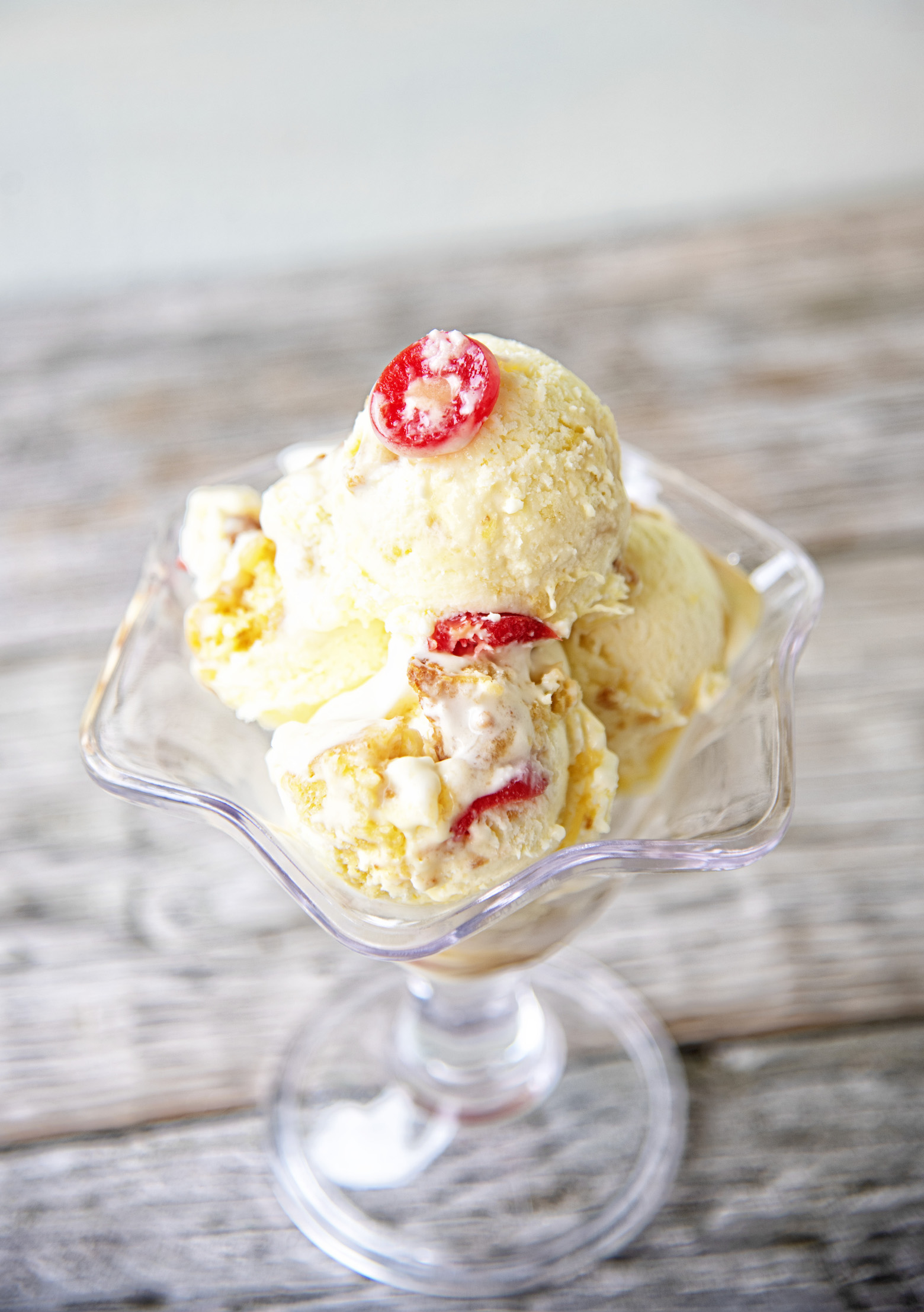 If you are saying $12 a pint is ridiculous let's look at this ice cream.
This Pineapple Upside Down Cake Ice Cream is based on a flavor that I have had from Jeni's.
The base has buttermilk (I used a local farms buttermilk and it cost about $4).
Then full fat yogurt (again from a local farm and that cost $5).
It uses heavy cream (which runs around $7 a pint here).
So just out of the gate I'm out $16 to buy the dairy needed.
Granted this recipe will get your more than a pint…but not that much more.
Add in the pineapple, pineapple juice, pound cake, cherries, eggs, etc…and guess what.
I would have been cheaper for me to just order it. 🙂
This ice cream has a lot of steps.
A pineapple curd to go in the base.
A pineapple caramel sauce.
Cake pieces. Maraschino cherries.
A lot going on.
But it does make for a tasty ice cream.
And as always it's a great day to order my cookbook.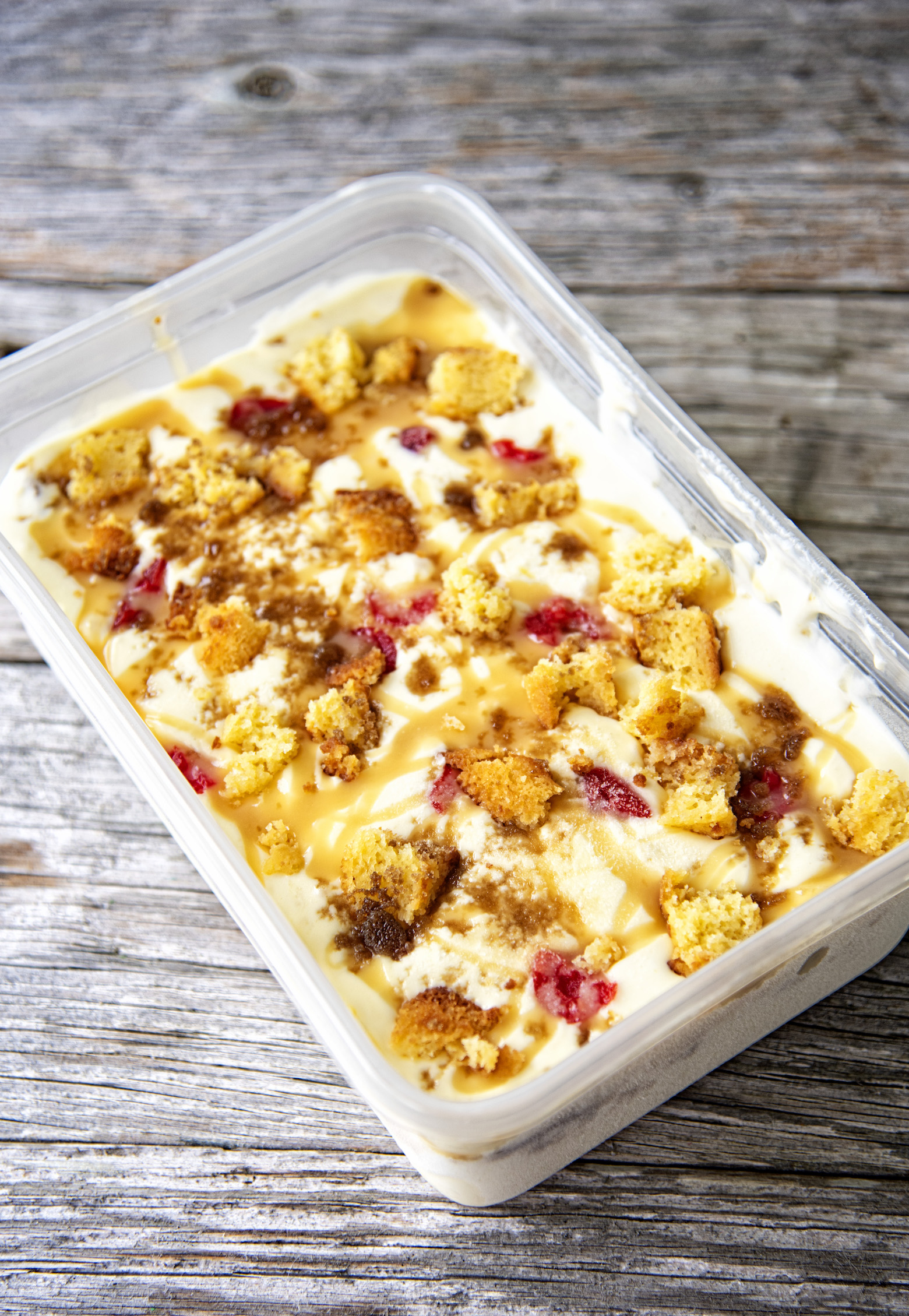 Want More Ice Cream Recipes? Try these:
Peanut Butter and Pretzel No-Churn Ice Cream
Circus Animal Cookie Ice Cream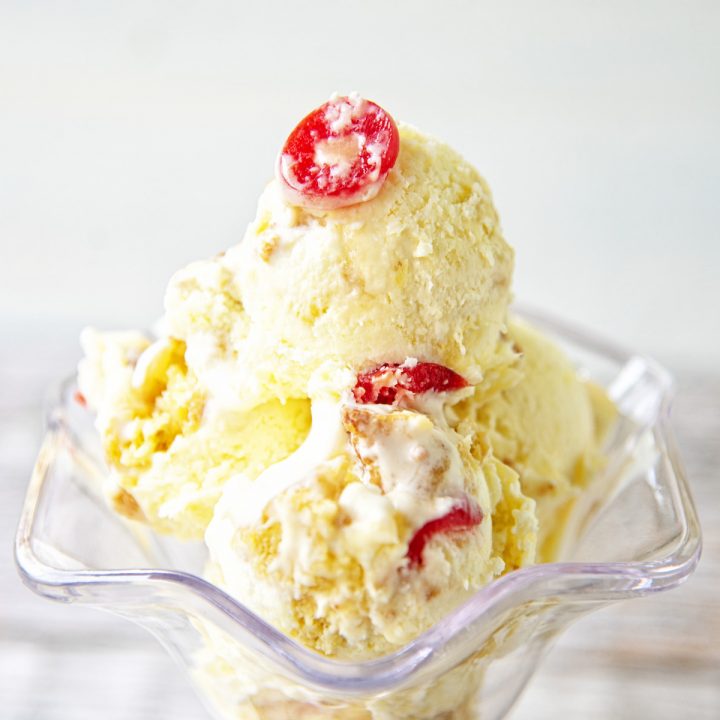 Pineapple Upside Down Cake Ice Cream
Ingredients
For the Pineapple Curd:
2 large egg yolks
1/2 TBSP corn starch
1/2 cup granulated sugar
1/2 cup pineapple juice 
 4 TBSP unsalted butter, cut into cubes
For the Pineapple Caramel:
1/3 cup pineapple juice
1 cup granulated sugar
3 TBSP unsalted butter cut into pieces
3/4 cup heavy cream, at room temperature
1 tsp. vanilla extract
For the Ice Cream Base:
1 quart plain full fat yogurt
2/3 cup full fat buttermilk
1 cup whole milk
2 tablespoons cornstarch
2 ounces (4 Tablespoons) cream cheese, softened
1/2 cup heavy cream
2/3 cup sugar
1/4 cup light corn syrup
1 cup pineapple curd
For the mix ins:
1 cup crushed canned pineapple, drained
1 cup maraschino cherries, sliced
1 1/2 cups pound cake, toasted, diced into bite sized pieces
2 TBSP brown sugar
Instructions
For the Pineapple Curd:
In a medium saucepan, mix together the egg yolks and corn starch until completely smooth.
Add the sugar and juice until everything is well blended.
Turn the stove on medium-high heat.
Constantly stir until the mixer simmers (about 7-10 minutes).
Let it keep simmering for about 45 seconds. Remove the saucepan from the heat and add in the butter one cube at a time.
Whisk until smooth.
Chill the curd in the refrigerator until cool, about 2 hours, until ready to use.
For the Pineapple Caramel Sauce:
Place the pineapple juice and sugar to a medium saucepan.
Heat over medium-high heat until it begins to boil, stirring constantly to dissolve the sugar.
Turn the heat down to medium and insert a candy thermometer.
Do not stir the sugar as it boils.
As soon as the mixture reaches 310-15 degrees F immediately remove it from the heat.
If you want a darker caramel you can go to 330F.
Just be careful not to let it go too far because it will burn.
Carefully and slowly pour the cream into the caramelized sugar while whisking.
The caramel will bubble up and is extremely hot.
Continue to whisk until all the cream has been added and is mixed in thoroughly.
Whisk in the butter and vanilla.
Set the pot on a wire rack to cool completely before transferring to a glass container for storage.
If you want to you can add a little apple pie spice to the caramel as well.
For the Ice Cream Base:
Whisk together the buttermilk and yogurt. Set aside.
In a small bowl, mix 2 Tablespoons of milk with the cornstarch to make a slurry. Set this aside.
In a large bowl, break apart the cream cheese and mix it until it is smooth. Set a fine mesh sieve above it and set aside.
In a medium sized saucepan, heat the cream, remaining milk, sugar, and corn syrup on medium to medium-high heat until boiling. Allow the mixture to boil for 4 minutes.
Take the saucepan off the stove and very carefully add the cornstarch/milk slurry. Mix until everything is well incorporated and put the pan back on the stove. Allow the mixture to come back to a boil and until the liquid becomes slightly thicker, about 1 minute.
Turn off the stove and pour the liquid through the sieve into the large bowl with the cream cheese.
Add the buttermilk mixture and pineapple curd and mix well until everything is fully incorporated.
At this point, you have two options. You can either set the base over an ice bath (pour the contents into a large zip-top bag, seal it shut and place it over a large bowl with ice cubes), or put it in the refrigerator for several hours or overnight.
Once the mixture is completely cool, add in the 1 cup crushed canned pineapple and mix until fully combined.
Pour into the ice cream machine and churn it according to the manufacturer's directions.
Once ready, spread half of the ice cream on to the bottom of a freezer safe container. Longer containers work best for layering.
Scatter half of the pound cake and cherries over the ice cream.
Then drizzle about 1/3 cup pineapple caramel sauce over the cherries and pound cake pieces.
Spread the remaining ice cream over that.
Sprinkle the remaining cherries and pound cake over the ice cream layer.
Drizzle another 1/3 cup pineapple caramel sauce.
Sprinkle 2 TBSP brown sugar over the top.
Cover and place in freezer for at least 4 hours.