This rich and chocolatey Chocolate Pudding Ice Cream is literally made by making chocolate pudding and then turning it into ice cream.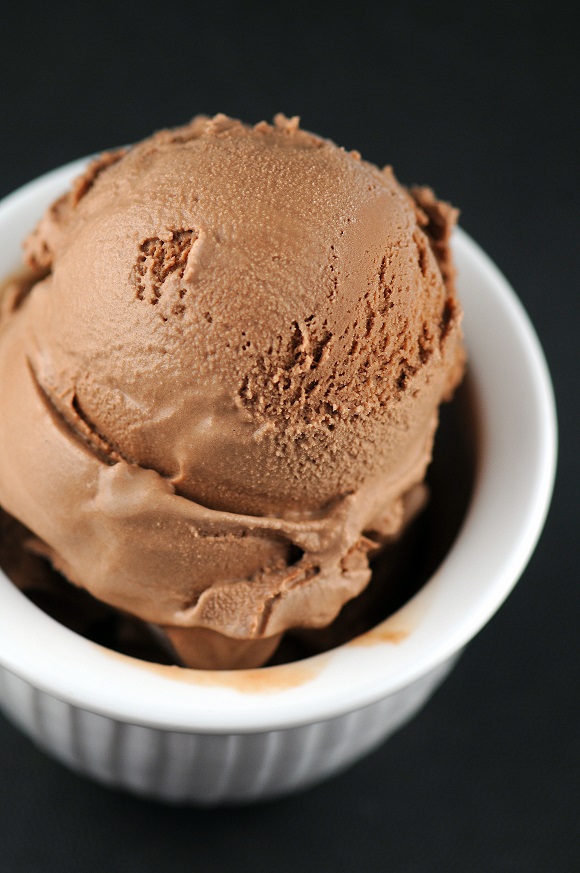 Everything for a reason had never been clearer than a week ago Friday.
And it's what inspired this Chocolate Pudding Ice Cream.
It was the first day of IFBC and I wanted to be on time because my baking idol, Dorie Greenspan was going to be the keynote speaker.
I parked in the parking garage next to the hotel only to realize I left my wallet at home.
So I tried to leave but they wouldn't let me.
Not without paying the minimum.
Ummm.
So I frantically called my husband and asked him to bring me money when he got off work so that I could break free from parking garage jail at the end of the night.
Luckily he only worked about 10 minutes from the hotel.
Already off my game I walk upstairs and the first person I see is Dorie Greenspan.
Now Laurie, my BBF is the woman who started Tuesdays with Dorie, had told me that I was to go tell Dorie hi for her.
So I had an ice breaker and wasn't just going to be a mumbling star struck fool.
I probably still was but I didn't care.
She was with her husband Michael (a very kind and delightful man) and I just went for it walked up and said "Laurie says hello".
She glanced at me and in one big swoop said Peabody while simultaneously hugging me.
A warm, genuine hug.
I was pretty much dying a happy death inside.
The next thing you know before I can really say anything she was telling me that she loved my bag (I was sporting my Eat Cake for Breakfast tote).
And then her husband was handing a tube of her Beurre & Sel Sable Cookies (that are incredible!) saying "is she supposed to get some of these?"
With Dorie said "you can give this lady whatever she wants".
Which is a dangerous thing to say because what I wanted was to scoop up Dorie and take her to my house and have her bake cookies with me.
But alas I had no money to get out of the parking garage.
So she was safe. 🙂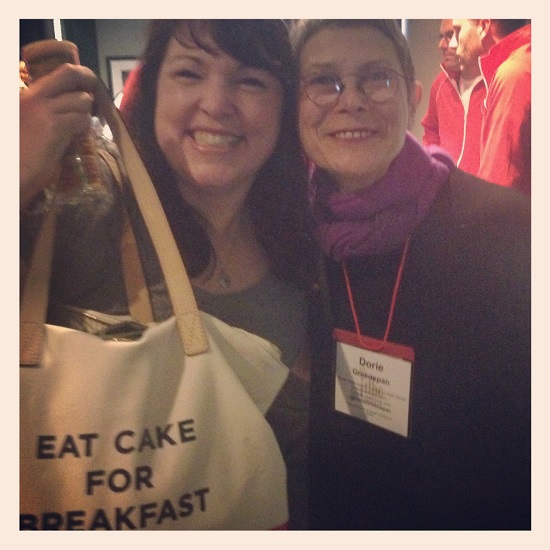 I asked for a photo (as you can see) and she had her husband take a photo of us on HER phone.
That's right my baking idol was taking a photo of me and her…for HER.
To say it was surreal was an understatement.
Not wanting to hog her for myself, I thanked her and went to get my name tag.
I was thinking that would be it and to be honest that so would have been enough.
But that was not the end.
We filed into the conference room for the welcome and then Dorie's speech.
Which brought tears to my eyes twice.
Once because of the incredibly sweet things she said about Laurie and the other because it was a reminder of why I blog.
One of the things I love about blogger conferences is I often have a resurgence of wanting to blog again (sometimes you can lose your mojo).
Even more Dorie reminded me why I started my blog.
See, I didn't start it to make money.
I started it to share my love of desserts 8 ½ years ago.
And I figured my mom would read it (which ironically my parents don't) and maybe a friend or two.
Never thought it would get the amount of traffic it does now.
It freaks me out sometimes.
But I started my blog so that I could make desserts/food that people would want to go make themselves and then hopefully come back and give me feedback.
Dorie talked about how one of the hard things about cookbook writing is that you used to just write a cookbook, send it off, and hope for the best.
You really didn't get much feedback.
But then all of a sudden through blogs and forums she was getting to see people taking photos of her recipes and commenting about them.
Instant gratification.
I totally get that.
It's one of the things I miss greatly.
People used to comment often, now across the board, unless you are giving away something comments have dropped off considerably even as traffic grows.
Which is sad since I like to think I have built a community.
It's my favorite part of blogging, the interacting with people.
Making people happy with my food and touching people's souls with my words of self-acceptance and body image love.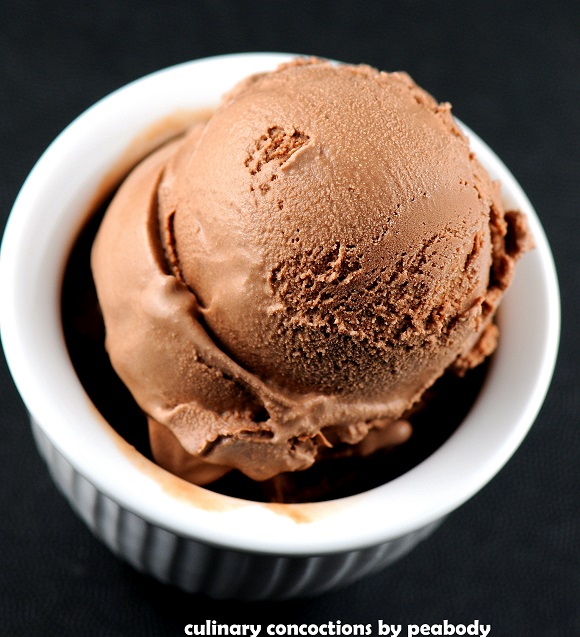 We then got to ask questions (a little more on that in a bit).
She finished.
I wanted to give her a standing ovation but people stayed seated (boo) and so I stayed seated too…I should have just stood.
And I thought that would be it.
She would be just like any other keynote speaker and do her speech and then be off.
I was wrong.
The Amazon Live Blogging was taking place when my husband text me that he would be outside the hotel in about 5 minutes and to come meet his as he was not going to park.
So downstairs I went.
And there by the door was Dorie's husband Michael…I asked to confirm that. 🙂
I was kind of on a OMG that's Dorie Greenspan high when I met him so things were a little blurred.
So I explained why I was down there and he graciously offered to give me money to get out of the parking garage.
While I told him thank you that was beyond kind but that my husband was already on his way.
We started chatting about Laurie and our crazy story of how we are super close and yet have never met in person and won't meet in person until she comes for my wedding as a bridesmaid.
It was a fascinating story to him, it is to most people.
I excused myself and ran to meet my husband and got money and came back.
At that point, I decided that if he was willing to continue talking to me that was far more interesting to me at that moment than food (and that's saying a lot as I love food).
Another blogger (the only male member of French Fridays with Dorie…also a group Laurie started) had joined him.
We began talking cookbooks, not in the gee can you help us get one, but in the reality that cookbooks don't make what people think they do and what it takes.
Something that now, as a published cookbook author, I can assure you is very true.
We talked about how Amazon had screwed up a few years back and sold her two most popular books (Baking: From My Home to Yours and Around My French Table: More Than 300 Recipes from My Home to Yours) as a set for $5.42.
I told him I felt a little guilty because I bought 20 sets that day, which Amazon had to honor.
That Dorie's Baking is the number one cookbook I give to people.
He just smiled and said…we bought 100.
That was so funny to hear.
Amazon figured it out and the price went back to what it was supposed to be…$54.20.
Oops…but an awesome oops for me, and the Greenspan's. 😀
He offered to buy us a beverage and I thought I'm not passing this opportunity up.
I said yes but then excused myself to go get my stuff from the conference room.
Back down in the lobby we drank coffee and tea and talked a myriad of topics.
Including a documentary suggestion that I'll be watching on Netflix this week (watched…amazing it's called Searching for Sugaman).
Then low and behold there was Dorie.
She came and sat with us and I discussed how much wonderful her speech was.
We discussed butter, blogging, Laurie, and many other things.
I explained to her about the Saturday night dinner and she decided that sounded fun.
And was going to do that instead of what they had planned.
In fact Dorie attended most of the conference.
She was so accessible and smiled big as person after person asked for a photograph with her.
As most would agree that Dorie's speech and being at the conference was the highlight of the conference for them…it was for me.
Dorie is sincere, humble (almost to a fault, I don't think this woman realizes that if they made a poster of her it would be up in my kitchen), generous, and very kind hearted…it was seen throughout the weekend by everyone.
Almost every person who has written about the IFBC conference has mentioned how touched they were by her.
Me leaving my wallet was the best thing to happen, if I didn't I would have had no reason to go down to the lobby.
They left so that Dorie could get in a little walk and fresh air and I went off to the conference.
Still walking on a cloud. I saw her one other time at that Taste of Seattle event later that night.
I had planned on being at the conference the next day but a bunch of stuff happened and all I was able to get to was the dinner and she wasn't in my group.
So I would just like to say THANK YOU Dorie for taking the time to re-inspire me and for taking the time to speak with me for as long as both you and your husband did.
It's truly one of the highlights of my life.
Now onto the treats.
So my question to Dorie during the Q and A part that followed her talk I asked her what would be her last meal…specifically dessert.
She said ice cream.
Then said oh wait, ice cream and cookies.
Oh and chocolate pudding.
Ice cream, cookies, and chocolate pudding.
So this is my interpretation of Dorie's last dessert (which hopefully she won't be needed for a very, very long time because this world needs Dorie Greenspan).
Chocolate Pudding Ice Cream is what I made.
I didn't get to making the cookies but I will.
If you do not own any of Dorie's cookbooks…run, don't walk to buy them.
Speaking of cookbooks…It's a great day to buy my cookbook Holy Sweet!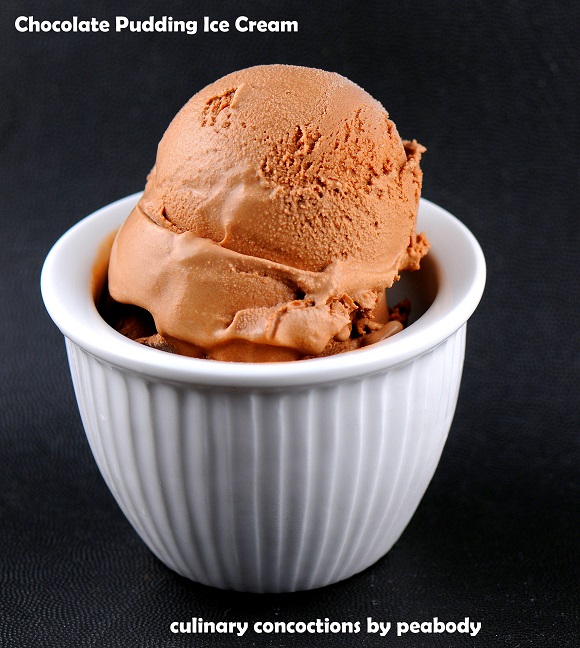 Want More Ice Cream Recipes?
Peanut Butter and Pretzel No-Churn Ice Cream
Circus Animal Cookie Ice Cream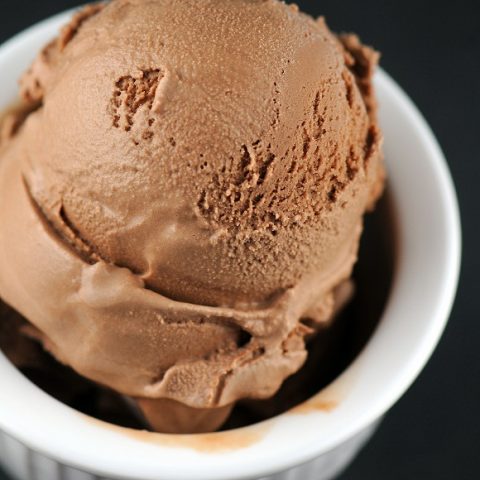 Chocolate Pudding Ice Cream
Ingredients
For the pudding:
2 1/4 cups whole milk
6 TBSP sugar
2 TBSP unsweetened cocoa powder
2 TBSP cornstarch
1/4 tsp. salt
1 large egg
2 large egg yolks
5 ounces semisweet chocolate, melted and still warm
2 TBSP unsalted butter, cut into 4 pieces, at room temperature
1 tsp. vanilla bean paste (or extract)
For the ice cream:
1 ½ cups heavy whipping cream
Instructions
For the pudding:
Bring 2 cups of the milk and 3 TBSP of the sugar to a boil in a medium heavy-bottomed saucepan.
While the milk is heating, put the cocoa, cornstarch and salt into a food processor and whir to blend. Turn them out onto a piece of wax paper, put the remaining 3 tablespoons sugar, the egg and egg yolks into the processor and blend for 1 minute.
Scrape down the sides of the bowl, add the remaining 1/4 cup milk and pulse just to mix, then add the dry ingredients and pulse a few times to blend.
With the machine running, very slowly pour in the hot milk mixture. Process for a few seconds, then put everything back into the saucepan.
Whisk without stopping over medium heat - making sure to get into the edges of the pan - until the pudding thickens and a couple of bubbles burble up to the surface and pop (about 2 minutes). You want the pudding to thicken, but you don't want it to boil, so lower the heat if necessary.
Scrape the pudding back into the processor (if there's a scorched spot, avoid it as you scrape) and pulse a couple of times.
Add the chocolate, butter and vanilla and pulse until everything is evenly blended.
Pudding recipe adapted slightly from Baking From My Home to Yours by Dorie Greenspan
For the ice cream:
Add the heavy cream to the food processor and blend until well combined.
Pour into a bowl and let chill for at least 6 hours or overnight.
Pour into your ice cream maker and follow your manufacturers instructions.