White Chocolate Cherry Espresso Bean Cookies have white chocolate chips, dried cherries, chocolate covered espresso beans and sea salt.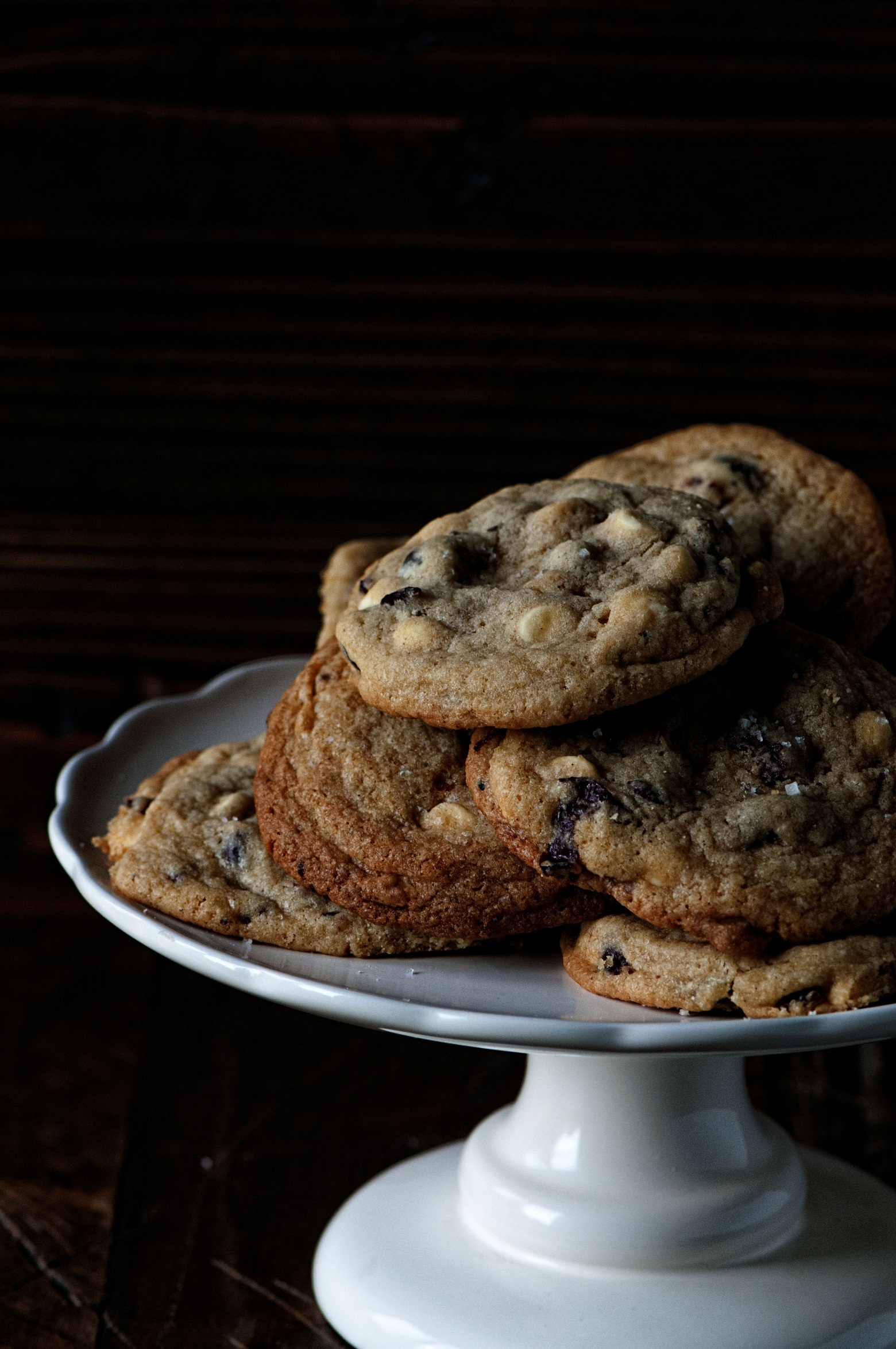 In high school I listened to alternative and punk music.
My high school me would probably die, okay not probably, TOTALLY die if she saw what is on my iPod these days.
Oh, sure there is still some old school punk, some Depeche Mode and Cure, some obscure bands that I have no idea what happened to.
But now there is also (hangs head) Taylor Swift (I can't help it she's got catchy stuff), P!nk, Kelly Clarkson, Garth Brooks, a variable cornucopia of artist.
Over time, taste can change.
Many things can.
I'm going to get political…don't worry…I'm not a hater.
You won't get bashing here.
When I turned 18 and registered to vote I put down Republican because that was what my parents were.
Hillary was a Republican for the same reason.
Trump was a Democrat.
Sometimes people switch.
It happens, stop making a big deal of it peeps.
Here in WA State I don't have to designate a party to vote in the primary which I greatly appreciate.
I also get to vote by mail, which I also appreciate.
Before that though, when I lived in AZ you had to pick which party you were in.
Now, I hate the two party system, and thought it would be fun to register as a Whig.
I also got many of my friends to also make the switch.
So many that we were interviewed for the paper because at one point, percentage wise, we were the fastest growing political party in AZ.
Because when you go from 4 registered Whig's to 27 that's a lot…percentage wise. 🙂
The only problem was I didn't get to vote in the primary election and was throwing that vote away.
So after the first time I did that and got a lecture from a friend about throwing my vote away I would just go and register to whichever party had the candidate I was going to vote for that year.
I bring this up because an alarming rate of US citizens are going to throw their vote away in protest.
Which, I am sorry is stupid.
I really, really hate the two party system.
Like HATE the two party system.
Whenever the presidential race starts out and I take one of those compressive tests that align which candidate you agree the most with and I never even know who the person is.
I always have to look them up on Google.
And then wonder what kind of weirdo I am when I find out who they are. 😀
Then, just like every four years I am left with two people I don't have strong feelings for.
But I do know that I have to vote for one of them.
Writing in the no name person, or even voting the third party person, is throwing away my vote.
I know you think you are taking a stand…you are not.
This year people like to say they are picking the lesser of two evils.
Don't.
Stop making it so personal.
People voted for W because he was a guy you could have a beer with…guess what?
You aren't going to be having a beer with the president any time soon.
Sorry to break that to you.
Why do you care if Hillary always wears pants suits?
Why do you care that a millionaire can't figure out the right shade of self-tanner?
I encourage all of you out there to go and take one of those quizzes, find out which candidate believes the same things you do.
You might be surprised.
I recently had a friend who thought for sure Hillary was her person only to come back with 11% of her views matching hers.
She was floored.
And in a not so extreme case I had a Trump supporter find out that they only agreed with 38% of what Trump said and were horrified that they got a higher percentage with Hillary.
These are your beliefs people.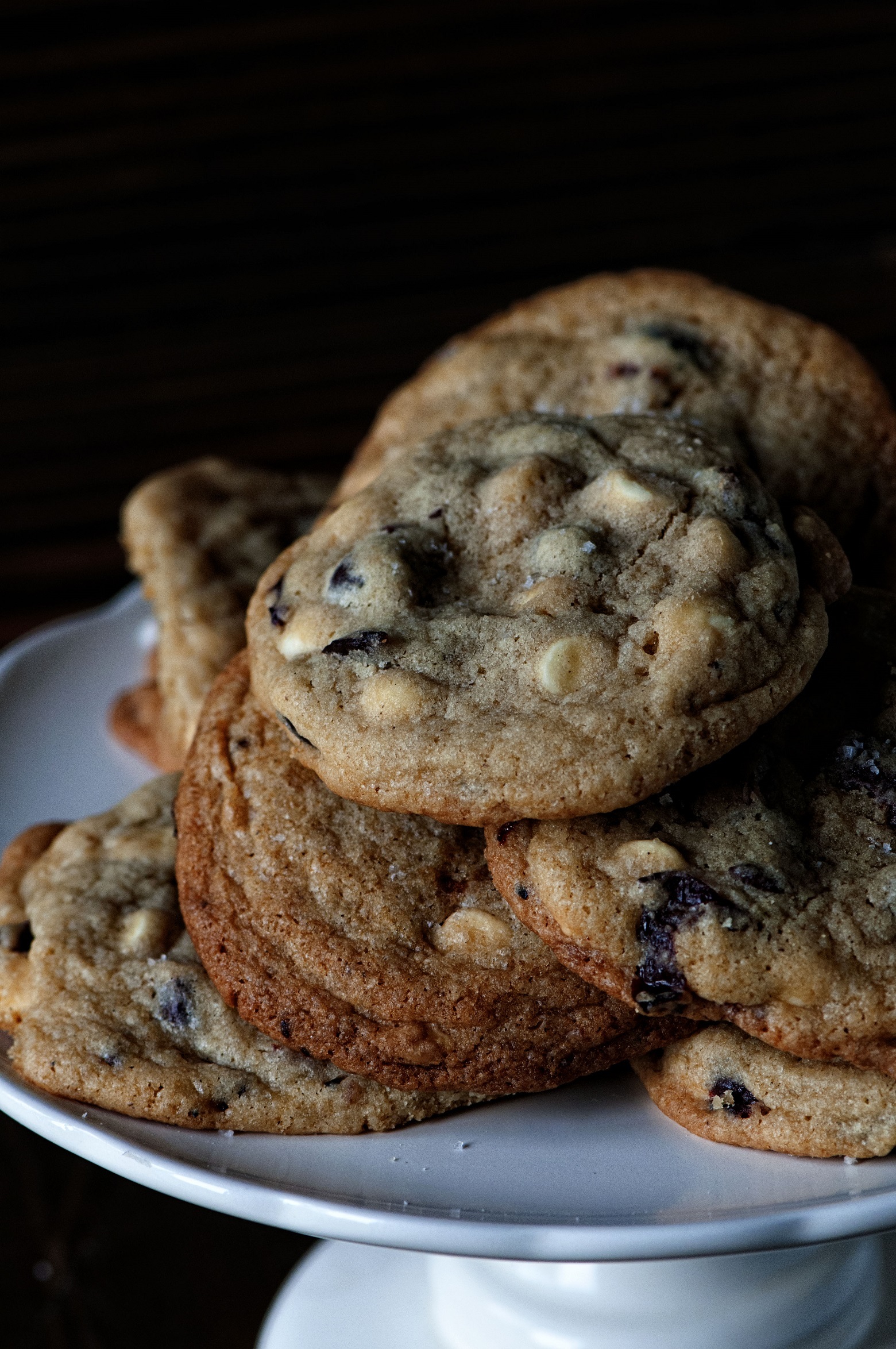 Many of our greatest presidents would not be elected today if social media, CNN, Fox News, MSNBC were all around back then.
If we lived in a perfect world we would not get to see the candidates.
We would not know their gender (don't get me wrong I think it's amazing that a woman got nominated for president)…but we shouldn't vote for someone just because they are a woman.
Or not vote for someone because they are a woman.
Looks would not matter.
We would not know their race.
We would simply just knew what the stood for.
What they believed in.
What they wanted to accomplish and HOW they would like to accomplish that.
Sadly we don't live in a perfect world…and so we have cookies to make up for it.
Now I know you are saying that you just had cookie with cherries and espresso beans.
But these are way different.
They are somewhat similar to one of my favorite cookies…these.
But the espresso beans really cut the sweetness even more so…so you can totally eat more of them. 🙂
I realize that this is a political post and some people will have STRONG opinions.
Please keep those opinions respectful or they will be deleted…because it's my blog. 😀
And last but not least it's a great day to buy my cookbook.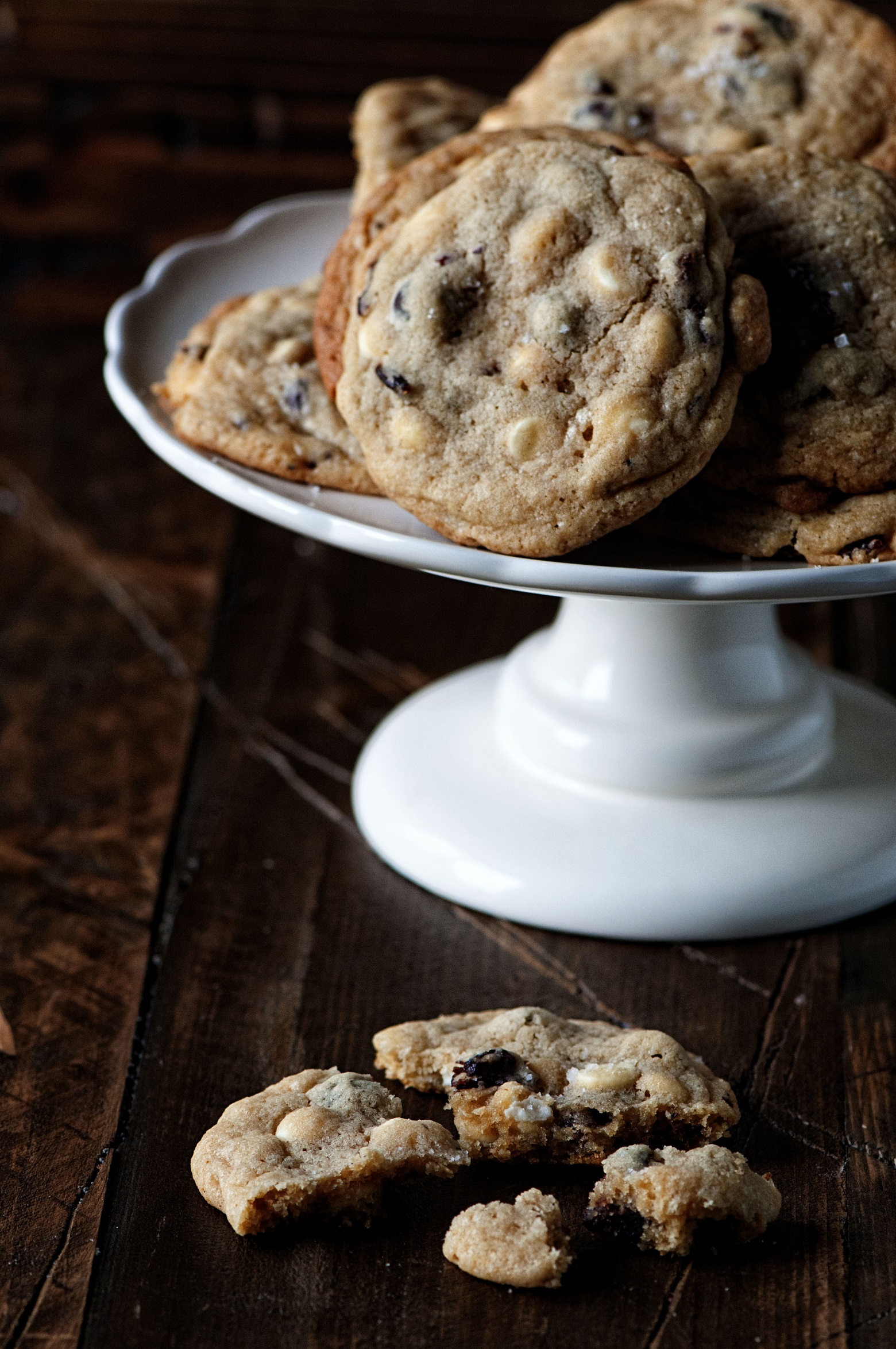 Want More Cookie Recipes?
Peanut Pretzel Chocolate Chip Cookies
Vanilla Bean Caramel Thumbprint Cookies
White Chocolate Dried Pineapple Salted Macadamia Nut Cookie
Caramel Cream Filled Snickerdoodles
Strawberry Cheesecake Chocolate Chip Cookies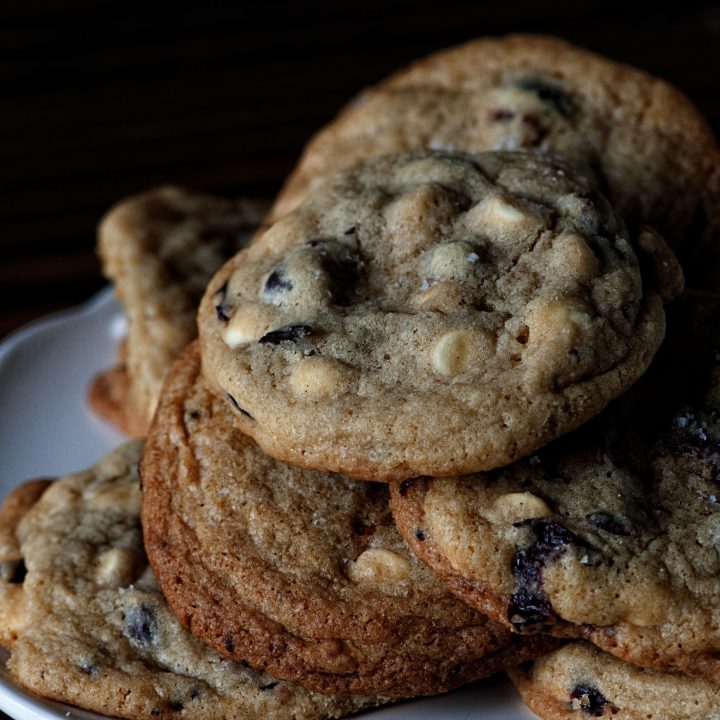 White Chocolate Cherry Espresso Bean Cookies
Ingredients
2 1/2 cups all-purpose flour
1 tsp. baking soda
1/4 tsp. salt
1 cup unsalted butter, at room temperature
1/2 cup granulated sugar
1 cup brown sugar, packed
2 large eggs
1 tsp. vanilla extract
3/4 cup dried cherries
1 cup white chocolate chips
1/2 cup chocolate covered espresso beans
sea salt for sprinkling
Instructions
Preheat oven to 350F.
Using a stand mixer with the paddle attachment, cream together the butter and sugars until light and fluffy, about 3 minutes.
Add eggs one at a time and beat on medium -high speed; scrape down the bowl after each addition.
Add the vanilla and beat another 30 seconds on high.
With the mixer on low add the flour, baking soda, and salt.
Mix until just combined.
With mixer still on low add the espresso beans first (you want them to break a little), cherries, and the white chocolate chips.
Using a cookie scoop drop dough onto a baking sheet with parchment paper.
Space the cookie dough 2-inches apart as they will spread.
Sprinkle sea salt onto cookies…how much depends on what you like.
Bake for 11-13 minutes.
Let cool on baking sheet for 1 minute then transfer to a wire rack to cool completely.