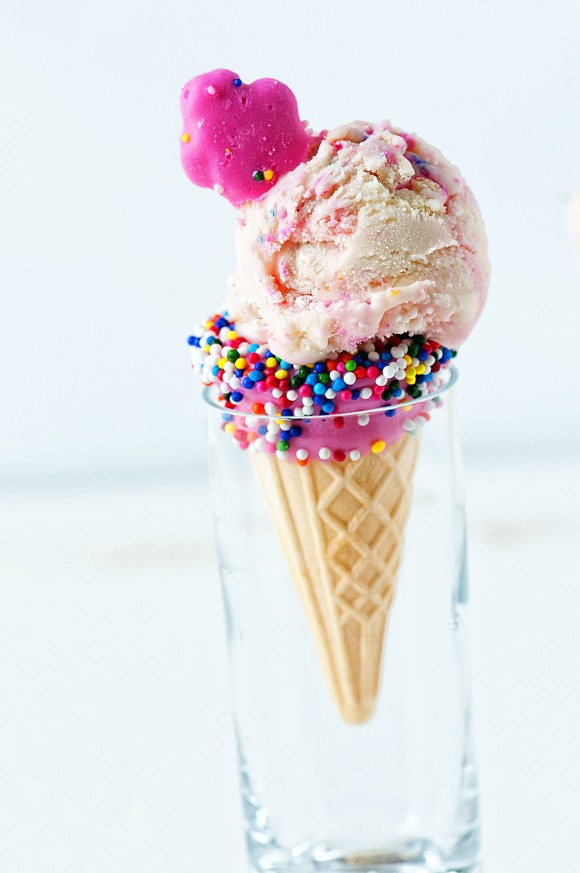 Every year I get the same question, what kind of birthday cake did you make for yourself? I didn't. First off, it's my birthday; shouldn't that mean someone else is making me one? Two people in my lifetime have made me a cake. One was a student years ago and one was my friend A when I had my 35th birthday. People fear baking for people who can bake. Which is ridiculous! We just love that we weren't the ones doing it.
Second it's July. I used to live in Phoenix. July in Phoenix does not inspire turn on the oven. July right now in the PNW is also not saying turn on the oven. So many years ago I started going to Cold Stone for their cake batter ice cream as back then I didn't own an ice cream maker. Nowadays I own this bad boy…which yes I know is steep but really has already paid for itself ten times over.
Because I can make my own now I do (though I will admit I did go to Cold Stone the day after my birthday 😀 ), I wanted a "happy" ice cream for my birthday. Nothing from my childhood treats makes me happier than Circus Animal Cookies. Those pink and white blobs covered in nonpareils that were supposed to be shaped like animals. The cookies that have carnauba wax as an ingredient (don't care still love them). Those ones. For some reason I always thought the pink ones tasted better. I still think that.
I actually had a really good birthday this year. In recent years my friend D has thrown a birthday hockey tournament but that never falls on my actual birthday. But since we do have that I rarely get to do anything on my actual birthday (always seems to fall on a workday). This year MDP took the day off and we got to spend it together. It was a lot of fun. I was happy to see 42 go. It was a rough year for me personally and I will admit it was hard to have my first birthday without CCS (speaking of her there are still 12 days to donate to the Old Dog Haven Walk in her honor). I look forward to seeing what 43 has in store. I always love a prime number birthday.
This is a sugar cookie based ice cream. I chose to make it swirl because it's fun. If you are thinking of adding more nonpareils to the ice cream…don't, it will turn it purplish black color. So save the extra sprinkles for making the cones.
Speaking of the cones to make them you simply take pink colored candy melts, melt them, dip the top of the cones into the melted candy, then dip into nonpareils. Definitely make this way more fun! If you are wondering where I got the mini cones…Amazon of course. Here is the link if you want to get them. They come in a large pack but honestly it's so fun to eat out of them that most of ours are gone.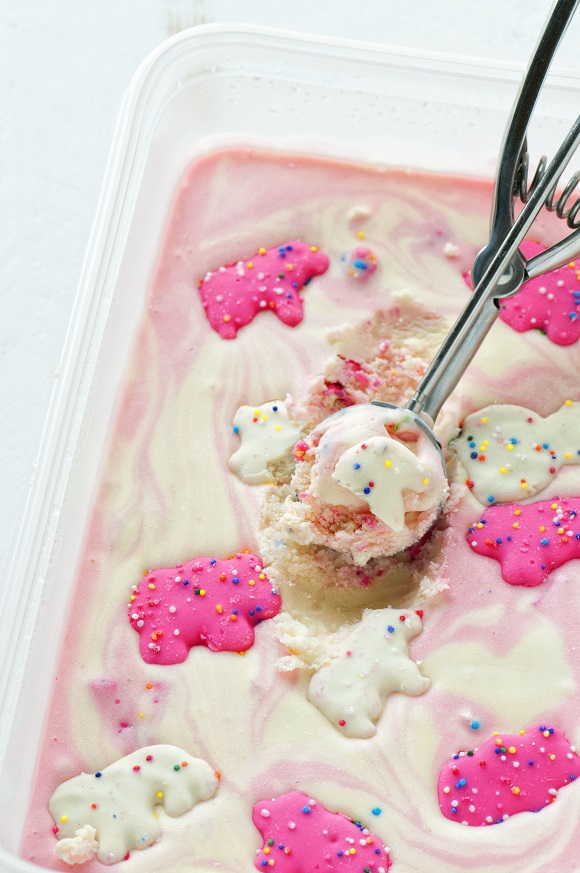 Circus Animal Cookie Ice Cream
2 cups heavy cream
4 tsp. cornstarch
1 1⁄4 cups whole milk
2⁄3 cup granulated sugar
2 TBSP light corn syrup
1⁄4 tsp. salt
4 TBSP Mascarpone cheese (or cream cheese), softened
2 tsp. vanilla extract (I used Rodelle)
1 cup dry sugar cookie mix
1 ½ cups Circus Animal Cookies, chopped
Pink food coloring (if desired)
In a bowl, stir together 1⁄4 cup milk and the cornstarch; set slurry aside.
In a 4-qt. saucepan, whisk together remaining milk, cream, sugar, syrup, and salt; bring to a boil over medium-high heat.
Cook for 4 minutes; stir in slurry. Return to a boil and cook, stirring, until thickened, about 2 minutes.
Place Mascarpone cheese and cookie mix in a bowl and pour in the hot milk mixture; whisk until smooth.
Add vanilla and mix until fully combined.
Pour mixture into a plastic bag; seal, and submerge in a bowl of ice water until chilled.
Pour mixture into an ice cream maker; process according to manufacturer's instructions.
Divide out half of the ice cream and add a few drops of pink food coloring. Mix until the ice cream becomes pink in color.
Fold the circus animal cookie pieces into the pink ice cream and the base ice cream.
Pour into a freezer safe container. Top with more cookies if desired.
Place into freezer and let set up for at least 4 hours.
Recipe for ice cream adapted from Jeni's Splendid Ice Creams at Home