These Peanut Butter Marshmallow Crunch Bars have a peanut butter blondie base, marshmallows, and a peanut butter chocolate crispy cereal top.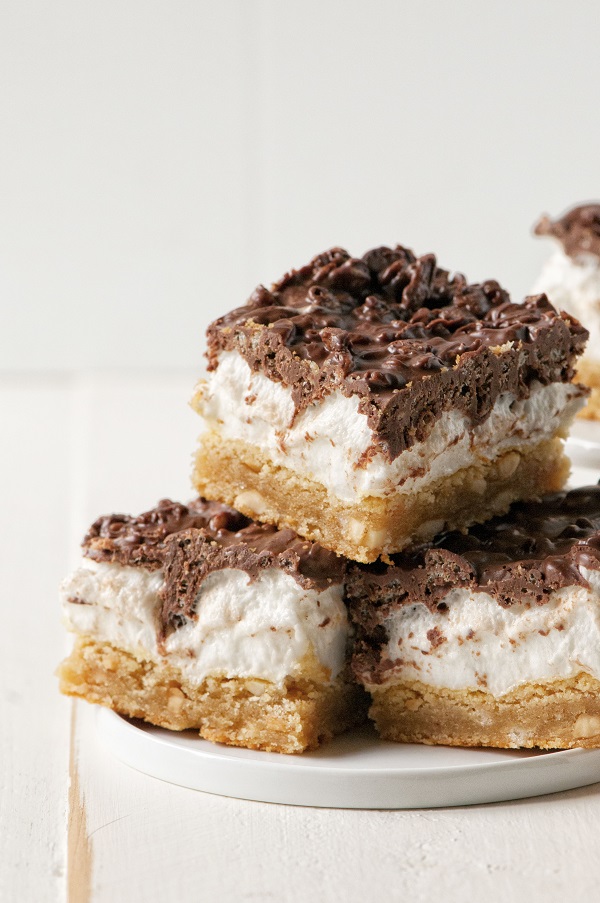 So many of you saw on social media accounts and in my newsletter a picture of Tiffani Theissen and me in a selfie together.
A couple of you asked if I was going to be on her show (I mean now that we are BFF's and she finds out I was in a commercial when I was 3, I imagine that the invite will be forthcoming).
Actually, I was in LA for the first time in 15 years to attend an event with Albertson's and Safeway celebrating the launch of their new line of Signature products.
I was only there for two days but it was a lot of fun.
My travel accommodations were paid for by Albertsons and Safeway.
And I am being compensated for making these Peanut Butter Marshmallow Crunch Bars and writing this post,
Yet as all of you know, if I don't believe in it, I don't promote it.
Without further ado…My Signature Moments Trip.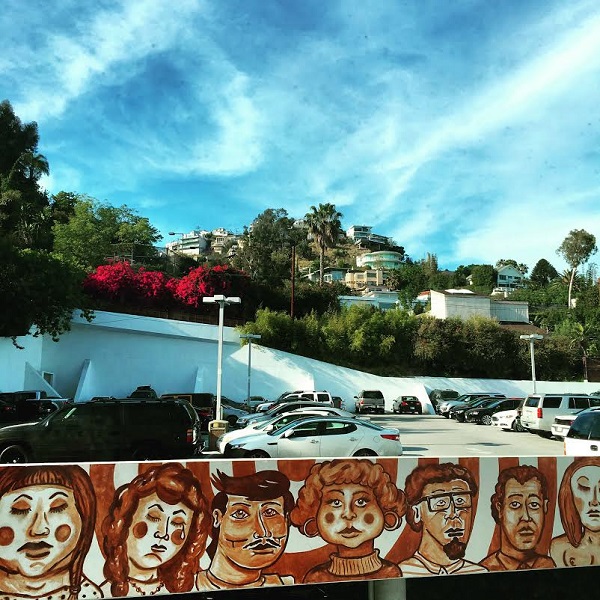 Once in LA I checked into the Andaz Hotel West Hollywood and the picture above was my view.
I watched people play tennis in their backyard…I was amused.
It's a very lovely hotel that I feel I was not cool enough to be in.
It used to be called the Riot House back in the day and has a ton of history (Google it).
We then met up with the other bloggers and were treated to dinner at State Social House just down the way from our hotel.
A couple of us walked back to the hotel down Sunset Strip looking like tourist. 🙂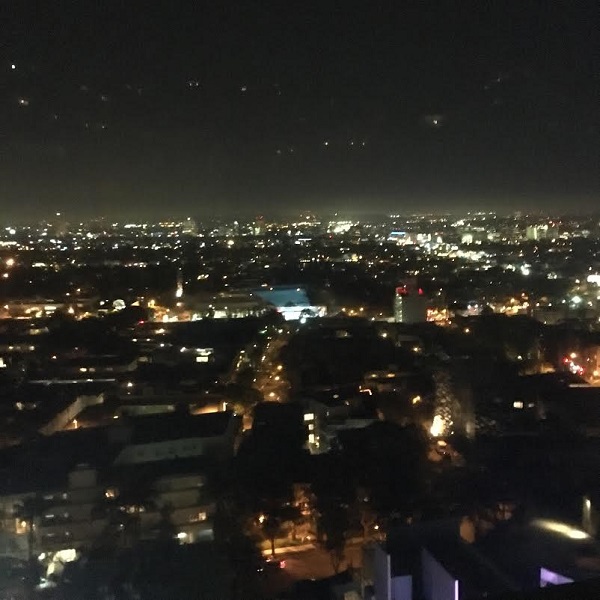 As you can see I took full advantage of some of the treats from the Signature goodie bag.
I must say that this flavor of Signature Select Dark Chocolate is goooooood.
Yes, I'm watching a cooking show. 🙂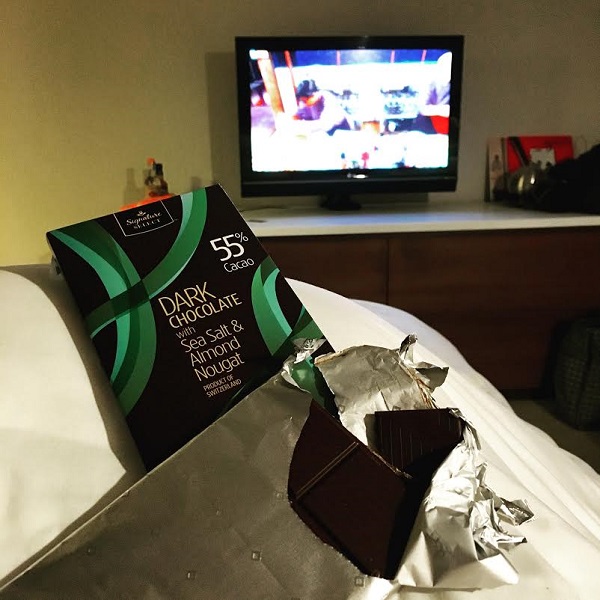 The next morning we were taken to an amazing private residence up in the Hollywood Hills.
The house is owned by a photographer and the light was amazing.
This gloomy gray sky Seattle girl was seriously jealous.
There was a Signature Bacon Avocado Toast Bar set up outside with coffee…I just wanted a mound of bacon and avocado.
I really missed good avocados, I will say that is something California has, good avocados.
All the items at breakfast were part of the Signature product line…I had no idea they made bacon (Signature SELECT Uncured Bacon-check it out)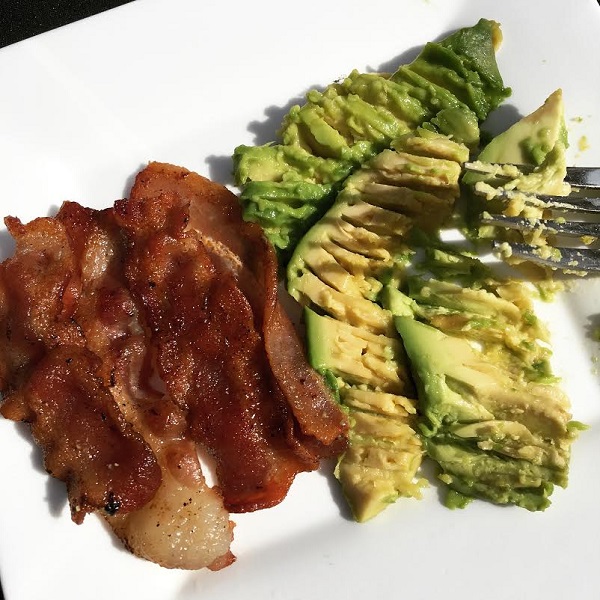 Once we ate we met Chef Jeff Anderson who is in charge of creating new products for the Albertson's family of stores, including Albertsons and Safeway.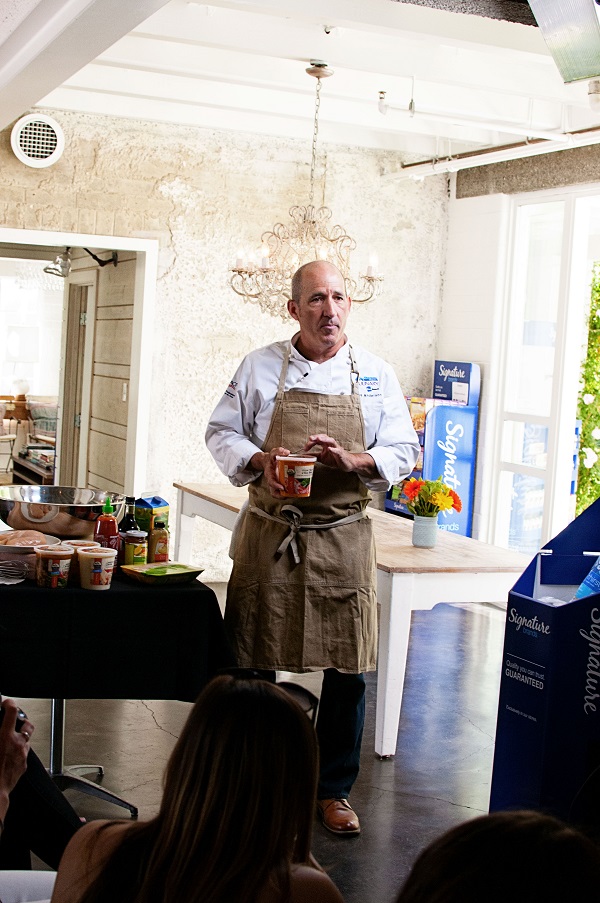 He started talking about the one Signature product I was super familiar with, their Signature Cafe soup.
I always buy the Chicken Noodle Soup…it's the best.
Though we talked about soup in a very different way.
Instead of thinking about soup as well, soup, we were challenged to start thinking about different ways to use it.
Example, taking the Bean and Kale Soup and draining it, mashing it, and making it into a crostini topping.
The whole conversation really got me thinking about ways to use soup that I haven't before.
We learned all about the new Signature family of brands which includes more than 4,000 items across six sectors—Signature SELECT™, Signature Kitchens™, Signature Farms™, Signature Cafe®, Signature Home™, and Signature Care™.
You'll find a wide assortment of pantry staples, delicious prepared foods, fresh produce and ingredients that bring delight to any dish as well as a broad range of paper goods, laundry products, personal care, and other items.
All products in the Signature line come with a 100% money back guarantee which makes it totally easy to try something with confidence.
Here are just some of the products: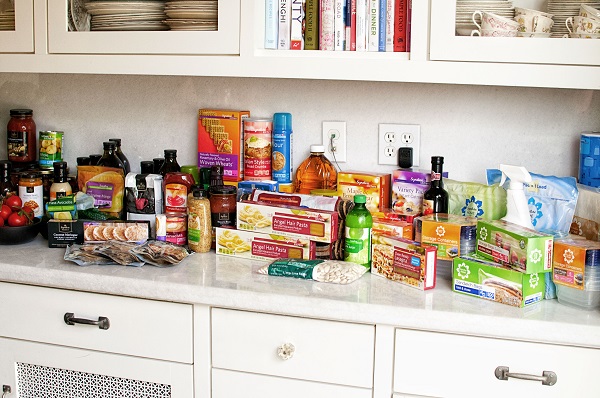 Then came lunch and we were to make our own Signature grilled flatbread.
They had quite the spread of toppings, all available of course in their Signature lines.
I make a mean flatbread as you can see.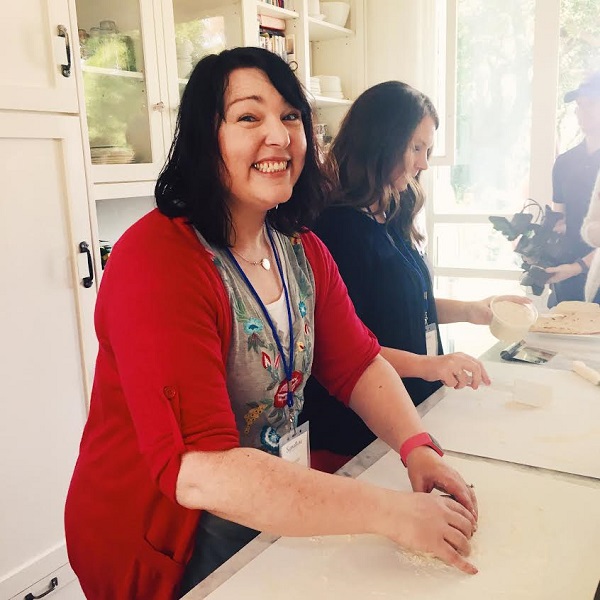 All the different options. All part of the Signature product line.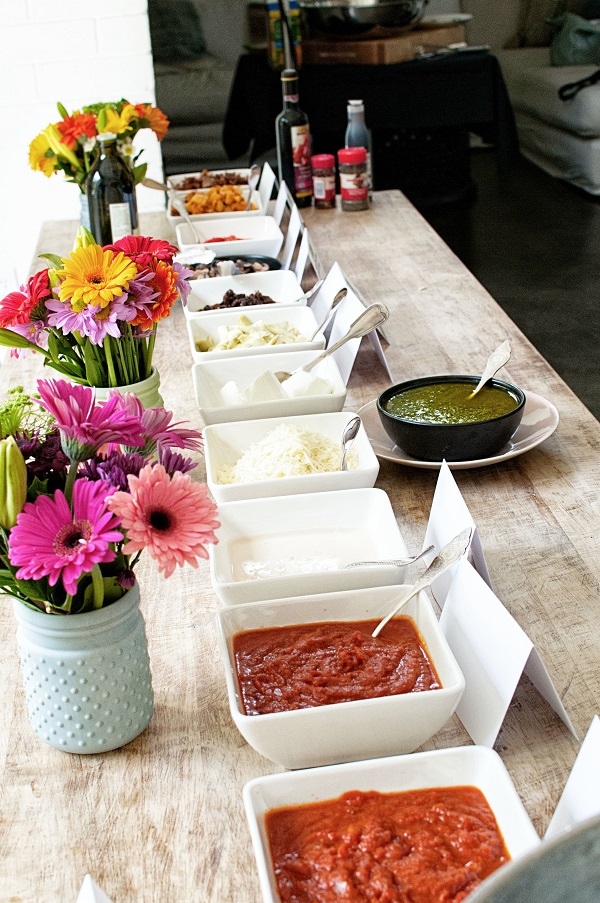 I clearly did not have enough bacon at breakfast so I piled it on top of my pizza.
Along with a ton of cheese, sun dried tomatoes, pesto, and artichoke hearts…and more bacon on top of the bacon.
All products I learned are a part of the Signature line.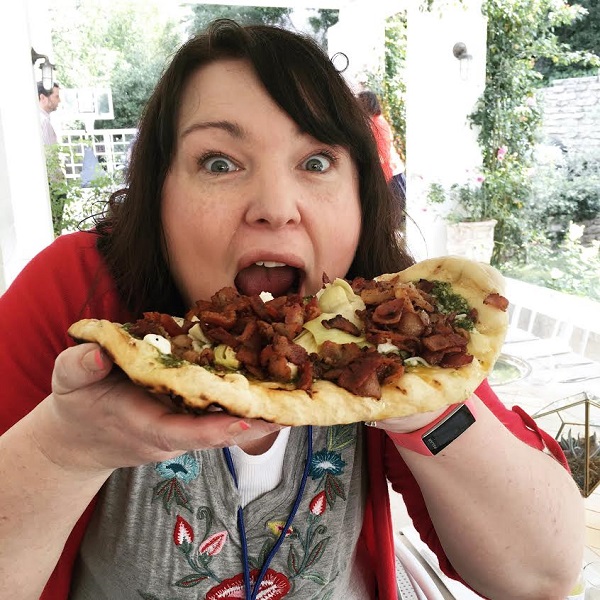 After lunch came Tiffani.
She is the face of the Signature line and I was beyond geeked out.
I was so hoping that she would be as down to Earth as I pictured her to be.
She was.
She spent time just answering any questions we had about her cooking show, or past shows.
About her life and family and what not.
She then headed to the kitchen to make us dessert.
First making ice cream sandwiches using Signature cookies and many flavors of Signature Select Ice Cream, finished with a roll in some chopped Signature pecans.
Simple but oh so tasty.
The second dessert she served was Affogato which is a fancy way of saying coffee over ice cream.
Which if you have never done this before, you need to go fire up the coffee pot and drag some ice cream out of the freezer ASAP.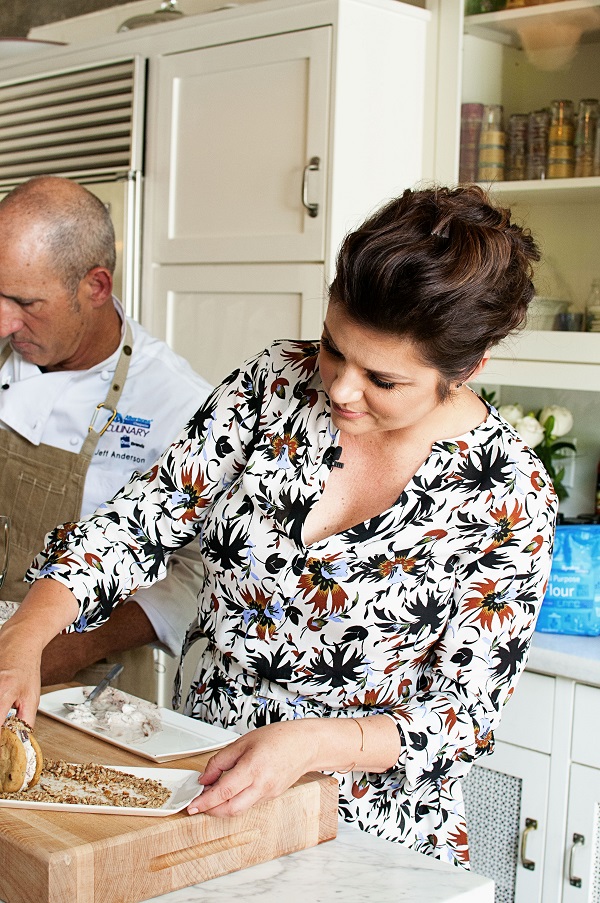 After dessert making we got to go out onto the patio and sip some of Tiffani's Signature iced tea infused with Signature peaches, which was really good.
She took selfies with us and chatted some more.
The last activity of the day was to "shop".
Yay!
We got to fill a giant box of all the Signature products we wanted.
I made sure to take get a few items I knew about and many that I didn't know they made.
When I saw that they had Crispy Rice Cereal, Peanut Butter, and Marshmallows I knew what recipe I was going to make.
Peanut Butter Marshmallow Crunch Bars.
On a side note, I absolutely LOVE their marshmallows, they stay separate.
It seems like so much lately the bags of marshmallows I get from other stores are all clumped together and it makes it extremely hard to measure out for recipes or to just put into cocoa.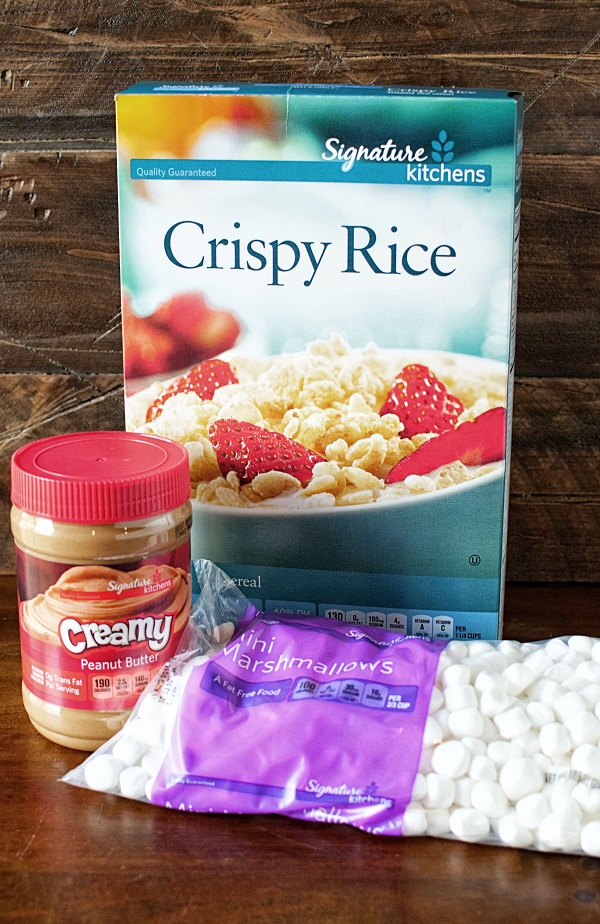 See…separate marshmallows!
I chose to make Peanut Butter Marshmallow Crispy Bars.
If you are a peanut butter lover then these were made with you in mind.
My husband took them to work and put them in the workroom at 6am.
By 6:20am he text to tell me they were all gone.
They are that good.
Just saying.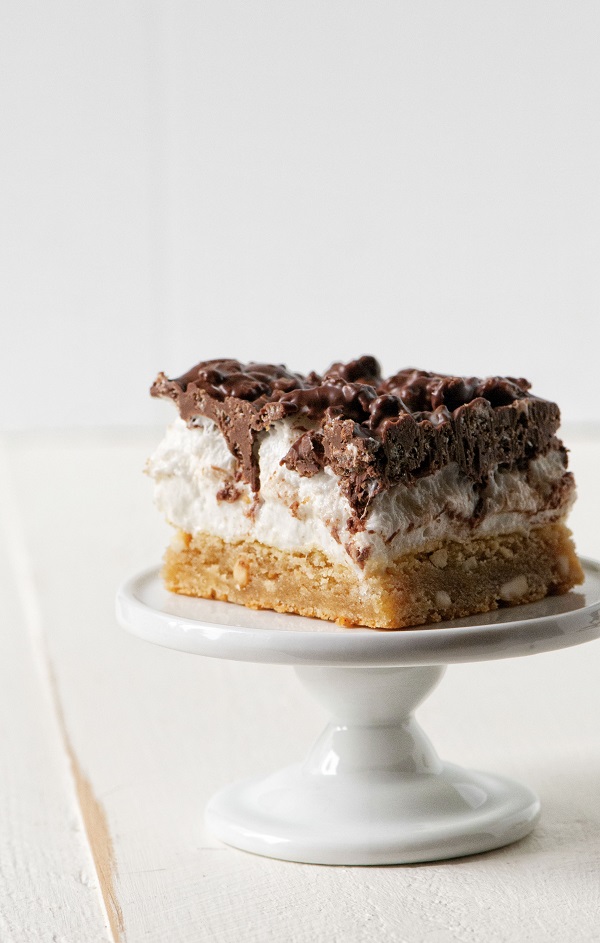 Special thanks again to Albertson's and Safeway for being such wonderful host and helping me create some great #MySignatureMoments.
You can follow Albertson's on Instagram and Facebook.
I buy my Signature products here in the Seattle area at my local Albertsons and Safeway stores, but you can also find them at all Albertsons Companies grocery stores, including Jewel-Osco, ACME, Vons, Pavilions, Randalls, Tom Thumb, Shaws, Star Market, United Express United and Carrs/Safeway.
Last but not least…it's a great time to order my cookbook. 😀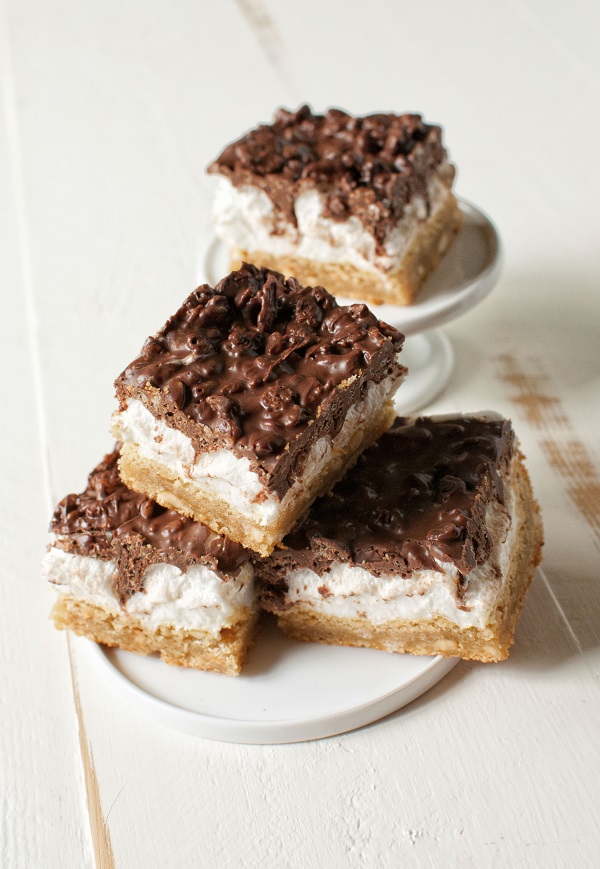 Want More Bar Recipes?
Butterscotch Honey Roasted Cashew Bars
Salted Chocolate Chip Butterscotch Toffee Cookie Bars
Strawberry Lemonade Lemon Bars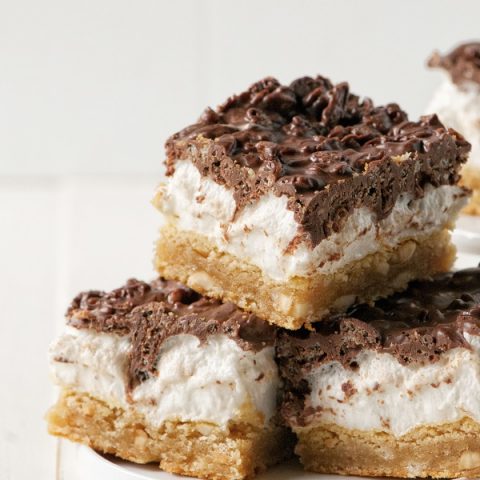 Peanut Butter Marshmallow Crunch Bars
Yield:
Makes 12 3×3-inch bars.
Ingredients
For the base:
¾ cup unsalted butter, at room temperature
¾ cup Signature Kitchens™ Creamy Peanut Butter
1 ¼ cups Signature Kitchens™ granulated sugar
1 large egg, at room temperature
1 large egg yolk at room temperature
1½ tsp. vanilla extract
1 ½ cups self-rising flour
For the top:
7 ounces Signature Kitchens™ Mini Marshmallows
1 ½ cups milk chocolate chips
1 cup peanut butter Signature Kitchens™ Creamy Peanut Butter
1 TBSP unsalted butter
1 ½ cups Signature Kitchens™ Crispy Rice Cereal
Instructions
Preheat oven to 325F.
Spray a 9-x-13-inch baking pan with baking spray.
Using a stand mixer with the paddle attachment cream together the butter and peanut butter until fluffy, about 3 minutes.
Add the sugar and beat until smooth.
Add the eggs and vanilla and mix well.
Add the flour and beat until well incorporated.
Spread the batter evenly into pan.
Bake 25-28 minutes or until cake tester comes out moist with crumbs attached.
Remove the bars from the oven, and immediately sprinkle the marshmallows over them.
Return the pan to the oven for 3 more minutes.
While the bars are baking, place the chocolate chips, peanut butter, and butter in a medium saucepan.
Cook over low heat, stirring constantly until melted.
Remove from heat, add the cereal, and mix well.
Allow this to cool for 3 minutes or so.
Spread the mixture evenly over the marshmallow layer.
Refrigerate until chilled before cutting.