These Cowboy 7 Layer Cookie Bars are a twist on the classic 7 layer bar inspired by discontinued Trader Joe's Cowboy Bark.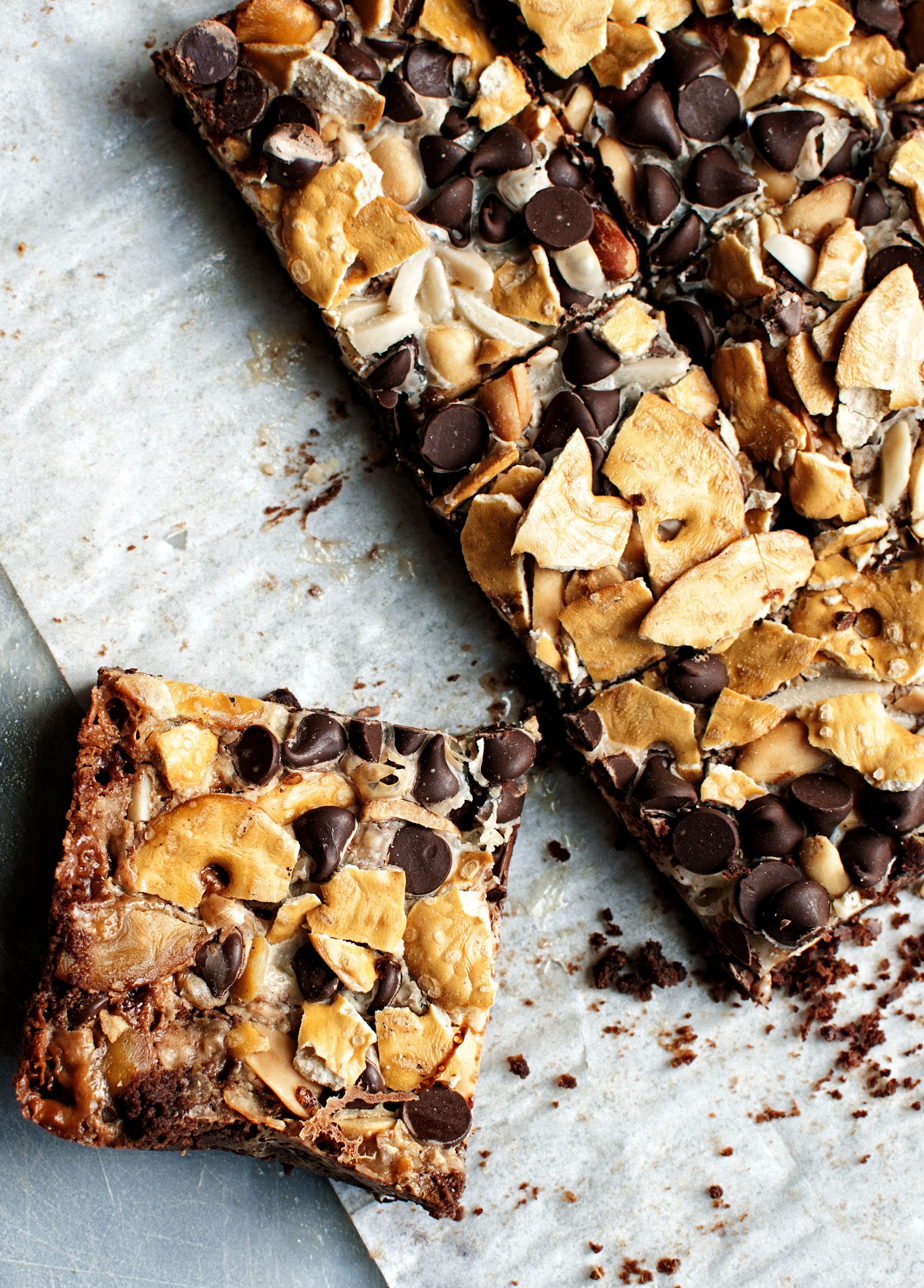 I remember the first time it happened to me.
The pain.
And the drama.
All the tears.
What am I talking about?
The first time Trader Joe's stopped carrying a product I really loved.
Back then it was mini meringues.
They were so tiny that you could eat 100 of them for a serving.
And when I was on WW…getting to eat 100 of anything sounds amazing (back then only two points).
Plus they were tasty.
It was powerful to hold a whole bunch meringues knowing I could eat them all. 🙂
They still carry the large ones but it wasn't the same.
Soon after that I learned that many others like me suffered from this Trader Joe's affliction.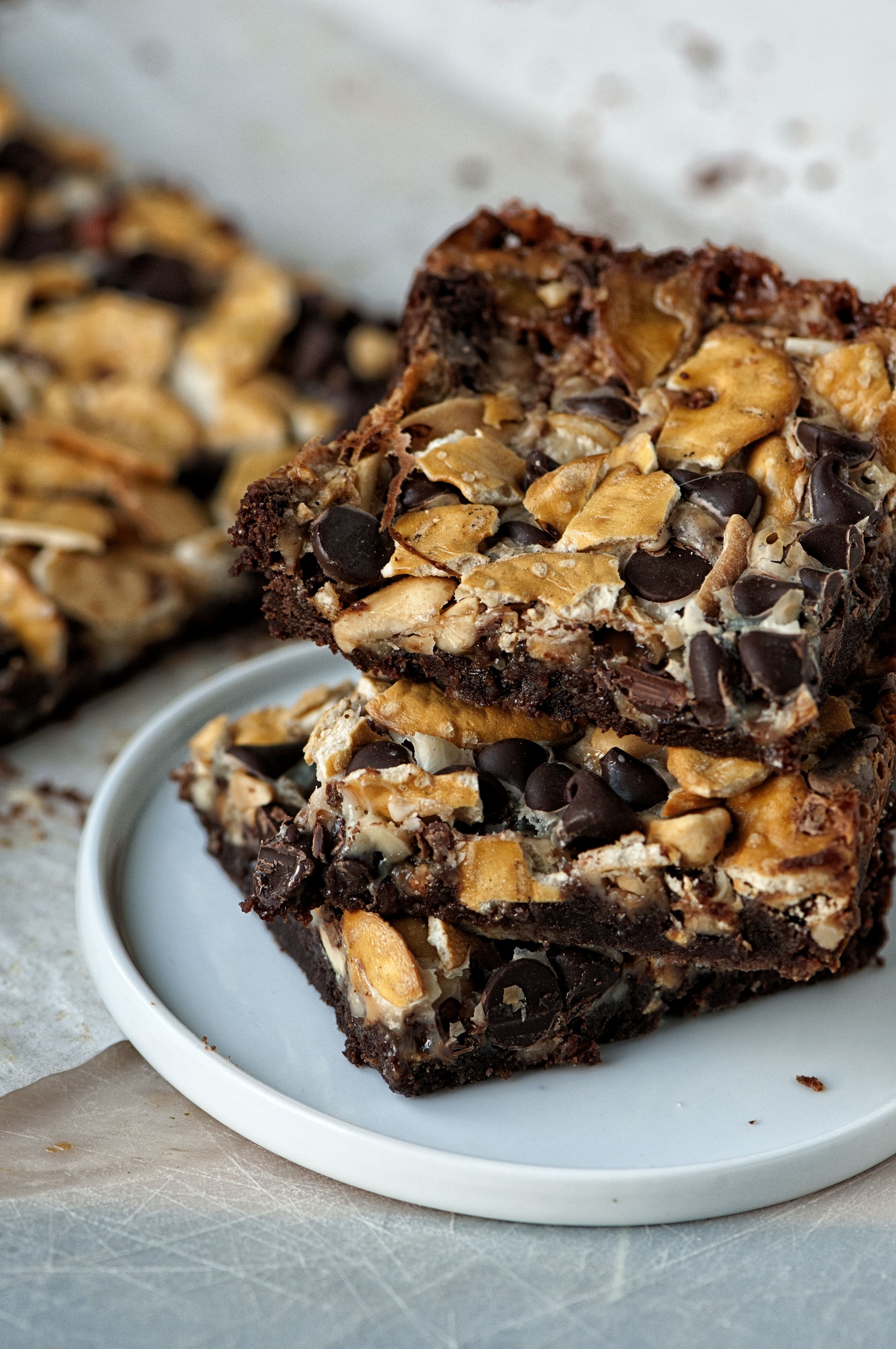 Now I don't eat Cowboy Bark often but I have many, many a friend addicted to it.
Last year I made Cowboy Fudge and that was really good.
I was recently at a gathering and someone served good old fashioned 7 Layer Bars, the kind I grew up with.
I'm not sure what made me decide to try and make the Cowboy Bark into a layer bar but I'm glad I did.
It has an Oreo (or Jo Jo) cookie crumb base.
Then topped with sweetened condensed milk.
Then toffee pieces, salted peanuts, almonds, chocolate chips, and pretzel thins.
If you are a Cowboy Bark junkie you will need to make these Cowboy 7 Layer Cookie Bar.
Especially since Trader Joe's may stop making your bark one day with no warning.
It's a great day to buy my cookbook.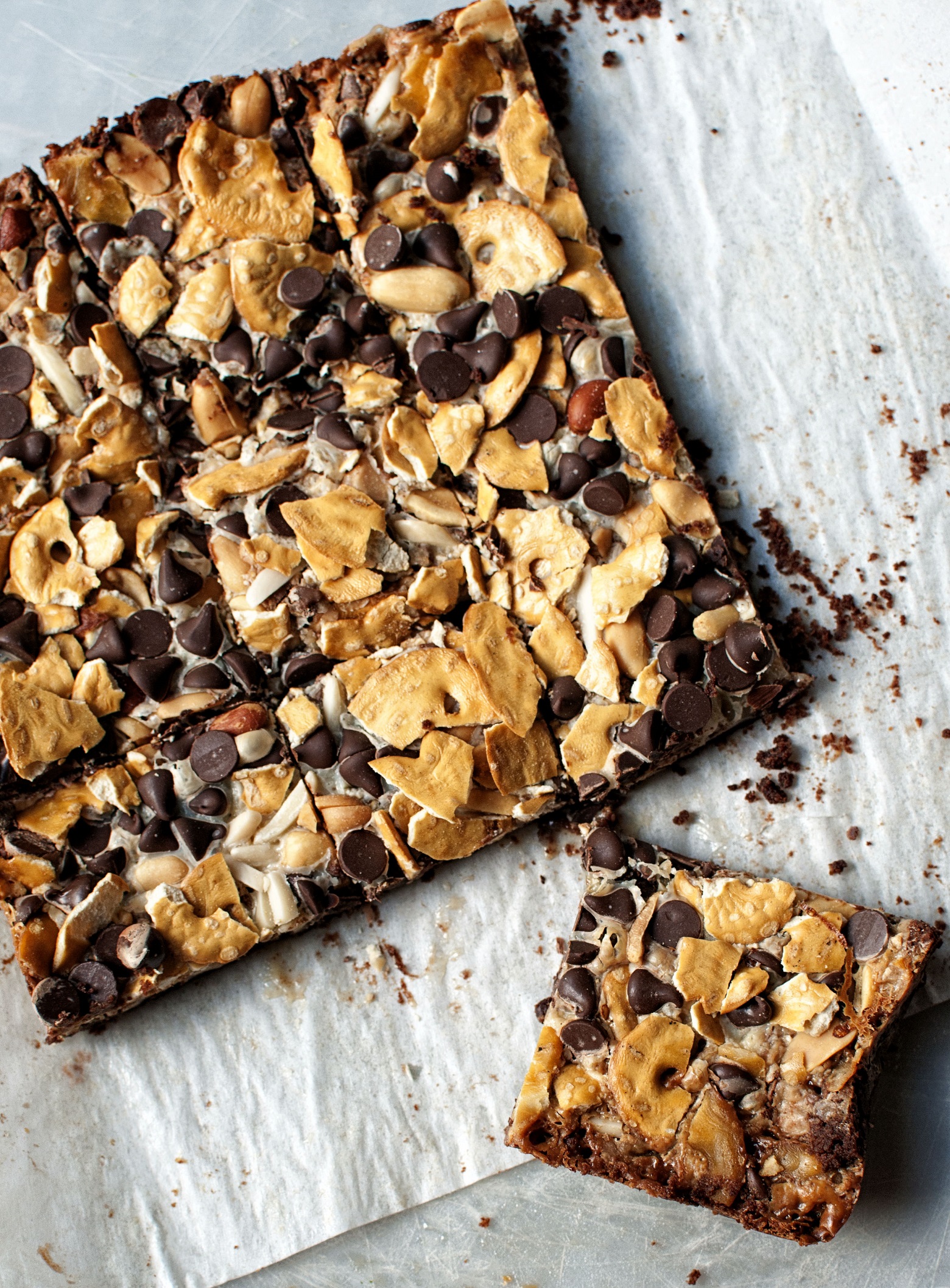 Want more Bar recipes?
Strawberry Lemonade Lemon Bars
Chocolate Chunk Churro Cookie Bars
Butterscotch Walnut Meringue Bars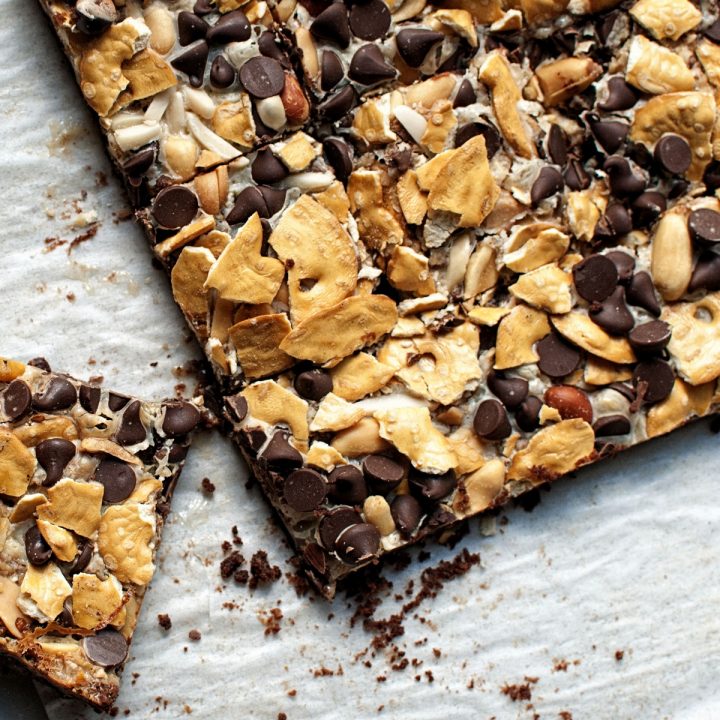 Cowboy 7 Layer Cookie Bars
Ingredients
1⁄2 cup unsalted butter, melted
1 ½ cups Oreo cookie crumbs
1 cup milk chocolate covered toffee pieces
1 cup semi-sweet chocolate chips
½ cup peanuts (I used salted cocktail peanuts)
1 cup crush pretzel thins
½ cup almond slivers
1 (12 ounce) can sweetened condensed milk
Instructions
Preheat the oven to 350 F.
Combine the Oreo cookie crumbs and melted butter in a bowl.
Press into the bottom of a 9-by-13-inch baking dish.
Pour the sweetened condensed milk over the cookie layer.
Sprinkle toffee pieces.
Sprinkle almonds and peanuts.
Sprinkle with chocolate chips.
Sprinkle the pretzel chips.
Press down the pieces with wax paper or a fork.
Bake for 25-30 minutes.
Let cool and cut into squares.