These Salted Chocolate Chip Butterscotch Toffee Cookie Bars are the perfect combo of sweet and salty all baked in a pan to make it easier.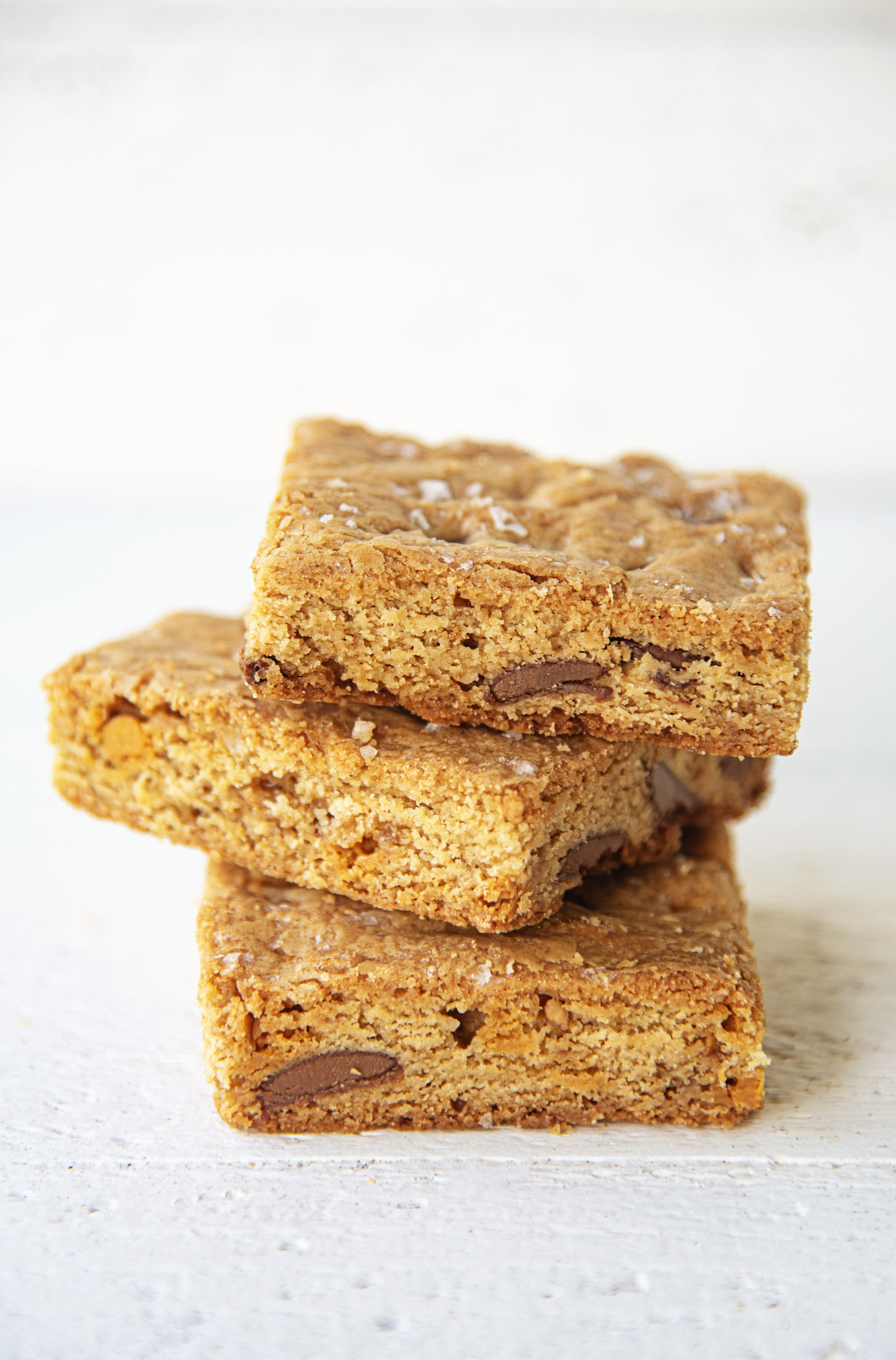 On any given day you will probably find me on How Sweet Eats looking for a dinner idea.
And while I often don't make it exactly how Jessica does due to allergies or the fact I don't eat meat she does inspire me big time.
She's one of the few food blogs I still read as she has stayed true to herself over the years.
And also understands the correct ratio of cheese needed on food.
Which is a lot of cheese in case you were wondering. 😀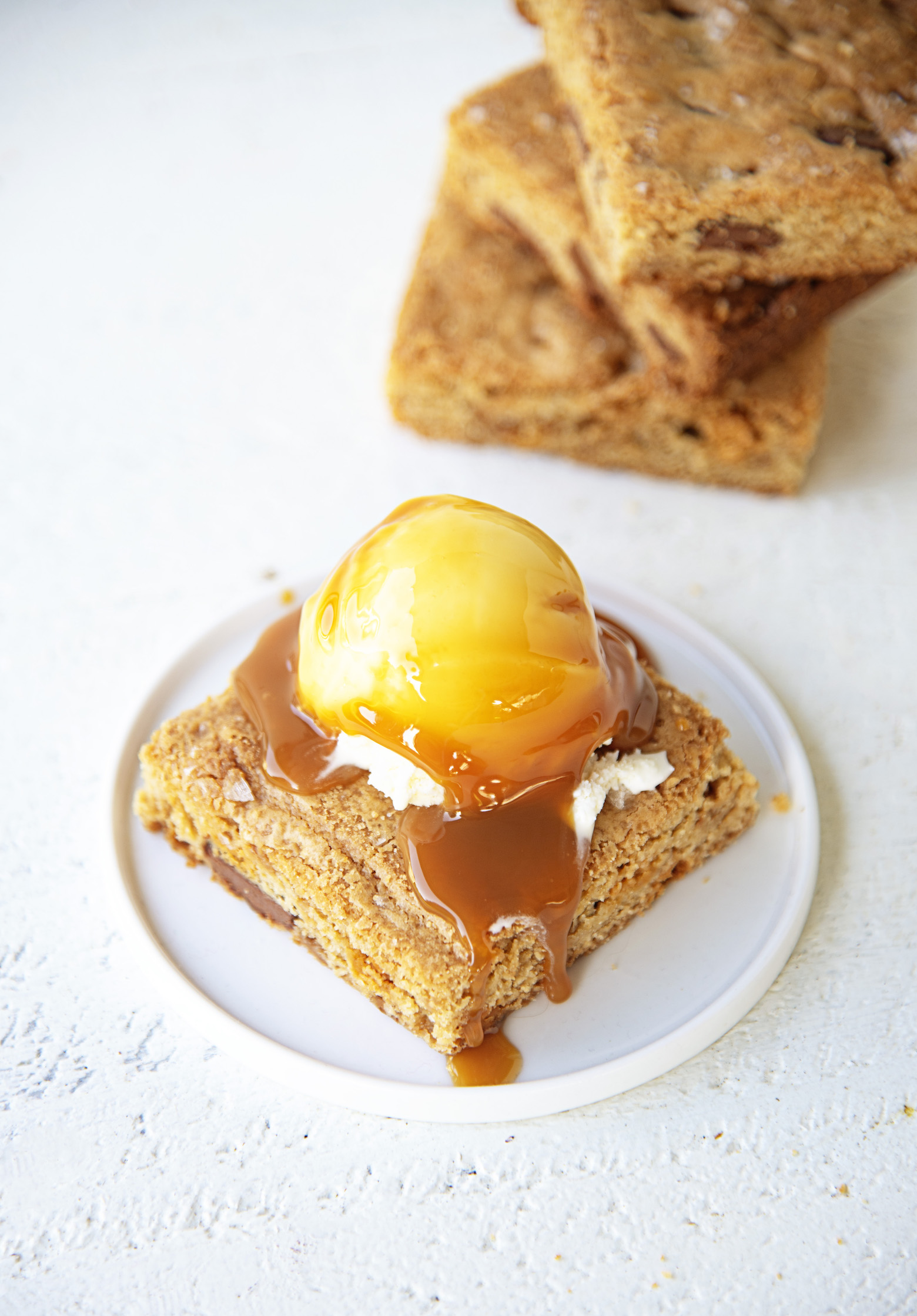 She cooks something live pretty much every day over on her Instagram account by the way.
Which I am in awe of.
While it's usually savory foods she did post some cookie bars that were calling my name.
Well, calling my husband's name.
See my husband has been subtly trying to tell me he wanted chocolate chip cookies or brownies for the last couple of weeks.
How do I know?
Because after every time I baked something he would come to the kitchen and say "oh did you make cookies or brownies"?
Trying to will them to come. 🙂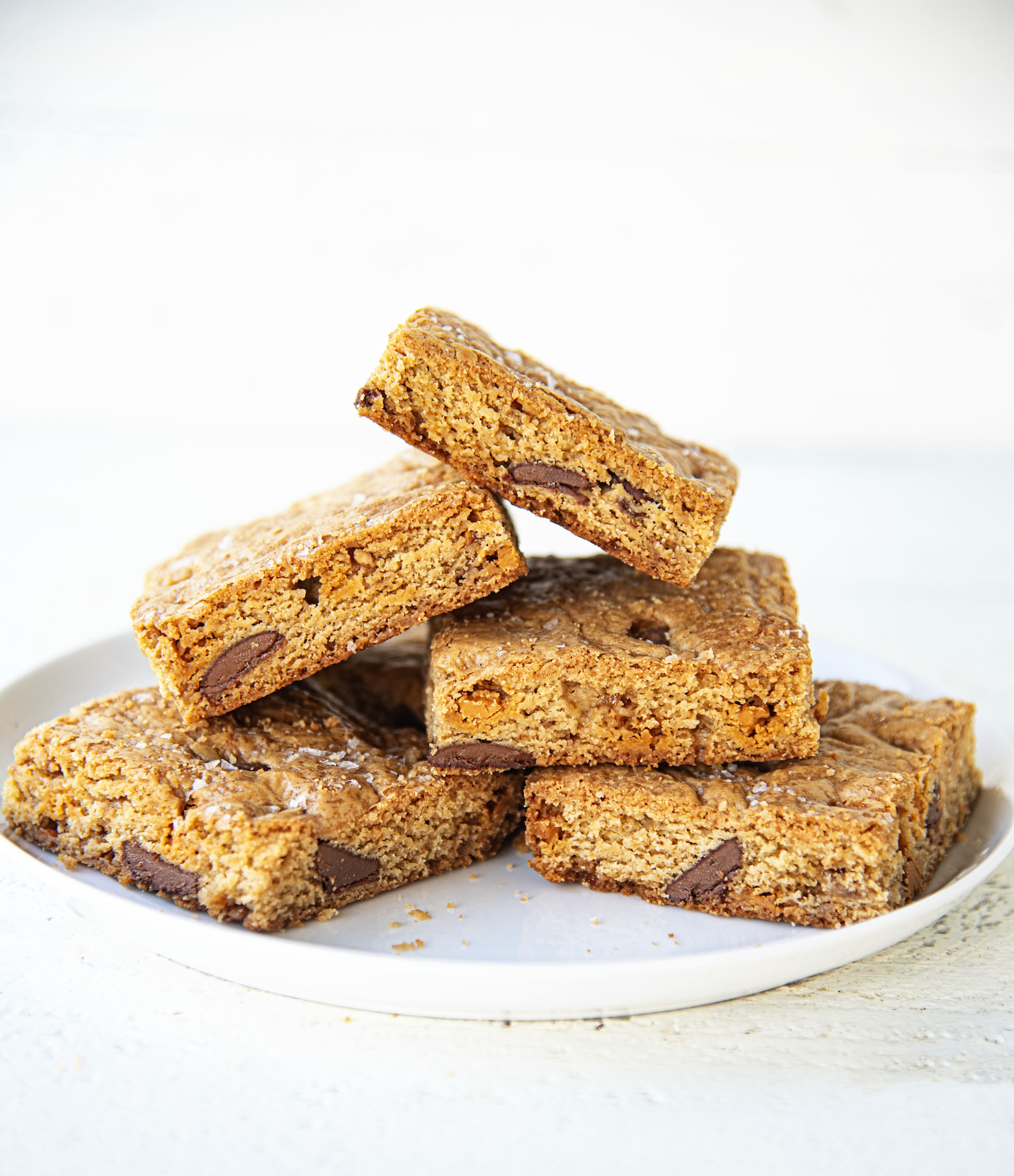 So with the temperature rising rapidly around here I turned on the oven one more time to be nice and make him cookie bars.
I threw in butterscotch chips because we both love them and toffee pieces because I had some left over. 😀
The original recipe called for making brown butter.
Which I love and I'm sure would have been fabulous in this recipe.
But that takes extra time and I wasn't in the mood to spend the extra time.
I just wanted cookies.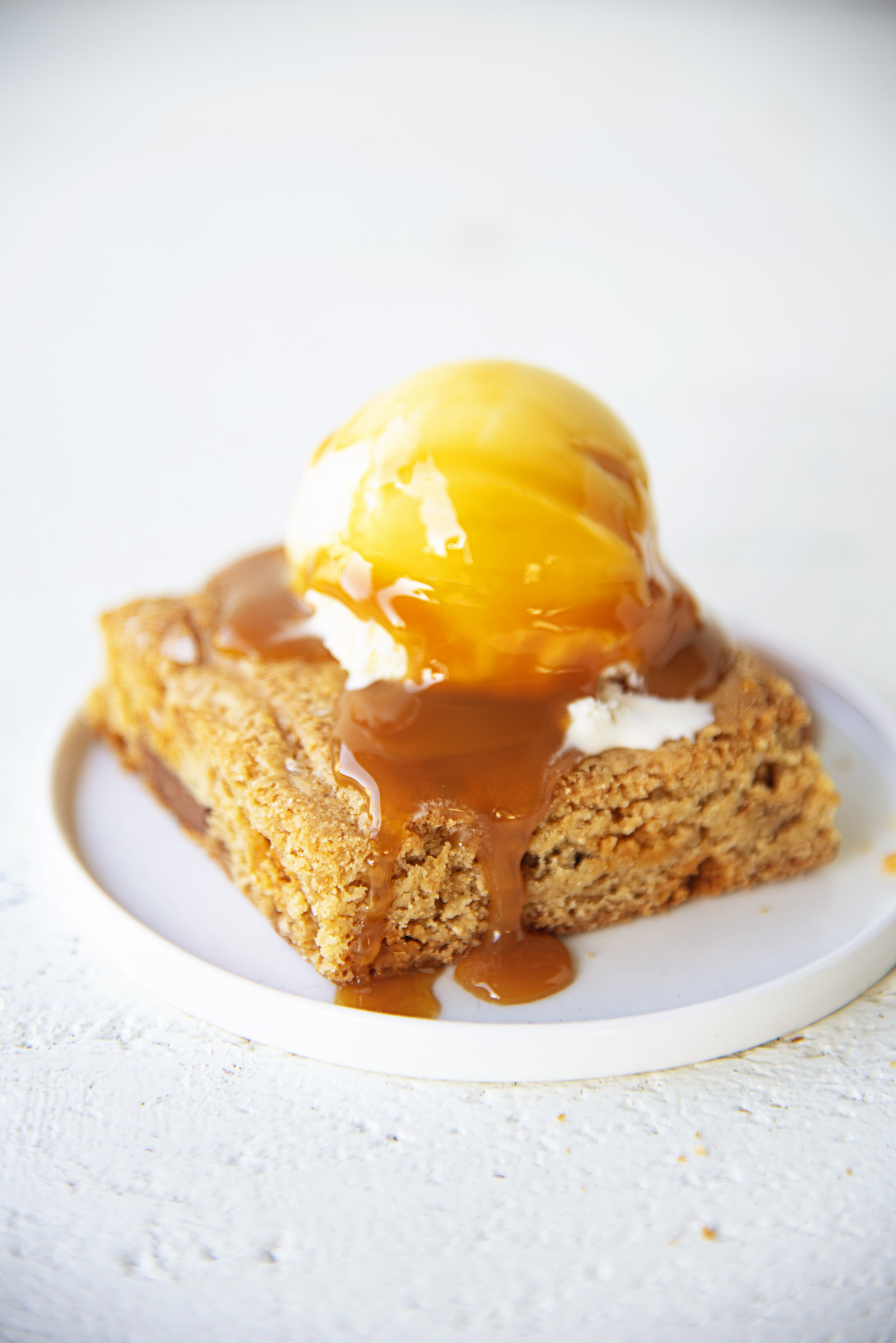 So he got his cookies and I got what I wanted.
Which was a sundae bottom.
A tasty one at that.
Topped with vanilla ice cream and topped with salted caramel these were the saving grace to the 91F weather here yesterday.
Ugh.
If you are not a salty sweet fan you simply just don't sprinkle salt on top of them.
But I would if I were you. 😀
And as always it's a great day to order my cookbook.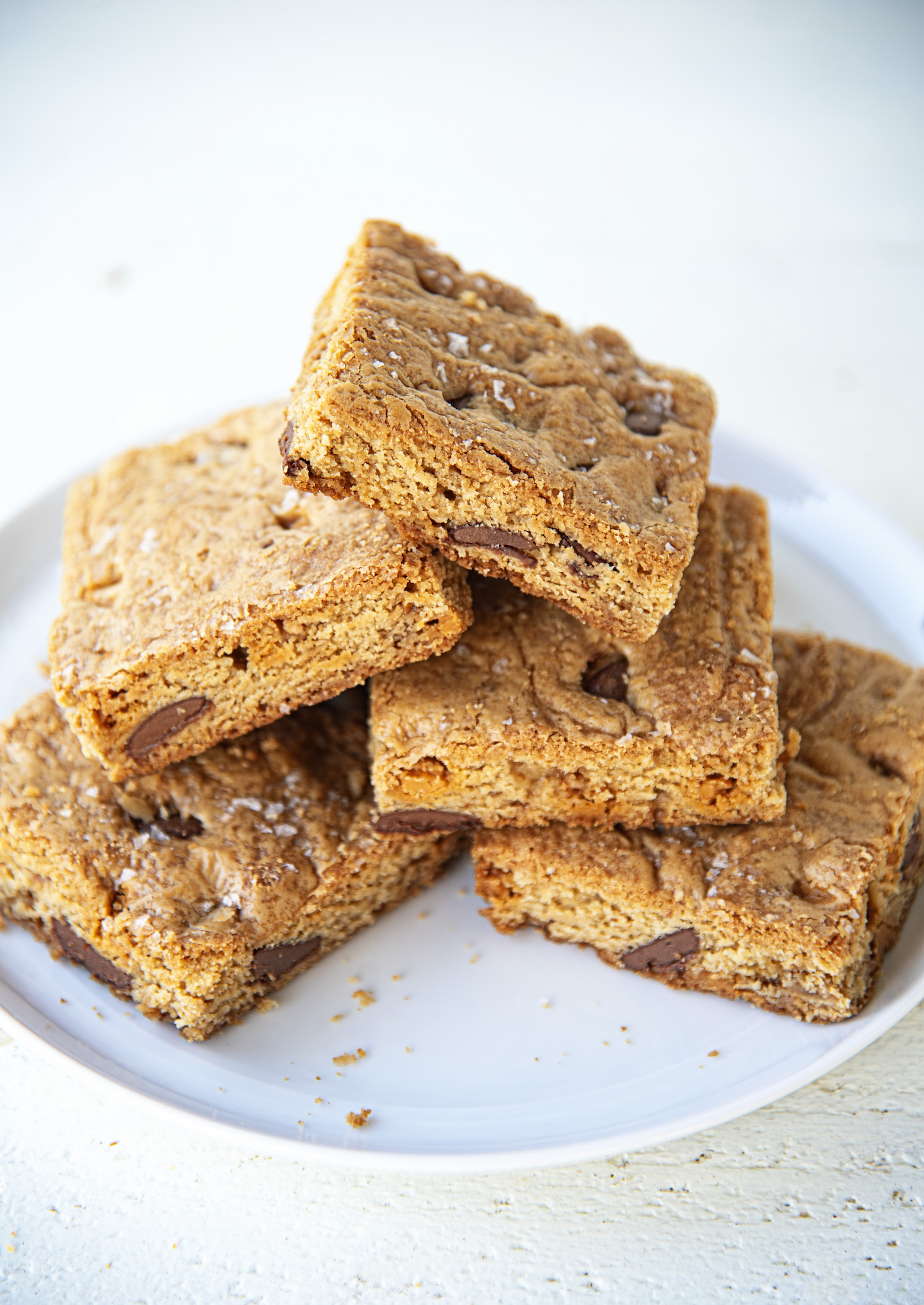 Want more Bar recipes?
Strawberry Lemonade Lemon Bars
Chocolate Chunk Churro Cookie Bars
Butterscotch Walnut Meringue Bars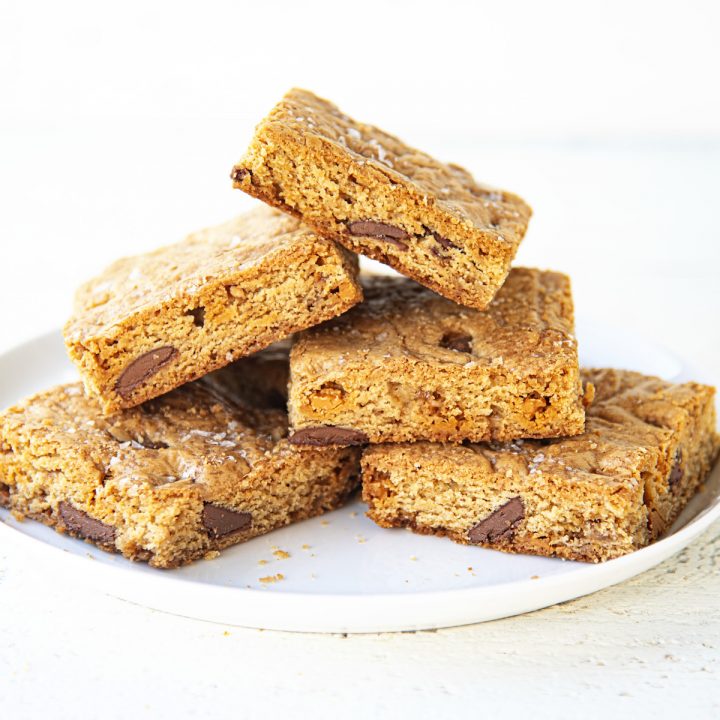 Salted Chocolate Chip Butterscotch Toffee Cookie Bars
Ingredients
1 cup unsalted butter, at room temperature
1 1/2 cups light brown sugar, loosely packed
2 eggs, lightly beaten
1 TBSP vanilla extract
2 cups all-purpose flour
½ teaspoon baking soda
½ teaspoon salt
1 cup milk chocolate chunks
3/4 cup butterscotch chips
3/4 cup toffee pieces
maldon flaked salt, for topping
Instructions
Preheat the oven to 350 degrees F.
Spray a 9-x-13-inch baking pan with baking spray and set aside.
In a small bowl, whisk together the flour, baking soda and salt and set aside.
Using a stand mixer with the paddle attachment beat together the butter and brown sugar until fully combined.
Add the eggs one at a time, scraping down the sides and bottom after each addition.
Add in the vanilla extract and beat another 30 seconds until fully combined.
With the mixer on low add the dry ingredients until they are almost combined.
Add in the chocolate chunks, butterscotch chips, and toffee pieces until they are evenly dispersed.
Press the mixture into the buttered dish.
Sprinkle salt on top. How much depends on how salty you want it. I probably used around 2 TBSP.
Bake for 25 to 30 minutes, or until the top is golden brown and set in the center.
Remove from oven and let cool completely before slicing into squares.