This Cinnamon Bun Oreo Cheesecake is a yummy combo of Cinnamon Bun Oreo, Cheesecake, Cinnamon Buns, and cream cheese frosting.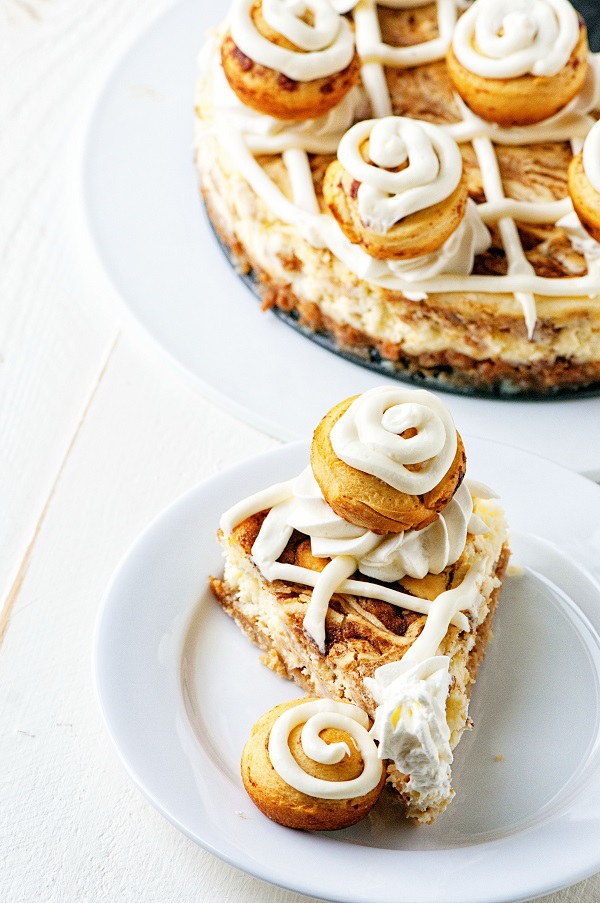 Seattle is a not so great real estate market.
I mean it is if you own a house and want to sell a house and its really great if you own a house and you want to rent it out.
Rentals are hard to find and so if you are unfortunate enough, like us, to have to rent then you get stuck paying more than the average person's mortgage.
The good news of that is we can for sure afford a mortgage…too bad we can't buy a house right now.
We get a 7% rent hike starting in May.
We are in a Catch-22 where we can't really afford to move but staying is going to make things even tighter.
But finding a place and putting down first, last, and another full deposit just isn't able to happen.
Especially since we are dealing with some BS that I won't go into now but will depending on how it plays out.
I was feeling bad about that until a friend on FB popped on to say that her rent was going up by $550.
That's a lot.
Especially for the house she is renting.
But sadly that is the trend. 🙁
Or they are seeing that the market to sell is just too good.
And they are selling the house they are renting…that happened to us last time we had to move.
They claim it's becoming this way because many people from Northern California are moving here.
And since we aren't quite at San Francisco prices (though they rumor we will get to rents as high as 4K a month) yet they think they are getting great deals and buying stuff up.
Joy.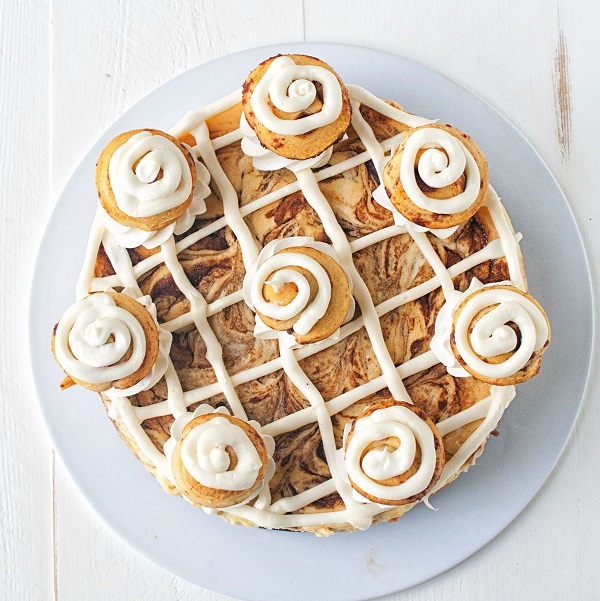 It sometimes makes me seriously consider moving.
Do you live somewhere great?
If so, what do you love about it (keep in mind my husband and I HATE the heat).
All this fun with rent makes me want to stress eat.
And stress bake.
Enter my two of my favorites in one: cinnamon rolls and cheesecake….okay, three favorites…Oreo.
Kita had sent me a couple packages of Cinnamon Bun Oreos because I could not find them at the time.
I have since found them at a Walgreens and I knew I had to make something with them.
The Cinnamon Bun Oreo Cheesecake just popped into my mind.
If you can't find the Cinnamon Bun Oreos I would just use the Golden Ones and add some cinnamon.
I will say that this is one of my most favorite cheesecakes I have ever made.
Doesn't hurt there is a mini cinnamon roll on their either. 🙂
And as always it's a great day to order my cookbook.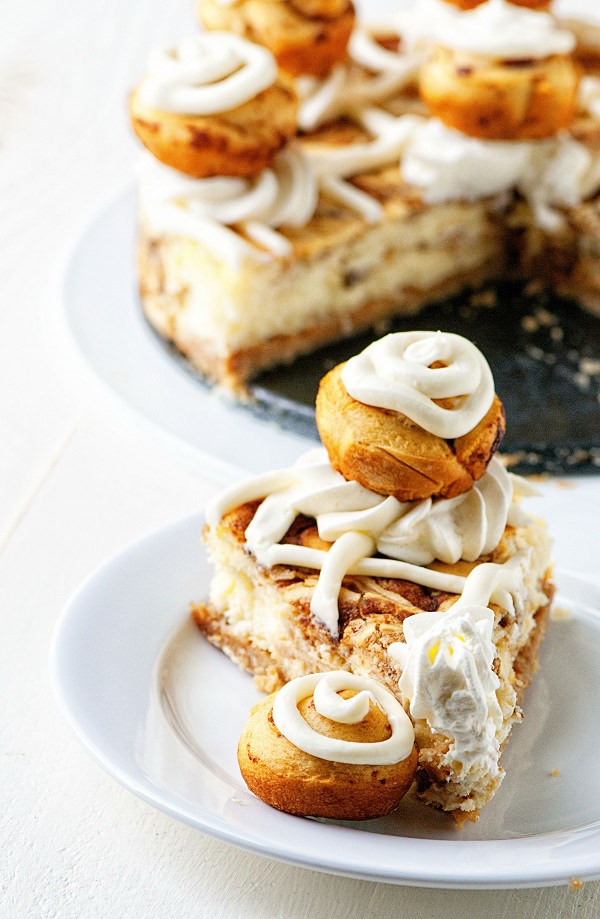 Want More Cheesecake Recipes?
Pumpkin Salted Caramel Swirl Cheesecake
Caramel Apple Toffee Cheesecake
Cinnamon Roll Caramel Apple Cheesecake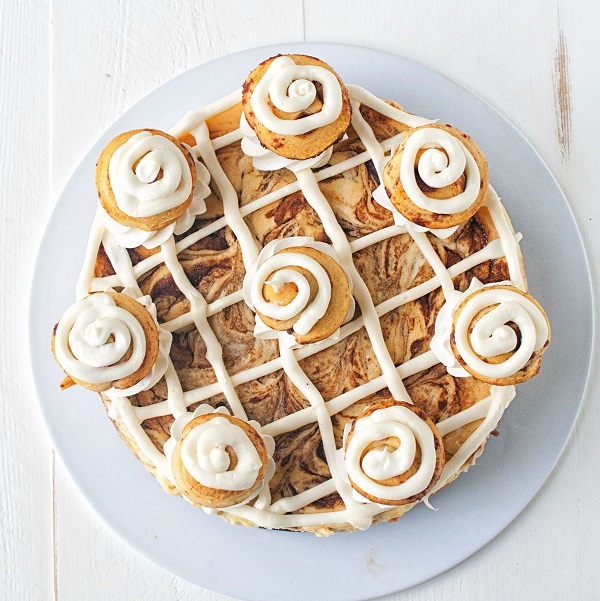 Cinnamon Bun Oreo Cheesecake
Ingredients
For the crust:
1 ¼ cups Cinnamon Bun Oreo crumbs (this is a little less than a whole package of them)
¼ cup unsalted butter, melted
For the cheesecake filling:
2 lbs. cream cheese (yes pounds)
2 cups granulated sugar
2 TBSP flour
4 eggs
2 egg yolks
1 tsp vanilla
15 Cinnamon Bun Oreos chopped in pieces
Cinnamon Filling:
¼ cup butter, melted
¾ cup brown sugar
2 TBSP ground cinnamon
Cream Cheese Frosting:
4 ounces cream cheese, at room temperature
1 cup powdered sugar
milk (if needed to thin frosting)
Mini Cinnamon Rolls as garnish
Instructions
For the crust:
Combine the Oreo crumbs, 2 TBSP sugar, and melted butter.
Press this into the bottom of a 10-inch springform pan (preferably one that goes 3-inches high).
Bake crust for 10 minutes at 350F and set aside.
For the cinnamon filling:
In a small bowl, combine the melted butter, cinnamon, and brown sugar.
Mix until thoroughly combined.
For the cheesecake filling:
Mix the cheese and sugar with paddle attachment on medium speed, about 3 minutes.
Add in the flour on low speed.
Add eggs one at a time, scraping down the sides and bottom after each egg.
Add the egg yolks and vanilla.
Fold in the cookie pieces.
Pour half the batter into the prepared pan.
Drizzle ½ the amount of the cinnamon filling onto the cheesecake, swirl with a knife.
Top with the remaining cheesecake and then the remaining cinnamon. If you were like me and the pan you needed broke when you took it out, I had to make two 9-inch cheesecakes…so you will just have to do that to two cheesecakes.
My 9-inch pans were also not tall on the side so that didn't help either.
Wrap aluminum foil on the outside of the ban and bake in a water batch at 350F for approximately 1 ½ hours.
A knife inserted should come out clean when the cake is done.
Chill the cake overnight and then remove from the pan.
Make sure to run a knife along the outside first to help separate the cheesecake from the sides.
For the Frosting:
Using a stand mixer (and a clean bowl) with the paddle attachment, beat the cream cheese to soften for about 2 minutes.
Add the powdered sugar and beat until desired consistency is reached. If too thick, thin out with milk.
Pipe the frosting on top of the cheesecake. You can also completely cover it with a knife if desired.
Now, I added whipped cream and mini cinnamon rolls to the cheesecake. You can feel free to do this or not. The cheesecake without them I can assure you is awesome.
If you do want them, though, I made them just using canned cinnamon rolls and cutting them in strips and re-rolling them up and putting them in mini muffin tins…the baking time was about the same.